10 Items of Clothing Every Man Must Own
The perfect capsule wardrobe can be achieved with fewer garments than you think. Here are 10 essential items that can be mixed and matched to create infinite sartorial possibilities.
Even though it's rather common these days to declare that "every man must own
this
or
that
," it's actually a rather presumptuous statement to insert one's opinion so boldly into a remarkably personal space - a man's wardrobe. Your clothing will tell other people who you are before anything else, so what you wear should speak clearly to your tastes, ambitions and goals.
At the
Gentleman's Gazette
, classic style is our
raison d'être
. We believe in building a wardrobe that you can keep and use indefinitely. You'll never be a trendsetter with a classic wardrobe, but you will look like a modern day gentleman who doesn't throw away money chasing the industry's ever-changing definition of style. Once a piece enters your wardrobe, it should be there for the long term. Though a classic wardrobe should contain many versatile garments, there are ten pieces that should form the foundation. On any given day, you'll probably be wearing one of these garments.
These ten key pieces have a lot in common. Since they will be worn often, the higher your standards are, the better. Even if you have every one of these pieces already, it's worth revisiting each one of them to see if they have the four characteristics that mark a wardrobe staple as worthy of the frequency with which they are worn:  
• Each item should be pretty much perfect
. That's right, since these are garments you will reach for time and time again, they should be the ideal pieces for your wardrobe in terms of fit, fabric composition, price, and durability. They should be so perfect that you seriously consider buying more than one of them, just to be safe.
• The style should be timeless
. Trends are inherently short-lived, so one-inch lapels and ankle-skimming pants will soon be in the donations pile. For your top ten most-worn garments, classic silhouettes will serve you the best over the long term. By avoiding the extremes of cut, width, length, and pattern, you'll never be out of style.
• These pieces may be basic, but they don't have to be boring.
It sounds logical to purchase wardrobe basics in simple cuts and solid colours, but avoiding all detail can strip the appeal out of wearing them. We've all seen the flat, plain fabrics favoured by mass retailers, and aside from the one-size-fits-all cut that works for precisely nobody, any garment made from these materials will only make its flaws more apparent. Instead, look for the best quality fabrics you can afford in natural materials with distinct textures and patterns in the weave. A 'solid' shirt or sweater can have a tone-on-tone weave, such as a herringbone, or utilise a melange of threads to create the base colour that appears solid only at a distance.
• They are worth spending more money on.
Regardless of your budget, it always pays to find ways to maximise the style potential of each dollar you spend. Consider the cost per wear of a piece before you buy; blue suede loafers may cost you $10 per wear but a white dress shirt may only cost you $1 per wear over time. Spending more on frequently worn garments is worth the extra outlay.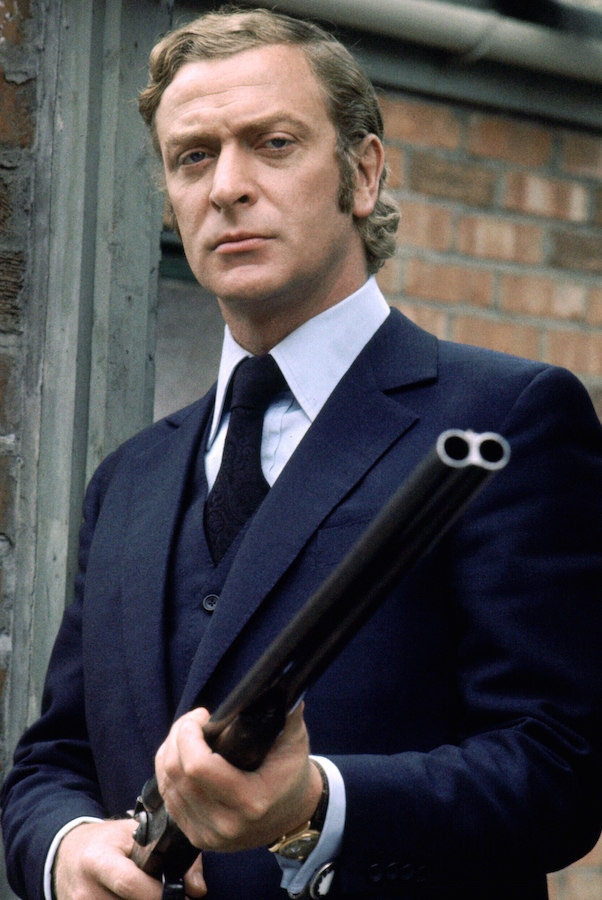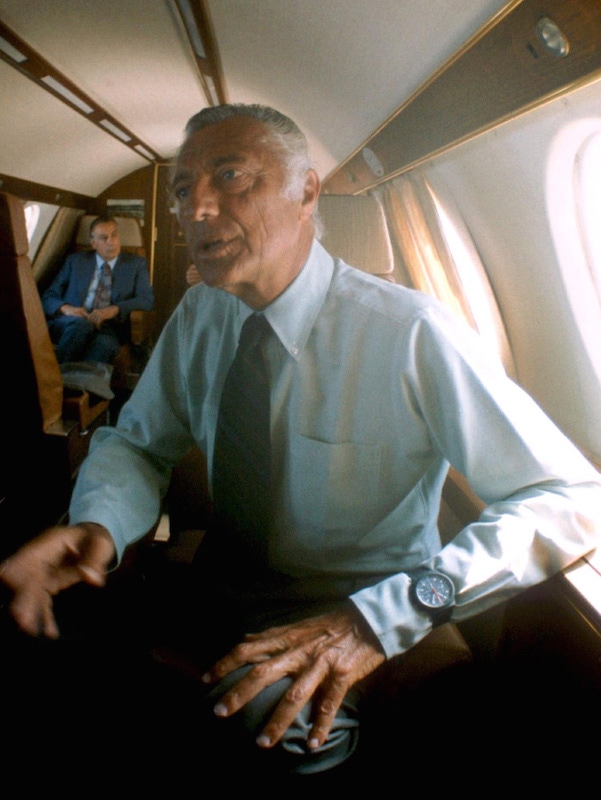 Here are our top 10 wardrobe staples that no man should be without: 1. White dress shirt. Consider the white dress shirt the blank canvas of a classic wardrobe. Though the white dress shirt should be a supremely simple piece, it doesn't have to be uninteresting. For the best possible shirt, have the garment custom-made for your measurements. Choose a mid-weight fabric for all-season wear in a subtly woven or patterned fabric, such as a herringbone, to add a touch of texture. Since white is a crisp option, this dress shirt is ideal for more formal combinations. As such, opt for a stiff, medium-spread collar rather than a softer collar such as a button-down. 2. Light blue dress shirt. A light blue dress shirt, though it has a distinct colour, is every bit as versatile as its white cousin. There are virtually no other colours that don't pair well with blue, and it's a staple of white collar office workers for that reason. Depending on your needs, it is an ideal shirt for less formal combinations. Consider an Oxford, twill or poplin fabric for added texture, durability, and a softer look. 3. Navy Worsted Suit. For some reason, mass retailers have managed to convince millions of men that their go-to suit should be black. They couldn't be more wrong! Black is for funerals and members of the clergy, and the first and most important suit in a man's wardrobe (no matter how many he has) should be a navy worsted suit. It is always appropriate at the office, at a wedding, at an interview, and at a cocktail party. Worsted is a hard-wearing material that should be selected in a heavier weight for durability and an elegant drape over the body. Choose formal details such as peak lapels, four sleeve buttons, and a double-breasted cut if you are so inclined. 4. Navy Blazer. A navy blazer should be a stand-alone garment in your wardrobe, not just a suit jacket separated from the matching pants. It should look distinctly different from your navy worsted suit in terms of cut, colour, texture, and formality. Choose a brighter, richer shade of navy with a heavier weave, and employ details such as patch pockets, contrasting buttons, and notch lapels to underline its more casual nature. 5. Grey Flannel Suit. Like the navy suit, a grey flannel suit is as versatile as it is attractive. A famous choice of many classic style icons from then and now, a soft grey flannel is ideal for the cooler seasons. Mix and match the trousers and jacket with your navy suit and you already have two more combinations.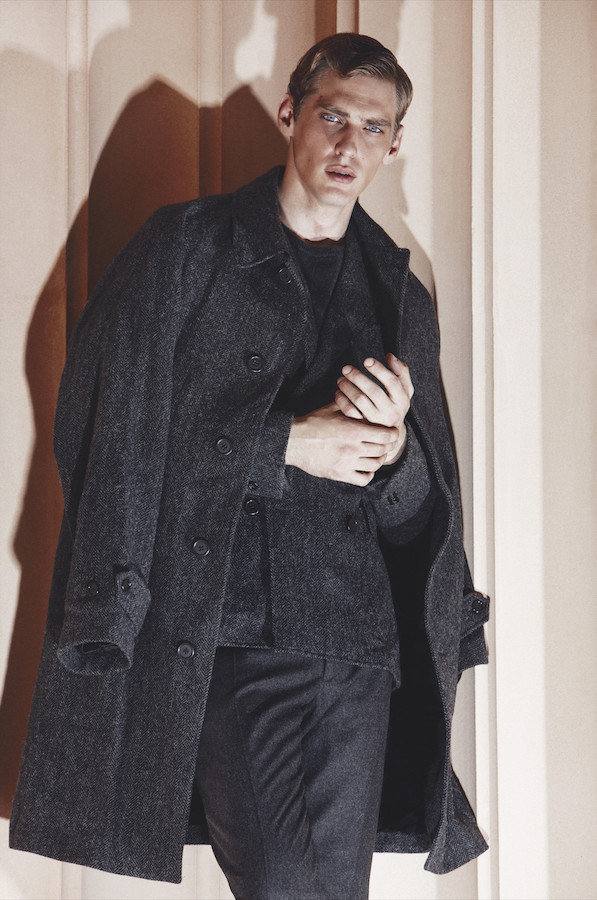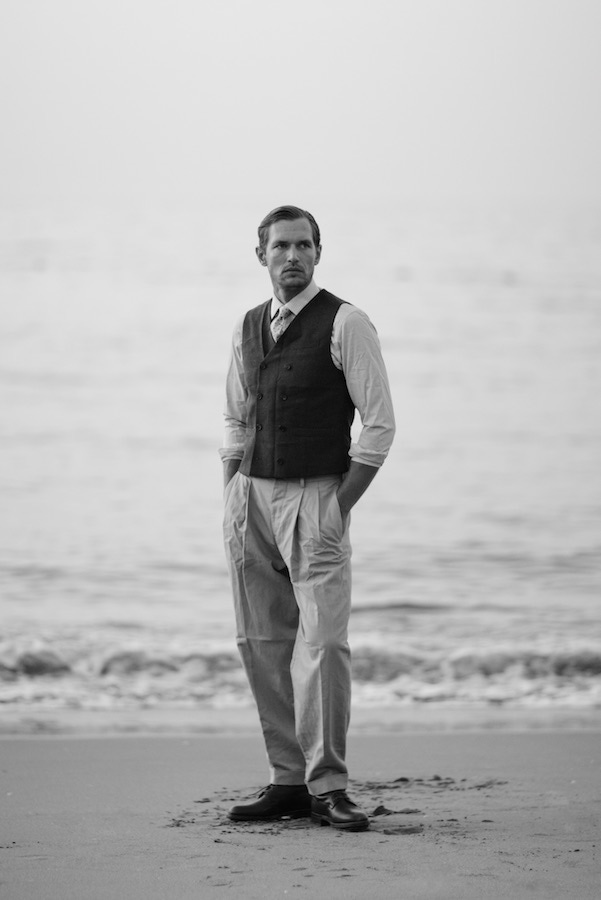 6. Tweed Sports Coat.
Tweed is the ultimate material for adding texture to your wardrobe. Typically woven from a mix of different colours of wool, tweed is a classic way to infuse colour into your wardrobe in a subtle way. Tweed comes in a wide variety of textures, weaves, and cuts, so you are certain to find a jacket that suits your particular style.
7. Trench Coat
. In many places, a traditional trench coat can see you through many seasons if not the entire winter. The military-inspired double-breasted cut with epaulets, leather buckles and a belt looks masculine yet elegant. Buy one in classic gabardine for durability and with a removable liner for even longer season wear. An ideal travel companion, the trench is a great choice in classic khaki but also in black or grey.
8. Chinos or Khakis.
Chinos and khakis are ubiquitous, and you should have a couple of pairs that fit you perfectly. Traditional khaki-coloured trousers can be unforgiving, but since so few other garments (aside from a classic trench coat) are this colour, they are the light-coloured trousers of choice for contrast in an outfit. Select the features that suit your tastes (flat front or pleated, cuffed or no cuffs) but keep the leg in a medium width with a minimal break for a classic, clean look.
9. Burgundy Vest.
You may be surprised to see a vest on this list, but as far as garments go, few will increase the versatility of your wardrobe as much as a vest. They can add a pop of colour and contrast to an otherwise neutral ensemble; they increase the number of combinations you can make from a limited number of jackets; they are less expensive than buying another jacket; and finally, they are easy to size and fit relative to more complicated pieces. Burgundy pairs well with almost every staple colour in a man's wardrobe. Chances are that you have a few burgundy accessories already, so a vest is a great way to tie that colour into many combinations.
10. Bottle Green V-Neck Sweater.
Every man needs a few good sweaters. Green is one of the most underrated colours in menswear, and it is the perfect companion with all of the traditional base colours - grey, navy, khaki, blue, and brown. A rich bottle green, like burgundy, is a frequent colour in accessories so it is a good choice for a V-neck sweater and a tie.