5 Rakes Who Wore Knitwear Well
From a simple cardigan to a chunky cable knit, here are five of the most rakish men showing how to wear your knitted garment of choice this winter.
Many of the everyday items we take for granted today including the humble clock and even the breath mint are down to the undeniable genius and innovation of the Egyptians. As it turns out, we can also thank them for knitted clothing, for it was in the dark depths of an 11th century Egyptian mud hut that the first pair of
socks
were forged. Maybe it's the garment's rich history or maybe it's down to versatility, but a classically-styled
knitted jumper
is an enduring item. A high quality example can be passed down through generations, shared across sexes and transcend style trends – it is the antithesis of 'fast fashion'. Whether you choose a hefty
cable knit
or a luxurious cashmere V-neck, we've turned to five rakish men who pulled off knitwear with aplomb, for ultimate jumper inspiration this winter.
1. Gene Kelly - The Cardigan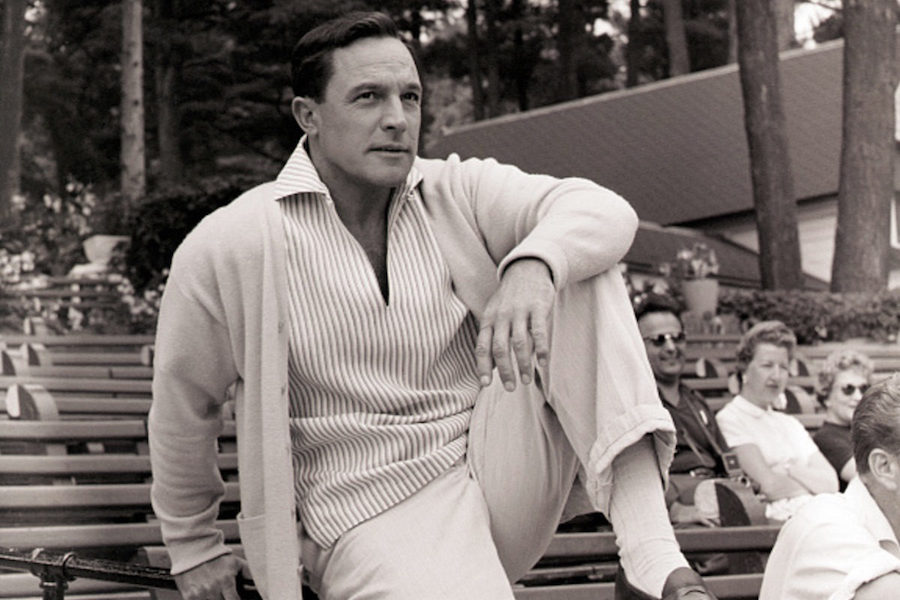 Although Gene Kelly wears this lightweight cashmere cardigan in 1957, it's a style that's aged well and one that can easily be worn today. By swapping his striped shirt for a plain coloured button-down with a smaller collar, one can recreate the look in a modern and sophisticated way. The pairing of his light-coloured knit with rolled-up trousers and white socks above penny loafers is more evocative, however, of a warm summer's day and a fresh glass of Pimms. Instead, a navy cardigan feels cosier against cooler and darker days.
2. Elvis Presley – The Funnel Neck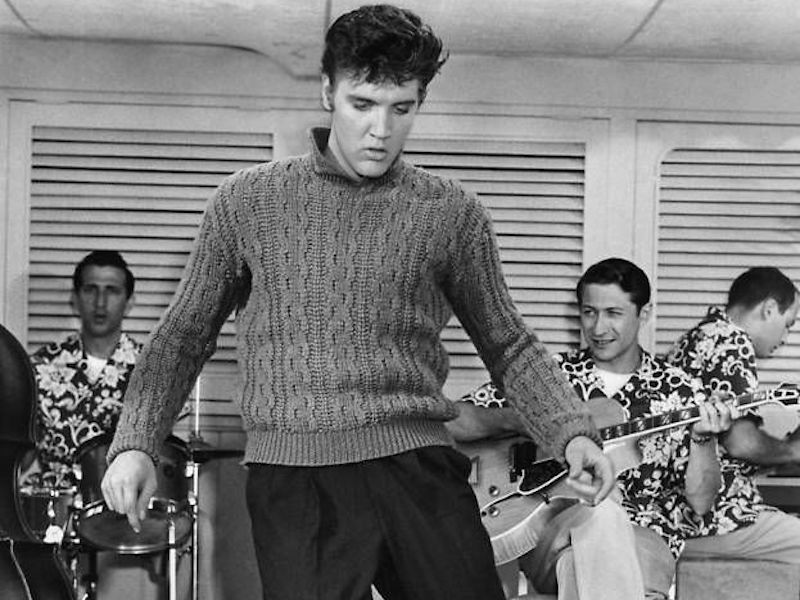 The fact he once (only just) pulled off a white, studded and flared jumpsuit is testament to Elvis's ability to look good in most things. It is no surprise then that he can wear a simple funnel-neck sweater with a pair of black trousers for a casual yet very cool ensemble. His ribbed cuffs, hem and neck give an appealing contrast in texture as well as carrying out their utilitarian function of providing warmth. While Elvis wears his collar up in a rebellious fashion, get yourself a funnel neck knit with a neat half zip to allow for flexibility with layering underneath. For a casual look, a T-shirt-and-jeans combination will do, but for a slightly more formal occasion, wear it with a collared shirt and a pair of dark chinos.
3. Steve McQueen – The Cable Knit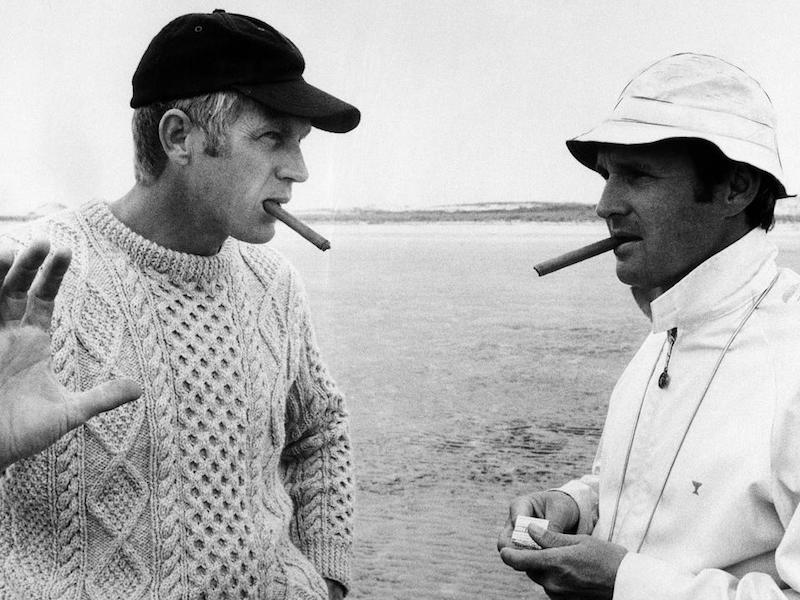 The cable knit sweater is one of the more traditional styles in today's knitwear arsenal. Originally designed to provide warmth for fisherman in the early 19
th
century, by the mid-20
th
century the cable knit had become a regular feature in the modern fashion landscape. Its basic composition has changed very little since it's maritime beginnings and still features the traditional rope weave through the body, a crew neck and ribbed cuffs and waist providing texture, pattern and of course, warmth.
Although no true rake would ever be caught wearing a baseball cap – Steve McQueen is the only exception – keep your body temperature up throughout the winter by pairing it instead with a tweed flat cap so you can smoke your Cuban in ultimate comfort.
4. John F. Kennedy – The Crew Neck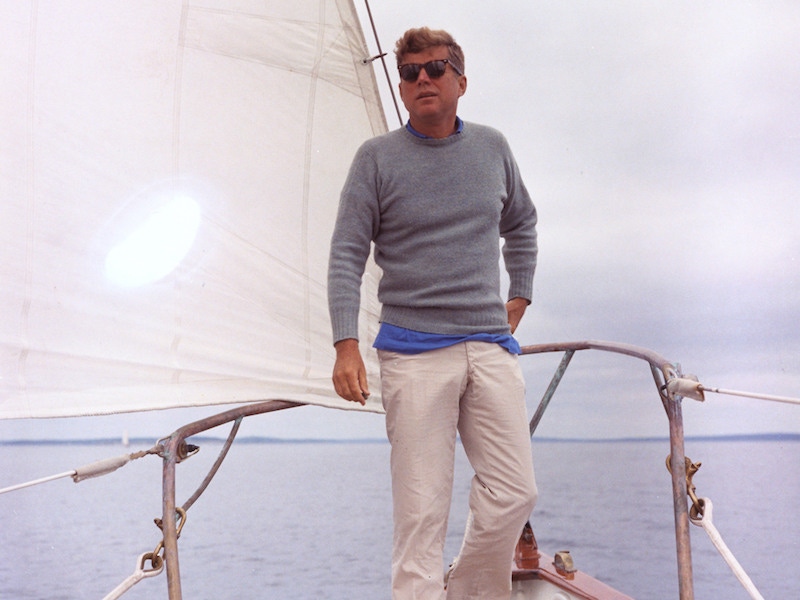 President John F. Kennedy's adoration of sailing was well known, and for his many jaunts on the open sea he was always suitably dressed for the occasion. A woollen crew neck jumper was his go-to and rightly paired with a collared shirt, cream trousers, boat shoes and classic Ray-Ban Wayfarer sunglasses. JFK's casual 'throw-on' of his jumper with his shirt collar still tucked in allows for a relaxed and sporty look, however we would advise a neater, more traditional approach by showing your full collar. If this combination is too preppy for your taste, however, consider pairing with a denim shirt, jeans and a pair of luxury sneakers – and of course, 
W
ayfarers.
5. Sean Connery – The V-Neck
While Sean Connery's burgundy sweater and grey polo shirt combination is suitable for his escapade on the golf course, there is much to be said for the versatility of a V-neck outside of sporting locales. Traditionally soft and lightweight, this style of pullover is an essential layering piece for winter as it provides an elegant yet insulating building block to any wardrobe. Be it your next sporting jaunt or a frosty walk to a business meeting, the modest V-shape combined with stretch cuffs and waist allows room for any fitted shirt and completes a tailored ensemble.  
Save
Save
Save
Save
Save
Save
Save
Save
Save
Save
Save
Save
Save
Save