A Gathering of Immortals, Part II: Tommaso Melani and Stefano Bemer
In this second feature on the bespoke symposium that dominated Pitti Uomo last summer, The Rake explores the motivations and philosophies of Tommaso Melani, guardian of one of the most storied shoemakers in the world.
Those who have read the
first instalment
of this pair of features, might well have noticed that its focus is entirely about the art of bespoke tailoring; bespoke tailoring as practiced by six exceptionally talented tailors in particular. Even so, there is a second half to this story, for credit must go to menswear aficionado Simon Crompton, and also Tommaso Melani, owner of Florentine bespoke shoemaker Stefano Bemer, who together were jointly responsible for gathering these tailors together, organising one most significant assemblies of artisanal craftsmen in recent years in the process. Indeed, if those six tailors who gathered at Pitti earlier this year were the six 'immortals' so renowned for their craft, then the seventh is undoubtedly the house of Stefano Bemer itself. I reference the house here, rather than the man, because the eponymous Stefano Bemer tragically is no longer with us, having passed away some years ago as readers may well be aware. Even so, his extraordinary legacy lives on in the works of Tommaso, Bemer's long time friend and a fellow denizen of Florence's world-renowned leather goods trade. Tommaso is the fourth generation to own and run the Scuola de Cuoio - an artisanal leather working company sharing the same extraordinary values as Bemer. As Tommaso explains: 'Stefano Bemer and Scuola de Cuoio were both the best representation of leather working craftsmanship in Florence and we were often invited to showcase our work alongside each other. 'The Scuola del Cuoio was created, as the name suggests, for the purpose of teaching leather working skills to the unprivileged of the city after WWII. Training and development has always been at our core. Growing up alongside those craftsmen that work at the Scuola del Cuoio, I was always fascinated by the leather-working alchemy that their hands wrought so effortlessly. Stefano Bemer's team of artisans has the same aura about them, and that is what ultimately pushed me to ensure that that the firm wouldn't be dissolved and the alchemy preserved.' As a result, Tommaso threw caution to the winds in 2012 after Stefano's passing and resolved to continue the firm's story, purchasing the company and setting about transforming Stefano Bemer in the process.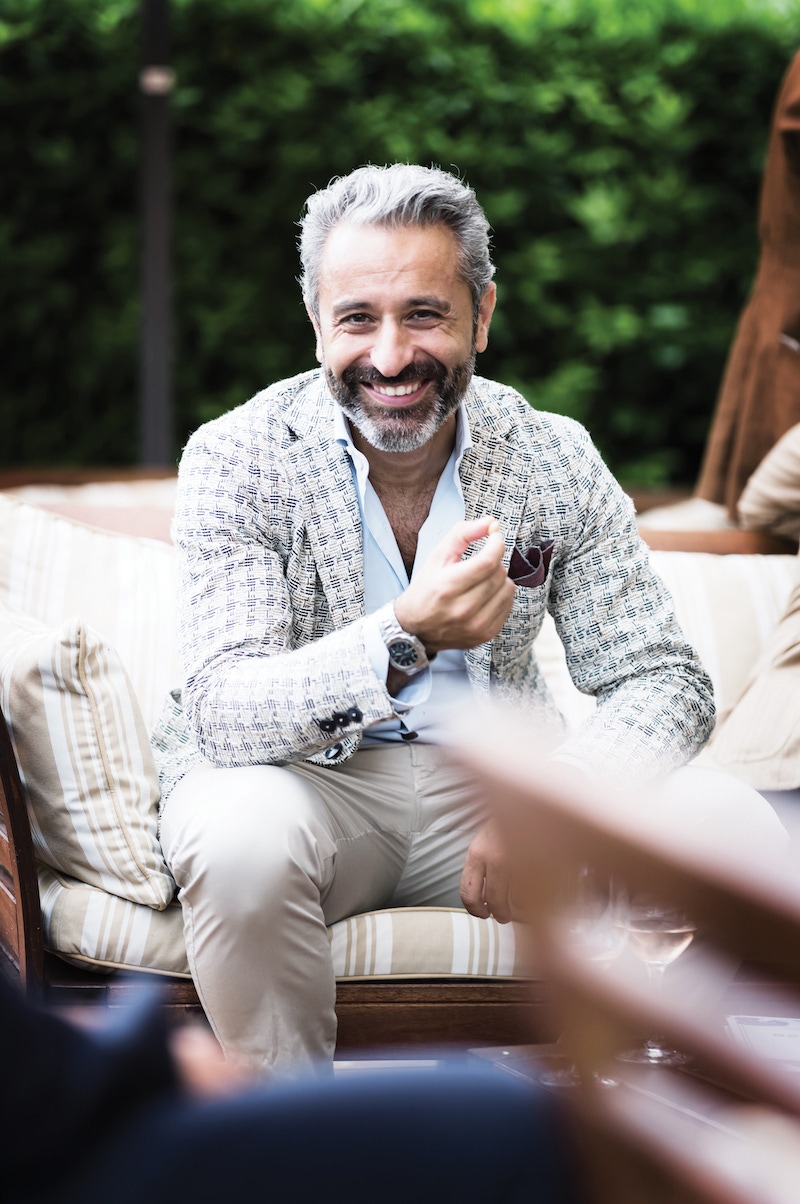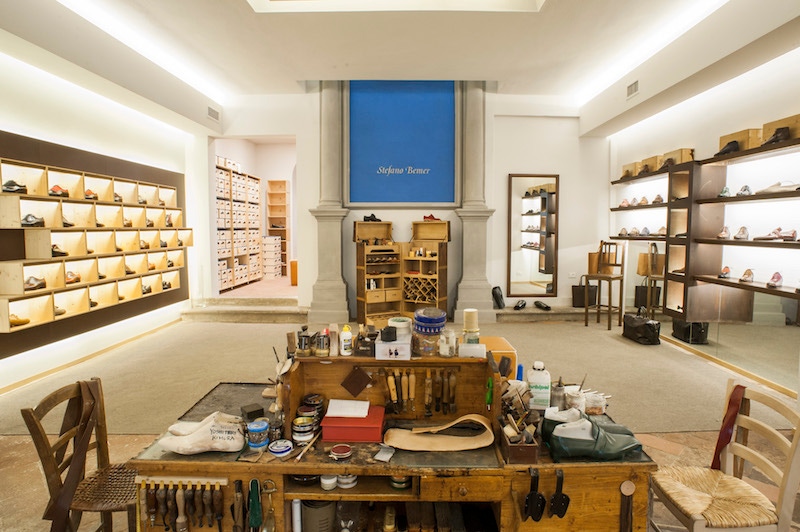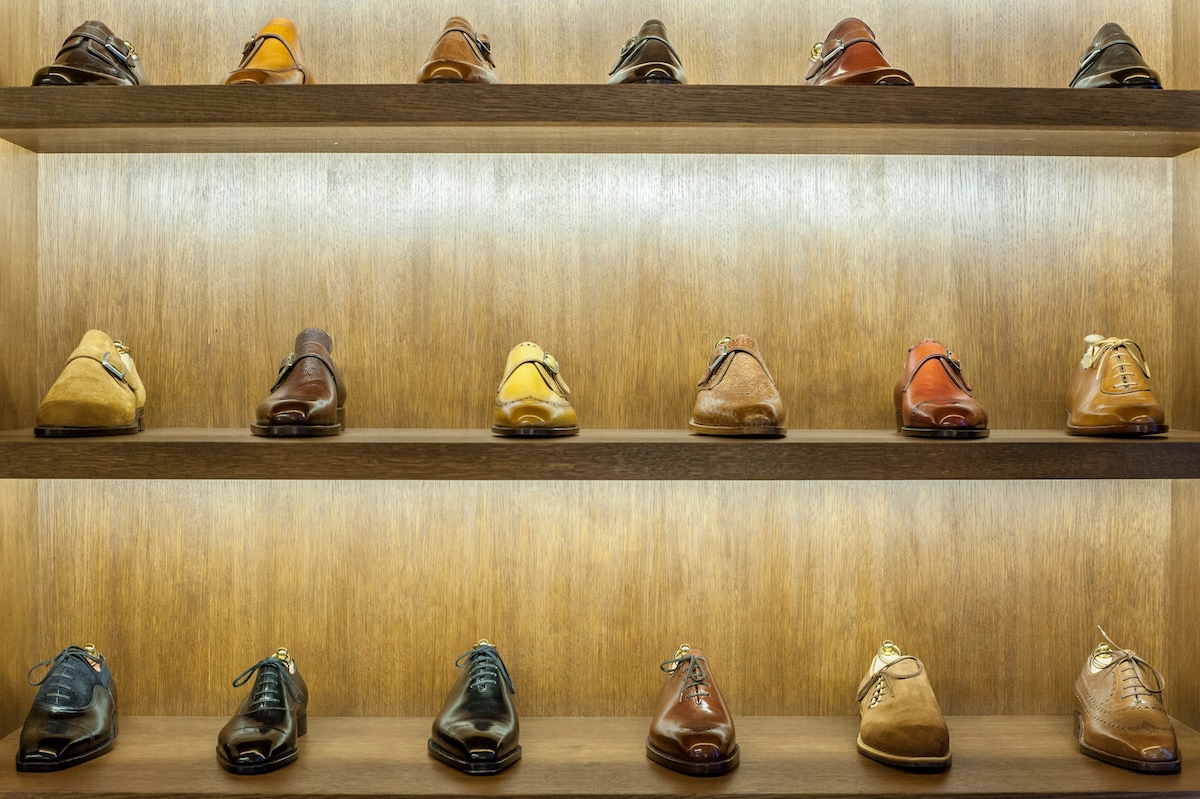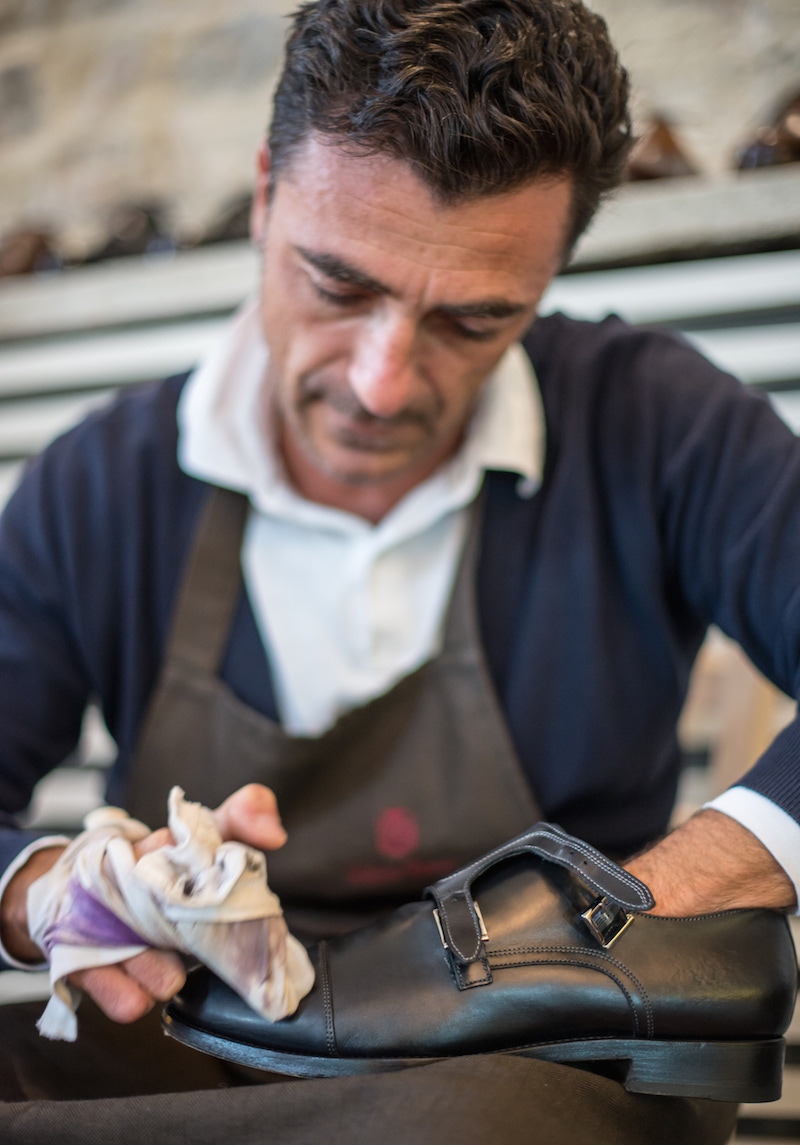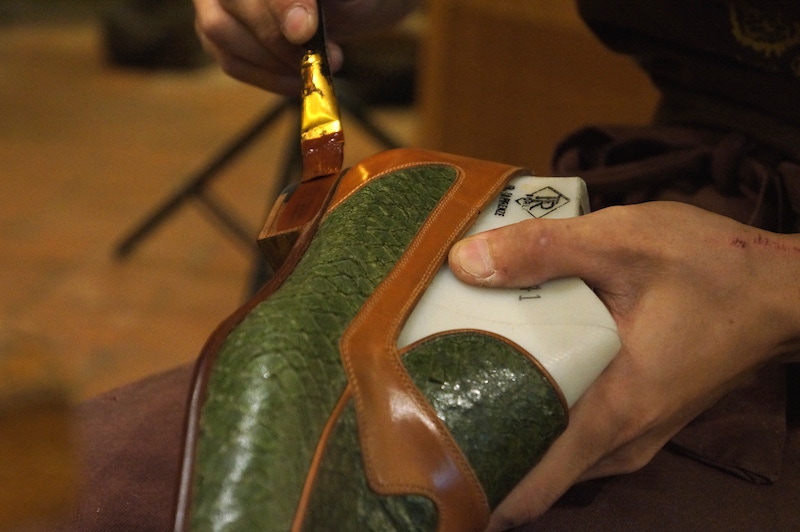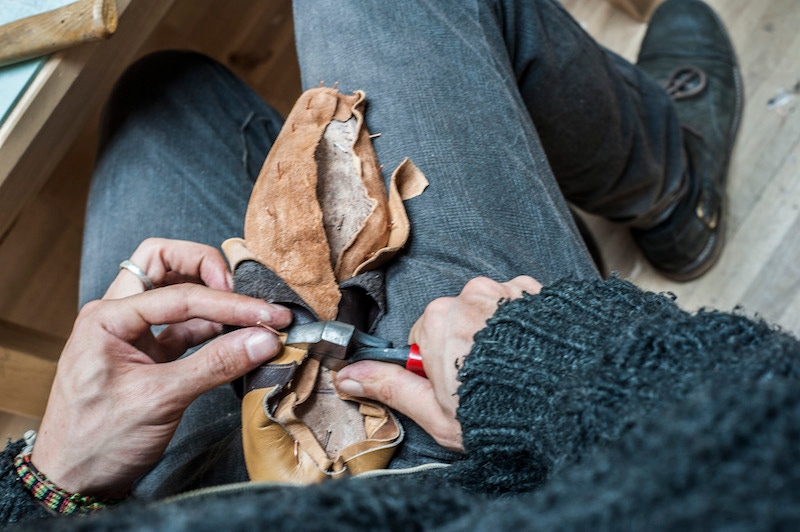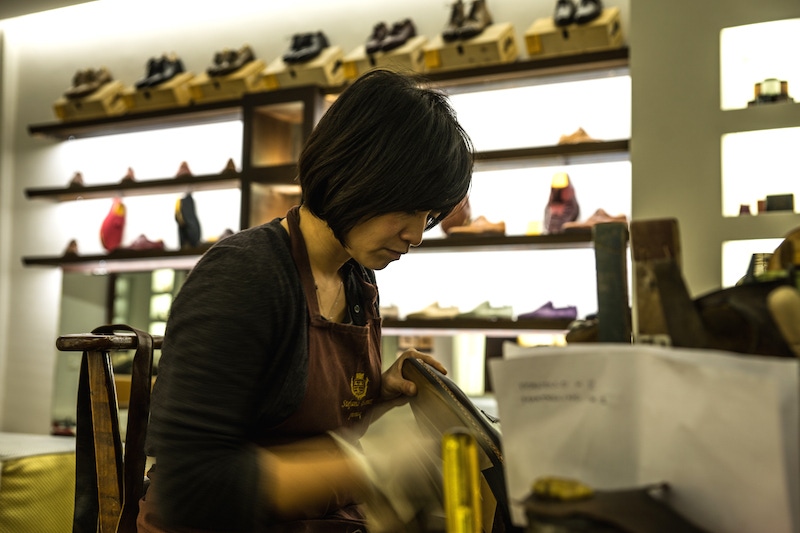 'It was a difficult time' he recalls. 'No transition is easy and I had to prove myself as the credible leader of a group of craftsmen that are among the finest in the world. I had a more complex strategy and larger plan for them; introducing fine quality ready-to-wear and made-to-order products. We also wanted to create a state-of-the-art training programme to trigger a virtuoso circle of growth. It was hard, we had to let some people go who couldn't see the vision behind this new strategy.' Fortunately for Bemer, Tommaso's curated and careful approach to the development of the house has ensured that the unique vision and standards of Stefano himself have continued to thrive. Furthermore, Tommaso's passion for things made with a genuine beauty and human touch, also extends to his work as an educator and ambassador for just about every kind of artisanal craft he can find, including bespoke tailoring. Take for example the very same 'gathering of immortals' that took Pitti by storm a few months back: 'the tailoring symposium was a sequel to the shoemaker's symposium that I hosted with Simon Crompton in January. The intention was to draw attention to the crafts of bespoke tailoring and shoemaking together, rather than the products themselves, and also to enjoy discussing the intricacies of each craft - both for the sake of the audience and participants!' Certainly, the symposium itself was fascinating, as six of the world's most talented tailors came together to compare their house styles, but to do it in Bemer's studio was a stroke of genius. It drew attention to the symbiosis between shoemaking and tailoring; the philosophies and techniques, the appreciation of craft and form that brings tailors and shoemakers together. At the cocktail reception that followed the symposium, each tailor displayed a new creation, cut in cloth generously supplied by Vitale Barberis Canonico, and Tommaso paired every garment with an appropriate Stefano Bemer shoe, highlighting the enduring synergy that exists between fine tailoring and fine shoes. Richard Anderson's navy fresco pinstriped coat for example was paired with a two-tone Oxford, the red suede quarters of which popped against the burgundy stripe in the coat. A slim burnished midnight blue Derby complimented Lorenzo Cifonelli's exquisite navy blazer, and Edward Sexton's cream flannel cocktail coat sat alongside an angular chocolate and ivory box-calf two-tone brogue. The pairing of clothes and shoes at this level is an integral part of the art of dress; a poor shoe detracts from a beautiful jacket and vice versa, but there is of course also an art to getting even the finest shoes and clothes to compliment one another. Colours, materials, last shape, silhouette and lines must work together throughout the wearer's form and Tommaso's perfectly paired shoes embody the alchemic approach to shoemaking and design that he speaks about.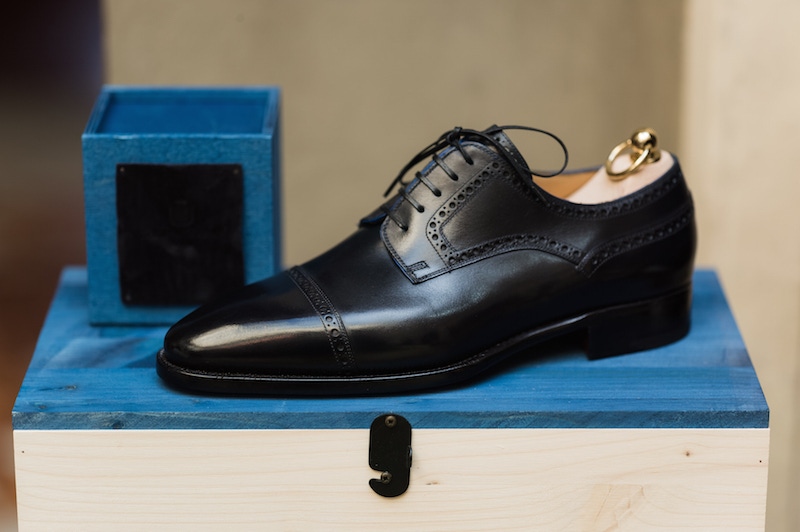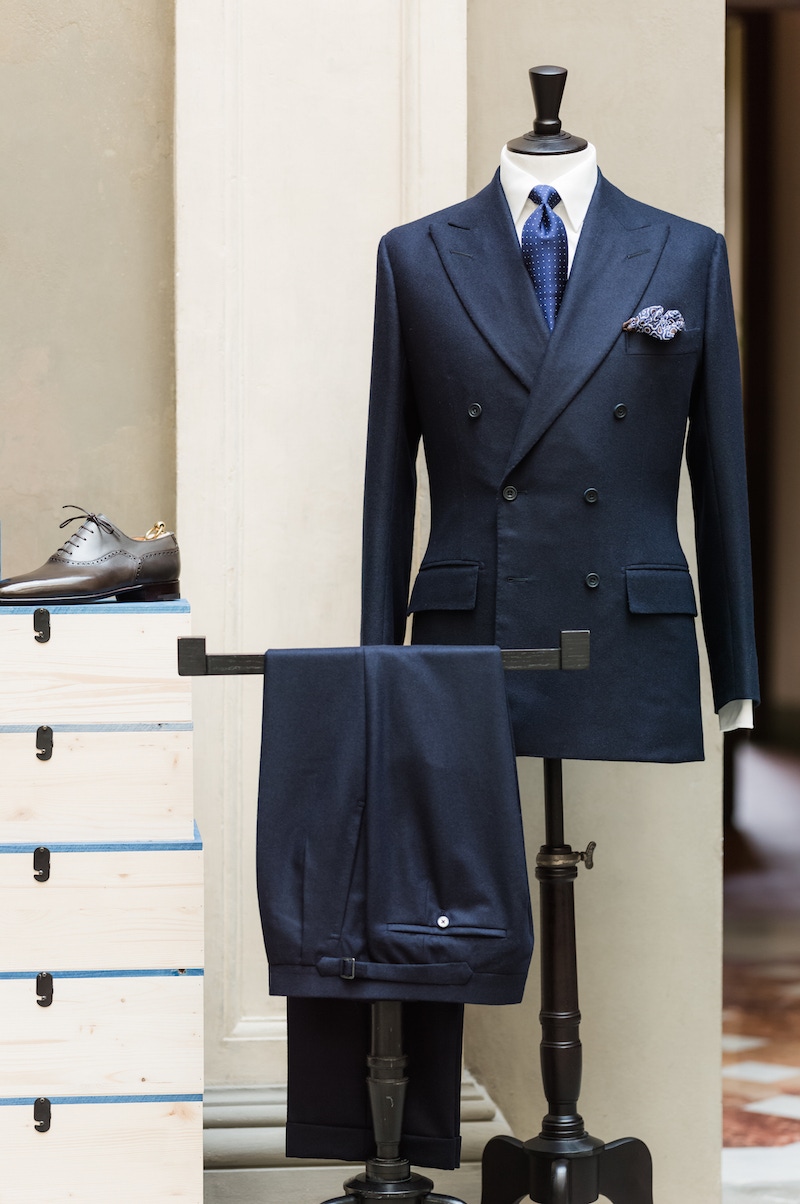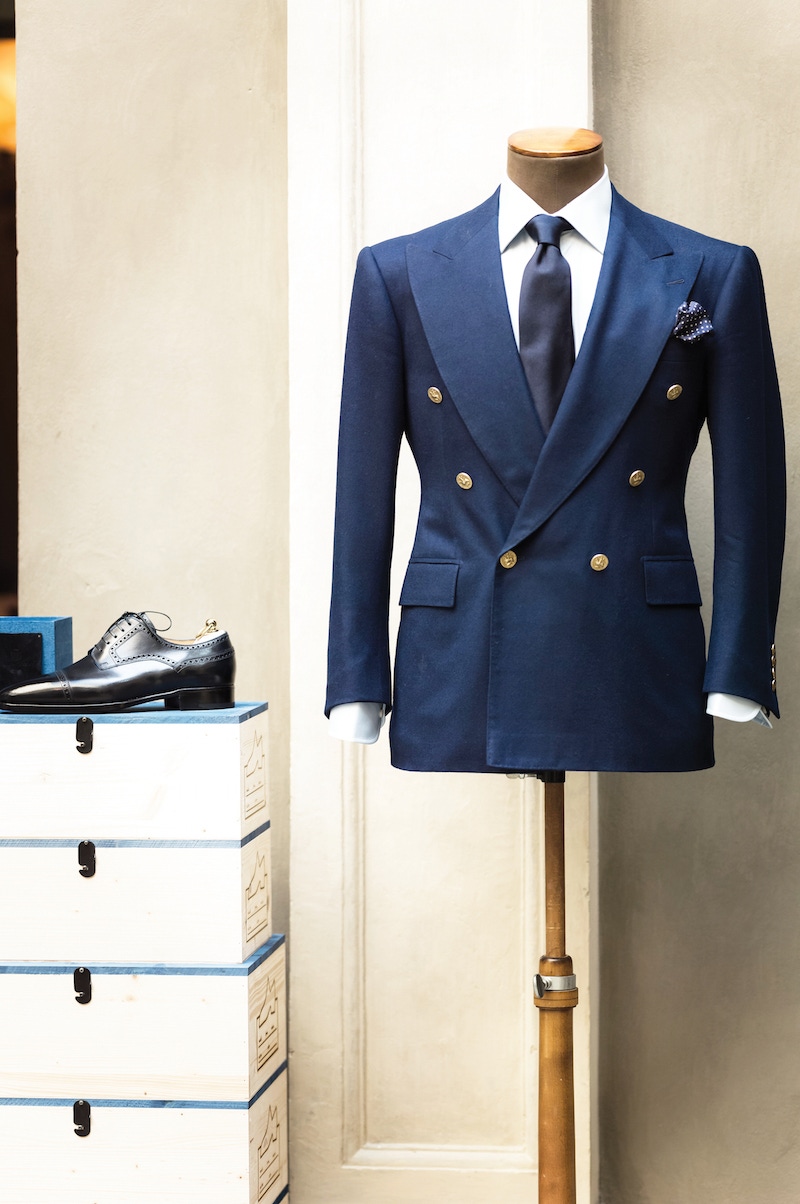 The notion of the shoemaker as alchemist is a curious one, but amply justified in Tommaso's eyes: 'bespoke craftsmanship is the essence of creativity, it gives shape and matter to one's inner identity and the vision a man has of himself'. In his eyes, the shoemakers at Stefano Bemer give physical form not only to their shoes, but to a part of themselves in the process; their ideas and inspirations are made manifest. Tellingly, those tailors who featured in the symposium said the same, reiterating that their work is an extraordinarily powerful outlet for personal expression. Even so, the artisan can never get too carried away, he must also respond to the requirements of his clients. Tommaso continues: 'our work depends upon a personal, long-standing and knowledgeable relationship between client and craftsman. Fortunately for us, these relationships are a great source of inspiration as well - thanks to the refined tastes of our customers we give birth to creations that become a part of our collections. It's like having a thousand designers and stylists working with you!' A good job too, because every shoe made under Tommaso's eye has to reflect the personality of his customer and the philosophy of the late Stefano himself: 'A shoemaker must have an identifiable style. I don't believe in a 'one size fits all' strategy, so I put a lot of myself into each and every one of our creations. I love to work side by side with our customers and they're a never-ending source of ideas. I also believe that taste is like a muscle - it develops with training - so I expose myself and my team to every possible source of inspiration for our shoes.' I have only met Tommaso a few times, but it takes just a moment to glean his passion for what he does. He is one of the most genuine men you could wish to meet and his commitment to quality and craft is extraordinarily heartwarming. Even more heartwarming is the fact that his is a passion which extends to beautiful things in every shape or form - not just handmade shoes or suits. In Tommaso's work and dedication Stefano Bemer lives on, and his footwear is, if anything, more iconic than ever before.
Part I of 'A Gathering of Immortals can be found
here
. 
Readers might be interested to know that the original 'A Gathering of Immortals' feature appears in Issue 41 and paints a further picture of how these great tailors approach their craft.