A guide to dinners in the south of France
A frequent visitor to Bargemon, South of France and its culinary establishments, The Rake's Editor Tom Chamberlin offers some advice on what is suitable attire for such conviviality.
The first quick tip to eating in the south of France, (I imagine this extends westwards along the Costa del Sol too but you'll have to speak to Messrs Foulkes, Foulkes and Foulkes about Marbella) is that if you're shown indoors to eat, leave. It's pointless, there's no gambas grillées so good that you have to compromise indoors to enjoy it. I say this especially to us Brits, who have perhaps two days a year where being outside after 8pm is bearable in anything less than a sweater. So let's assume you've taken heed of this advice, and want to sit outside, here's how to do it: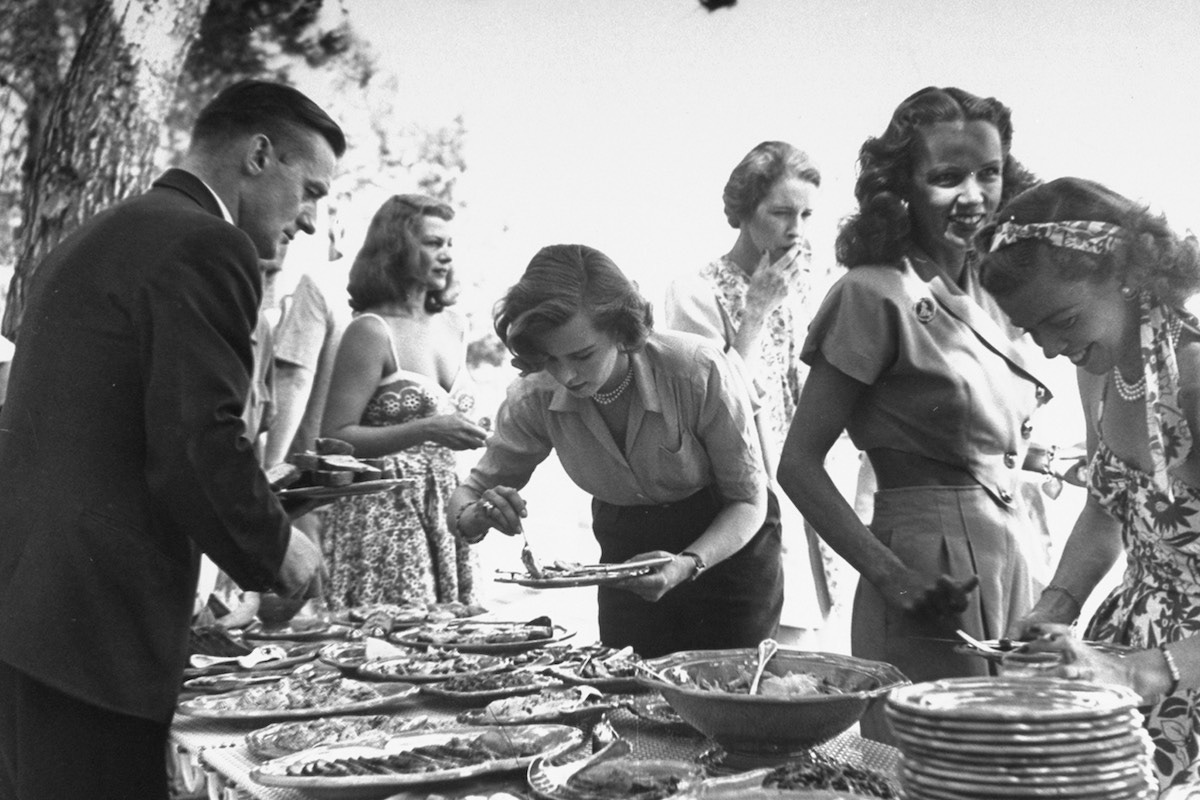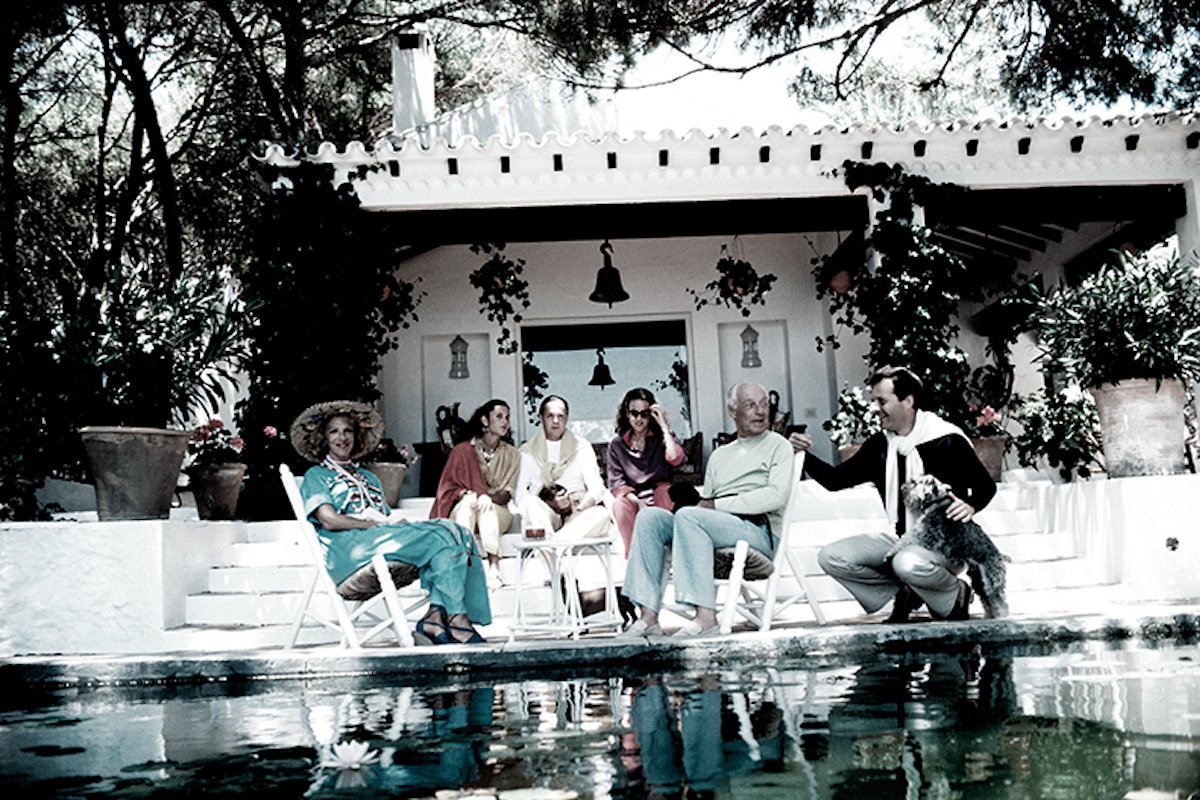 What you wear can be adjusted for where exactly you are. The south of France is a hodgepodge of microclimates, especially if you venture north of the A8. If you are headed, like many people are, into the hillside medieval villages, you will be sheltered from coastal winds so the nights are a fairly even and constant temperature, and there are still good restaurants to pick from despite your apparent solitary status. From Nico's restaurant in Bargemon, who is one of the country's leading wood-fire chefs, to Les Deux Rocs and Chez Hugo in neighbouring Seillans, or Le Temps des Cerises in Fayence. All of these can be eaten at au dehors. However, if you are on any of the coastal towns, from Cannes to Cassis, the sea air is always something to consider. During the day it can be quite a nice natural fan against the unrepentant sunlight, but in the evening, it will need compensating for over three courses and a cigar. A hat is very good either to fan with if the humidity is up, or as a vestibule for your keys and cigar accoutrements. Sunglasses are necessary for driving to supper. Artists all over the world have used the unique colours of a Provencal sunset for inspiration, but there is no point ruining it with a car crash.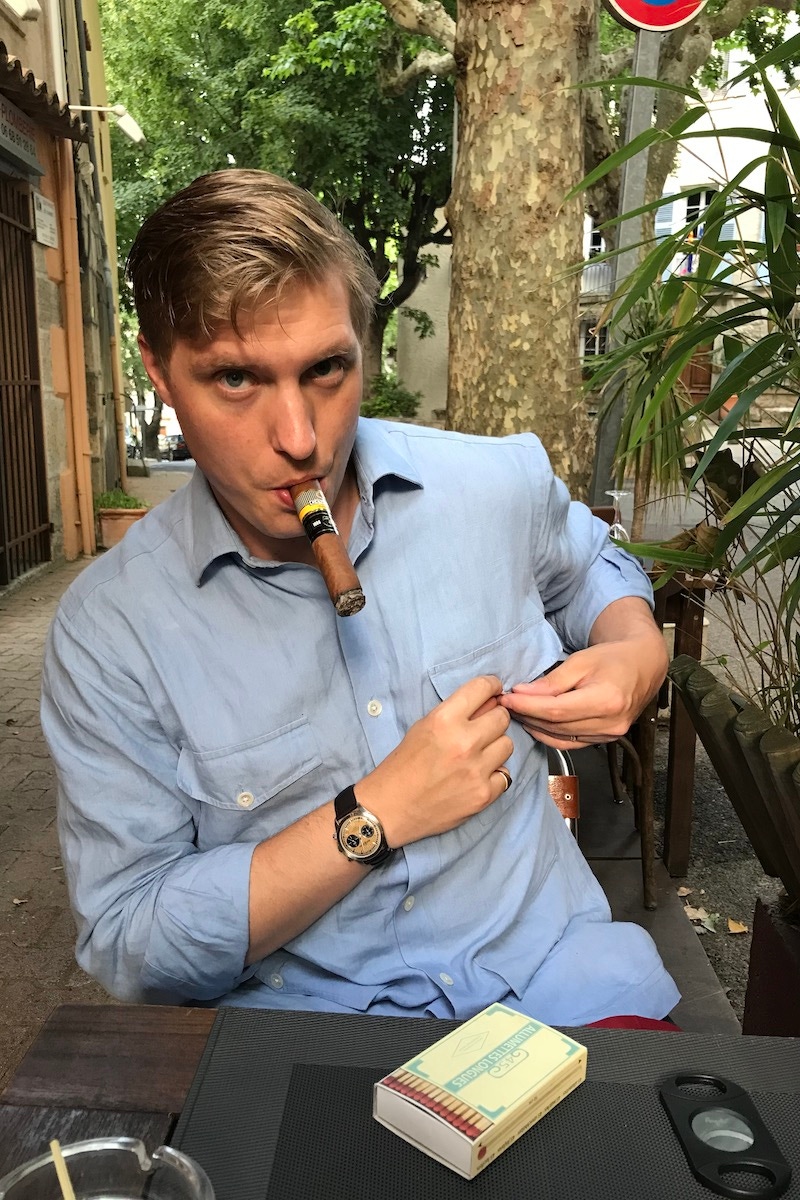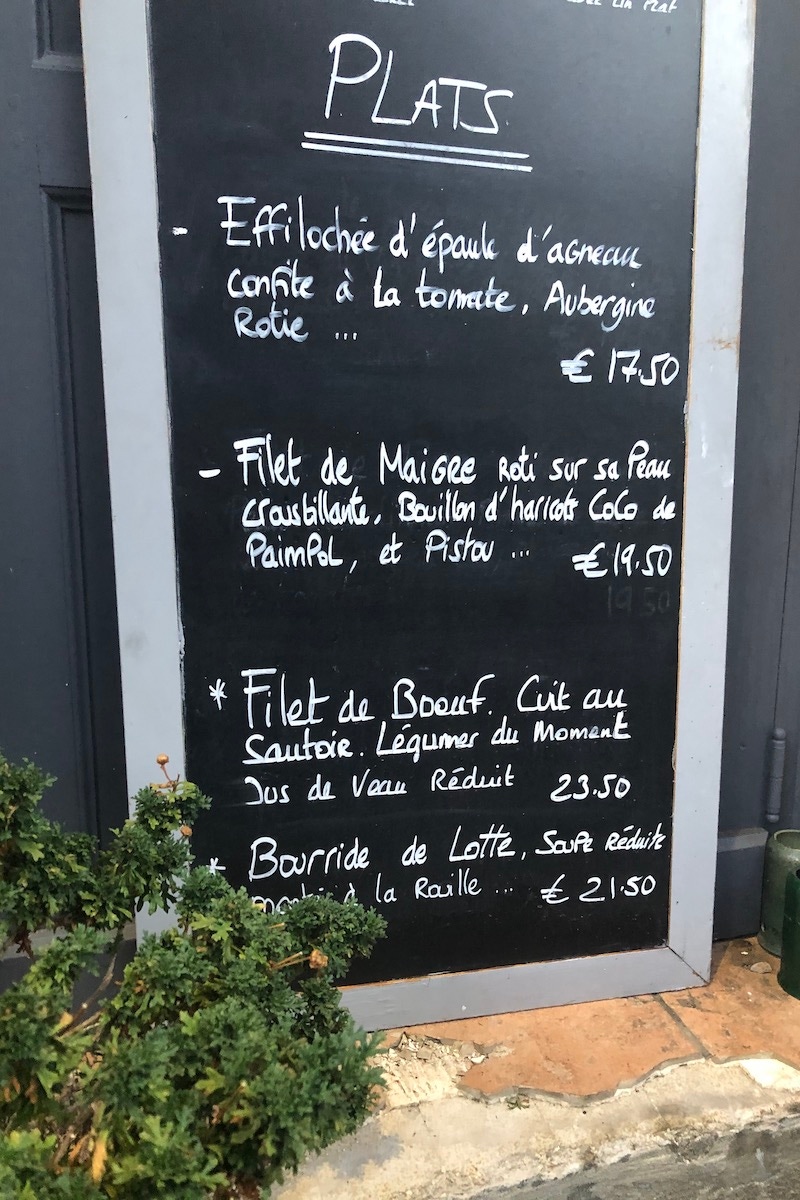 Almost exclusively, and very sensibly, the south of France does not enforce a dress code, so dinner needn't require a jacket. As someone whose livelihood is reliant on people dressing up, I should say that eschewing a jacket needn't mean being casual. The opportunities for shirts that exude colour and exuberance is limitless, and none of them need be a style compromise. A Hawaiian shirt and pair of Gurkha strapped trousers is straight out of the Ralph Lauren playbook (if you don't believe me, head to No1 New Bond Street) and the recent craze for safari shirts or overshirts have meant you can layer in a rakish but also weather-appropriate manner. Linen is a popular fabric and I can completely understand why, it breathes beautifully and doesn't cling like cotton when moisture comes into play. Be sure to press any linen clothes well as when it creases, it can look unattractive and slovenly, rather than in the kind of louche-chic way that people think it does. A polo shirt with a safari jacket over the top is also a lovely combination. There is also very little that has ever beaten a well knotted sweater round the shoulders in the sophistication stakes. Trousers are crucial, and yes I recommend trousers over shorts in the evening. As far as I am concerned, you don't get to relax if you are worried you are going to burst out of your trousers, so pleats and wide legs are an optimum choice. French food can get messy so I admire and salute your courageousness but let this be my insurance policy in case anything bad happens, you were warned. Though I would always opt for trousers with side adjusters, wearing a belt has become de rigeur over the last 12 months, and if you can get one that matches your shoes then all the better.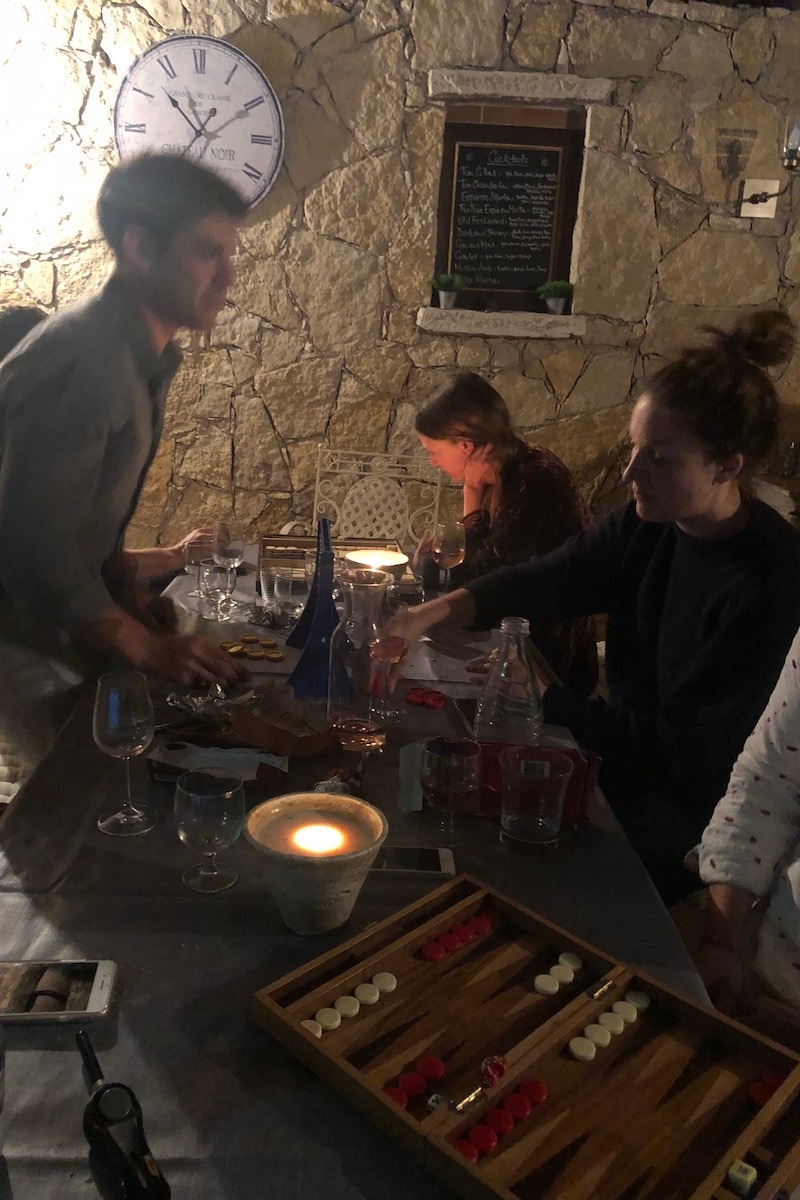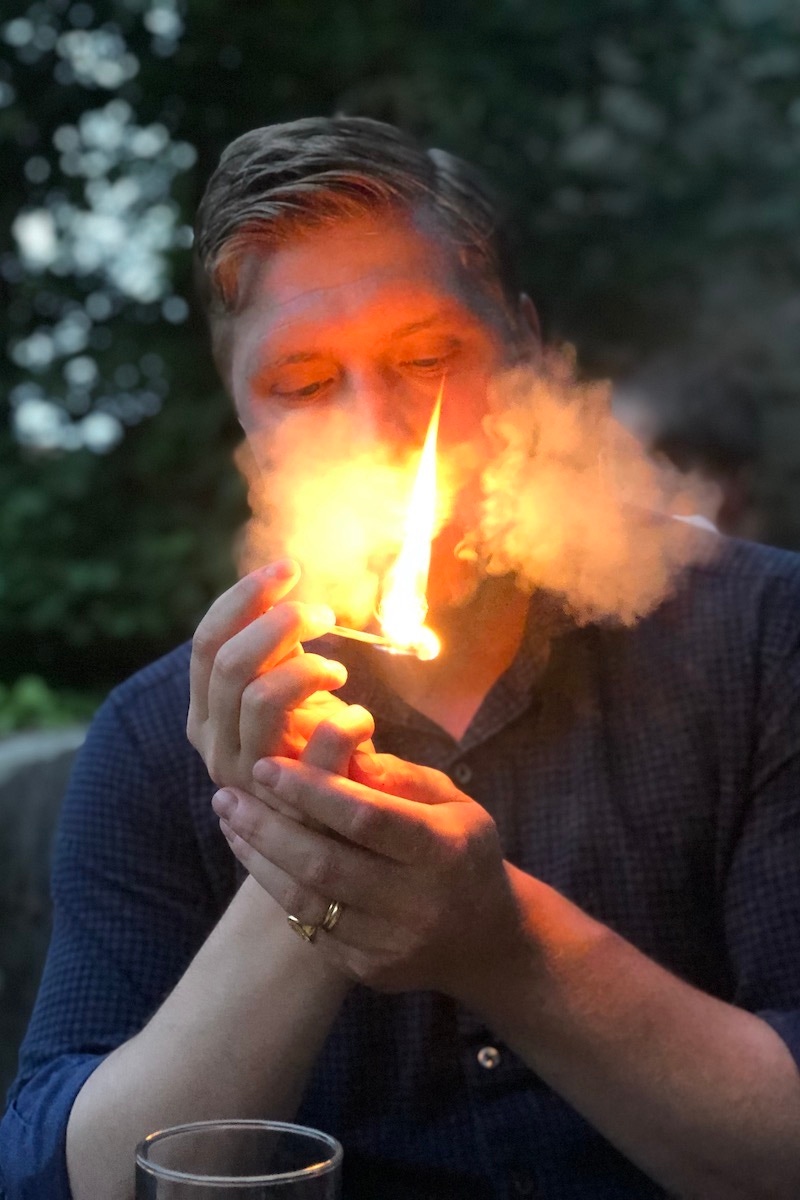 Now that we are on to shoes it is important to note that should you wish to wear socks, then the world is your oyster so long as you feel comfortable, but there are some shoes that are just unsuitable to wear without socks. Your feet will expand in the heat, just something that happens and it need only be a few millimetres in lined leather shoes for things to not be altogether copacetic. The best thing to do is pop your beautiful smart shoes in a dust bag and opt for their summer equivalent, unlined, suede, espadrilles, perhaps even a slipper, there is no shortage of options. The best part about dinner on holiday is the cigar and game of backgammon afterwards with my wife. I get the chance to actually beat her at this stage because she will be some glasses of excellent French rosé down at that point. Eating is an essential in life, but relaxing with a cigar with someone you love, that is luxury.