A Rakish Guide to Ties
In an era of people forfeiting dress codes, the tie has inextricably been shoved to one side by many, but here Alexander Freeling affirms the pertinence of the tie, which The Rake has the great pleasure of selling on behalf of some of the most famous Neapolitan, Florentine and British artisans.
Ties seem like the simplest of accessories. They are, after all, only a folded length of cloth. Yet they contain all the joys of tailored clothes in miniature: a world of fabrics, each with their own origin and character, made according to a craft tradition that survives in a time of relentless automation. Construction How do you make a great tie? Like Italian cooking, the methods are simple, but demand quality ingredients. It starts with exceptional fabric, cut on the bias to hang straight, and properly aligned with any design or motif. A good tie should have some heft, so it falls smoothly and resists creasing. This can be achieved with finer fabrics by using interlining (that should be wool rather than synthetic) or by using extra folds. The simplest tie is a three-fold; a five-fold is more generous; and the seven-fold (Sette Pieghe) offered by the best Neapolitan craftsmen is downright indulgent. Good makers put the whole thing together with a single slip stitch running the full length of the blade. Ties aren't hard to fit. (The perception that they can be uncomfortable is strictly the fault of poorly fitting shirts.) Most today are between 7.5cm and 9cm in width, with 8cm being the modern standard and 9cm more of a classic look (and better for taller and larger men). The standard 150cm length will fit most, though if you're much above 6ft tall you might look at longer models from French makers such as Hermès or go made-to-order. The most basic method to finish the tip is a piece of branded viscose, but far more satisfying is the self-tipped tie (using the same fabric as the blade) or the unlined, delicately hand-rolled tip, perfected by Drake's.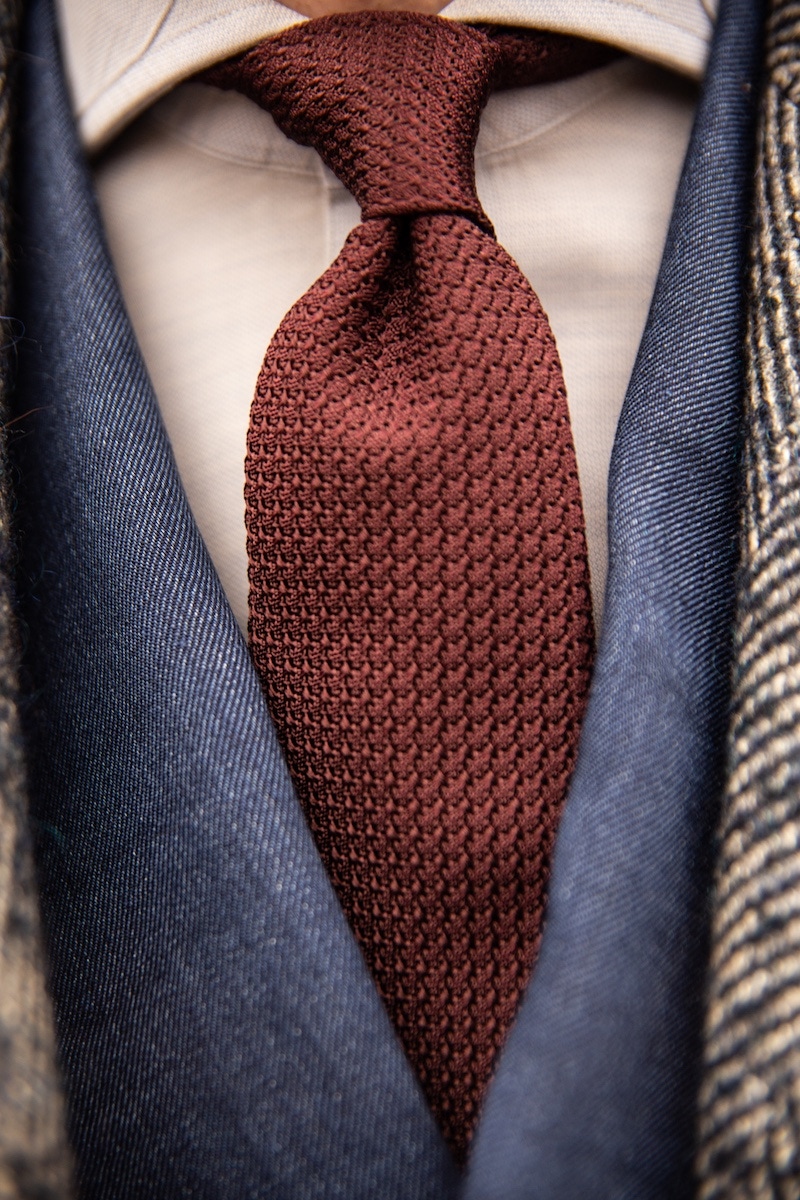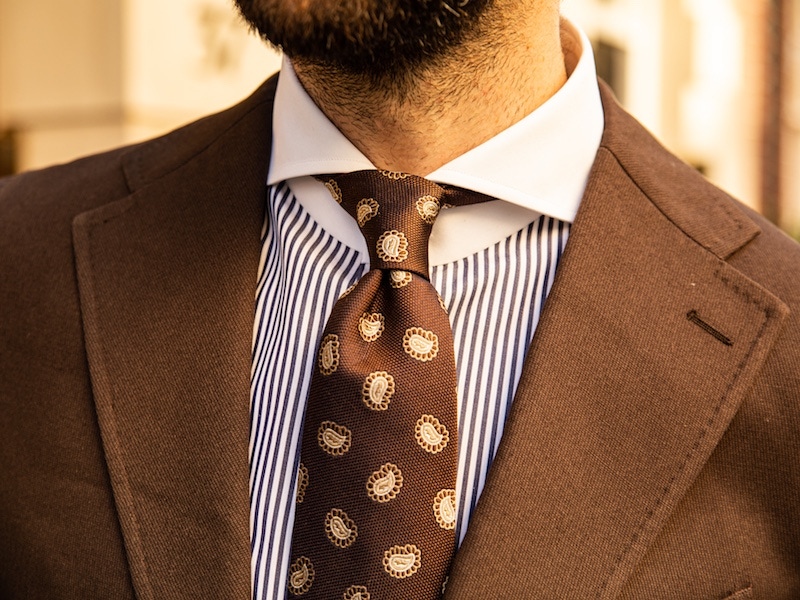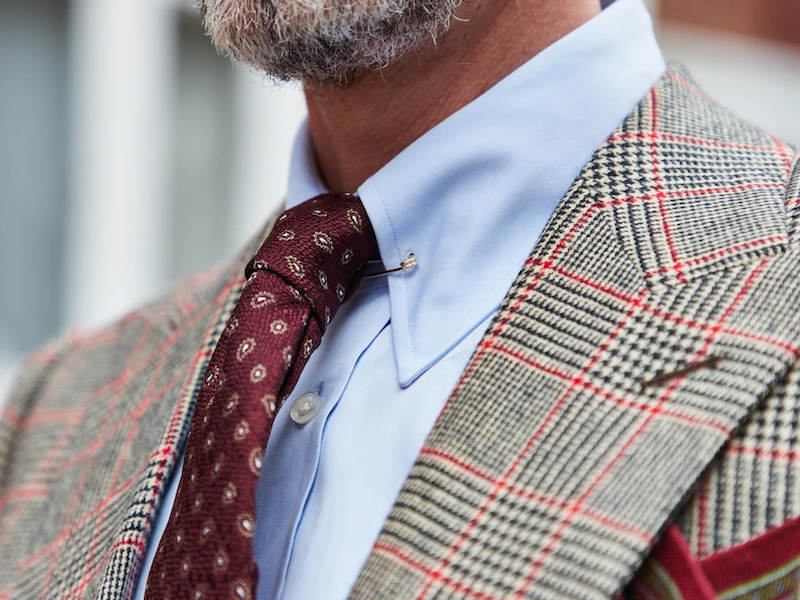 Fabric Woven silk remains the classic choice for businesswear. On one point, the Italian workshops and the English haberdashers agree: the best solid and printed silks come from the home of British silk making, Macclesfield. In the handful of surviving mills, heavy silk is still screen-printed by hand to produce crisp designs. The classics are small repeating patterns such as florals or crests (called 'neats' in the trade) and repeating stripes (whose history lies in old English clubs, regiments, and school colours). These designs have been used by English makers for generations, and for the same reason are prized by American anglophiles like Ralph Lauren, French purveyors of le style anglais, Japanese ivy enthusiasts and Neapolitan craftsmen such as Marinella and Cappelli. The classic woven silk—grenadine—hails from Lombardy, where it's still made on traditional looms. Grenadines come in a range of weaves, from the dense Garza Piccolo (literally, 'small gauze') all the way up to the airy Garza Grossa ('large gauze'). From a distance, grenadines have a matte appearance. Up-close they are a fine mesh of tiny knots. Sean Conney's James Bond popularized the navy grenadine in Britain, and it remains an unimpeachable choice for any formal occasion, but don't overlook grenadines with stripes or hand-embroidered pindots. For more informal occasions, texture is key. One summery option is shantung, made from unboiled ('raw') silk. It has a rough, slubby surface that's closer to linen, but without the tendency to crumple within minutes. In winter, ties follow the lead of tailoring: look to brushed wool flannel and thick cashmere. The king of casual ties is the silk knit. Made famous by Miles Davis, the knit is the perfect choice for any ties-optional situation. Italian makers have successfully experimented with soft cotton and wool knits, diagonal or striped knot patterns, but the absolute classic remains the crunchy silk model with a square end, offered from Rubinacci to the Row. Navy and black go with everything, but also try olive, burgundy, and gold with odd jackets and casual suits.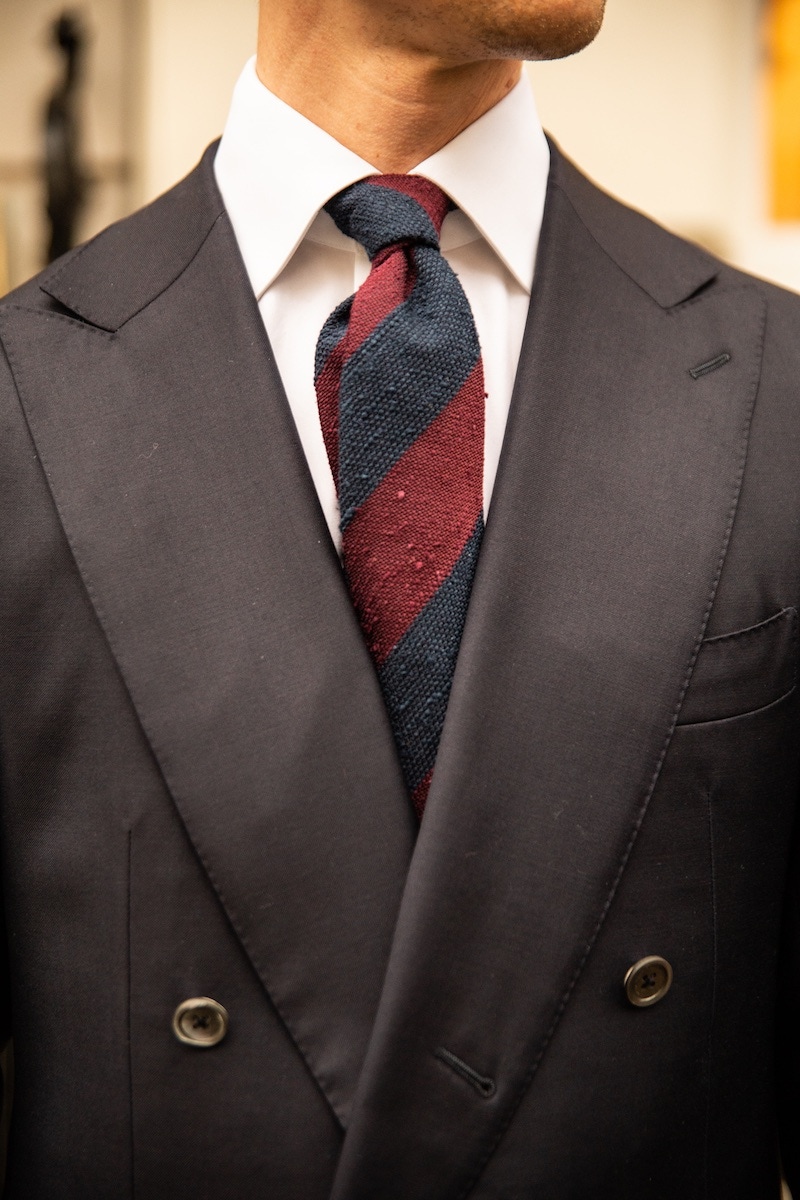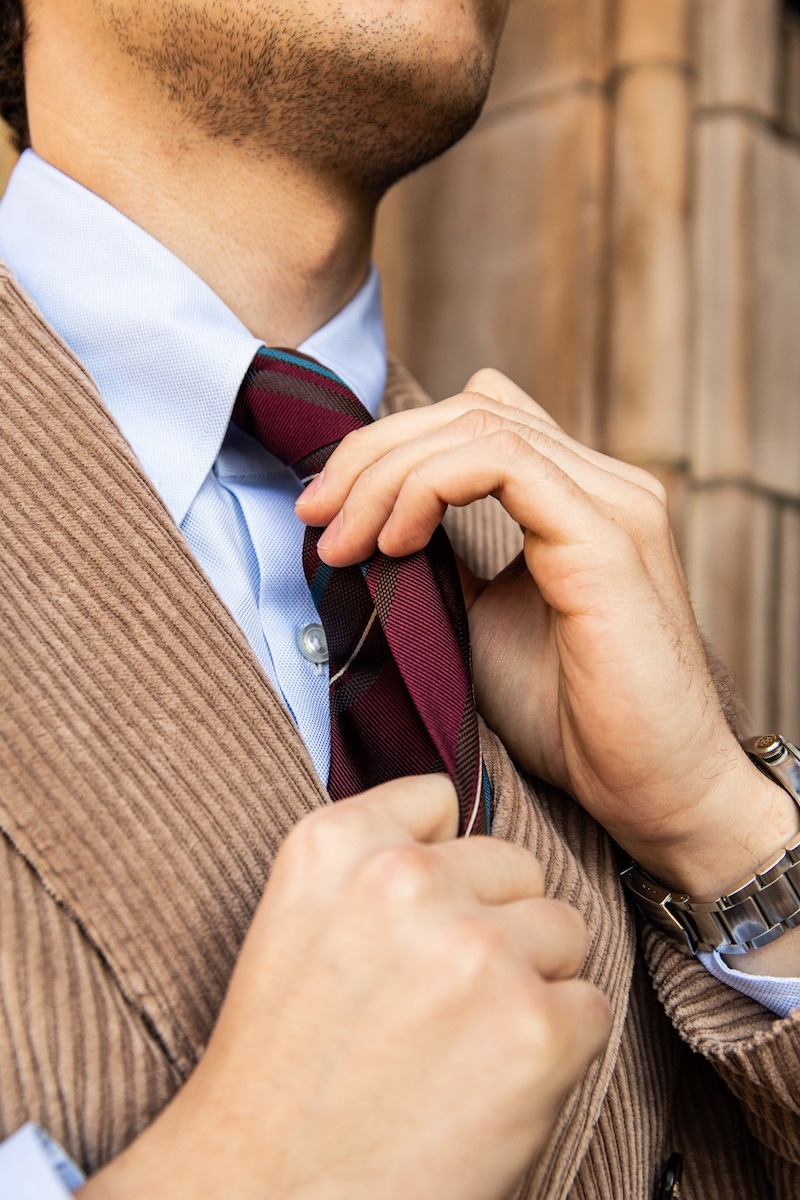 Styling Glossy or matte, decorative or plain, sober or bright? These are questions of personal expression, character, dare I say soul. So is your choice of knot. You can go for even or uneven, large or small. Half- and Full-Windsor are the classic symmetrical knots. The single- and double Four-in-Hand are asymmetrical equivalents. Double knots provide more size, and tend to suit wider collars, but they also make longer ties wearable for shorter men. Beyond these serious, even theological questions of style, we can all agree on a few things: neats work brilliantly with suits (as you'll see any weekday in Rome). Repeating stripes are natural partners to tweed jackets and blazers. Strong colours are best in rich textures, while glossier silks deserve more reserved tones. A good navy tie and blue shirt can ground the loudest Neapolitan jacket, while a gold grenadine or pink cashmere can bring life to the most reserved English suit. As in tailoring, England and Italy dominate, but some of the best innovators, like Kenji Kaga, are Japanese. When travelling, a navy grenadine and a chocolate silk knit will take you anywhere. Finally, if you long for an open collar in the summer but miss the lure of silk, consider the cravat: a wider, unstructured ancestor to the modern tie. Prized by men of serious presence from Oscar Wilde to Edward Fox in The Day of the Jackal, it's an intrinsically casual choice that flirts with excess. British shirtmaker Budd makes a classic cravat in bright silk; or for a subtler alternative, look to Anderson and Sheppard's tonal neckerchiefs. Neckwear is one of those rare spaces in the classic male wardrobe for unfettered expression. It's also a chance to experiment a bit: if you're a sober character, allow yourself a tie that catches some eyes—a vivid cashmere number, or luminous yet dusty ancient madder. If you're a habitual modernist, try neckwear made from a heritage cloth like Shetland tweed or Irish poplin. And whenever you want instant gravitas, it's hard to go wrong with a grey suit, white shirt, and seven folds of solid navy. How do you decide what's best? You'll know it as you tie the knot.