A Towering Achievement
With more billionaires turning their gaze towards luxury properties in Singapore, one new development in particular nails today's hunger for 'psychological luxury' over material goods.
Wherever we are in the world, the tick-tocking grind of modern metropolises and the prevailing pursuit of technological innovation in all aspects of our lives take us further away from the natural world and the ancient benefits therein. The less we interact with nature, the more we unplug that link to our past and our synergy with all living things.
So there's something very poetic, indeed noble, about incorporating the concept of 'biophilia' — the love of plants and other living systems — into a building project in Singapore, thus reconnecting residents with what once, relatively recently, existed there. That's what's been achieved with this achingly desirable property based at 2 Draycott Park in Singapore's ultra-luxurious District 10, adjacent to Singapore's exclusive private Tanglin Club and a few minutes' walk from prestigious shopping zone Orchard Road as well as numerous five-star hotels, embassies and the UNESCO Singapore Botanical Gardens. EDEN is undertaken by Swire Properties, which has a global portfolio of high-end developments and has built more than 32,000 residential units since its establishment in 1972. The company creatively transformed urban landscapes over 45 years with its strong heritage of bold design, including the Frank Gehry-designed OPUS HONG KONG, which set the record for the most expensive apartment in Asia when its penthouse was sold for HK$ 510million in 2015.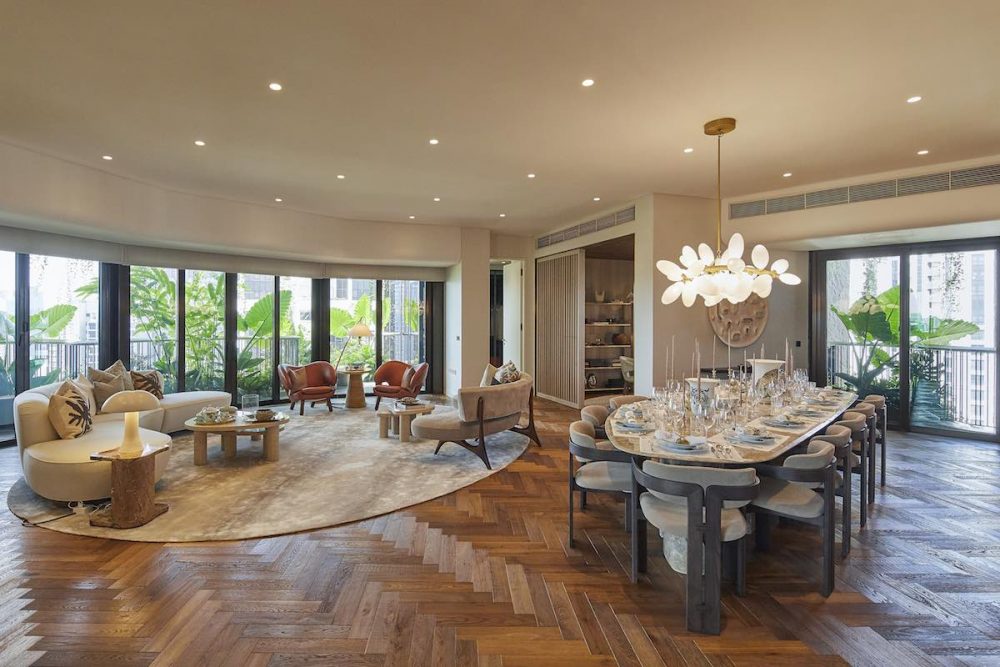 "With this being our first residential development in Singapore, and in such a fantastic location, we engaged award-winning London-based Heatherwick Studio to design something truly unique, setting a new benchmark for ultra- luxury residences in Singapore and throughout Asia," said Adrian To, Director of Residential at Swire Properties. EDEN consists of 20 exclusive freehold apartments, each occupying more than 3,000 sq ft over an entire floor of the building with complete privacy and all blessed with 270-degree panoramic views and four en-suite bedrooms. The development not only responds to but nudges forward a new zeitgeist, whereby high-net-worth-individuals are placing increasing emphasis on more life-affirming luxuries: simple elements such as fresh air, sunshine, clean water, wellbeing and adherence to sustainability and other ecological principles.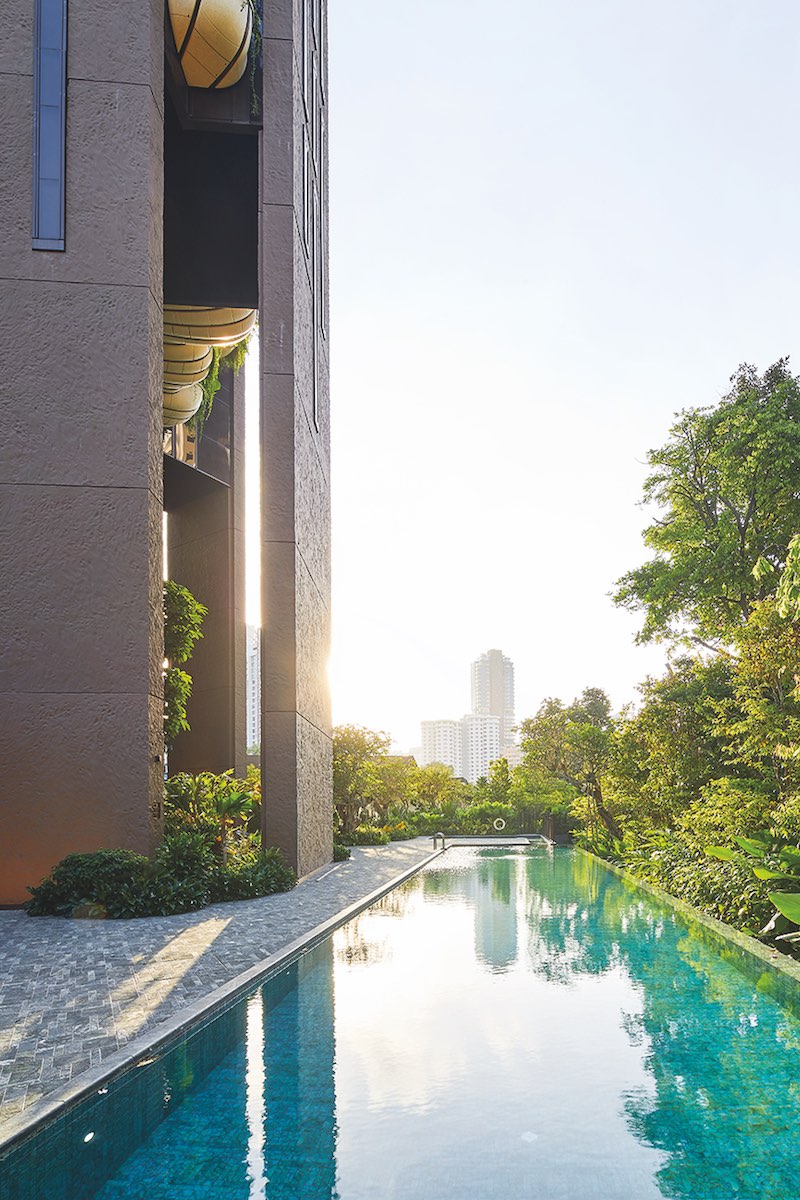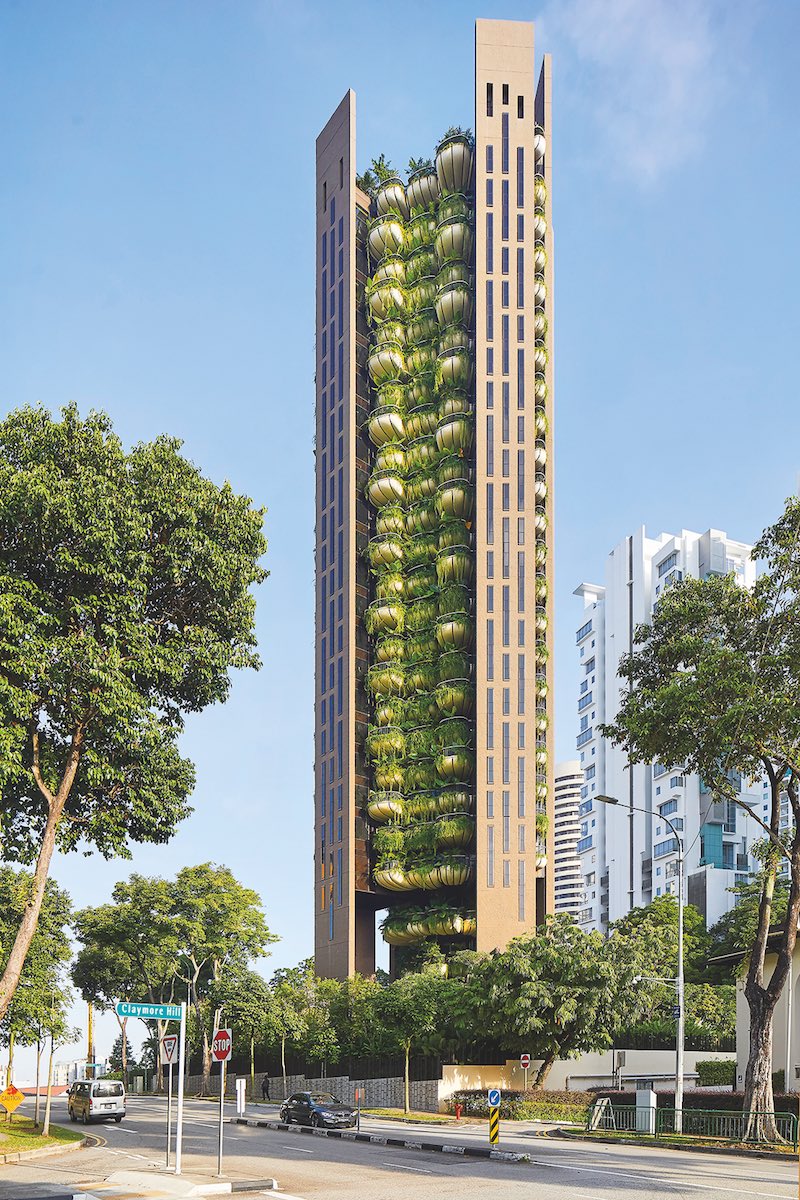 Citizens of and visitors to Singapore can tap into that seismic shift in human attitudes towards what makes us happy — their eyes drawn to the 22-storey building, its façade cleaved by a vertical column of cantilevered and alternating balconies that create a series of double height spaces and high-degree of privacy. "It's a huge responsibility making somewhere that people are potentially going to spend the rest of their life in," says the British designer Thomas Heatherwick, of Heatherwick Studio, who has been described as "the Leonardo da Vinci of our times" by none other than the late Sir Terence Conran. In fact, says Heatherwick, the idea was to make a building that was nature-based from within, rather than embellished with natural features as an afterthought. The studio took the standard building form and literally broke it open, as though nature was pushing through. They imagined a spouting seed planted at the core of the traditional plan, its energy breaking the plan apart and intertwining upwards between the gaps. It's as though nature has won. Little wonder that the building attained the highest Green Mark Platinum rating from Singapore's stringent Building and Construction Authority with its impeccable environmental credentials. The word 'biophilia' was often used by designers to indicate the presence of plants around a building. "The more we've been working with the concept, the more we've found that the things you connect with are not just plants but movement and change and sound. You need places that aren't just static and sterile and unchanging."
At the core of this philosophy — and it's a concept that will resonate with readers of this magazine — is the notion that the effects of time on a material should enhance and enliven it, rather than deplete it. "One of the main ingredients we have here are the plants, and the older they get the more life and the more changes and vitality they're going to give the project,"says Heatherwick. The floors are thick oak with natural vibrant colouring, and over time they'll wear and express more. The doors are carved walnut, which will also age over time — the more people interact it, the more it'll polish on the edges and surfaces. Astute observers will also note that EDEN looks 'in situ' not just in terms of biology but topography, too. "Concrete can look monolithic, but we wanted to humanise the façade with something that would be unique to this building," says Heatherwick. "The design team took the natural contours of Singapore's terrain and abstracted it to create a topographical texture." To create a perfect, natural-looking hue for the building, more than 100 deep red, purple and brown shades were tested under Singapore's abundant and intense sunlight. "I love buildings that keep revealing details to you the more you look at them," says Heatherwick. The importance of family in Asian culture is well renowned, and even this has been taken into account by a team meticulous in their quest to create a building that belongs where it is. "One of the things that we found was often missing in the apartments we saw when we were first commissioned by Swire Properties was efficient use of space focusing on 'a sense of togetherness'," Heatherwick says. "So here, when you come out of the private lift, you come through the lobby and out into the main space and the view opens up to you, and there's a space that wraps around entrants; then the different rooms spring off that, and wrap around these gardens in the middle that act like courtyards, and have these amazing tropical plants. It's a spiritual heart to the apartments." The goal with EDEN, says Heatherwick, was to marry the benefits of a house with a garden with those of an apartment. In most houses in this part of the world everyone's just surrounded by air conditioning. Here, you're surrounded by doors you can open because you're at this altitude, and the cross-ventilation is amazing. So there's a real potential for at least part of your everyday to be spent in a greater state of harmony with nature. Indeed, even EDEN's swimming pools are inspired by natural lakes, offering residents exceptional natural living. EDEN residents will get to take advantage of these considerable modern-day benefits surrounded by soul- enriching reminders of the silent wilderness — replete with restorative nature — that this roaring Asian Tiger has been for all but a miniscule fraction of its existence. Visit
eden.sg
to find out more about the unparalleled lifestyle afforded by this unique building. For further information and viewing arrangements, please contact Swire Properties on Singapore (65) 9093 3628 or Hong Kong (852) 2922 4888, or email sales@swireproperties.com.