Aero Leather: Crafting Classics
Aero Leather isn't trying to reinvent the wheel. Instead, the Scotland-based brand takes classic styles and crafts them to a standard as hard-wearing and exquisite as the originals.
When asked why every man should own a leather jacket, Ken Calder, the co-founder of Aero Leather, is quick to respond: "It's a substantial classic that's timeless in appearance," he tells
The Rake
. "A leather jacket stands up to any type of weather and will look better with every decade of wear." Calder, who hails from Caithness, Scotland, founded Aero Leather in 1975 with his wife Lydia. It was originally set up as a trading business, dealing in authentic jackets from the WWII period, but in 1983 the pair changed direction and started producing iconic styles of leather jackets from a range of eras, rivalling the very best in the world. Ken's leather-love-affair blossomed when he was in London in his early-20s, and stems from selling what is now considered vintage in the capital's surplus of hustle-and-bustle marketplaces. "From day one I found it easier to work with leather than cloth," he tells
The Rake
, which is interesting, as on the surface you'd think it would be the opposite. Since 1983 Aero Leather has reproduced dozens of iconic silhouettes from the last century that have become synonymous with a timeless sense of style. From militarywear to biker jackets, and all that lies in between, Aero Leather is a leader in the field and a mere mention of some of its heavy hitting Hollywood customers backs that theory up. An admirable trait of Aero Leather is its practice of loyalty: "We began in the early 1980s by using Connolly upholstery leather," says Ken. "At the time they supplied
Rolls Royce
,
Aston Martin
and
Bentley
— I imagine we got offered the hides they had rejected!" Aero wasn't limited to just Connolly, though. "In 1986 we started importing horsehide from the U.S. and for several years we were the only leather jacket maker in the world using horse leather, as it had gone out of favour in the 1960s because it was considered too difficult to sew." This has now come full circle, as it's one of the most sought-after leathers by the jacket makers. Aside from leather, Ken has also been working with the same Manchester-based cloth merchant since 1968 to line his jackets.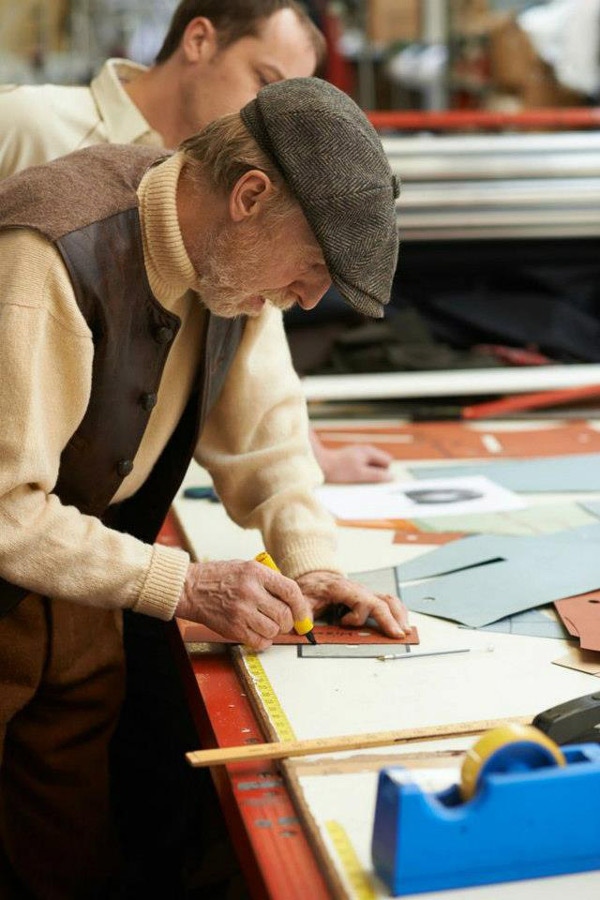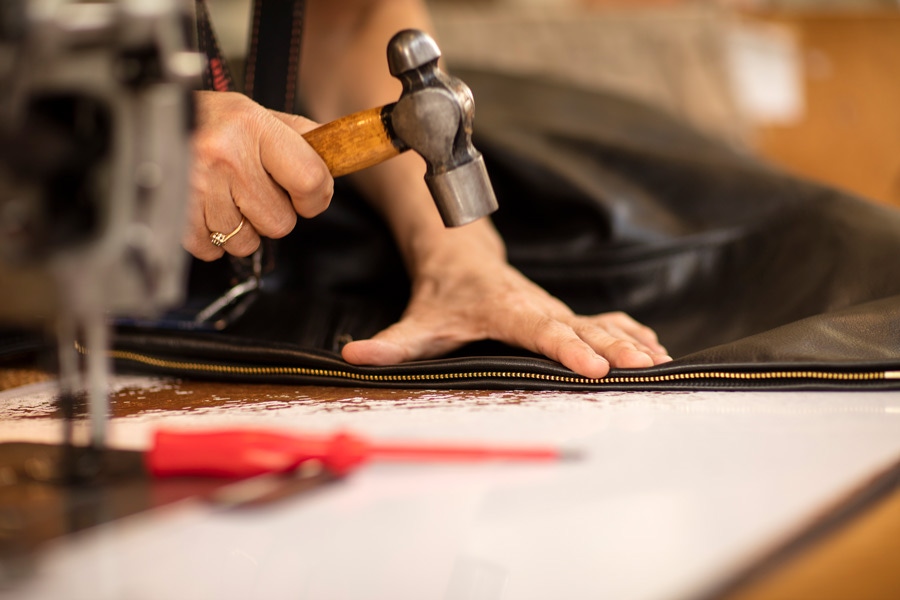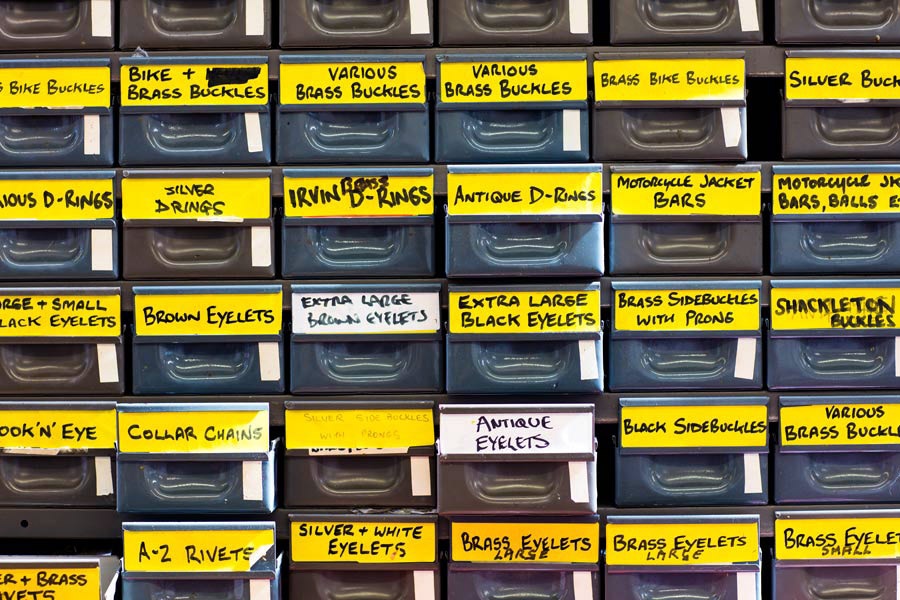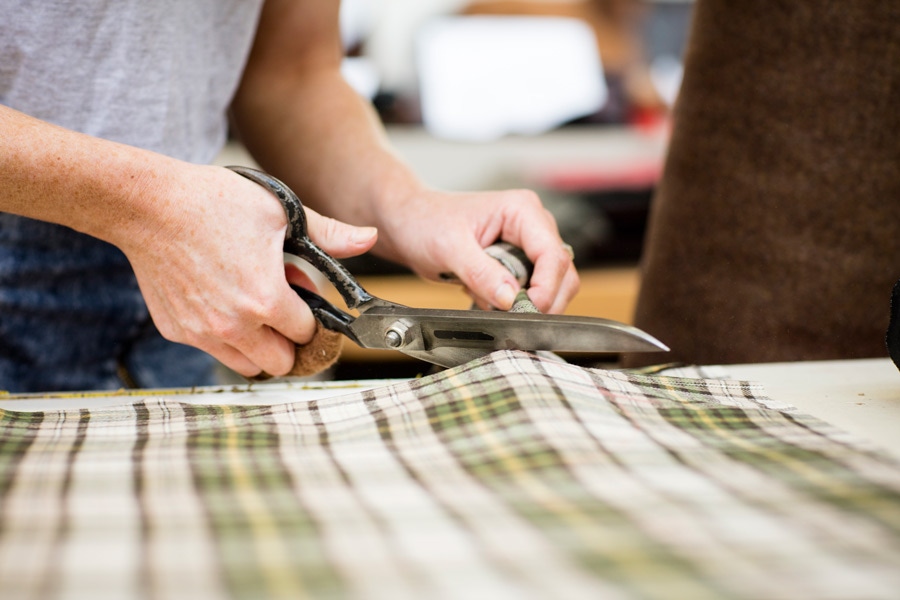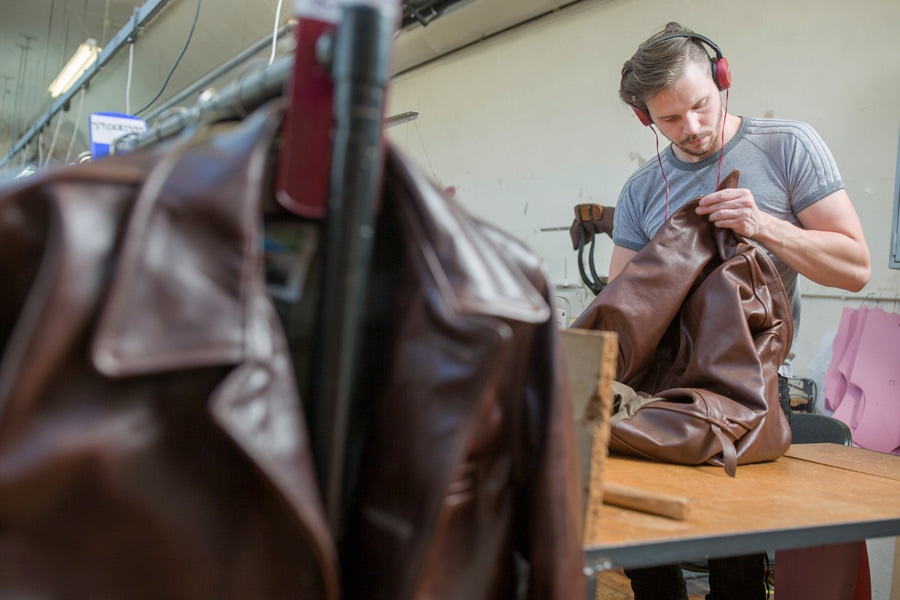 Aero Leather's workshop is in Galashiels, Scotland. According to Ken, "Our manufacturing staff are a mix of several very experienced machinists who started here in the 1980s, a few Heriot Watt Textiles University [established in 1883, it's the leading university in the UK in textile training] graduates and a couple of newly qualified machinists." One machinist has been with the company since its founding and has made an estimate of around 15,000 jackets. From start to finish, each jacket is made entirely by hand with no shortcuts, which is an approach to workmanship that's becoming increasingly rare these days — "There is no production line at Aero," Ken firmly points out. Cutting the jackets demonstrates extreme skill and experience. As many as four skins can be used in a single jacket, and as each one differs to the next, finding a consistency in terms of thickness, colour and characteristics is vitally important. What's more, whilst it's easier to batch cut patterns that are layered on top of each other, Aero Leather refrains from doing so, despite it being a time-saver. It also refuses to 'skive' the skins, which is the term used for shaving down the thickness from the underside of the leather to make it easier to sew in a seam or fasten buttons, which are all sewn on by hand. Once all the patterns have been cut, they're pieced together by a manually-controlled industrial sewing machine using a thread with a poly core to help combat the toils that a leather jacket should naturally go through.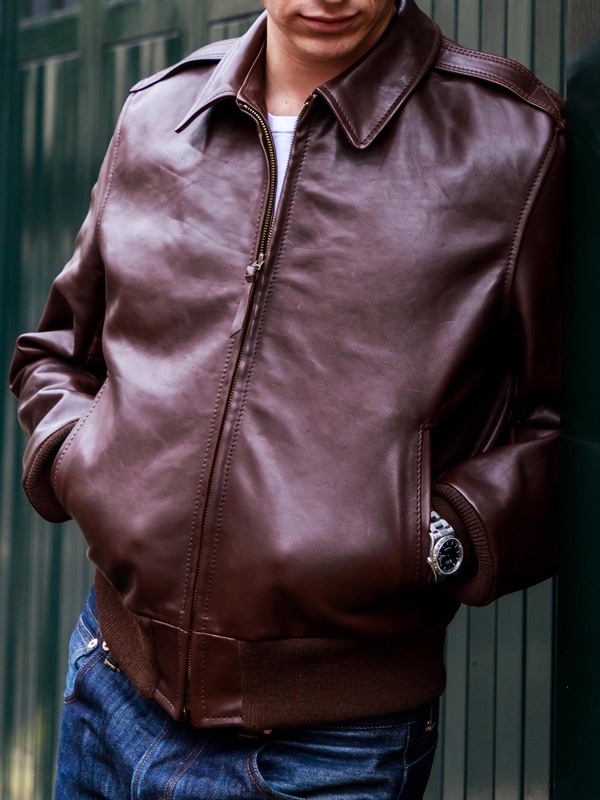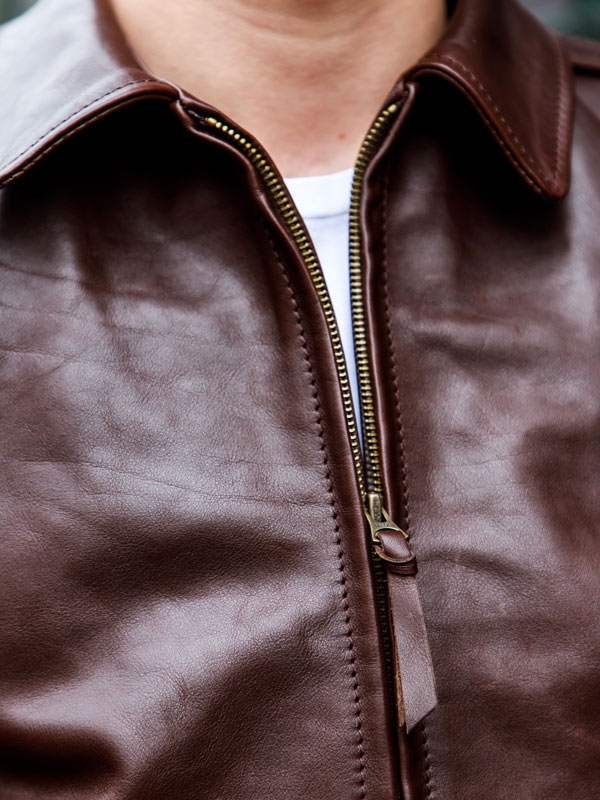 Some jackets require finishing touches, which can be time consuming, particularly the Daytona style with its plethora of studs, pockets and extra details. "The Daytona is an amalgamation of the very best design features taken from several original 1940s and '50s American motorcycle jackets," Calder says. The Daytona is without doubt a raw, sturdy piece of kit that reflects a sense of counter-culture rebellion — the classic biker is a true outerwear icon. In terms of the robust design, it "will withstand the very roughest of treatment and will look after itself. Maybe in a decade it will need a light bit of oiling," Ken says. The jacket is constructed from the aforementioned horsehide leather, which is extremely hard-wearing, and the front quarter features a classic 'D' pocket for extra protection on the left hand side, which has a small button-fastened pocket for easy access to important items and a small zip pocket. Elsewhere, there's a neat, removable belt for when one needs to strap-up and a left chest zip pocket. The zipper system is top-notch, and the craftspeople at Aero have managed to create a lovely, louche roll to the collar. The second jacket to hit our digital shelves is the Happy Days, which is named after the hit American TV series of the same name which ran between 1974-1984. The series' lead Fonzie wore an A2 flight jacket, transferring it from its military roots into a civilian way of dress. The A2 flight jacket was introduced by the U.S. Army Air Corps in 1931 as the successor to the A1 and was standard issue until 1943. Compared to the original, the Happy Days does not have front patch pockets, but rather sleek side pockets, making it a slightly more formal iteration. With knitted cuffs and waistband to retain warmth, it's constructed from horsehide leather and the back panel consists of one entire skin. With shoulder epaulets, a pointed collar and a central zip, it's a true winner when worn with raw denim jeans. The secret to wearing a leather jacket is utterly straightforward, there's no complex math to it. Keep it simple and wear the hell out of it, as over time, it's a garment you'll begin to cherish more and more.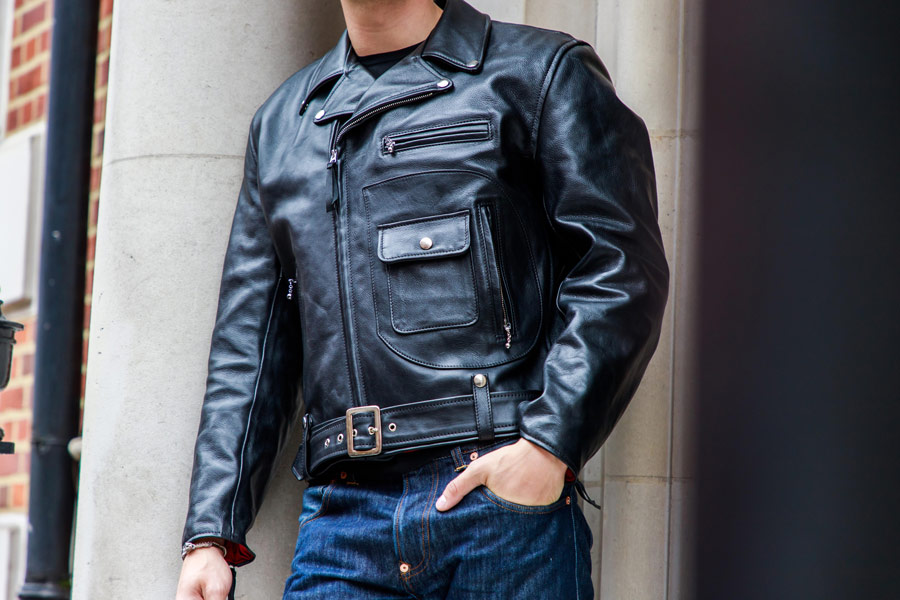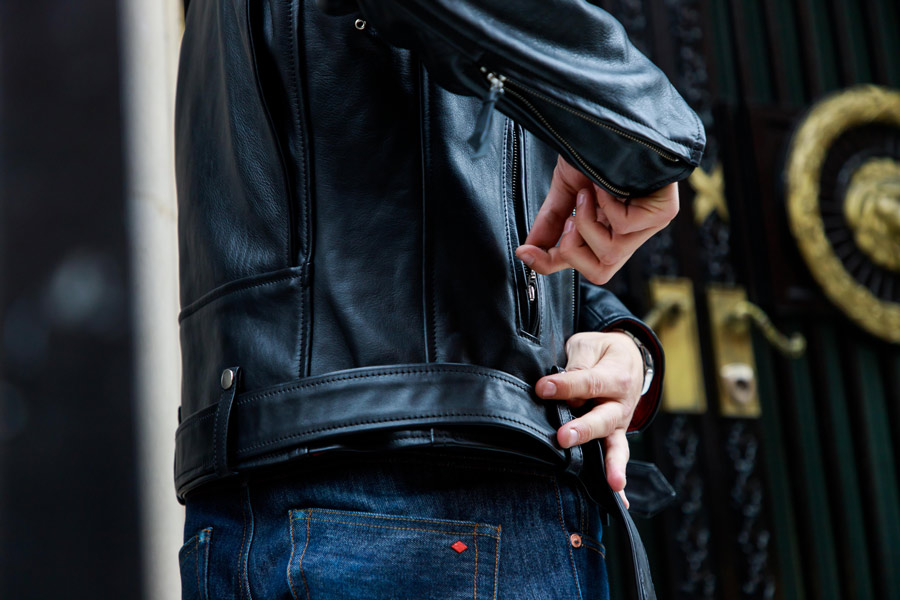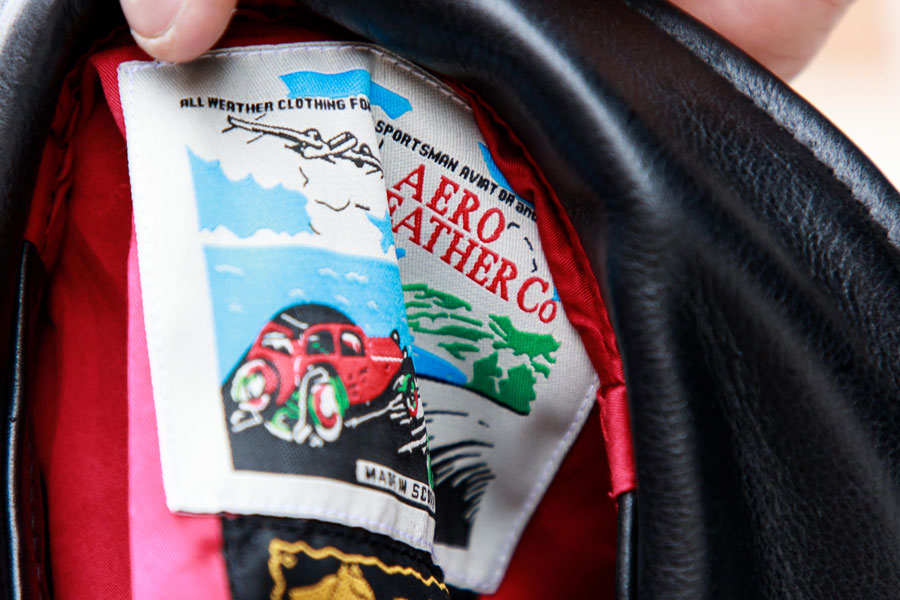 Aero Leather's original label from the '80s. Photograph by James Munro.