The Interview: The Armoury's Alan See
Co-founder of leading classic menswear purveyor, The Armoury, Alan See says educated customers are coming to value Asian craftsmanship and style.
How have your tastes and approach to menswear evolved since The Armoury launched in 2010?
I think we've grown a bit more relaxed, become open to more ideas and taking in different styles from different tailors — but we're still very much within that classic menswear sphere. Where we started was very much based on, at that time, all the rules that we'd listen to, and all the advice that we'd heeded from our tailors, like Antonio Liverano. And then all the books that we'd been reading — Alan Flusser, Bernhard Roetzel and all that. We had all these things to consider, and that was almost the basis of our shop: classic menswear, and following 'the rules' down to a T. And then over time, once you get to know the Italian tailors a bit more, and become familiar with that sense of sprezzatura, that's when you begin cultivating your own personal style. I'd say we've become more relaxed, more comfortable with ourselves. Our shop and our approach to 'the rules' have evolved to become more flexible.
Has men's appreciation for and understanding of tailoring changed over the past decade?
I'm glad to see a lot of the younger crowd out there slowly getting into it. They're not necessarily going to straight away go for Florentine tailoring. But at least from that quality standpoint, today, they're thinking a bit more. And then from that classic aesthetic point of view, more and more people are definitely adopting that look. We see a lot more of that today, which is really nice. Men in general are just paying greater attention to how they appear to other people, that's quite important, right? Men are paying attention to how they look in a suit and how the suit should fit, whereas for a time there, they just accepted how things were, off the rack, so long as the garment had the right designer label.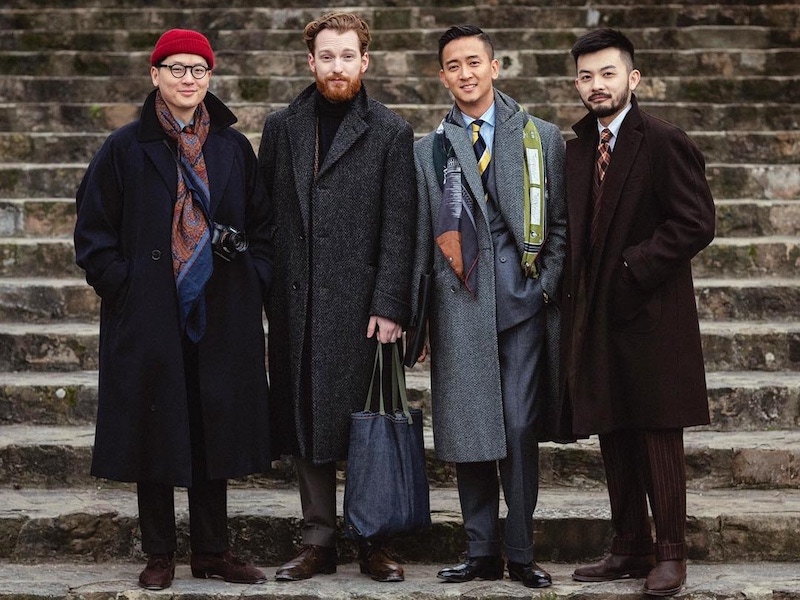 You work with an array of brands and artisans from Europe and Asia. Are you finding that customers are coming to have the same respect for Asian-crafted goods as they might for a product from Italy or Britain? Or is there still a stigma attached to things that are 'Made in Asia'? There's definitely still that allure to Europe, especially with the guys who don't know The Armoury so well. When they come in off the street, and look at something and see, Oh it's made in Italy, they instantly understand that. If they see something like Ascot Chang and don't know their heritage, perhaps they won't have as respect or understanding of the brand. To many consumers, 'Made in Asia' is still generally connected to a cheaper, mass-market product made in big factories. People are still learning about the smaller craftsmen in Asia. But they're open to learn about it, they're open to listening, so that's what we do at The Armoury, we educate the customer. And once we explain to them who Ascot Chang is or what they've been doing for the past 60 years, then they understand it, and they appreciate it, and they are willing to pay a premium. But it definitely comes with that education process. So that's the 'Made in Hong Kong' side. But when it comes to the Japanese products, a lot of people do understand Japan's sense of craftsmanship and attention to detail, they already know and appreciate it.
Despite being a Hong Kong brand, The Armoury is stylistically very Eurocentric and has never really done anything eastern flavoured. Do you think that might ever happen? That's a good question. You're correct, The Armoury was born in Hong Kong, (cofounder) Mark Cho and I are of Chinese descent, and I really love 'Made in Hong Kong' and I love 'Made in China'. I'm a big fan of Chinese individuality, Chinese style. Not enough people have it here in Hong Kong. Whereas when you go to Japan, you do see guys walking around in traditional garb, and in the modern setting, it's so beautiful. The last few black-tie occasions I've been invited to, I wore my Chinese cheongsam — it's a beautiful garment that I believe more people should wear. Actually, at some point, we were trying to offer something like that, particularly for our wedding customers, who are a big segment for us. Many of those customers go for the western option, tuxedos and morning coats, and we try to advise them on how to wear that. But being Chinese, we should offer the option to look elegant and classic wearing a cheongsam. We've been looking at certain options, but the cheongsam craftsmen have capacity issues. It's even worse than tailoring, it's truly a dying industry, and a lot of the guys who make cheongsams, they're already gone. It's really tough. But I'd love to do it. We just have to find the right guys to partner with and do it the right way, give it the respect it deserves.