Alps & Meters at the Snow Polo World Cup
The Rake took to the frozen lake of St. Moritz with alpine brand Alps & Meters for the annual spectacle that is the Snow Polo World Cup.
For anyone not familiar with life in the Alps, the idea of ponies charging about upon a frozen lake some 1,822m above sea level, mounted by players swinging mallets in rapid arcs of competitive intent, might seem rather preposterous. Throw into the mix an Azerbaijani dancing troupe and you could be forgiven for thinking the -20 degree air had prompted your brain to take leave of its cognitive duties. But your eyes, and those of 18,000 other spectators, would not be deceiving you. What you are witnessing is the Snow Polo World Cup, first played in St. Moritz in 1985, and on the last weekend of January ever after. This year's tournament was blessed with glorious alpine sunshine for all but the final game between Badrutt's Palace and Maserati, the former coming out on top, with Melissa Ganzi, Badrutt's Team Captain, making history as the first female player to win the tournament.
The Rake joined the event with Alps & Meters, the outerwear and skiwear brand hailing from the US. Their clothing, borne from a passion for classic styling and functionality, was a godsend in the bone-chilling alpine climate and fit right in among the sophisticated St. Moritz crowd. Rather than perpetuating the trend for obviously technical and often garish mountain kit, Alps & Meters has a definitive eye for chic, timeless design, using a combination of natural fibres such as wool, leather and shearling to create collections that perform just as well on the slopes as they do in the après lounge bar.
This season's collection takes classic silhouettes and puts a contemporary twist on them, whether it's the oversized shearling collar of a leather bomber jacket, or the gradient dyes applied to an alpine shawl collar ski sweater. Weatherproof fabrications are also what Alps & Meters really excel in - think British Millerain waxed canvas, technical-lined leather, merino-weave Milior wool, and down-filled apparel, all designed with a classic tailoring approach.
Chocolate Sheepskin Leather Bomber Jacket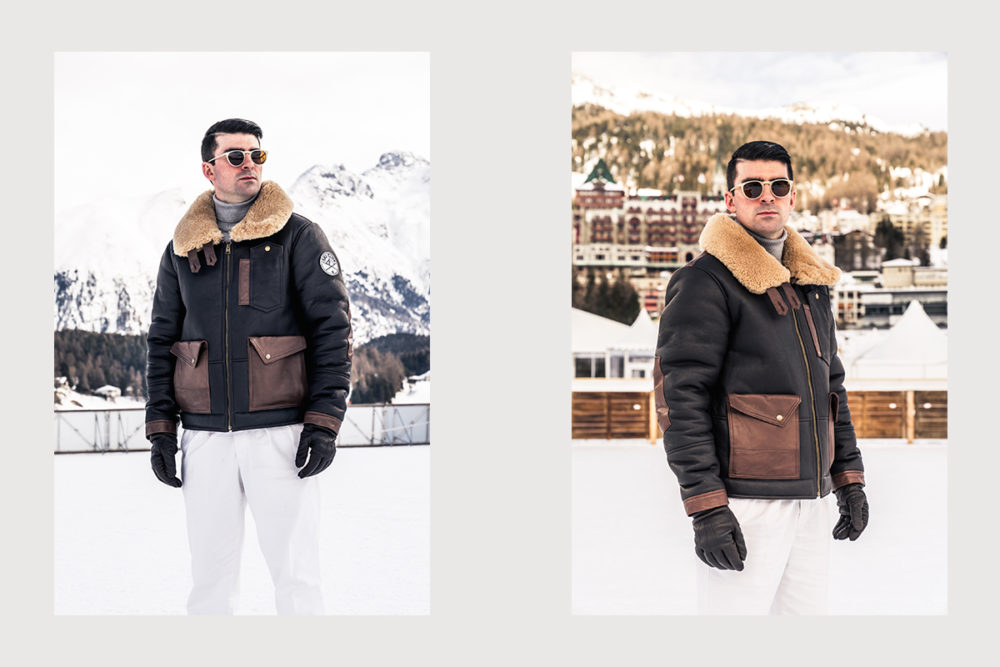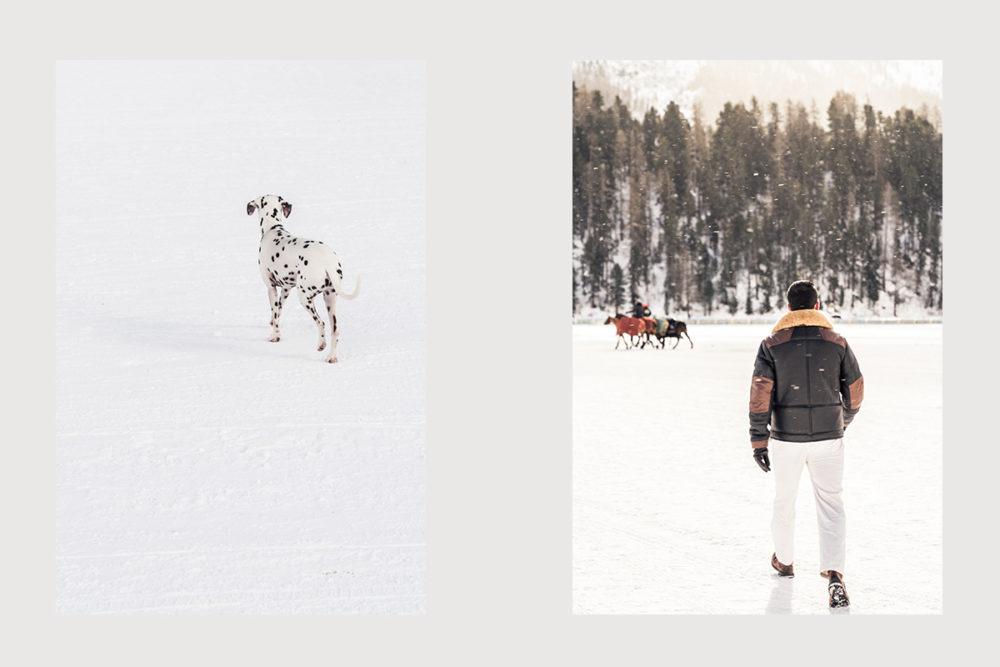 Navy and Brown Shawl Collar Wool and Leather Jacket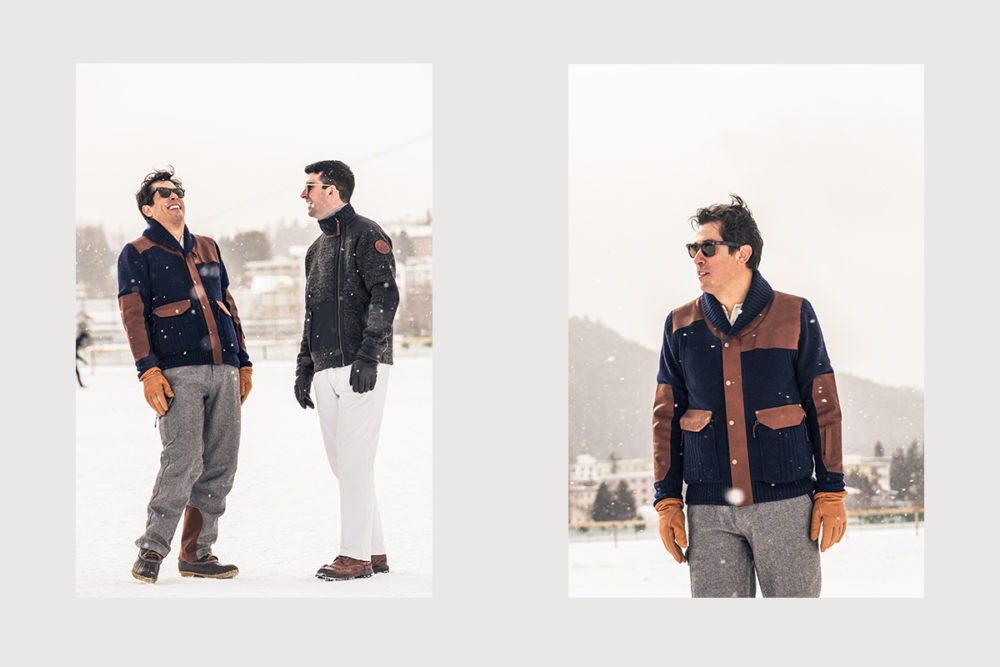 Grey Alpine Combined Down-Filled Knit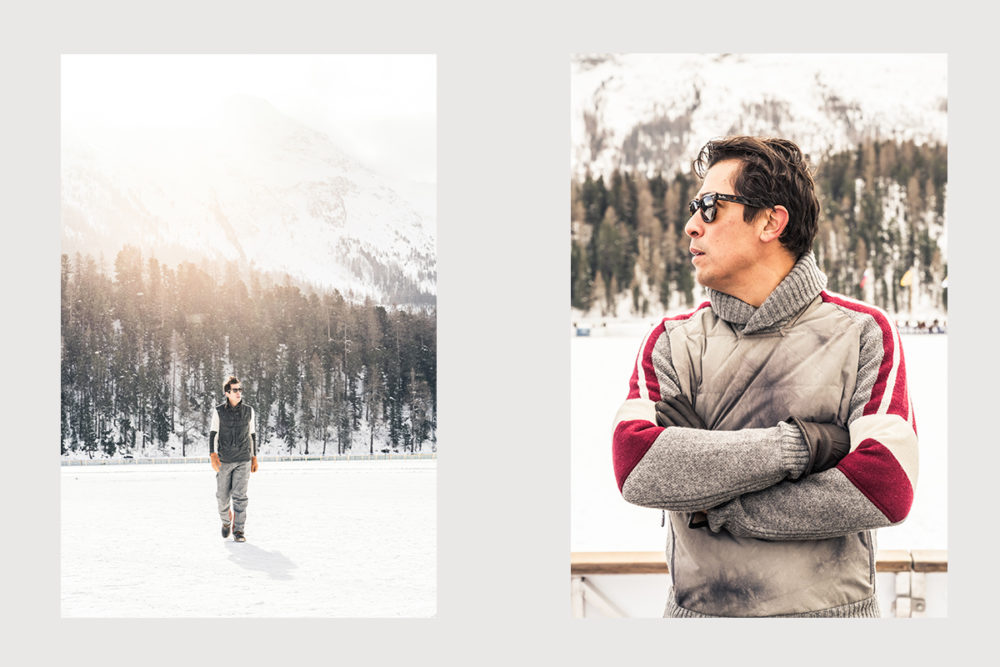 Charcoal Becagli-blended Wool Patrol Knit Zipped Sweater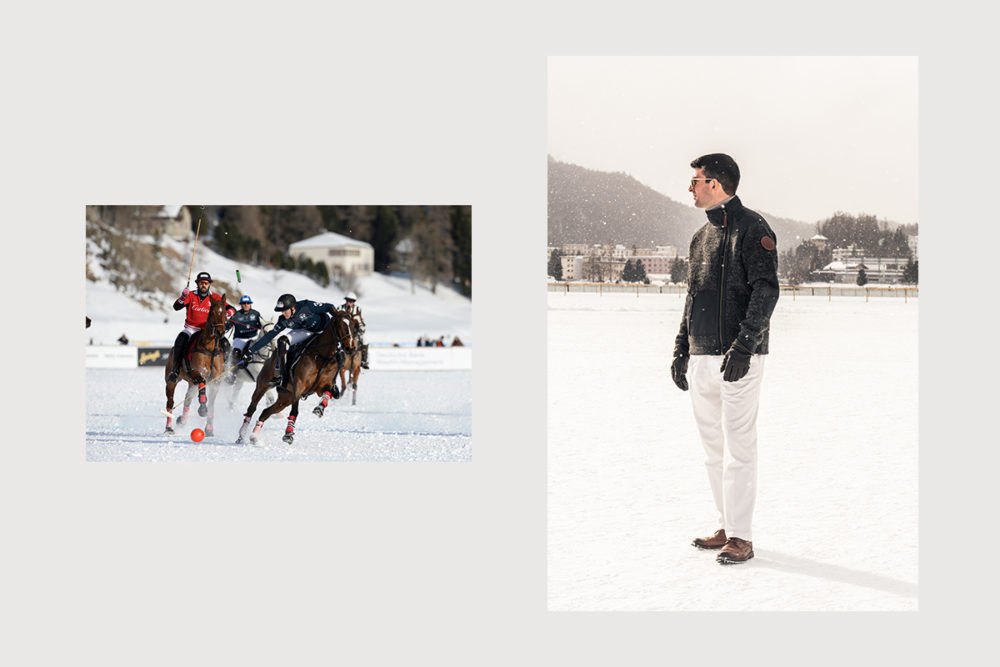 Blue British Millerain Patrol Parker