Alps & Meters: Snow Business
Founded by a promising 40-something entrepreneur, tech-savvy, vintage-inspired ski-wear brand Alps & Meters combines the best of old and new.
The prominence of mega-rich young whippersnappers such as Messrs Zuckerberg, Systrom and Spiegel may lead you to think otherwise; but the fact is, successful twenty-something start-up founders are rare creatures indeed. In America, there are twice as many start-up home-run hitters aged over 50 as there are aged under 25. Studies show that the typical entrepreneurial winner is around 40 years of age, possessing a decade's experience in his chosen field. He fits that profile pretty perfectly, so things look promising for Louis Joseph, the founder of "tailored, technical and timeless" ski-wear brand, Alps & Meters. Prior to quitting the corporate world and launching his new company in 2014, Joseph spent several years as the global director of strategy and innovation at sportswear giant Puma, where he was responsible for driving inventive new brand-product concepts across the company's numerous divisions. Earlier, he'd served as a global VP of product marketing at K-Swiss, an innovation consultant for The North Face, and as a younger man, fresh from gaining his MBA, was a brand manager at New Balance. This fortyish fella clearly has the requisite performance sportswear experience, and with Alps & Meters, he's also got a terrific line of product and strong brand philosophy — one that will undoubtedly appeal to The Rake reader. Its name referring to the terrain where these garments come into their own (alps) and the measurement of both mountains and a tailor's cloth (metres), the inspiration for the brand was sparked a little over a decade ago when Joseph was skiing in Sweden. "I was in a mountain town and found an old ski sweater which really appealed to me, and because it was a knitwear piece, it had a lot of nostalgic attributes – I've skied in it ever since," he says. "Virtually everywhere I've gone, the sweater was a conversation starter. People wanted to know why I was wearing it, what did it feel like, was it protective. And knowing that that garment could be improved, really led to the formation of Alps & Meters."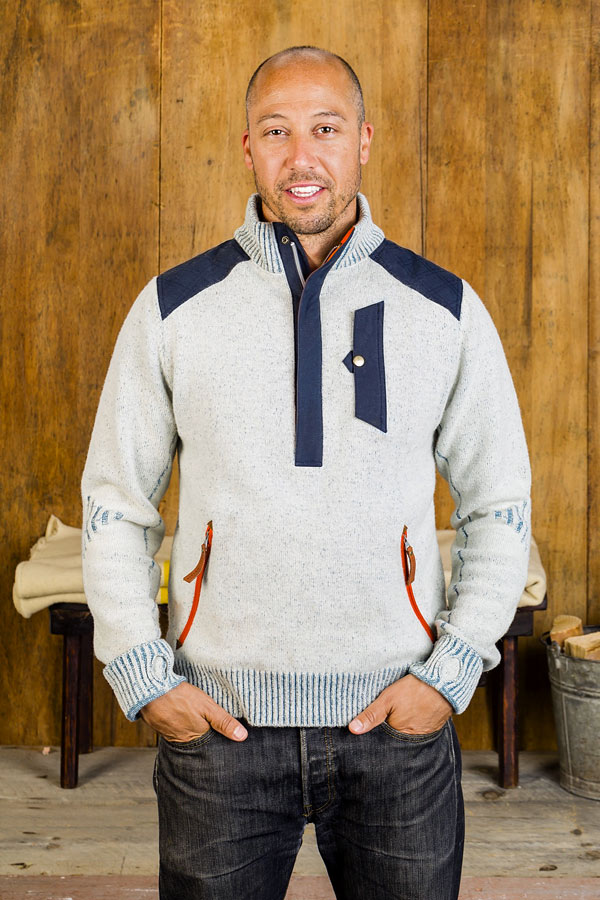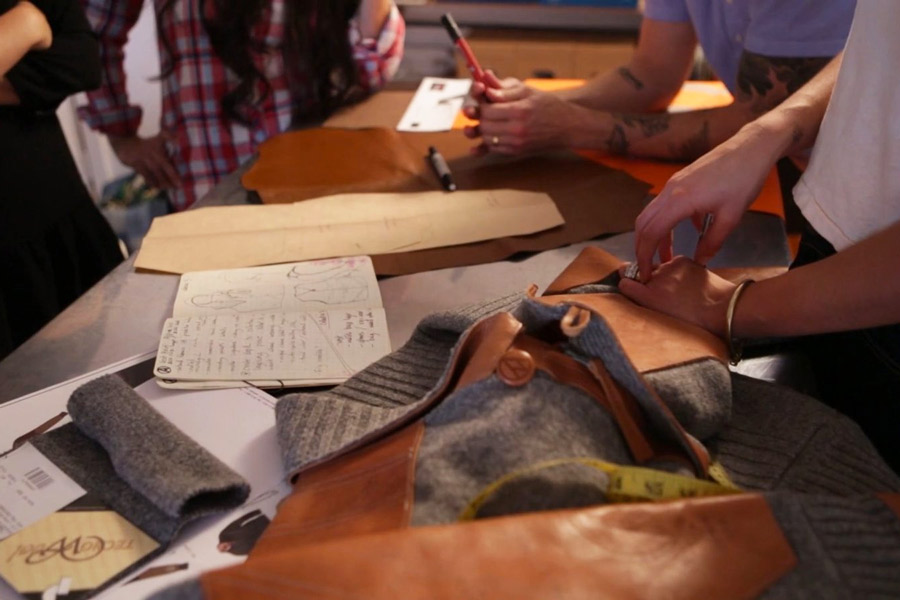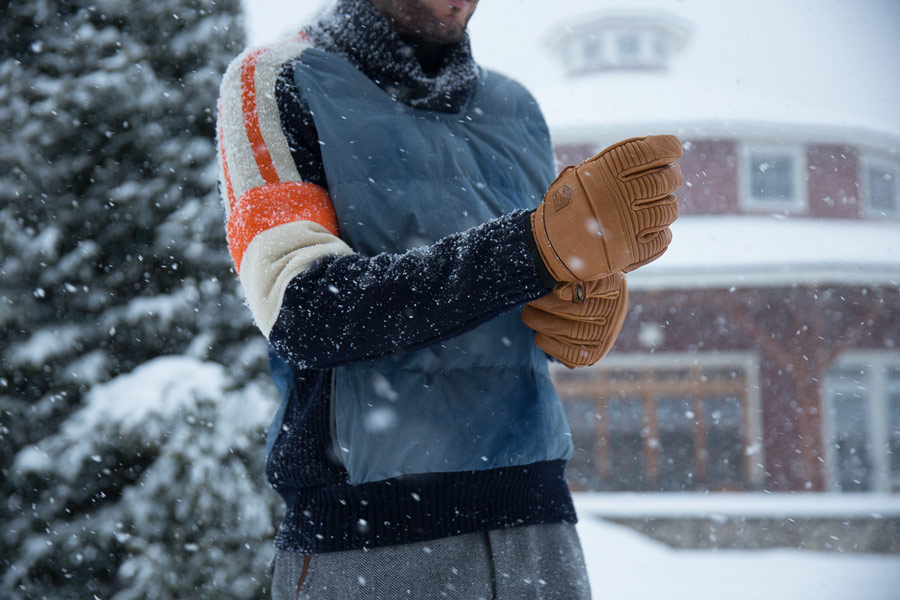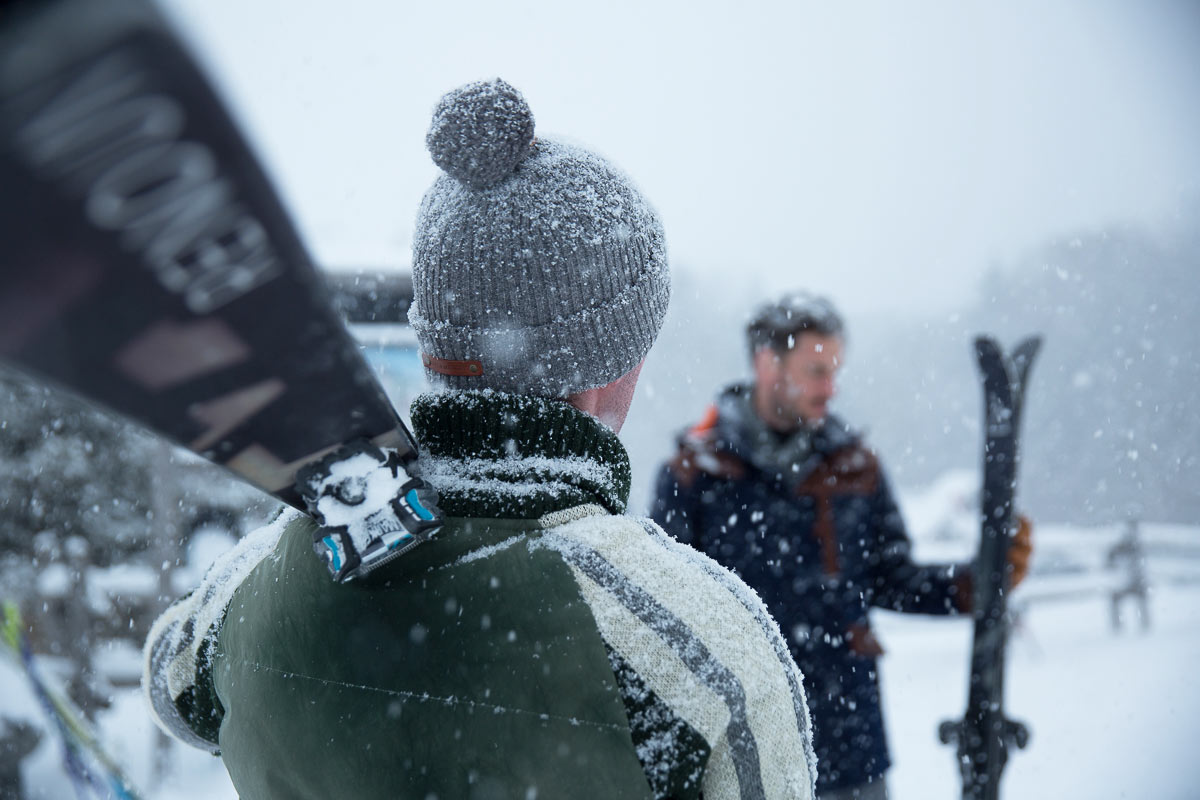 Perfect for the style-conscious skier or snowboarder who values the technical attributes of modern snow-wear but would feel a sartorial heretic clad head-to-toe in fluro GoreTex, Alps & Meters provides a brilliant balance of old-school styling and cutting-edge innovation. "What sets Alps & Meters apart from other performance brands is our approach to performance outerwear. We use classic garment construction, and technical materials as well as natural materials to present a new lens of performance outerwear," says Joseph. "It's nostalgia, it's romance, it's the tradition and legacy of the sport — those are things we appreciate that might be slightly different." Combining classic construction, a blend of natural and man-made materials, timeless design and timely functionality, over the few years since its inception, the Boston-based company has built up a seriously handsome range of serious performance gear. The men's
shawl collar jacket
— a heavy water- repellant lambswool sweater with full grain leather detailing, inspired by that seminal Swedish vintage find — is the garment that got the ball rolling, and remains a best-seller. The lace-front, waterproofed waxed canvas
alpine anorak
that launched this year, meanwhile, took its cues from the uniforms worn by the 10th Mountain Division of the US military, an elite alpine unit that fought in the mountains of Europe during World War II. The anorak will serve the gentleman skier nicely, whether he's battling his way down a black diamond run or merely enduring a chilly commute. The
waterproof wool alpine outrig jacket
and down-filled
hooded vest
bring a hint of
The Man in the Gray Flannel Suit
to the slopes.
In evergreen Black Watch tartan (Scotland's most sophisticated check), the waxed canvas classic shell jacket would look
sharp in Gstaad but equally apt at your neighbourhood bar. Retro knitwear — particularly the
ski race wool jumpers
— will instantly transport you to 1930s St Moritz. All these garments work a treat with the singular herringbone
wool winter trouser
, and the brand's range of accessories (socks, wooly hats, neck-warmers, sunglasses and such). Joseph says he believes the Alps & Meters customer is "someone who understands what's required for on-mountain fit and performance in today's alpine atmosphere, someone who appreciates the past, but also someone who is seeking newness and is willing to challenge the norms of the marketplace." If that sounds like you, and the Alps & Meter philosophy appeals, take a look at
The Rake's curated range
from the brand. You needn't even ski to appreciate this classically tailored, high style, high tech attire.