The Legends of Anderson & Sheppard: George Hamilton
To mimic the actor's tan, you'd have to spend countless hours in the sun. But to emulate his dapper 'English drape' style, you need only visit Anderson & Sheppard.
It's a shame, really, but few stars these days utilise the services of bespoke tailors. Old-school matinée idol and self-described "relic from another era" George Hamilton continues to keep the faith, however, remaining a loyal customer of the house that has dressed him for many decades:
Anderson & Sheppard.
In addition to magnificently handsome features, George Hamilton is renowned for two aesthetic characteristics — his mahogany-hued tan and smooth sartorial style. Both of these he adopted in a rather successful attempt at self-invention. Though he had in fact grown up in shaky financial circumstances, Hamilton possessed the air of the WASP establishment, and when he was first contracted to MGM, the studio chose to manufacture a monied upper-class scion back-story for the young actor. Hamilton eagerly leant into the mythmaking. In 1959, his agent had told 20-year-old George, "You have to have something recognisable that people will remember." Hamilton said he figured out that "I could pass myself off as this Palm Beach millionaire playboy with the aid of a good tan and the bespoke English clothes I picked up in thrift shops." In addition to these bargain buys, Hamilton carefully examined the tailoring worn by stars of Hollywood's golden age. "I went to the costume department at MGM and looked at everyone's wardrobe. They allowed me to spend hours studying it," he told an interviewer. "I looked at how it was cut," Hamilton explained. "Cary Grant, for instance, had an enormous amount of padding in the shoulders [of his coats] because his head was big and his shoulders sloped. They built his suits around him. I looked at what Clark Gable and Fred Astaire wore. I looked at everyone's clothing to get an idea of why it was what it was."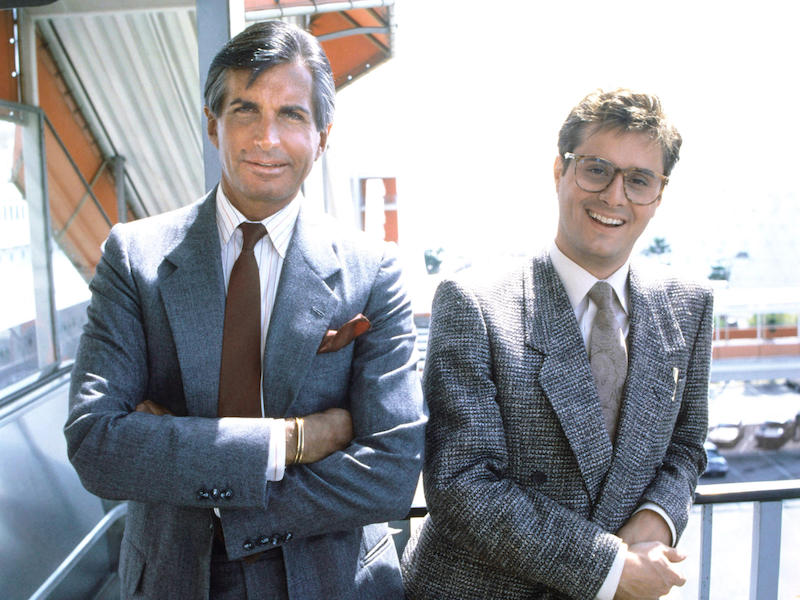 George Hamilton and Gary Kooeger. (Photo by CBS/courtesy Everett Collection/Alamy). When he became truly successful and could start commissioning his own bespoke attire rather than relying on second-hand finds, Hamilton began visiting Astaire's tailor, Anderson & Sheppard. He quickly accumulated so many clothes that he had to have a dry cleaner's carousel installed at home, allowing him to select accessorised looks from a numbered system — all at the press of a button. Eventually, though, like many an advanced menswear maven, Hamilton learned that less is more. In middle age, for years he travelled the world with a 1930s Louis Vuitton trunk that incorporated a writing desk, a martini shaker, and custom storage for a small selection of Anderson & Sheppard suits. When taking minimalism to the extreme, Hamilton would jetset with just one dark suit featuring plain, gold and satin sets of interchangeable buttons. He'd challenged A&S to "make me a suit that I could wear in any climate and which I could use as a tuxedo, a dinner jacket, a lounge suit and a blazer," he said. He told an interviewer recently, "I learned style because it was a survival game. I'm from Blytheville, Arkansas. I had to find out how to bring my own style to how I dress." Hamilton said, "you have to know the difference between chicken shit and chicken salad. Having lived in England when there were shoemakers from Italy, and shirt makers, and suit makers that worked at every detail, I got to know the difference. Once you know the rules, you can break them. I became confident in myself." While the man's clearly in possession of lashings of natural-born swagger, Hamilton would doubtless acknowledge that some measure of his self-confidence came courtesy of impeccable tailoring from Anderson & Sheppard.