Architects of Design: Reda Slaoui
In a Rake Bespoke Feature, Tarek and Reda Slaoui discuss the dynamic approach and appreciation of quality that they channel into all their designs.
"All great architecture is the design of space that contains, exalts, or stimulates the persons in that space", so said American architect Philip Johnson. Quite so, but The Rake likes to think that it is not just architecture, but good design in all forms which can exalt or stimulate – particularly fine menswear design. Which leads us to Reda Slaoui, a new luxury French brand that has been some four hard years in the making. Founded by brothers Tarek and Reda Slaoui, two chaps that have long shared a passion for contemporary design, things that are well made, and a will to express themselves with their clothes. Reda was an architect for many years, prior to establishing Reda Slaoui, and an appreciation of architectural forms and techniques informs everything that the maison now undertakes. "We had wanted to create a menswear brand that reflected our joint approach to design for some time, and also to follow our own path and our own values. We were likewise inspired by the 'savoir faire' and quality of workmanship that we have at our fingertips, which often is admired more overseas than it is in our native France." This savoir faire primarily takes the form of a rather chic collection of neckties. Reda Slaoui's signature is its contemporary graphic silk jacquards with strong contrasts in colour and sharp-edged patterns that feel thoroughly dynamic – one can't help but envision Marinetti or Boccioni distributing Futurist pamphlets wearing them. The maison's ties are generally constructed as three-folds, beautifully slip-stitched and lightly pressed in France. The ties use a dense woollen interlining for a full, well-rounded feel and recover beautifully after a day of use. The house's ties are offered in three different widths, to suit different physiques – with 7, 8 and 9 centimetre blades – and because, as Tarek notes, "beauty and proportion have always been linked – we all wear different shirt collars and different jacket lapels." The search for a mill that could produce the kinds of jacquards that Reda Slaoui wanted to use was a long and much obsessed over process; after many trials and finding help in the pages of The Rake no less, established a partnership with one of the best silkweavers in England. In Reda Slaoui's ties then, you'll find a compelling blend of the finest English silk and French hand-craftsmanship, all of which are realised with a thoroughly contemporary aesthetic, as Tarek explains. "We believe that our work should reflect the times that we live in. All the artistic disciplines we have apply to our designs have been influenced by the advent of modern art. Great artists such as Vassily Kandinsky, Josef Albers, Paul Klee or Mark Rothko, have changed the way that we understand forms and colours in our contemporary world."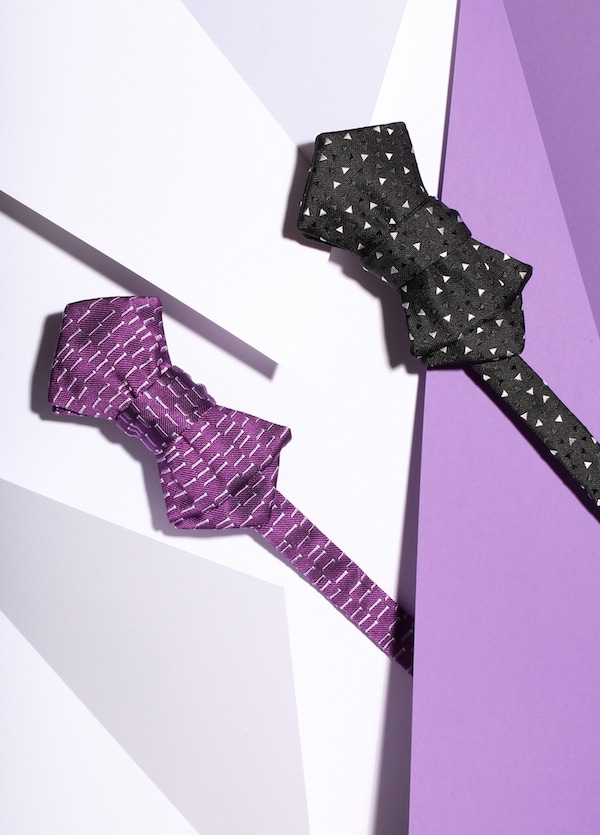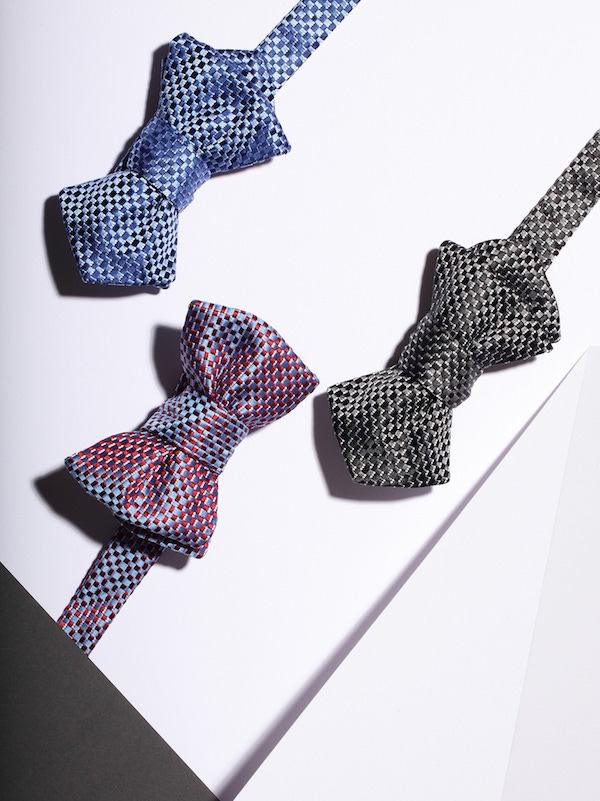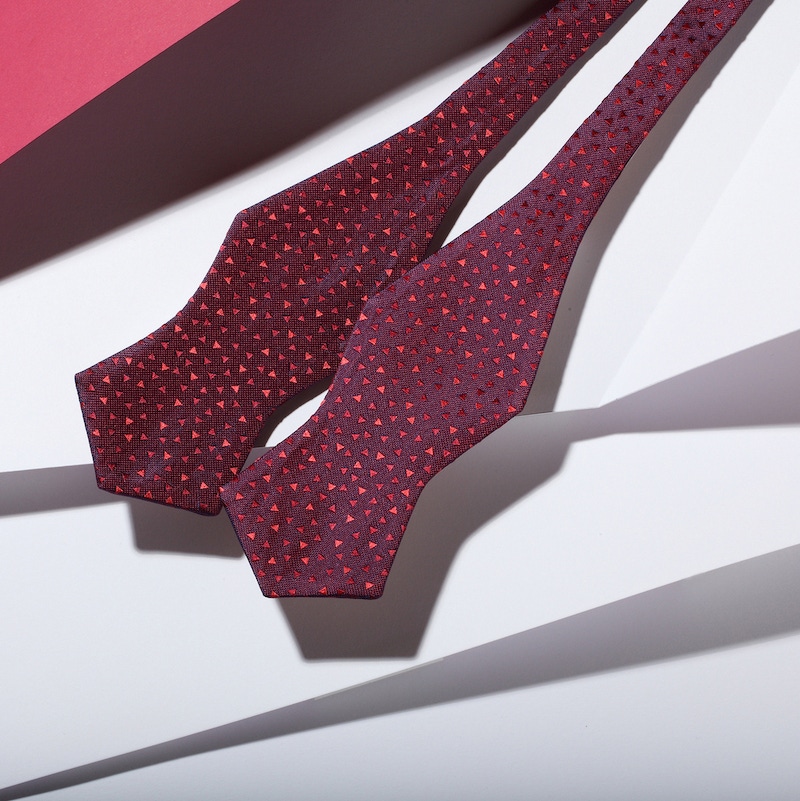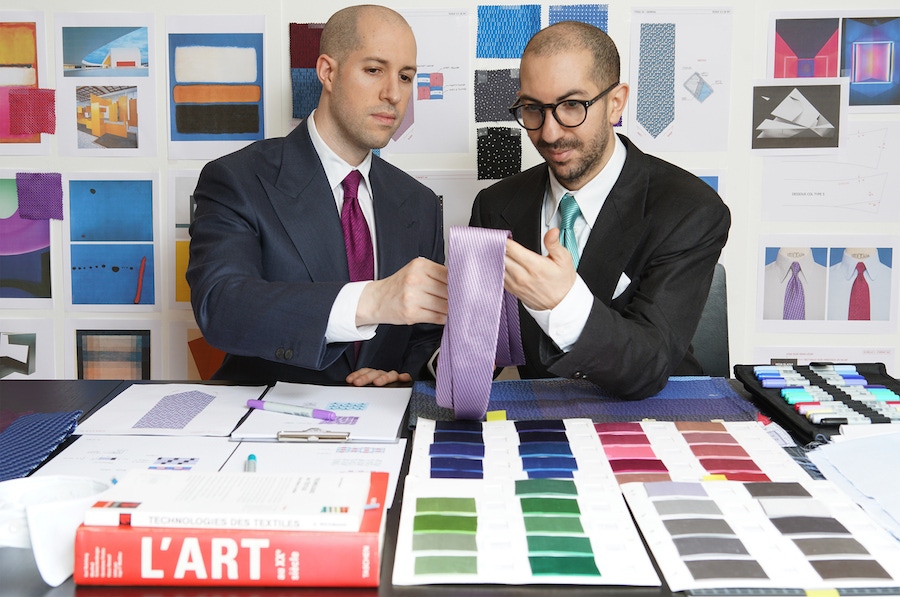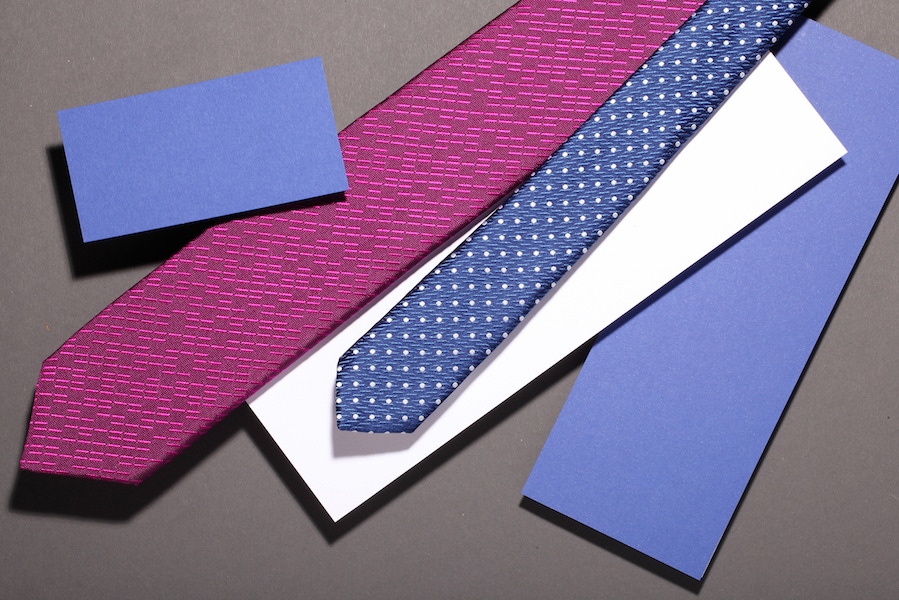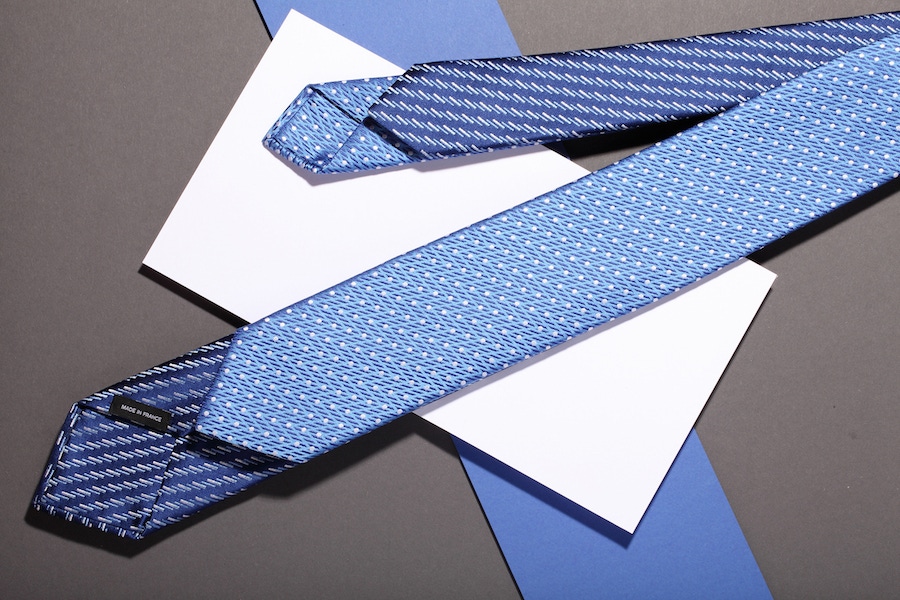 How do they go about understanding these forms and colours? Again, architecture holds the answer. "There are many parallels between architecture and the way we undertake our design". Explains Reda, "the creative process is very similar, and it requires many sketches, many prototypes, research and patience to find the right expression, the perfect texture and combinations of colour and tone in our garments. There's a real sense of love that goes into our work – much of which is done by hand – when I see our artisans sewing by hand and the transformative precision required, it reminds me of all the hours I used to spend working on architectural models." Reda Slaoui's shirts too, reflect this architectural form. The house has proven itself to be well ahead of the curve in championing longer, taller, closer cut pointed collars which are starting to counterpoint the cutaway collars which have been the prevailing style for the last few years. As Reda notes "we want our collars to retain a strong expression of geometry". As such, the house's shirts are cut slim, in the finest cottons, often with subtle textures and are finished with delicate single-needle stitching for a clean aesthetic. There's a pleasing duality in the maison's work, between a thoroughly modern, dynamic approach to design and a traditional appreciation of quality. Tarek expands, "quality for us starts with the selection of materials, for example with the silk we use, the density of it and its precision and its fineness. The same applies for the selection of cotton shirtings or any other material, like the wool interlining we selected for our ties that give them such a delicate structure. The next step for us is about getting the quality of construction right, and in the weaving itself, and the details that only skilled artisans can achieve. We work closely with our partners and suppliers – with those craftspeople that have experience of collaborating with luxury brands." "As with good architecture, we want our work to last" says Reda, "so even after years of wear it still feels strong and beautiful – and again its good materials, mastery of construction and a clear idea of the design which gives a kind of soul to each and every piece of our collection." There's no denying that Reda Slaoui's work is soulful, not least because that it's the brainchild of two genuinely lovely, committed and passionate individuals.
The Rake
has had the pleasure of meeting with both Reda and Tarek on a number of occasions now, and two more intellectual or gentle souls you could not wish to meet. Their sensitivity to modern design is thoroughly compelling, and we highly recommend that readers experiment with their work.
www.redaslaoui.com.