Ask The Rake: How to Up Your Wedding Game
What do you wear to a wedding that's less 9-5 Wall Street? Avoid looking like every other Tom, Dick and Harry with these tips.
Question: "I often end up wearing the same suit styles when it comes to work and weddings. What do I wear to a wedding that's less 9-5 Wall Street?"
When a wedding dress code does not stipulate whether morning dress or black tie is required, it can be a challenge, for the well-dressed anyway, to take a step up from one's regular work attire of suit, shirt and tie. For an evening affair, I would suggest a lounge suit in a darker colour with a slight sheen - kid mohair blends are worth considering. A darker tie in fine grenadine silk (a jacquard weave with a gauzy effect) or a knit will look suitably non-office like. Select a shirt collar style that you do not normally wear for business, such as a tab, extreme cutaway or long narrow spread.
For daytime ceremonies, opt for a semi-plain mid-tone suit in a subtle texture such as a sharkskin or birdseye (fear not, no animals were harmed in the making of said fabrics: sharkskin is a smooth worsted cloth with a soft two-tone finish typically achieved through a basket-woven process; birdseye cloth is a spot-light micro design in a worsted wool). Peaked lapels look suitable dressy and the addition of a waistcoat ups the formality, particularly if it is double-breasted. A contrasting vest in a light colour is a smart, dandyish touch. Avoid the compulsion to wear a "crisp white" and select a plain coloured shirt in sky blue or cream. Avoid all but the subtlest of stripes or plaids – it's not your big day after all. A rich woven silk tie in a discrete pattern is better than a sickly pastel satin in a shade best left to the bridesmaids. If you don't normally wear a pocket square (why the hell not?), now is a great time to start, so pick a suitably festive pattern that contrasts with your tie in both colour, pattern and texture. Highly-polished black shoes are de rigeur.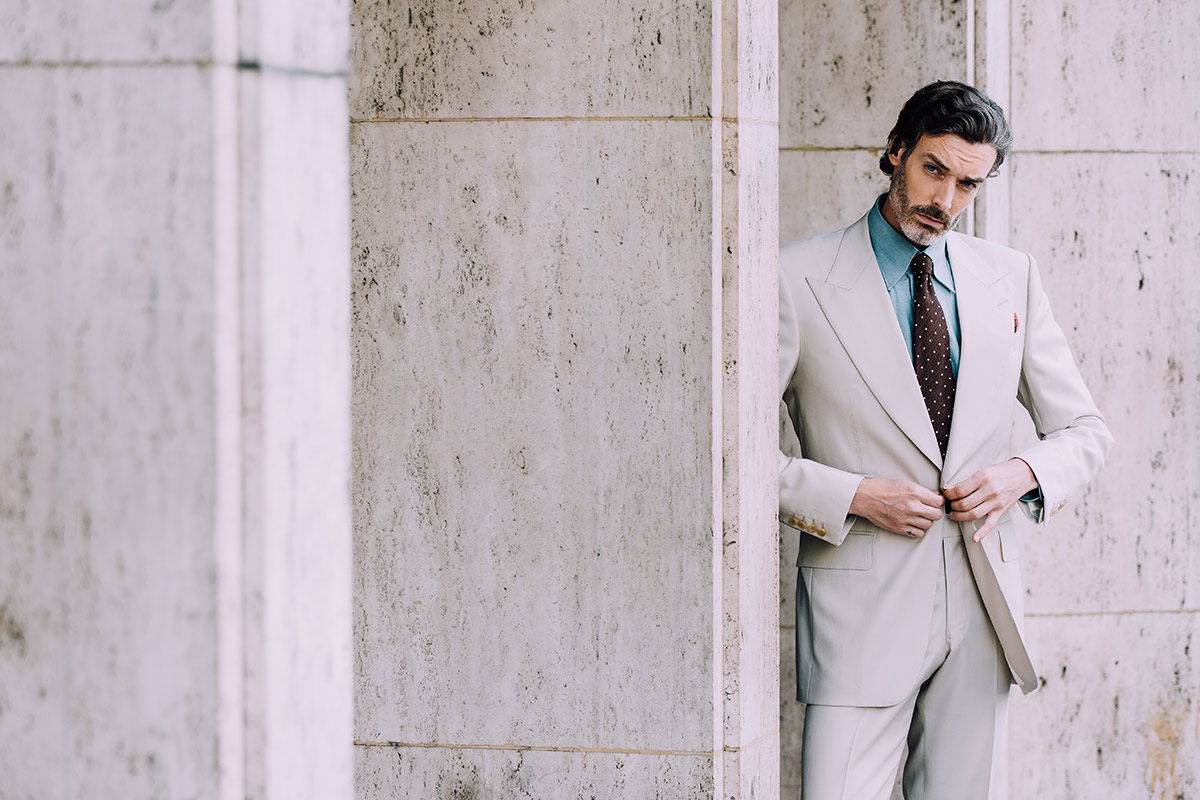 Accessories can really make your wedding outfit and whilst you will not be wearing a tie-bar, I urge you to wear a flower in your lapel buttonhole. Real or silk, a boutonniere is a classic addition for formal occasions. And although tie-bars are banned, a pearl or diamond pin in your tie, positioned just beneath the dimple, will look considered and elegant. For inspiration, look to the current Prince of Wales' tie when he wears formal dress. Of course, if you are the kind of gentleman that wears three-piece suits, boutonnieres and diamond stick-pins to the office, you will struggle to up your game. Maybe you need to tone it down a bit?