Available Now: USD289 Type 20 Classic Flyback Chronograph
The Rake takes a brief look at the Type 20 chronograph's rich history and brings you a great offering for a modern Type 20 at an unbeatable price point.
Among military watch enthusiasts, there are numerous hero pieces. Most famous are the 12 time-only-with-small-seconds W.W.W. watches commissioned by the British Ministry of Defence, and now known as the "Dirty Dozen".
Read more about the "Dirty Dozen", here.
There are also the various military issued Submariners, from both sides of the Wilsdorf household, all of which are now commanding astronomical figures. Or Blancpain's Tornek-Rayville watches that are now completely untouchable. That is if you can find one in half decent condition. But among the most desirable, with hardly a dip in popularity or value since the watch industry's revival began in the 1980s, are the French Aéronavale chronographs, best exemplified by the Breguet XX.
Some Basics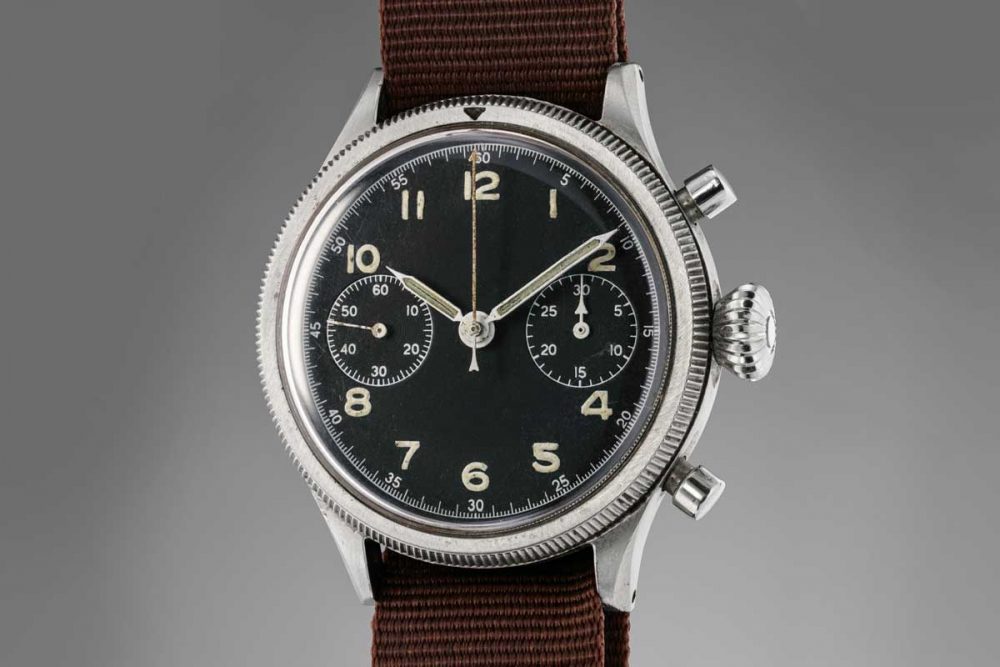 A bit about nomenclature before proceeding: only Breguet uses Roman numerals to identify its versions, and yet the company never featured it on the dials. Everyone else used the Arabic "Type 20" (and later Dodane's and Seliva's "Type 21"), many makers printing this on the dial above the 6 and one or two placing it below the company name at 12. What makes matters more confusing is that many Type 20s were produced with no manufacturer's name at all on the dial. However, when authenticated, these unmarked dials make for some of the most sought after examples of the Type 20. Although a post-war design, visually the Type 20 owes much of its layout to Second World War chronographs made by Hanhart, Tutima, Glashütte and others for the Luftwaffe. Mainly with two registers and two pushers, these watches featured white numerals against black dials, a 60-second counter at 9 o'clock, a 30-minute counter at 3 and oversized hands on the latter sub dial. Most also featured fluted rotating bezels with a single marker to help indicate elapsed time. In 1954, the Type 20 chronographs were commissioned by the French government for the French Air Force, the CEV (Centre d'Essai en Vol) — the country's state-sanctioned flight testing centre — and most famously for the Aéronautique navale, a.k.a. "Aéronavale." The air arm of the French Navy, it was created in 1912 at the birth of aviation and it is active to this day, with carrier squadrons and a naval patrol air force. Certain Type 20s have also been identified as being issued to French helicopter pilots. The watches issued to the various Mod services are distinguishable from each other only by the identification marks engraved on the casebacks.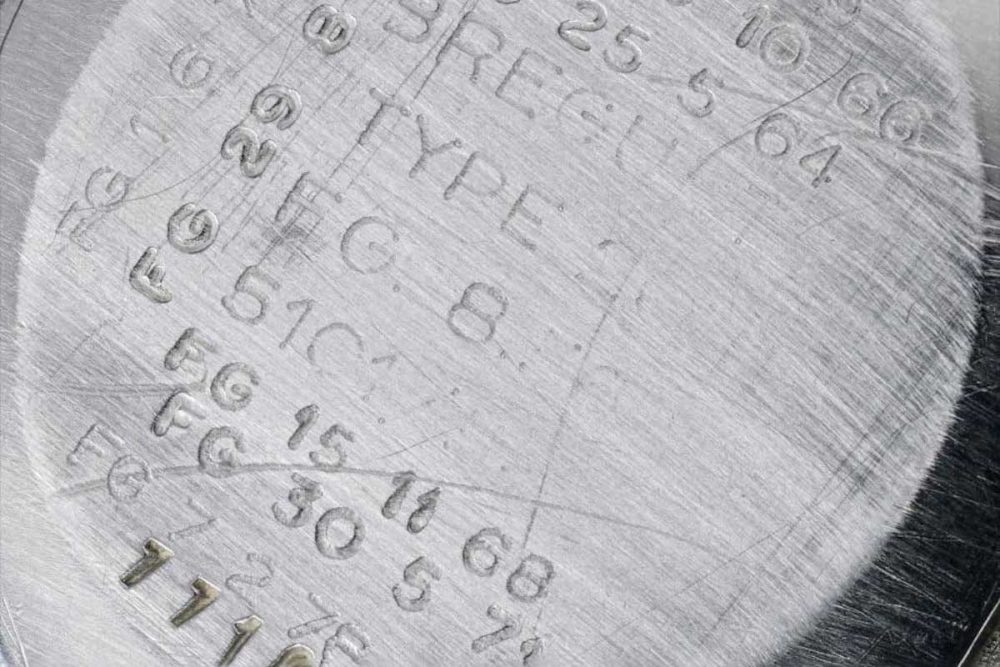 Specifications for a Type 20 included an instantaneous flyback function, reliable stop-start function for at least 300 operations, variation of no more than 8 seconds over 24 hours and a power reserve of 35 hours. From there onward, the variants were numerous. Unlike the Dirty Dozen, which differed only in minor details but were otherwise functionally and visually interchangeable, Type 20s were issued with two or three sub-dials, assorted rotating bezels including engraved, painted and unmarked fluted or reeded types, differing hand shapes, a multitude of crown sizes or shapes and other distinguishing features. And that's just the Breguets. Along with Breguet, the other Type 20 manufacturers consisted of Airain, Auricoste, Dodane, Mathey Tissot, Seliva Chronofixe and Vixa. Allegedly, another company – Bouiller – was licensed as well, but this is unconfirmed. Of the seven, Breguet, Auricoste, Dodane and Mathey Tissot still exist, and the first three of that quartet offer modern versions of the Type 20 or 21, with varying degrees of resemblance to the originals.
Read more about the history of the Type 20, here
Interested Buyers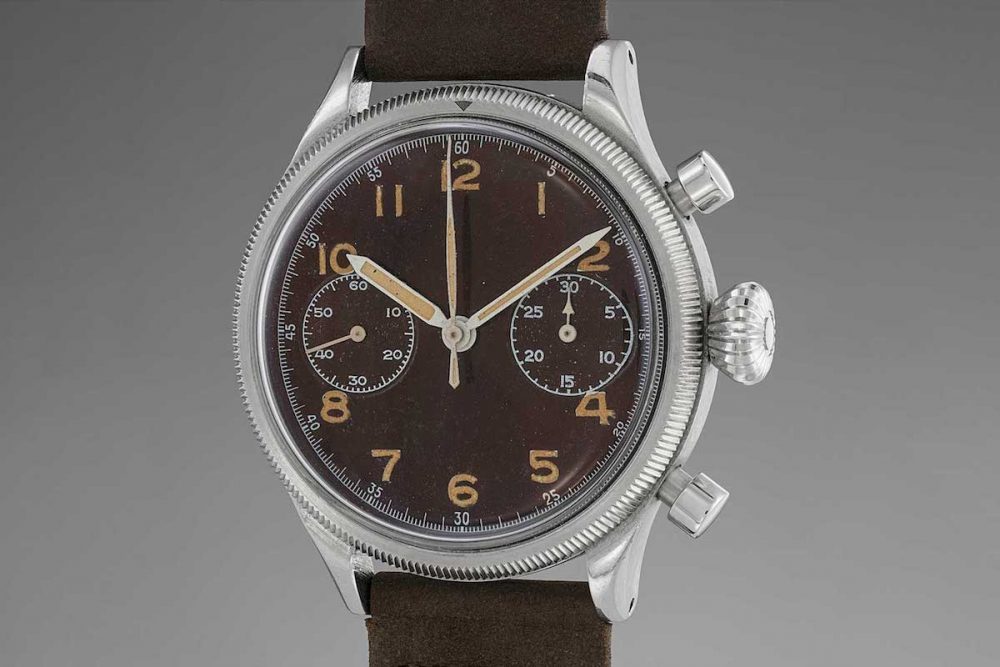 Focusing in on what is accepted as the original look of the type 20 — minimal to zero branding on dial, bi-compax flyback chronograph, onion crown, prominent round punishers and fluted bezel — they aren't all that many options presently available. If you're in the market for a vintage Type 20, or specifically a military issued Breguet Type XX, you are looking to play in the big kids' sandbox. The last better known instance of one was sold with Phillips Watches, at their May 2019 Geneva Watch Auction: NINE. This example that all of the desirables, with the added sex-appeal of a very attractively aged tropical dial.
That watch went for CHF27,500
and came with the right archive documentation to back up its authenticity. Those looking for the reliability of a more recently produced watch from Breguet that bears all of these early hallmarks, you're out of luck. Because that would've been the watch that Breguet made for Only Watch in 2019. A universally lauded one-off piece that garnered, which has been long spoken for, having secured
CHF210,000 for the charity auction.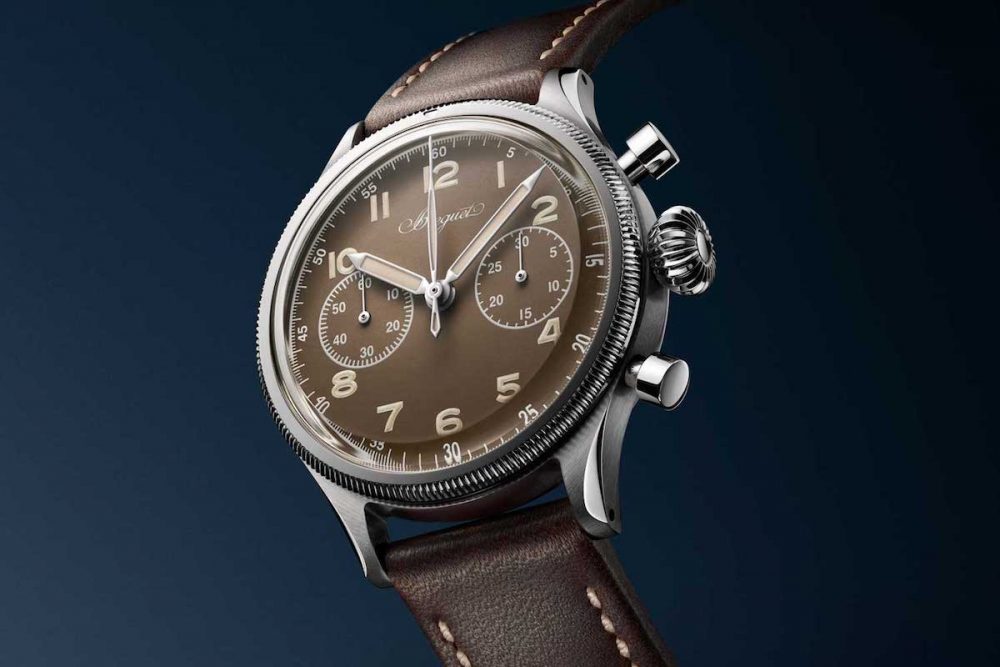 Now, with all of that said: What if we were to tell you that there is actually modern day option that is aesthetically true to the original and at a price point that's about to have you picking your jaw up from the floor. This is the Undone Type 20 Classic.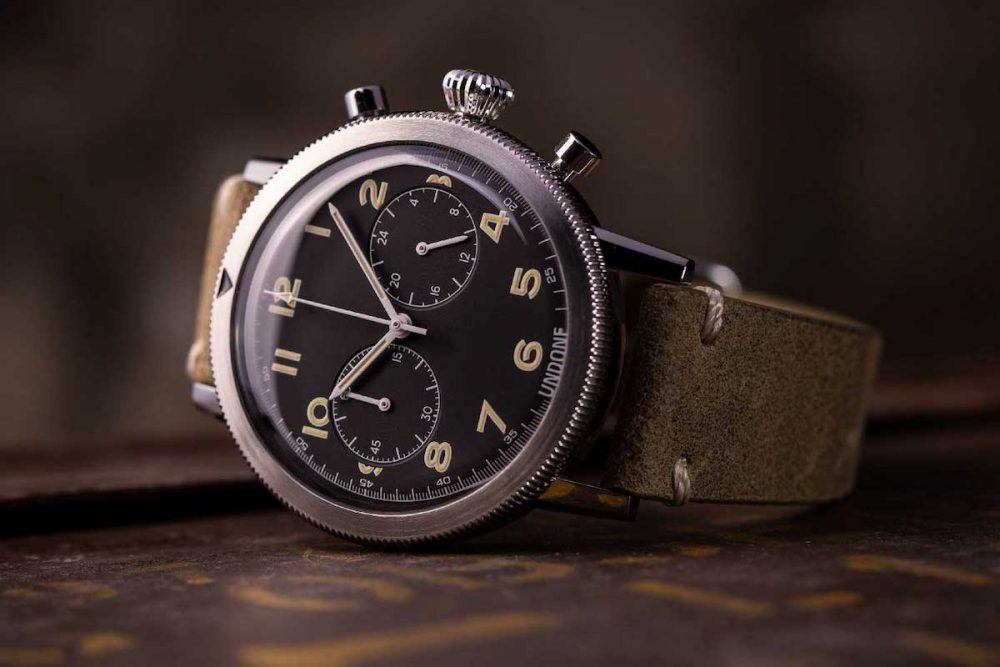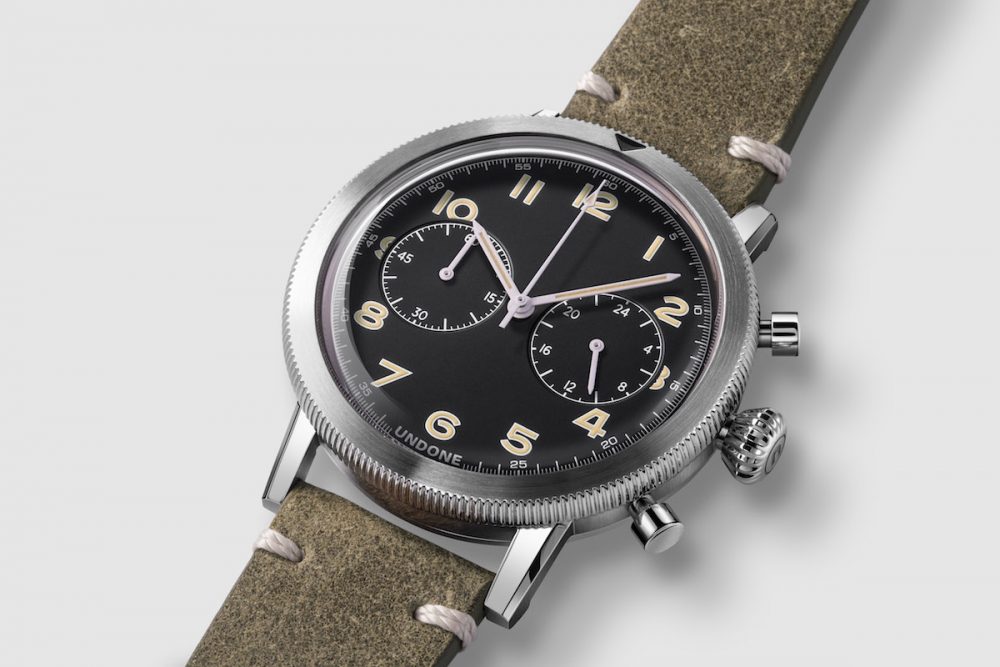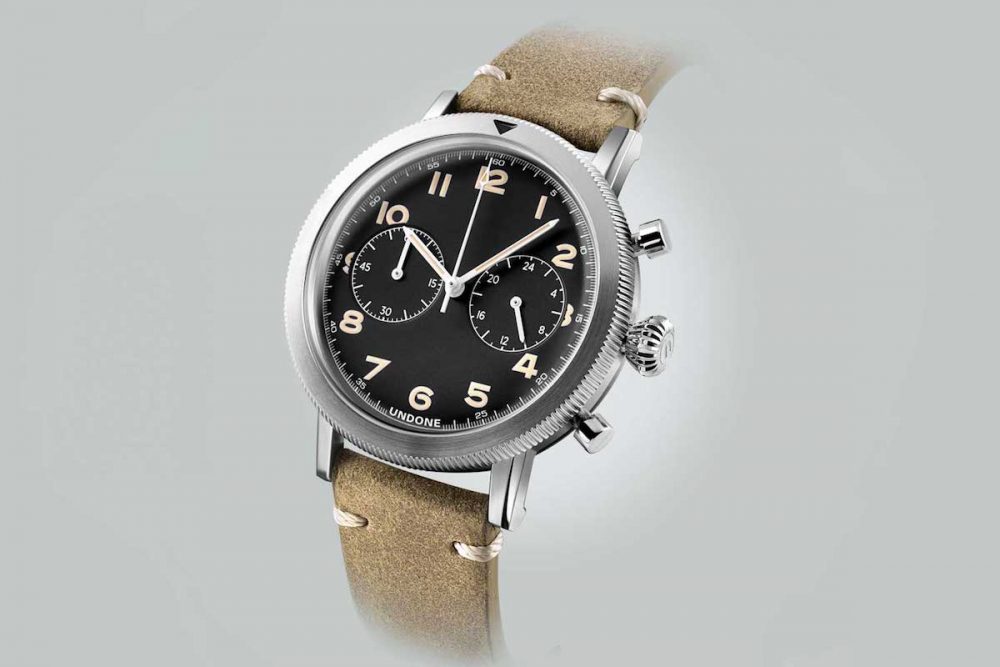 Fluted rotating bezel with single marker? Check. Onion crown? Check. Round pushers for the flyback chronograph? Check. Large bi-compax sub dial layout? Check. Large lume Arabic numerals? Check. Unmarked dial? Double check. It has all of the necessary and desirable hallmarks. But where's the catch? And who is Undone?  Undone is a Hong Kong based watch company founded by Michael Young in 2014. Young initiated his first offering in 2016,
via Kickstarter
with his Urban Vintage collection. Starting at USD175, with a digital customisation tool in place from the get go, not to mention the quarter million US dollars raised (HKD1,960,430), Undone clearly had something on hand that a brand could be built around. Today, Undone stands as a watch company with four collections under its belt, a high level of approval from the tool watch collector community and several notable collaboration watches –including one with our friends from
Fratello Watches
.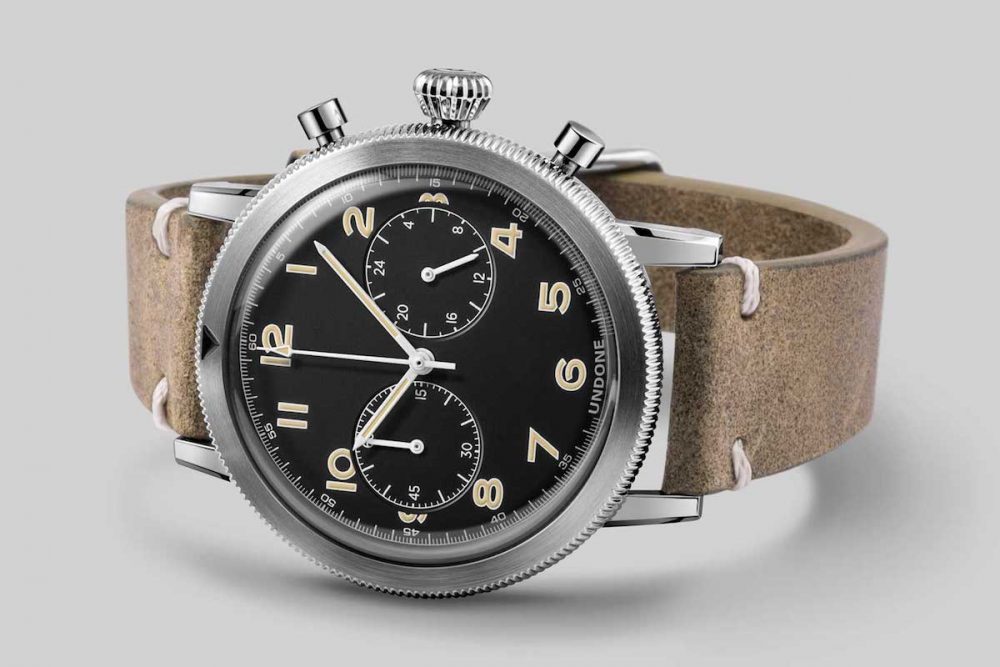 The catch for a Type 20 that's this good looking and costs under USD300 is simply this: that it's powered by a mecha-quartz movement. Specifically the Seiko Instruments Inc. VK64 Mechanical-Quartz Hybrid Flyback Chronograph. If that bothers you, then that's that. But for the rest of us, great watch at an incredibly accessible price.
Technical Specifications
Movement
Seiko Instruments Inc. VK64 Mechanical-Quartz Hybrid Flyback Chronograph
Case
Width: 41.5mm (excl. crown); thickness: 12.5mm (incl. crystal); stainless steel with hardened Domed K1 Crystal; water resistant to 30m