Back To The Future: Nigel Cabourn
Part-designer, part-archivist, Nigel Cabourn is truly someone whose passion for the rich history of menswear knows few equals.
Nigel Cabourn has always had a penchant for history. In fact, it worries him that the younger people he meets so often seem to have such a disregard for it. "An awful lot just happened in the 1950s in particular - the glory days of football and motor racing, Hillary climbing Everest," he says. "And then if you're interested in that period you can't help but get sucked into World War Two, and then World War One... There was something special in the mood of that era. It's a romantic time for me. Unfortunately I don't get the feeling that it has the same resonance for younger people though, until I bang the drum with them. I used to get upset that people aren't interested in history. But I've gotten over that now."
Cabourn, after all, is the man who went to New Zealand just so he could visit an expert on George Mallory, the historic mountaineer who was inspiring a new collection. "You have to go to source to get a real understanding," Cabourn stresses. "That trip was amazing. The Royal Geographical Society curator I was talking to about Mallory's clothes asked if I'd like to see them. I thought he was joking. But he returned with a big box full of Mallory's clothes wrapped in cellophane, complete with a blood-stained neckerchief. There I was holding them. And it was magical."
Indeed, it comes as little surprise that Cabourn - a designer of something like cult status for workwear and military-inspired clothing - has one of the most enviable collections of vintage clothing, at 4000 pieces and growing. "I wear most of what I buy, although probably just the once," he admits. "Most of what I do is research and collecting vintage clothing has always been a part of that, back when it was just called 'second hand' clothing. I buy whatever I find that strikes me as different - a detail here or there that can inform what I do now or maybe some years down the line."
He spends big too: perhaps £30,000 a year on vintage; when he re-booted Lybro, the British workwear brand, he even spent £3000 on some cardboard advertising boards for the original company. "That seemed obscene at the time but led me where I wouldn't have otherwise gone," he argues. "It fired the imagination." Crucially, that is what it's all about for Cabourn: looking back, in order to look forward. He doesn't much like his clothing being characterised as 'reproduction', lumped in with the excellent if perhaps unimaginative Japanese makers of the same. For Cabourn, it's about using modern, high-end fabric and construction methods to give new life to the best of 20th century history's benchmark design.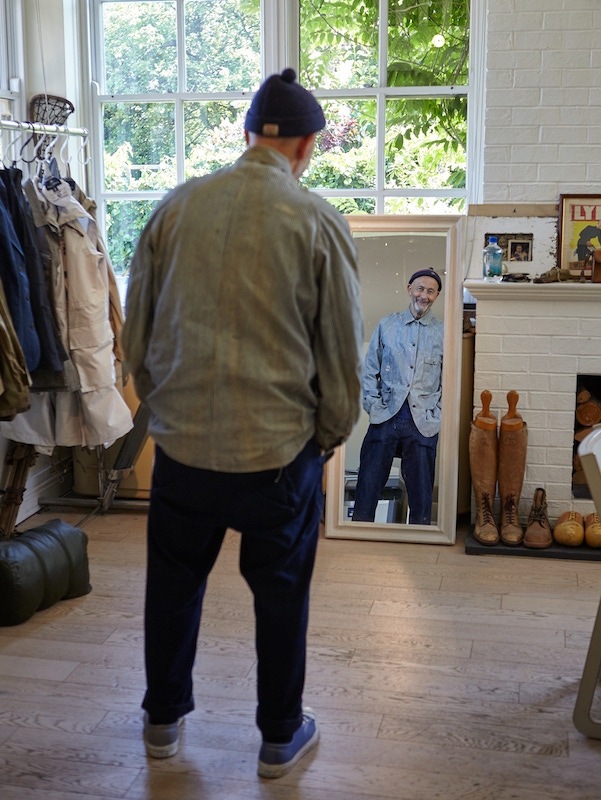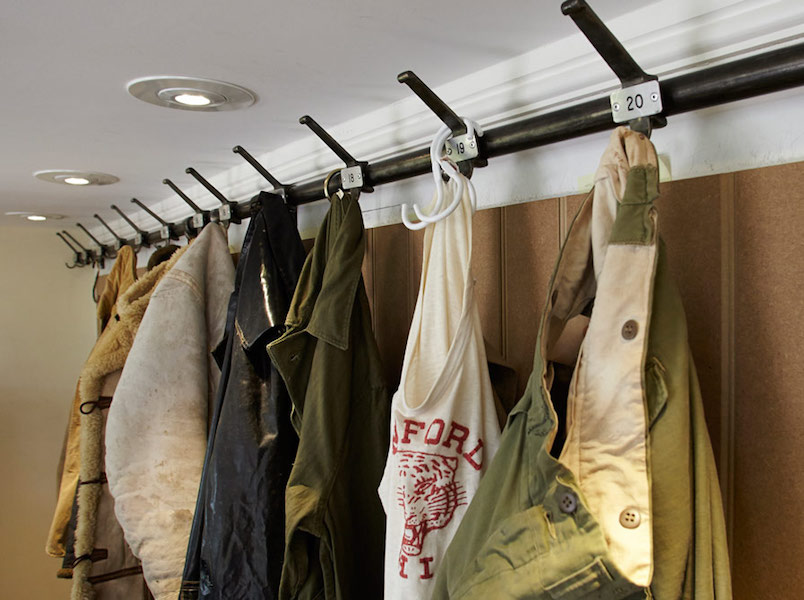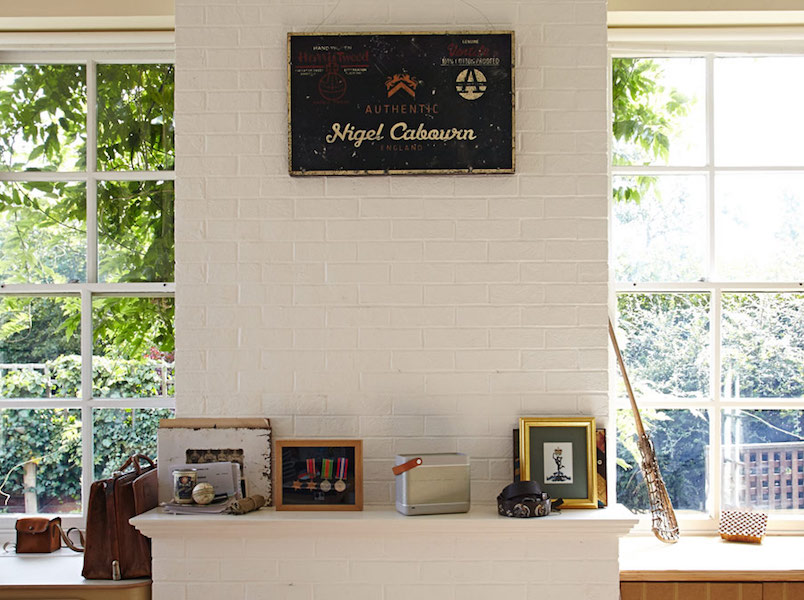 "What's great about workwear and military clothing is that it's designed as any other good, lasting product is. It's designed for purpose, which means it doesn't matter if it was designed in the 1930s or last week," he explains. "That's what turned me on to collecting vintage work and army clothing back in 1978 - that triggered a real passion for 'real' clothing. Fashion doesn't seem to think about longevity anymore. But the funny thing is that while work clothing in the past was well-designed, it often wasn't very well made. Sometimes it's brilliant. Sometimes it's terribly stitched."
That is one thing that can't be said of Cabourn's versions. His process: take a good idea - or several ideas from several garments - adjust the silhouette for a contemporary, though not fashion-following, consumer, fiddle with details such as pocket placement and thus create something new and, he suggests, improved. "There's always a way of improving a design," he says. "That's why I end up paying stupid money for vintage pieces that have been customised, because that customisation - an extra pocket on a flying suit, for example - represents an improvement. But it wasn't the designer's. It came from the wearer who actually lived the garment and knew what was needed to make it better."
If you're Cabourn you then take your design and get it made to the highest specification, which may well mean developing all fixtures and fabrics from scratch. That may mean coordinating a dozen or more small specialist factories, from the UK to Japan, to get the final garment made. The result is, unsurprisingly, not cheap. Cabourn jokes that there are not many men around the world willing to spend perhaps £2000 on a coat - especially one as specific as the kind he makes - so he has to reach all of them. 
"Look at 4x4 cars, or diving watches", he offers. "Some men just do tend to love over-specced, upgraded things - for the detail, the fabric, the function, even if it's much greater than they'll ever need in their day to day lives, even though they'll outlast the owner. It's very hard to find a woman who can get excited about a particular kind of zip. That kind of obsessiveness is very male I suppose. I like it because it makes me look like I'm ready for anything - and because, like a lot of men, I love pockets. Lots of pockets. I'm the one wearing boots and heavy fabrics in the middle of summer, which gets some strange looks sometimes."
Even though he says he shocks himself when he thinks that he's been in the clothing design business for fifty years now, he will probably be wearing those heavy fabrics for many more years to come. "I think that's why our customers tend to buy a lot of what we do - they know that these pieces will last, in terms of design and make," says Cabourn. "I like to think we're producing a kind of future vintage."