Introducing the Bamford × Revolution GMT Joe Cool
The Rake's founder reveals our latest exclusive timepiece designed in collaboration with one of the most disruptive creatives in the industry.
On my Mount Rushmore of Cool, no, wait, make that seated in my Halls of Valhalla of Cool, presided over by the unassailable king, one Terrence Stephen McQueen, would be, in no particular order, Miles Davis, Chet Baker, James Byron Dean, Bob Marley, Bob Mitchum, Bruce Lee and a beagle that so embodied the ineffable quality that unites the cinematic legends and musical giants that, from time to time, they would whisper amongst themselves, "Goddamn, that dog is just so cool."
I speak, of course, of Snoopy in his alter ego Joe Cool. One of the most fascinating dimensions to Snoopy has always been his multiple personalities, which he so totally embodies that he would make a Stella Adler master class in method acting stand and applaud. Of these alter egos, his most notable are the World War I Flying Ace, the World Famous Author and, of course, the irrefutable master of laconic élan, Joe Cool.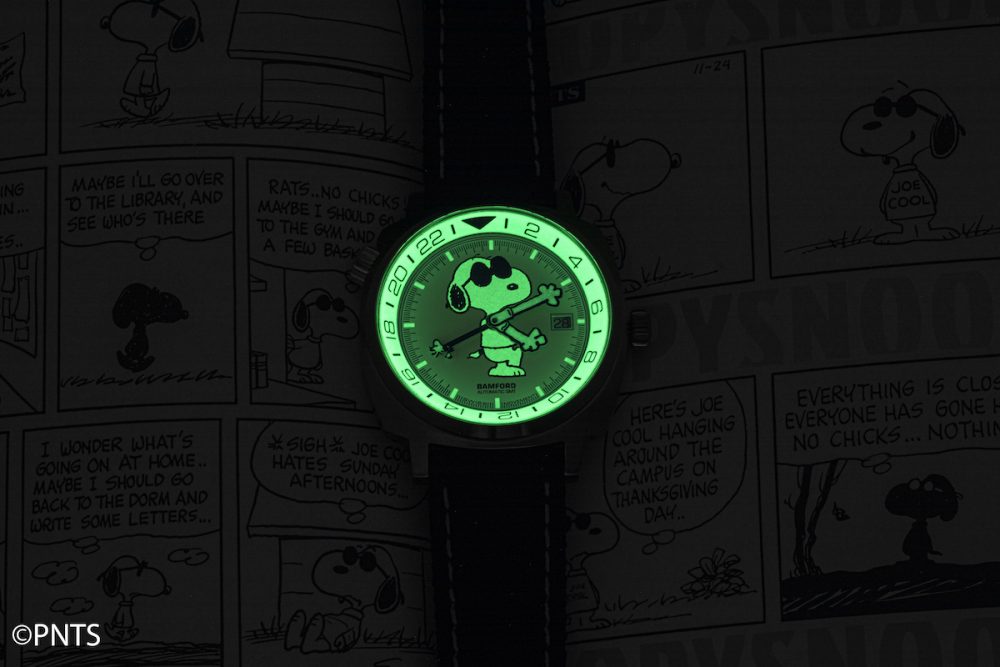 Joe Cool first made his debut in the Peanuts c
omic strip in 1971 and was ostensibly styled after jazz-crazy beatnik college students. In order to transform into Joe Cool, Snoopy dons a pair of dark sunglasses, slips on his red sweater emblazoned with the words "Joe Cool" and adopts a pose of ultimate equanimity by leaning against the wall. And just like that, he is transformed. Because Joe Cool is cool, I mean, really cool. Like Fonzie jumping the shark on water skis wearing his leather jacket kind of cool. Which resonates with me because ever since I was a boy, I was inexorably drawn to coolness like a moth to a flame.
Indeed, my favourite line from my favourite film focuses purely on coolness as an expression of love. It is written by Quentin Tarantino and goes, "Amid the chaos of that day when all I could hear was the thunder of gunshots and all I could smell was the violence in the air, I look back and am amazed that my thoughts were so clear and true, that three words went through my mind endlessly, repeating themselves like a broken record: you're so cool." Maybe it is because as a boy, it was a quality I so lacked that I find myself admiring it so much in others predisposed to it. But when I watch James Dean slouch and mumble in that beautiful way, see Bruce Lee sneer in the face of innumerable foes, hear Chet Baker play "Rondette" or Bob Marley recite the opening words to his paean for social justice, "War", I find myself almost in tears because of the sheer coolness of these individuals.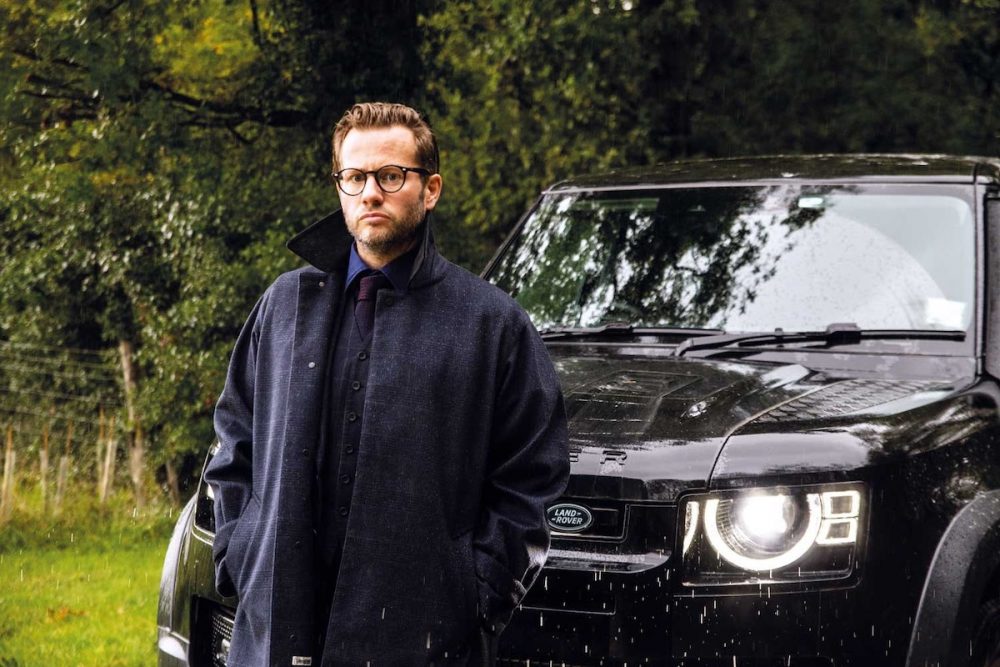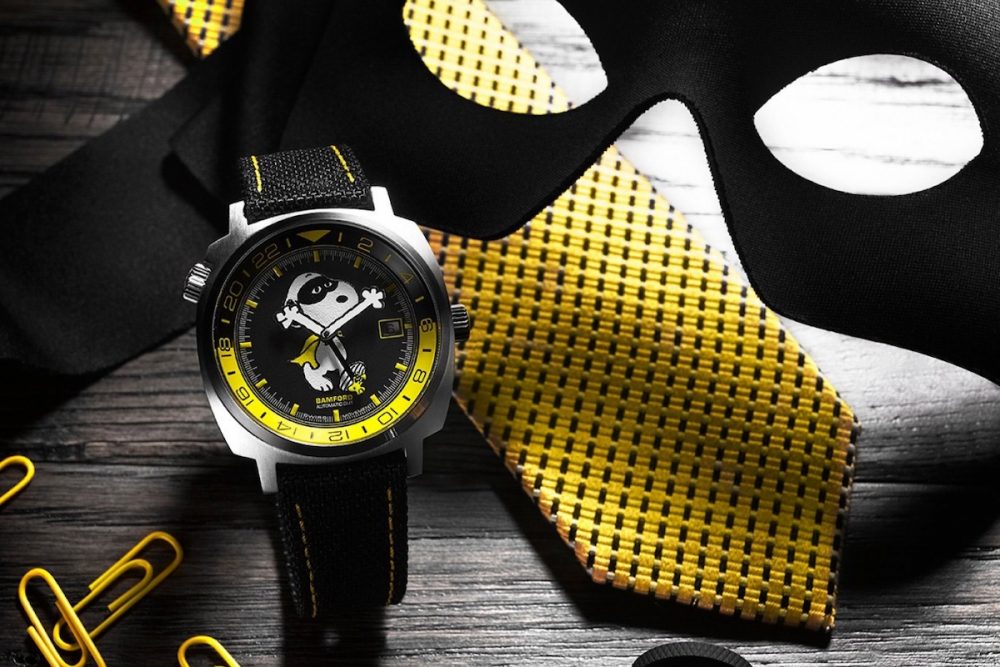 So when the opportunity arose to collaborate with one of my favourite people in the watch industry, George Bamford, and we started brainstorming over ideas for a watch, it dawned on both of us that we already knew what we wanted. We had to make a watch featuring Joe Cool. Since he came out with it in 2019, George's Bamford GMT watch has been one of my favourite timepieces because it is the perfect essential, accessibly priced execution of this complication. Says George, "I was travelling very consistently and, like everyone who does, started to have a kind of fog over the time zones I was in. I thought to myself, what would be the perfect GMT watch to accompany me on my trips? I wanted to incorporate all my favourite design elements into a watch that was also incredibly easy to read and use. It's funny but sometimes, by aspiring to be different, watch brands end up making multiple time zone watches that actually become confusing to read and complex to operate.
"I wanted the watch to be totally intuitive. So the first thing I decided on was to modify an element that I have always loved in dive watches. That is, the internal rotating bezel that is controlled with a crown at the left of the watch. It had to be bi-directional, of course, so you could rapidly adjust to GMT plus or minus. For the dial, I wanted a real purity of form with rectangular indexes and also unusual but extremely legible rectangular hands. To add a touch of excitement, I created a sort of racing track seconds markers, which were inspired by some of my favourite vintage stopwatches from the '60s and '70s."
Combined with a pleasing, ergonomic cushion case, the Bamford GMT became a favourite watch especially for those of us who enjoy a charming, beautifully designed, easy-to-use watch that doesn't come with the baggage of an expensive brand name on your wrist. That, to me, is actually very practical when travelling through Europe where watch theft has become a real issue. Because George is a watch collector and watch lover, he got every detail right. The size of the watch at 40mm by 11.7mm fits everyone's wrist. The Sellita SW330-1 inside with 42 hours of power reserve is reliable. You read the second time zone off the centrally mounted GMT hand and if you want to check another time in another zone, you simply turn the crown at 10 o'clock.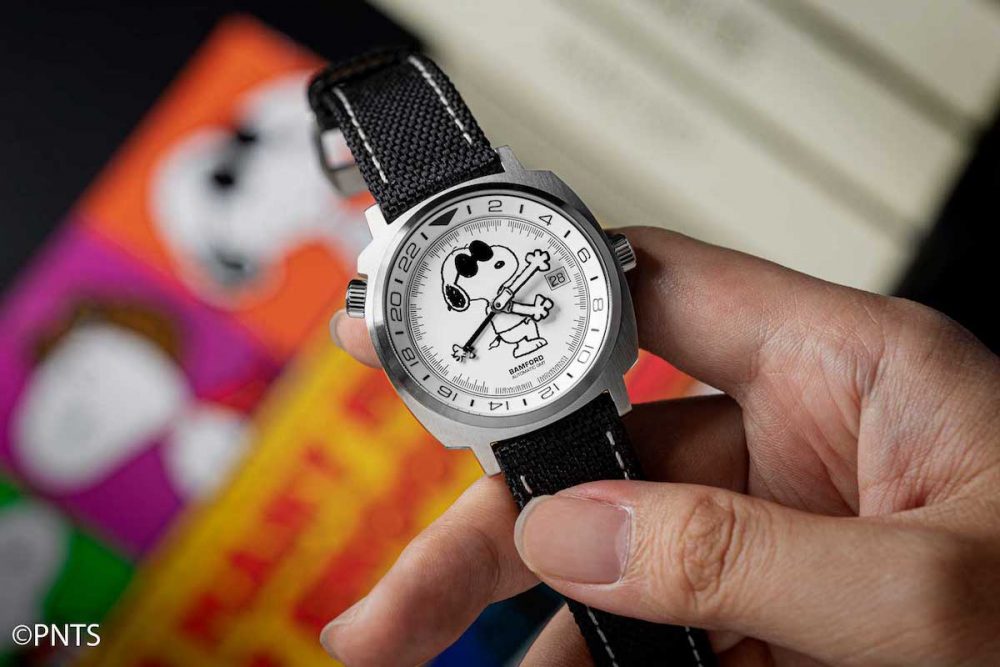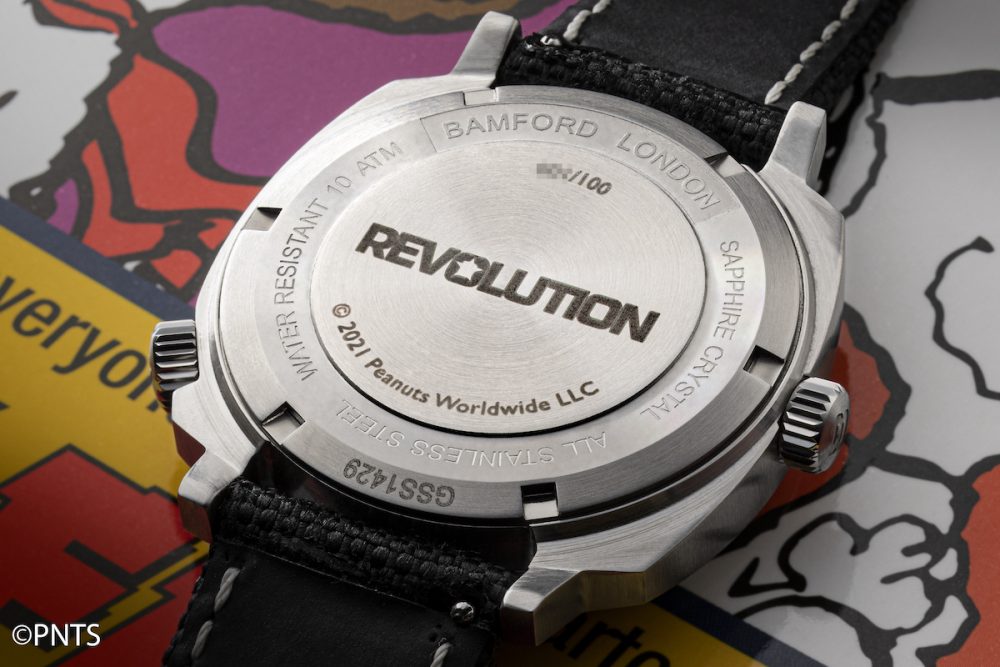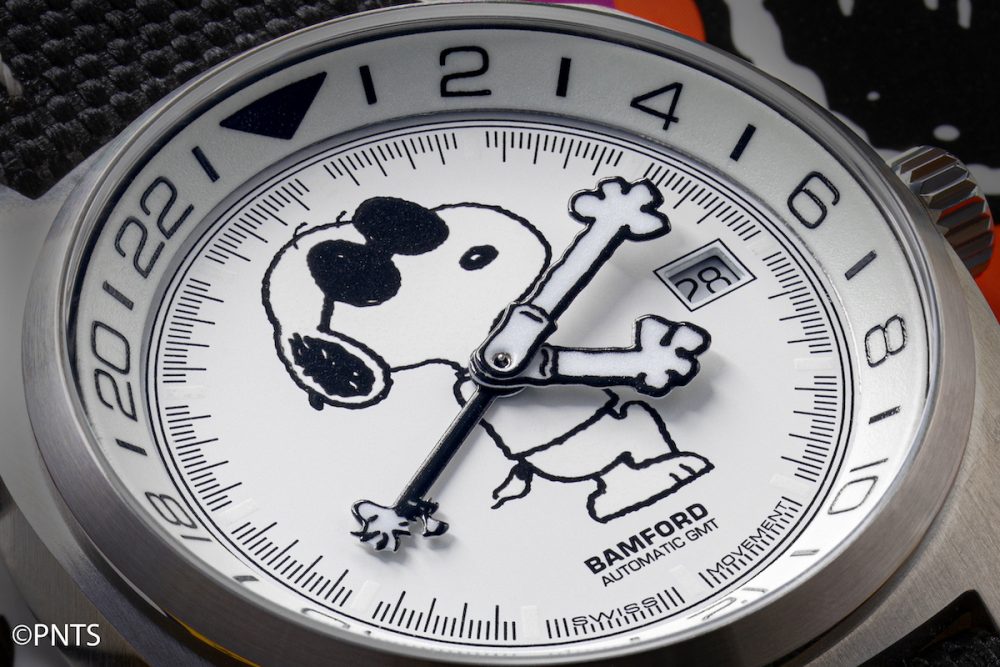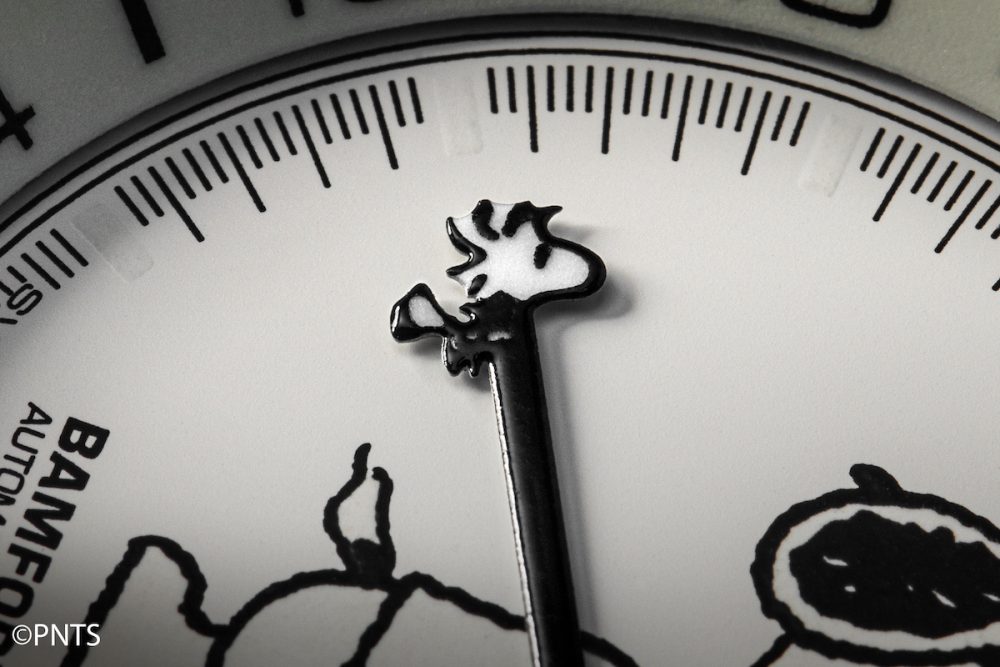 But something crazy happened when George incorporated the legendary Peanuts character, Snoopy, into his GMT watch. Basically it caused the Internet to explode. He explains, "I started putting Snoopy into the GMT because I wanted to make a watch that made people smile each time they looked at it. Snoopy was such a beloved character that was very much a part of my childhood. Sometimes, I think we love watches because they are kind of toys for grown-ups, and when I put Snoopy on the dial, it made people reconnect with their childhoods and all the happiness it represented. So far we've done three Snoopy watches, two of them for the 70th anniversary of Peanuts and one in collaboration with my friends at High Snobiety for Colette, Mon Amour, the documentary on the legendary Parisian store. As soon as the first images were posted on social media, we got deluged by orders, which was really cool. The success of the watch was very meaningful, of course, but what really resonated with me was that people felt uplifted by Snoopy in the same way I felt uplifted by him."
Coming out of 2020 and shifting gears into 2021, it was clear that George and I wanted to create a watch that had an edifying effect. He explains, "Especially now with this growing sense of cautious optimism that we will once again be able to see our friends and our loved ones, we need symbols of hope and happiness, and I can't think of a better moment to have Snoopy on our watch." Given the opportunity to select a specific Snoopy image, or in this case, alter ego, George and I immediately knew which one we wanted. Says George, "It was clear that we needed Joe Cool. On top of that, we needed to make him glow in the dark!" Over the last year, George and I have been discussing luminous light signatures for watches because, to be fair, most watches end up spending a good part of their lives in the dark. Personally, I sleep with a watch on so that when I wake up, I know if it is time to take my dachshund puppy Bandit out for her morning ablutions. Before that, when I used to ride my bike, I always wore a watch because I had to wake up at 5 a.m. to ride, before traffic in Singapore got too congested. But to be honest, I've always worn a watch to sleep since I was in the army, and it has to be a watch with a strong luminous glow so I can easily check the time. But even if you don't wear a watch to sleep, you still go to bars, clubs, dark restaurants, and I always like to be able to check the time.
Says George, "In the same way that cars now have LED signatures so you can tell exactly what car it is even at night, watches are starting to have that element as well. This was something that was clearly expressed by the Bvlgari x Revolution Octo Finissimo Chronograph GMT you made last year and I loved that. So I wanted to have Joe Cool look like he was just part of an all-white dial in direct light, but as soon as you go into ambient light or darkness, you realise that he is completely incandescent." This also resonated with us because the character Joe Cool prowls jazz clubs at night with his trademark sunglasses on even in the dark, and we thought it a delightful visual riff to have him be fully luminous. For the design of the Bamford × Revolution GMT Joe Cool, we wanted the watch to be an expression of chromatic purity. One of my favourite paintings is White on White by the Russian Suprematist Kazimir Malevich. Malevich was fond of saying, "White is the colour of infinity." So we imagined an all-white "albino" style watch like some of our favourite timepieces. Says George, "In Asian cultures, white is a symbol of purity and renewal. In Japan, for example, everyone always wears white on the first day of the new year. I thought that this watch should be a symbol of purity and renewal of the light and hope we all feel coming out of the dark times last year."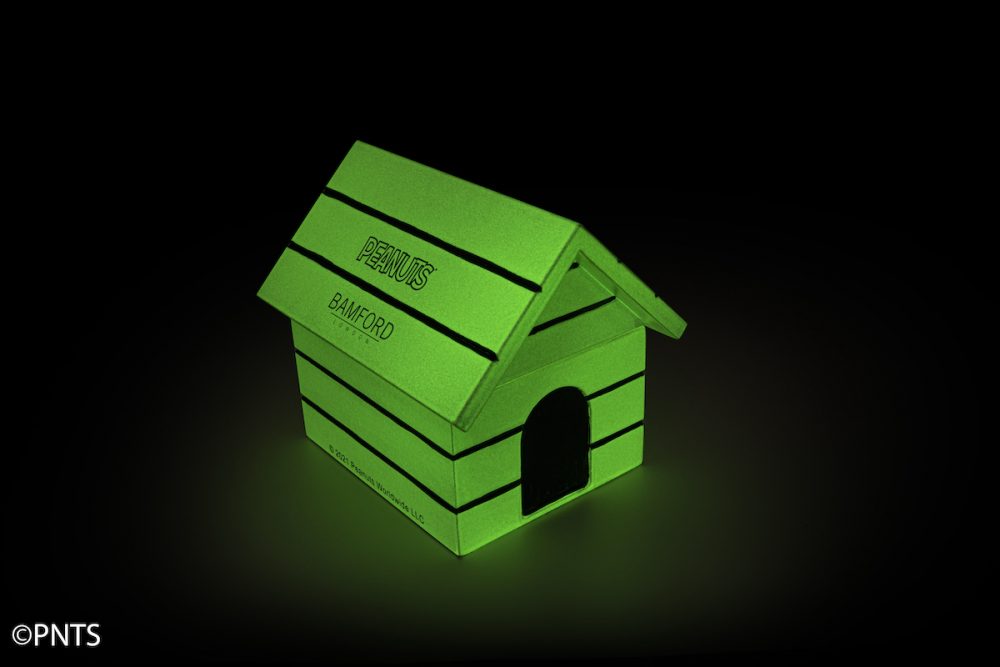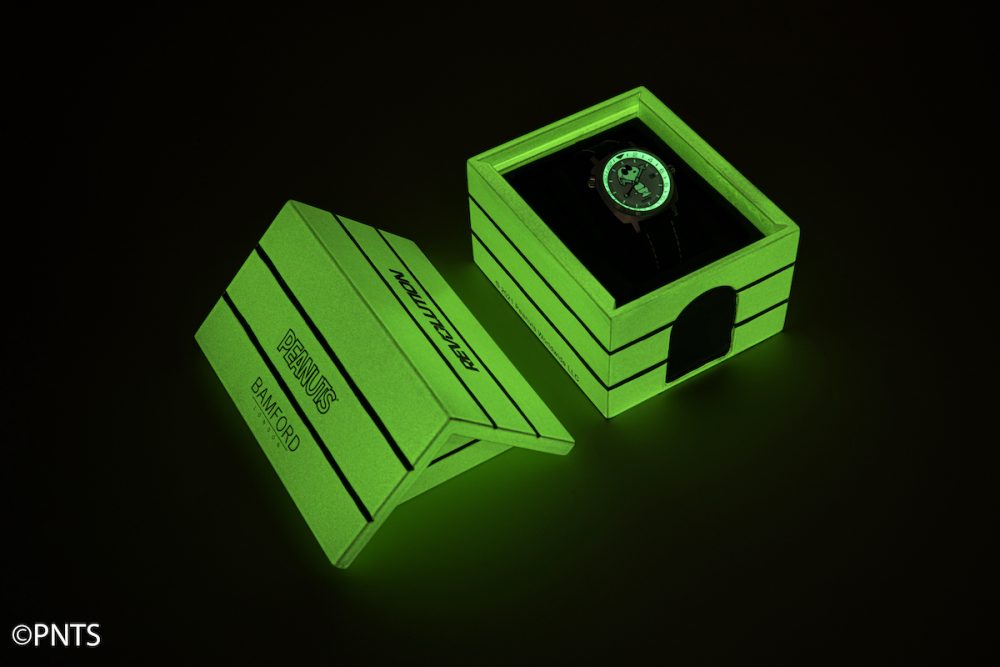 George, being the genius that he is, took it a step further and suggested we make Snoopy's dog house luminous as well! "I want there to be maximum light emitting from this project because that's what we all need right now — more light and love in our lives." When he first said that, I laughed because I LOVED it. I explained that I already foresaw myself having trouble sleeping because the watch glowed so brightly. He chuckled and replied, "My friend, you may just have to wear your sunglasses in the dark just like Joe Cool!"
Tech Specs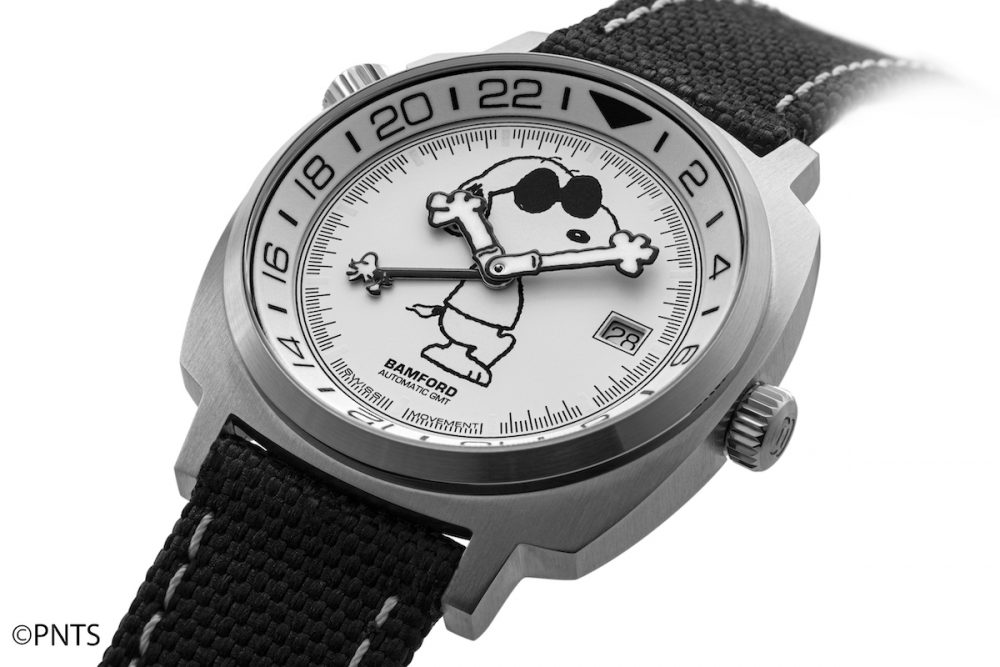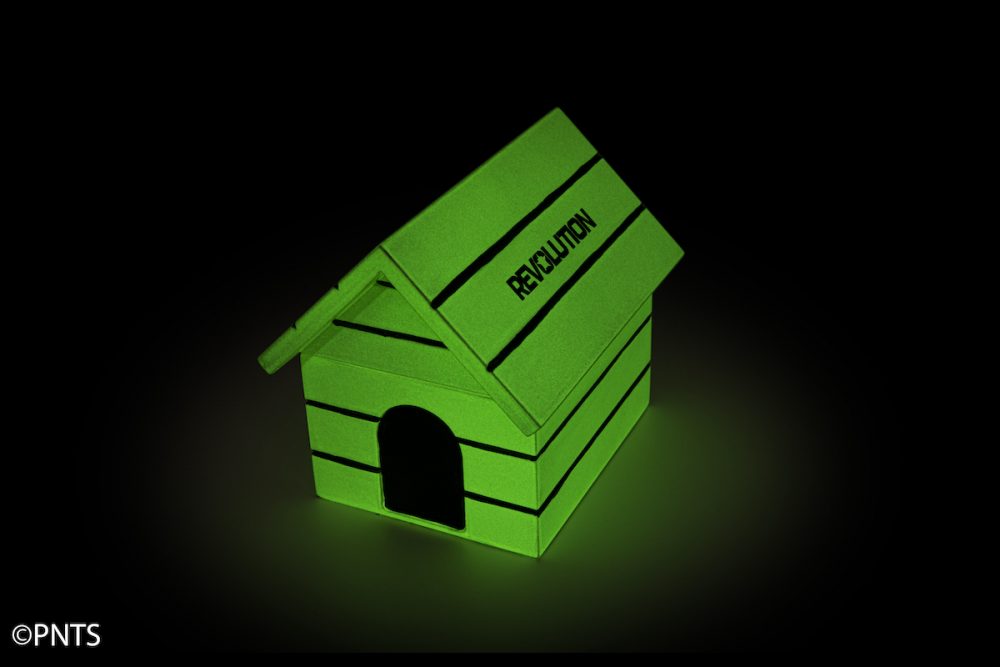 MOVEMENT
Self-winding Sellita SW330-2; 42-hour power reserve
FUNCTIONS
Hours, minutes, seconds, date and GMT
CASE
Stainless steel with luminous internal rotating bezel; water resistant to 100m
STRAP
Black cordura
PRICE
USD 1,850
AVAILABILITY
Limited edition of 100 pieces, exclusively available from Revolution