Bandit and Wei Koh's Chopard Alpine Eagle XL Chrono
The Rake's Founder Wei Koh reveals two great things that have come out of this past year; the companionship with his dog Bandit, and the launch of the Chopard Alpine Eagle XL Chrono.
You could say that Bandit, my now 10-month-old dachshund, came into my life at a fortuitous time. She entered my sphere of existence precisely as a 20-year-long relationship and my decade-old marriage had come to an end. And while I was not actively searching for the companionship provided by a pet, in the end, she's been an extraordinary source of happiness and fulfillment in what would otherwise have been a challenging time. Let me backup for a moment and explain that solitude is not a condition that I have an issue with. One of my favorite novels by Thom Jones, The Pugilist at Rest, is named after the famous statue of Theagenes in the National Museum of Rome's Palazzo Massimo alle Terme. The book is about how life as we experience it leaves us with scar tissue. It leaves us battered, and yet like Theogenes, we remain resolute in our determination to not be broken, to remain undefeated. In one of many extraordinary short stories, Jones describes the life of Alexander Selkirk, the real Robinson Crusoe, who was a Scottish privateer in the Royal Navy. Apparently, Selkirk was such an intolerable pain in the ass, an individual of incredible sloth, ill-discipline and all-round bad attitude that his captain couldn't take it anymore when Selkirk took to bad-mouthing the seaworthiness of their boat. He marooned Selkirk on a small remote Juan Fernández island in the South Pacific, imagining he would never see him again. I can only imagine the captain's last words to Selkirk as he pulled away from shore to be, toodeloo mother***ker.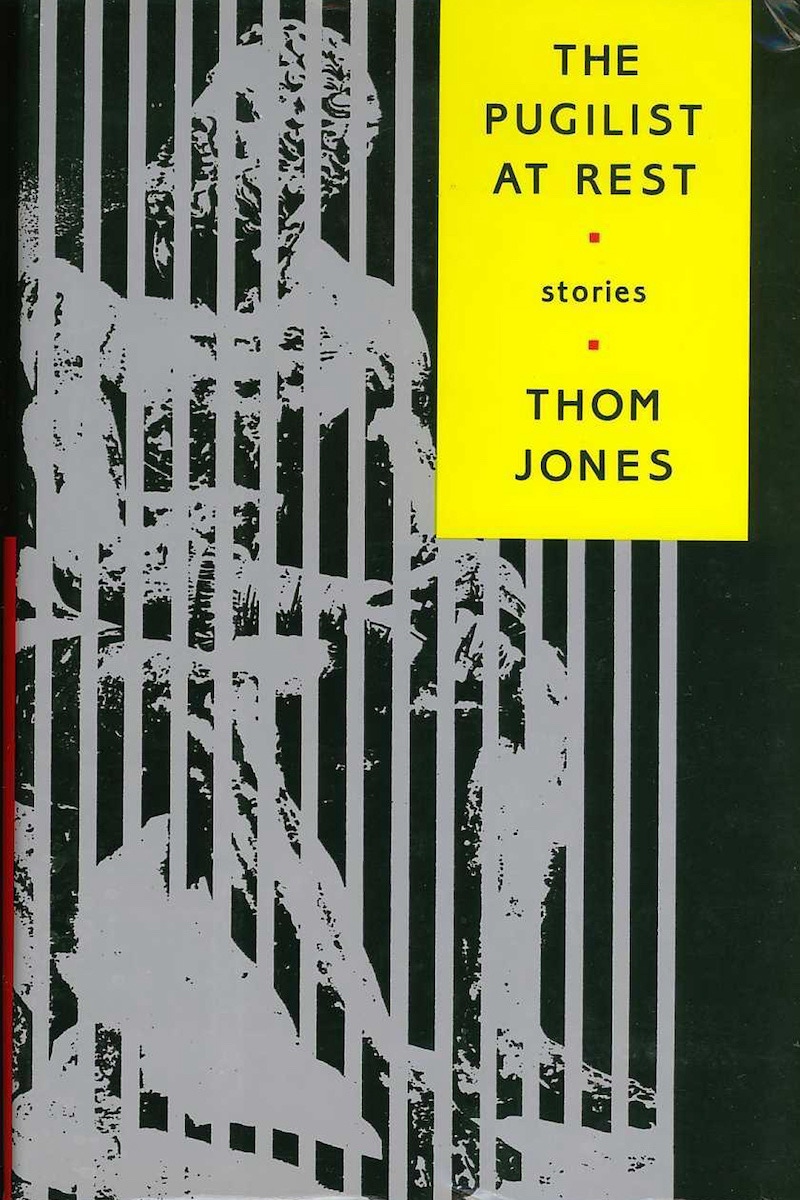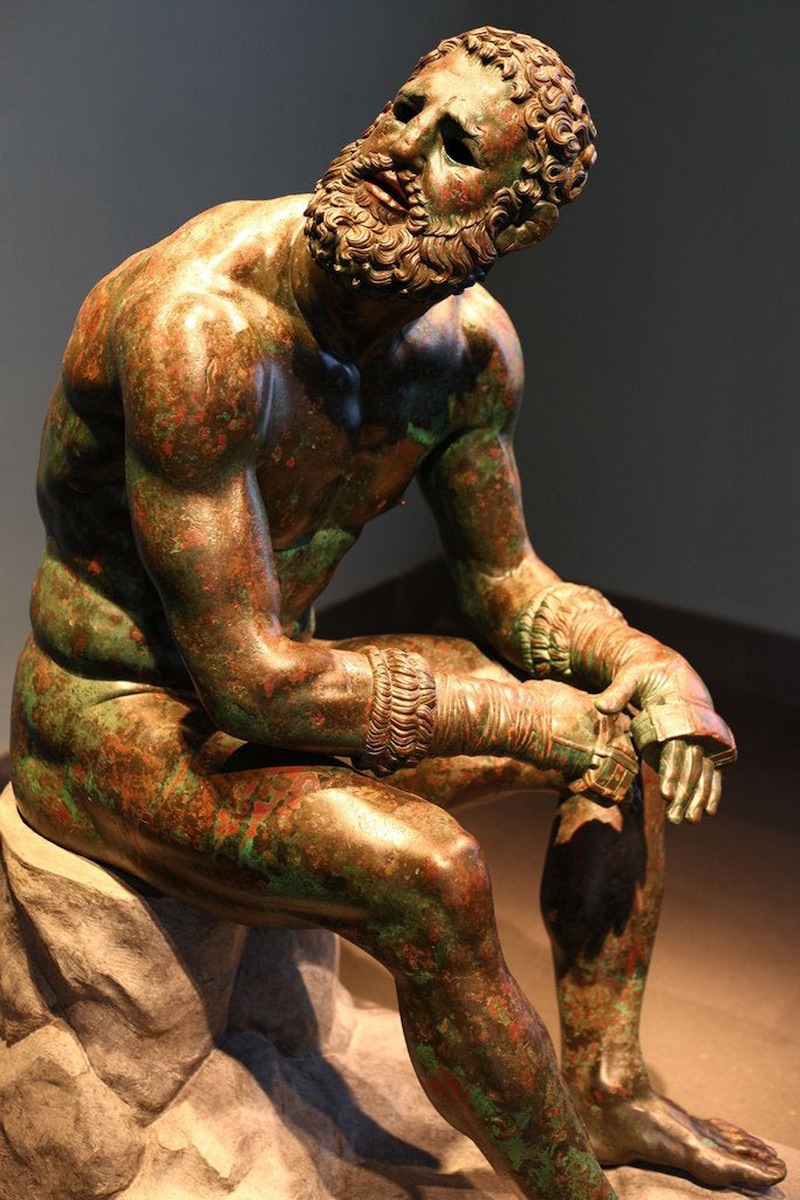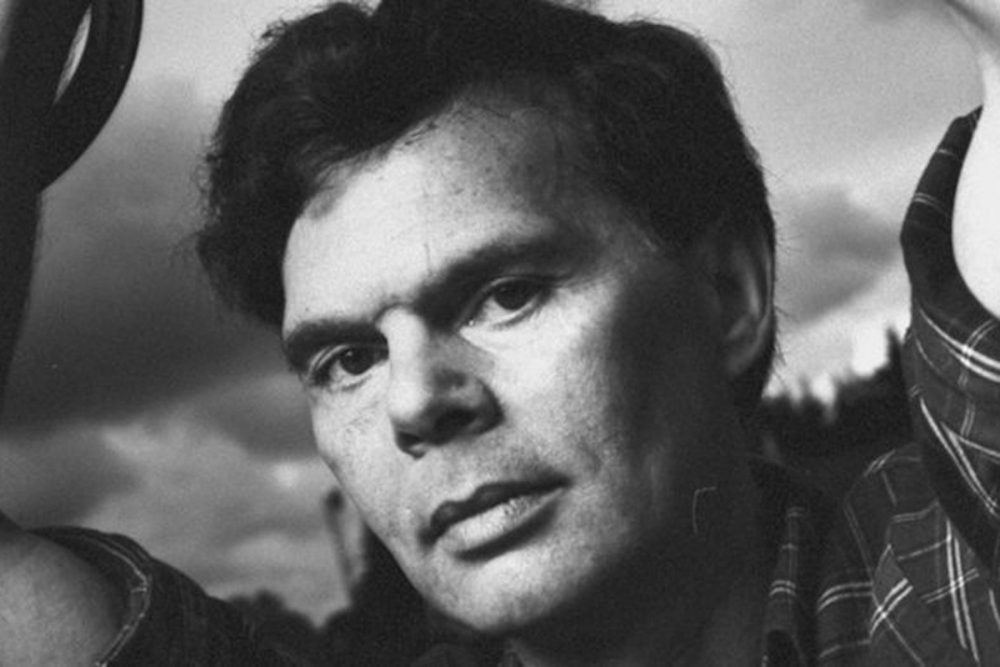 But life on the island transformed Selkirk. Forced to be entirely self-reliant, he tapped into and unlocked his inner Nietzschean
Übermensch
. He domesticated feral goats. He forged knives from abandoned barrel hoops. He built two remarkably well-constructed huts out of pepper trees: one for cooking and one for sleeping. An autodidact, he taught himself to tan goatskins for his clothes, while he built his feet up with calluses so tough he could run at full speed over thorns and rocks with no ill effect. Once, while chasing a goat, he fell off a huge cliff, and it was only by positioning the hapless beast between himself and the ground like an airbag that he didn't break his back on impact. Clearly an inspiration for Leonardo DiCaprio's character in
The Revenant
, he laid there for more than a day before he could move again. He fought off sea lions during mating season that confused him for a potential mate and sought reprieve in the Bible left to him. He became at once a Transcendentalist in the mold of Henry David Thoreau and a Christian Existentialist in the vein of Paul Tillich. He reached a super human level of fitness, and his mind became as strong as his body, allowing him to ward off the despair caused by loneliness. Eventually, he was rescued and returned to life a man transformed. He would become a privateer captain and lead raids up the Guayas River in Ecuador and capture a famous treasure galleon which he would rename
Batchelor
and sail to the Dutch East Indies. My point to all this is the following. The poet John Donne coined the phrase, "No man is an island." But to be honest, the vast majority of my life has been island-like. The result of being a socially awkward Asian teen growing up in the United States, I grew used to being alone, and it became my natural condition. To quote from Robert De Niro in
Heat
, I've always believed, "I am alone. I am not lonely." And so I prepared to live alone for the first time in 20 years, a situation significantly heightened by my country Singapore entering a new lockdown just as my ex-wife cleared out. I thought with my daily combination of cardiovascular exercise, which included 10-kilometer runs and 90-kilometer bicycle rides to the point of anaerobic failure, counterpointed by my significant alcohol consumption, that I would be fine. At least, that was what I told myself. But deep inside, I felt deeply insecure. When I slept, I returned to a period in my life in my late 20s when I lived in Los Angeles and was miserable. I felt I couldn't connect with anyone and after a while, I stopped trying. OK, let's pause here to talk about dachshunds. I had never owned a dog growing up due to my mother's circumspection at their hygiene. I got my first dachshund, Brando, because I had bought him as a gift for my sister-in-law but he couldn't get along with her golden retriever. After a few days he came to live with me and knowing nothing about dogs, I was floored by the responsibility of caring for another living creature. But eventually, we became the best of friends and accepted and were even amused by each other's idiosyncrasies. His defining character was that of a gourmand, and food meant everything to him. As a result, he probably ingested more Jamon Iberico, unpasteurized cheese, in particular his beloved Époisses, truffles and caviar than most human beings. When my ex-wife (then girlfriend) moved in, he accepted her grudgingly, though he was put out at no longer sleeping on the pillow next to me. Soon, we got a second dachshund named Gracie who was an incredible athlete and would join me on runs, pulling me forward the entire way. Our favorite ritual was to share an ice-cold beer after our runs, which would compel her to lie on her back to stare at her paws and laugh. The thing they don't tell you as a first-time pet owner is how time with your dog goes by in the blink of an eye. During their lifespan, you see your dog transform from a baby to your best friend, to eventually becoming this old person you take care of. And when your dog becomes that old person, it finally penetrates your thick skull that their time with you is heartbreakingly finite. The last months, the last weeks and days with them are so fleeting it feels like you're trying to hold onto water. Then you begin to actually feel their energy ebb away. You'll come home to them sleeping so still, you'll hold your hand up to their noses just to check if they are still breathing, which will startle them awake in a comedic yet poignant moment. Eventually Brando passed away. He was an old dog and went in to have several infected teeth removed. He contracted pneumonia while under general anesthesia. He passed away in my arms. A year later, we found Gracie collapsed on the floor with labored breath, and when we brought her to the vet, the scan showed fluid in her lungs. She also died in my arms. Neither my ex-wife nor I realized how much the loss of our dogs affected us, how much we would mourn them, and so we decided not to own another dog for quite some time. This is the reason in 2020, the year where everyone apparently got a dog and realized that they were destined to be a Pinarello Dogma-riding champion cyclist, I spent the year bereft of canine companionship. Initially it was strange to not come home to wagging tails, huge grins and frantically darting tongues, but eventually I got used to it. I reconciled myself to living dog-free for the immediate future. Then, 2020 became 2021, and I'd made it all the way through the COVID pandemic when one day I watched a video of my friend's corgi playing with a genuinely intriguing dachshund. Learning that the dog in question had an Instagram page, I stalked her and was besotted by her combination of stunning looks and sweet, docile, playful manner. My friend put me in touch with her owner, and I learned the puppy had come from a local pet shop which, in deference to modernity, also had an Instagram page. Scrolling through its feed, I stopped when I saw this picture. I have included this image here because I don't think I am exaggerating when I describe Bandit's devastating adorableness in her puppy image. To me, she had the eyes of a Disney character, like Bambi or Lady from
Lady and the Tramp
. One day I found myself driving out to the pet shop where she was located, near the beach here in Singapore. I liked the feeling of the pet shop which was very bright, clean and organized. I also liked that the staff were all "aunties," older Singaporean women with a very maternal vibe. Importantly, I appreciated that the shop had a no-touching policy for the dogs. You could look at them, approach and verbally interact with them but not touch them.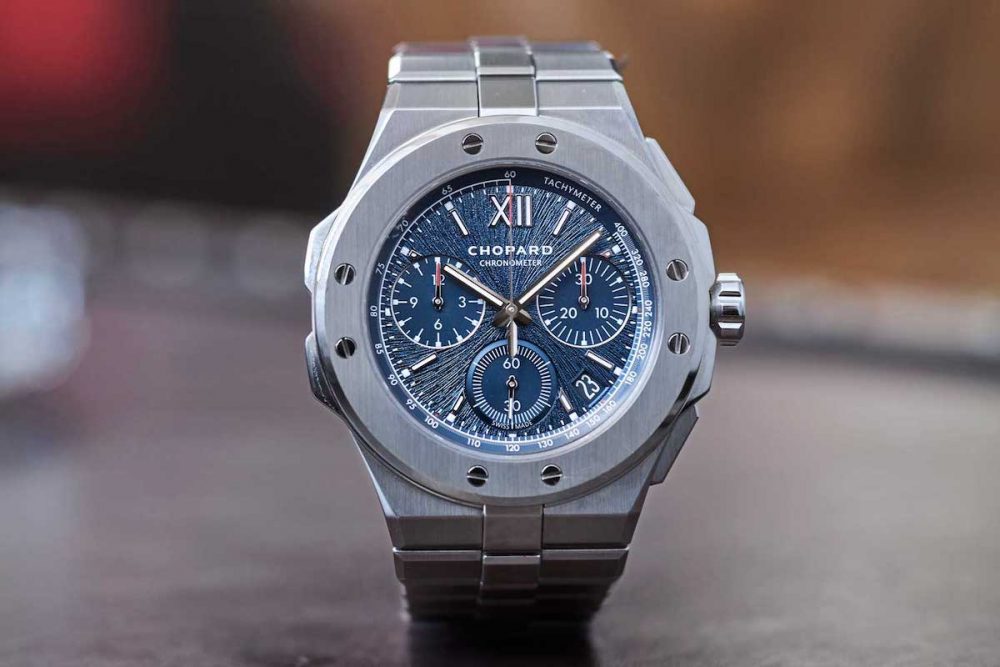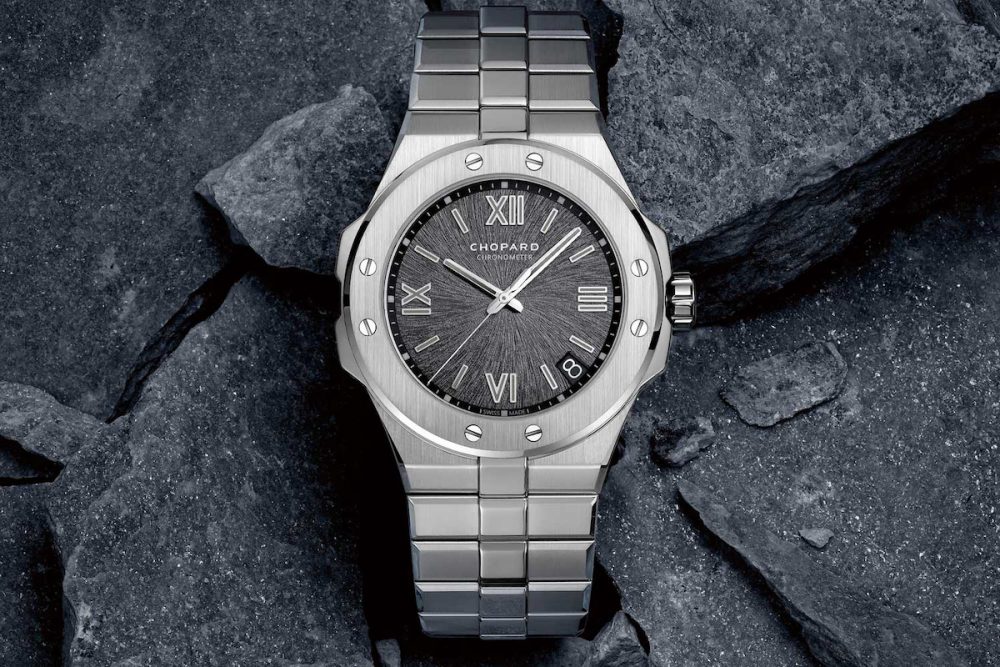 OK, enough about dachshunds for a while. Let's talk watches. One of my favorite watch launches of 2020 was the Chopard Alpine Eagle XL Chrono. I was already a big fan of the first Alpine Eagle unveiled in 2019, which you can read about
here
. And here are the three reasons I love the Chopard Alpine Eagle.
Reason One: The People Behind It
Firstly, I loved the multi-generational story behind the watch. The Alpine Eagle was inspired by Chopard's St. Moritz, the very first watch created by Karl-Friedrich Scheufele when he was just 20 years old. He was inspired to design a sports chic integrated bracelet watch that he could wear skiing, but that would also look perfectly elegant with black-tie; a watch that was perfect for any occasion, if you will, and a symbol of a new generation always on the move. The St. Moritz was launched in 1980 and was immediately a hit. That year at Basel Fair, Chopard sold 1,000 of them. The watch was distinguished by a uniquely shaped bezel that curved around the visible screws that held the watch in place.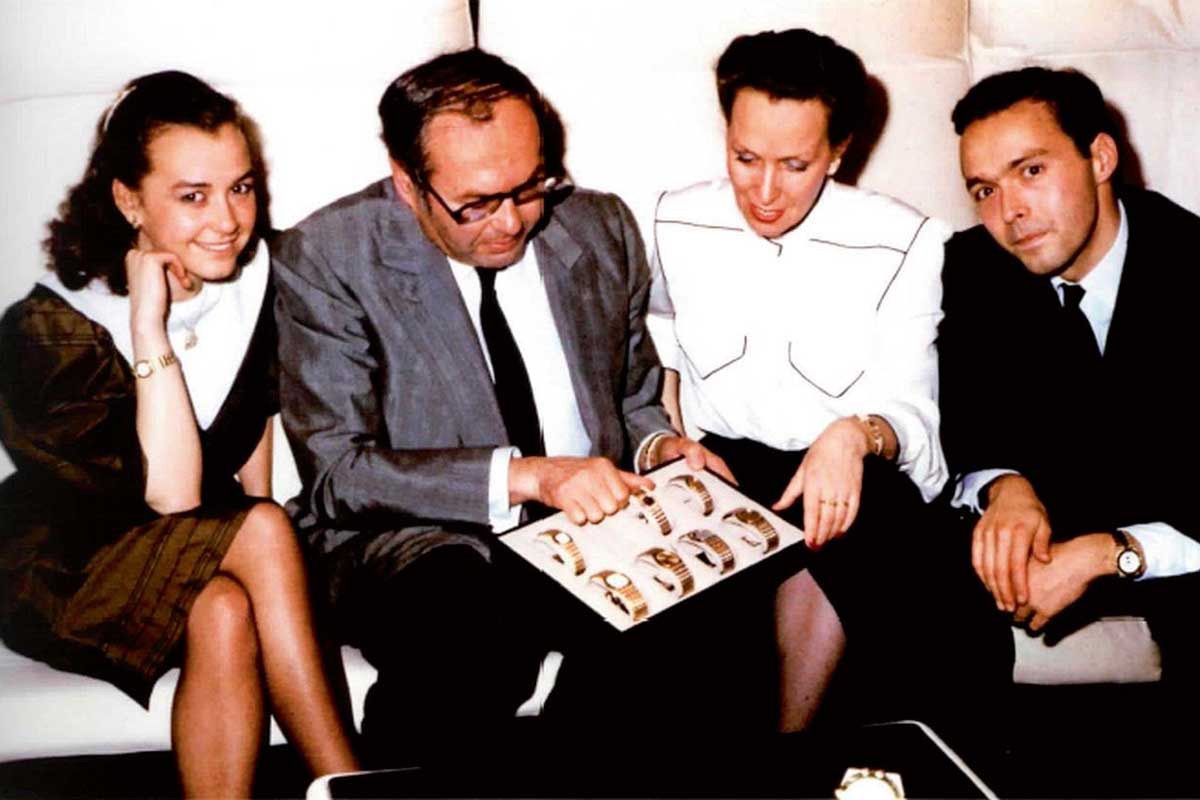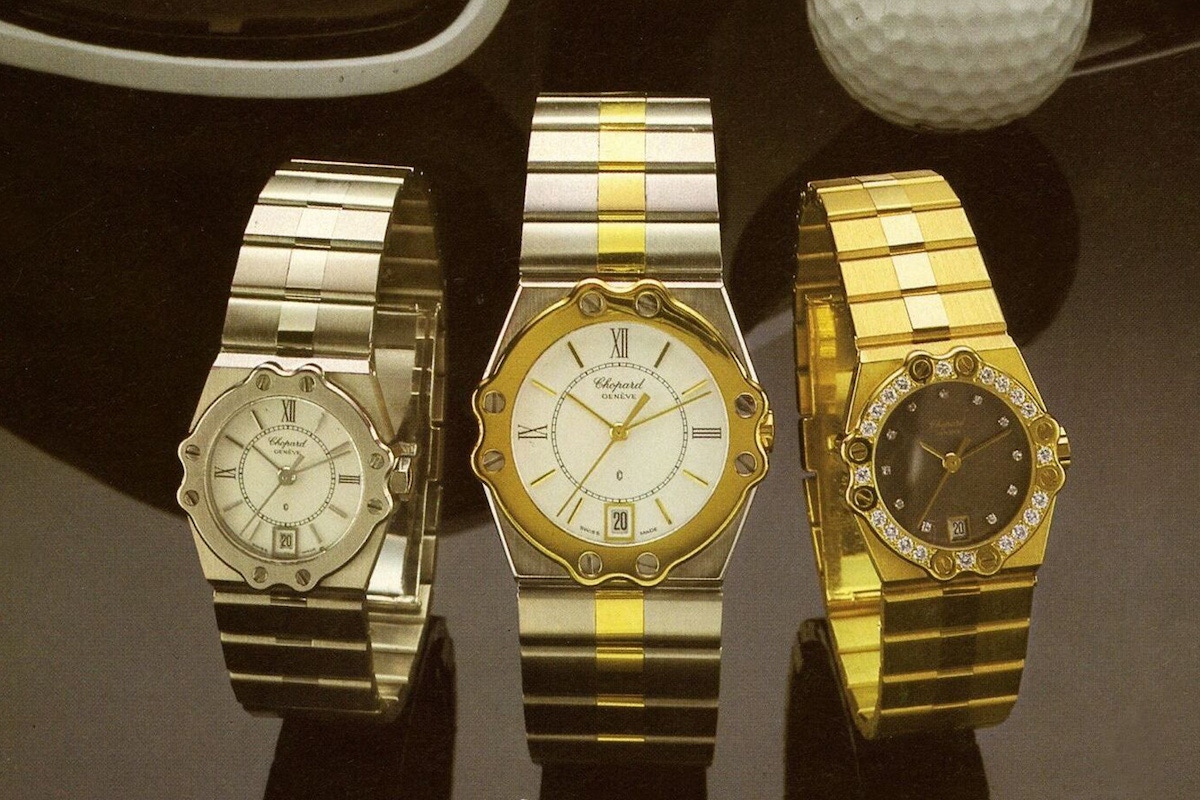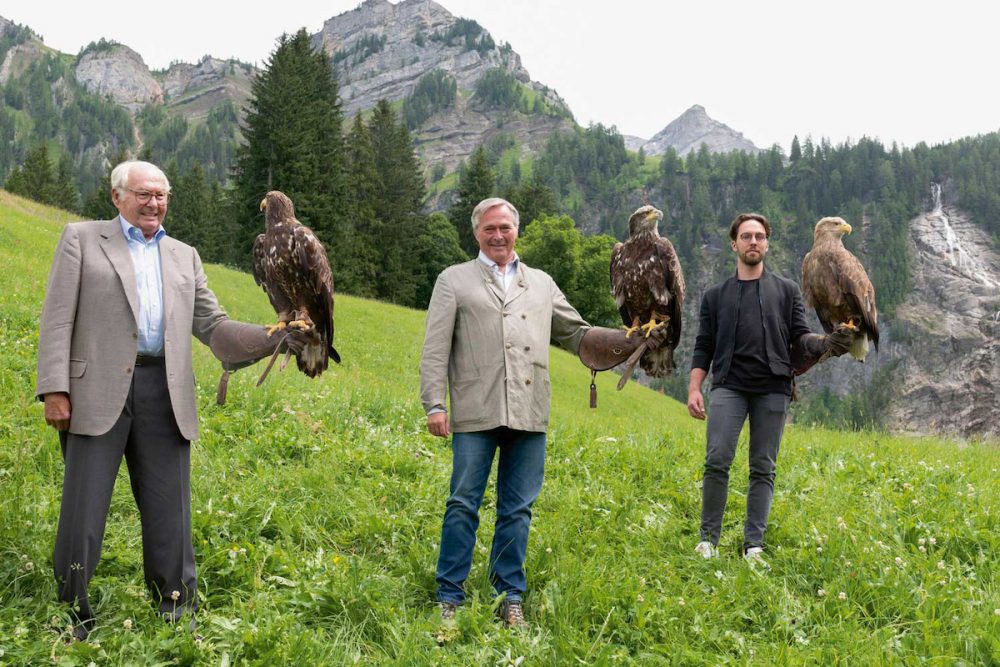 Cut to 2016 and Karl-Friedrich's son, Karl Fritz, has identified that it is the integrated bracelet sports chic category dominated by Audemars Piguet's Royal Oak and Patek Philippe's Nautilus that resonates most strongly with his generation. In a series of unrelated coincidences, he saw the St. Moritz on multiple wrists. Then, one of the brand's oldest retailers beseeched him to revive the iconic model, sensing a real demand for its return. Karl-Fritz broached the idea with his father, who was reticent. He explained, "Certain watches have their moment." Unfazed, Karl-Fritz approached his aunt Caroline and his grandfather Karl Scheufele, and together they started to design a new-millennium version of the St. Moritz. Soon, they arrived at a sketch that spoke to all of them. But the real test was his father. Upon seeing the rendering, Karl-Friedrich immediately recognized its potential. He made a deal with his son that they would only launch it once they were both perfectly happy with the results. They launched the watch in 2019 to great success.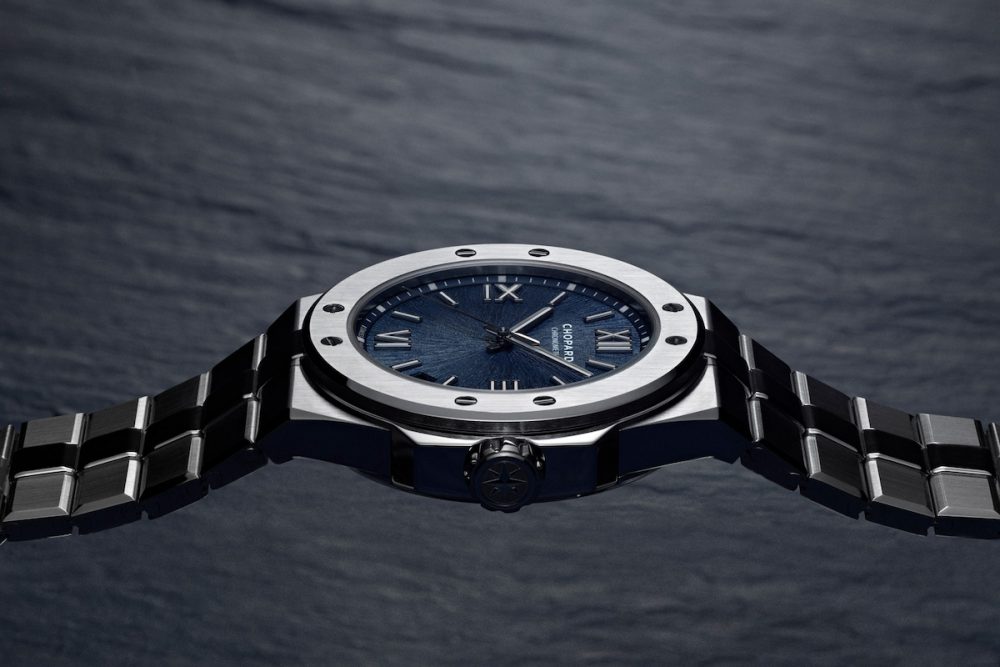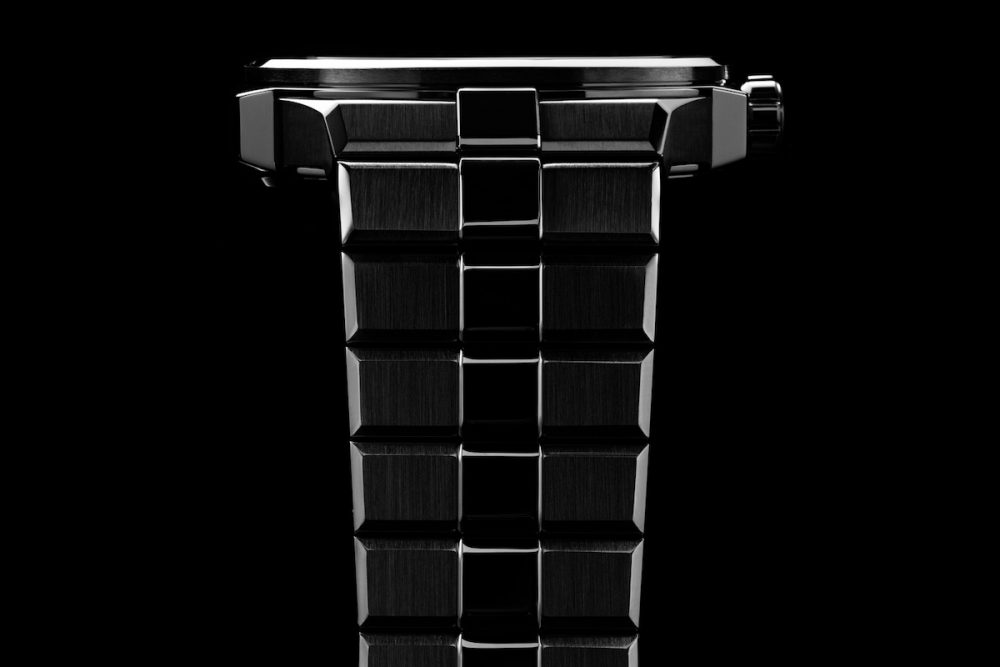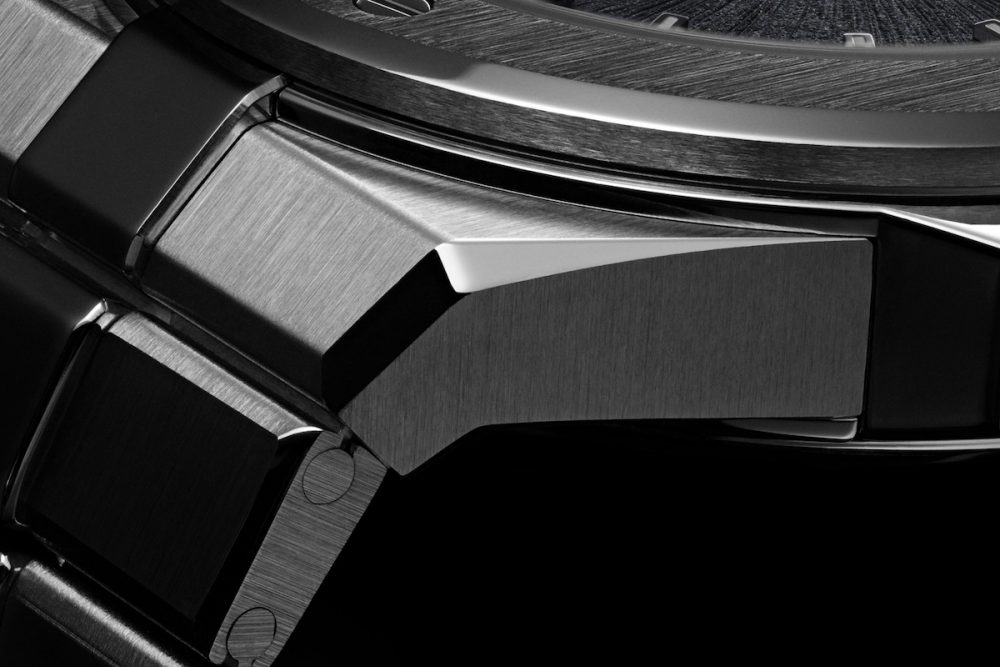 Reason Two: The Design Is Great
From the moment I saw the Alpine Eagle I loved it, especially because of the design. It is one of the few watches that enters the territory dominated by the two entrenched players and distinguishes itself with originality and success. The size at 41mm is just perfect, thanks to a bracelet that conforms to even the smallest dimensions. The design features a round bezel with eight visible screws placed in pairs at north, east, south and west, as with the original St. Moritz. The case has visible ears, which act on the right side as a crown protector. But it's the dial of the Alpine Eagle that is arrestingly stunning. Designed with a printed swirling pattern that's meant to evoke the iris of an eagle, it is immediately as recognizably distinct as the Royal Oak's petite tapisserie or the Nautilus's horizontal striped pattern, and yet, it is wholly and utterly original. This wonderfully dynamic dial is counterpointed by applied Roman indexes framed in white gold, made from a new kind of LumiNova that is 30 percent brighter and degrades far slower over time.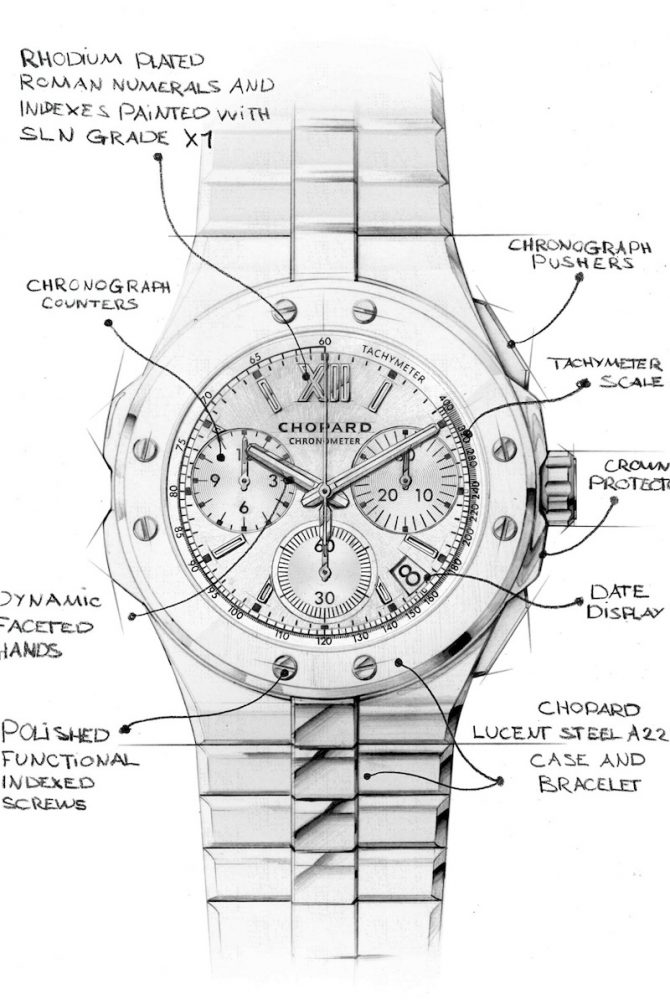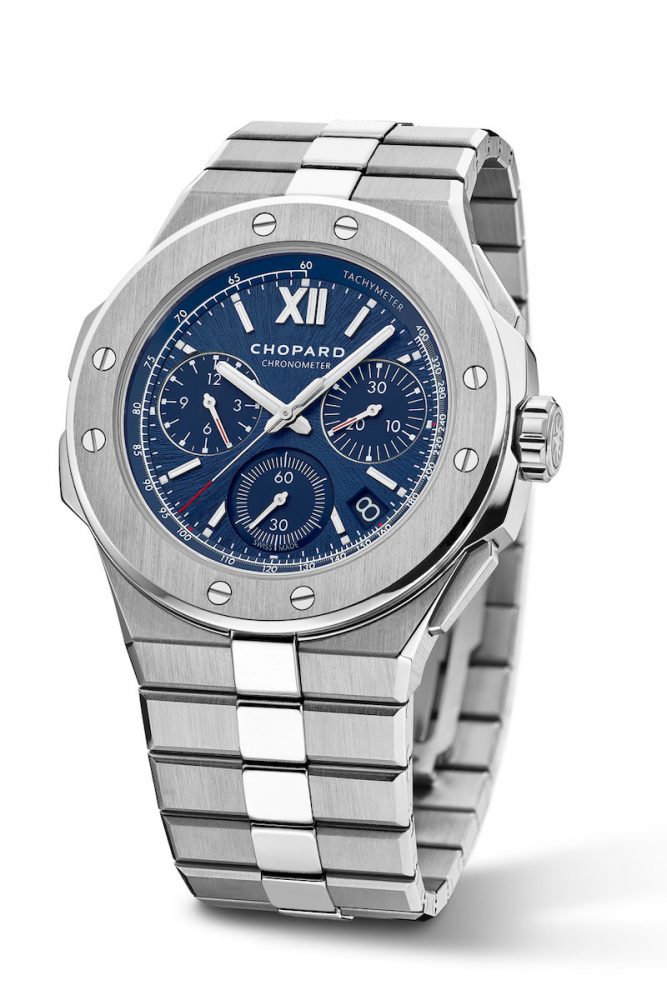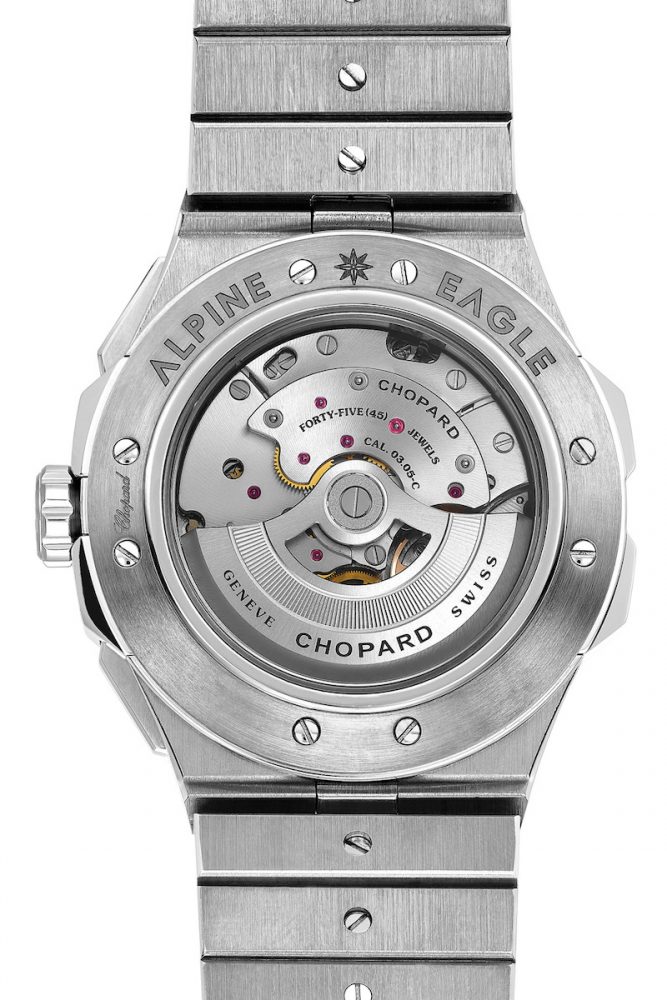 Says Karl-Friedrich Scheufele, "With this watch, we wanted to bring multiple levels of technical innovation and worked hard with our suppliers to achieve this." The profile of the watch is wonderfully slim, thanks to the COSC-certified in-house 01.01-C caliber that beats inside it. (The smaller 36mm model uses a 09.01-C caliber that's also certified by the COSC.)
Reason Three: The Underlying Ethics
The third reason I am such an ardent supporter of the Alpine Eagle is the underlying ethics it expresses, which to me clearly indicate the incredible principles adhered to by the Scheufele family. One of my favorite things about Chopard has been its pioneering approach to bringing ethics into jewelry and watchmaking. With Fairmined gold, Chopard introduced us for the first time to gold that is mined responsibly to positively impact the people and environment related to its production, and sold with a guaranteed fair price. With the Alpine Eagle, the brand has also brought two important ethical elements to bear. The first is that the steel used for the watch is the first instance in which recycled steel has been used in Swiss high watchmaking. Seventy percent of the steel comes from recycled steel and as a result of the material being forged twice, it has a cleaner purer white color. In addition, it features a much higher surface hardness of 223 Vickers relative to normal stainless steel's 150 Vickers, making for a much more resilient watch.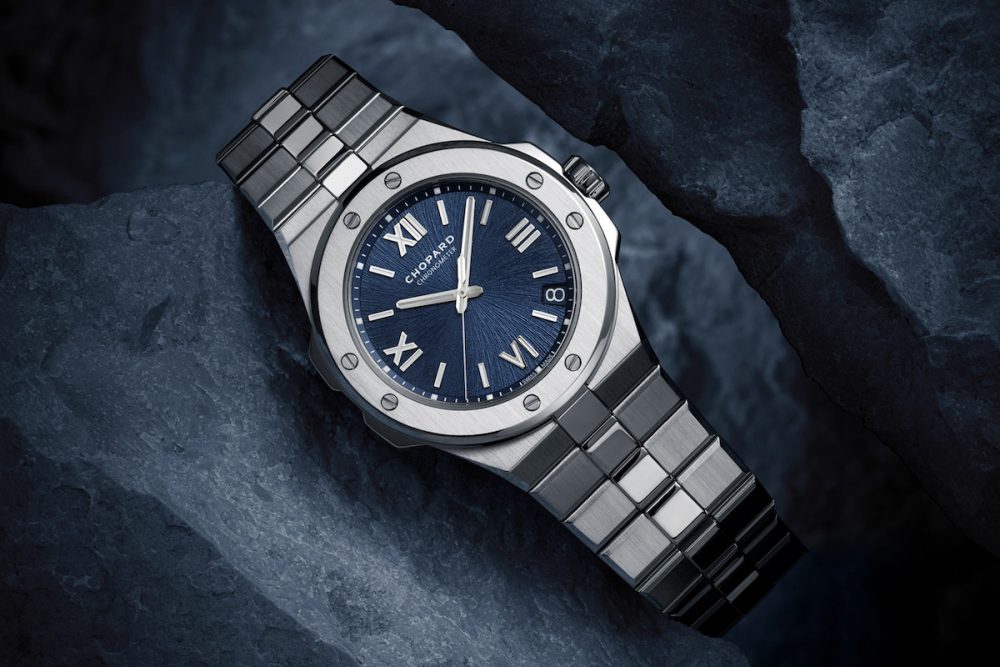 Says Karl-Fritz, "For my generation, it is incredibly important that any luxury object is impacting the climate, the environment and the global arena in a positive way. The ethics behind a watch or the brand that makes it are incredibly important." Secondly, the watch takes its name from a bird that was plentiful and indigenous to Switzerland but is now nearly extinct. Through a special program Chopard supports, the Eagle Wings Foundation, the majestic golden eagle will be reintroduced into the wild. This adds another ecological implication related to the Alpine Eagle watch.
Enter the Chopard Alpine Eagle XL Chrono
Launched amid the COVID pandemic, the Alpine Eagle XL Chrono was, to my eye, one of the most stunning watches of 2020. What's particularly impressive is that you could imagine that the Alpine Eagle had been conceptualized as a chronograph model first, so perfect is the integration of this complication. The chronograph pushers have been subtly added to the right side of the case so that they follow and complement the lines of the crown guards. The layout of the chronograph on the dial is perfectly intuitive. Small seconds is at six o'clock, which is exactly where it should be on a chronometer. The hour and minute counters occupy the nine and three o'clock positions, respectively. To me, no chronograph can be truly considered a driver's watch without an hour counter, which is of paramount importance for endurance racing events. But that's just the beginning because the dial resonates with charming details that will seduce watch connoisseurs. In particular, the use of the "square markers with tails" on the hour and minute counter are a subtle but fun nod to exotic or "Paul Newman" dial Daytonas, which use similar markers. Each counter on the dial is given a full set of extremely clear and visible markers, and the combination of these lines create a great dynamic energy radiating from these subdials that perfectly contrasts with the signature stylized "eagle's eye" embossed pattern on the rest of the dial.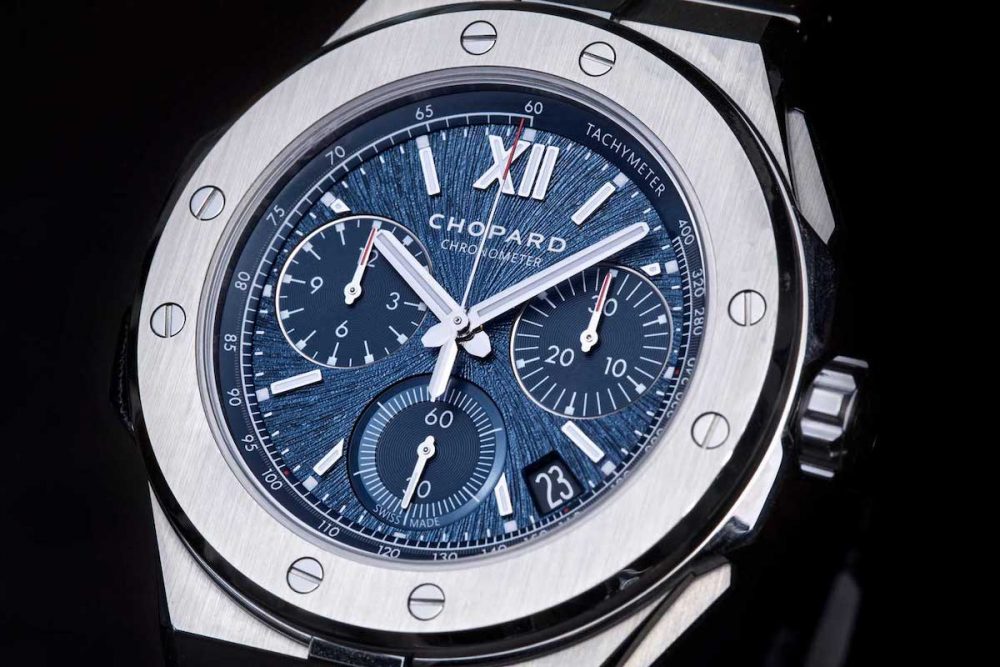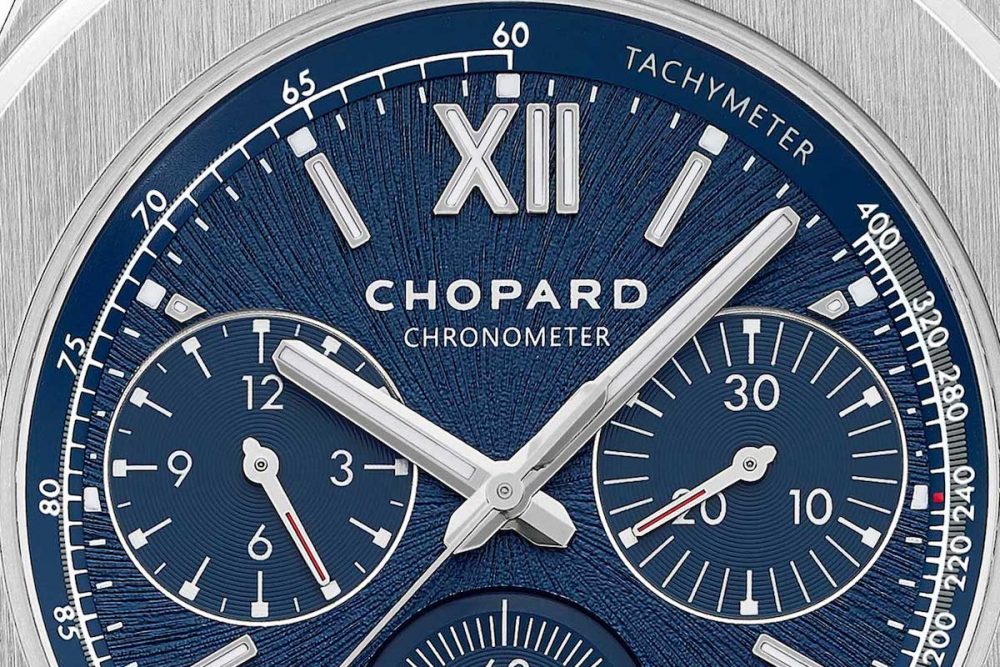 When I finally got a chance to try the watch on, I was surprised at how muscular it was. If you will allow the comparison, at 44m, the Alpine Eagle XL Chrono is much more proportionally similar to an Audemars Piguet Royal Oak Offshore than to a Royal Oak Chronograph. And yet, it still manages to be elegant despite the substantial increase in size. But more than a handsome timepiece, it also features one of the most extraordinary calibres in modern watchmaking, Chopard's 03.05-C. It features a veritably Olympian level of
palmarès
, which breaks down like this. It runs at 28,800vph or 4Hz, an optimal speed for a chronograph, as at this speed it is largely impervious to the micro shocks that a watch is subjected to on a regular basis on the wrist, and able to time events to 1/8th of a second. Its automatic winding system is bi-directional, and its barrel stores 60 hours of power reserve. It is column wheel activated, which is the highest level of refinement for a chronograph and, very importantly, it features a vertical clutch. The vertical clutch allows the chronograph to run indefinitely without creating a parasitical effect on the movement's amplitude. The vertical clutch, where the chronograph wheel and drive wheel engage on their flat sides rather than their rims, also eliminates chrono backlash, which happens in laterally coupled clutches when the teeth of the two wheels don't mesh precisely. The movement also features a flyback function, where all chronograph indications can be reset to zero and begin running again instantaneously without losing a second, a function initially popularized by aviators but that is also perfect for auto racing.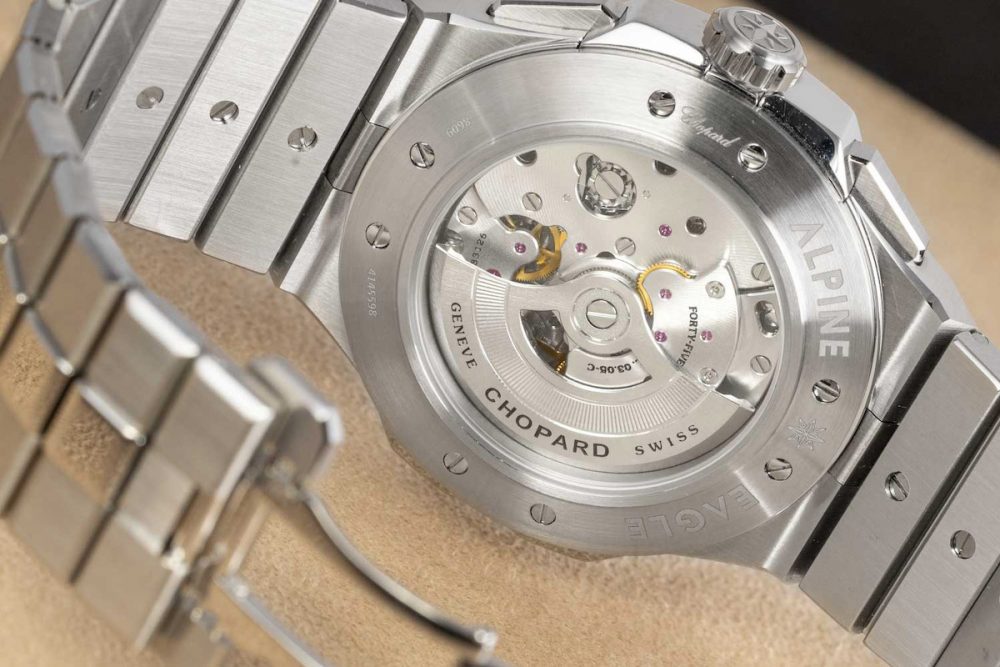 Now let's just list the attributes of this amazing movement. It is an automatic, column wheel activated, vertical clutch, flyback chronograph running at 4Hz? Honestly, this is already pretty damn impressive. But it is at this point that the movement gets really interesting. Because the L.U.C caliber 10 CF is the only chronograph movement in the world that features a zero reset for the small running seconds. This means that when you pull the crown out to set the time, the continuous seconds hand stops and jumps back to zero, which allows you to set your time with unparalleled precision. The chronograph also features an hour counter which, to me, must be included in any true sports chronograph, as well as a precise jumping minute counter. What is important to know is that the caliber 03.05-C found in the Alpine Eagle XL Chrono harnesses all the same technical firepower as the 10 CF with the exception of the zero reset small seconds, which is kept to distinguish the L.U.C chronographs. In other words, it is hands down one of the best conceptualized and executed automatic chronograph calibers on the planet. Little did I know when I first tried this watch on that it would eventually save my sanity and enable Bandit and I to create a truly special bond.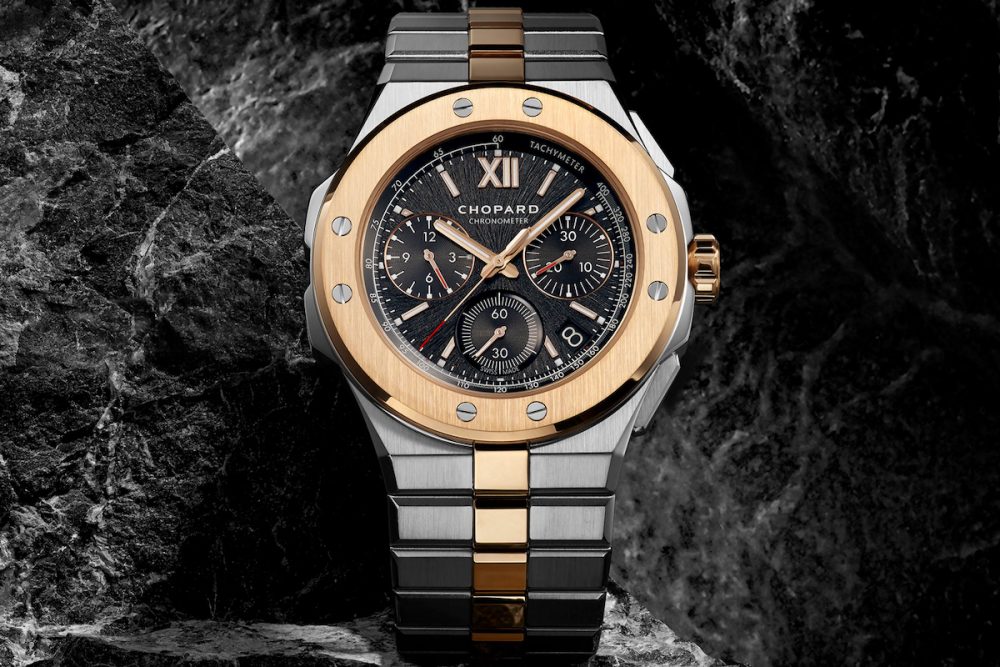 After seeing her in the pet shop and after convincing the auntie there to let her lick me to check that I wasn't allergic to her — I am allergic to roughly 10 percent of dogs; unfortunately Gracie, my previous dachshund, fell into that category, and the resulting rashes and hives were not pretty — I brought Bandit home. I sometimes joke that it was this unilateral decision that was the final straw for my ex but, the truth is, she was well on her way out before Bandit appeared. It was, however, made clear that I would be the sole dachshund parent in the home, a role which I accepted happily. I had, however, forgotten how unpleasant it was to inadvertently step into a puddle of dog pee, or have a dog defile my carpet when I wasn't looking. After a few days of unsuccessfully attempting to read Bandit's facial expressions and body language, I gave up and sought the help of a professional. I was determined that Bandit be potty trained to only perform her ablutions outdoors. On my first Zoom meeting with my trainer, she explained how this would be achieved. She explained that dogs love structure and repetition. And Bandit, being German in origin, would probably crave it even more. I joke here. So we would have to do the following: We would break her day down into segments. After she relieved herself, she would be given freedom with monitoring for the first hour, then she would be tethered to me via her leash for the next hour and then placed in her crate — which she loves — for the last hour, and then she would be taken outside to go to the toilet. As she was a Gen Z pup, and part of the "snowflake generation," under no circumstances could we punish her or even raise our voices at her. We could only positively reinforce good behavior. If she didn't relieve herself, she would go back inside the crate for 20-minute intervals until she did, and then the three-hour routine would start all over again.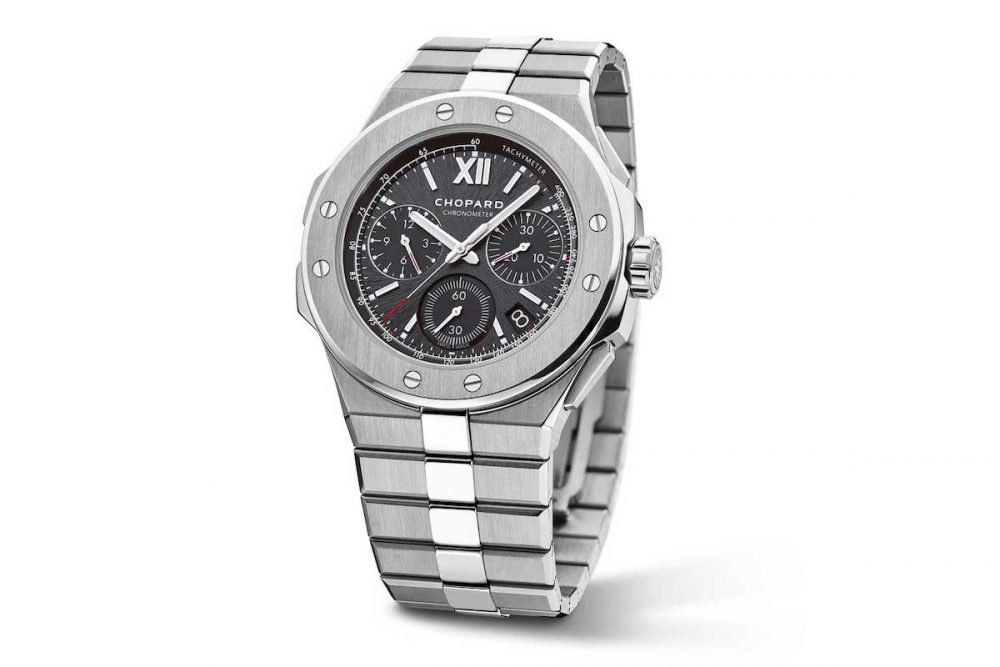 My trainer looked at me through the computer screen and explained, "Well, you are going to need a notebook and a pen to record everything." To which I replied, "No, I don't. What I need is a chronograph with an hour counter; even better if it has a flyback function and, crucially, it must be a vertical clutch system so as to not adversely affect time-telling as the chronograph will always be in use." Scouring my mind, I realized I was in possession of exactly the right watch — my beloved Alpine Eagle XL Chrono. And so, the watch became a faithful companion that never left my wrist for that first month with Bandit. Its high legibility made it easy to see which of the one-hour intervals I was in, and when I brought Bandit downstairs and she squatted on her haunches to relieve her bladder, I got the immense satisfaction of hitting the reset button and setting all the chronograph functions into flyback to start the next three-hour interval without losing a second. Further, the watch's high polished and brushed Lucent steel case proved remarkably durable and fended off metal parts of Bandit's leash hitting it with immense aplomb. The Alpine Eagle XL Chrono was absolutely instrumental in Bandit's successful potty training, and when I wear that watch today, it brings back all the memories of that first month we had together before my ex-wife finally moved out.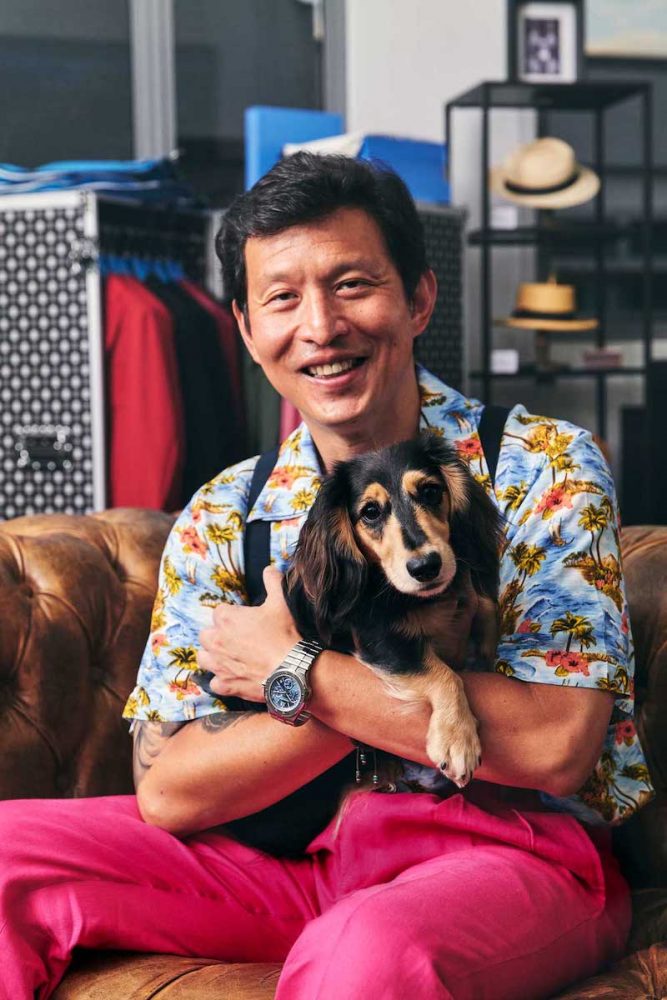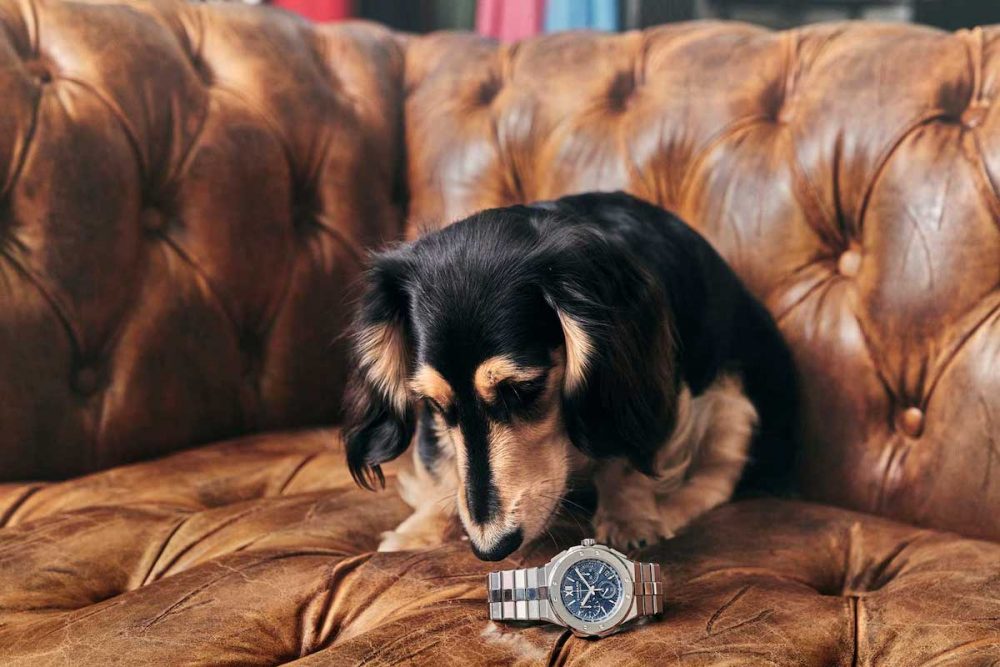 For whatever reason, I've always imagined myself to have a daughter. I have always believed that she would love punk rock, Martin Scorsese, old motorcycles and Bruce Lee movies. In fact, when it comes to naming things — I like to name things, from my car, "Sunshine"; to my Harley, "Bucephalus"; to the sofa in my living room, "Schlumpy"; to my pets — I've always kept a very special name aside in reserve for my future daughter. That name is "Spike." I don't know why I like it so much. There is, of course, the contrast of a badass name with what will hopefully be a pretty and sweet girl, though if any of my DNA is accurately transmitted, I am sure she will also be irreverent and joyfully rebellious. If she's tall enough, which is not very difficult, I imagine her wearing my bespoke suits in her own style, the way my friend Nick Foulkes' sons use his old suits to express their personalities. But until I have the pleasure of one day meeting Spike, I've got Bandit to fill my days and nights. Sometimes, looking at her, I am reminded of how fleeting the lives of my previous two dachshunds were, and I will hug her and promise her to make as many good memories with her as I can, so she takes them with her when she goes, as she will one day, to the next place. It must be said, the Chopard Alpine Eagle XL Chrono has been instrumental to those memories being very good ones.
Tech Specs
Movement
Self-winding caliber 03.05-C; 60-hour power reserve
Functions
Hours, minutes, small seconds, date and flyback chronograph
Case
44mm; Lucent steel or two-tone Lucent steel and ethical 18K rose gold; water resistant to 100m
Strap
Matching bracelet with folding clasp
Price
USD 19,200 in steel; USD 26,800 in steel and rose gold
More information: Chopard.com