Barbanera: Heeling The Sheriff
Moving forward sometimes means a step back, which is exactly the combination that Barbanera have instilled this winter. Their refreshing and modern style inventions originate from the greats of historical culture such as Kerouac, Cash and Pasolini.
There's an old story from Sanderson, Texas where a young fellow regarded himself as the greatest outlaw in the Wild West. There was a Sheriff in the town who wore a wide-brimmed black felt vaquero hat, black leather boots with a Cuban-heel and smoked an enormous curly pipe. A bandit himself many years previously – he exclaimed "We gotta bring somebody in, somebody's gotta go to jail, otherwise they're gonna smell a rat. And I sure as hell don't need the Marshall on my ass." The Sheriff was talking about the recent train robbery. A contorted figure of authority, there is similarities to Barbanera who have disobeyed sartorial conventionalism with style and culture philosophies stemming from the renegades of art, music and literature. Now if you haven't yet heard of Barbanera you might think tradition is not taken seriously or firmly embedded in their creations. This is very far from the truth. There is a genuine devotion to deep-rooted Italian artisanal traditions. The firm was founded by Sicilian brothers Sergio and Sebastiano and their business partner Alessandro. Not from a long lineage of cordwainers, it has given the trio a free-spirited creative licence, drawing on the brother's father's love of art and antiques, Sergio's affinity for psychedelic rock (a former band member bedecked in rock 'n' roll apparel on the stage), Sebastiano's marketing background and Alessandro's history as an entrepreneur. They originally burst on to the scene as shoemakers fusing refinement with a myriad of cultural influences ranging from the Beat Generation to the Wild West. They continue to buck the trend with their unique styles of loafer and boot, whilst extending their repertoire to knits, jackets, jeans and t-shirts – all made from the finest materials.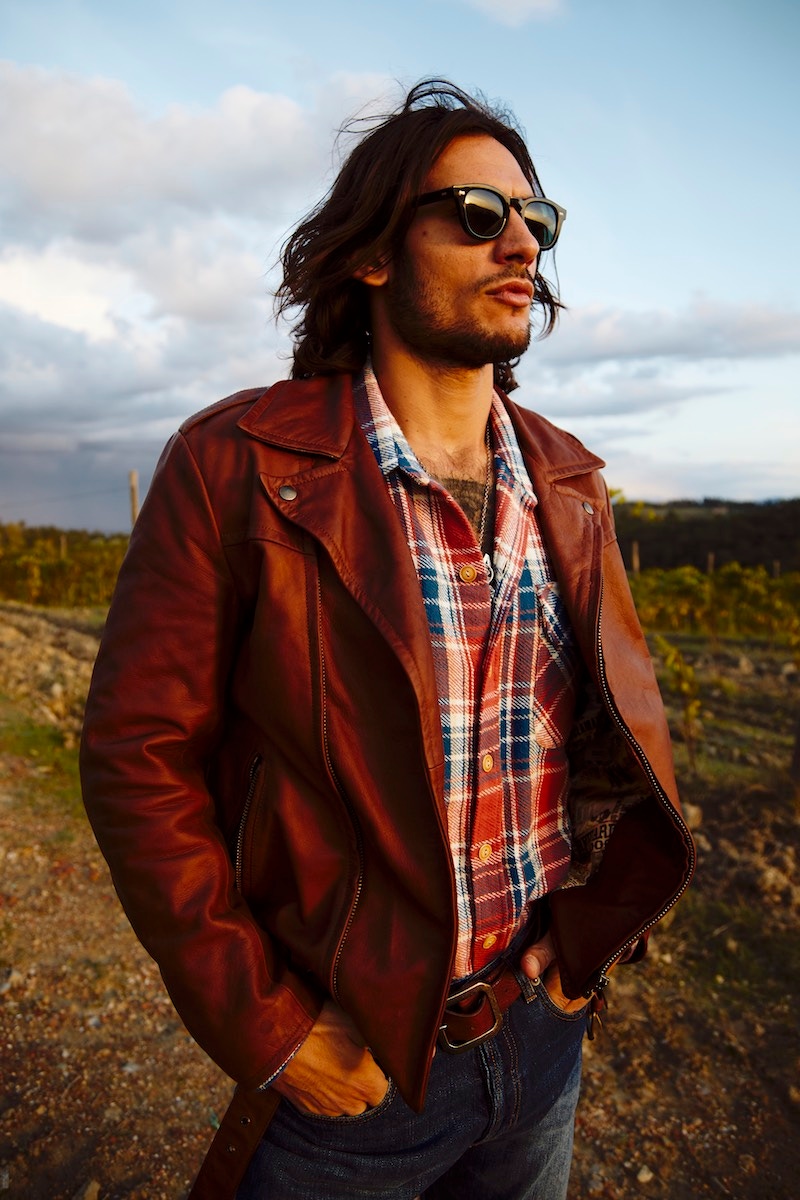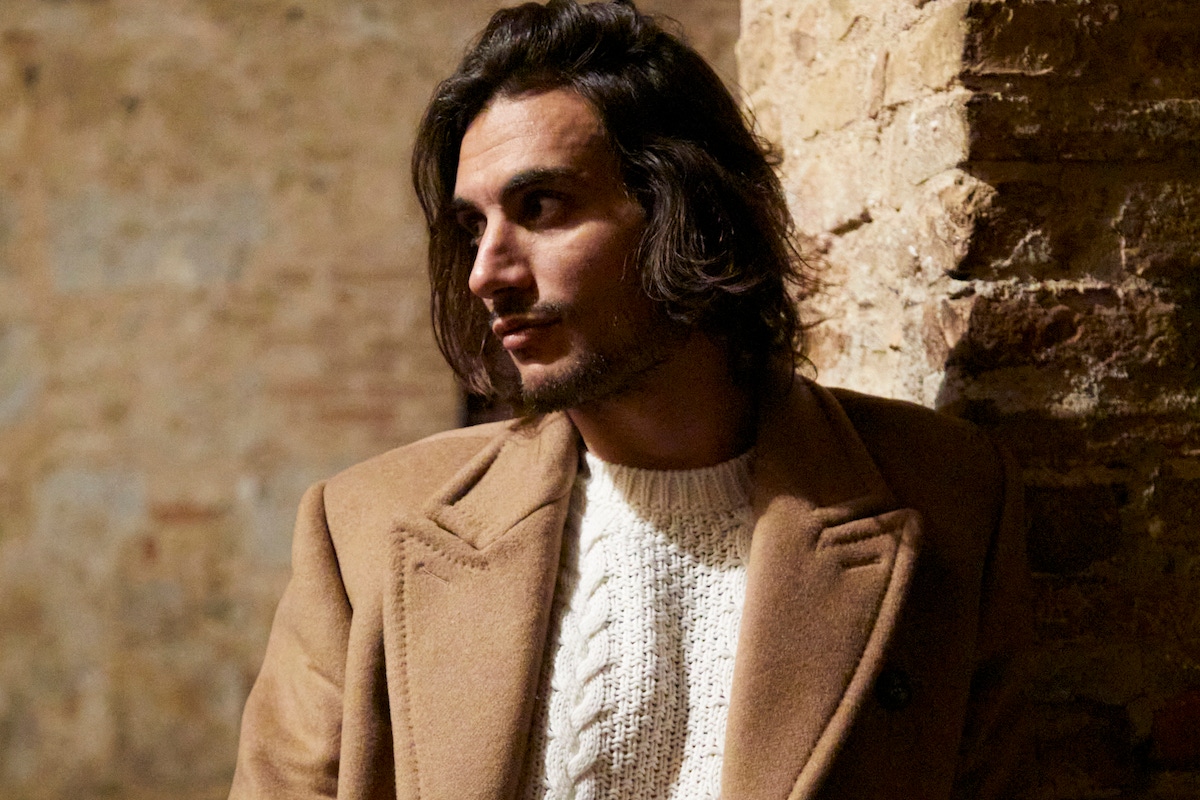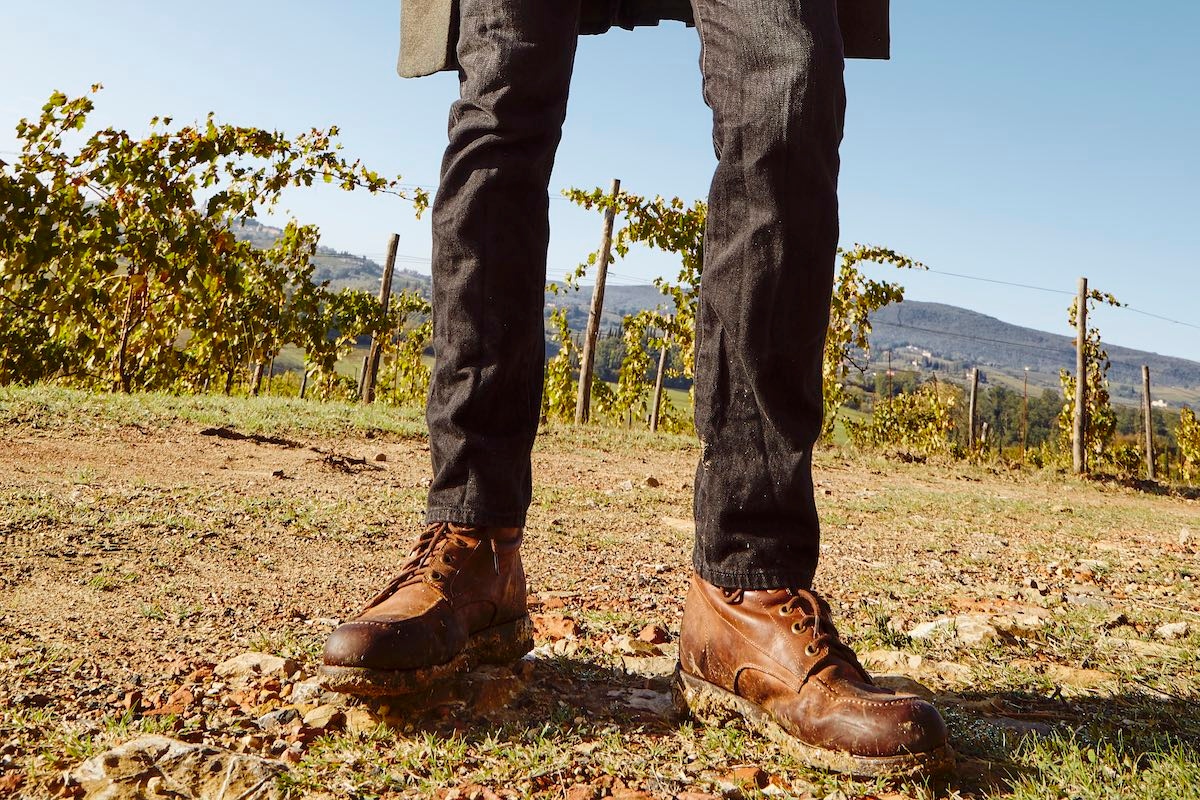 Among the additions this winter is a special version of their iconic Kerouac Balmoral boots, but this time made in a suede/deerskin combination with a rubber commando sole. Louche, sleek and strong they very much resemble the rogue travels of Kerouac across the United States. Documented in his book On the Road, I can't think of a more peerless boot to wear, when embarking on such a journey. Inherent of Barbanera's free-thinking designs, the laces on the boot come significantly down on the vamp underlining the brand's discreet approach to the old-style look. An elegant boot, constructed for a range of terrains under foot, it would foolish to set off on your journey with the right shoes, but the wrong pair of jeans. It so happens that Barbanera's Bandito jeans are in keeping with the American flavour of the boots. In a light blue wash and cut for a slim fit (not skinny) they're made from very high-quality Japanese selvedge denim. Durable, with a cool vintage look, there is something about the cut that beautifully accentuates the physical attributes of a man's legs, which is only escalated further by wearing any one of their boots.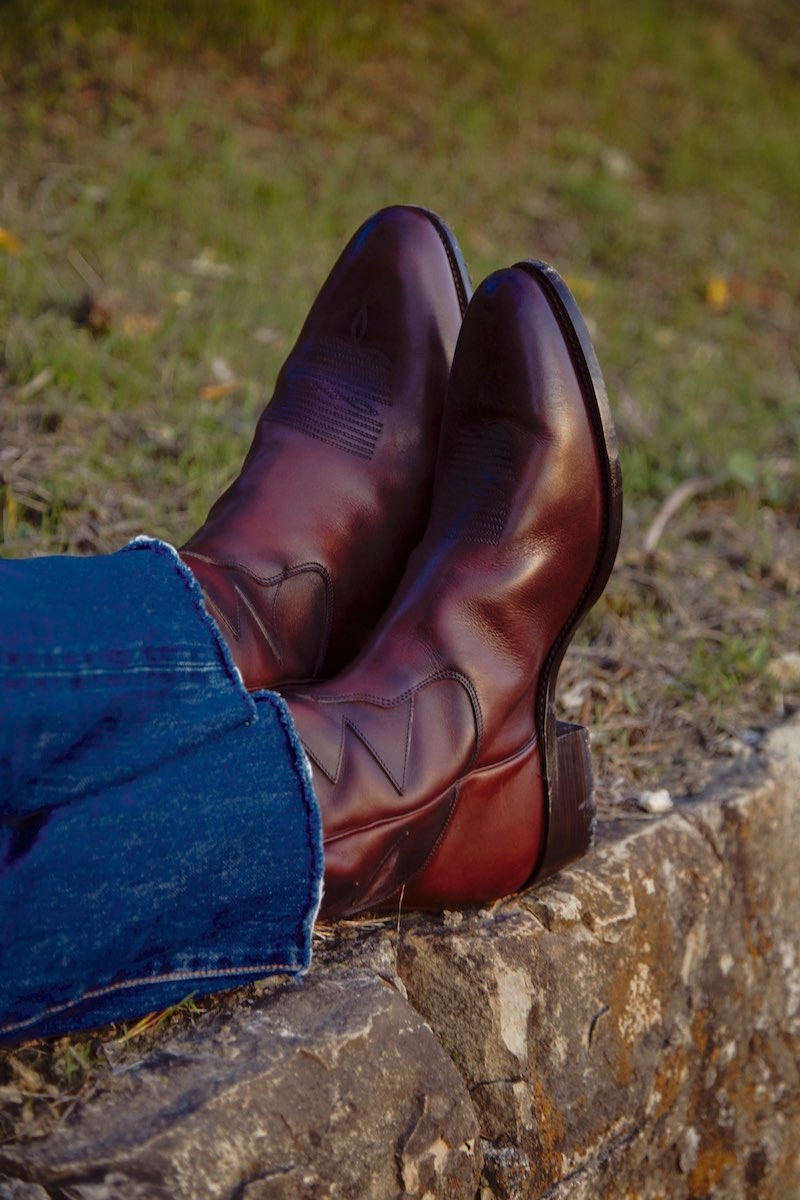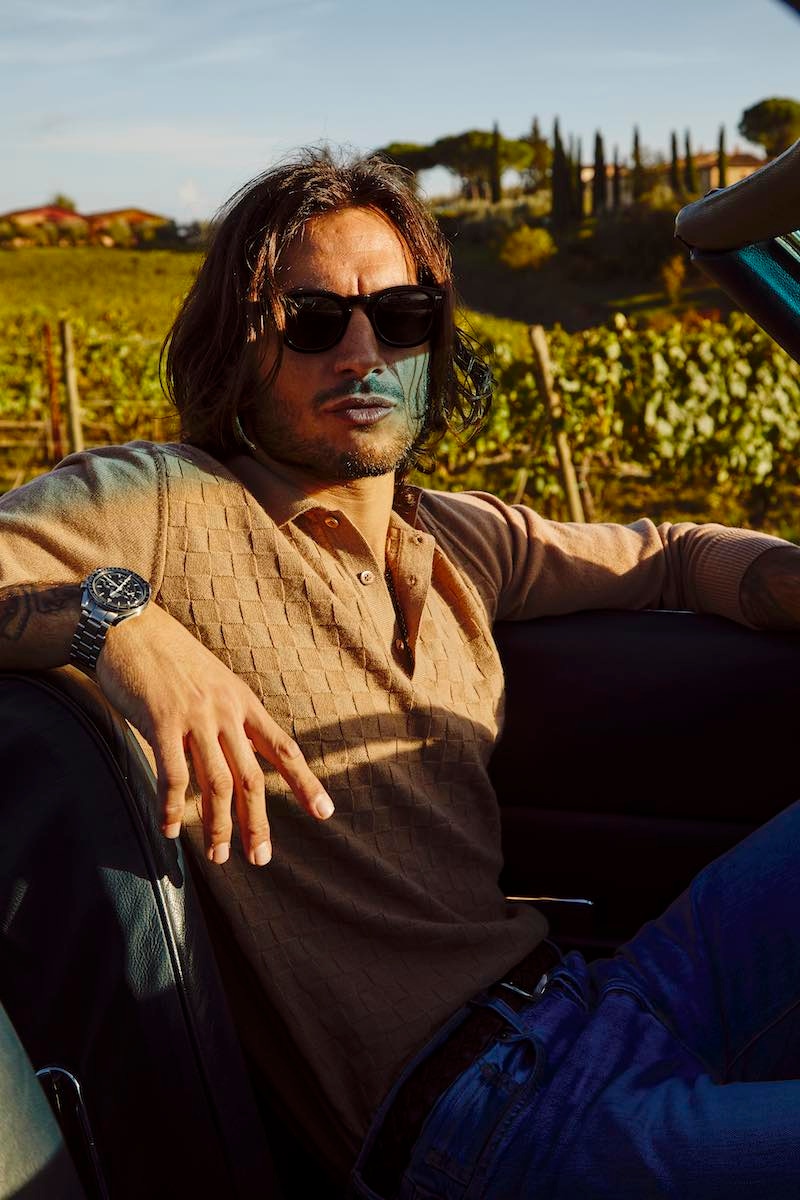 Popular with artists and musicians, Cuban-heeled boots provide the foundation for that rapscallion rock 'n 'roll look. A major player in the history of that era, Keith Richards had a habit of taking things up a notch in more ways than one – often when sporting his famed snakeskin Cuban-heeled boots. Aside from adding a rock 'n' roll edge to suits, they're potent attitude boosters. If you're pining to take the leap, but hesitant on the heel's height then a mid-rise Cuban-heel will ease you in to the heel crowd. A major success last season Barbanera's Cash boots are back with a slight reduction in heel height, which make them the perfect boot for that first heel introduction. The brand say the Cash brown and black snakeskin printed leather boots are the most "rock 'n' roll orientated" boots they have ever made and it would be hard to argue that this isn't true when compared to all similar models on the market. Made in Italy these boots will upscale any hint of seduction, hedonism and romanticism that your look already comprised.
One of Barbanera's most coveted attributes is that each one of their unique designs pair so stylishly with one another. Perhaps on the more versatile end of their spectrum is their knitwear. Dedicated to Pier Paolo Pasolini, one of the greatest Italian intellectuals is their P.P.P cashmere polo shirts. Made from the finest quality cashmere they feature long-sleeves, ribbed trims and the typical V neck. It is both casual and chic and as society becomes less formal you'd be a fool to not consider adding these polos into your arsenal. As we start to see more browns enter the clothing sphere this winter, it's rare to set eyes on a shade not seen before. Their cashmere polo extracts both the best of Italian and American tastes and is in an exquisite light brown hue. After the flurry of holidays at the back end of summer, it seems we will be spending more time indoors again and so if you've got the fire roaring – a t-shirt might be enough on its own. Using heavy raw cotton like the vintage t-shirts used to be, their selection features their very own "tempus fugit" print and are a cool alternative to the plain t-shirt variety. One of the standout pieces that reiterates the brand's positioning of being on the edge of sartorialism is their Hopper brown waxy leather biker jacket. A legendary piece for a man's wardrobe, it comprises cool details such as "Wanted" custom lining, whilst the rest of the jacket isn't overbearing with extravagant details. Instead its subtle features allow one to gaze at the high-quality leather. Worn as the overlayer with one of the brand's Western denim shirts and jeans and a pair of their boots, you might just be the most wanted gent in town.