Barbanera: Sergio Guardi Talks the Latest Collection
Barbanera's latest collection reiterates the label's mastery of Americana-inspired style, with footwear and clothing made for the modern cowboy.
Many of The Rake's readers will already be familiar with Italian brand Barbanera. Run by brothers Sergio and Sebastiano Guardi and Alessandro Pagliacci since 2011, their unconventional 'cowboy-pirate-in-a-three-piece-suit' image has managed to work where it shouldn't have, achieving cult status with those who once swore against anything lacking a notch-lapel.
Not that Barbanera really cared what people thought. They were too busy focusing on producing high-quality shoes and garments, all Made in Italy by a trusted team of artisans. But it paid off. Their image hit the world of tailoring like a stampede of buffalo. Suddenly, almost overnight, it became OK – quite cool, even - for us to wear denim shirts and rugged boots with our suit. The brand's creative director, Sergio Guardi, pretty much redefined the Americana look (something that we were always impressed by, but a little unsure of ourselves to try), while remaining true to the flavours and virtues of Italian style and craftsmanship. 'It's about being versatile and open-minded', Sergio begins, 'today, a genuinely stylish man is comfortable wearing his beautiful bespoke suit during the day, but feels just at ease in his leather jacket, boots, and denim by night'.
Speaking with The Rake about his vision behind the newest collection, which you can now shop online, it seems that Barbanera is evolving. Retaining the same philosophy behind their shoes ('Truth and Culture'), they are putting more focus on a gorgeously crafted RTW line. 'We draw our inspiration, as always, from great cultural figures: those who changed the world in music, art, or cinema'. This is why you might recognise the names behind the garment; the Rimbaud, Kerouac, or Guttoso, for example – the types of items that properly evoke the subjects they take inspiration from. 'Not Steve McQueen or Robert Redford', Sergio says. 'Our subjects influenced the times they were in for their vision, not people that everyone wants to be - or dress like'
One standout garment that Sergio is keen to talk about is their new shearling bomber jacket ('with real shearling lining!') constructed from the finest classic Vitale Barberis Canonico wool. It is an elegant looking piece, adapted with Barbanera's Western palette (which also happens to be one of the trends-of-the-moment). 'For this jacket, we replaced the typical normal buttons found on shearling bombers with real pearl snaps!', he says. 'Of course, there are also two large 'Western' front pockets, instead of the usual ones'. If you want a shearling bomber (and chances are, you do) Barbanera are producing an example that will certainly catch the eye of passing admirers.
'It's like our new pinstriped wool trousers', Sergio continues. 'Again, using VBC fabrics – always! – they are washed and felted, much in the way our favourite jeans are. This gives them that dandyish, poetical flair', he says, 'it's our way of marrying our love for classic tailoring with the Americana/English vintage style we are known for'.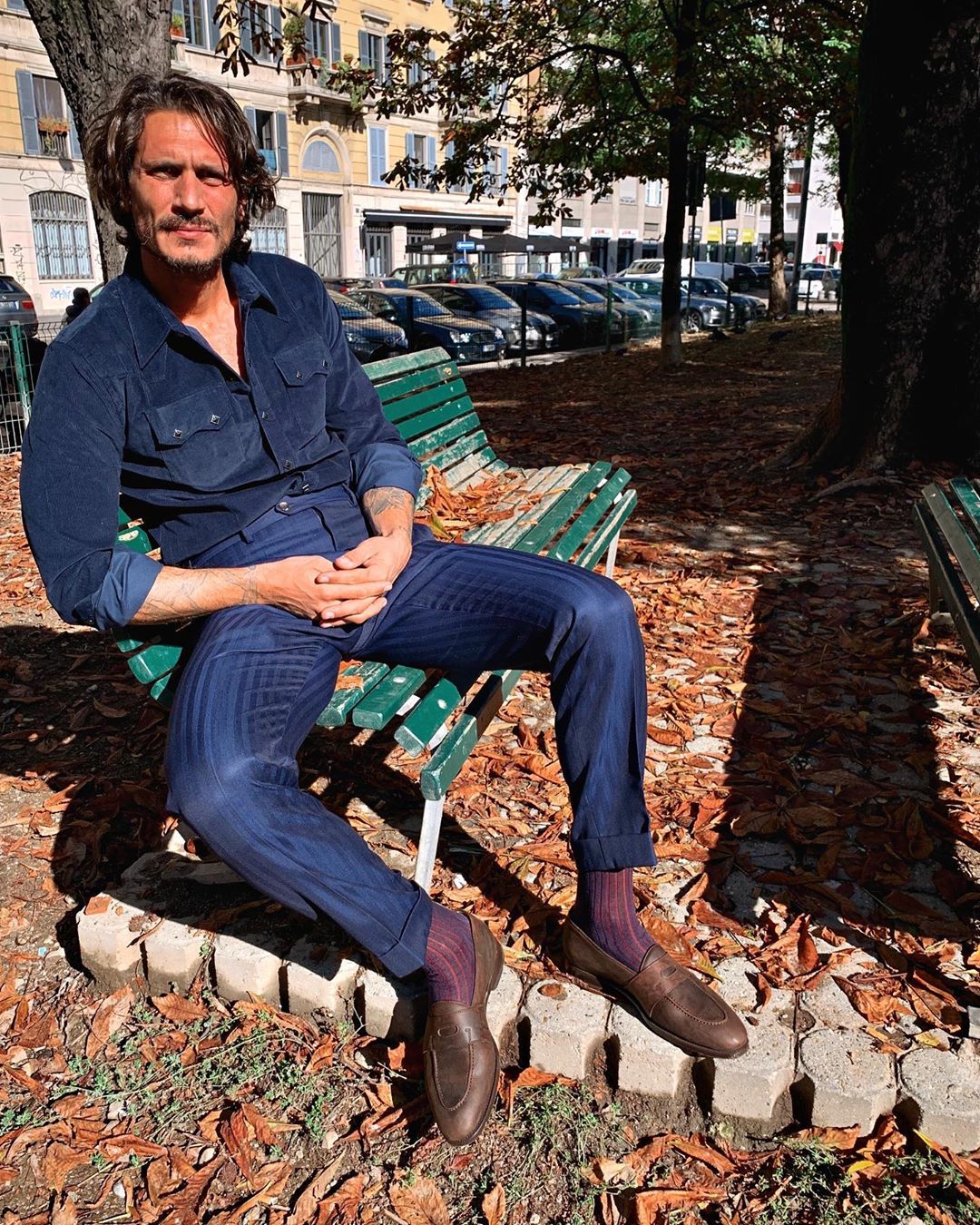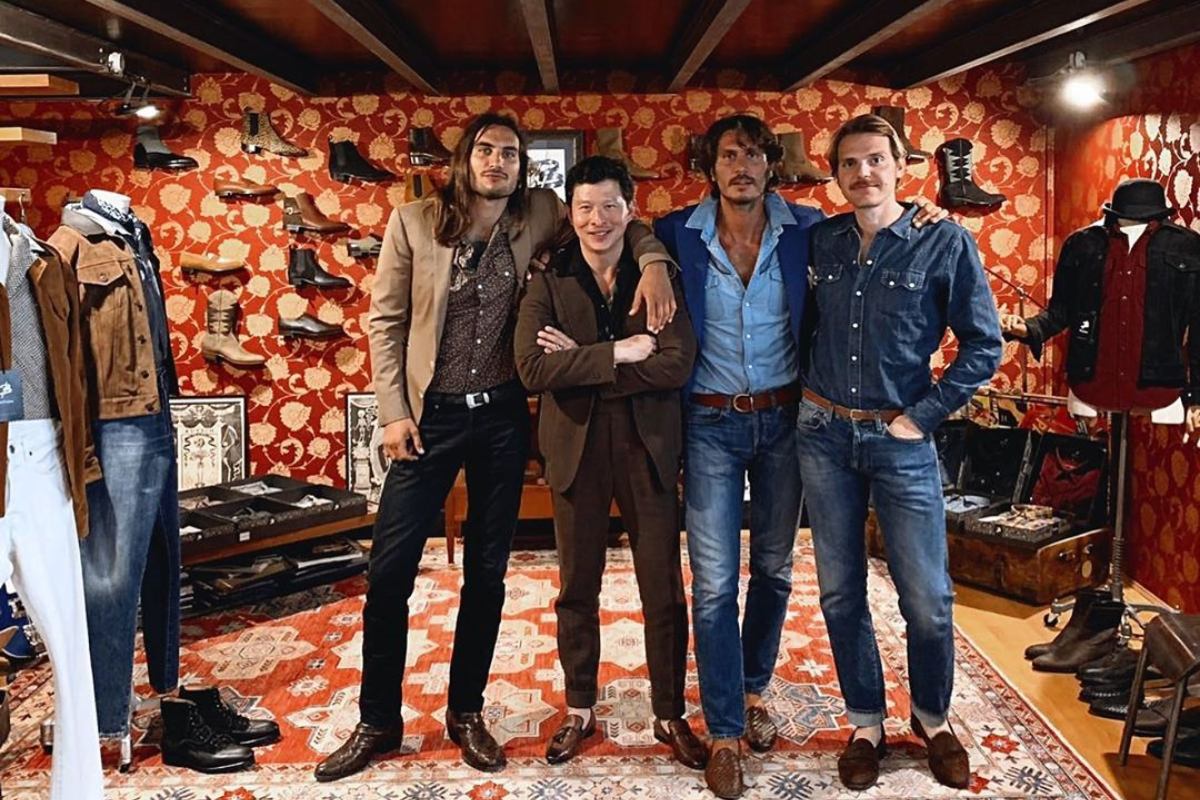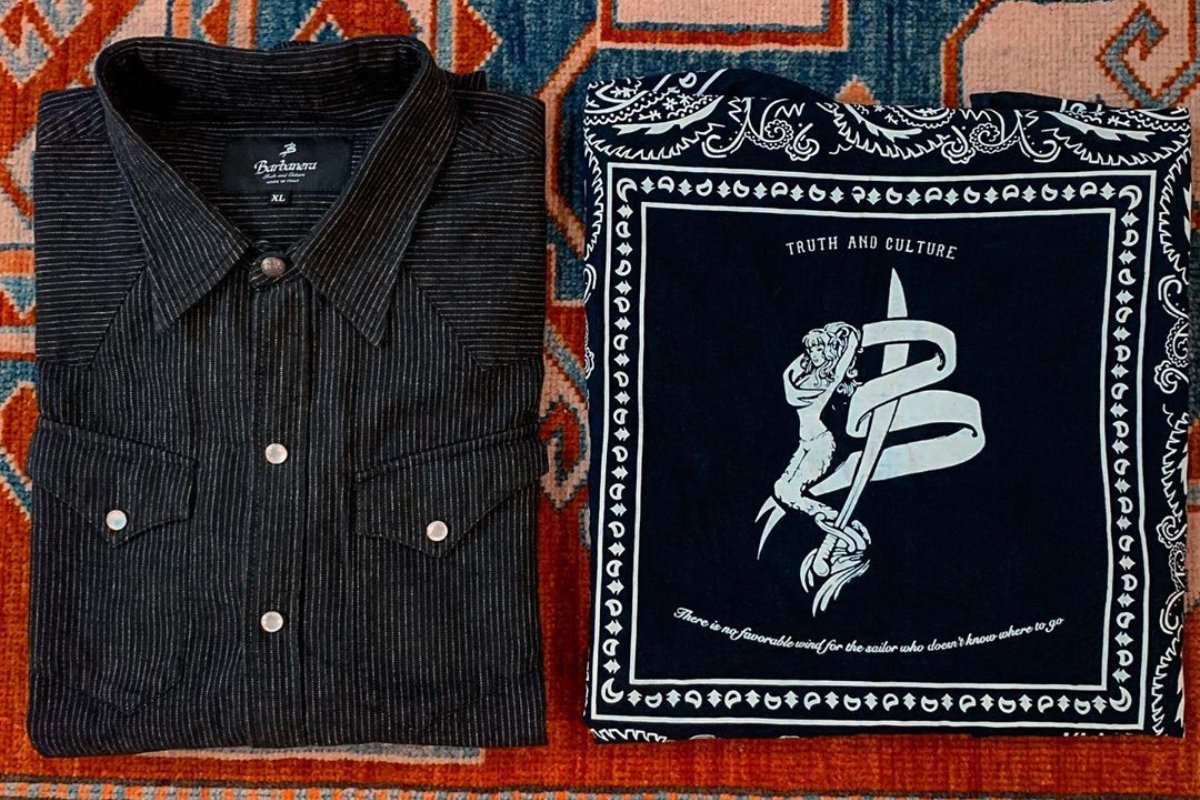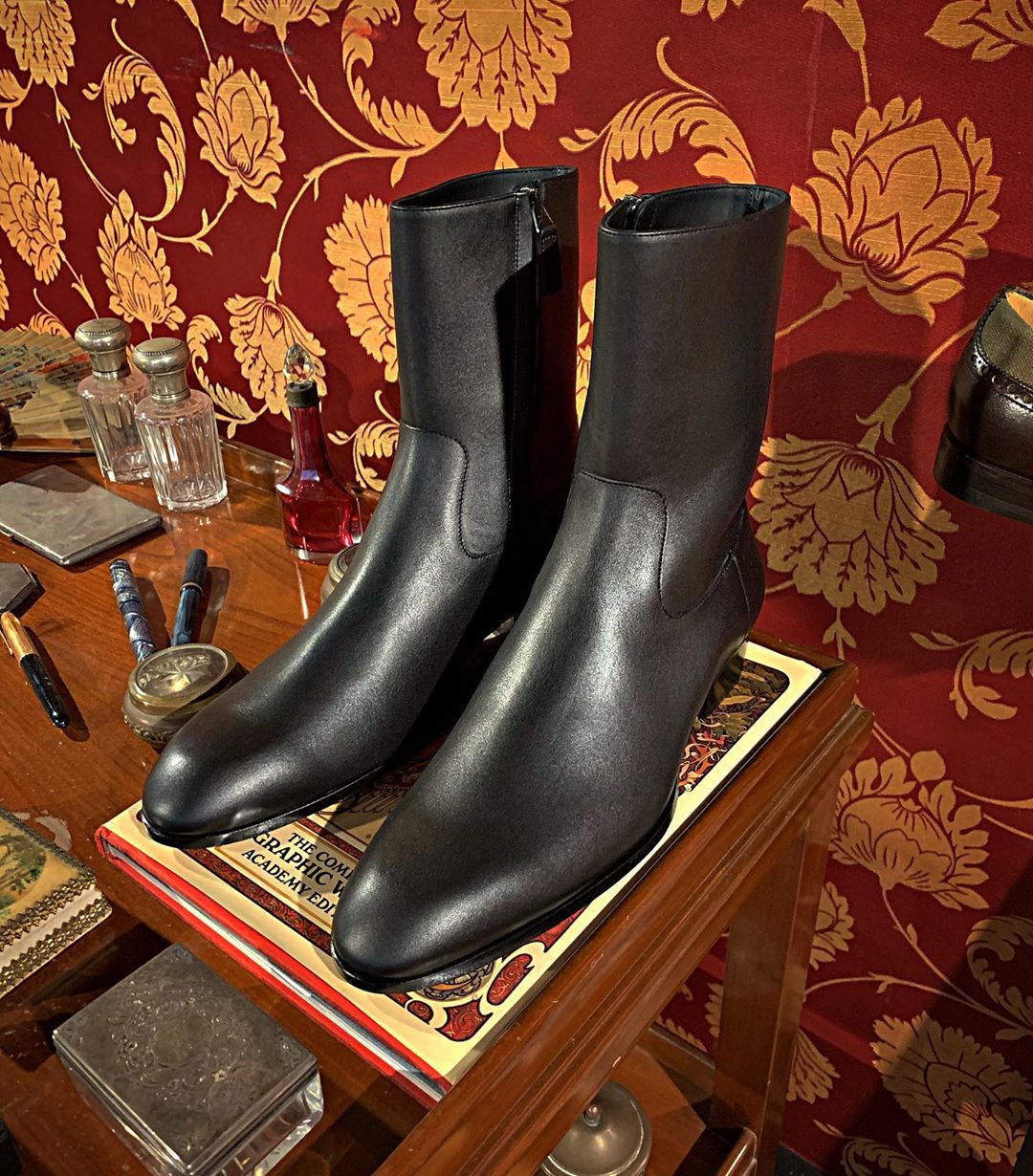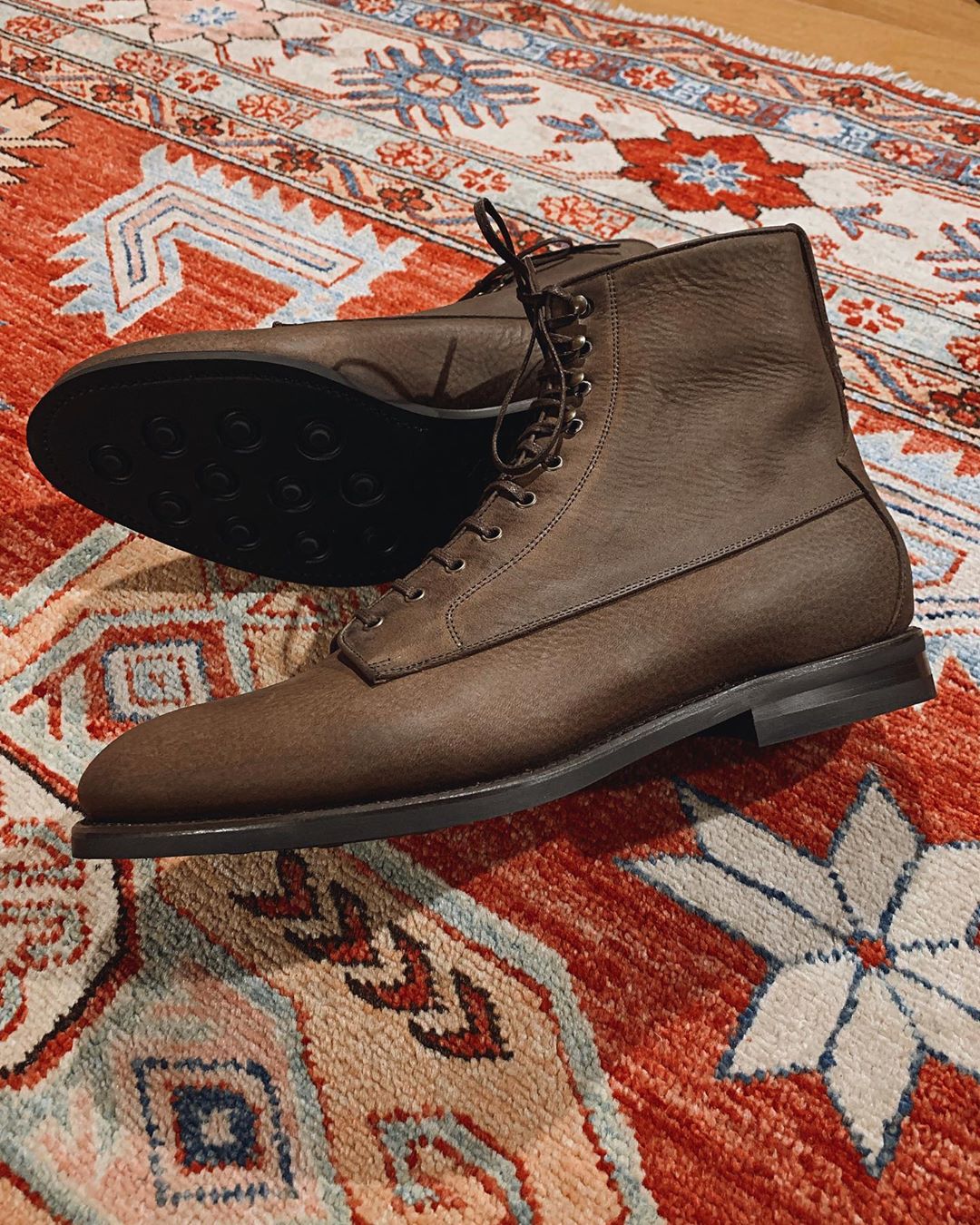 As The Rake previously mentioned, Barbanera is evolving - but not at the cost of who they are. They may have entered menswear as self-affirmed 'rule-breakers' (early promotional shots in The Rake, of the brothers wearing boots with Neapolitan tailoring, are striking) but over time, they have planted their own deeply seeded roots, sprouting various branches of influence and innovation. Such is Sergio's, Sebastiano's and Alessandro's vision, you can sort of distinguish the Barbanera style, now, from other brands – even with just under a decade of operation. Look at the denizens of Pitti, for example, and the handsomely dressed chap with the Western denim shirt under his jacket. Chances are, that shirt is by Barbanera. The same goes for their shoes – favourites like the Rimbaud or Kerouac are oft-seen on the well-heeled come January. You can tell Sergio, Sebastiano, and Alessandro's garments just from seeing them. If that isn't an identity, then what is?
'Like we said, our motto is Truth and Culture. Staying true is the most important thing. We like tradition, and especially our roots – and the biggest innovation we can think of is always to make something as good as it can be. No excuses', says Sergio. 'We are lucky, in that we are able to break the rules, but we do recognise the importance of rules and tradition'. Take the Harlock jacket: a military-style double-breasted coat. On the outside, a classic silhouette – a wardrobe essential; oozing heritage and formality. 'But', Sergio adds, 'if you look inside, we have designed a mermaid theme lining!'
Perhaps this summarises the infatuation so many classic menswear fans have with Barbanera. Rules and traditions are important – but we can trust Sergio and the team to produce a collection each season that gets us excited about something new or different, that makes us a little more open-minded about how we dress outside of work.
You can add Barbanera's newest collection to your wardrobe by purchasing here, on The Rake.