Baron: Lords of Luggage
Swedish label Baron crafts luxurious leather and canvas bags that are timeless and classic, designed to transcend trends and endure for decades.
It is no secret that the Swedes are a stylish
bunch
. With their famously understated approach to textiles and furniture, they have carved a significant space for themselves on the global stage of design. Functionality and sleek simplicity characterise their distinctive style: fussiness simply has no place. 
Exemplifying the Swedish aesthetic of timeless minimalism is Baron, a label founded in 1978
on the simple premise
of creating classic, durable bags from high quality materials. The much-loved label is managed by the Adelswärd family, a Swedish dynasty that has carried the prestigious "baron" title since 1783 and also holds the estate Baroniet Adelswärd, Sweden's sole barony. 
Over the years, the family has taken the label from strength to strength, growing it steadily whilst
keeping it true
to its core values of timeless design, sustainability and high quality craftsmanship. Its beginnings were humble,
its primary focus
being on the production of leather briefcases, before it expanded to include a canvas collection, which comprised bags, gun sleeves and cases made specifically for hunting. Over time, the hunting products have been replaced by more urban designs, and today the Baron collection
spans
briefcases, travel bags, and leather accessories, all
crafted for the modern man, a refined globetrotter who knows quality and appreciates excellence.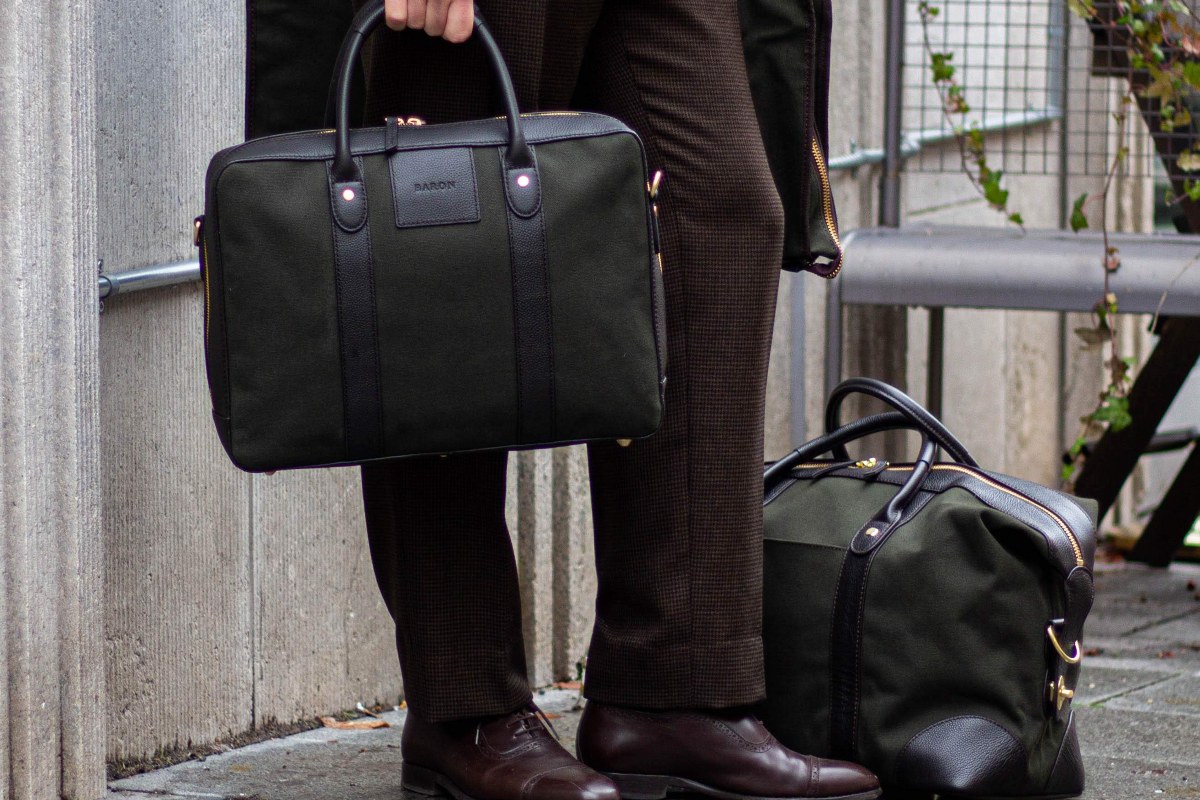 Sustainability has become something of a buzzword as of late, bandied about futilely by brands in a hollow effort to drive sales. But Baron has been quietly championing sustainable practices since the label's inception. Actively
following
a 'slow fashion' approach, its focus has always been on quality over quantity, with special attention afforded to ethical sourcing and manufacturing processes. The introduction of new styles is limited, with product development instead geared towards the continuous, gradual improvement of existing iconic models, involving close collaboration between all parties - designers, craftsmen, tanneries and sales people - to
ensure consistently high quality
. Provenance is of utmost importance: leather products are made from calf leather sourced from the finest tanneries in Santa Croce sull'Arno, Tuscany, and handcrafted in a small atelier in Florence by skilled artisans.  
Baron's philosophy of understated luxury is one we can get behind, and the feeling appears to be mutual. "We feel that
The Rake
's commitment to both classic elegance and true craftsmanship makes for a perfect partnership between our businesses, says Joakim Hartzell, CEO of Baron Bags and Götrich, Sweden's oldest and most renowned bespoke tailoring house, which merged with Baron in 2019. 
Whether you're travelling for business or pleasure; jetting across the world or commuting from one side of the city to another, a Baron bag is the ultimate companion. Find your perfect style on TheRake.com.