Baudoin & Lange: A New wave of loafer elegance
Considering the global decline in pace, and unequivocal balance of elegance and comfort that Baudoin & Lange's shoes imbue, it feels a pertinent time to invest in such shoemaking mastery.
Allan Baudoin's pathway into the upper echelons of shoemaking has been quick, if unconventional to start with. His first foray into working life took him to Apple, where he worked as a business development executive. Yet secretly, there was a young man who grew up on Paris's Left Bank who had a natural eye and appreciation for elegance, refinement and beauty. Back in the late '40s, a contemporary of Pamela Harriman's once recalled of Paris: "Every night then was lived in black tie. There was less money than in New York or London, but far more luxury; there were fewer names and far more taste." Previously occupied by Chanel, the clues are in the brand's magnificent store in Mayfair's Burlington Arcade, which opened in 2019. Neatly positioned in his store is a selection of 17th century French furniture, brought from his home in Paris. To the naked eye there is a beautiful Boulle cabinet, veneered with ebony and marquetry of engraved brass in the manner of André-Charles Boulle, the most famous French cabinet maker. Additionally, there is a French walnut chair with period needlework upholstery. This superior standard of marquetry and needlework is a different type of craft to shoemaking, but is an example of Allan's understanding and commitment to pieces of undeniable beauty and artisanship. The number of current black tie invitations may pale in comparison to 1940s Paris, but Allan has already predicted their return by offering a new selection of their iconic Sagans.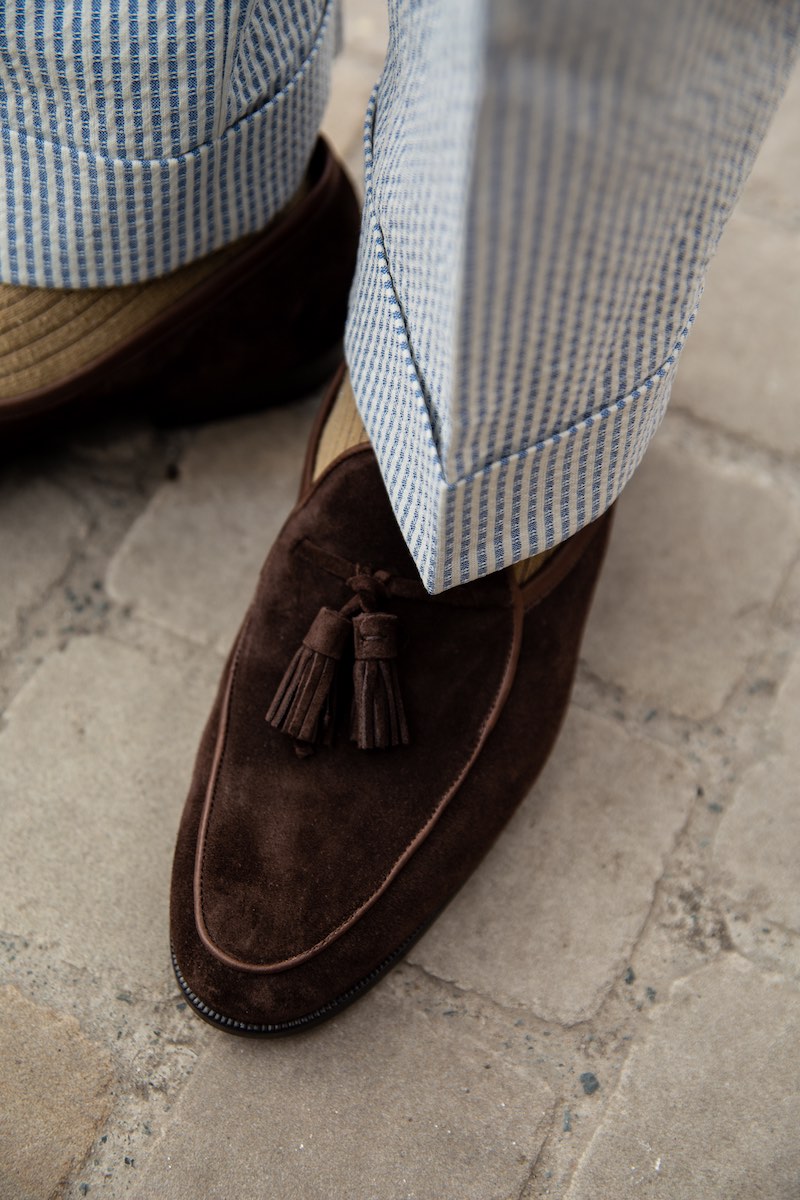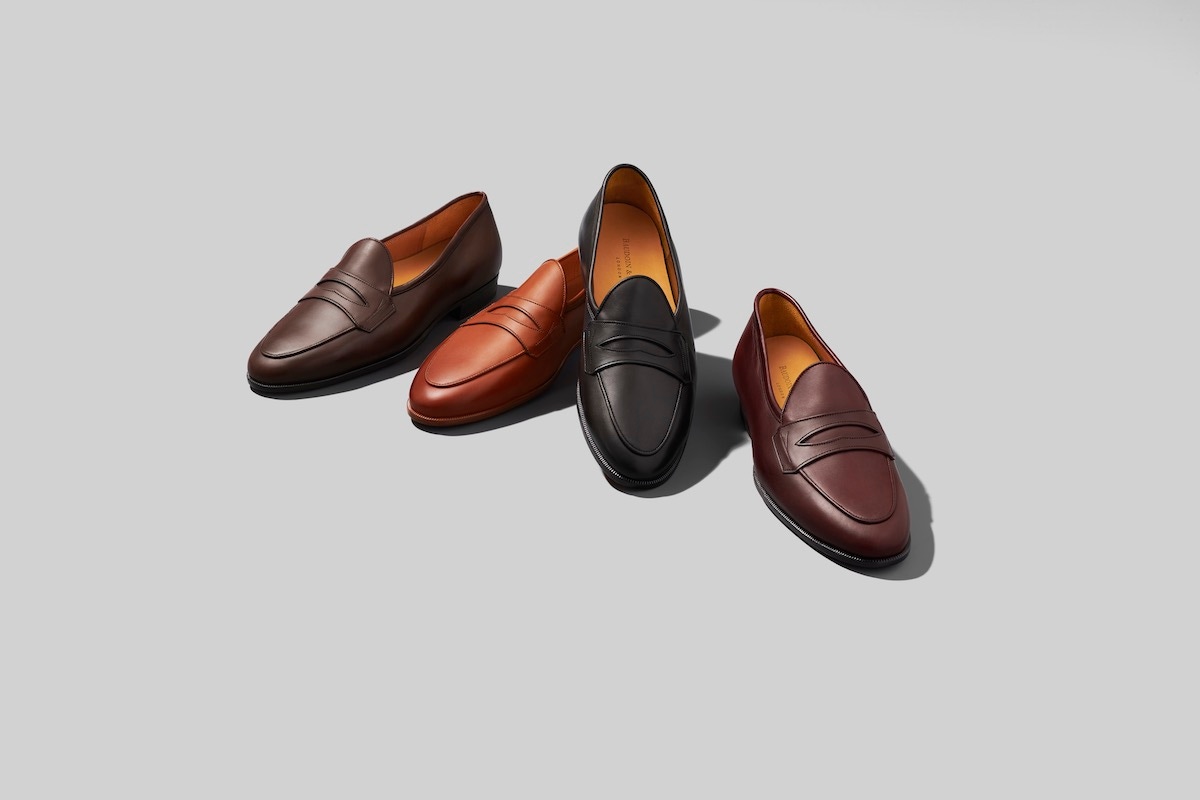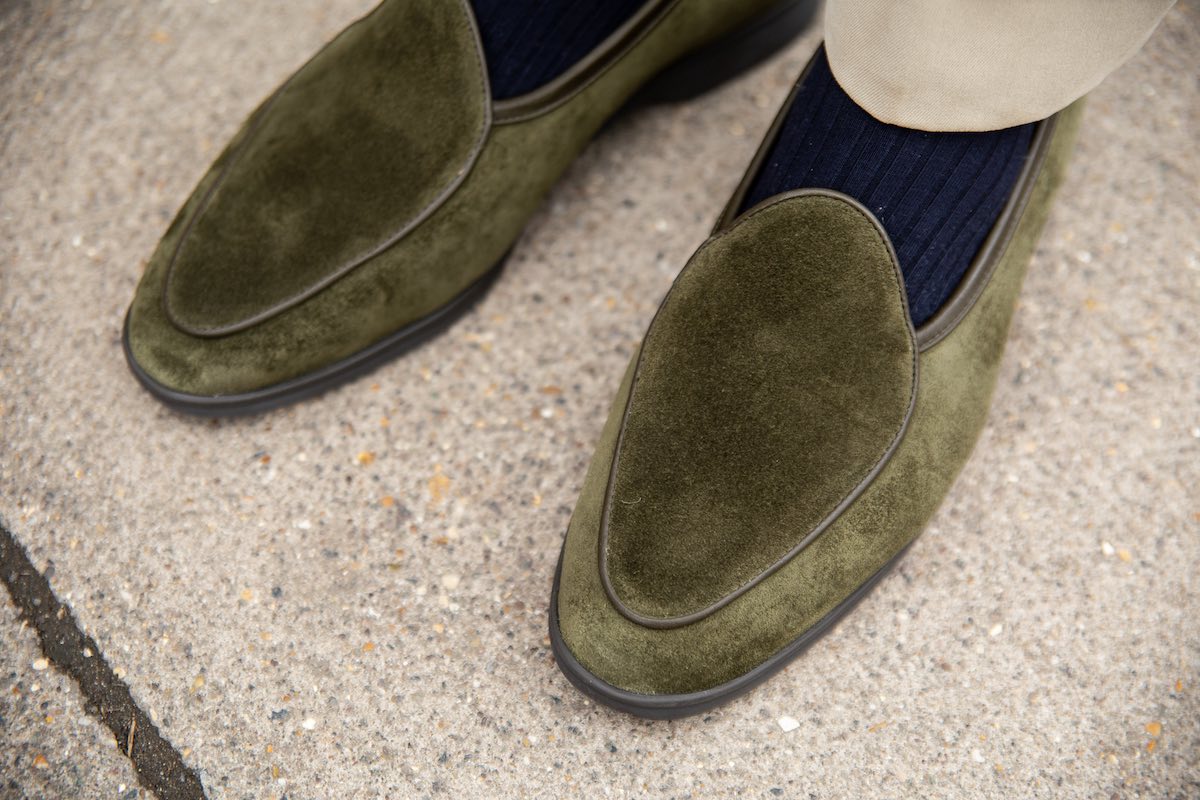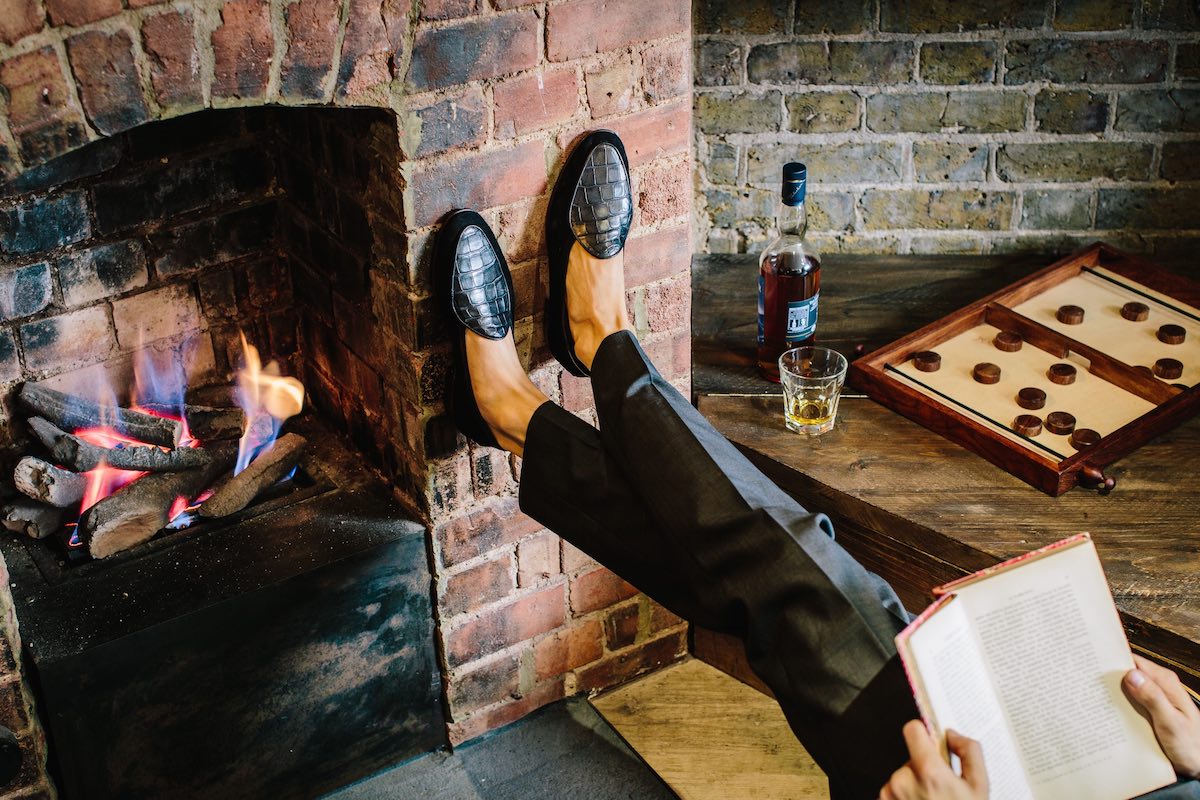 Allan started his shoemaking odyssey under the tutelage of master shoemaker Kasim Yldir. Learning his craft, Allan spent years on his feet and so with his own ideas on technical and stylistic qualities, he wanted to produce something that was not only comfortable, but enjoyable to wear all day. The result was the Sagan loafer which is celebrated for its incomparable comfort. A few years have passed since its initial introduction, but the Sagan now comes in many different guises; penny, tassel, woven and stride are just few of its examples and that's not to mention their exotic range in precious leathers, which can now be found on TheRake.com. Handcrafted from the brand's signature Marmo calf leather, their dark brown Sagan penny loafer features an unlined joint bridge which ensures a comfortable and flexible fit. Despite their neat appearance, they're designed for all-day walking, which is aided by their cushioned cork foam insoles. On the more classic end of the spectrum, this model of shoe can be found in a timeless glove suede. Easy to slip on and lightweight, these loafers provide comfort and sophistication in any setting. If you prefer the extra detail of a tassel, this style of shoe is offered in a dark brown glove suede, black calf leather and obsidian black suede.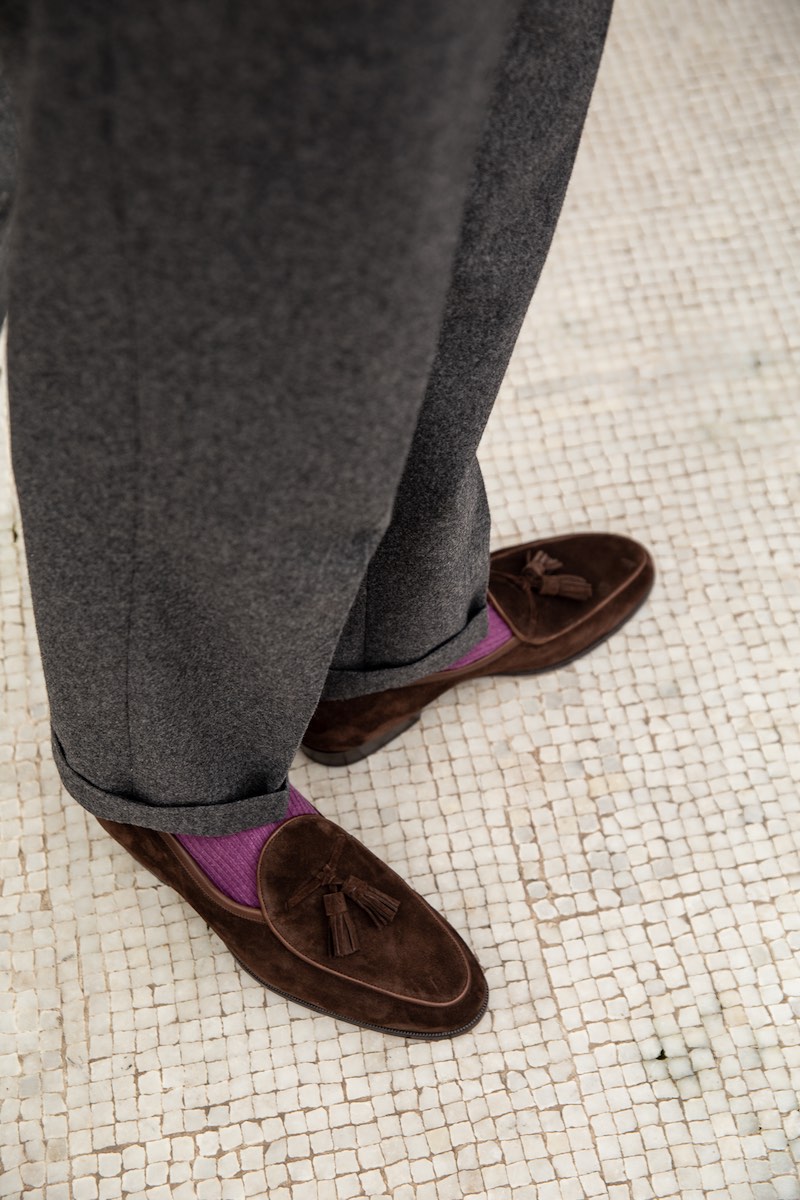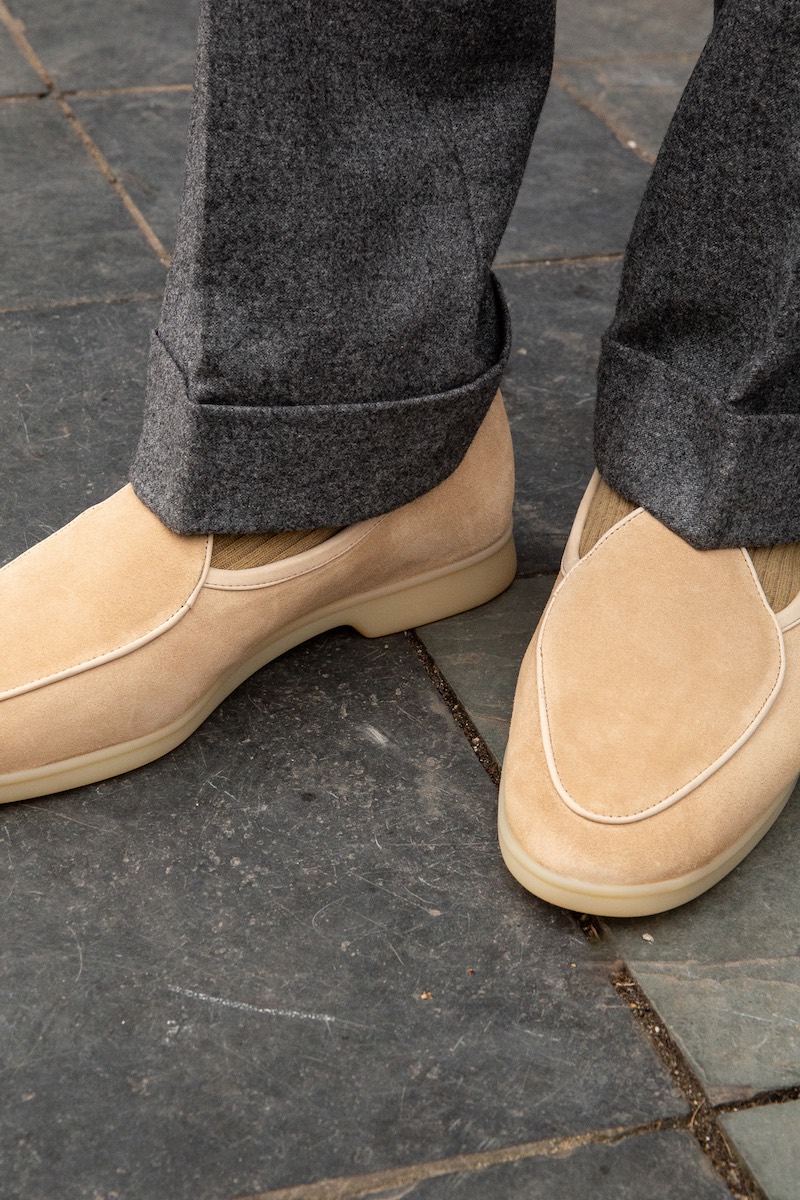 Lined in very thin leather, and inspired by the serenity and harmony of early Tokyo mornings, the brand's deerskin Ginkgo loafer redefines the notion of chicness in men's footwear. With its distinctive and contemporary penny strap with Ginkgo leaf cut-out, it is quite simply a beautiful shoe. For better or for worse I've never been in the loafer-and-no-socks camp when wearing trousers. However, I make an exception with the Gingko, as its ethereal beauty on one's foot combines effortlessly with a pair of high-waisted pale linen trousers and knitted T-shirt – epitomising the best parts of Riviera elegance. Sporting them with shorts is most definitely an option ­– as expressed by Danish style entrepreneur, Mathias le Fèvre, who donned them with Yuri and Yuri's ivory Rallison shirt, ecru knee-length pleated shorts from King & Tuckfield, and accessorized with over-the-calf beige socks, which was arguably one of the coolest looks that we spotted last summer. Elsewhere, the introduction of their precious leathers range adds a whole new dimension to the collection. Handcrafted in the finest polished alligator hide for a suave, shiny finish and elevated look, you can find these in midnight blue and greige. If you're a little hesitant to jump straight into full alligator, you can opt for the style that comes in an alligator and suede contrast.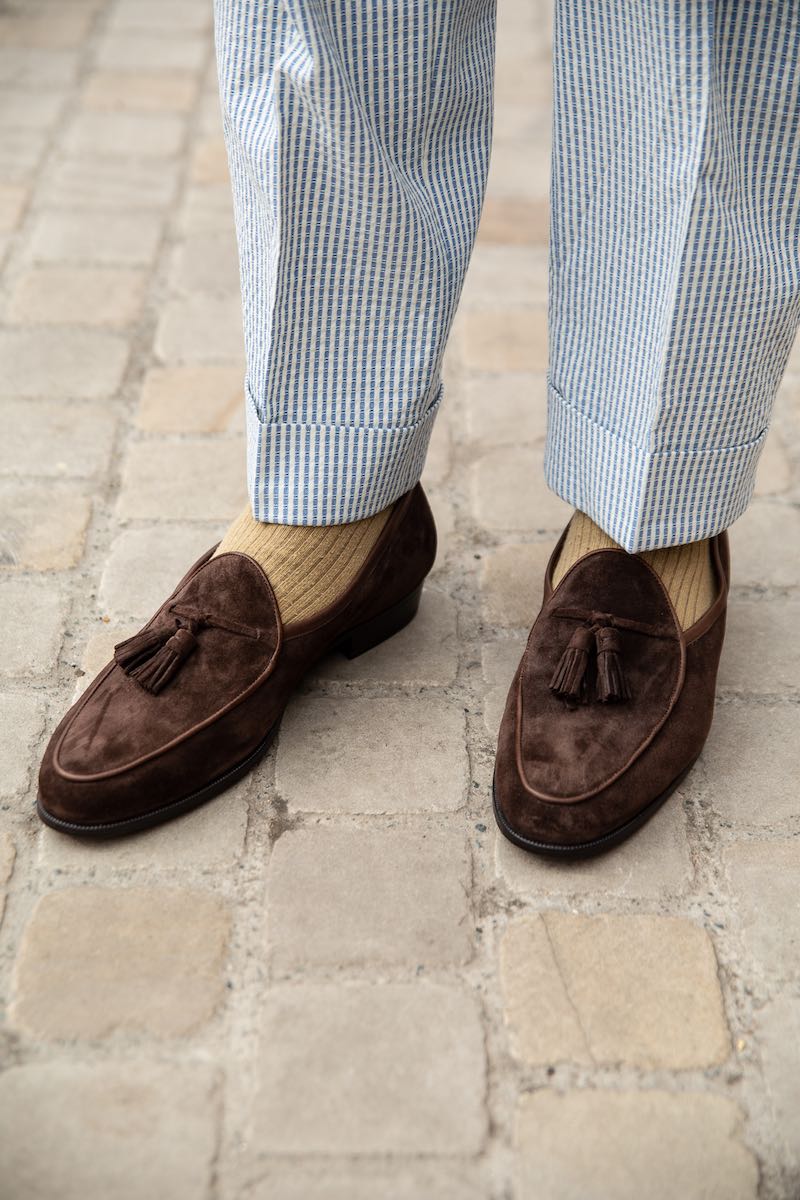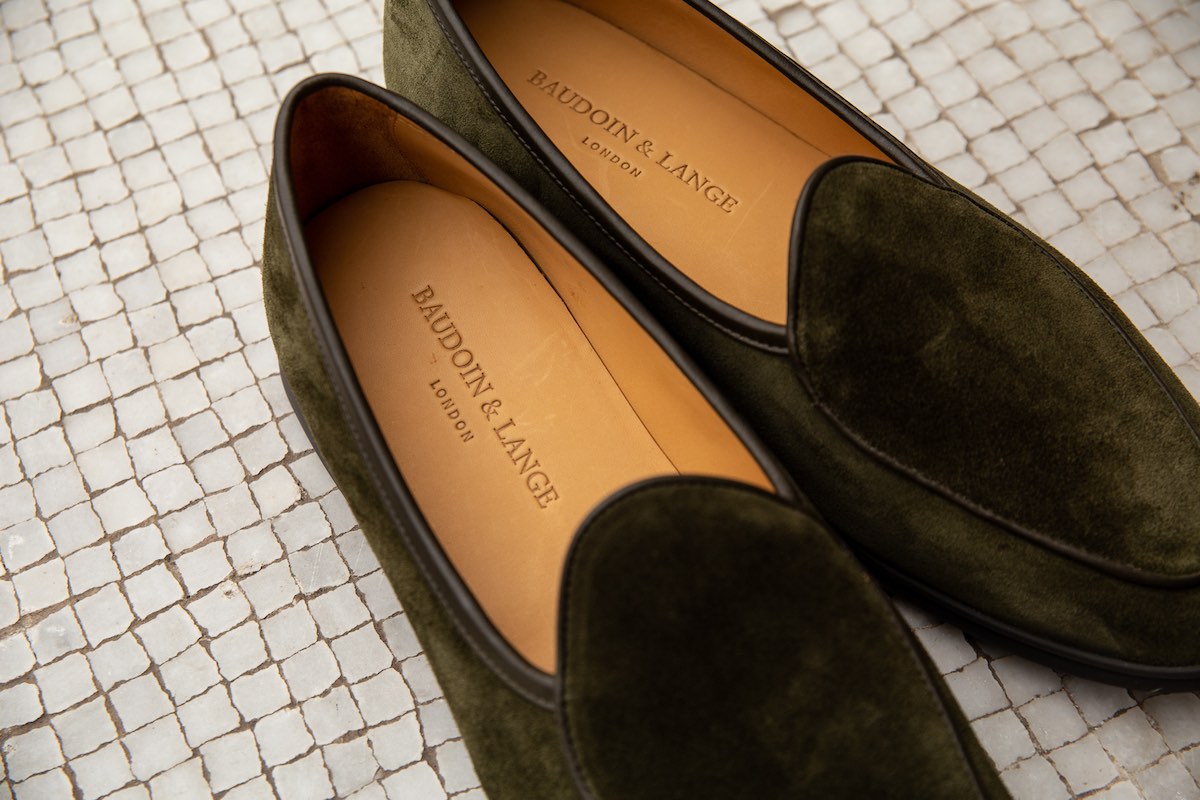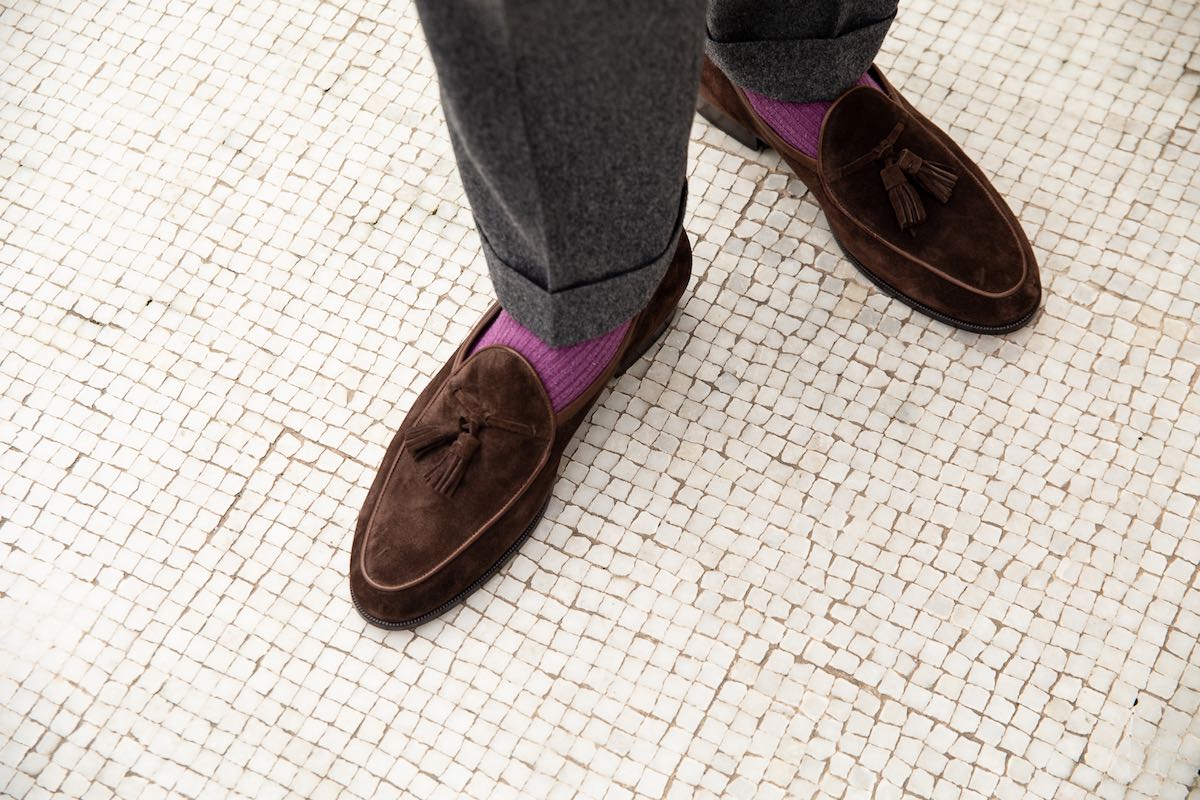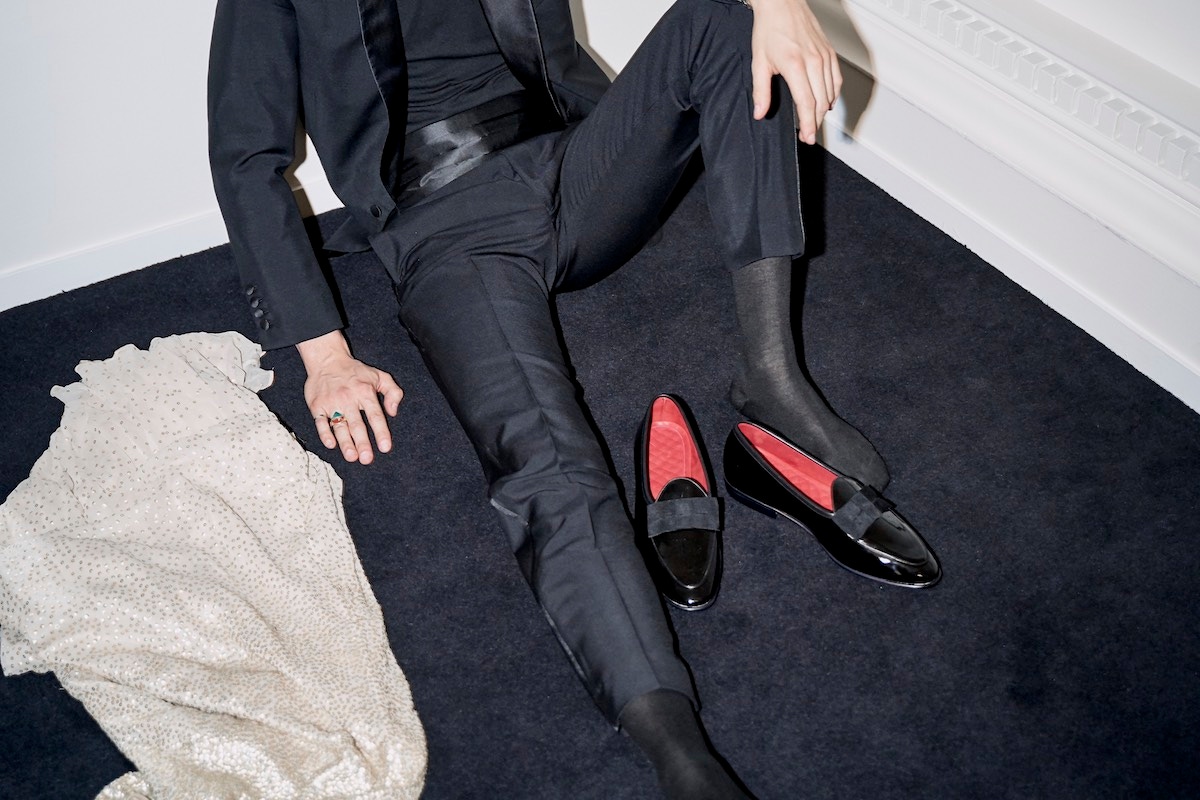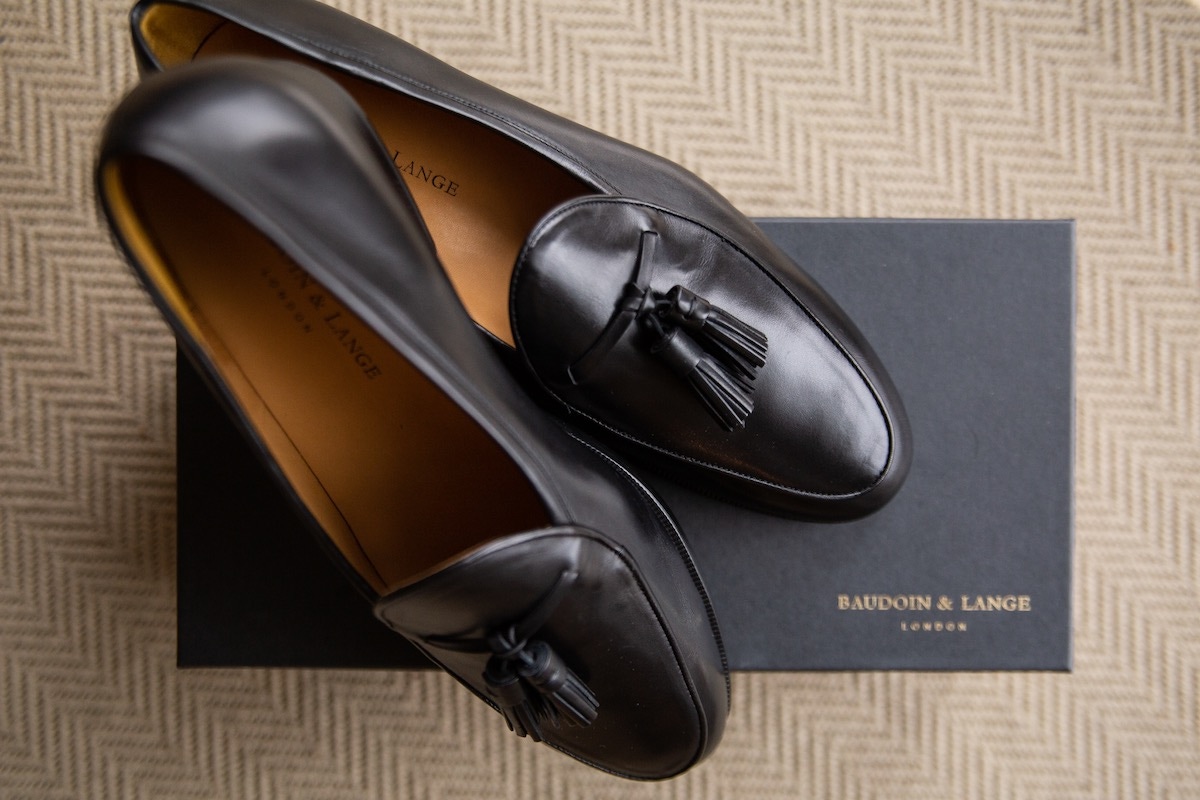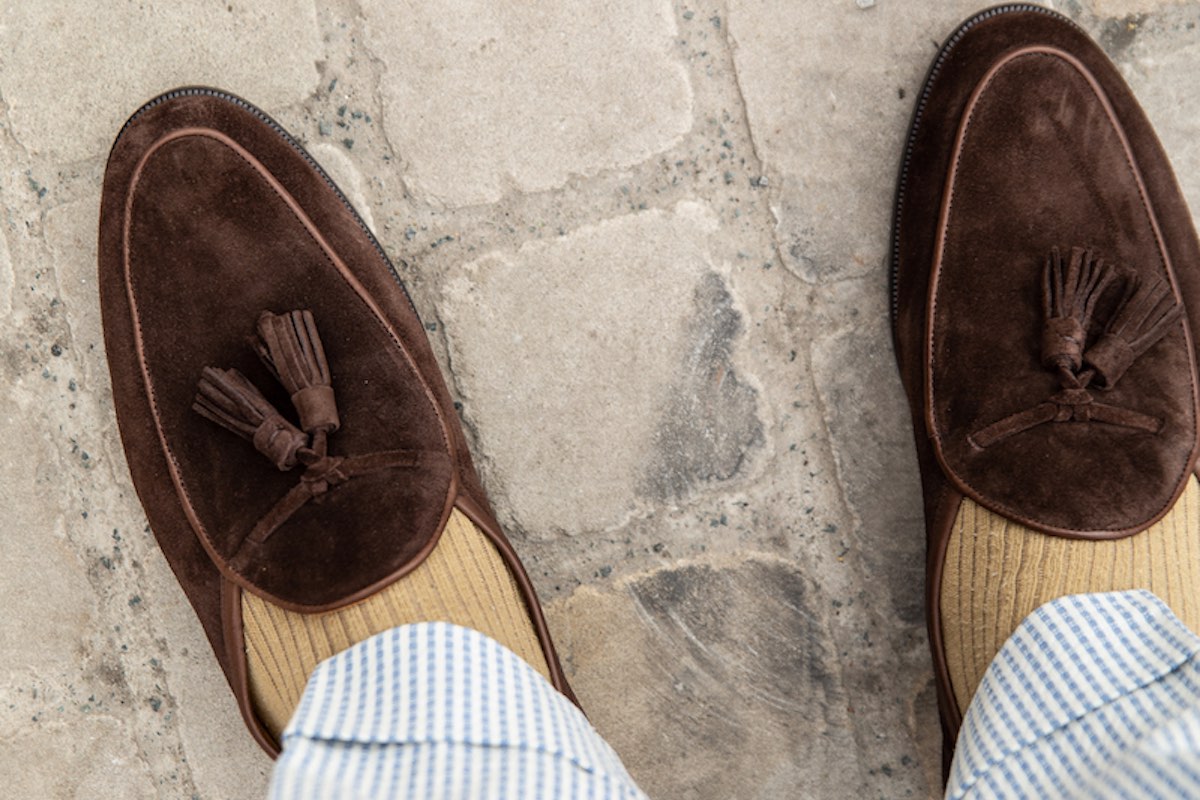 As mentioned earlier, we're hoping our oak dressers at home will be full of invitations to black tie events by next winter. Baudoin & Lange's designs certainly take the idea of luxurious evening footwear up a few notches. Their black velvet opera bow Sagan loafers come with distinctive red nappa lambskin leather lining and cushioned soles, which are so comfortable and soft you'll want to wear them every day, not just down the aisle, the red carpet or gliding across the ballroom. They're made in supple, black velvet with a grosgrain bow inspired from opera pumps, for added romance. Other black tie designs include the plain black patent calf leather loafer and their midnight blue velvet design which features a classic bow embellishment and a black leather apron. Allan is a self-confessed "perfectionist" when it comes to his creations. He is personally involved in every step of the process: "I think a beautiful shoe is really an ensemble of very small details, each count towards perfection – like an orchestra, all elements need to fit together in harmony." In a competitive market, where the Northampton shoemaking heavyweights have been honing their craft since the 19th century, it is a testament to Allan, that he has masterminded a brand that perfectly balances comfort with elegance. With this in mind it is no surprise that Baudoin & Lange's creations have been surging in popularity - as people have realised they're smart investments for the short and long term.