BEAUTY SPOTS
The Swiss house Blancpain used an endangered species, the Formosan clouded leopard, as inspiration for its latest Metiers d'Art masterpieces.
Every watchmaker has their signature house hero, the identifiable brand calling card: there's Rolex's robust and bulletproof Submariner, Audemars Piguet's knockout Royal Oak, Jaeger-LeCoultre's ultra-classic Reverso. But some brands also produce a selection of unexpected, under-the-radar watches that, design-wise, are often miles away from their bestselling counterparts. This is deliberate: such pieces are reserved strictly for top clientele, where only the finest technical and artistic execution will do, and which are bona fide, one-of-a-kind wonders that won't be found on any other wrist. At the storied, 286-year-old house of Blancpain, such pieces are its Métiers d'Art watches: exceptional and unique creations that for those more familiar with the brand mascot — the sporty, technically advanced Fifty Fathoms diver — are in for a real, rare treat. Blancpain's forté are five métiers d'art in particular: engraving, enamelling, damascening, shakudō and binchōtan. While engraving and enamelling feature on many high-end watches, the art of damascening, shakudō and binchōtan — all ancient crafts that hail from Asia — are found exclusively at Blancpain. The President and C.E.O., Marc A. Hayek, says the house chose to master these art forms in the spirit of innovation, while at the same time they are "interesting and challenging, resulting in one-of-a-kind pieces that no other techniques can achieve".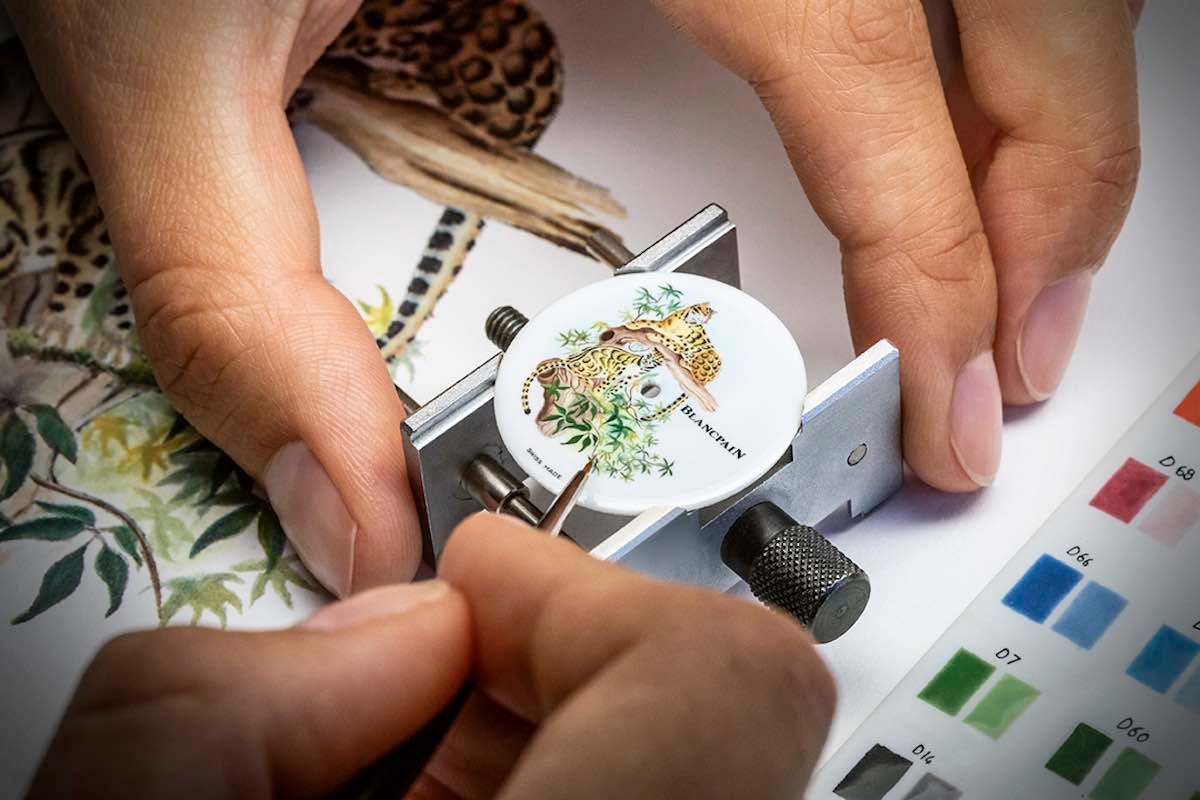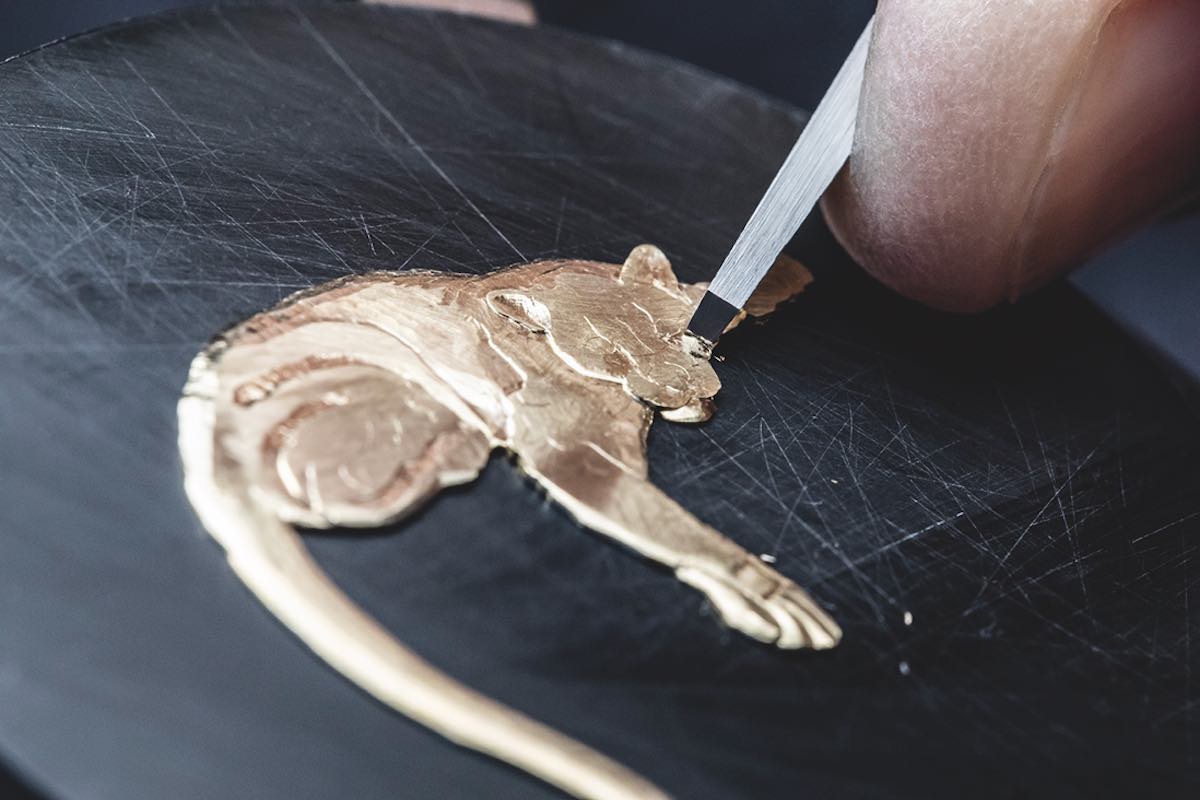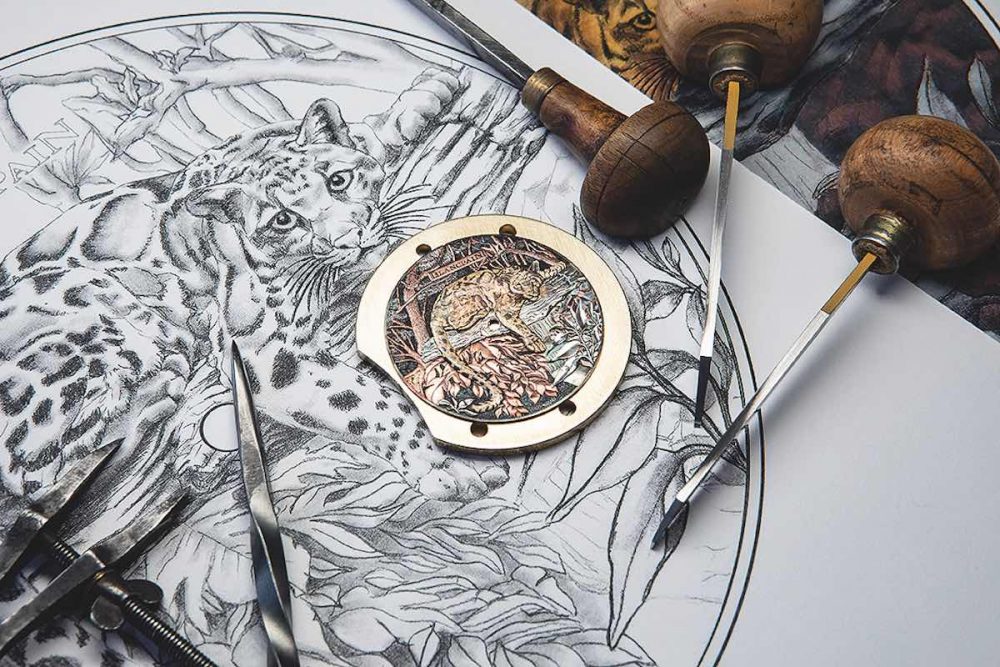 Blancpain's Métiers d'Art watches are crafted at 'La Ferme', a restored farmhouse that's been part of Blancpain since 1860 and located in their home of La Brassus. Here, highly skilled artisans brandish the likes of stones, files, burnishes, buffs and emery paper to finish Blancpain's most demanding pieces, from challenging complications — minute repeaters, carrousels, ultra-complex calendars — to the
métiers d'art
dials, which are worked on by only five artisans (one of whom has been awarded France's coveted Meilleurs Ouvriers de France award for outstanding craftsmanship). Housing all this exceptional know-how under one roof was intentional, Hayek says, "to pass on ancestral craftsmanship from one generation to the next". Among the masterpieces to have recently left La Ferme is a pair of watches illustrating the Formosan clouded leopard, a big cat species native to Taiwan, and which were created to commemorate Blancpain's new Taipei flagship, which opened in November. The Formosan clouded leopard is in many ways Taiwan's spiritual mascot: its existence on the island dates back to at least the 13th century, and for hundreds of years they were hunted by native aboriginals for their pelts. In more recent times, land development and human encroachment have further threatened the species; there have been no credible sightings in decades, and today the Formosan clouded leopard is largely considered extinct on the island. (She still roams parts of south-east Asia, but precariously: the cat is listed on the International Union for Conservation of Nature Red List). But the Formosan clouded leopard has always been a rare breed: with her distinct, large, cloud-like markings and acrobatic prowess, she blends furtively into her wild surroundings, from the Indonesian rainforests to 3,000m high in the Himalayas, and her "mysterious" habits, writes
National Geographic
, have long alluded  scientists.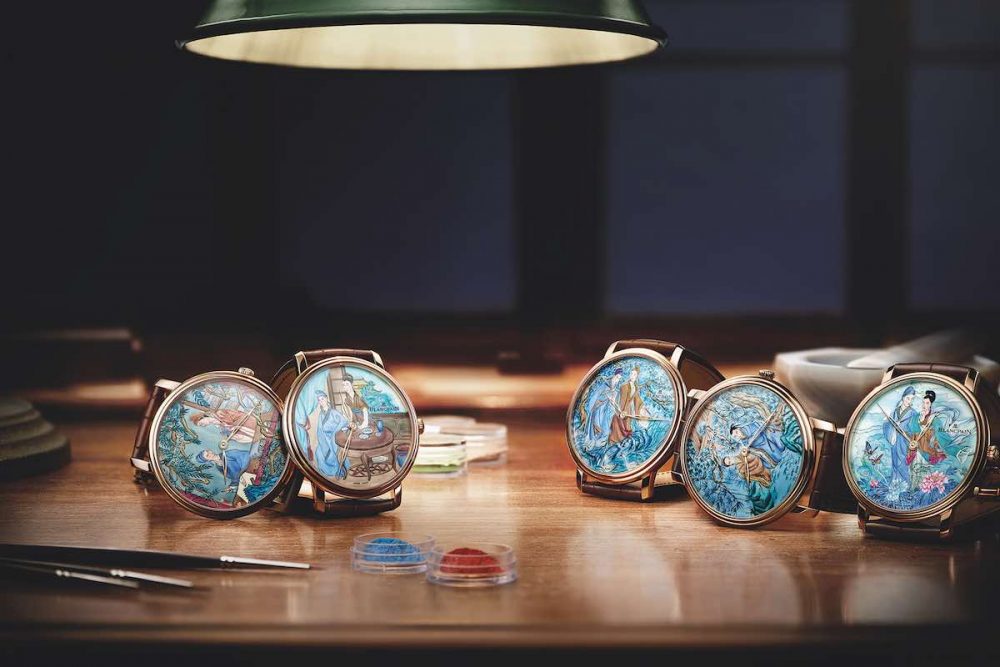 This mysticism made the Formosan clouded leopard the perfect muse for Blancpain, with the two Metiers d'Art watches embracing equally rare crafts: porcelain, miniature enamel painting, shakudō, engraving and damascening. The first watch, sized at 33.2mm and powered by the 1154 self-winding calibre, renders a pair of the cats in miniature enamel painting, resting in a tree surrounded by a burst of verdant foliage, the two leopards pensive yet vigilant, their long, elegant tails — a distinct anatomical feature — languid and still. With its short, subtle brushstrokes set on a white dial, the scene has the look of Chinese ink painting, with both art forms deceptive in their execution. "When you see an enamel dial, you may think it is easy to create, but it is in fact extremely demanding," Hayek says. "It is only when you look carefully at the dial that you notice the depth and texture of the pure, elegant white colour, and realise the work behind it. The same goes for the painting. Every time you look at an enamel painted dial, you see something different, a tiny detail that your eye didn't catch before."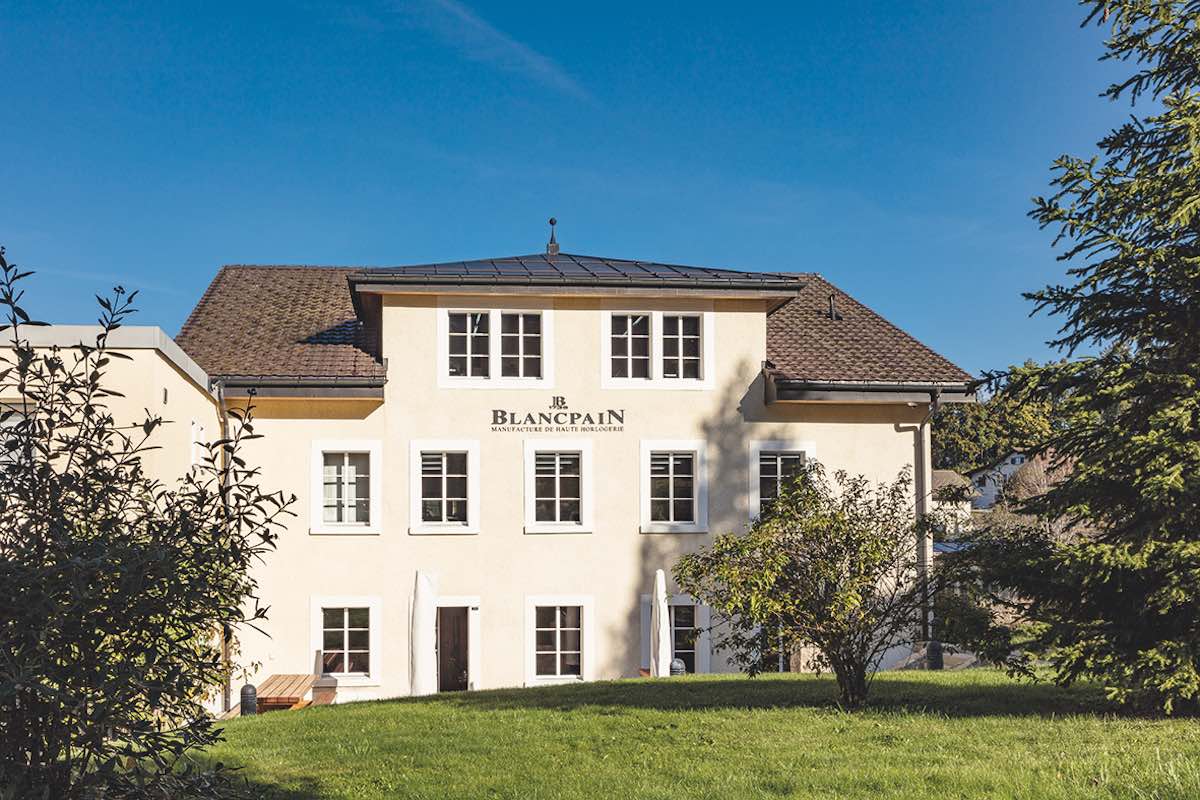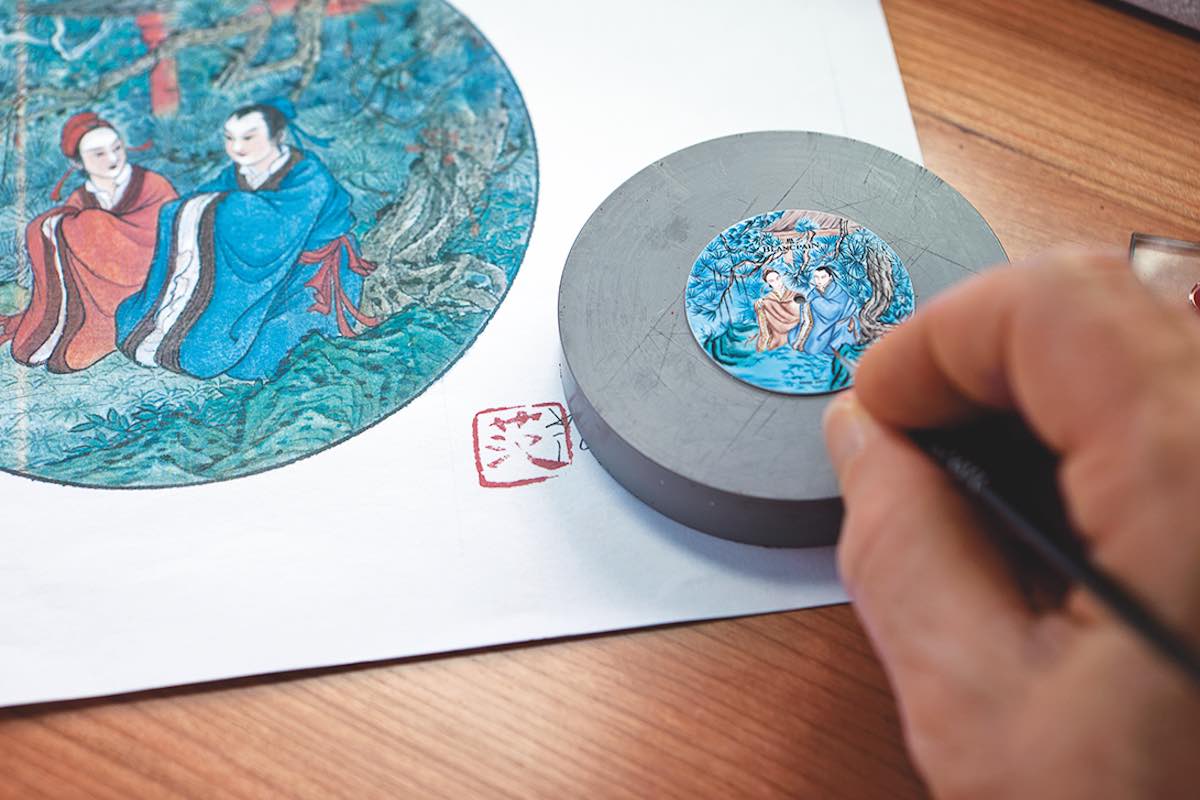 The watch channels this subtlety and nuance, where each strand of the leopards' conspicuous spots, or singular green leaves, appear to quiver in the breeze. The scene is painted on a porcelain dial, a feat in itself where precision and science precede the art. Porcelain dials have their own painstaking magic — they're ultimately shiny and translucent yet also steely and strong, and the material must first be formulated from a strict recipe of quartz, feldspar, kaolin powder and water. After casting into dial-shaped moulds, the dial undergoes its first of many firings — the primer, at 1,000°C, hardens the base as a second one, at 1,300°C, vitrifies the porcelain. The next task is composing the individual colours — through mixing enamel powder and pine oil — with many of the hues specific only to Blancpain. Only then does the painting commence, using impossibly tiny brushes, some no more than a single hair, as more firings at 1,200°C set each shade.
Summa summarum
, it's a laborious, time-consuming and rather nail-biting process, where any breakage — these are wafer-thin dials, after all — means starting again from scratch. If miniature enamel painting is fascinating in how, to use Hayek's words, "artisans are able to fashion miniature worlds within the 'micro' dimension of a watch dial", the beauty of the second clouded-leopard watch lies in the mercurial nature of shakudō. Dating back to 700AD Japan, shakudō (which literally means
red
and
copper
) is a metalworking technique that transforms gold-copper alloy from its natural tones — yellow, orange, bronze — to a delicate and refined black-grey. Most famously used to decorate
katana
samurai swords, shakudō's varying tones reveal themselves through a series of warm chemical baths of rokushō, a Japanese chemical compound featuring copper acetate. It is a trial-and-error process whose end-goal is a wonderful surprise. "Although we master the technique, the final result is not 100 per cent predictable," Hayek says. "And the variations in hues between chestnut brown, blue and black obtained with the shakudō process feature a remarkable richness that is unique to this art." Complemented by a 45mm red-gold case and the hand-wound 15B calibre, the clouded leopard here is more intense than its enamelled sisters: shakudō brings forth a medley of earthy, autumnal tones that compose a luxuriant woodland scene, as the clouded leopard lies in wait, prepared to pounce at only the moment she knows. The dial harnesses a real play of light that will look completely different under, say, the sun-soaked light of dusk or resting at your screen-lit desk, while its three-dimensionality mesmerises. This is achieved through the complementary
metiers d'art
crafts of gold appliqué hand-engraving and damascening, where gold filaments are hammered into hand-engraved troughs, making the likes of inlaid, silk-like whiskers come to life in both texture and depth. Mysterious in both its ways and whereabouts, the Formosan clouded leopard, Hayek says, is "an important symbol in the collective consciousness of the Taiwanese". As it happens, as this issue of
The Rake
went to print, the pair of watches were sold, snapped up by a discerning private collector — which, for the rest of us, sadly quashes any chance of seeing these
metiers d'art
beauties any time soon. I'm sure the ethereal and elusive Formosan clouded leopard wouldn't have wanted it any other way… You can also view this feature in Issue 74 of
The Rake
- on newsstands now. Available to buy immediately now on TheRake.com as
single issue
,
12 month subscription
or
24 month subscription.
Subscribers, please allow up to 3 weeks to receive your magazine.