The Benefits of a Traditional Wet Shave
What happens when you have a traditional wet shave and why should you invest time and money in it? Thankfully, Master Barber Stefan Avanzato is here to help...
The term "love-hate relationship" couldn't be more applicable to my association with shaving. I really struggle to find pleasure in it each morning, as I find it to be more of a chore than than this pleasing ritual that I'm meant to find some skewed sense of pride in. For those reasons, I prefer a traditional wet shave from time to time. I can switch-off, relax and be in the knowledge that I'm safely vulnerable to someone with extremely skilled hands and a sensibly sized blade (unlike Cary Grant in North by Northwest) to alleviate myself from the shackles of my shaving relationship. Post 45 to 60 minutes later, I'm revitalised and refreshed. I'm back in the game.
Coinciding with the grooming industry's astronomical rise in recent years, barber shops that offer traditional wet shaves are seeing an increase in customers wanting the experience. "Up until 10 to 15 years ago, shaves were a bit of a dying art," Stefan Avanzato, Master Barber and founder of Avanzato Grooming Lounge - which can be found in a shared space with Bennett & Winch in the basement of Private White V.C. on Duke Street, Mayfair - tells me as I lean back into his bespoke, vintage-style armchair and get comfortable. They did have this old, stuffy connotation however, there are now a considerable amount of young men wanting to get in on the act. Stefan continues, and explains that "most barber shops shied away from doing them in-stores as they can be very time consuming and need to be done with a close attention to detail."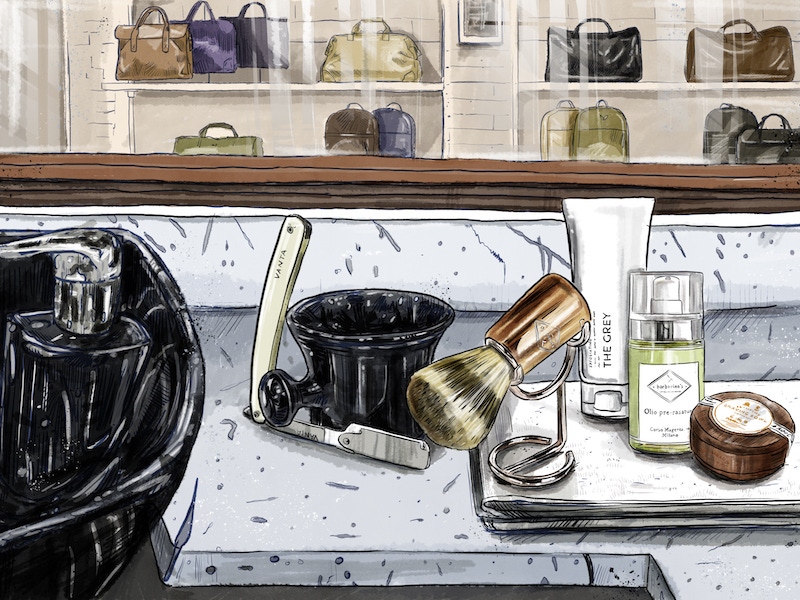 So, what happens when you have a traditional wet shave? Well, there are roughly eight different processes that take place…
Firstly, Stefan will prepare the face by gently cleansing and exfoliating it, and in doing so removing all the dead skin cells. After this, a shaving oil that softens the skin and makes the hairs stand on-end is massaged in small, circular motions into areas that a blade is going to be applied to. For this, try Barberino's pre-shave oil, which provides a soothing barrier and is packed with vitamins. Then, a hot, steaming towel is carefully wrapped over your face and it stays there for a few minutes. "Not prepping and softening the skin before the shave so the hair tends to be a lot coarser and the razor can pull the hair out rather than shave it," Stefan points out. By placing this hot towel on your face, it opens up the pores and allows the shaving oil to further penetrate your skin.
The key ingredient can then come into play via the ends of a badger brush. A traditional, good-looking tool that makes your bathroom look that little bit more grown-up, if you don't have a shaving brush, look to D.R. Harris, Mühle or Marram Co. "The purpose of a badger bristle brush is to generate a rich and warm lather by whipping air into shaving cream or soap," Stefan says. "It softens and lifts the facial hair off the face to achieve a much closer shave and also adds heat to the skin during the shaving process which helps open pores and lubricate the skin,"
It's at this point that you're at the business-end of operations. It's crucial that the barber follows the direction of hair growth. Stefan explains, "When shaving with a razor you have a lot more control of what direction you should be shaving in. So, doing this will help avoid any ingrowing hairs or red rashes when the hair grows back. If you do suffer from sensitive skin, try not to go against the grain of the growth and also don't shave over the same area over and over". One flaw that we're all mostly guilty of is rushing this stage at home. So, take your time as a professional barber would. After this, Stefan will remove any excess cream and close the pores with a cold, wet towel before massaging in aftershave and finally applying moisturiser. With your skin tingling, you'll feel like a new man.
Explore our range of shaving goods, here.
Avanzato Grooming Lounge, 73 Duke St, Mayfair, London W1K 5NR