The Secret To Crease-free Travel: Bennett Winch x Simon Crompton Suit Carrier Holdall
Why, in a world of very few limitations on where and how we travel, has no-one invented a practical way to get our suits from A to B without creasing them beyond all recognition? The answer is they have, and by 'they' we mean Bennett Winch and Simon Crompton...
When one considers that there are approximately 480 million business trips made every year, one wonders in what state these intrepid corporate travellers arrive at their meetings in. Given that even the most diligently folded clothes emerge looking crumpled after shuttling about from hub to hub in an aluminium tube at 36,000ft, travelling with a suit in a bag really isn't acceptable, particularly when busy business schedules won't allow for pressing of said suit on arrival.  The increasing prevalence of travel-specific suits with high-twist yarns that spring back to shape is at least one saving grace for capitalism's sartorial day-trippers, but for those with a proclivity for finer cloths and further fields, the only option is a cumbersome suit carrier.  
That is until British handmade luggage maker Bennett Winch put its collective design heads together with Simon Crompton, the founder of Permanentstyle.com and renowned arbiter of all things sartorial.
Together they fashioned a solution to this perennial problem: a waterproof canvas holdall as novel and effective as it is elegant thanks to a suit carrier which neatly wraps around the central, cylindrical bag, attaching to it with magnets and straps. Since both are made from canvas and have minimal structure, they can be carried as one bag without being too heavy, while also being used separately, such as at one's destination when the suit carrier becomes surplus to requirements.
"Hard, tight folds are what cause creases in tailoring," explains Crompton, who originally went to Bennett Winch with the idea of making a suit carrier with more structure than what has gone before. "It's why folding a jacket around something, such as shirts or knitwear, is a good idea when packing a suitcase. But even better is not folding the jacket or suit at all, such as wrapping it around the case instead."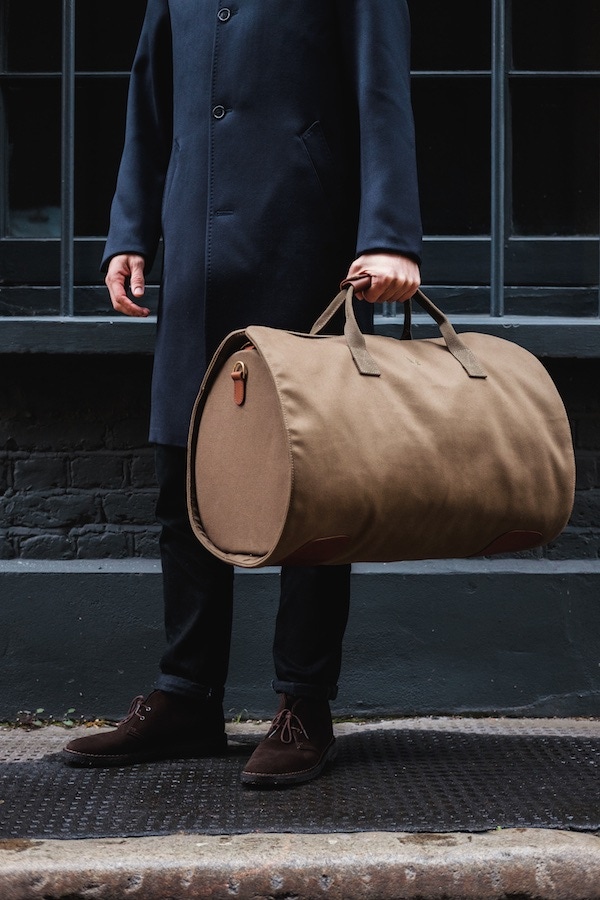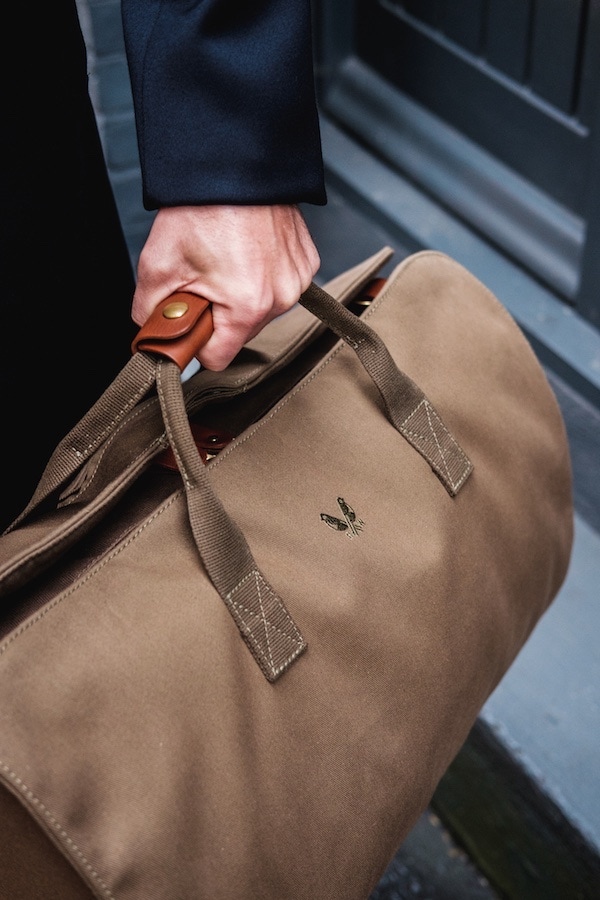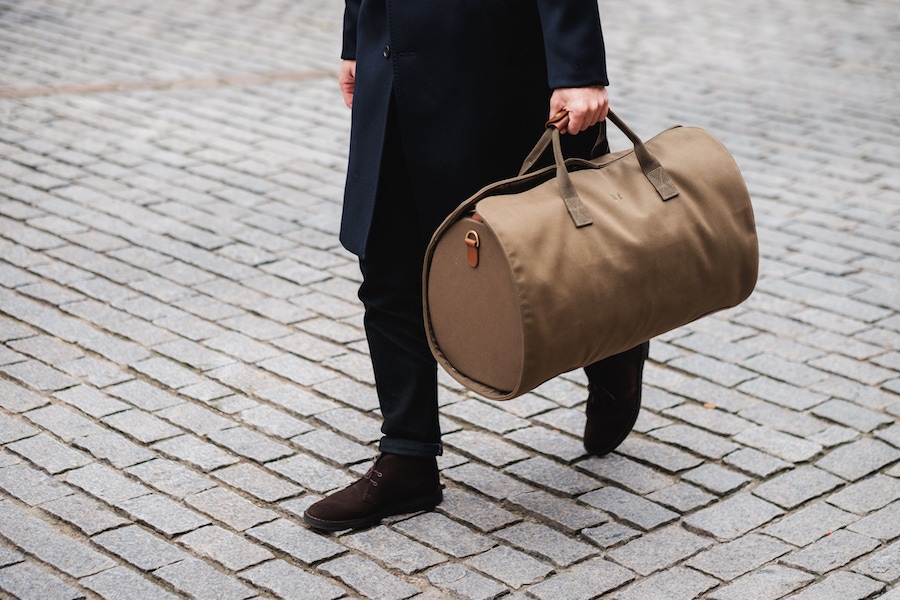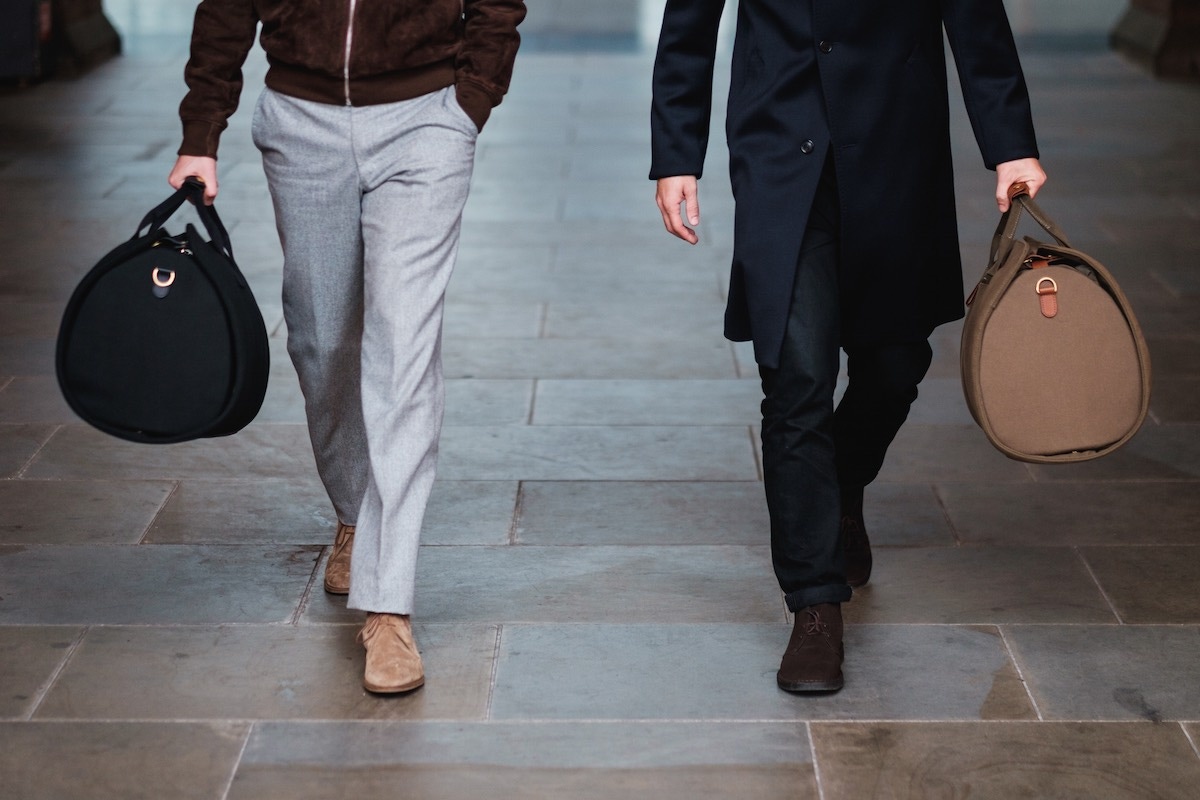 While a few brands have attempted to construct similar before, none have come remotely close to creating a configuration that retains its structure. It took Crompton and Bennett Winch over 18 months and countless iterations to finally strike upon a solution that gave adequate protection to the contents of the bag. "We looked at a simple, rolled-up suit carrier, but found it hard to give real room and structure to the contents inside. That design also requires two odd circles of material attached at either end, which mean the carrier can't be hung up or otherwise used. Much better, it was decided, to have a separate, internal bag, and wrap the suit carrier around it."
Given that their solution now consisted of two bags rather than one, Bennett Winch used a lighter 18oz cotton twill so that while the holdall had the requisite strength to maintain its shape, it was still a comfortable carrying weight when packed full.
"It's such a lovely sense of accomplishment to make something so functional," says Crompton. "The jackets don't crease; the fastenings all work well; and the weight is no more than most other weekenders. But I can hardly take any of the credit - rather like an interested consumer, I have merely said at every stage what I would like and what I would use. The Bennett Winch team have done everything else."
Indeed, our experience with the British brand's products has been nothing less than outstanding, as one would expect for a company that prides itself on handmade craft and attention to detail, as evidenced by the vegetable-tanned full-grain leather panels on the bottom of the bag and solid brass hardware throughout. Available in black and olive versions, the S.C holdall also comes with its own slimline wooden hanger, designed to accommodate one jacket and one pair of trousers so you always arrive at your destination ready to look the business. Forget Virgin, British Airways or Singapore Airlines: Bennett Winch is our carrier of choice.