The Best Dressed Driver at Concours D'Elegance Suisse 2018
Simon Kidston is a keen car collector, vintage aeroplane aficionado and all-round speed enthusiast who also happens to be one very fashionable chap. As our pick for Best Dressed Driver, he chats with us about all things motoring and style.
If you were looking closely at our social media shenanigans over the weekend, you'll be aware that
The Rake
was in Geneva as a partner of Concours D'Elegance Suisse and to present an award to the Best Dressed Driver. The recipient was Simon Kidston, who also won first place in the rear-engined sport coupés 1960 - 1977 class with his unidentifiable flying object numberplate Lamborghini Countach LP400 (1977). As requested by many of our readers, we're going to shed light on Simon. One thing for certain is that speed rapidly courses through his veins. It's an insatiable urge and one he has inherited:  Simon's uncle was Glen Kidston, a key member of the infamous
Bentley Boys
who are mostly known for setting speed records on Europe's foremost tracks before causing pandemonium in hotels and bars. Simon is mainly based in Geneva, however, his work takes him far and wide. He's an esteemed car collector and dealer, and when he's not in the office he is learning how to fly, bespeaking the finest Italian tailoring, collecting 1980s New Wave records and keyboards and winding down with camp
Roger Moore
movies. We caught up with Simon earlier this week.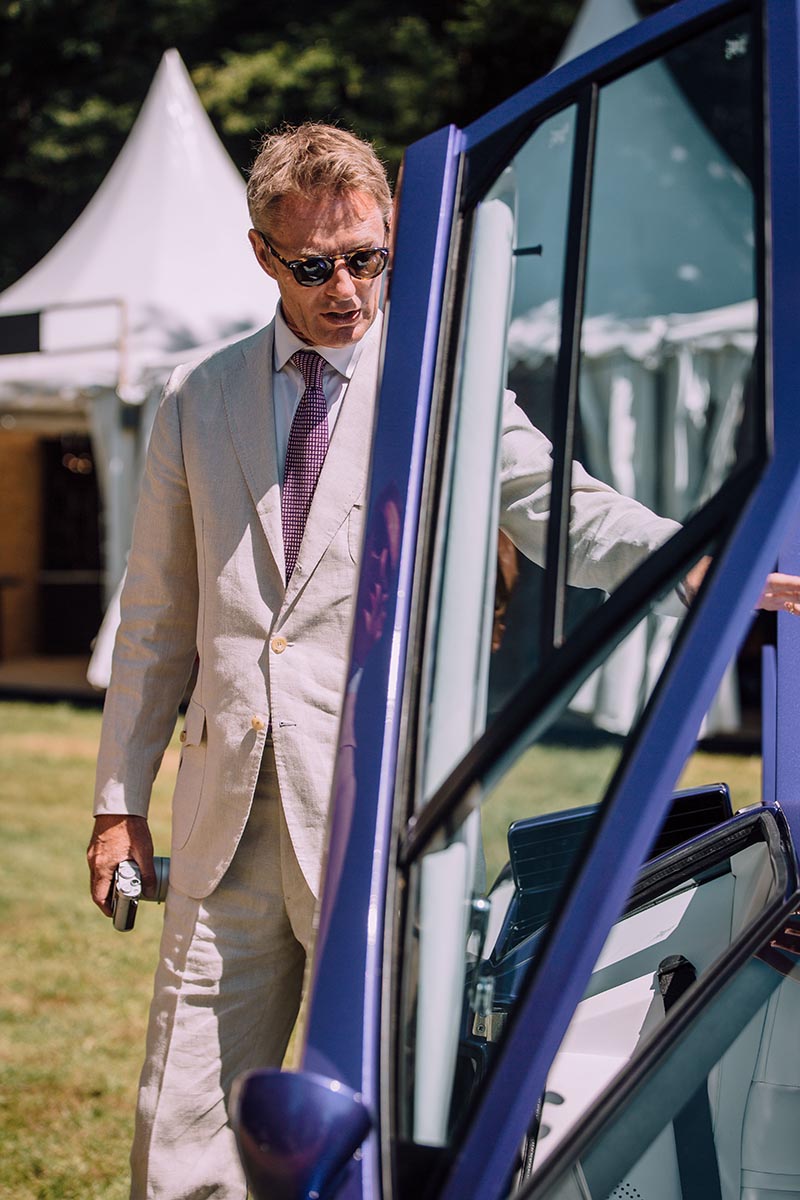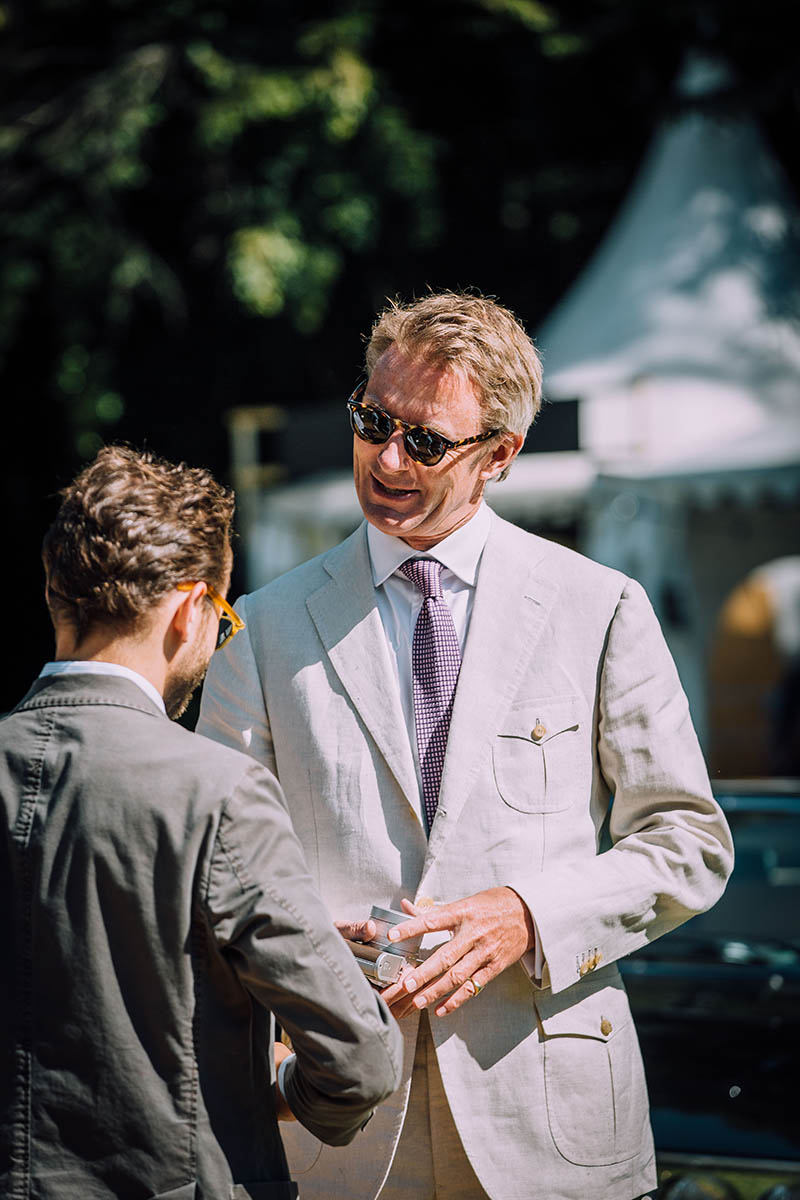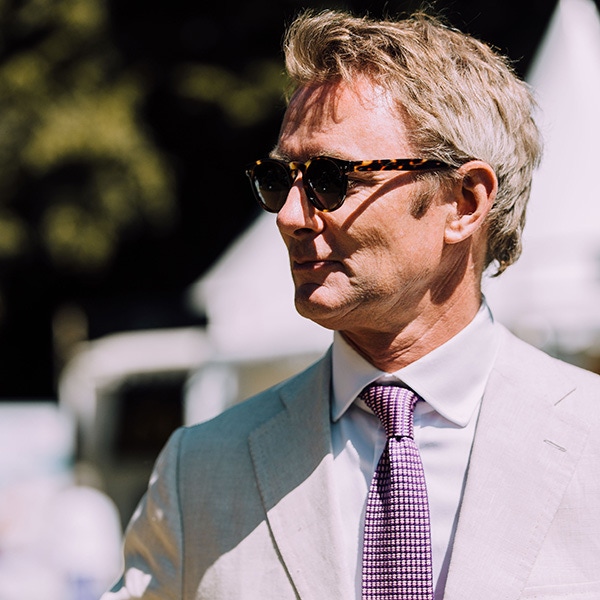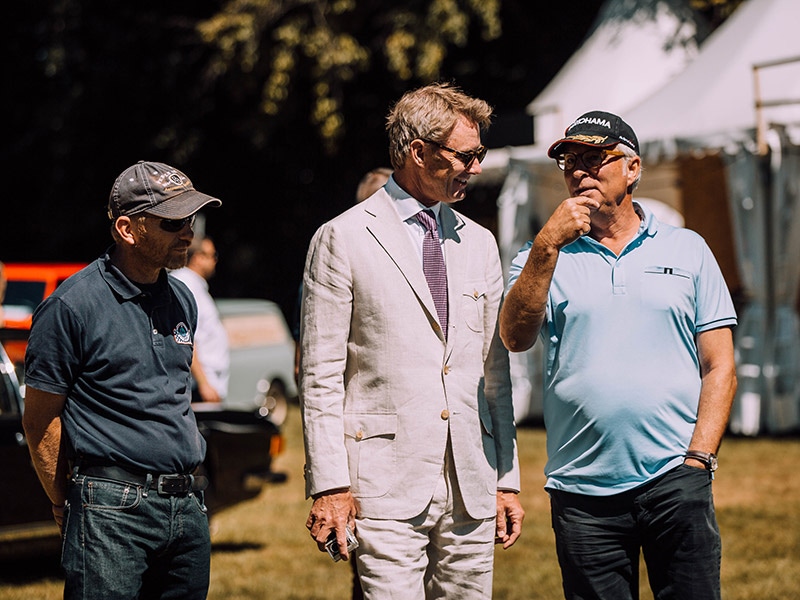 How did you get into cars?
My first job was at a place called Coys, which used to be on a lovely little mews in Kensington, London, in 1988. It was probably the best-known vintage car showroom then and this was straight after I got kicked out of university. I started out in the auction department which they opened relatively recently. Because I spoke languages, I rose up and ended up running it after a few years. After eight years there I left to join Brooks (which later became Bonhams), which was a specialist classic car auction house in London and they wanted to expand overseas. Because I had a lot of European clients, they approached me to start the European office. When I eventually left we were 800 people and I did a sweetheart deal with them to take over the Geneva offices and take my team with me and start a new business.
Did you always know you were going to work in the car industry?
Nope, not at all. I had absolutely no idea of what I was going to do but I was of the generation of my family that had to work, so I postponed the inevitable for as long as possible. My family were always into cars. My father retired very young but he was an officer in the Royal Navy before and during the war, like his brother [Glen Kidston].
Did you know your uncle at all?
He was killed flying in 1931, aged 31 or 32, just after setting the record from England to South Africa in his plane. My father continued to do the same thing. He raced cars and had planes and boats.
What are your earliest memories of speed?
It was being a passenger in a bright yellow Porsche Carrera RS (1977) and being driven at high speed to school. I'm pleased to say that I've managed to keep it in the family ever since. That's probably my first memory of being driven in that to school but it wasn't the everyday car. The everyday car was a Lancia Fulvia. Then there was being driven over endless Alpine passes in a variety of different cars, usually with some 1960s music on the stereo and with my father in sunglasses and a cigarette out the corner of his mouth — something out of the
Italian Job
without Miura. Cars, planes and boats to a lesser extent were always in the back of my mind growing up. I just inherited a passion for cars and when I was at university I realised that it would be a fun thing to work in.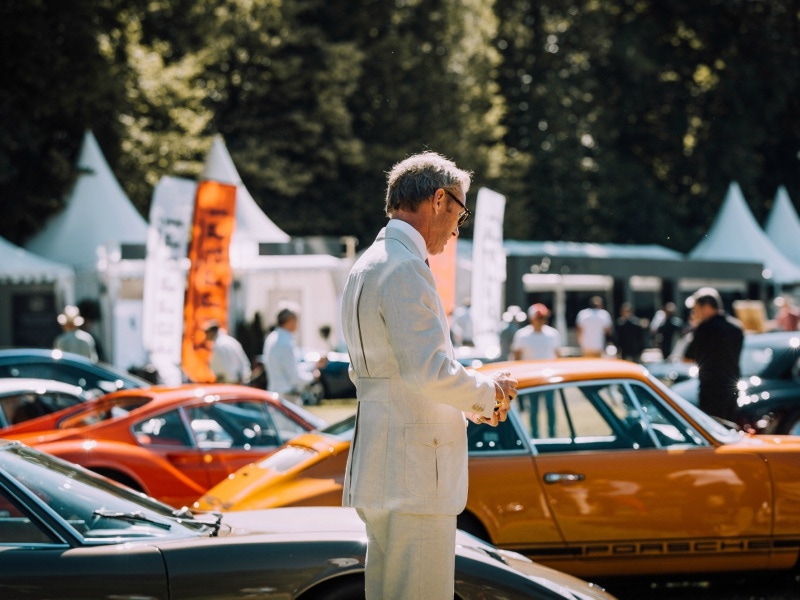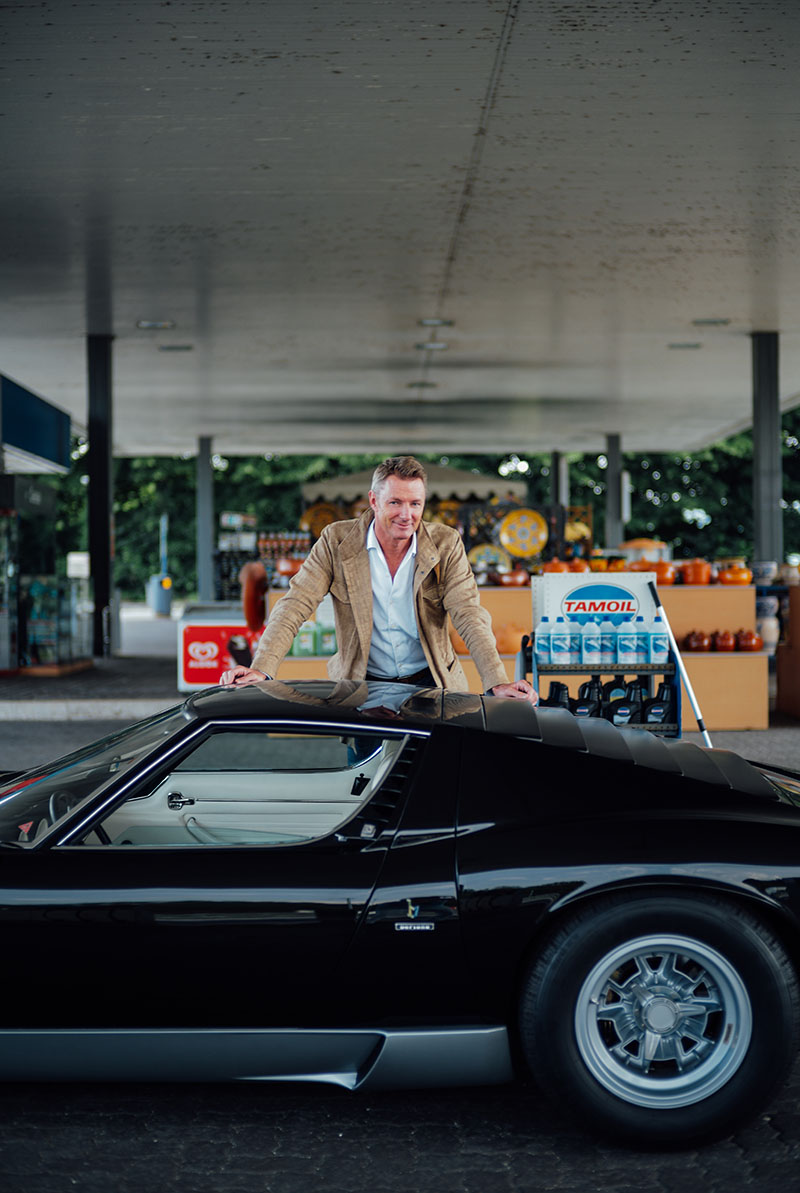 Where are you mainly based?
Now, I'm based between Dubai, as we've just started an office there, London, where I have a home and we've just opened a small office there on Pall Mall, and then, of course, Geneva, where I've been based for the last 20 years.
What made you want to start up your own business?
I was fed up with the endless churns of auctions and selling whatever you could get your hands on. I wanted to focus on far fewer clients and far fewer items and I was also running the whole European side of Bonhams which wasn't just cars and my interests lay fundamentally in cars.
What does your business specialise in?
The brokerage of rare, beautiful and mostly expensive classic cars from the 1920s through to the current day. The main focus is from the 1950s to the 1970s. The cars that I particularly like are from the 1950s. We're known for Mercedes Gullwings; I've had one for a long time and it's my daily drive in Los Angeles. Also Lamborghini Murias - I've had one of those for 20 years and we are writing the definitive book on them which we are publishing next year. Countaches are something I've been into for a while but I struggle to fit into them so I've had to modify the seat. The other car that I like is the McLaren from the 1990s, I've had one of those for a long time.
Where do you go for your tailoring?
When we met, the suit I was wearing I had made by Cesera Attolini in
Naples
. Larusmiani in Milan makes quite a lot of stuff with me. I do a little bit with
Corneliani
in Milan and then up until now I do a lot of made-to-measure with Etro in Milan but they've since closed that department. When I was younger I used to see a lot of tailors on Savile Row. Recently I've made some shirts with Shaun O'Flynn on Sackville Street and Welsh & Jeffries, who made me a red velvet tuxedo jacket, which is the single most expensive thing I've had made. Generally speaking, I look to Italian tailors.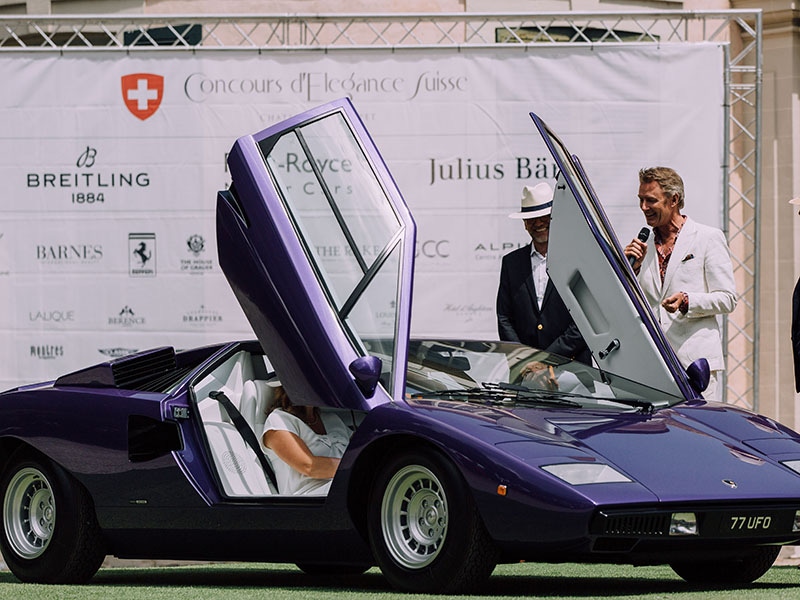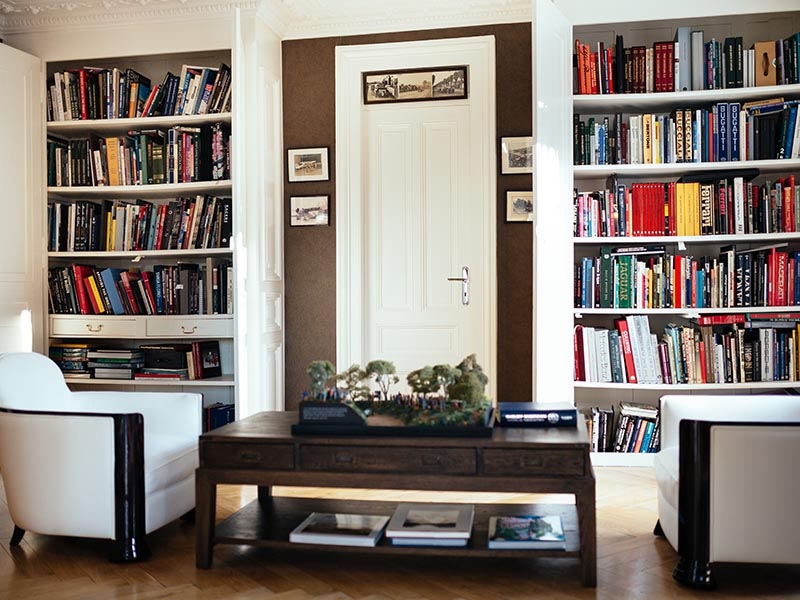 Where else do you shop?
For ready-made stuff I buy most of it from either Tom Ford or Berluti.
Are you into watches?
I don't know if I could say I collect watches – I'm not that sophisticated. But I buy watches on a regular and ignorant basis from
Patek Philippe
. They're my go-to because I don't know enough and I gravitate towards the brand that my father used to buy. If I really knew my stuff I would have more varied taste and I would buy old watches but I can't afford to buy them, unfortunately. One day, though…
Aside from cars, you're also into planes, aren't you?
Yes I am. I've got a vintage aeroplane which I am learning to fly. It's the 1930 Gypsy Moth Racing Bi-Plane built as a one-off for the Chairman of de Havilland. My father used to fly a lot, we had a hanger and a landing strip at home. It was my father's first ever aircraft which he owned in the 1930s. I remember him telling me about it when I was young and years later there was a little water-colour picture on the wall of my son's bedroom and I remember after reading him a bedtime story wondering about what the plane was. So, I spoke to the chairman of the de Havilland club and he told me that it still exists and was down in New Zealand. My father took it down to there in the 1930s and flew it around, primarily to different court appearances for speeding offences. So, I tracked it down, bought it and took it back to England. I thought that it would be something great to get back into the family and it took longer to negotiate with my wife, rather than the seller.
How does the restoration process with planes differ from cars?
I think you could say that with aircraft, replacement is much more acceptable than with cars because the consequences of breaking down are usually much more serious than with cars. The values are far less than cars because they're a less usable thing and not many people have a pilot's license and live near a landslip. For that reason, you can buy a Spitfire for a few million, which is, of course, a lot of money, but compared to a Le Mans-winning Ferrari, it's nothing.
What are your other interests?
My other interests are 1980s New Wave music. I've started to collect 1980s keyboards and 1980s Roger Moore
James Bond
movies. I'm a great fan of all kinds of cheesy, camp, and kitsch 1960s and 1970s TV-series, Bond movies and also things like
The Avengers
,
The Persuaders
.