Welcome To The Next Century: BMW Individual 7 Series THE NEXT 100 YEARS
This year is BMW's 100th birthday, and by way of celebration the German pioneer has put every ounce of its experience, skill and passion into creating one of the most extraordinary cars to grace our roads: the BMW Individual 7 Series THE NEXT 100 YEARS. It's futuristic, all right — and we cannot wait to get used to it.
At dinner parties, in website forums, or chatting with friends — by airing an opinion pretty much anywhere, in fact — the one subject that is likely to provoke debate is cars. The automobile is a deity in some circles, a simple mode of transport for others — but from a branding perspective, no one sits on the fence or has no allegiance. The exception that proves this rule is BMW, a marque that has become a byword for desirability, reliability and driving at its purest. Bayerische Motoren Werke has always been a pioneer in automobile development. The result of a never-ending production line of elite motor vehicles, such as the BMW e30 M3 Sport Evolution, BMW 2002 Turbo and the BMW 507, is far from unenviable. You generate a reputation as a brand that meets the desire of every modern car buyer: that is to say, reliability, comfort, sport performance and, for the most dedicated of petrol heads, an incomparable driving experience. This prevents the ownership of a BMW being merely material; it becomes something spiritual. This year marks a milestone for BMW: the Bavarian behemoth is 100 years old, and to celebrate it has put every iota of experience, skill and passion into creating what must be one of the most extraordinary vehicles to hit the tarmac. The BMW Individual 7 Series THE NEXT 100 YEARS is a masterpiece — and, to make sure it was as good as it appeared to be at first sight, we enlisted the help of a man with an eye for detail unmatched by your average enthusiast: the master tailor Edward Sexton.
"This year marks a milestone for BMW: the Bavarian behemoth is 100 years old."
The BMW Individual 7 Series THE NEXT 100 YEARS is designed with craftsmanship in mind. Each facet and piece of material is shaped and designed for aesthetic and physical comfort, something Mr. Sexton has spent his working life mastering, too. He says of his first thoughts, in fittingly anthropomorphic language: "What struck me most about the car, when the driver picked me up, was the long slender lines on the body — well proportioned, unassuming yet powerful." The colour is a rich royal blue, which complements the polished metal on the grille and alloy wheels. The style of the grille has a more demure, professional, less meaty design to its cousin, the M class, but it nevertheless has a noble, effortlessly chic front. Though the ribbed shaping on the bonnet does add a soupçon of sportiness. It was, however, when we got inside the car that Edward's eye really got to work. He wanted to be, and was, as meticulous about the detailing within the car as the task required. "On entering the car, the sheer luxury, the beautiful upholstery was palpable and unmistakable," he says. "I loved the attention to detail. The machining, it was done so beautifully and precisely, matching on all four corners of the seats; it connected perfectly. This is a detail that could go unnoticed, but I felt as if they had thought about it and, more importantly, they knew what they were doing." The gorgeous cream leather upholstery is riveted, moulded, stitched and perforated to create the most visual and physical comfort. The cosy use of wood adds a gentle, homely feel, or, as Edward puts it: "The beautiful wood finishing, and in contrast with the leather, looks amazing."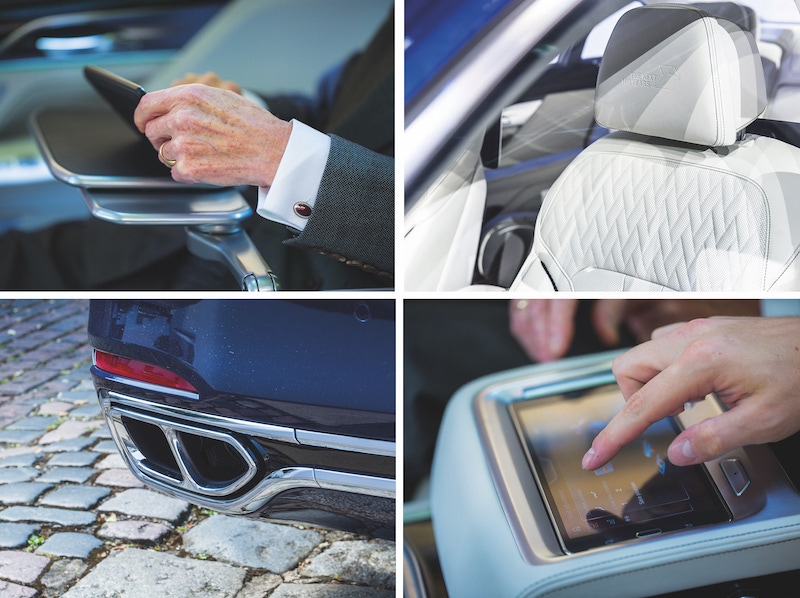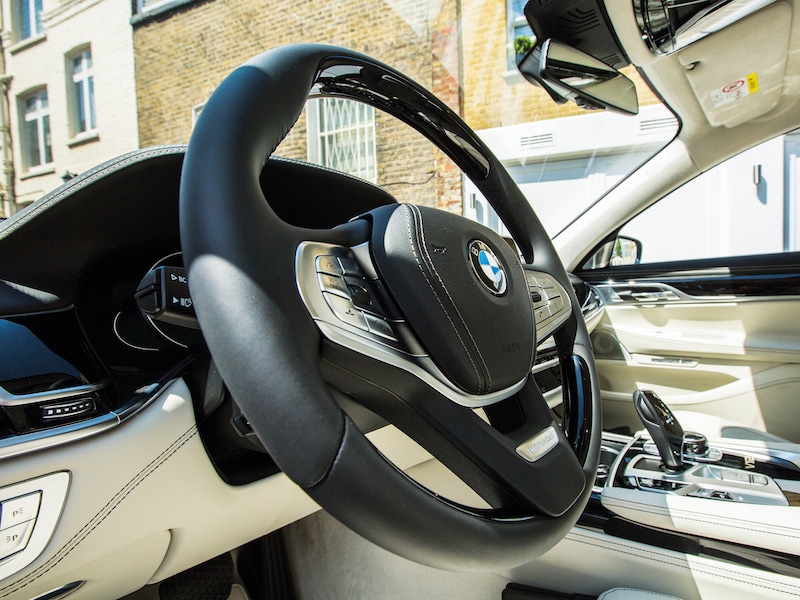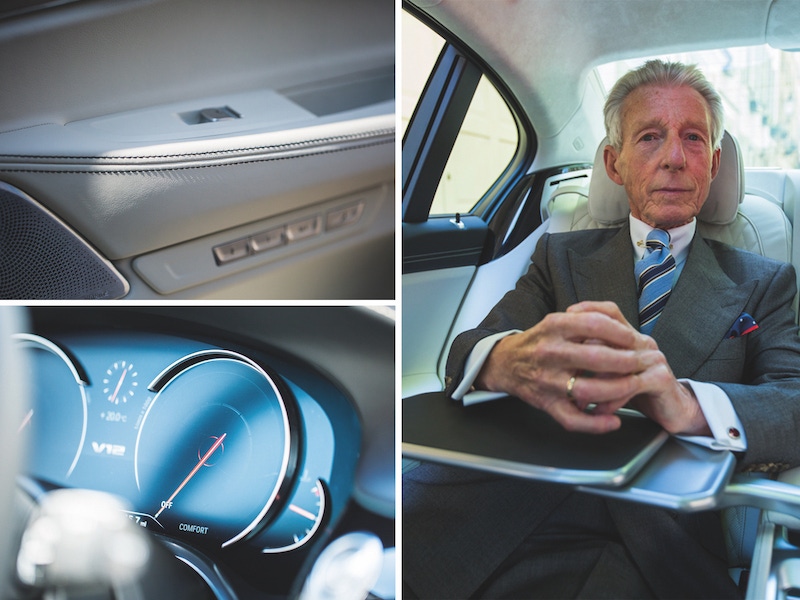 Nothing is more important in Edward's profession than the materials he works with. The versatility and levels of quality in wool is a widely discussed topic in
The Rake
. Though leather is not his most commonly used material, when it comes to the levels of quality, Edward knows it when he sees it and is adamant about its importance. "High quality materials are vital," he says. "The reason being is that, at the end of the day, you have to put the same amount of work into an inferior fabric than the best fabric. Then the outcome between those two is obvious. Our fabrics have been hand-finished and watched at every step from cutting to finishing, and it was clear that BMW had put as much into it, too." True artisans understand the life force of good fabrics. He adds: "I know when I put that on my table, it will behave itself in the making, it will be a true representation of what we do, how it works, how it wears, how it lasts. I never use inferior fabrics for that reason — why would I put my energy into making an inferior garment when I know it's not going to be right? If it's quality, it will show and stand out, and that's why this car stood out." The car is also designed for the passenger. It is an office on four wheels and a relaxation station in one. For the office, a phone, desk and wifi; for relaxation, L.E.D. lights in the sunroof that create ambience and a front passenger seat that tucks in against the dashboard, allowing a stool to fold out as a footrest for the back-seat passenger who can sink into a semi-reclining seat. This is as close to business-class travel as it gets on the road, and considering size restrictions of motor vehicles compared with airplanes, it is extraordinary — revolutionary, even. What it does is give a glimpse of how the future of luxury driving will look, and what starts as luxury can flow down into general motor industry usage. But there has to be a pioneer, and in this case it is BMW. The drive, as Edward says, is "like driving on air", especially "when I compare it to my first car, an Austin A40, four gears, a carburettor, four plugs, and that's it. Nowadays it's almost impossible to comprehend what is under the bonnet, and this car especially."
"The car is an office on four wheels and a relaxation station in one."
This takes us to the most important aspect of BMW's work with this car, which is to emphasise and exploit that fulcrum where modern technology and craftsmanship work in perfect harmony. "Computers and technology have revolutionised everybody's business, and obviously it has affected ours," Sexton says. "Even though true bespoke is all done by hand, technology allows people to learn techniques and understand craft in a much more comprehensive way. The connection between craftsmanship and technology is key in luxury today, as there is so much demand for products that require both. I am still learning everything I can for my work. It is amazing that technology has taught me a lot about, for example, the attaching of a collar, or the pitch and rotation of the sleeve. I can transfer what is done mechanically into something manual to help enhance the garment. It's a scientific approach to our business. When I first came into the business there was none of that, but this car illustrates how technology has come along." Of course, the highlight of this car's mastery of technology and craftsmanship is its ability to park itself remotely while the driver stands outside — an almost impossible feature to believe even once you've seen it. It is made possible by several cameras and lasers dotted around the car to make sure it will fit snugly into the garage and parking space. Automotive journalists will get worked up by its 12-cylinder engine, fearsome torque and formidable breaking system. But
The Rake
's experience with this car is purely spiritual: it creates a feeling and a vision unmatched by other vehicles. It may lack the boy-racer growls of a modern sports car, but it is far too august and noble to worry about that. There are just 100 to be made, and a more fitting expressing of this brand's D.N.A. you'd be hard-pressed to find. We only hope we see its like again.
Originally published in Issue 48 of The Rake, available on newsstands now or you can subscribe here.