Bruce Springsteen: Still The Boss
Perfecting the guitar from the ripe age of 13, the denim, biker-boot and bandana-donning rock 'n' roller was as serious about social issues and political protest as he was about playing to the crowd.
A broken hero on a last chance power drive. Or, more accurately, a working class hero: the iconography, the lyrics, the sheer Americana inherent to Bruce Springsteen has made him a blue collar figurehead for over four decades - the maker of the steel man's lament, the small town cryer, the American dreamer, the bard in blue jeans, The Boss. The man who, like one of the downtrodden but hopeful characters that populate his lyrics, dropped out of high school on the promise of a contract from a big shot New York producer, only to never see that producer again.
Springsteen may have been the son of a bus driver and secretary, but his fellow feeling for the small man was largely an act of imagination rather than the product of experience. He picked up a guitar aged 13 and, as he sings in 'Hungry Heart', "went out for a ride and never went back". By 14 he was in a band; the summer he graduated was followed by a hectic joining, forming and disbanding of various bands – Earth, Steel Mill and, most preposterously for a figure such as Springsteen, one called Dr. Zoom and the Sonic Boom – the end of which saw what in retrospect was the inevitable: Springsteen, the minstrel of the lonely man, as a solo act. The following year, in 1972, he signed a 10 album deal with Columbia. Within three years – already, it seemed, a mature artist, a figure of legend and cultish following – he was recording narratively rich rock standards such as 'Born to Run'.
But Springsteen's feeling for the failures and disappointments inherent in life – characteristically treated with good humoured resignation rather than out-and-out bitterness – was genuine, reflected both in lyric and action. He gave concerts against nuclear weapons, for Vietnam vets, his songs providing commentary on America's social problems, from racism to police brutality, towns dying with the industries that sustained them, to 9/11, immigration and the Iraq War. "Bring 'em home" he intoned after accepting a Grammy. He wasn't talking about another award.
His was a message he wanted to hit home too, which brought about a shift in writing style to the more declarative approach of, for example, 'Born in the USA'. This may have been one of modern music's all time most misrepresented songs but it made Springsteen a megastar, albeit one with, arguably, one of modern music's all time most misrepresented images: as the embodiment of all-American, crotch-thrusting, macho manifest destiny. Once Ronald Reagan had co-opted the song, Springsteen took to meeting with civil rights, environmental and labour activists in every town he played, before giving them a potent plug on stage. But the image was all Springsteen's.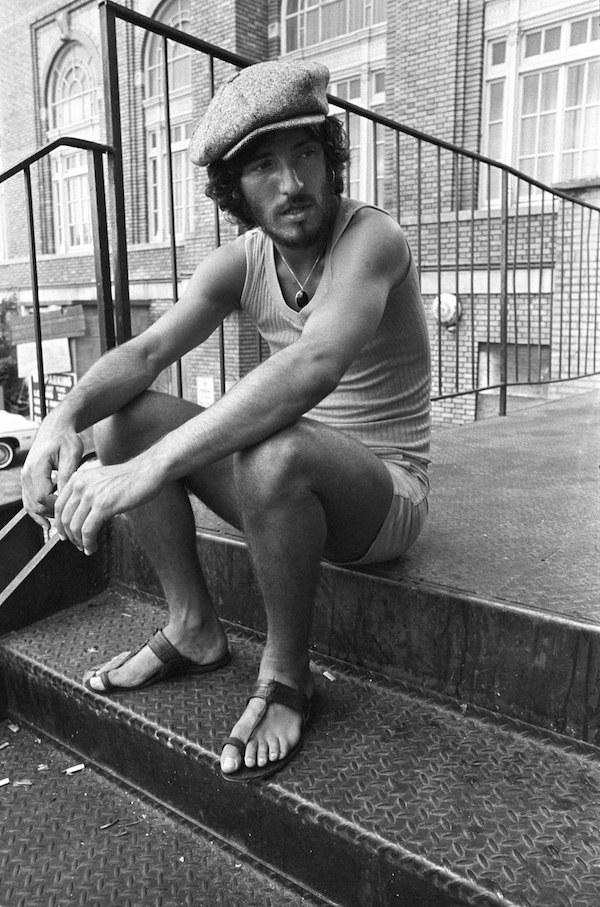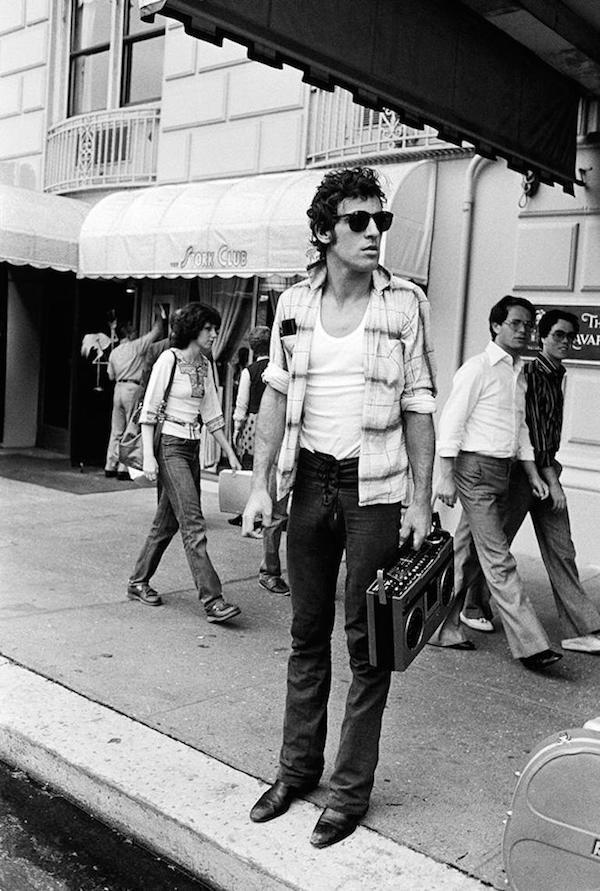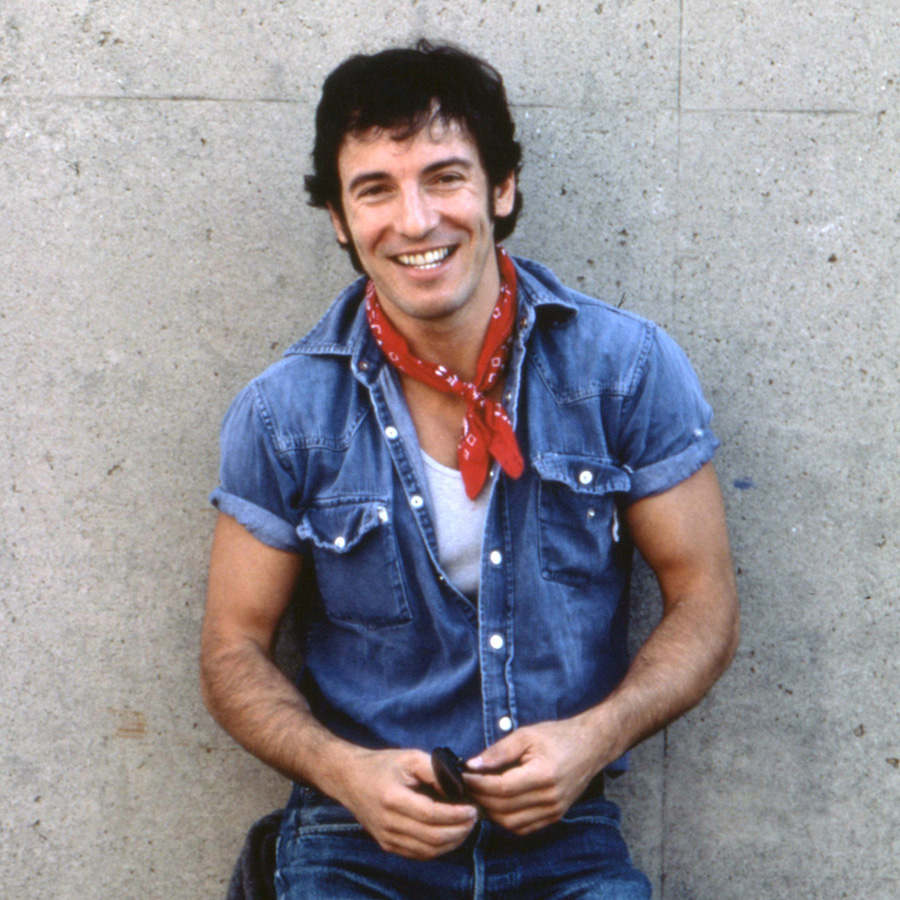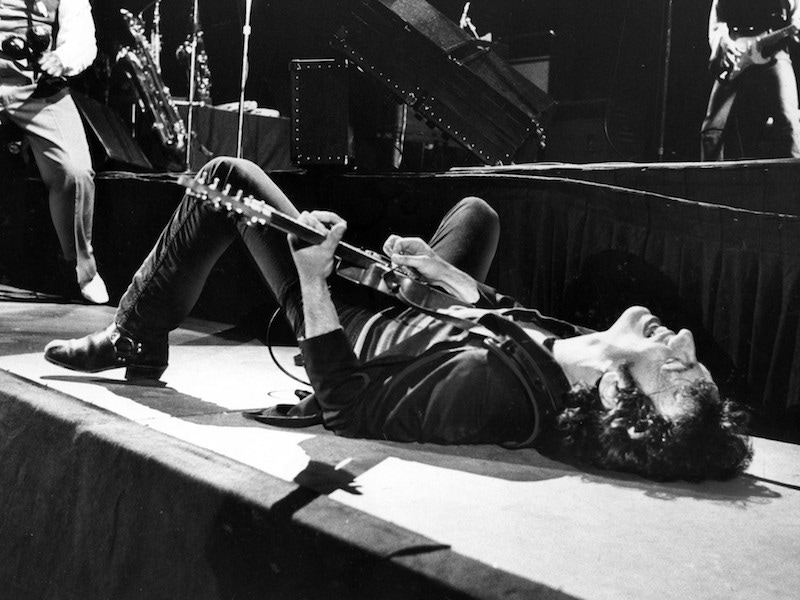 The cover of the 'Born in the USA' album - Springsteen's rear, in worn blue jeans, with a baseball cap tucked into a pocket, against the stripes of the national flag - probably didn't help his cause. But few could argue that Springsteen hasn't been as consistent in his style as in his mantra for the working man. As strange as it may seem to cite The Boss in this context, Springsteen's faithfulness to his fashion – cap-sleeve t-shirts and lumberjack shirts, jeans, leather jackets, sleeveless denim jackets, biker boots and the occasional bandana, the weekend clobber of the man more used to oily overalls - has made his an unlikely style benchmark. Springsteen's wardrobe, like the man himself, is all man.
Certainly, he may not have had, say, Johnny Cash's appreciation for consciously using dress as a political tool, but the fact that Springsteen – excepting a few rock 'n' roll cliches, the likes of a tight waistcoat, bolo tie and cowboy boots – did not take on the glossy sheen or the fancy duds of the rich and famous spoke for itself. He often looks as though he's shopped in a thrift store, or tumbled out of bed wearing whatever he had on the day before. He dresses like Dylan – but he looks good for it. There's a great shot of him sitting on a tenement porch in 1975, wearing a ribbed vest, tight shorts, sandals and, of all things, a baker boy cap - yet he wears it well, like some New Jersey Che Guevara.
Not that – and this is one reason for why his anti-flamboyance works – one imagines Springsteen places much thought in clothing. He has just turned 68, and looks like a man half his age – and that's with his shirt off. In Springsteen's world, he's still the 13-year-old with the guitar, just itching to play some rock 'n' roll and maybe change the world a little through it.