Budd Shirtmakers AW19: The Look-Out Collection
Budd Shirtmakers' latest ready-to-wear collection brings texture and tonality to the fore, with luxurious pieces you'll want to wear all season.
A destination store to many of the world's best dressed gentleman, Autumn 2019 sees London-based Budd Shirtmakers release its largest and most luxurious ready-to-wear collection to date. Texture and tonality are the dominant theme of the Look-Out collection, a rich palette of earthy and berry infused tones that are sensual to the touch and which are conceived to work effortlessly together. Think russet, henna, plum olive, rifle and blues. 
All of the motifs and details you would expect of Budd are present in the Look-Out range. Carefully sourced materials, a continued faithfulness to cut and quality, and a focus on comfort as well as style. 
Of course, Budd is renowned for its soft and utterly wearable shirting, which is crafted using traditional techniques from the finest fabrics. Along with all the usual work, casual and formal favourites, this season sees the introduction of a 
range of Easycare (minimum iron, minimum fuss) shirts. Solids and bengal stripes feature heavily, but there are also dobby weave options, an usual feature for an Easycare fabric that is the result of the complex finishing process.
As well as the impeccable shirting that we have come to expect from Budd is a brand new collection of knitwear, which is a first for the label this season. Made for the company by one of Scotland's most respected workshops and in a choice of merino wool or luxurious Loro Piana cashmere, choose between a multitude of styles, some of which will become a second skin. Options include roll necks, crew or v-necks, long sleeved polo shirts, and the chance to layer up with a sleeveless tank or cardigan. Texture comes into play with seed stitch cashmere sweaters, the ultimate
object of desire
.
Look-Out's casual shirt collection seduces at a touch. Fine, micro-cords in navy, khaki and brown, peached twills with an aged appearance and brushed cottons in houndstooth and microcheck, feel fantastically soft and work a treat under sweaters and tanks. Budd is almost as famous for its haberdashery accessories as it is for its shirts. This season does not disappoint. Ties take on a vintage feel, with repp stripes, tussah silk,  Irish poplin (silk and wool blend), hopsacks and wool playing leading roles. Pocket squares are naturally designed to compliment, never match. Their colour combinations whilst subtle, are inspiring and almost turn getting dressed on its head; you'll want to build your outfit around your pocket square as opposed to the usual order of play. As well as classic silk squares, the well dressed will love the dry handle found in our wool silk blends and the guts of our modals.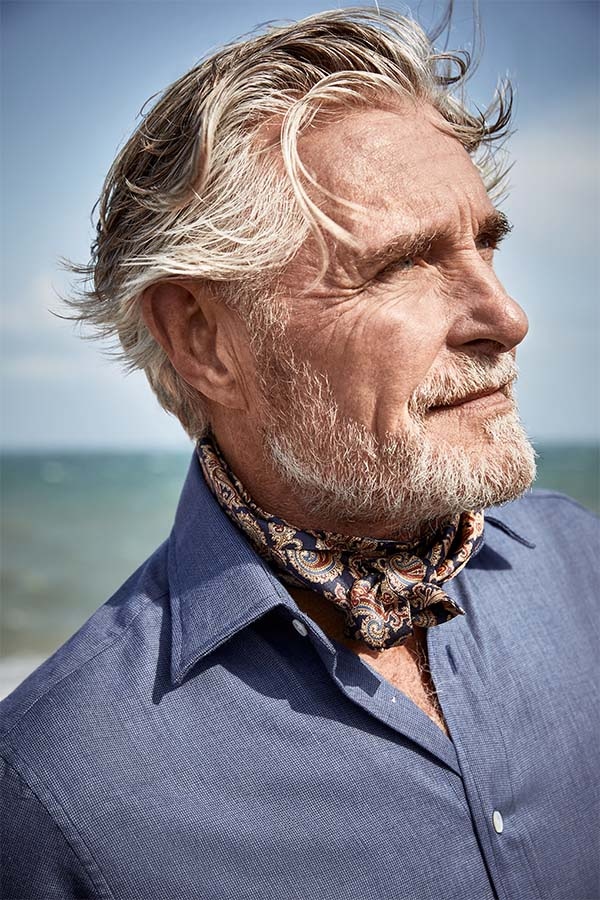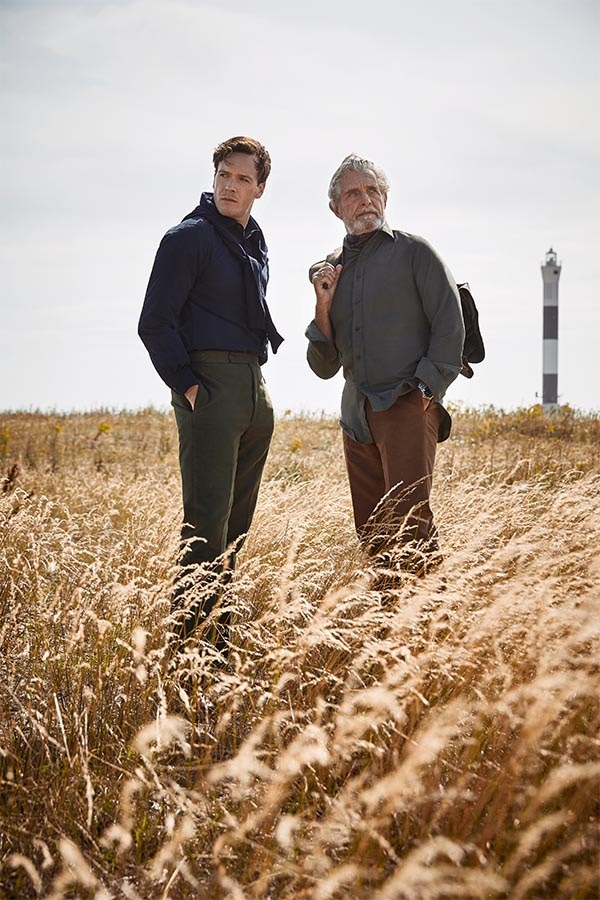 Scarves play a starring role for the colder months of the year. No Budd collection is complete without signature paisleys and classically inspired geometrics. Double-faced tussah silks range from opulent sable through to ocean blue. These are scarves to make a statement. For those looking to feel comforted and cosseted, paisley, cashmere and wool blends will wrap you up warm and tie beautifully. Cashmeres come plain too, and pair up with knitted beanies. With such a good collection, the icing on the cake comes with a range of Escorial wool scarves, hard to find and a treasure to wear. Escorial is amongst the world's finest and softest wools. The scarves are fine and generous, allowing you to wear them in a myriad of ways. The soft textures of The Look-Out collection conjure up the sensorial needs we feel in the winter months. We yearn for the warmth of cashmere and wool and the softness of silks. In the cold months, less is not necessarily more and is when we layer up and play with colour, tone and texture. The softness embraced in this ready to wear collection, perfectly juxtaposes the harsh and barren landscape of our shoot location. Beyond the scope of the main collection above, AW19 holds in store a range of garments designed for staying in; cashmere socks, pyjamas designed for lounging and night robes in Loden wool will have the wearer buttoning down the hatches.