Caroline Andrew: A Cutting Edge
A long-time friend of The Rake, we are delighted to introduce British Tailor Caroline Andrew's inaugural ready-to-wear collection to our e-commerce fold.
Caroline Andrew is no stranger to hard work and dedication to her craft. So much so in fact, that in 2020 she was awarded the Bright Young Thing accolade by Mayfair Times. A highly-respected and extremely talented tailor, Caroline focuses on traditional hand-crafted British suits for both men and women, believing that beauty and functionality serve a central purpose: to enrich and simplify the life of modern individuals. True to her belief, she infuses Savile Row cutting and tailoring techniques with her clean and minimalist design to create her signature style. One of the many tailors initially affected by Covid-19 and subsequent lockdowns, she kept working hard behind the scenes to develop her brand through the power of social media. From showcasing fittings for male and female clients, of which many are popular celebrities, she managed to retain her ardent following which puts her in good stead as London slowly reopens its doors.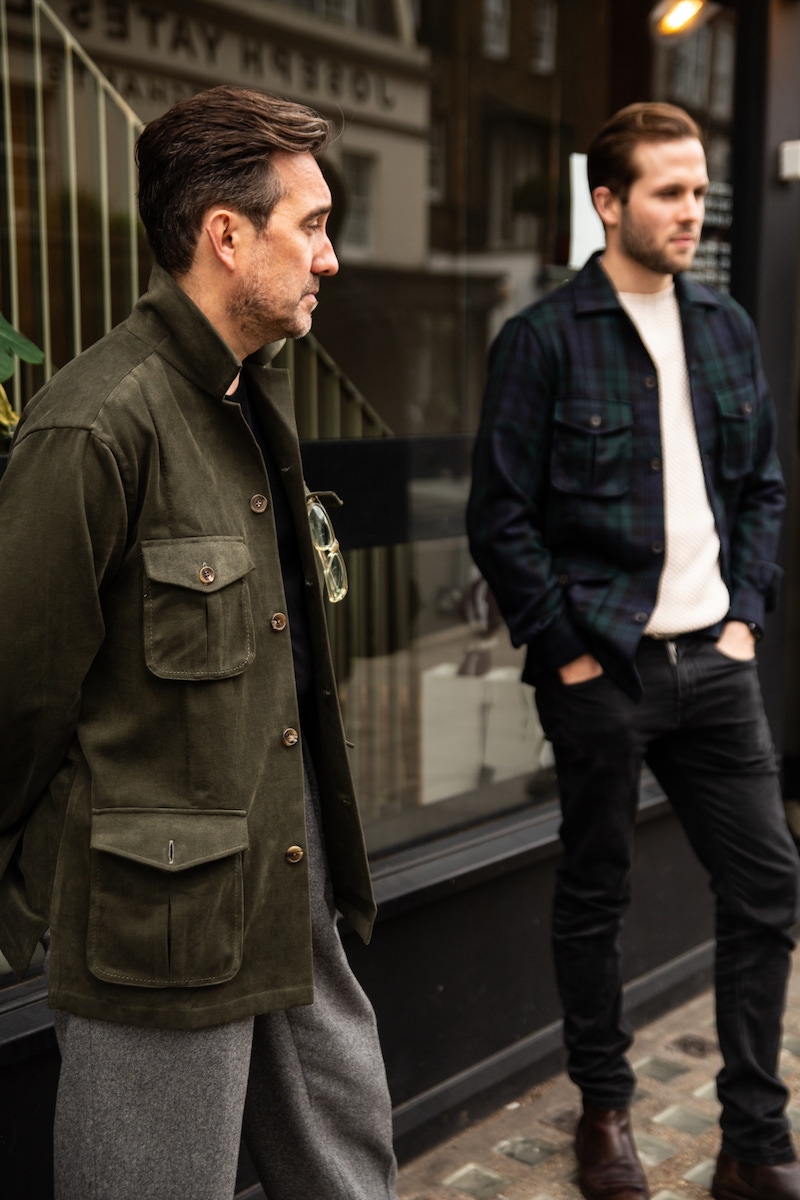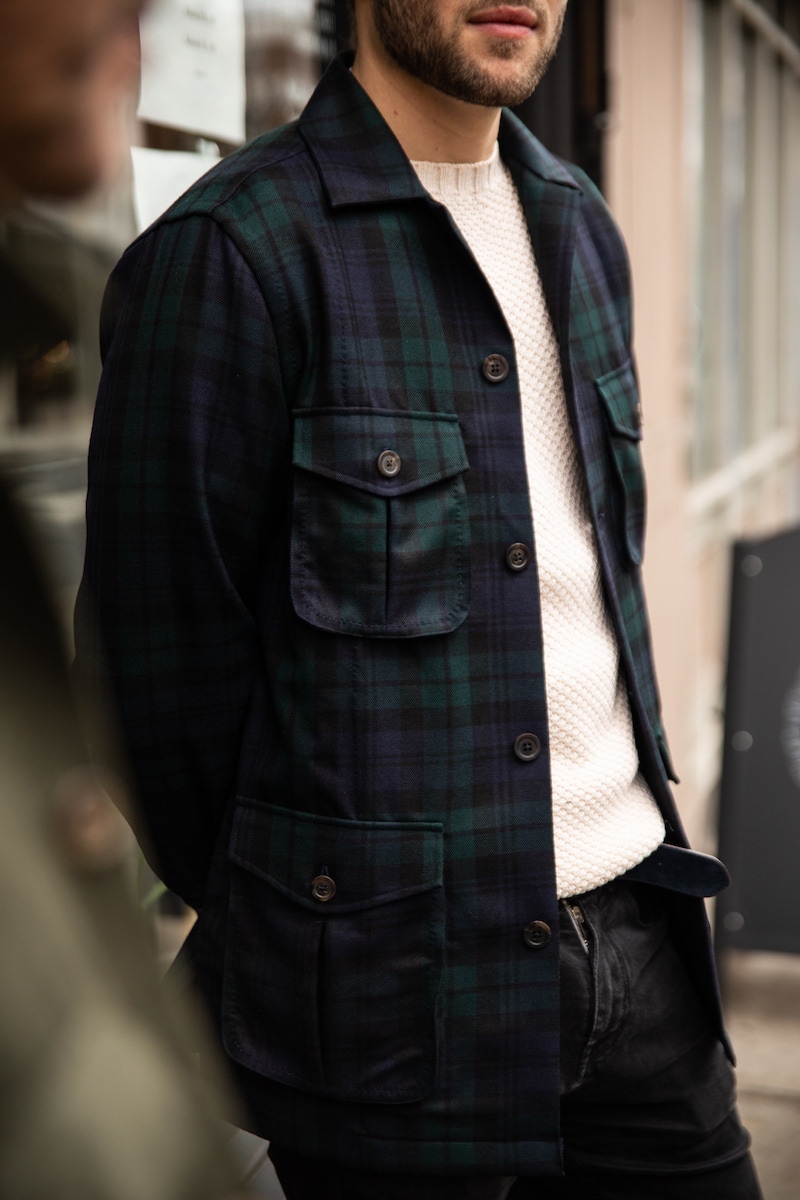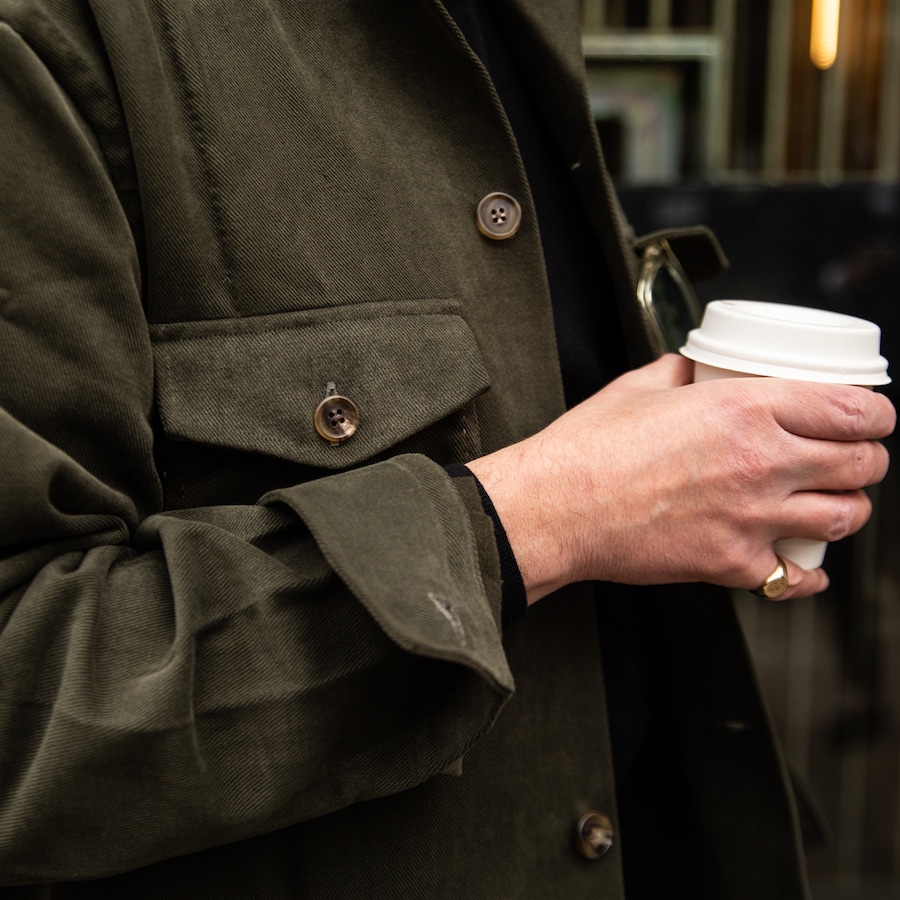 Originally based in Saint George Street in Mayfair, she now splits her time between this workshop and her newly-opened shop based in Kensington. Speaking to Aleks Cvetkovic in our feature on women in tailoring, Caroline said: "I've always wanted to be a cutter, but I worked for free for a long time just to spend time in tailoring workshops. I was sidelined for cutting apprenticeships a few times. I remember being offered a place as a waistcoat maker in a Savile Row firm having worked there for free for months and thinking Nope, I'm going to do this my way." And that she did, graduating from the London College of Fashion with a BA in Bespoke Tailoring, to being the first woman to own a business in 11 Saint George Street, opening a second shop as well as launching her ecommerce business.
A purveyor of classic elegance, Caroline knew that she would be able to bring her tailoring expertise to more casual pieces, and found the perfect garment to showcase this: the field jacket. "A new experiment," writes Cvetkovic, "they demonstrate her dexterity as a tailor: she is capable of creating both formal and casual pieces that are relevant to today." The collection consists of three relaxed field jackets in olive and navy cotton drill, plus her signature Black Watch tartan. The design features of the jackets include four exterior patch pockets, a shirt-style collar and button cuffs, with a half belt at the back and a single inverted pleat for ease of movement. It's the perfect thing to wear for a jaunt into the city, or a long walk through the countryside. Through lockdown, the importance of owning and wearing clothes that provided a sartorial edge were quickly rivalled by that of comfort. "The field jacket was born from the need for something less formal which suited the new lockdown lifestyle we found ourselves in," Andrew tells us. "I wanted to create something functional and beautiful that didn't involve a fitting."
Classic tailoring was slowly being worn more casually even before we were confined to our homes, through the re-emergence of high-low style. It's important, therefore, that clothing today focuses on quality craftsmanship, versatility and timelessness of style. Most importantly, its ability to make you feel good about yourself when wearing it. We are delighted to confirm that these field jackets do exactly all the above, so it was only a matter of time before we welcomed Caroline Andrew onto TheRake.com. She is, after all, one of Britain's most promising and exciting artisans.