Exclusive! Caruso for The Rake Houdini Fabric Travel Blazer
Frequent flyers rejoice – The Rake and Caruso have teamed up on a travel suit that will see you transition seamlessly from aeroplane cabin to the boardroom and beyond.
Umberto Angeloni is a proud citizen of the nation of Flux. If you are unable to find this unique principality on a map, it's because you need to cast your eyes skywards. Because Flux lives in the air. It is borne on clouds. Its geographical boundaries are defined by the interior of the plane's cabin. From 1990 to 2007, Angeloni served as the president of Brioni and multiplied the brand's revenues tenfold. He did this by winning over hearts and minds the world over; he did this through constant, unabated travel. As he puts it: "Italy gave me my cultural imprint, Africa my strongest emotions, North America my professional bearing, and Flux my self-awareness." Angeloni's current occupation is C.E.O. of a company called Caruso. Even if you've never heard of it, chances are that you already own a garment made by him. Because Caruso has for decades been the pre-eminent maker of tailored garments for most of the world's luxury brands. But when Angeloni began to think of launching his own vision for Caruso menswear, he decided to move forwards the story of tailoring. He decided to create beautifully crafted clothes that express a pared-back simplicity and dance along the precipice between formality and sport with boldness and grace. He decided to design clothes inspired by his home capital of Flux. As a fellow frequent habitué of Flux, having clocked up in excess of half a million air miles last year, I share Angeloni's appreciation of our sky-borne nation. As Angeloni says, "An elected homeland, a place of origin and a destination all at once". Like him, I realise how frequent travel has shaped my worldview, in particular as it relates to paring away the superfluous and focusing on the essential. One day our conversation turned to the travel wardrobe, and how a man could leave for a crucial trip for a city like New York or Paris and take all that he needed in a cabin-size travel bag, like the sublime
Bennett Winch Weekender model
we carry. It began with shaping the context.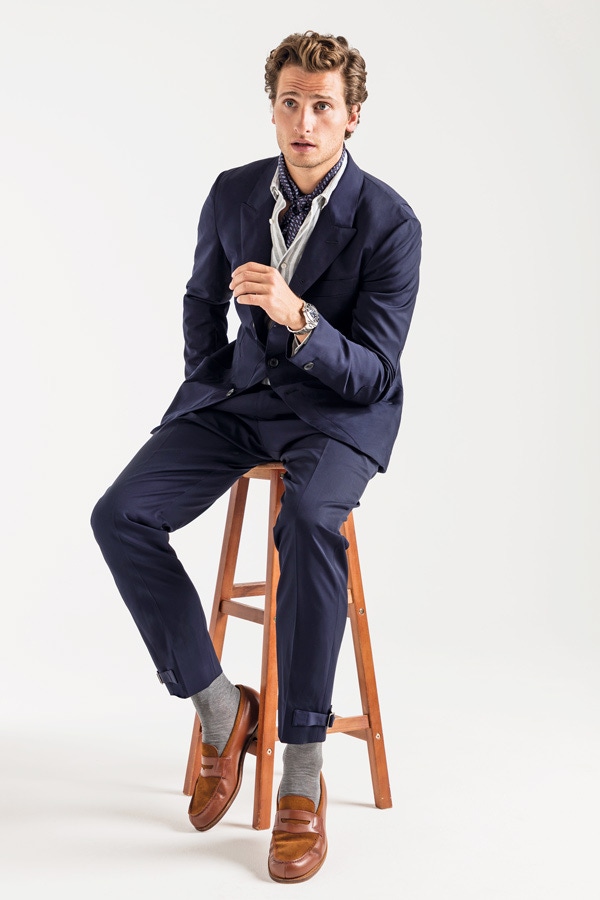 This man arrives in Paris. But the Périphérique — the arcane Medusa-coil highway surrounding the City of Light — is jammed to a standstill with traffic. Red brake lights all the way. So he jumps onto the back of a motorcycle taxi, which splits lanes into the urban centre. He immediately checks into his hotel and hits the gym to clear the jet-lag-induced cobwebs. Then he's off to a crucial presentation. But behold, Place de la Concorde and Rue de Rivoli are blocked by protesters manifesting their collective voice for the rights of mimes. He jumps onto a share-use bicycle and makes it to his meeting perfectly on time. He then attends a gallery opening and an elegant dinner at Gregory Marchand's Frenchie or, even better, the epic Chez Fernand on Rue Christine, strolling along the Seine with the most ethereal of Parisian haute-monde demoiselles. Throughout this experience he wears just one jacket, a protective talisman, a security blanket, a good luck charm, a pragmatic tool, a constant companion in adventure, and a masterwork of epic style. Throughout all this the jacket remains unflustered, unflappable, a transcendent creation of equanimity and cool. And as we riffed back and forth, the jacket began to take shape in our minds. It would be a
single-breasted navy blazer
, the most essential of garments capable of rendering you the most elegant man in the room in 99.99 per cent of situations. It would have a peaked lapel, for that touch of rakish élan. But it would be configured through Angeloni's deft design prowess to button all the way to the throat to ward off cold when riding a motorcycle. It would feature all the necessary pockets — some with a zip closure — for wallet, phone, passport, cash, hotel key, sunglasses, notebook and pen, etc. It would have special deployed pleats in the back for ultimate mobility. And the masterstroke of design: it would feature two utility pockets on the back of the skirt, perfect for carrying a rolled newspaper, architectural plans, or even a baguette and a bottle of wine while piloting a bicycle through the urban environment. But Angeloni's desire to innovate didn't stop with the aesthetic considerations. He explained: "We must make this jacket out of Houdini, a unique fabric that combines the finest wool with 4 per cent Lycra. The result is a material that has a wonderful handle but also is entirely crease resistant, and provides the wearer with amazing freedom of movement. It is also somewhat stain resistant." He paused for a moment and added: "Remember there are two more functions this jacket must provide that necessitate it being extraordinarily soft and comfortable." When asked what they were, Angeloni smiled and said: "First, you must be able to roll it up into a pillow. Second, when the weather is cool, you must be able to drape it over the shoulders of a beautiful woman to keep her both physically and emotionally warm."