Celluloid Style: Phantom Thread
Phantom Thread took away an Academy Award and a BAFTA for Best Costume Design this year; we find out what makes it so deserving.
Phantom Thread
was released on Christmas Day, 2017. Reportedly Sir Daniel Day-Lewis' parting gift to the world of cinema, it came wrapped in swathes of silk and lengths of ribbon and hand-delivered by director Paul Thomas Anderson. The trailer tantalised with intimate close-ups of a couturier's handiwork, electric tension between characters and the promise of a dangerous liaison. Alongside Vicky Krieps, who plays waitress-turned-muse-turned-lover Alma, Day-Lewis plays Reynolds Woodcock. A renowned couturier in post-war London with a personality that sets one's teeth on edge, he's a flawed genius whose manner swings from particular to petulant to cruel. But, like many of the most unpleasant men in cinema –
American Psycho

's
Patrick Bateman or
A Streetcar Named Desire's
Stanley Kowalski – he is also one of the best dressed. Unlike Bateman's rigid Wall Street uniform and Kowalski's barely-there workwear, Woodcock's carefully selected wardrobe is quietly elegant and pointedly British.
Method actor Day-Lewis is famous for becoming intensely involved with his roles, so it was no surprise that he worked closely with costume designer Mark Bridges on Woodcock's wardrobe. Instrumental in the process was Savile Row tailor Anderson & Sheppard, who Bridges and Day-Lewis visited on several occasions. Together, they created seven bespoke looks for the film. "It evolved very naturally," Martin Crawford, the store's Front of House manager, told
The Rake
. "Mark and Daniel both had strong ideas, but initially the priority was to make the looks period-correct. For that, we cut the trousers with a higher, pleated waist and wider leg, and used much heavier cloths than you would today. There's a dinner suit in 19oz barathea, which is practically overcoat weight."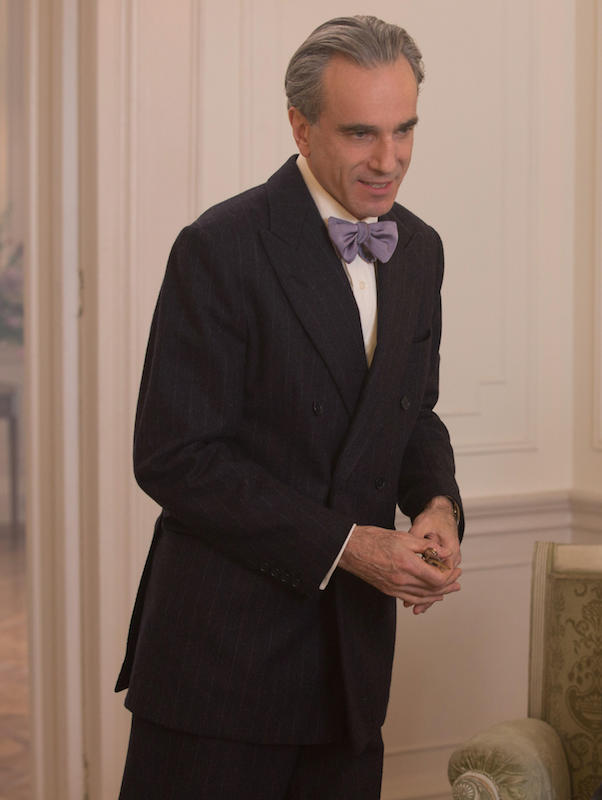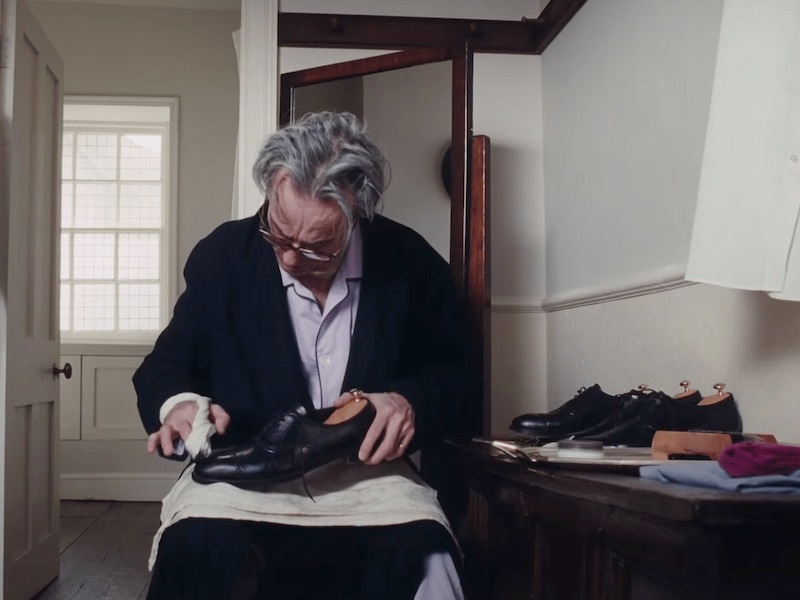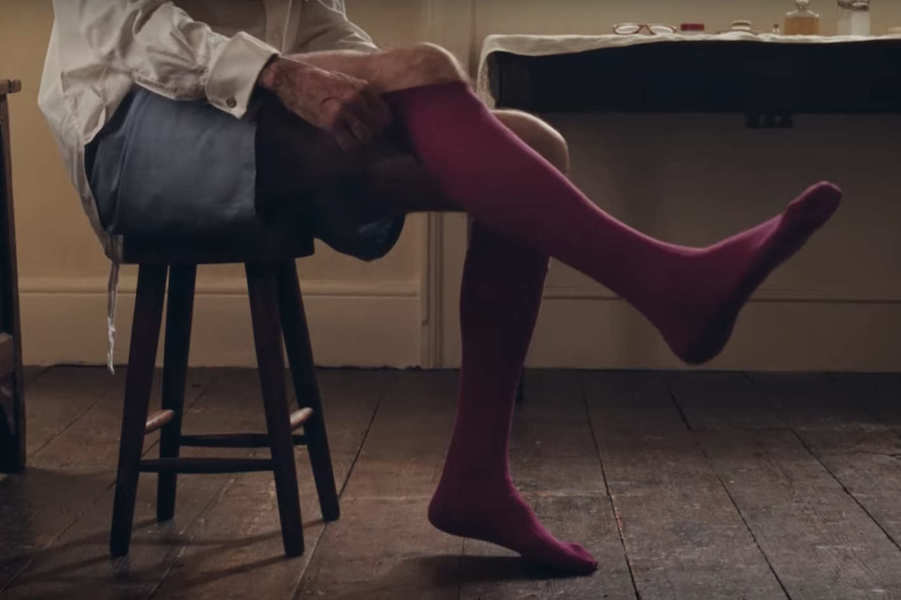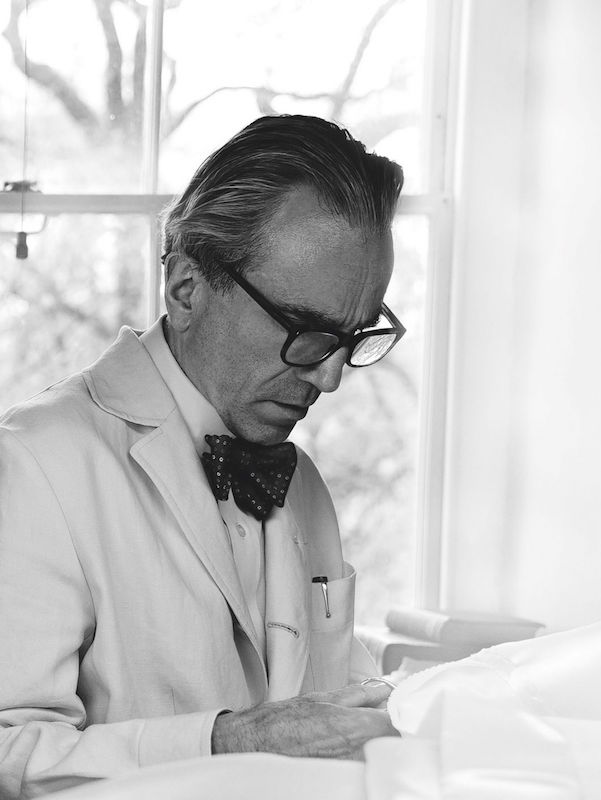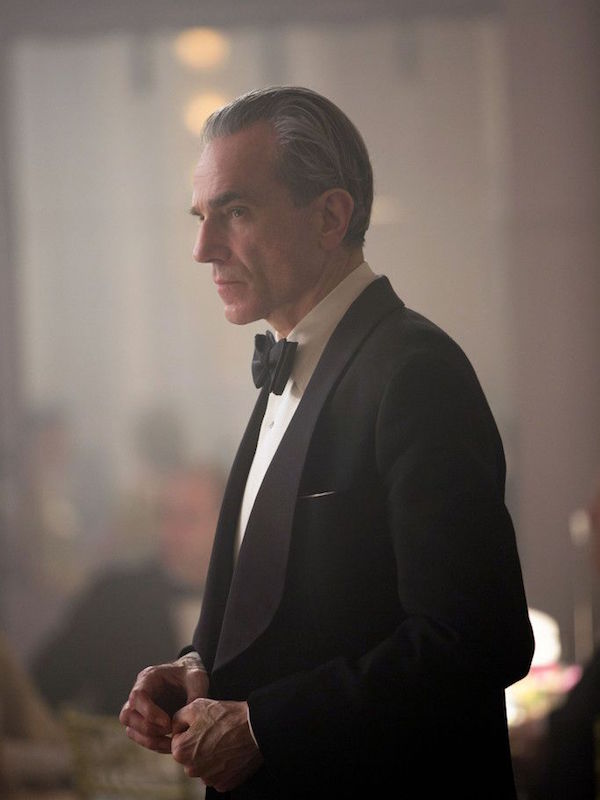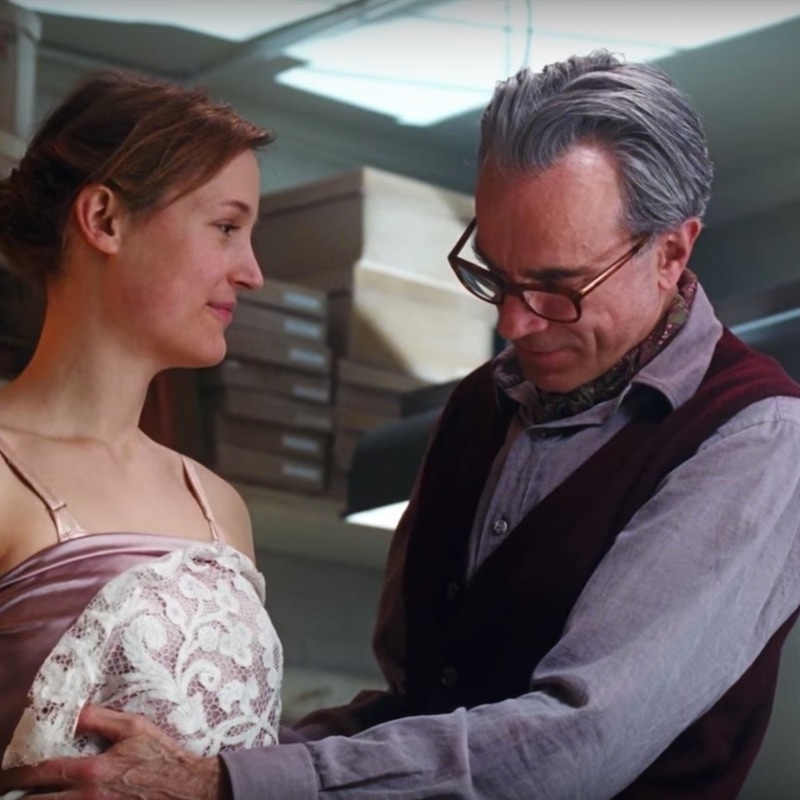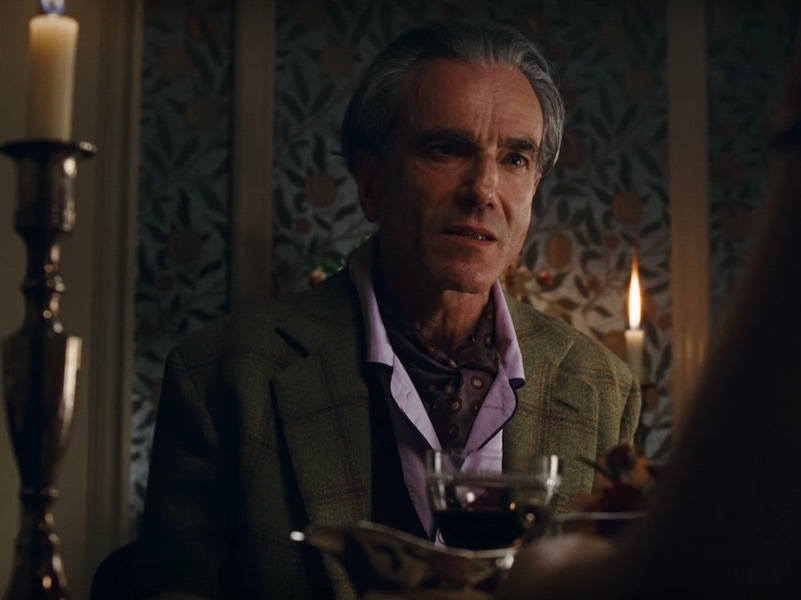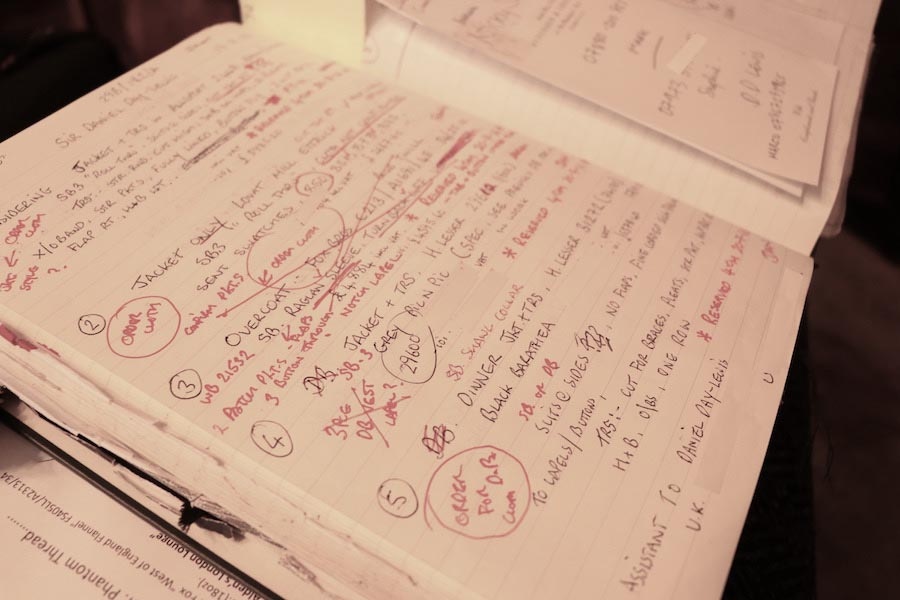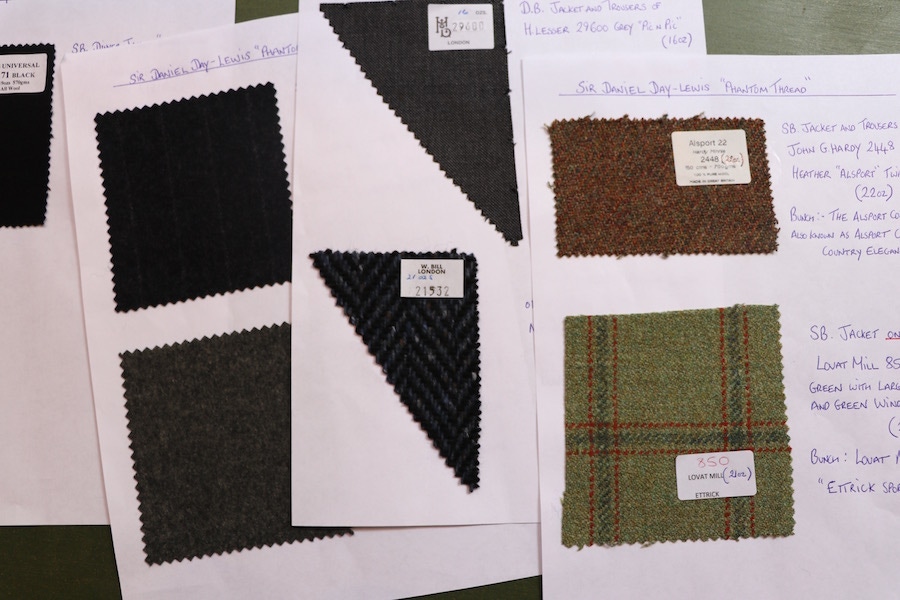 Inspiration came from research into a handful of rakish designers ­– Hardy Amies, Digby Morton and Cristobal Balenciaga – as well as Day-Lewis' father Cecil. Cecil was a loyal patron of Anderson & Sheppard, and Woodcocks' overcoat pays homage to him. "We're not known for doing a raglan sleeve," says Cutter Leon Powell, "so that was a challenge. He brought a photo in of his father wearing one and said he liked the style." It's likely Day-Lewis knew that a raglan is the perfect coat to wear over a suit – there is no seam in the shoulder, so it doesn't crush the suit seam, and it hangs loose so as not to crease the tailoring; the sort of details only an obsessive couturier would notice. "One thing you won't see on screen," Martin reveals, "is the name stitched into the lining of his breast pocket. We always do this with bespoke orders, but here we made a special case: on one side, it has 'Daniel Day-Lewis', and on the other side, 'Reynolds Woodcock'" – a subtle bespoke touch and an Anderson & Sheppard signature which attests to the attention to detail applied in the film. The tailoring itself has generous drape – a combination of the house cut and period authenticity – wider lapels, high armholes and a soft, natural shoulder. One of the more charming scribbles in Crawford's notes from his original meeting with Bridges reads 'Phantom Fred Thread' – "We had no idea what the film was about at that point," he chuckles, thinking back to 2016 when the process began.
The tailoring itself speaks of skilled craftsmen and exceptional quality, something Day-Lewis and his character both hold in high regard. The actor once spent over a year learning to be a cordwainer in Italy, and eschewed a career in cabinet-making to become an actor in his teens; he's set the bar for turning a profession into a craft. His obsession with finely made footwear has led to a long-term relationship with British shoemaking institution George Cleverley, whose Co-Owner George Glasgow Sr was even invited to star in the film as Woodcock's advisor (which he duly did). "We made him a pair of Oxford shoes which you can see him polishing with expert technique," Glasgow explains, "and one pair in suede, for the country scenes." Surprisingly, the affable Glasgow felt a kinship with Day-Lewis' exacting character. "In the game of craftsmanship, you've got to have so much focus. If you're doing things by hand, it's all in your brain –
your
mind alone – so you can't have distractions. When things go wrong, it reflects in the final product."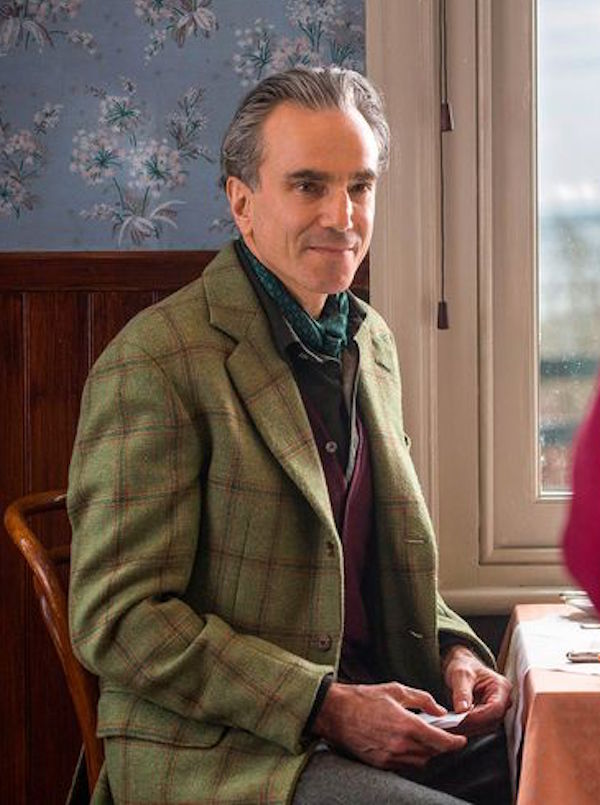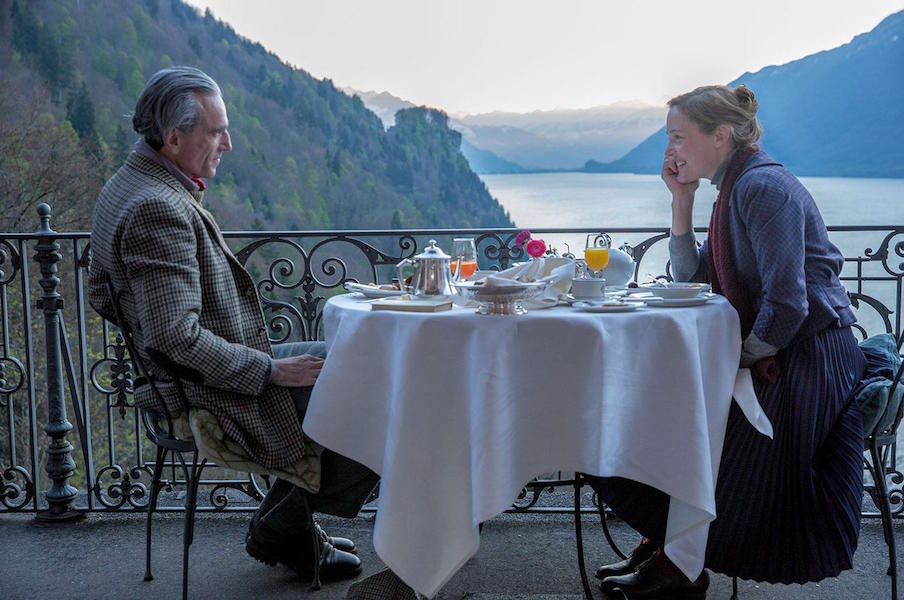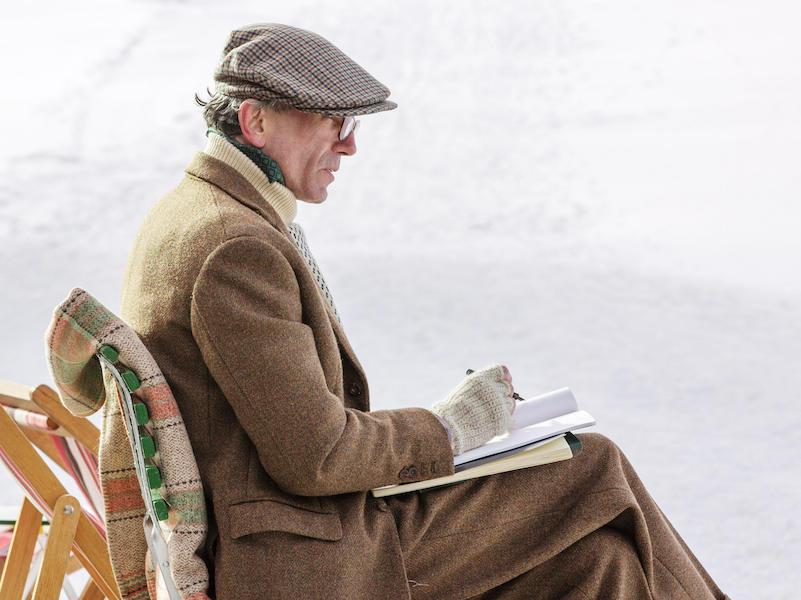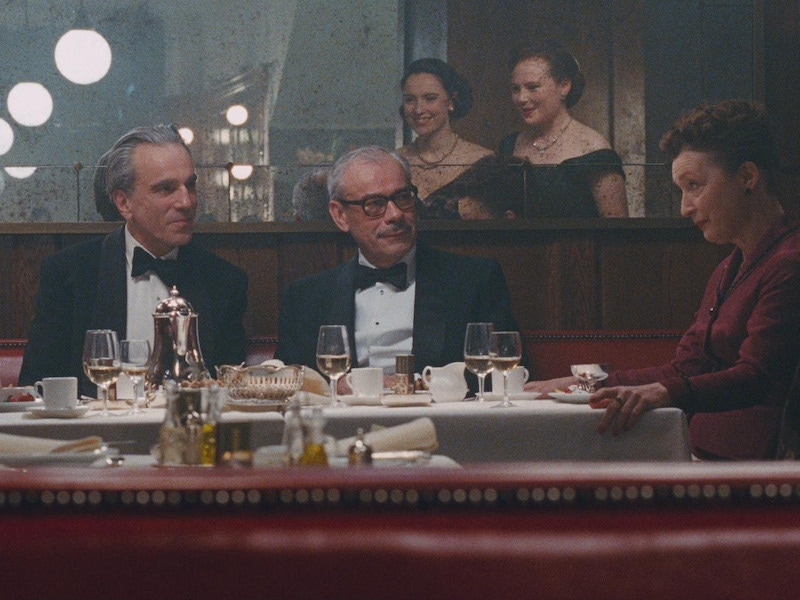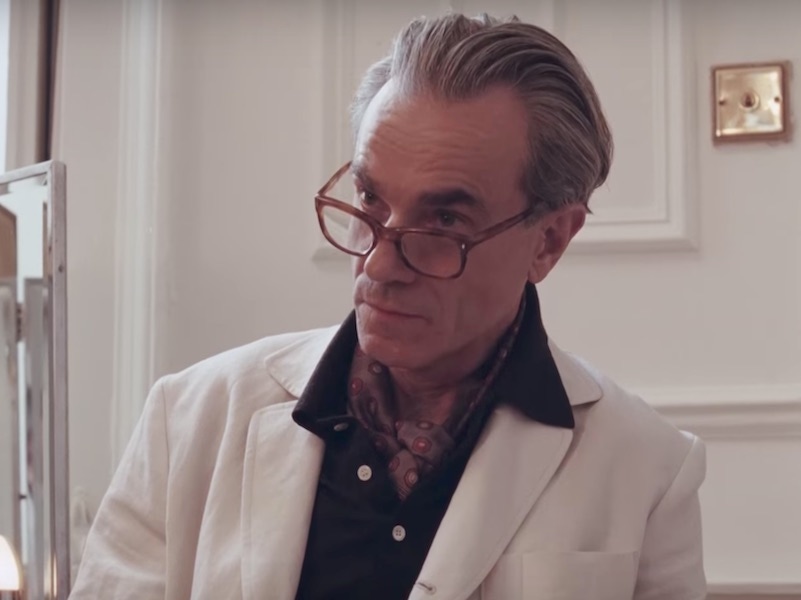 If craftsmanship is a game, Glasgow is certainly at the top of his, so perhaps his empathy is understandable. Both he and Day-Lewis are veterans of their craft, and their authority is the result of decades of experience. In
Phantom Thread
, Day-Lewis' silvering hair is a sign of his seniority, swept back using two military brushes, and cleverly complemented by the colour lavender. The colour is woven through the narrative; from his piped cotton pyjamas by Budd (handpicked by Day-Lewis and used to devastating effect in one scene) and vintage silk bow-ties, to the silk he chooses for Alma's dress, the colour is regal but refreshing. Day-Lewis also chose traditional knee-high socks in deep purple from Gammarelli, the Pope's chosen hosier, and drives a berry-red Bristol 405. "I think he leans towards those kind of royal colours," Mark Bridges told
Deadline
, who also felt "they were trademarks of the House of Woodcock – rich fabrics, rich colours."
Daniel Day-Lewis requested all the tailoring be completed three weeks before filming, so he could wear in the clothes and get into character. He chose the fabrics, attended fittings, took Bridges shopping in London (Drake's and Hilditch & Key were also paid a visit) and even got involved with the rest of the cast's wardrobe. His immersion into the process and Bridges' 30-odd years in the business evidently paid off, and last week the film won the BAFTA for Best Costume Design. Anderson & Sheppard has already received orders for imitations of the overcoat, and no doubt Budd's purple PJs will be a best-seller this year;
Phantom Thread
might be a period film, but it's timelessness has the potential to become a point of reference in menswear for years to come.