Charlie Stockwell & The Future of Custom Motorcycling
Charlie Stockwell, of Warr's Harley-Davidson in London, is a master in the art of motorcycle design, limited only by the wonders of his imagination.
Charlie Stockwell's greatest gift is his capacity to reach into your subconscious and unearth from it the inchoate goals related to the motorcycle of your dreams. Then, refracted through his own imagination, he will clarify and augment, he will reimagine and express a rolling masterwork of art — air cooled, V-twin, boulevard-decimating art that is greater, more beautifully poised in full orgiastic sculptural detail, than you could ever have imagined. As a result, he has become one of the planet's most sought-after master-bike builders. However, Stockwell, whose roots are in art and design, represents a new breed of bike designer, one that intentionally works from within the system so that the bikes he builds retain their
Harley-Davidson
factory warranty. He almost single-handedly ushered in the era of the modern bobber with his contemporary homage to stripped-down, rigged-framed, 'chopped' Harley knuckleheads from the forties. At the same time he has become the master of the GP-styled Dyna and Sportster, merging their timeless iconography with high-performance Öhlins suspension, Brembo brakes, and race-tuned engines. It was my pleasure to engage in Aristotelian discourse with Stockwell about what he feels is the future of custom motorcycling…
What is unique about the work you do at Warr's Harley-Davidson in London?
We are willing to go as far as the customer wants but give them the reassurance of a Harley warranty on their motorcycle. What we do is, mechanically, we keep the bikes 100 per cent Harley on the inside. So even if your bike looks incredibly custom, you could take it to any Harley service centre in the world and they would know what to do with it.
How did you get started working with motorcycles? 
I had a Saturday job here at Warr's back when I was 16 years old. I was studying art and graphic design. One thing I realised during school was that I couldn't understand how people could grade art. For me, no one is a bad artist. I told my teacher, 'Don't grade me, I won't continue university'. So I started working full-time at Warr's, at first as an apprentice. The guys were really good to me: they trained me up, I went to Milwaukee and then to Germany for Harley University. Now they have a facility in Birmingham and I go regularly. You need to understand how each new bike is designed in order to redesign it. After three or four years I was itching to be creative. So I asked the bosses here if I could build a custom bike. At the time there was no custom scene here, it was only what we saw in magazines from the States. This was 16 years ago. They were a bit reluctant but eventually let me build a bike, something very typical of the nineties, and someone from South Africa saw it and bought it.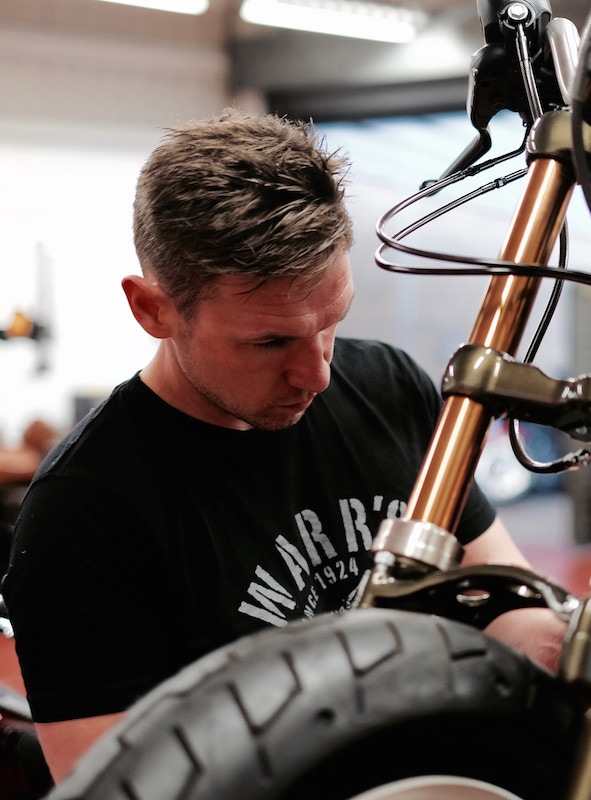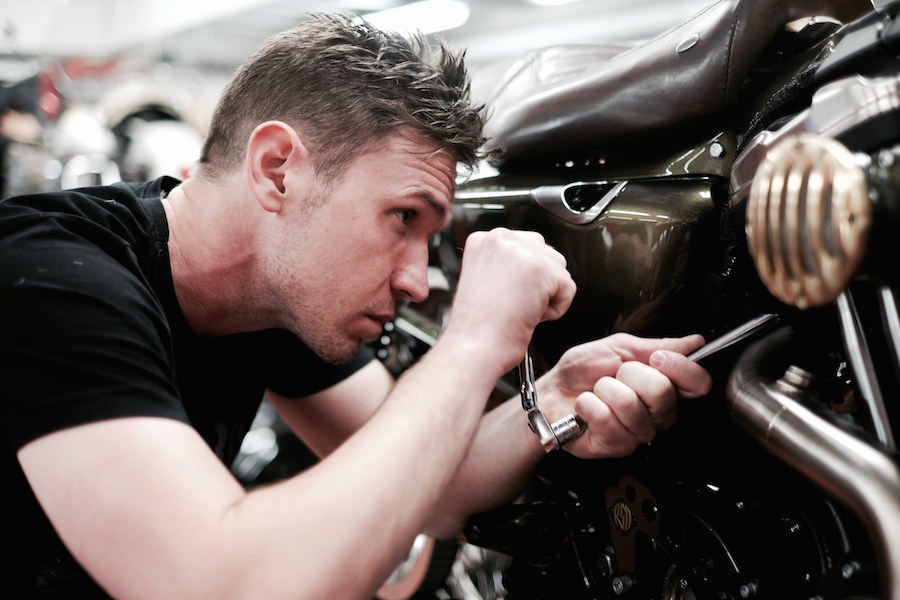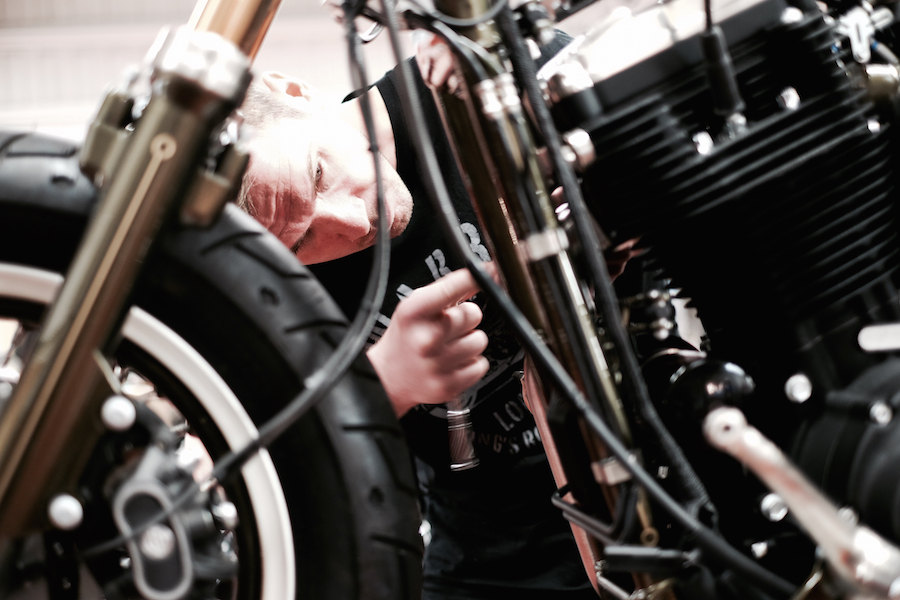 How did you get known for building some of the first modern bobbers? 
I started thinking, 'What do I really like?' and I started to focus on vintage bikes, specifically bobbers, and how we could make a modern bike look like one of these old stripped-down, rigid-frame Harley knuckleheads. Back in the day this was the way they customised Harleys. There wasn't custom product to put on them, so they modified them by taking things off to make them lighter and handle better. They would take the rear fender off at the hinge, take off the roll bars, all the non-essential stuff, and reduce the bike to its bare minimum. Initially we made a lot of these based on Springer Softails, as this model didn't sell well in the U.K.
Why get a modern bike styled like a vintage bike? 
The vintage bikes are great but you have to tend to them all the time. On these modern bobbers you can jump on them and they start every time, they have brakes that work, they don't leak oil, you have all the modern advantages of a new bike, including the factory warranty. We can fabricate almost any part for these bikes, so the self-expressive potential is huge.
You seem to have a lot of affection for Harley's smallest bike, the Sportster. Why? 
I love Sportsters, especially the ones they are producing now with the Dark Custom line, the Forty-Eight and the Roadster. Right out of the box they look cool, which tends to make my job a little bit easier. It's a light, nimble bike, so that when you put the performance products on it you really change the handling. And most importantly it's the bike that appeals most to young people, and we need to connect with the next generation of customer. We need to connect with female customers, too. Look at the Roadster, with its sport bike inverted front-end. It's not the bike that the middle-age guy with the bald head and the beard is riding.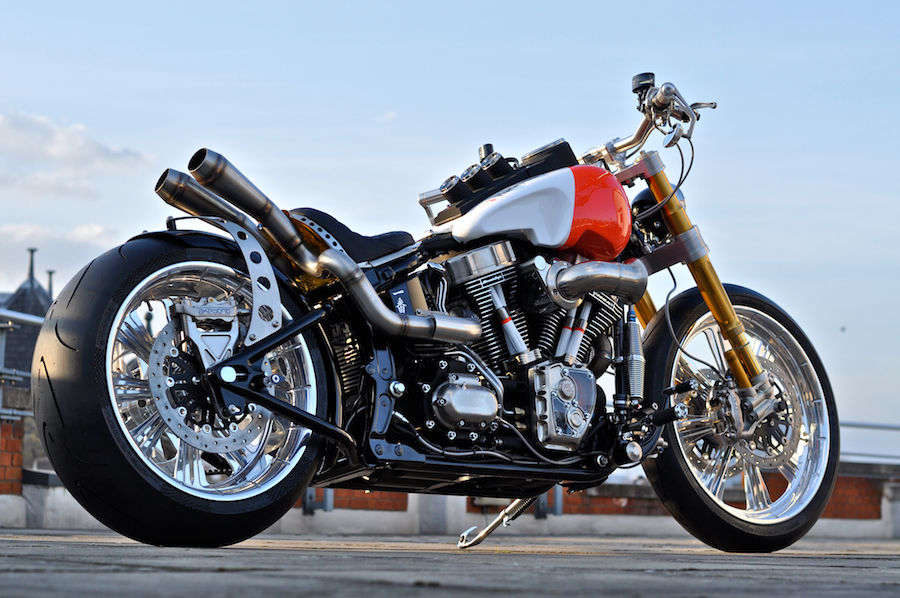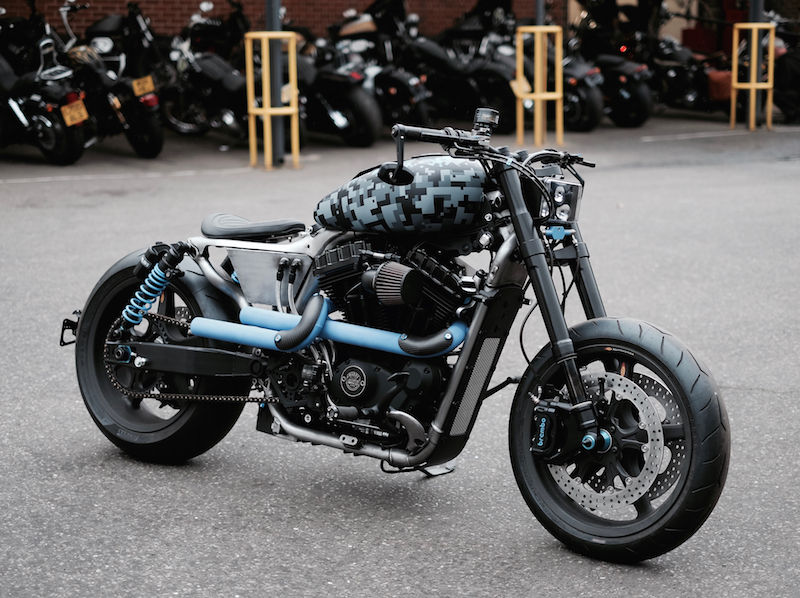 What is the ultimate performance Sportster to you? 
I have a customer that is a young, very cool, guy from Russia. He came in wearing a Richard Mille sapphire tourbillon. He loved racing cars and his favourite colour was blue. So we created a bike using the Öhlins suspension and a race engine. Then we had BST make us a set of custom carbon fibre wheels using our hub width measurement. It was really important to reduce unsprung weight, and these wheels completely transformed the handling. Combined with the powerful engine, they are a real revelation. We blue-ceramic-coated a Rough Crafts exhaust, and we did a grey-blue matt digital camouflage paint on the tank.
Tell me about the bike you built for Huntsman Chairman and owner Pierre Lagrange…
Pierre has been a long-time motorcycling enthusiast and he used to ride with this famous group of actors, which included Lauren Hutton and Jeremy Irons. He has a very sophisticated style, so his motorcycle had to be very elegant and timeless. The details on the bike are really interesting. For example, his rear fender looks like an old hinged rear fender but in fact it's been fabricated only to look like that. I tried to imagine what Pierre, in his capacity as the Chairman of Huntsman and as a champion for Savile Row, would ride. Pierre famously had the interior of his Aston Martin DB5 Shooting Brake upholstered in Huntsman check tweed, so we decided to also craft his saddle bags with tweed to match this theme.
Would you ever work for Harley-Davidson in a design capacity? 
It might be interesting to work for a corporation but only if there were no restrictions. If I worked for Harley-Davidson I would have to build bikes for millions of people, and I think that would come with restrictions in terms of what you could do creatively. When I build a bike today I build it for one person. Possibly you. And as such, we are only limited by what you and I can dream of.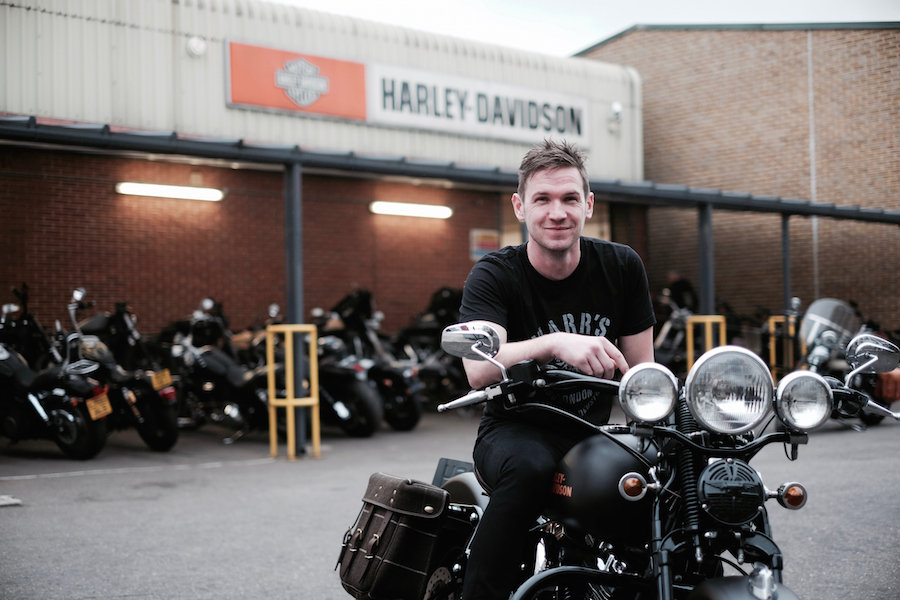 Read the full story in Issue 49 of The Rake. Contact subscriptions@therakemagazine.com or subscribe here.