An EXCLUSIVE COLLECTION BY LUCA RUBINACCI FOR THE RAKE: Available Now
Luca Rubinacci's virtuoso use of colour has earned him a reputation as a sartorial leader for the 21st century. Now, the scion of the Rubinacci tailoring dynasty has lent his personal touch to a collaboration with The Rake.
Luca Rubinacci's family are not simply masters of the alchemic métier that is Neapolitan tailoring, which reconciles the seemingly disparate elements of effortless comfort with immaculate style. The fact is, they created it. Indeed, it was Luca's grandfather Gennaro Rubinacci who first removed the stuffy horsehair and canvas in British tailoring and thus pioneered the first jackets that were, as they say, "as light as the winds over Vesuvius". The result was a style that soon captivated the world for its slightly more relaxed, softer construction, which brought with it a powerful dégagé elan and sense of effortless chic often described by pundits as sprezzatura. Although that word is overused today, and its meaning has become diluted and co-opted, when you look at a Rubinacci suit — the way it moulds to the body like "a second skin", as Luca puts it — you'll understand the original essence of the term. But more than that, the Rubinacci family are masters of colour and pattern that can be wielded classically, as with Luca's father, the inimitable Mariano Rubinacci, or with unabashed daring, as is Luca's way. In fact, you would imagine there is no playground more suited to the younger Rubinacci's imagination than the world of infinite chromatic possibility represented by his family's bespoke tailoring. It was for his use of colour and pattern, combined with the perfect fit, that helped Luca Rubinacci ignite the world of social media. Scott Schuman, my friend and the legendary street-style photographer, says: "The first time I saw Luca, I was blown away by his style. Here was a young guy in his twenties but dressed in the most immaculate classic style and suiting. But it was his use of colour that expressed a youthful joyfulness, and I think that's what allowed him to connect a new generation to tailoring." It is in Luca's capacity to act as a gateway to the next generation — to transfer all the craft, fit and style of classic tailoring using provocative colour matching — that has made him arguably the most important influence on the renaissance of classic style. Now, a good decade after he burst on to the scene, and content and happy as a husband and father, Luca has developed a voice of greater maturity. Critically, he has learned to use colour with greater subtlety and modulation to dress innumerable overjoyed Rubinacci bespoke clients. This autumn, Luca has used that same extraordinary skill set to create an exclusive collection of Rubinacci ready-to-wear tailoring that demonstrates his unrivalled mastering of hues. "What is most important to me is that I learned that everyone wants to wear colour but most people don't want to wear it as provocatively as I do," he says. "So for my first
exclusive ready-to-wear collection for The Rake
, I wanted to create clothes that look from afar as if they are solid colours, or with at most simple patterns. But when you come close you realise there is subtle, almost hidden, colour woven into the cloths that give them amazing character but without drawing too much attention to yourself.
The buying window for this pre-order collection is now open and will run for 2 weeks, closing on Wednesday 22nd September. Garments will arrive 8 weeks after the buying window closes. Please email shop@therakemagazine.com for further information.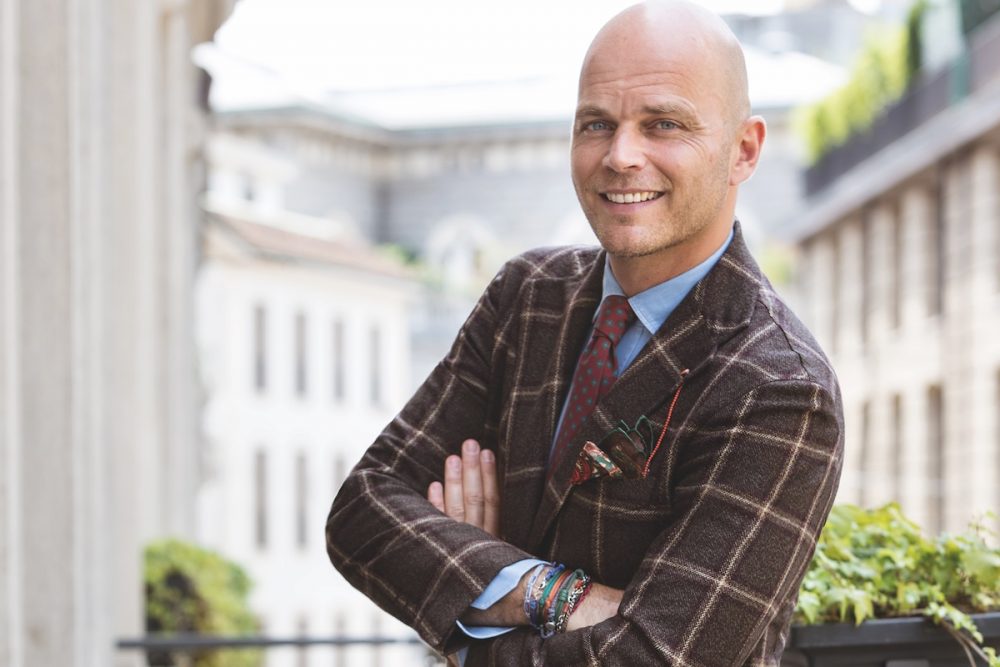 "This collection expresses the joy of embracing the world again, and they are clothes that should uplift you and make you feel happy and optimistic. Across the collection you will find our most iconic styles, from our Gurkha trouser to our 6x1 double-breasted jacket to our Ulster coat to our Sahariana (a safari-style overshirt). All of these garments came from my personal bespoke wardrobe and have become our bestsellers in ready to wear, but I wanted to offer our fans the possibility to purchase these iconic styles combined with some of the most special fabrics we've ever used in The Rake collection." The first thing you might notice about
Rubinacci's ready-to-wear collection for The Rake
is that it is considerably more affordable than you might expect. Luca says: "I would like to point out that this ready-to-wear collection is priced ethically and accessibly. For me, the ready-to-wear collection is meant to be a bridge for people to have the first taste of Rubinacci — they might become bespoke clients one day. In the same way that I was one of the first in classic elegance to use Instagram as a way of connecting with people, I recognise the importance of this ready-to-wear collection as a way to reach a broader audience. For me, this has always been a priority. "When I started to work with my father, the average age of the Rubinacci customer was 50 to 60 years old. We both recognised the need to reach a younger audience to assure the next generation of customers. So I focused on wearing Rubinacci in a way that was relevant to a modern audience. I began to meet clients and to really focus on creating a strong ready-to-wear collection but at a very strong value in terms of price in order to be this bridge. "When I was 22 I think you will recall I was a lot more flamboyant, but this was to show younger people that you can wear classic style and Neapolitan tailoring in a fun way, in a sporty way, in a way that you could use to express your personality. Most importantly, I wanted young people to think of suiting as something to wear for pleasure and not necessarily for business — to wear a beautiful jacket and tie should be something you do for pleasure, not because you feel obligated to." Luca's image, style and personality exploded in popularity on social media. The result was a growth in business from 300 bespoke suits a year to 1,000. The average age of a Rubinacci customer quickly fell to someone in the thirties to forties range, with many clients in their twenties. "Recently I had a young Milanese woman walk into my shop who was in her early twenties," Luca says. "She said to me, 'Luca, it's my boyfriend's birthday and I want to present him with a pair of your iconic trousers'. I asked her how old her boyfriend was and how he knew about our trousers. She explained that he was 22, and among their community our Manny Gurkha trouser had become incredibly popular — almost a community symbol for their friends. This made me really happy, to see young people wearing Rubinacci with so much passion." Rubinacci's perspective on his
ready-to-wear collection
has always been to offer the best value possible to his customers. "You know, when people learn the price of our ready-to-wear, they are often surprised," he says. "For us, as a tailoring firm, it was very important that we offered a strong value proposition. We are able to do this because we don't have to pay for big advertising campaigns like fashion brands. We are also able to do this by making the clothes in a smart way. Ready to wear doesn't need to be 100 per cent handmade. For me, that is reserved for bespoke. There are some handmade details, but this is just to give what I call 'the flower', or the special touch to the clothes. "Using the ready to wear I am also able to offer the iconic styles of Rubinacci with clothes that are easy to purchase and effortless to wear. People can try on our Manny trouser or our 6x1 double-breasted jacket and understand what our style is about. At the same time, we love to interact with our clients, to learn what they want. I made a much slimmer version of the Gurkha trouser, called the Genny, without pleats and with a slimmer cut, when I realised not everyone wanted a wide-legged pant. My focus is on giving our clients exactly what they want. Who is the Rubinacci client? He is someone who loves classic style but wants to wear it in a way that is fresh and young. And he can match any jacket with any trouser from our collection, as they are all designed to work perfectly with each other." Rubinacci considers it vital that his clothes have maximum adaptability and are effortless to style and wear. He says: "When I approached this special collection for The Rake, I wanted every single item to be able to be worn with other garments, meaning every trouser goes with every jacket which goes with every shirt. It represents a renewed exuberance for dressing up as the world shifts back to in-person socialising. "One thing I realised is that people come to Rubinacci for colours but at the same time the average client is not as flamboyant as, say, you and me, Wei. So this gave me the idea to create an amazing capsule collection that is full of colour but the colours aren't in your face. I couldn't do this in summer, because if you put red in a cotton or a linen, it is very apparent. But for fall and winter you can use fabrics where the colour can be added as a tone or a detail, which is much more subtle. This is why I used a lot of flannel that had two colours. For example, there is a pair of trousers that has a beautiful red, like a Bordeaux, but also black, to make it much more subtle. People will only really notice the red if they are seated next to you in a restaurant. From afar the colour is much softer." Without further ado, it is my sincere pleasure to present each look from The Rake's exclusive collection with Luca Rubinacci, as well as his comments on each garment. The clothes will be available strictly as pre-ordered items. Please also enjoy the video interview with Luca about this collection, conducted by me and Tom Chamberlin, which you can find at the beginning of this article.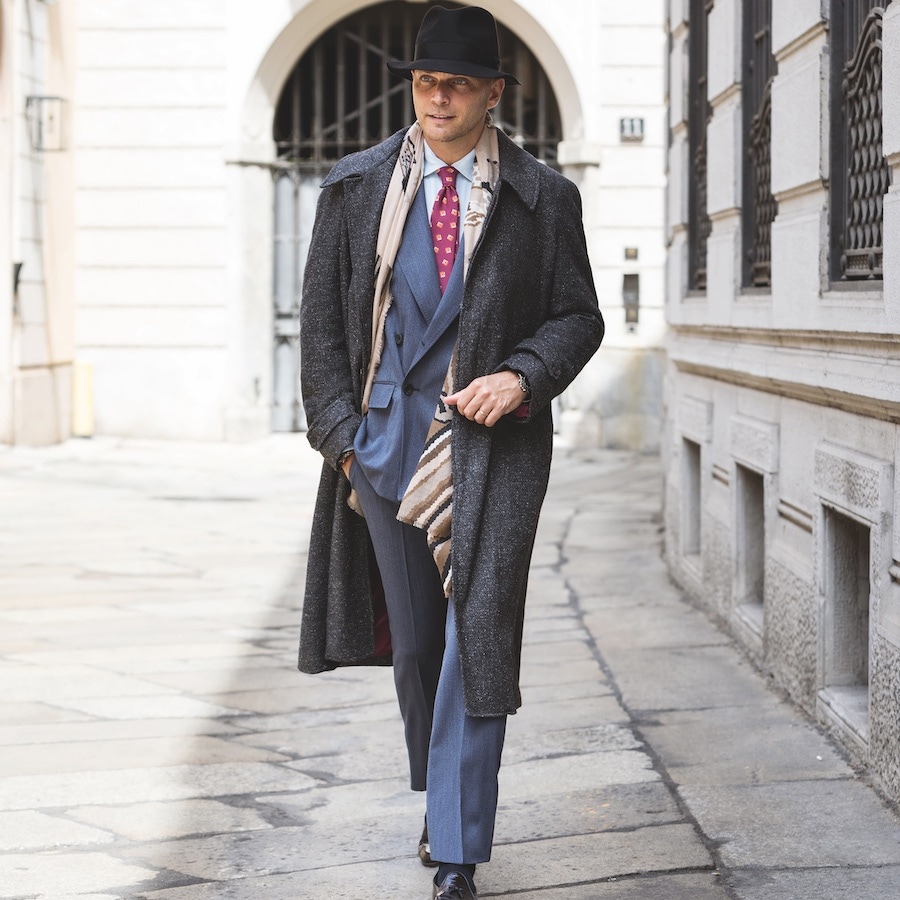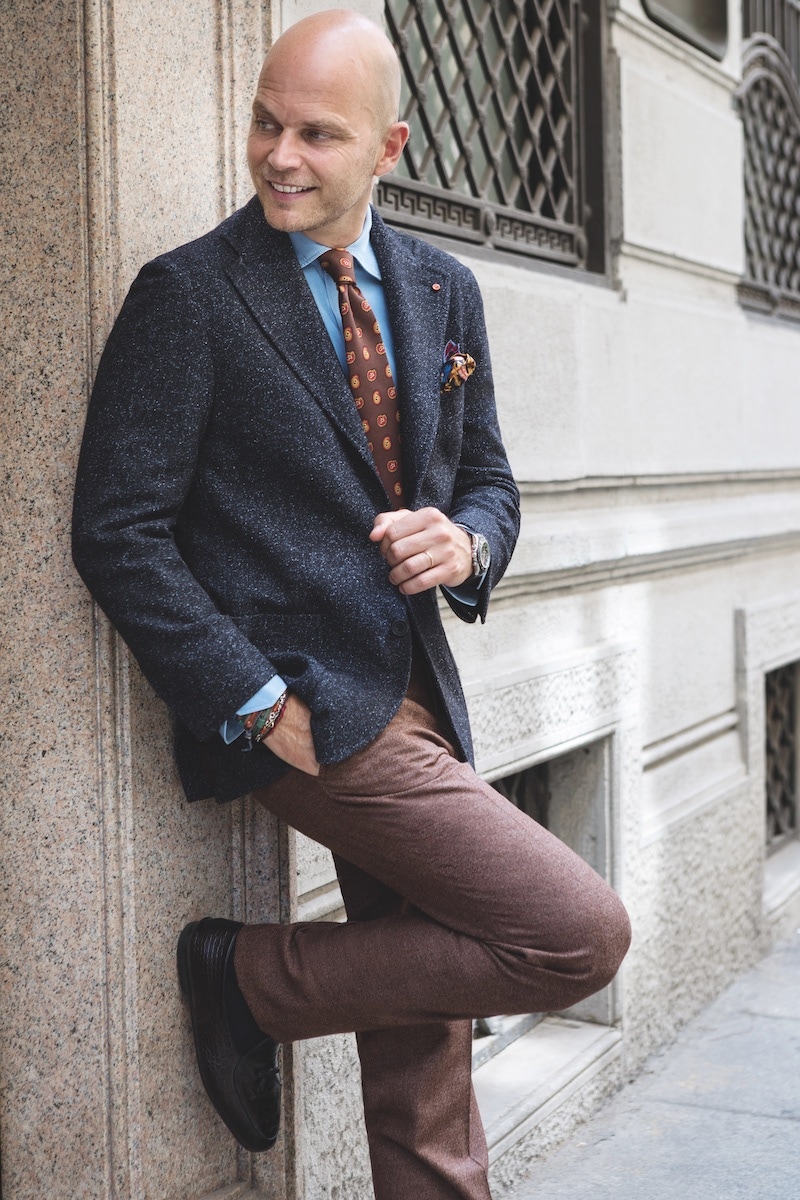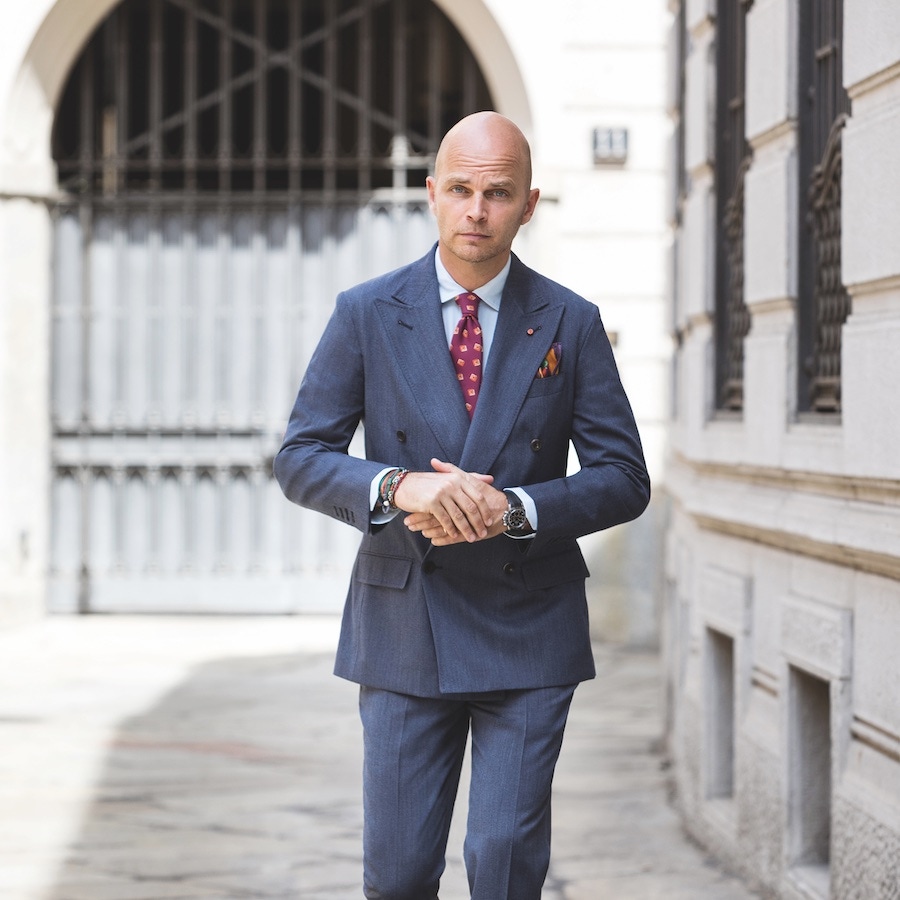 Look 1 and 2 Luca: The first jacket is one of the most adaptable garments I've ever created. It is a single-breasted jacket, totally unstructured and super-soft, with our famous spalla camicia in a dark grey with a vibrant blue Prince of Wales pattern. You can match this with blue, grey, denim — anything. The trousers I'm wearing in the image are a beautiful blue-grey flannel that perfectly replicates the colour of denim to me, and done in our Gurkha style. In the second image I am wearing a single-breasted checked jacket that uses different shades of brown with Bordeaux, which is why I've matched it with a Bordeaux tie. I've matched this with a pair of trousers that has become one of our most popular styles: dress trousers with pleats and a drawstring waist that even look great with turn-ups. They are amazing in that they feel like pyjamas when you have them on. Look 3 Luca: The third look features an incredible double-breasted suit. It is made to look like denim, but the fabric is 100 per cent worsted wool woven to replicate denim's texture. What I love about this look is that it is perfect for business but also for pleasure. If you want to wear it with a tie you can, or you can wear it with a blue turtleneck or even a long-sleeve polo — it is the perfect relaxed but tailored style. The jacket is made in an extremely Neapolitan style, with no canvas, no wadding or horsehair inside, so it fits you like a second skin. Our jackets are cut in the tailoring workshop, but we sew them in the shirting workshop to give them the characteristics and suppleness of an overshirt. You can also wear it very easily as separates — the jacket with a pair of jeans and the trousers with a blazer or a knit sweater. I've also paired this look with an oversized Raglan shoulder coat. I love the fabric of the coat. It's a grey Donegal tweed with the wonderful white dots that bring so much texture and life to the garment. It's a kind of statement Raglan coat. With both the suit and the coat you can fine-tune the fit. I tend to wear my clothes a bit looser, but if you wanted it more fitted you can simply go down one size. All of our iconic garments, like this coat, come from my personal wardrobe. The collar on this coat is something I designed, because I love this big, heroic look.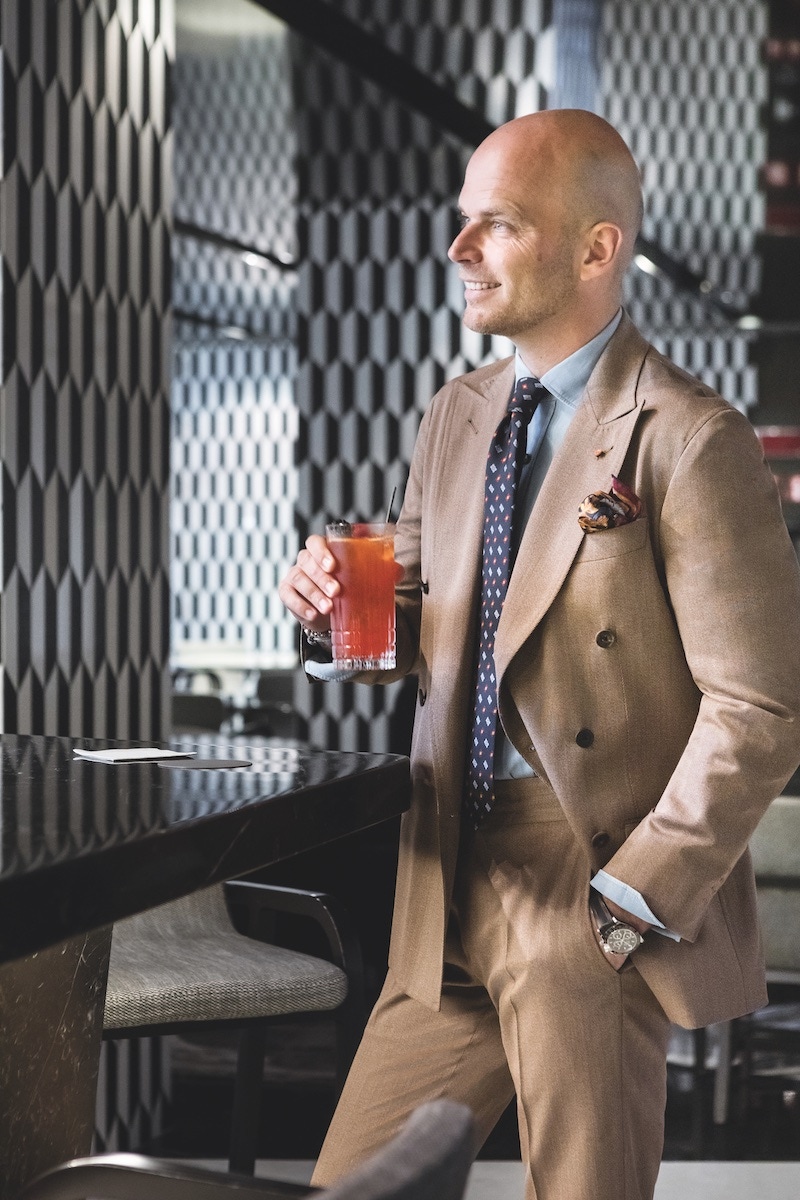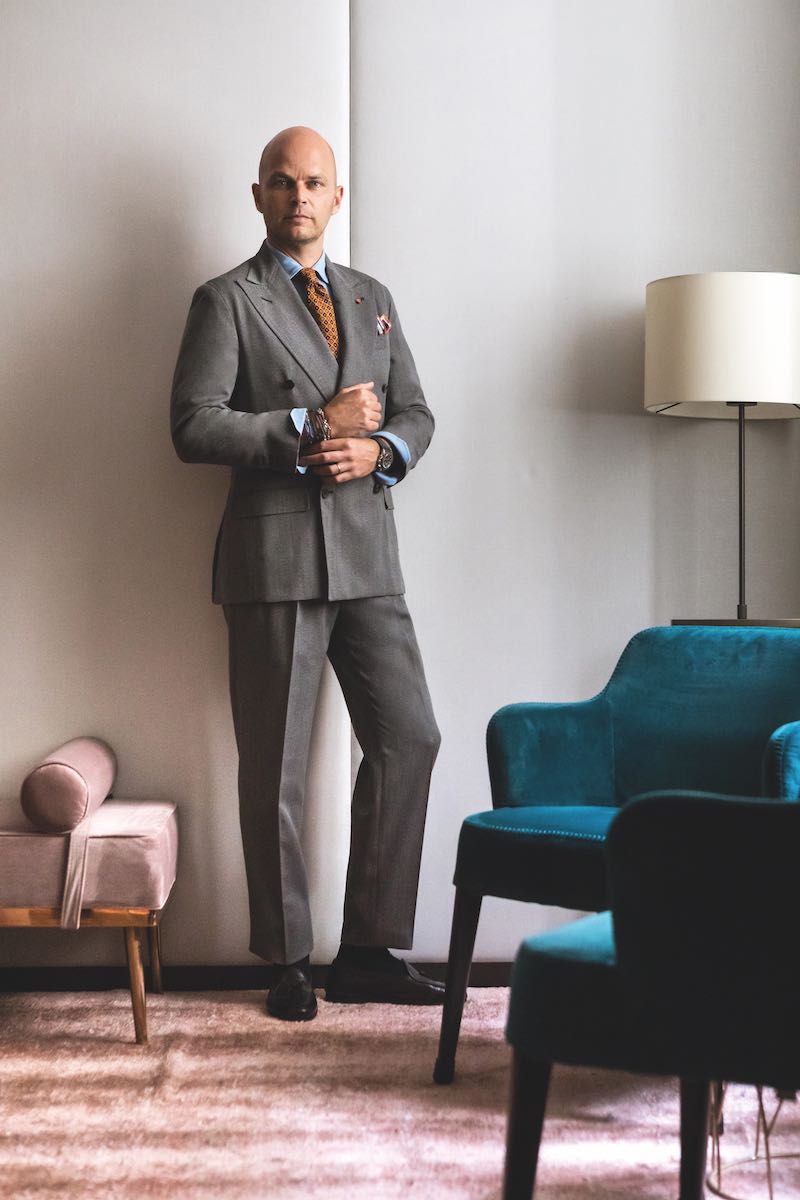 Look 4
Luca: The next look is a fantastic cobalt-blue Donegal tweed blazer with these wonderful white details in the fabric. I've matched these here with a brown flannel trouser. We achieved this very special colour using a subtle burnt-orange undertone with some black, to make it less poppy. The look is completed with the coat that everyone recognises as our iconic Ulster, one of the most popular items we've created. Here, we've made the coat with a beautiful grey-brown that can mix with anything. Our coat is known to have a really beautiful silhouette, with a slightly narrower overwrap and a really wide collar. Before I create anything I always test the fit, I always test the fabric. If you want to be the best ice-cream maker in the world you have to eat a lot of ice cream. The Ulster, incidentally, is one of the most expensive garments for us to produce: if you look at the details in the back with the long vent that you can button up, the half-belt — there are so many details. It really is one of the most complicated coats to make. I think of tweed as being one of the most elegant fabrics. It expresses joy, exuberance and style in such a cool way. I like the touch of roughness or masculinity, like the way that Wei and I ride around in tailored clothing on our Harley-Davidsons.
Look 5 and 6
Luca: This is really unique, in that it looks a bit like a Solaro fabric — actually, it's a woven twill. The weight is 320 grams, or 11 ounces, and it looks incredible. I've made the suit with the Genny trousers, to give a very sleek shape to the overall look. It's funny, but when my father saw it he asked me, "Did you make a Solaro suit?" But it was the way the fabric was woven that gives it this subtle contrast. It makes it perfect as a suit, but also great to be worn as separates. The trousers are great with a blazer, while the jacket is perfect for a pair of jeans. It is effortless to wear. For the next look you have the iconic Rubinacci double-breasted suit in grey. This is kind of a serious suit, so that's why I'm making my serious face in the picture. This is the most useful garment in the collection, in that it is perfect for every occasion. You can wear it to work but you can also wear it to dinner and even on the weekends with a roll-neck or denim shirt, as I've styled it here.
Look 7
Luca: Here you have a navy blue jacket with a subtle Bordeaux Prince of Wales check. This is what I love about clothing — when you add a very nuanced detail and it allows you so many possibilities for matching and combining colour. This is really me, and it's also really Rubinacci: clothes that are apparently simple until you look closer and can appreciate all the beauty in the small details. I like the idea that when the clients open the box and take out the jacket they will say, "Wow, it looks so much cooler than in the pictures". I have paired it with Bordeaux trousers, but again, the colour is very soft and subtle. You only see them as Bordeaux because I've included a Bordeaux tie in the outfit, which makes it a bit more vibrant but still very elegant. My idea is that when you are seated at the bar at a beautiful hotel, people will come closer to see the details. So if you accept to wear this look, you have to accept that a lot of people will come up to you and ask you about your clothes.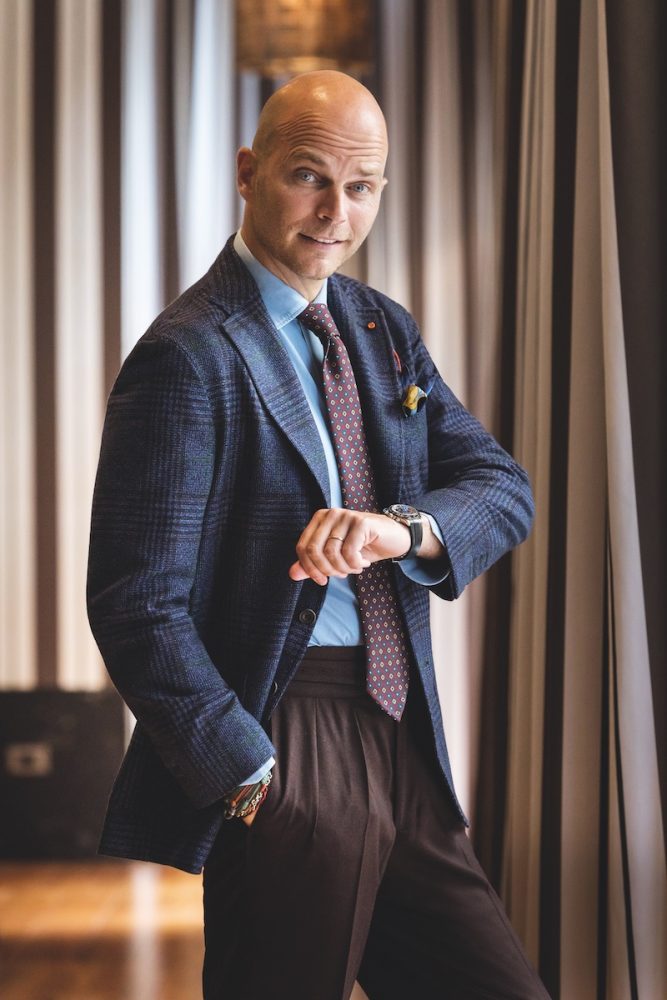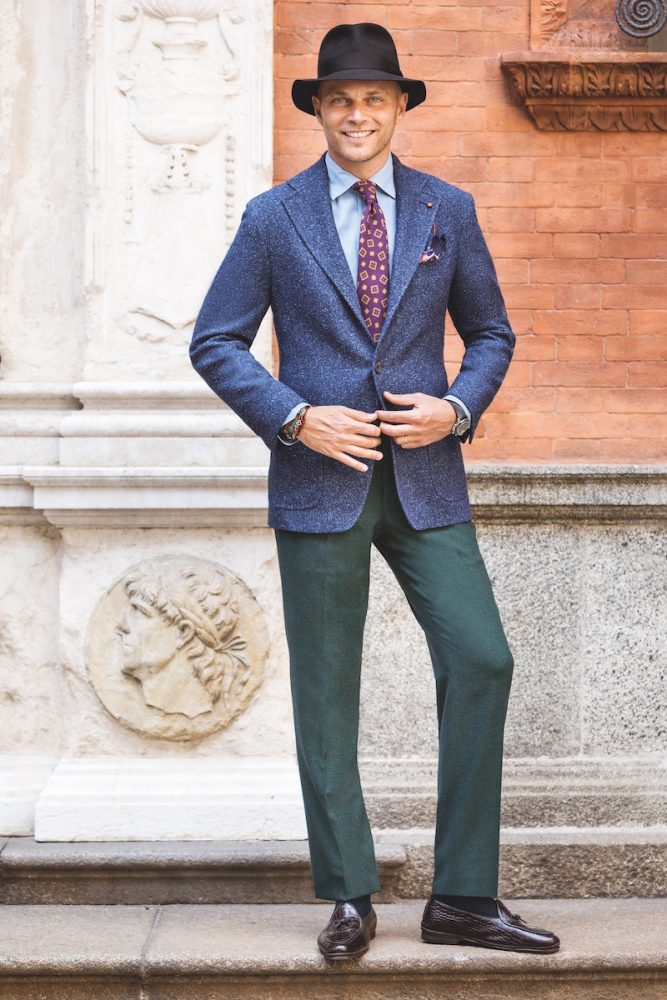 Look 8
Luca: The Sahariana is basically an overshirt with some safari-inspired details. It is the most comfortable garment you can own, and is perfect with a collared shirt as well as a T-shirt or turtleneck. I love this check pattern: it is probably one of the most iconic in tailoring, and when you use it in a formal jacket it is very busy. But in something more sporty and relaxed, it is perfect and makes the shirt very fun and adaptable. You just throw it on over anything and you are ready to go. Emotionally it's a comforting feeling, like you are wrapped in a security blanket. I've paired them here in a medium-grey flannel trouser in my drawstring model. This is a look for a gentleman who wants to look elegant but feel like he is in his pyjamas — which, after the pandemic, I think has become very popular. Comfort is so important, but then Rubinacci has always been the most comfortable tailoring in the world. My father jokes that our clothes are light and effortless to wear because in England you shake hands but in Naples we hug each other, so we need the freedom to move in our suits."
Look 9 and 10
Luca: I have made two more Saharianas. The first has a great pattern that was inspired by Native American blankets. It is beige but with a brown and green check, which I love. When I found this vintage fabric I knew we had to use it. This is an amazing fabric that I found with one of our suppliers; it is stunning. I want to mention something about the adaptability of our fit. In the images here I've worn everything a bit on the large side. But that's because I like my clothing to be a bit loose. If you want a more fitted look, you can always go one size smaller, especially on garments like the drawstring pants and the Sahariana, which are cut for comfort. The final Sahariana is the equivalent of the grey suit — it's the most easy and adaptable garment to wear and it's executed in a stunning brown herringbone. It's perfect for jeans or with slacks and a black turtleneck at nighttime.
Look 11
Luca: The final look is the most daring of the
collection
. I want everyone who buys this look to send me a picture and I'm going to post it on Instagram. Look at these trousers — they are a soft and subtle green that are surprisingly adaptable. Then look at the lighter blue Donegal tweed jacket that is so beautiful. It's the perfect colour. We will make a hashtag for this whole collection: everyone has to tag #lucafortherake. With special thanks to the
Mandarin Oriental, Milan
The buying window for this pre-order collection is now open and will run for 2 weeks, closing on Wednesday 22nd September. Garments will arrive 8 weeks after the buying window closes. Please email shop@therakemagazine.com for further information.