Holy Smokes: The Cigar Bucket List
Our resident cigar expert and aficionado counts down his five most sought-after smokes and considers how cigars just keep getting better with age.
Whenever I'm asked "what is my favourite cigar?", I'm stumped. It's an incredibly hard question to answer. It's like being asked your favourite movie; there's never just one answer. So many factors influence my recommendations such as the occasion, time of day, the company I'm smoking with and then the location. Trying to compile my top five most rare and desirable cigars opens up a Pandora's Box of choices. Even as I am writing this, I'm wondering if I could choose something even rarer. As the Director of Casa Puro Ltd and Manager of the Edward Sahakian Cigar Shop, I've been very lucky to have smoked a number of rare and vintage cigars and have had some of the rarest and most expensive cigars in the world pass through my hands. Like anything, value is what we are willing to pay for something. Whilst there are many that will say that the prices are ludicrous, that no cigar is worth over £100.00 and aged cigars are no good, there are the ones who appreciate them and are willing to pay for the pleasure of owning or smoking them. On that note, here are my top five (in no particular order).
1. DUNHILL ESTUPENDO - Julieta no.2, 7" (178mm) x 47
In the last two years, Cuban made Dunhill cigars have suddenly become incredibly collectable. For a cigar brand that was only made from 1982 to 1991, they are the number one cigar brand on collectors' wish lists. Prices have doubled in this two year period and they have now become so expensive that your average cigar smoker/collector cannot afford them. They have become bucket list cigars. I have only tried one Dunhill cigar in my life and unfortunately, the one I smoked wasn't in good shape and was pretty flat in flavour (not what I was expecting at all but, one day I will smoke another for comparison). Boxes are now changing hands for values north of £8,000.00.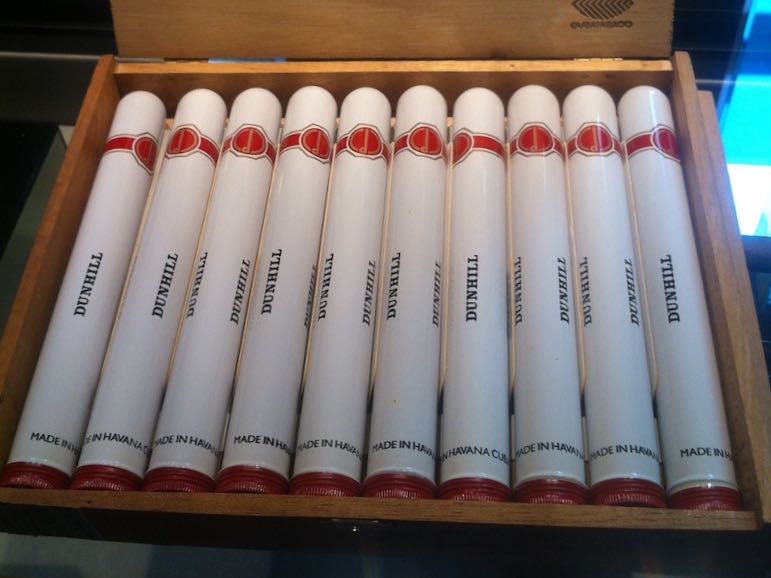 2. DAVIDOFF ANNIVERSARIO NO.1 – Giant Corona, 8.7" (220mm) x 48
These are the Cuban originals, made side-by-side with Cohiba in the most secretive of all cigar factories (El Laguito) in Havana back in the day. They were released in 1986 to commemorate the 80th birthday of the Grand Master of Cigar Aficionados, Zino Davidoff. This behemoth of a cigar is so imposing that when you smoke one, you will be the centre of attention - certainly not for the shy and retiring type. At a little under 9" with a ring gauge of 48, the Anniversario No.1 is a rare stick and commands a high price. A Davidoff collector told me that this was his favourite vitola from Davidoff, because when he smoked it, he tasted three Davidoff cigars and this was a unique taste experience for him.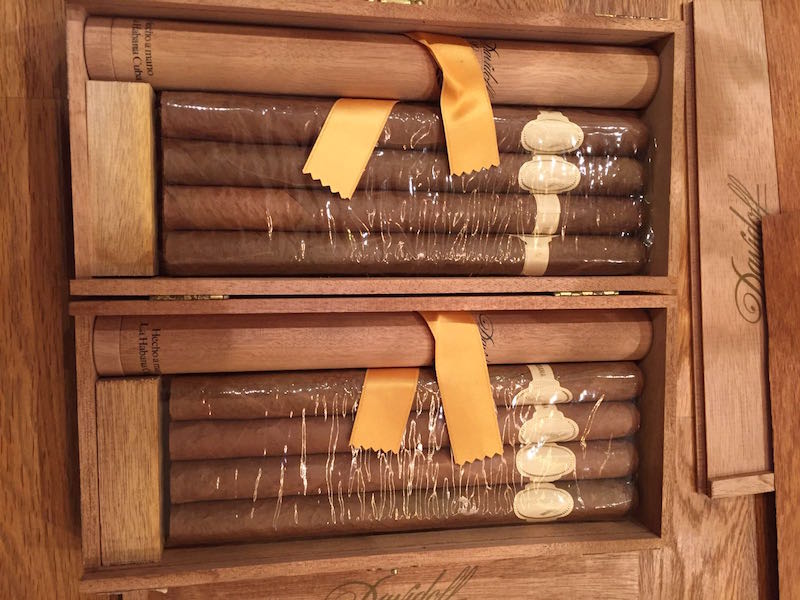 If you are lucky enough to come across cigars which are called pre-embargo, that's pre-1962 to all you non-historians (that's February 3rd, 1962 to the nit-pickers out there). We have an early 1950s cigar at the Edward Sahakian Cigar Shop. It was very common pre-embargo to have Cuban cigars commissioned by foreign companies as gifts or promotional products. We have a box of cigars made for a company called Beck y Co in the vitola of a petit corona, not cellophane wrapped. They have a wonderfully designed and embossed red and gold cigar band. Whilst this is all very nice, I'm more impressed with the actual shape of the cigar. It is the size of a petit corona but it has a dropped head instead of a traditional flat or slightly rounded head. A dropped head (it is more commonly known as a Conde 109 finish) is like a piramides finish but, instead of tapering into a point, it is more rounded. These are definitely in the rare and vintage category, as these boxes trickle on to the market very slowly and quietly. The tobacco is exceptional as it came from a different seed to the one planted today, so it does age differently and taste different. Even after 60 years, the tobacco still has character albeit in a quite mild form.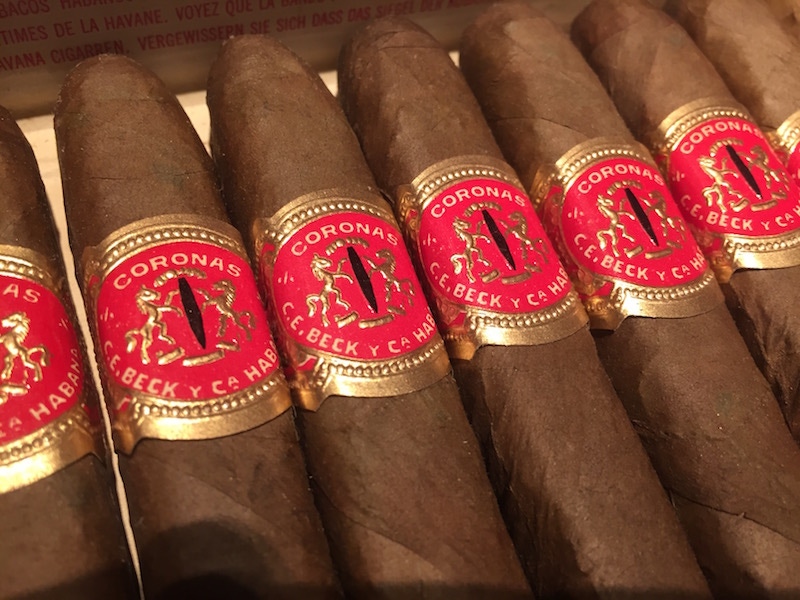 4. THE ORIGINAL COHIBA BEHIKE 2006 – Behike, 7.6" (192mm) x 52
When this humidor was released in 2006 at the Habanos Festival, it commanded the highest price ever placed on a festival humidor. At €15,000.00 for the original Behike humidor, it surprisingly took over a year to sell all 100 numbered humidors. Each humidor was made by Elie Bleu and had shagreen skin as a cover and contained 40 Behike cigars all individually hand numbered and rolled by Master Cohiba Cigar Roller Norma Fernandez. The tobacco was chosen from only the finest fields in Vuelta Abajo and involved three legendary Cuban tobacco farmers Pancho Cuba, Alejandro Robaina and Antonio Maria Paz. Fast forward 10 years and as Cohiba celebrate their 50th Anniversary with the release of their Grandiosos humidor (approximately €250,000.00 each), the original Behike humidor has quietly been switching hands and prices for a complete humidor are in the six digits too. One London Hotel sells the Behike individually for £5000.00 a stick (plus 12.5% service charge). A full Behike humidor from them would cost just under £250,000.00! Yes, you can really spend more on cigars than a sports car or a small property in London. This cigar and blend has no similarities to the Behike 52/54 or 56 that were released for current production in 2010.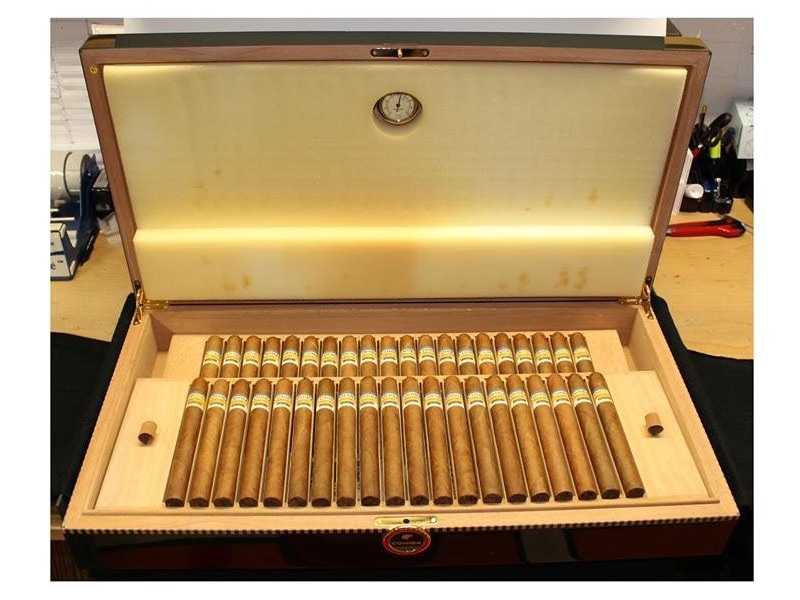 5. DIPLOMATIC CIGARS

These are – to quote a good cigar friend, Justin – "rarer than unicorn poop". Cigars given to foreign diplomats by Cuban officials and ambassadors are some of the most sought after cigars I've been asked for. Cigars from the 1960-90s are very collectible and command strong prices. I recently saw a jar of diplomatic cigars sell at a private auction for more than €20,000.00. They had been given to a Russian diplomat by a Cuban representative in an allegedly secret meeting in Russia during the Cuban Missile Crisis. The most collectible ones are of course Cohiba's, wrapped in cellophane in the original three sizes given by Fidel himself. Then there are the diplomatic cigars with the official Cuban emblem, Original Trinidad Fundadores and Presidencia cigars. I recently came across a diplomatic humidor, complete with 30 cellophane wrapped Cuban petit corona sized cigars. It was in pristine condition and the cigars showed signs of re-humidification but they had also been revived slowly. The cellophane had the type of yellowing you would expect to find on these aged cigars. They were adorned with bands bearing the Cuban emblem. I think it took about five seconds for me to say yes and buy the humidor for my own collection. It's an investment and one day I will smoke them.

Photo courtesy of Casa Puro Ltd.