Clip-On: Ambrosi x Albert Thurston
Add a touch of old-school charm to your wardrobe with a pair of Albert Thurston braces, available as part of our exclusive offer in collaboration with Ambrosi.
The idea when we launched The Rake Atelier, now almost two years ago, was to progress and evolve the idea of e-commerce. We wanted to unite the type of passionate, informed, literate and evocative storytelling that our
magazine
has earned a reputation for over the better part of the last decade, with the possibility to acquire our selection of the world's most unique, authentic and artisanal garments and accessories. But more than that we wanted to suggest specific styles that we felt captured the zeitgeist of the sartorial universe and offer you the possibility to wear garments in combinations that we would wear them in. The first of these assemblages, mash-ups or collaborations – call them what you will – unites two iconic brands. The first is
Ambrosi
, a family-run company that has become the pre-eminent creator of the fully handmade Neapolitan-style trouser. Antonio and son Salvatore are the most skilled craftsmen of these types of trousers, which are a touch higher in the waist with deep forward pleats for unhindered mobility, while retaining a slim sculptural shape. But you can argue that they have fixed Neapolitan trousers firmly in the spotlight of the sartorial stage as well as on the forefront of the collective consciousness. The trousers designed and made by Salvatore are available in two materials – a
medium grey
and a
dark green
worsted. He explains, "You have the same level of craftsmanship in
The Rake
's trousers as you'd find in a fully bespoke pair." Indeed the ritual of buttoning the multiple closures that comprise the fly of the Ambrosi trouser must be experienced to fully understand its joyous complexity.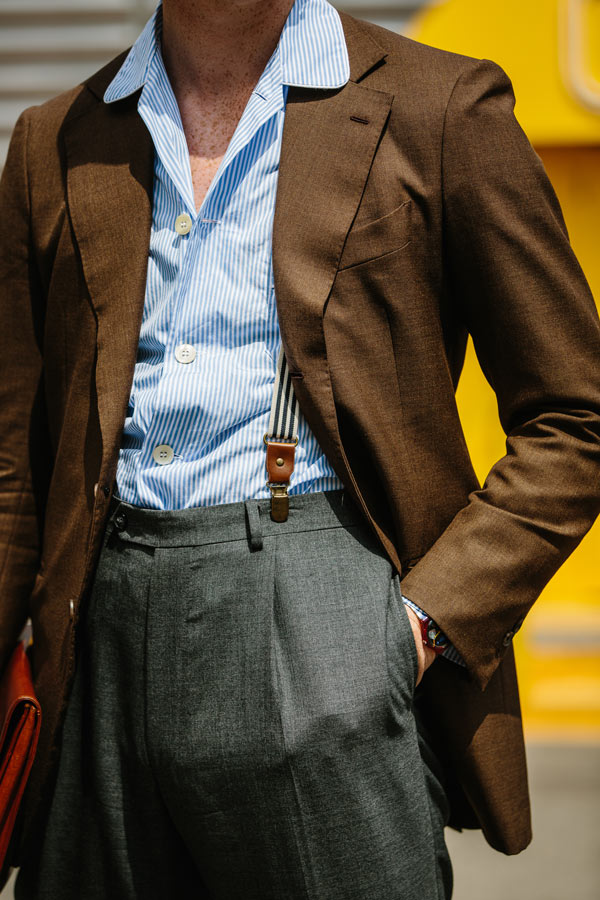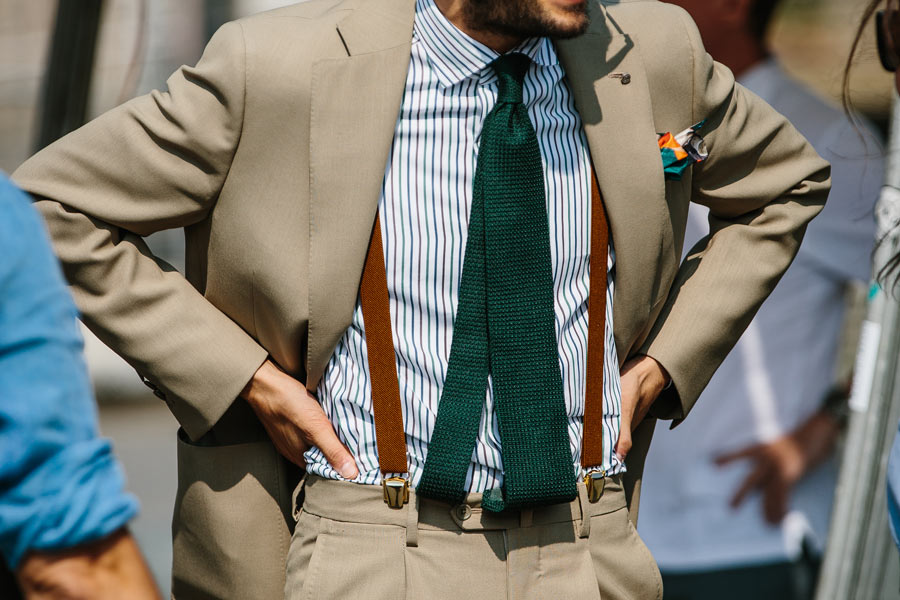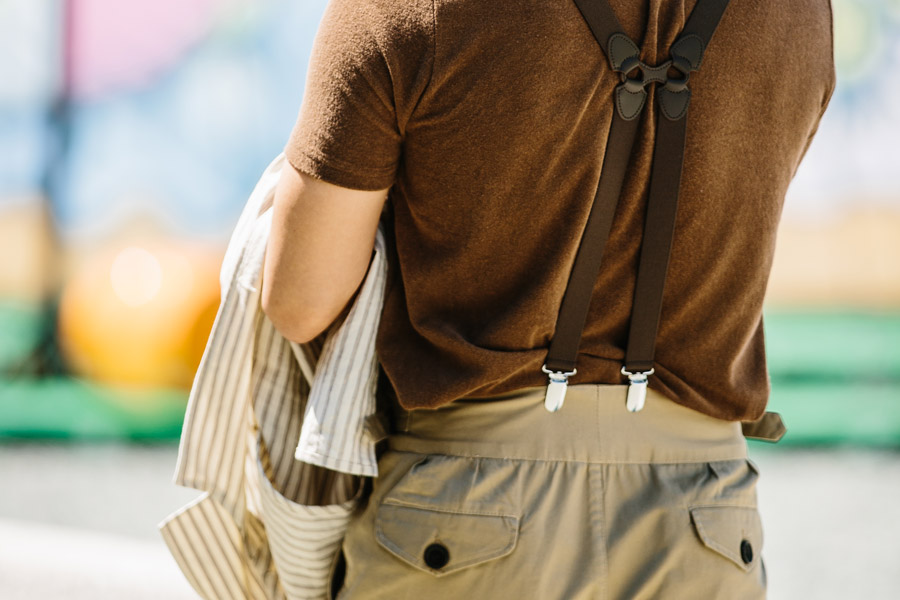 The second brand that forms the other half of this collaboration is the extraordinary Albert Thurston company, that has made a very special design of elastic clip style braces exclusively for
The Rake
. Unlike some designs of clip-on braces, these feature two clips in the front and two clips in the back. And we've designed these elastic braces specifically to be worn with the higher waisted, deep double pleated-style trousers like Ambrosi's. If you look closely at the waistband of the trousers, you'll see we've forgone side adjusters to keep the style as clean as possible. Those looking for an added level of security coupled with a little panache have the option of utilising the inner brace buttons with traditional leather tab braces. But
The Rake
and its denizens have of late become professedly enamoured with elastic clip style braces, for their unmatchable comfort and practicality. And as such we want to convert you to our chosen style by offering a complimentary pair of elastic clip-on braces with
every pair of Ambrosi trousers purchased*
. We can't claim to have invented this style, that probably should be attributed to Florentine tailor Antonio Liverano and his indomitable second-in-command Takahiro Osaki, further popularised by the entire team at The Armoury, Mark Cho's iconic men's emporium. You will notice that this particular style has, over the last few years, gained momentum at stages such as Florence's
Pitti Uomo
and as we've become adopters we thought we would pass along the opportunity with no added cost to you, to thank you for your patronage. *
For anyone that had previously purchased these trousers simply email missjones@therakemagazine.com and we will immediately dispatch a free pair.