Comfort and Joy
The purport of The Rake Tailored Garments is to make perennial style totally inclusive. With the help of our valued partners, we've been able to carefully curate a design premise using a fusion of English, Italian and French tailoring techniques that admits affordability and accessibility in terms of comfort, size and fit.
We at The Rake love style as expressed through clothes. But we also feel that beautiful clothing should not be so prohibitive in price that it is accessible only by the very few. That's not to say we don't have huge admiration for the most established brands and the finest bespoke tailors in the world. We love them and we've spent 12 years championing what they do. But we also understood that in order to grow the culture of classic elegance we needed to make style accessible to everyone. That's how The Rake Tailored Garments was born. Because we wanted to create honest, authentically made, handsomely styled apparel at great prices. So more people could enter our world of perennial style. The first thing we did was approach our favorite cloth mills such as the legendary Vitale Barberis Canonico – the world's oldest textile manufacturer and the iconic Fox Brothers and explained our mission to them. Fortunately they loved the idea and we were able to secure amazing cloth at favorable terms. Then we went to our favorite family-owned, artisanal suit factory in Puglia, Italy and asked them to create clothes for us according to our exact specifications but within a specific budget. Luckily they loved the idea of being part of this project and agreed. Because we were careful and hopefully smart about all of this we are able to pass the savings on to you the customer. At £695 or €766 for a well-crafted double-breasted jacket and £195 or €215 for a pair of double-pleated trousers we feel that The Rake Tailored Garments represents a strong value proposition with zero compromise in quality, cool styling and great comfort all at a very affordable price.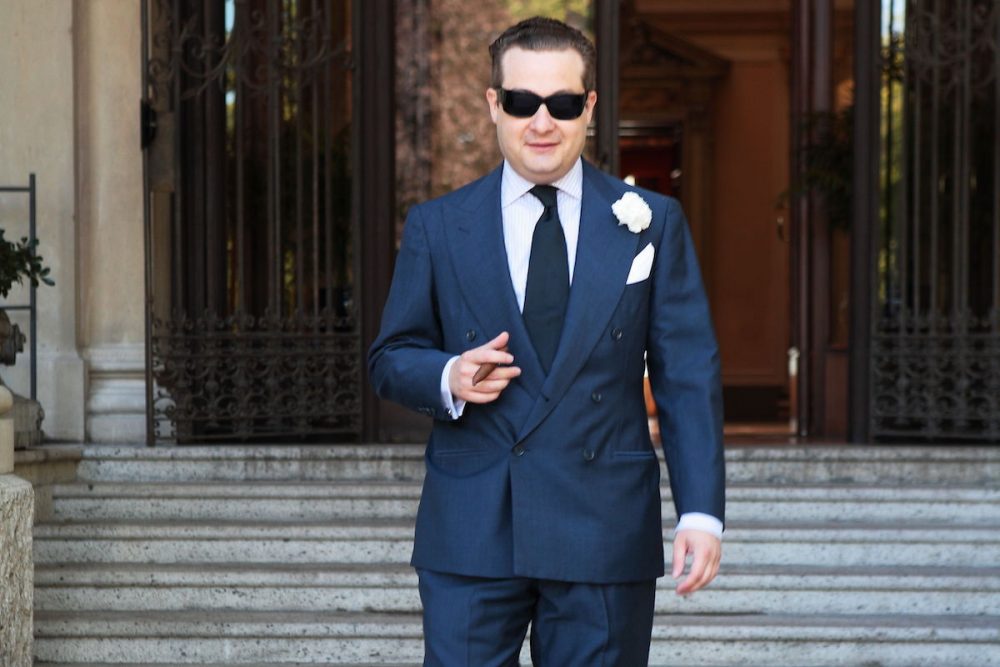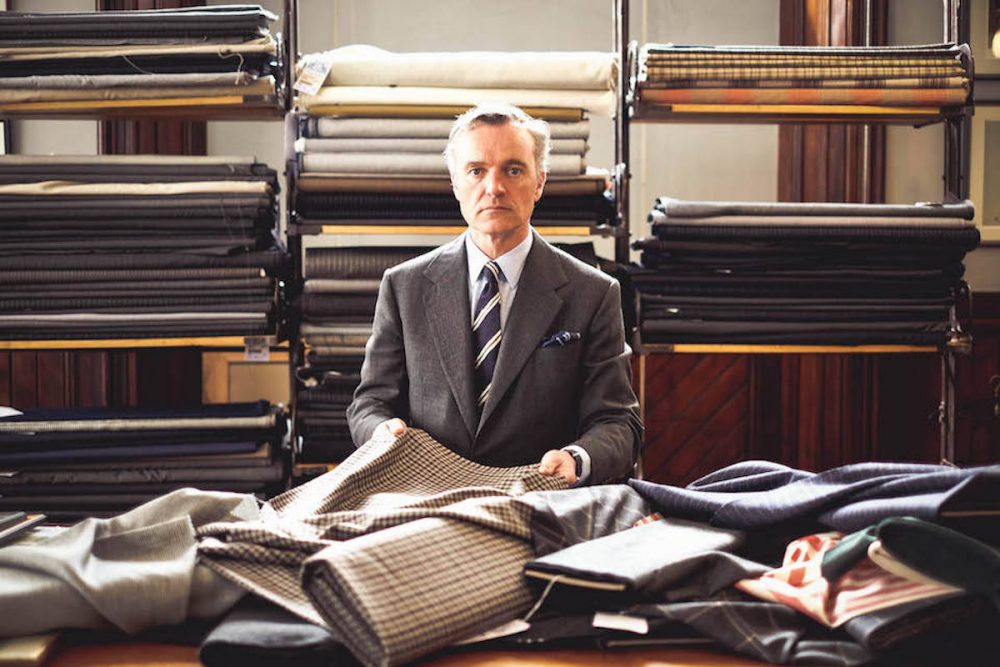 For our first collection we decided to focus on a combination of style and comfort. In the years ahead we will look at different iconic styles in classic menswear. Next year we are proud to announce our first two collaborations with two of the most iconic tailors on the planet, Lorenzo Cifonelli the God of French Tailoring and the legend that is Edward Sexton the single most influential tailor of the late 20
th
century.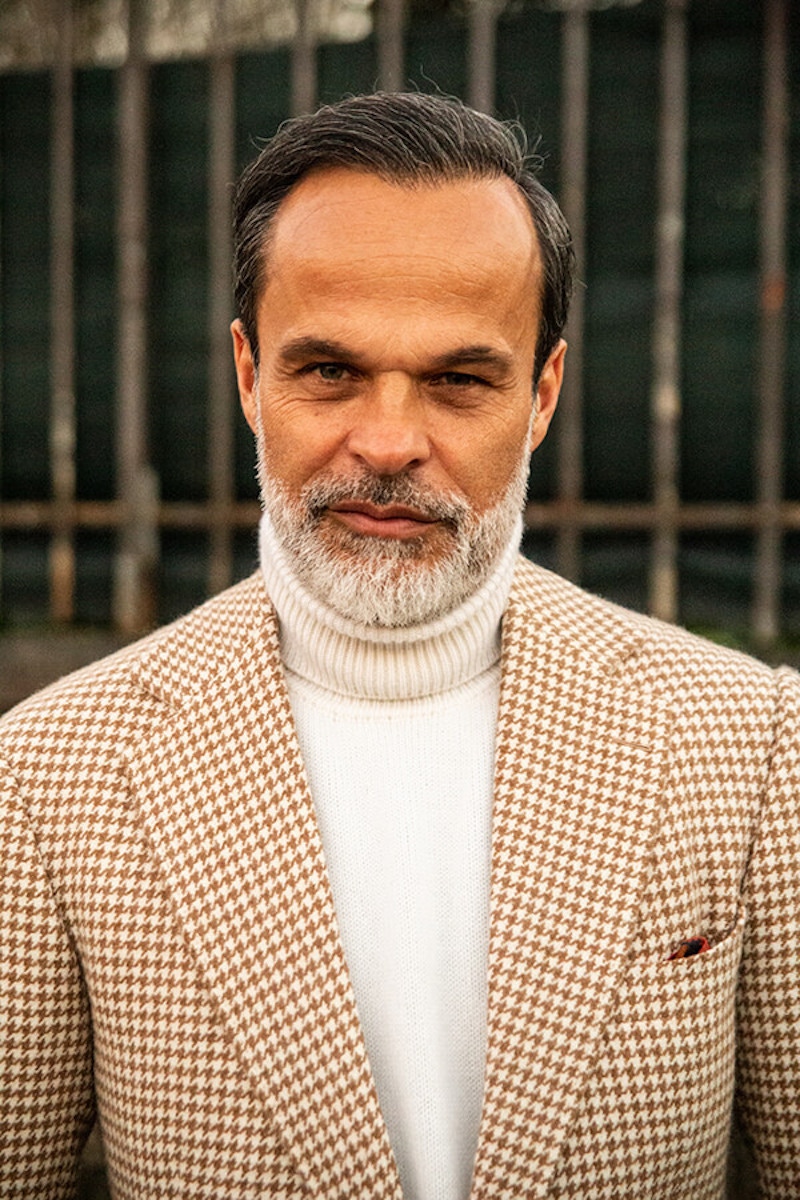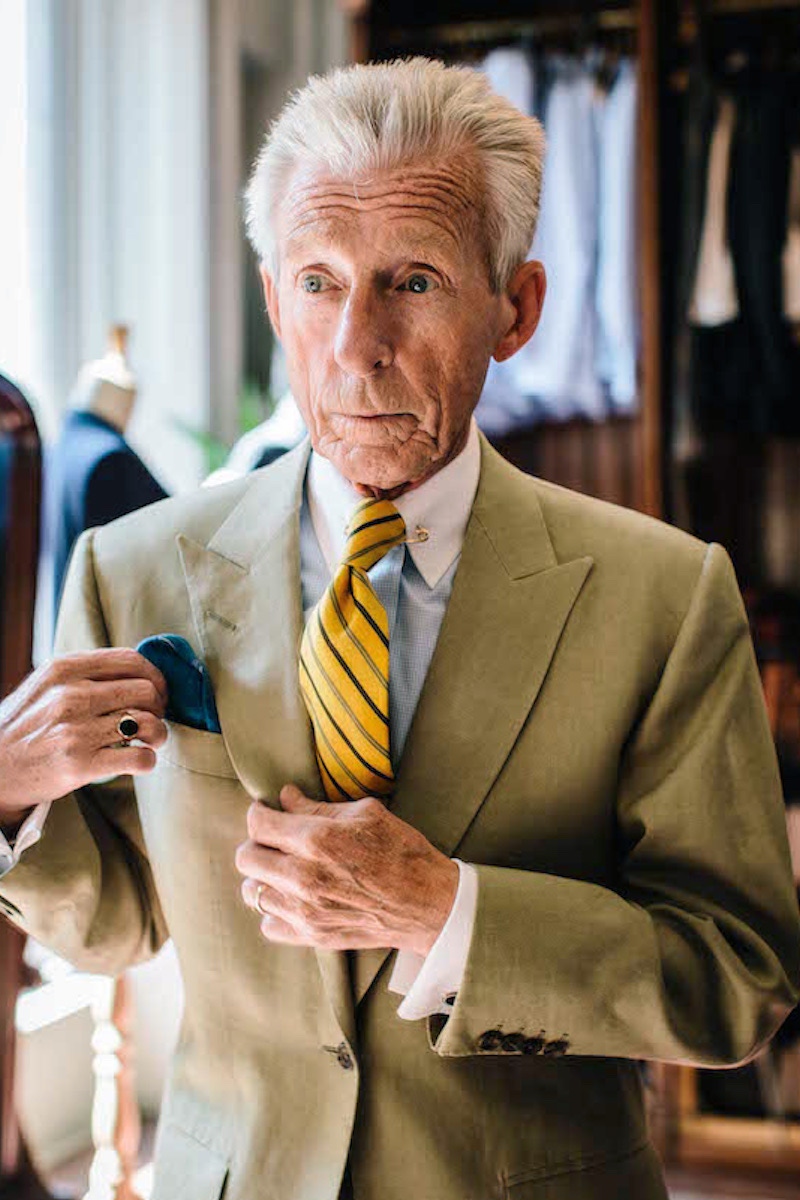 But this year we wanted to focus on comfort which of course means soft, drapey tailoring. We were influenced by a combination of the Hollywood drape worn by actors in the '50s, masterminded by Frederick Scholte, also the innovator of the British drape, and Neapolitan tailoring. For our first jackets we have removed the stiff, restrictive padding and layers of horsehair found in traditional tailoring that impedes freedom of movement. Our sleeveheads evince the beautifully rippled effect of the Neapolitan
spalla camicia
, a technique for fitting a larger upper sleeve into a smaller armhole. But these sleeves narrow to a cleaner and more shaped cuff typical of French tailoring. It's important to understand we haven't simply added excessive volume to the chest, back and sleevehead, which can result in a bulky silhouette. Instead we've tastefully and strategically applied added cloth only in specific areas mostly in the front of the jacket, which allows us to retain a shaped form while creating unrivalled ease of wear. That's right we've cut the front of our coats a touch more generously, so you can comfortably keep them buttoned even during a long meal, and ensure they retain a beautiful shape through the side seam.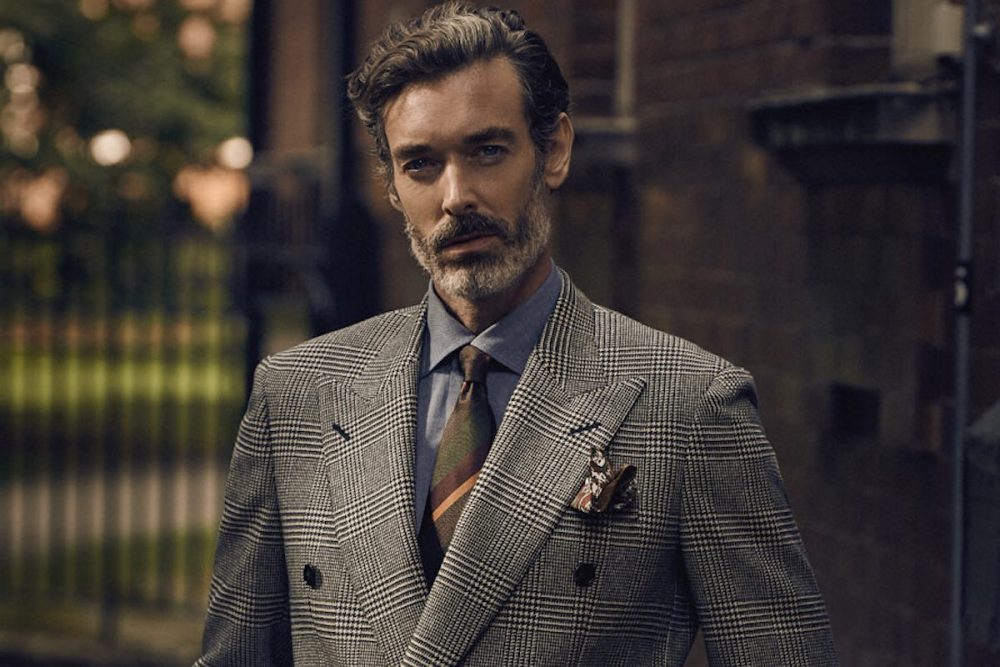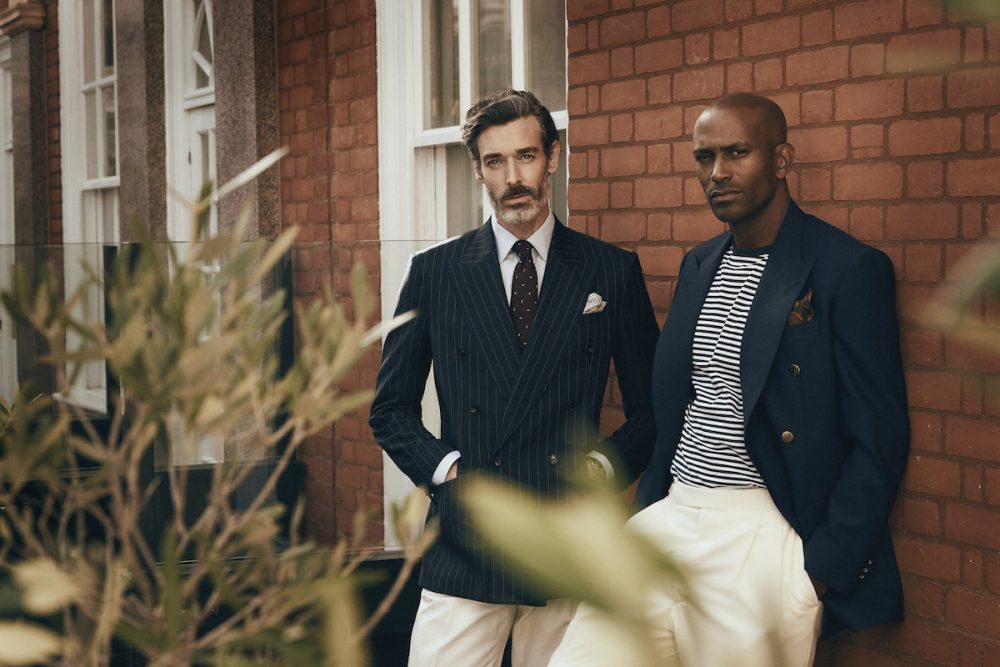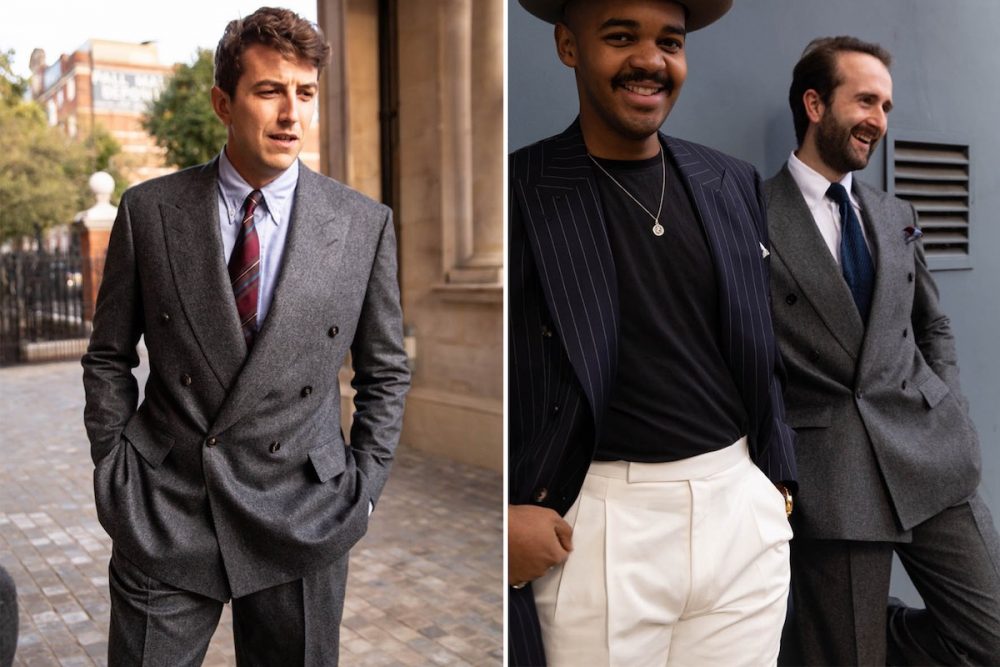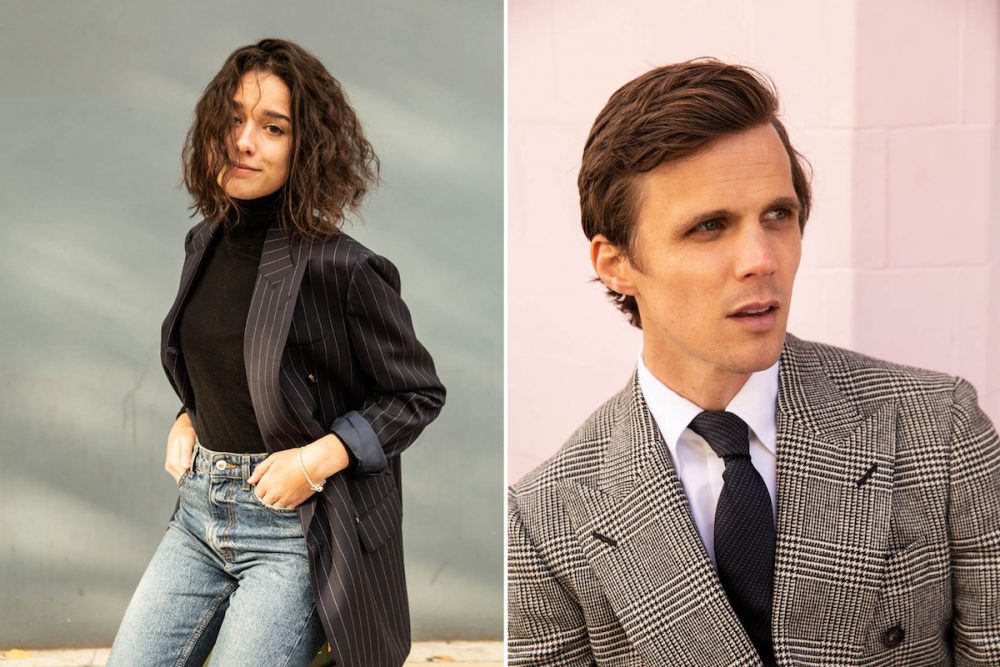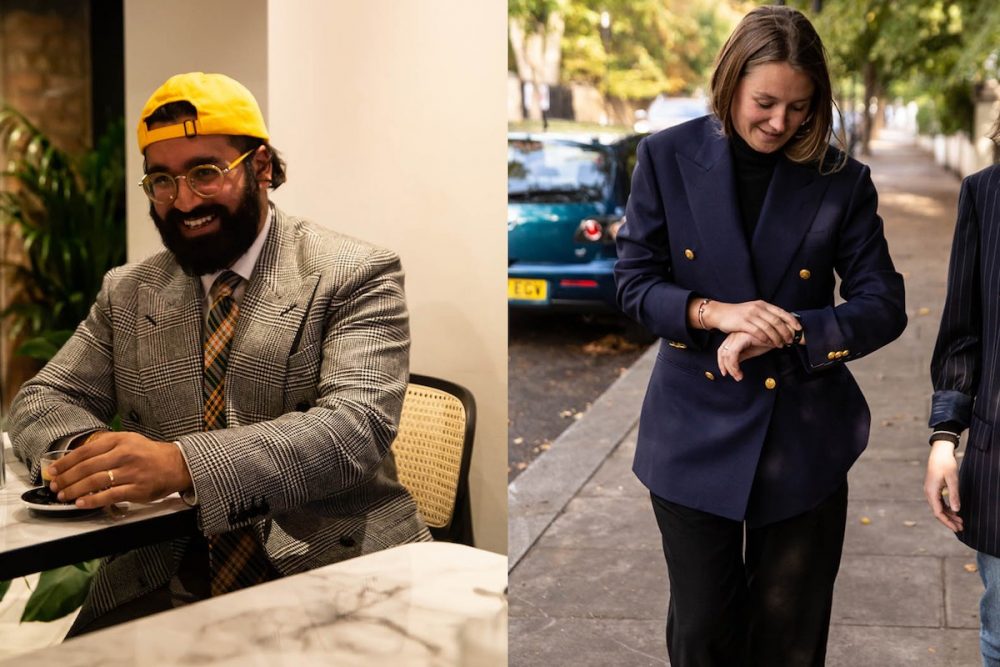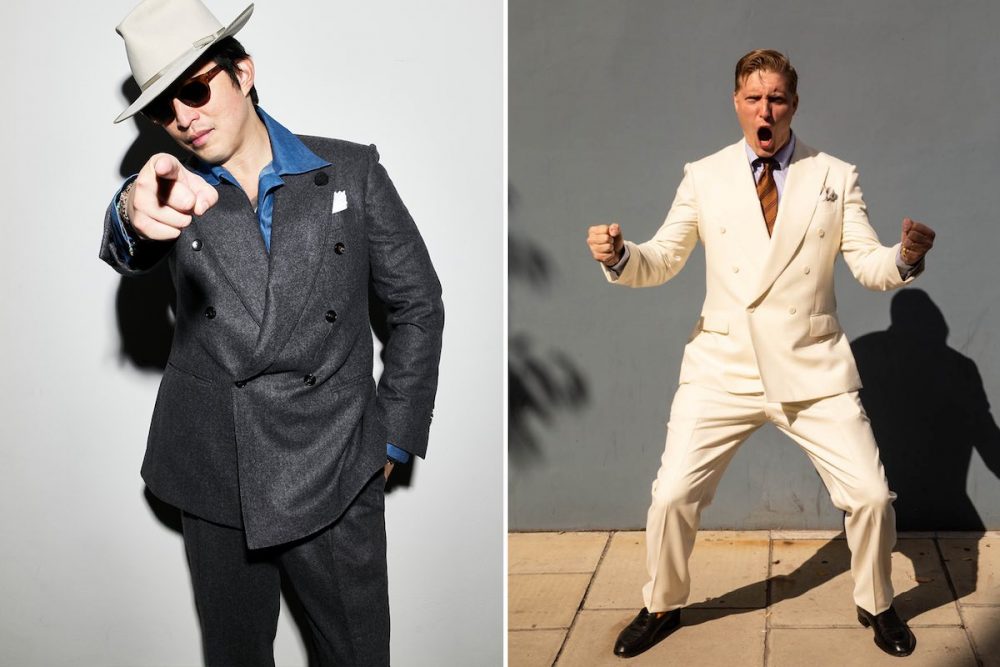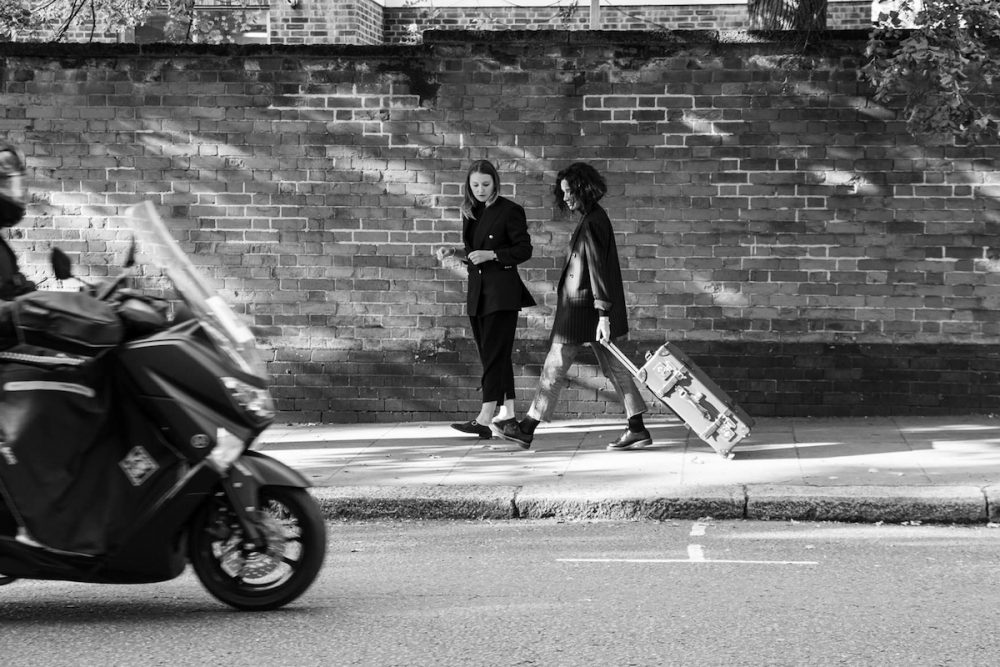 All of our first jackets are 6 x 1- a style favored by the likes of Gianni Agnelli, Fred Astaire and the Duke of Windsor. But we've carefully moved the button point a touch higher to create a more balanced look and a longer skirt. We've also reinforced the bottom button which allows you to wear our jackets with the jigger button unfastened for a more nonchalant vibe without over stressing this button. Our jackets are cut to fit the full variety of body shapes. And if you want an even trimmer fit our jackets are extremely easy to nip in at the side seam. At the same time our trousers, which we are very proud of are both comfortable but trim fitting. That's because we've added a touch more depth to the reverse double-pleats and a bit more room through the thigh, but then slimmed them down through the ankle. The result is a clean, slim fit that is also comfortable and extremely easy to move in. A big part about creating the softest most comfortable clothing is the cloth we use. Thanks to Vitale Barberis Canonico we are able to use cloth that we have used before in our personal tailored clothing and love from experience. This includes the grey flannel in a 340g weight that used to be worn by style immortal Gianni Agnelli for our grey flannel double-breasted suit; the perfect dark blue worsted pinstripe in a 280g weight for our navy pinstripe double-breasted suit, inspired by Luca di Montezemolo; a resplendent Midnight Blue mohair and wool blend in 280g weight which used for our tuxedo, inspired by Edward VIII; a sublime cream flannel in 340g weight for our cream flannel double-breasted suit, worn by Bryan Ferry and a 4-ply and high twist wool which features super human crease recovery for our navy double-breasted blue blazer, which was inspired by Prince Michael of Kent. On a side note this blazer features skull livery buttons from Benson & Clegg that normally cost £100 but we've basically donated them to the jacket because they look epic. From Fox Brothers we used a ravishing Prince of Wales worsted, in a 480g weight featuring what we feel is the single most handsome check pattern around for our POW double-breasted sports jacket, which was influenced by the way Miles Davis used don his selection in the check. We would like to thank Francesco of Vitale Barberis Canonico and Douglas Cordeaux of Fox Brothers for the collaboration in this project. We love you guys.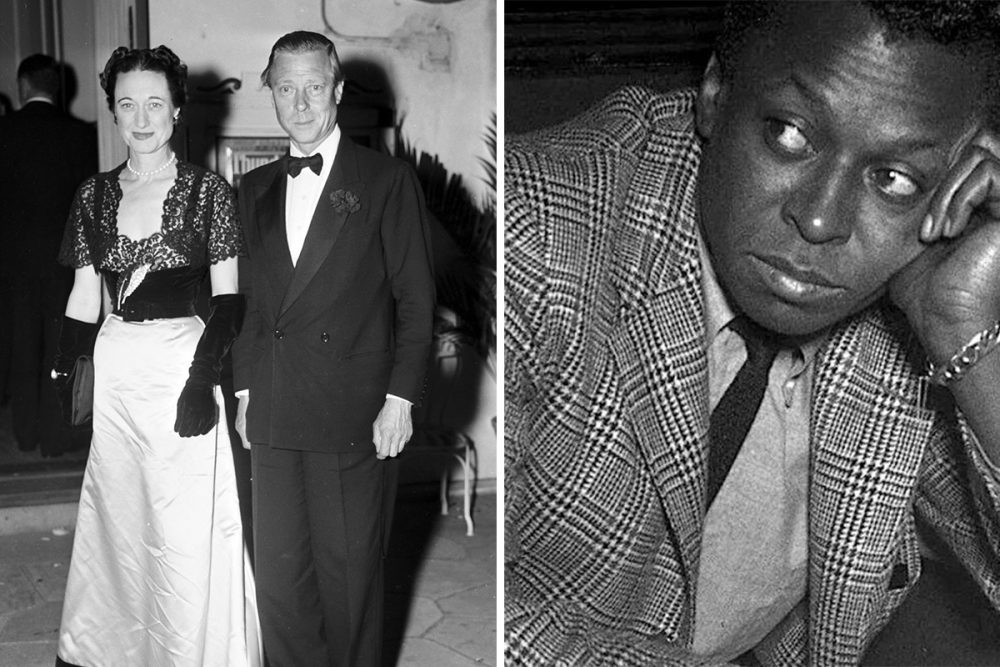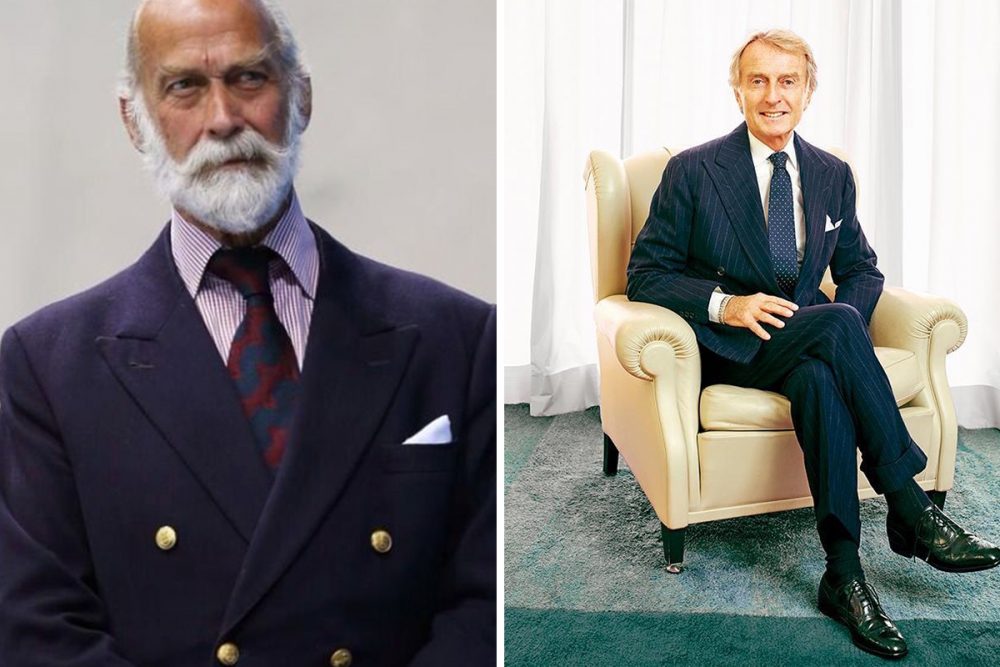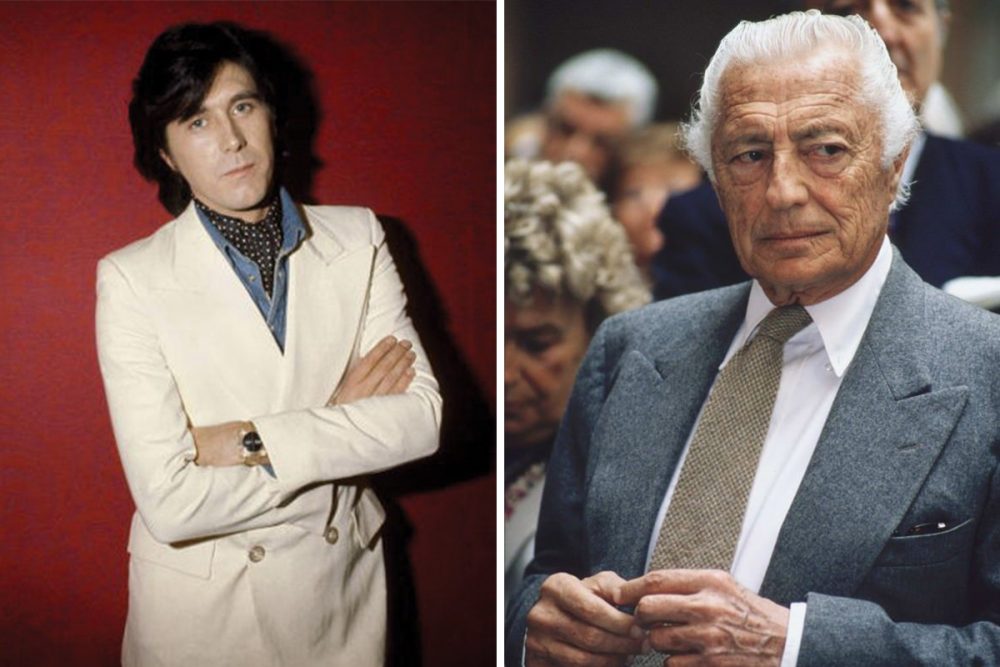 As you have probably guessed from the evocative nicknames we've given each of our garments, every look is inspired by one of the most iconic men in the cannon of classic elegance and their signature styles. The "Gianni" is inspired by Gianni Agnelli's grey flannel suit, the "Luca" by Luca di Montezemolo's pinstripe suit, the "Edward" by the Duke of Windsor's double-breasted peak lapel evening suit, the Bryan by an incredible cream suit worn by Bryan Ferry, the "Michael" by the blazer worn with aplomb by Prince Michael of Kent and the "Miles" jacket worn by the immortal Miles Davis. What you might not know is that in the months leading up to the creation of these garments we polled our readers and followers on social media to find out who you thought the most stylish men of all time were and what garments you associated with them. So this collection is also tailored to your tastes and opinions. We've listed to you.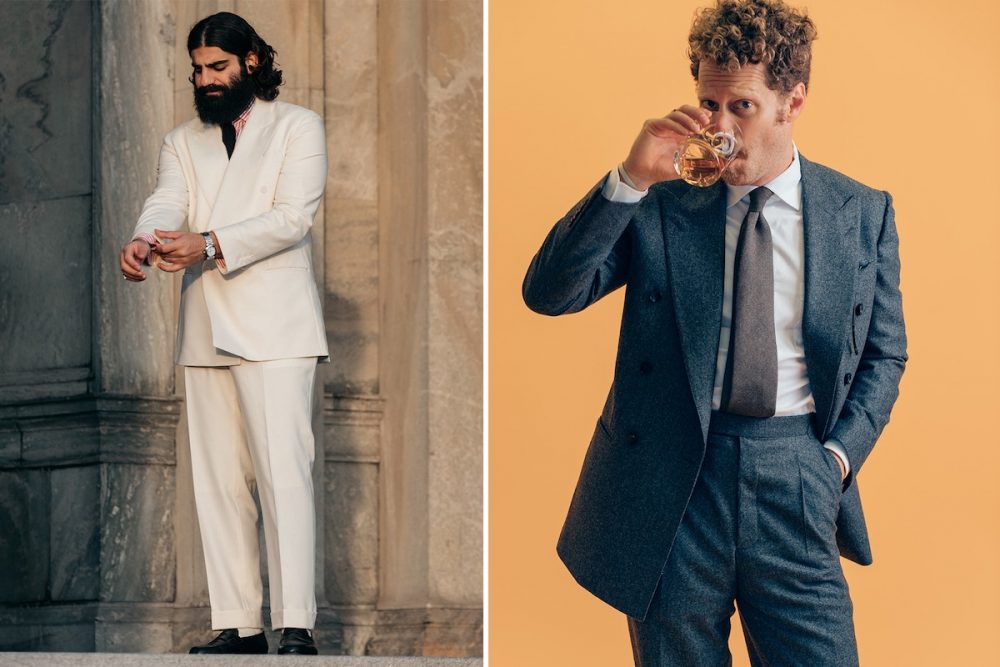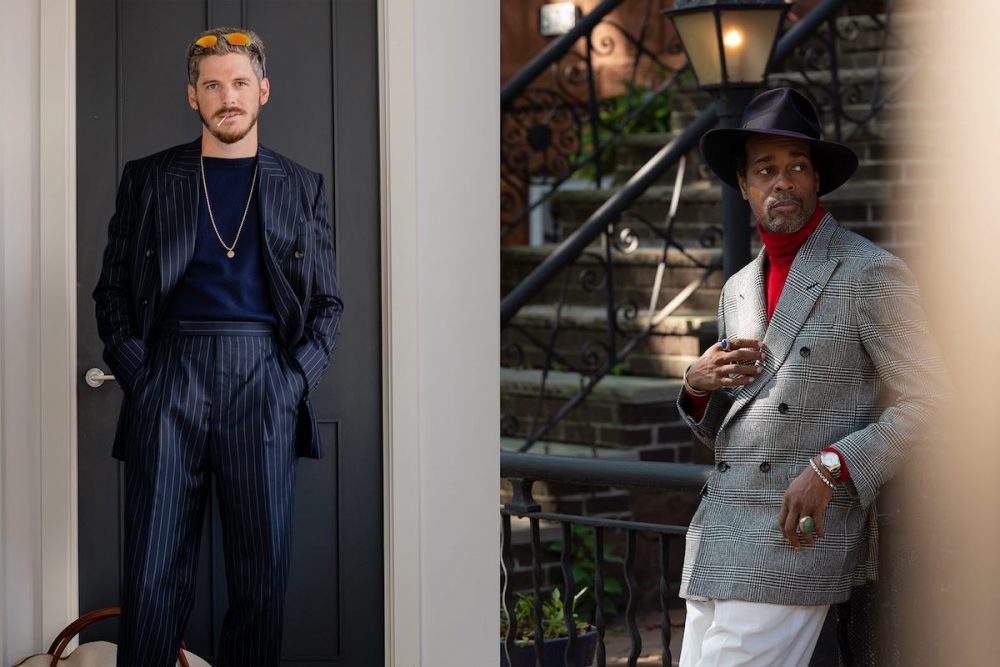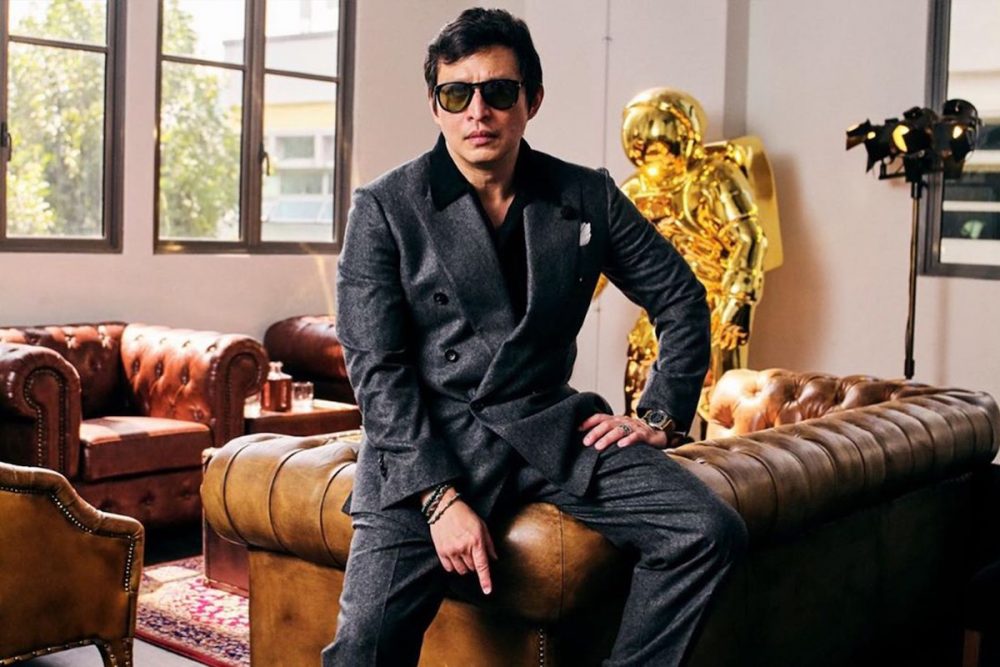 Finally, we feel comfortable, soft clothing is best represented by real people living real lives. That's why the images of our look book feature two great friends of the Rake, Richard Biedul and Richard Ampaw. But over the next weeks you'll see that our favorite thing is to see our clothes on real men (and women). We love that four of our favorite photographers Jamie Ferguson, Milad Abedi, K. E. Guerre and Robert Spangle are each wearing The Rake Tailored Garments in their own signature way. Jamie who was an actor before becoming a highly regarded photographer, recently launched his book This Guy and brings a sense of incredible spontaneity and charm to his images shot in his studio in Northern Ireland. Guerre who is one of the key figures in the New York style scene, a photographer, writer, presenter and director is the unrivalled master of Casual Fly, and shoots his laid-back but ultra-cool looks in the streets of his hometown Manhattan. Milad who wore the cream flannel double-breasted suit has become one of the hottest photographers in menswear, shooting for likes of Ralph Lauren, demonstrates his smoldering louche style resplendent in our garments shot in Italy. Finally Robert Spangle a man with one of the most epic resumes, a Recon Marine who served in Afghanistan before becoming a trained bespoke tailor on Savile Row and is now one of the most in demand photographers in the world and who shot our cover with director Paul Feig this year while wearing a gas mask amid the pandemic, demonstrates his red hot unique style which merges combat gear with our tailored garments. We loved the ideas of the photographers who are always moving, always in action as the real individuals to represent how our clothes can be worn in such different ways, from dressed up to totally casual fly to combat chic. Because the Rake Tailored Garments was created to democratize classic style we also wanted to show the clothes worn by a wide variety of individuals including our team in London and even by our nunchaku wielding founder in Singapore. Apparently he thought this would be an apt demonstration of the unrestricted mobility afforded by our clothing. He's a little crazy. We know. The point is the clothes were made for everyone and are hopefully affordable by everyone. And so we want to encourage you to wear them, assert your personal style through RTG and send us the images so we can feature them. Because to us the most valuable ambassador for The Rake Tailored Garments is you.