What We Learned at Copenhagen Fashion Week
Denmark's capital city has long been seen by insiders as a unique hub of cross-cultural fashion inspiration. The Rake was on the ground last week, with photographer Cris Fragkou (@cris.fragkou) documenting the eclectic street style during Copenhagen Fashion Week. Here's what we discovered...
Last week saw the fashion pack descend upon the cobblestone streets of the Danish capital Copenhagen to scrutinise the latest menswear and womenswear collections from a predominantly young swathe of Nordic designers. Although
The Rake
is largely ambivalent about trends and 'fashion' per se, it's always interesting to see how different generations, age groups and nationalities reinterpret what is often very classical cuts, silhouettes and motifs in new ways. What we garnered from the excellent Cris Fragkou's documentation of street style (@cris.fragkou) is that Copenhagen is ripe with flair, individualism and inventiveness, three traits
The Rake
will always be advocates of. That Danish men have a relaxed aesthetic shouldn't come as any great surprise when you consider the urban modernity of some of their best menswear exports – brands such as Soulland, Henrik Vibskov, Wood Wood, and Han Kjøbenhavn – and sure enough, we saw plenty of examples of understated styling. Scroll down to discover more about what we saw at Copenhagen Fashion Week...
The bandana as neckwear is here to stay...
Take a deep, relieving sigh: the bandana as sported by American wrestlers in the 1980s (around the head) is not, we repeat, NOT making a comeback. However, bandanas carefully and diligently rolled into a
neckerchief-type configuration
are most certainly a 'thing.'
The Rake
bore witness to literally hundreds of them at
Pitti Uomo
earlier this summer, from foppish silk numbers to more military-inspired incarnations. From a purely functional point of view, they do a great job mopping up sweat in warm weather and will go a little way towards preventing beads of sweat from dripping down one's back and spoiling a shirt. From an aesthetic point of view, they work well worn with either an open-collar shirt or even tucked into a T-shirt, as our Copenhagen examples show below. We recommend choosing one in a contrasting hue to add a pop and collar, which will serve to draw the public's collective gaze to your face.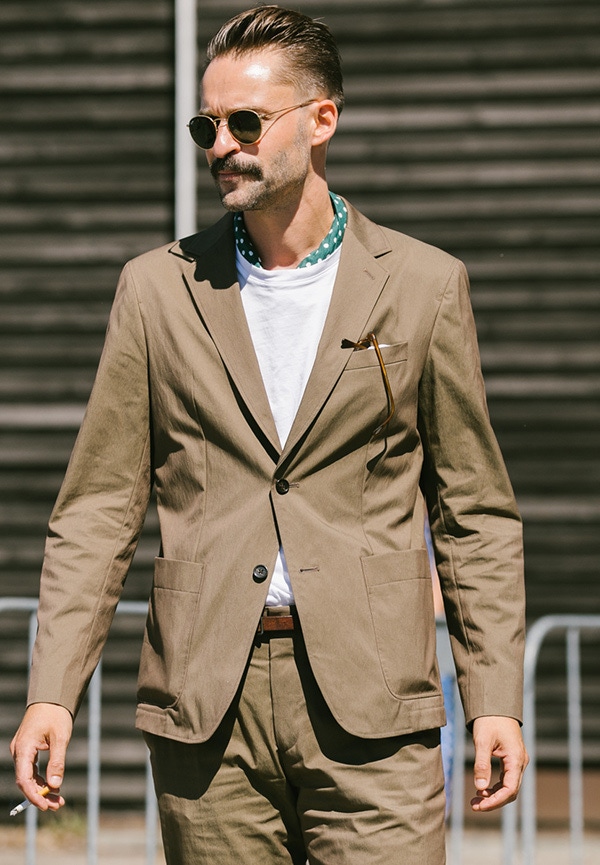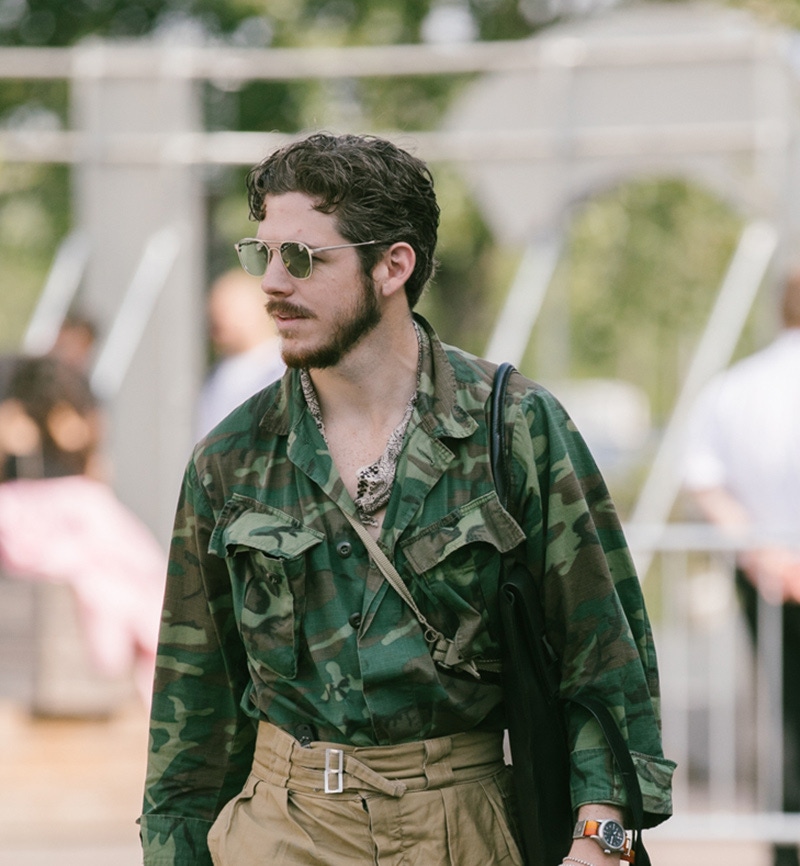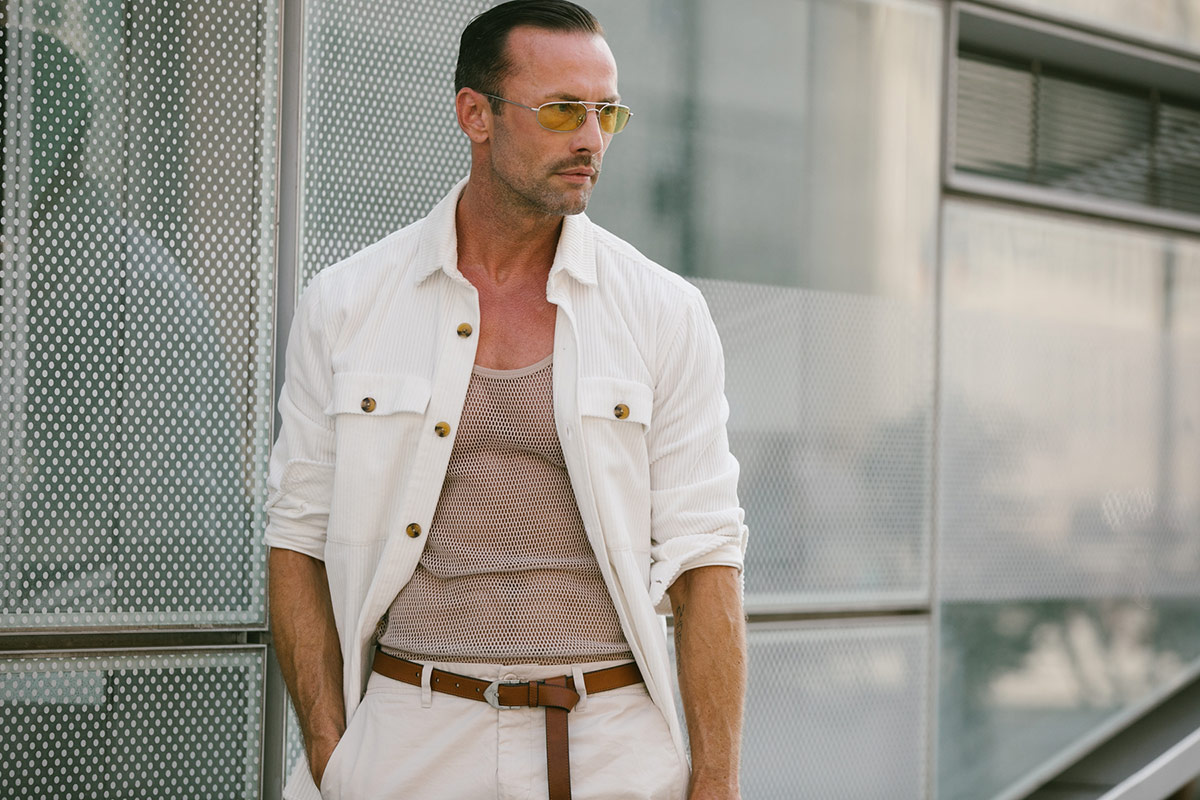 The overshirt is the perfect transitional garment... We know it's not rocket science, but at this time of the year when the sun becomes increasingly more mercurial, the addition of a simple overshirt worn atop a T-shirt can be both a stylish and practical option. It certainly veers towards the casual side of smart-casual, but depending upon your choice of shirt, it can be a very versatile look. A heavier cotton twill or even corduroy will suit cooler days, whereas a lightweight cotton with a bold blue stripe makes for a strong look for the last vestiges of summer.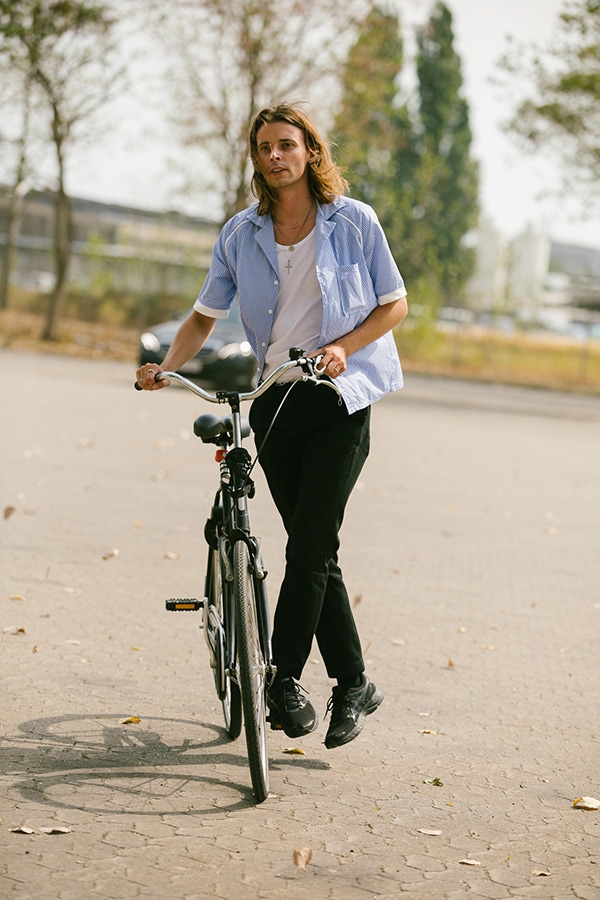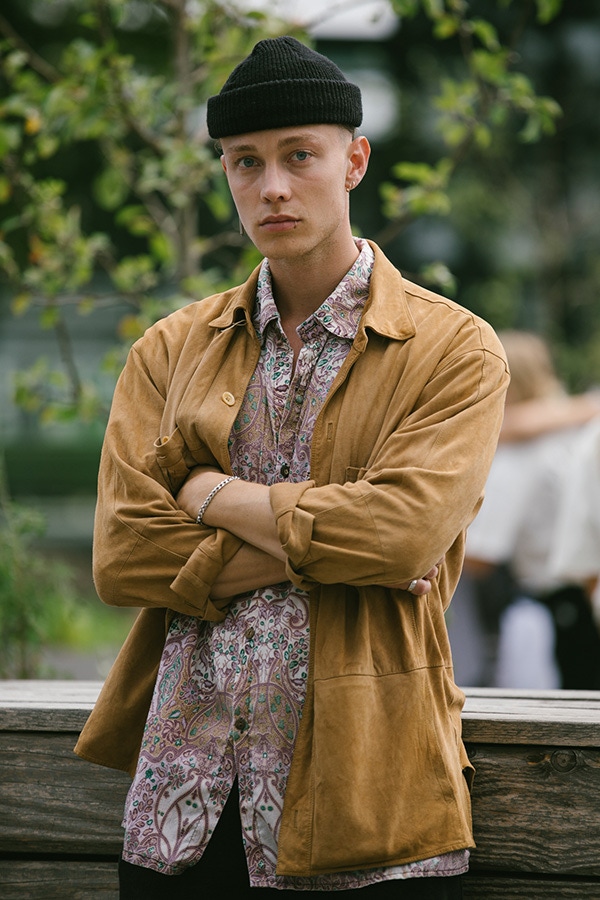 Military-inspired workwear is going great guns...
Modern menswear owes a lot to the military uniform-makers of centuries past. Much of the tailoring and workwear we carry ourselves about in these days descends directly from the uniforms of those who once tread the warpath. You would have to have been living in a cave for the last decade to have not noticed the worldwide love affair with DPM (disruptive pattern material), otherwise known as the camouflage pattern. Indeed, a good number of brilliantly sourced vintage stores have cropped up around the world's fashion capitals, not least
The Vintage Showroom
(@vintageshowroom) in London and Broadway & Sons (@broadwayandsons) in Gothenburg, Sweden.  Not surprisingly then, military-inspired gear was prevalent on the streets of Copenhagen, whether in the form of functional, utilitarian khakis or rugged backpacks. If you're looking for a strong, rugged, casual look for weekends, you've just found your blueprint.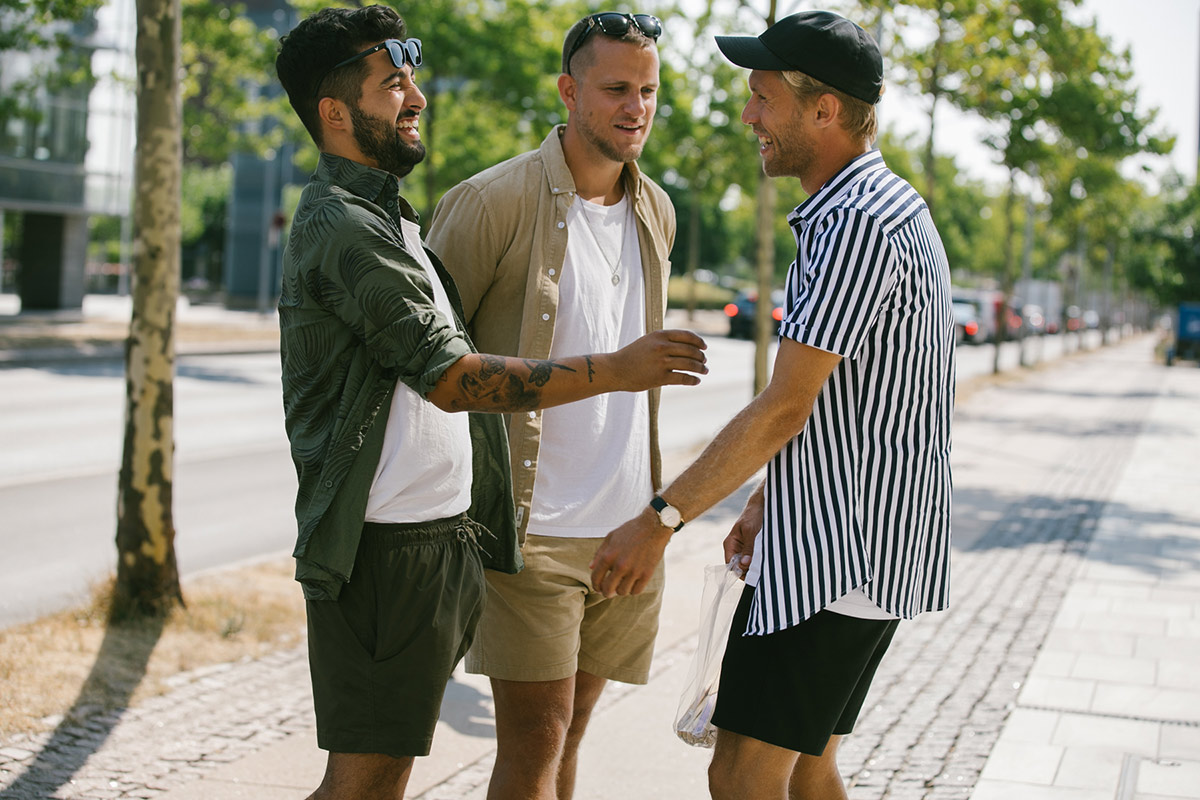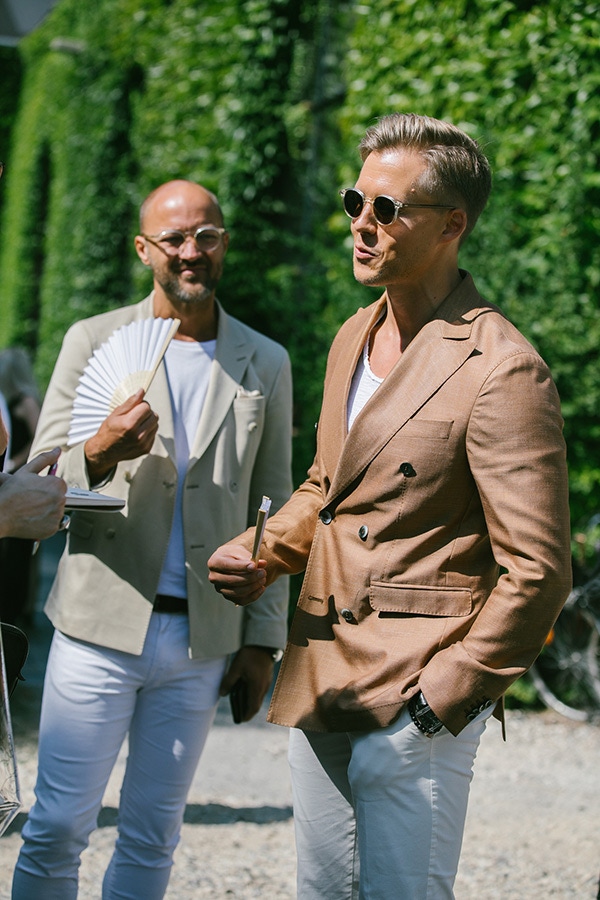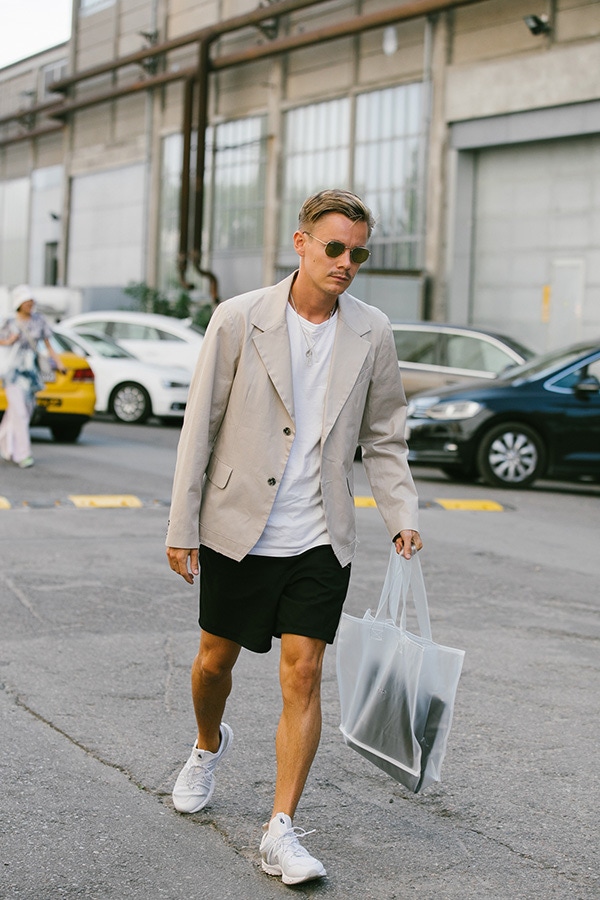 The humble white T-shirt is as dependable and integral as ever...
Men's style doesn't have to be complicated. In fact, the less complicated, the better, in almost all cases. As the French writer Antoine de Saint-Exupéry once said, "A designer knows he has achieved perfection not when there is nothing left to add, but when there is nothing left to take away." And so we get to the simple plain white T-shirt, the crocodile of the apparel industry, unchanged for millennia (well a century or two at least) and made timeless by every Hollywood pin-up form
James Dean
and Marlon Brando to Brad Pitt and River Phoenix. Of course, there are considerations to make: cut, fabric type and quality being the holy trinity, but when it comes to styling the white T-shirt, think of it as a canvas upon which to paint the rest of your look. We saw plenty of white T-shirts worn beneath overshirts in Copenhagen, a smart move which allows the latter to stand out against the white background. There's also the not unimportant aspect of the white tee making you look less contrived, as if you just threw it on without much consideration. If you can look great without looking affected, you've pretty much nailed it.