Cromford Leather: Stirling Jackets
Bastions of British leather artisanship, Cromford Leather are the undisputed jacket specialists in their field.
Derek Jarman's, 1987 film,
The Last of England
, is a portrayal of a dismantling of England, mainly caused by Thatcherism. He felt that government policy – which accelerated deindustrialisation – quashed Britain's quintessential treasures. If he thought he was right in the 1980s, he would be happy to hear that in Cromford Leather's case, he is wrong. Little did he know that at that time, in a small workshop on Division Street in the industrial city of Sheffield, there was a seventeen-year-old apprentice called Pauline Harris making small bags who would go on to become the director of a company, that is a reverential and perpetual embodiment of British craft – and a rare example of continued leather making excellence in England. Originally called The General Leather Company, it was founded in 1971 by Savile Row-trained Alan Sprooles and Peter Goodall. Even in the beginning, they were a pillar of support to domestic manufacturing and commerce. Every week they would explore London's Leather Lane in pursuit of the best possible skins. Renamed The Cromford Leather Company in recognition of the town of Cromford, Derbyshire, the 'birthplace' of the Industrial Revolution, it seems pertinent that the charismatic Pauline Harris, from neighbouring Yorkshire, is commander-in-chief. She is also arguably the most talented leather jacket tailor in London. It wasn't always destined this way. Despite learning from self-taught female designers in Sheffield in the 1980s, it wasn't until around seven years later, that she walked past a leather goods manufacture in New Zealand.
She knocked on the door, and was greeted by Ruby – an imposing Maori who ran the workroom, walking around with a cigarette holder in hand and wearing slippers, Ruby imparted vital technical expertise to Pauline, whilst becoming great friends. Back in London, Pauline started at the firm when it was called The General Leather Company; quickly being given the responsibility to alter the Queen's red suede coat which had been made by the firm.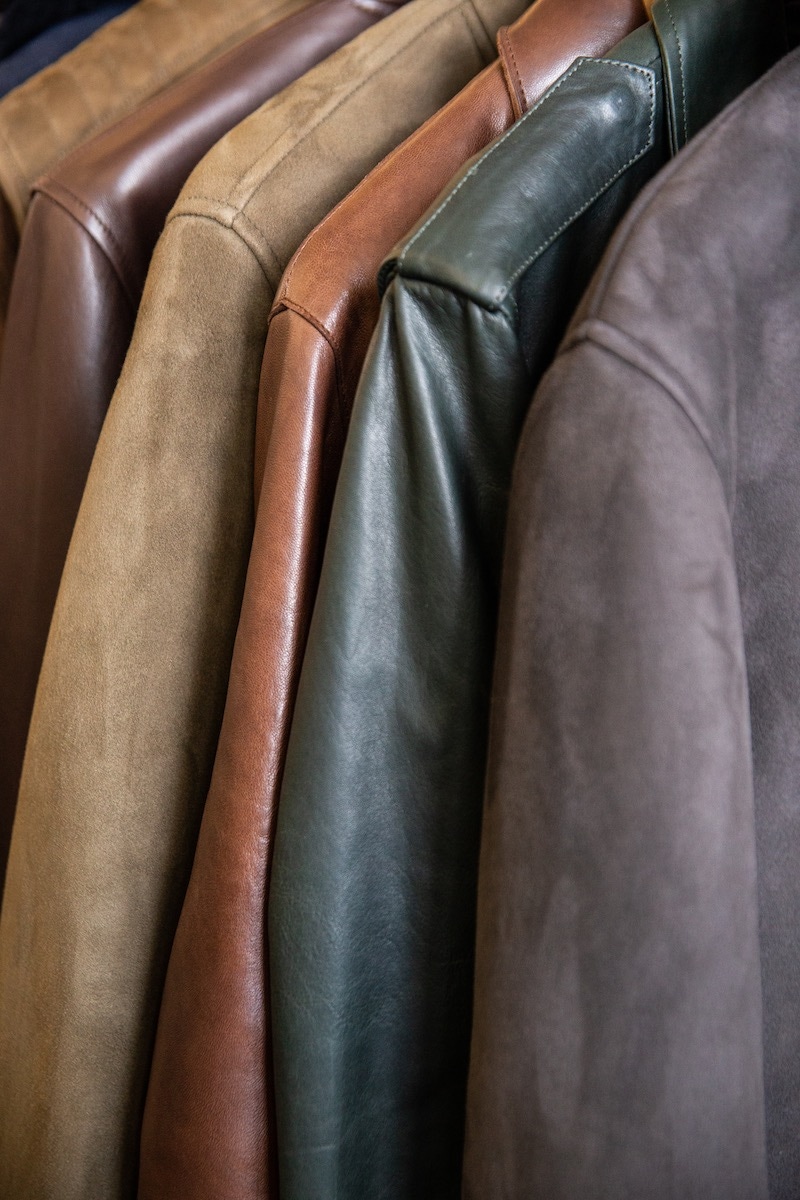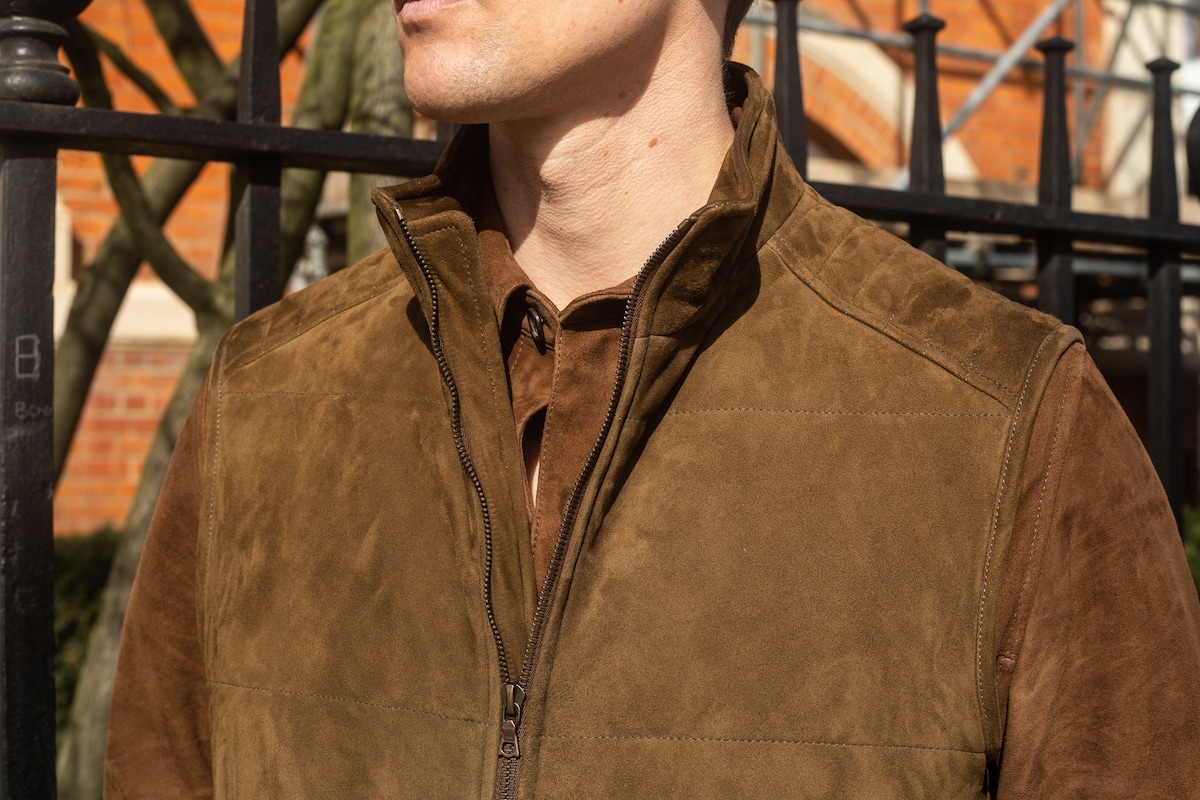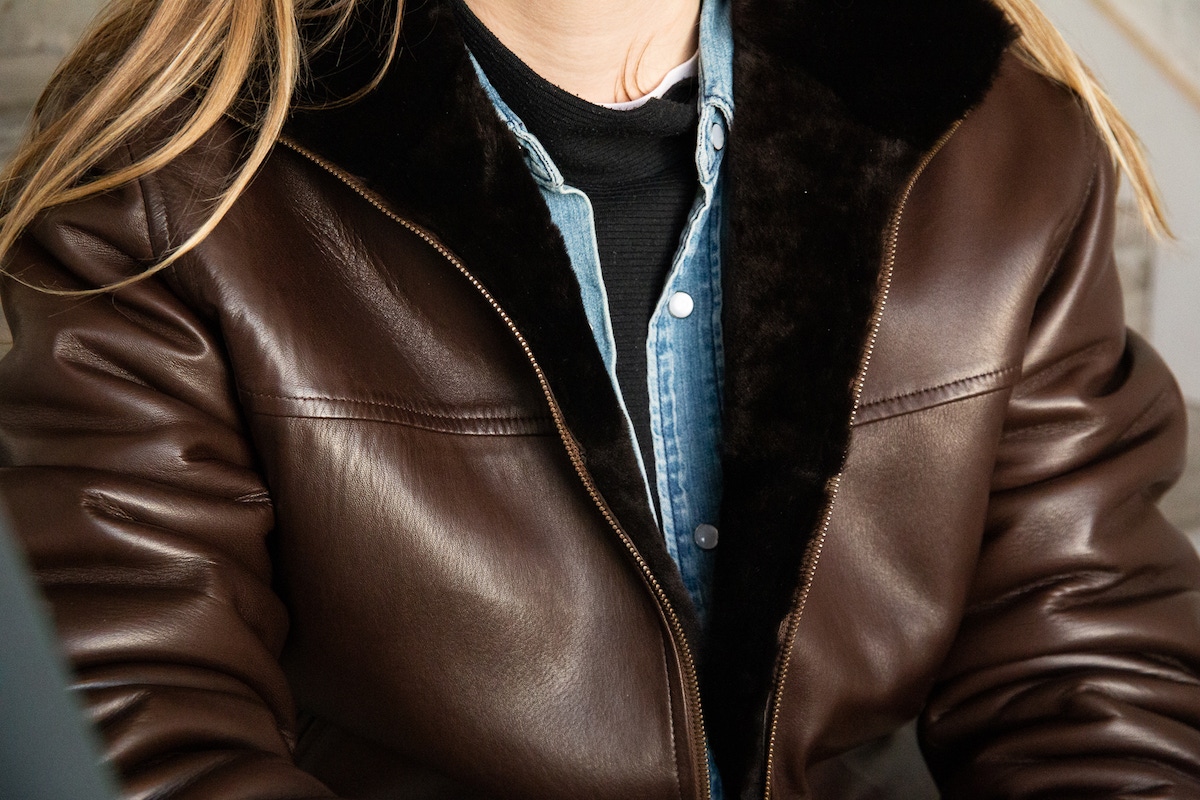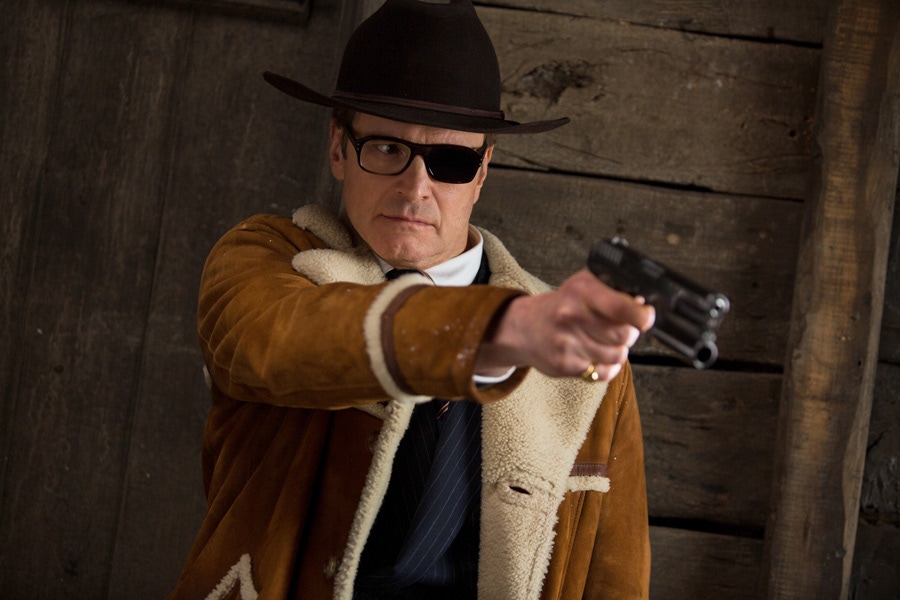 Admittedly, Cromford, Derbyshire, no longer has functioning mills. However, the wonderful buildings remain, due to their status as a UNESCO World Heritage Site, which would give a little comfort to Derek, should he still be alive. The small team of artisans at Cromford Leather still personally scrutinize and source all of their leathers directly from venerable tanneries in the UK and Europe. Pauline says: "The quality of the skin is what makes our garments unique, and it's lovely to pick the finest leather and create an original piece which showcases that ability". Comprising of bespoke and made-to-measure services from their congenial store at 56 Chiltern Street, Marylebone, they also have an extensive ready-to-wear range of handmade bomber, flight and other hide-based apparel, some of which can be found on TheRake.com.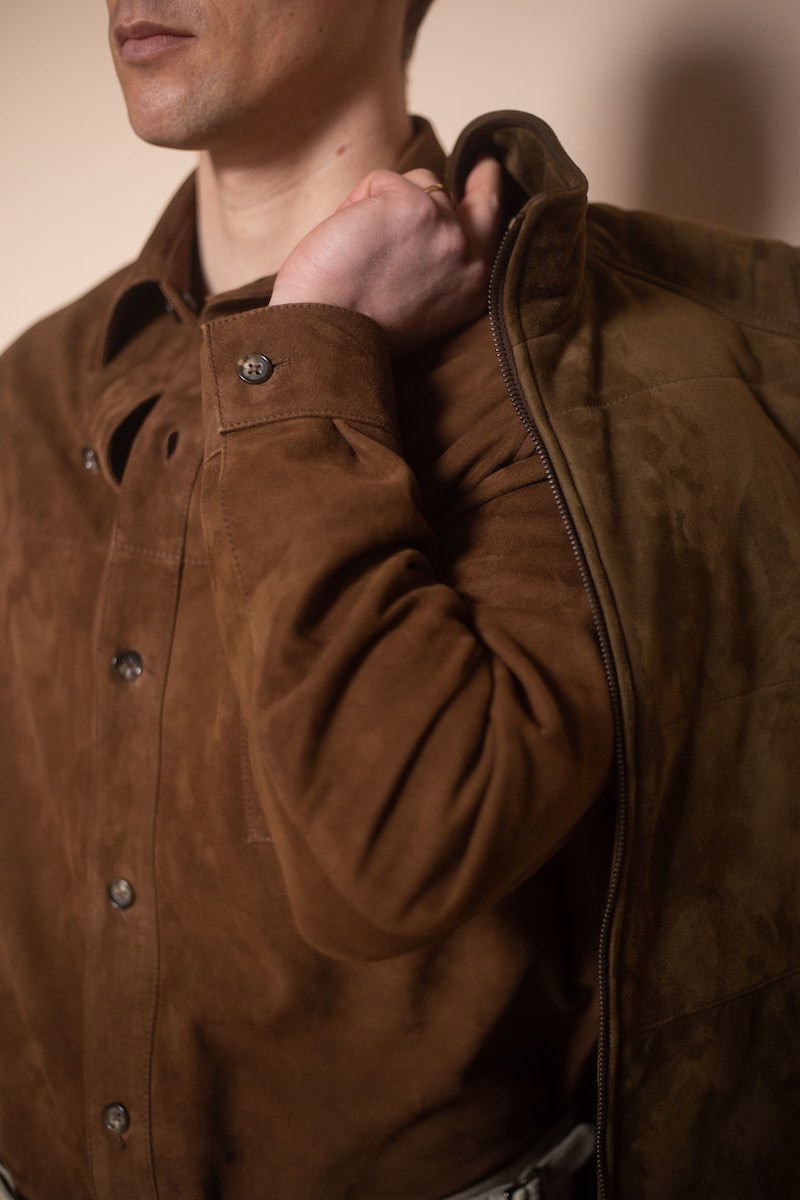 If you think you haven't yet come across the leather making wizardry of Cromford Leather, you may have done so without realizing. As well as historically producing for well-renowned British brands such as Margaret Howell and Holland & Holland, they are the go-to company for dressing secret agents and villains in Hollywood movies. Sean Connery wore a brown jacket with bellows pockets and belt from the brand, paired with khaki trousers and rifle in Tomorrow Never Dies, 1997. For Brad Pitt's character in Allied, 2016, the house crafted a simple, wide-collard leather zip-up jacket. The following year they created Colin Firth's tan shearling coat, which he famously combined with pinstriped suit, cowboy hat and eye-patch glasses in Kingsman: The Golden Circle, 2017.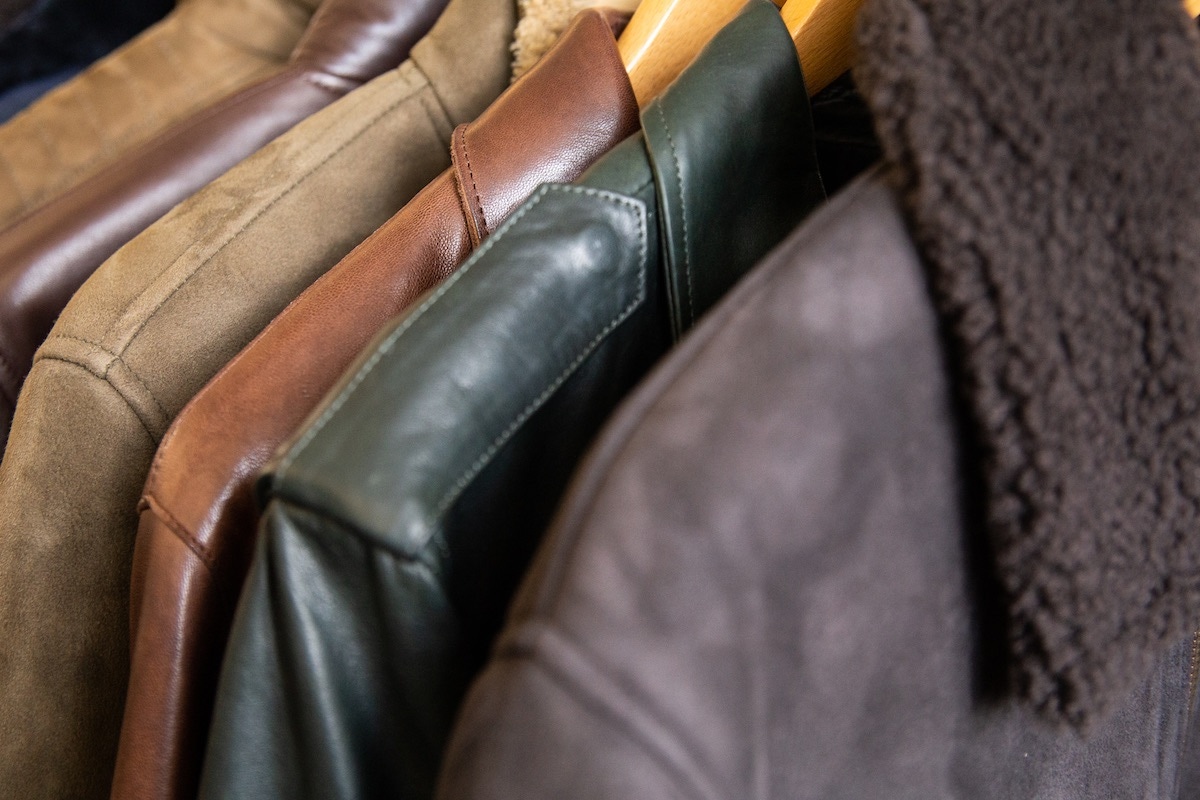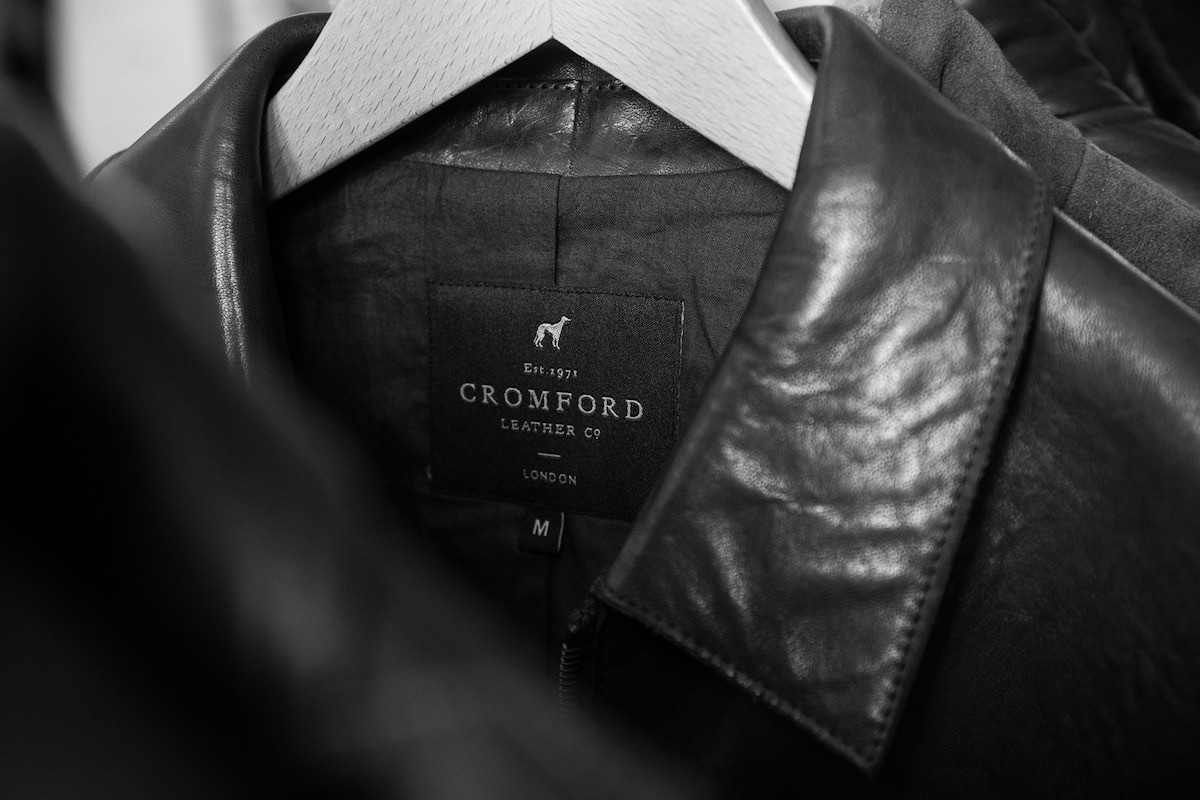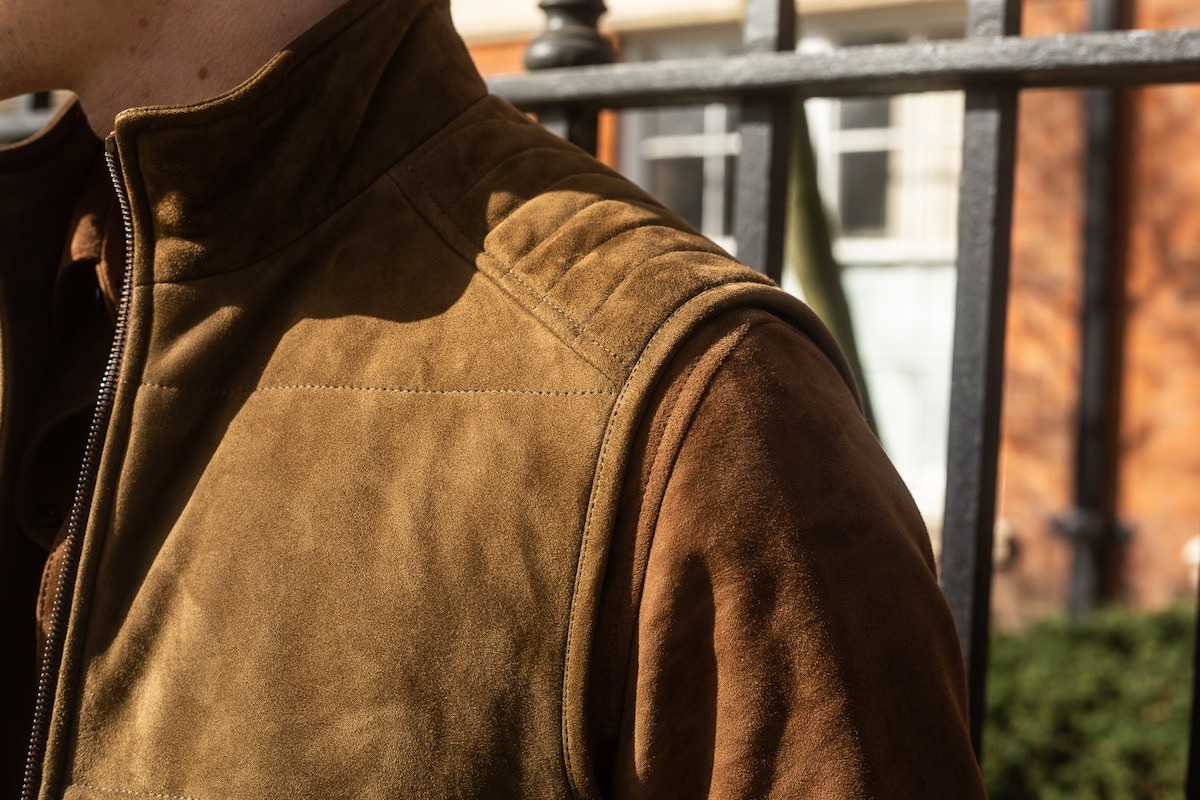 Despite the brand's significant cameos on screen, and with their impressive roster of clients, they're a brand that goes about their business with discretion. Some consider them to be London's best kept secret, and we wouldn't disagree. Luckily for those in the know, you can emulate the thespians of Rakish appeal, by donning any one their designs. Inspired by Paul Newman's attachment to the pea coat, Cromford Leather's design is a classic iteration on the style with its double-breasted construction, which has been crafted in a beautiful navy snow-tipped shearling. An imposing coat, it is versatile enough to traverse easily between smart and casual occasions. Harris' personal favourite is the Eastwood – a military-inspired coat with double-breasted opening. Made from stone-coloured sheepskin with ecru wool, it features brass buckles and epaulettes. It doesn't matter that we're on the wrong side of the season for this coat. It must be the standout coat of its sort on the market, and is certainly a shrewd investment – even if you put it into safekeeping until the frost returns. Elsewhere, the Hoffman is a striking take on the safari jacket, fit with front flap pockets and crafted from a buttery-soft lambskin. The green jacket in the feature image is also in the Hoffman design and can be made to order. Without a doubt a spring piece, their Malkovich gilet is made in a soft, sumptuous khaki lamb suede for a smart casual appearance, whilst their chocolate brown Sharif bomber jacket is one of the most luxurious bombers you will ever come across and again is only a made to order style. There's also the Douglas, which is inspired by the Irvin flight jacket and is made from shearling attached to strong cowhide. Straddling smart and informal, Cromford Leather designs give tremendous sustenance to someone's character, through their deep-rooted connection to historical culture. Cut slightly longer than a typical A2 jacket, their iconic Redford bomber is constructed in very supple yet durable chocolate brown cowhide, which will mature beautifully with age. The tone of the leather is sumptuous, and in antiquity terms it would be considered a rare relic indeed – and one that should be cherished, along with all of Cromford Leather's other exemplary designs.