CROSS-STITCH
To celebrate International Women's Day we've burrowed into the archives, specifically Rake 39 where Stuart Husband takes up the challenge of trying to pin down the 'real' Marlene Dietrich. At one time she was the world's highest-paid entertainer despite being described as a cipher and an allegory. Goddess or strumpet, gay or 'unstraight', she is one of the most influential women of all time.
In its July 1955 issue, the lubricious Hollywood gossip magazine Confidential had some audacious scuttlebutt to impart. "Marlene Dietrich and men are an old story," it trumpeted. While the diva's diva was happy to spread rumours of affairs with everyone from John Gilbert to Ernest Hemingway, it continued, these were smokescreens "to cover up some sprightlier capers that would have lifted the nation's eyebrows all the way up its forehead. Because," it frothed, approaching a lip-smacking crescendo, "in the millions of words that have been written about Dietrich's dalliances, you've never, until now, read that some of them were not with men!" After a suitably judicious pause, the magazine rammed home its point: "In the game of amour," it concluded, "she's not only played both sides of the street, but done it on more than one occasion." It's safe to say that, even in the straitened climate of mid-fifties America — where the Un-American Activities Committee was rooting out subversion of every stripe, and the Hays Code forbade 'any inference of sex perversion' from assailing movie audiences — the majority of Confidential's readers will have found that their eyebrows had failed to achieve vertiginous ascension after receiving the 'revelations' about Dietrich. After all, this was a woman whose calling-card was an enigmatic sexual ambiguity, and who seemed to hint that, behind a poker face of frosty hauteur, cards of every suit and stripe were waiting to be tossed wantonly across all manner of tables. It's there in her breakthrough role as the heartless chanteuse Lola-Lola, who destroys respectable men without a backward glance in 1929's The Blue Angel. Dietrich shuffles across a shabby stage, clad in a top hat and a black dress slashed across the front to reveal her bloomers and gartered silk stockings, vamping for the tuxedo'd audience but keeping a lascivious eye on her chorus girls as she croons what became her signature song, Falling In Love Again: Love's always been my game Play it how I may I was made that way I can't help it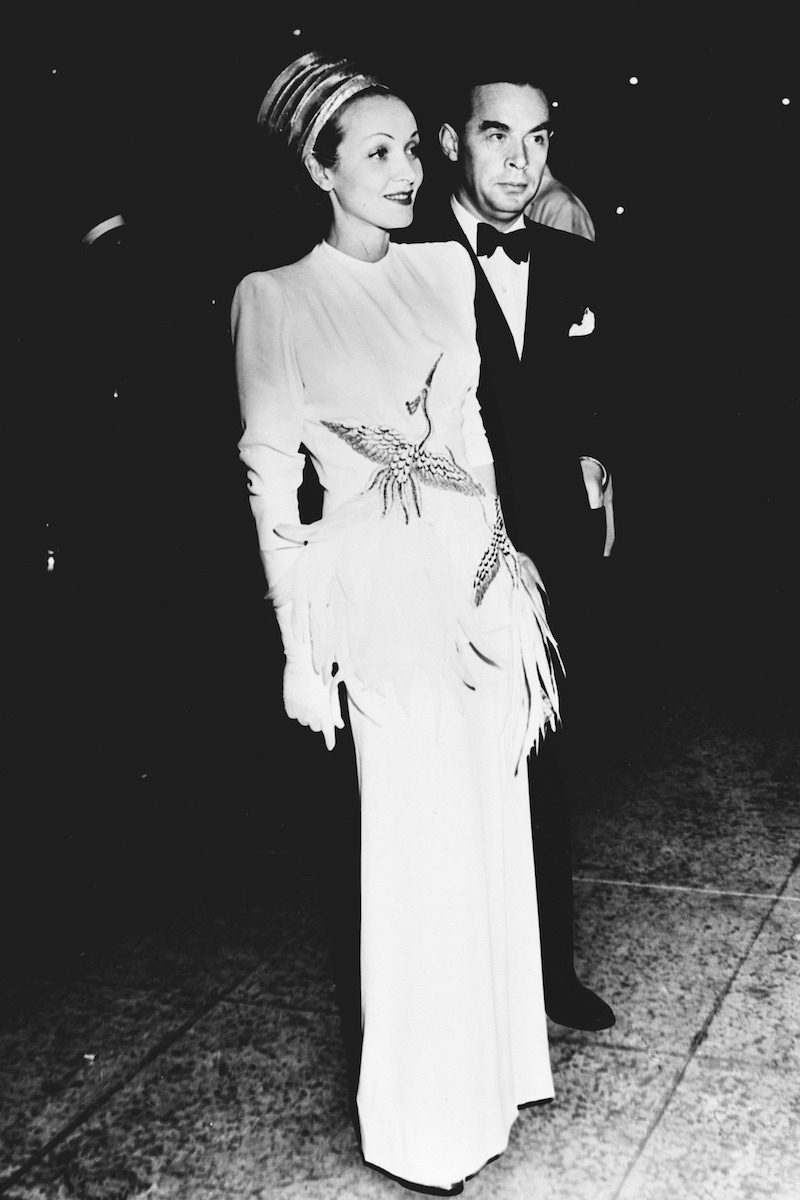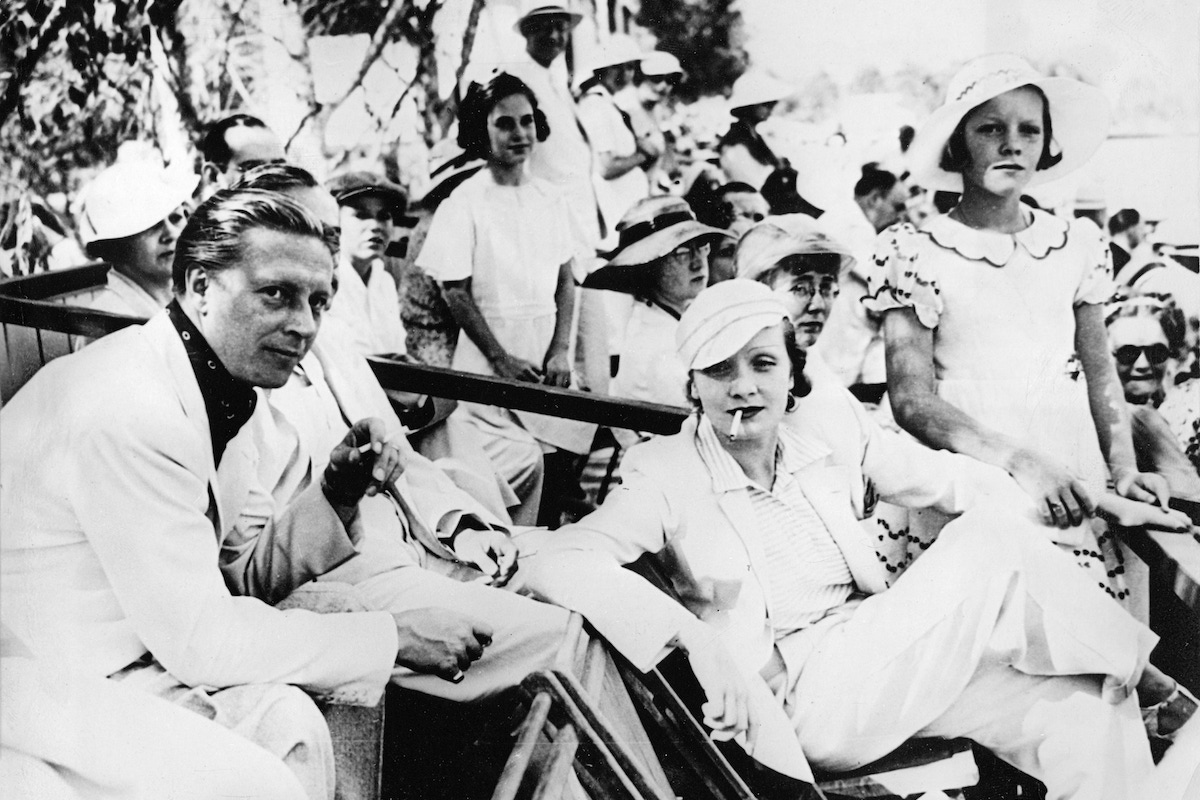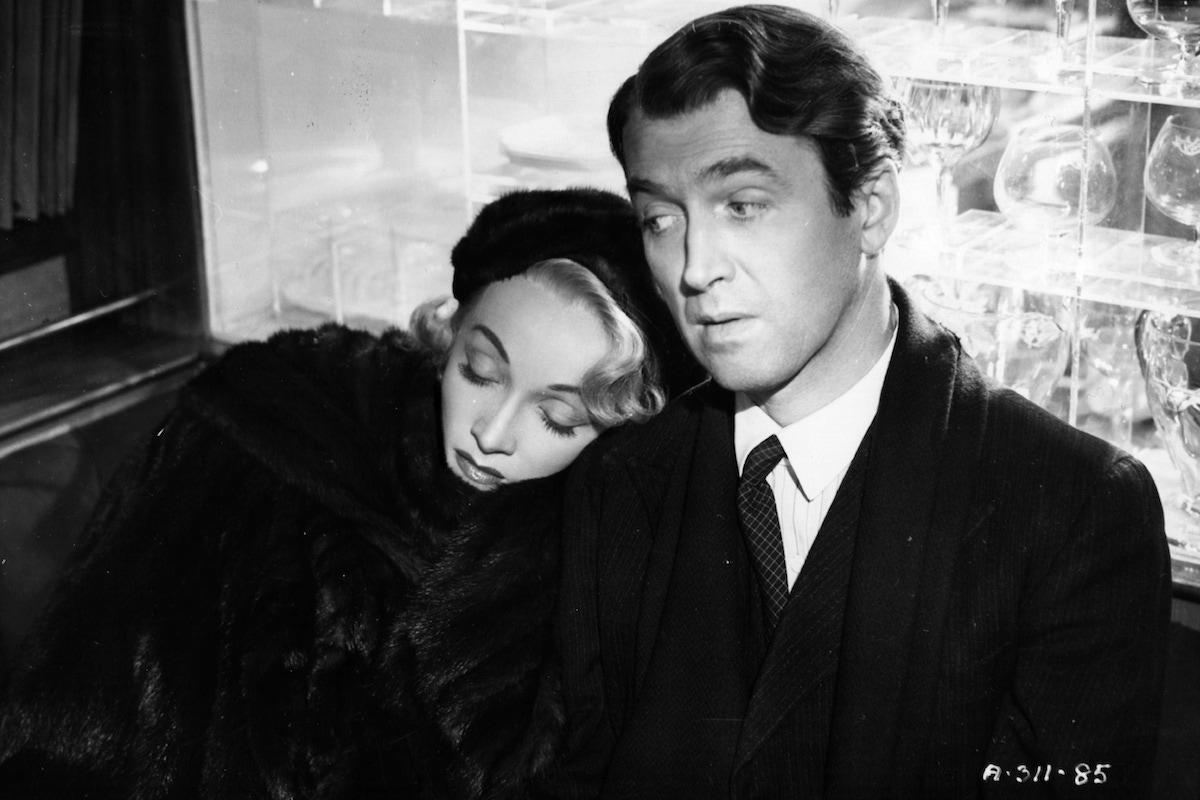 Indeed, Dietrich had found herself in the right place and time to play the game in her own transgressive style. Josef von Sternberg, the director of The Blue Angel, had scoured Berlin looking for someone with the right mix of icy insouciance and divine mittel-European decadence to play Lola-Lola, and Dietrich soon established herself as a kind of den mother to a thirties Sapphic Hollywood set she called 'the Sewing Circle' (while raffishly referring to her previous, not-unabundant phalanx of male lovers as 'the alumni association'). "Lesbian affairs, it was widely felt, were good for you," wrote Diana McLellan, whose 2000 book, The Girls: Sappho Goes to Hollywood, anatomised the scene and its major players. "They expanded your emotional range, nurtured your amour propre, kept your skin clear and your eyes bright, burnished your acting skills, and even — as Josef von Sternberg believed — exerted a powerful androgynous magnetism through the camera's lens, attracting the unwitting desires of both men and women in the audience through the dim, smoky air of the movie house." Dietrich's equivocal approach to sexuality can be attributed, in no small part, to the milieu from which she emerged in all her toppered, tail-coated splendour. As Robert Beachy points out in his book Gay Berlin: Birthplace of a Modern Identity, Dietrich's native city had already established itself as a crucible for gay identity by the time of her birth, in 1901. The first gay magazine, Der Eigene (The Self-Owning), had been published there five years earlier; the following year, the physician Magnus Hirschfeld (who coined the term 'transvestism') founded the Scientific-Humanitarian Committee, the first gay rights organisation. During the height of the Weimar Republic in the 1920s and thirties, gays and lesbians achieved an unprecedented level of visibility in popular culture, thanks to films such as 1931's Mädchen In Uniform — in which a 14-year-old boarding school girl declares her love for one of her mistresses ("What you call sin, I call the great spirit of love, which takes a thousand forms!") — and the arrival of émigrés such as Christopher Isherwood, who, between visits from hustlers, composed his novel Goodbye to Berlin, which established Sally Bowles and the Kit Kat Club as emblems of the era's polymorphous perversity. In their Dietrich exposé, Confidential magazine took a less sanguine view: "All through the roaring twenties, the German capital was a global headquarters for the most shameless perversions. Its streets were crammed with niteries for the odd and their owners were so strict that a normal person was denied admission. Girls making like boys was of such little concern that the gossip columns regularly noted such cavortings as nonchalantly as they recorded the more usual affairs."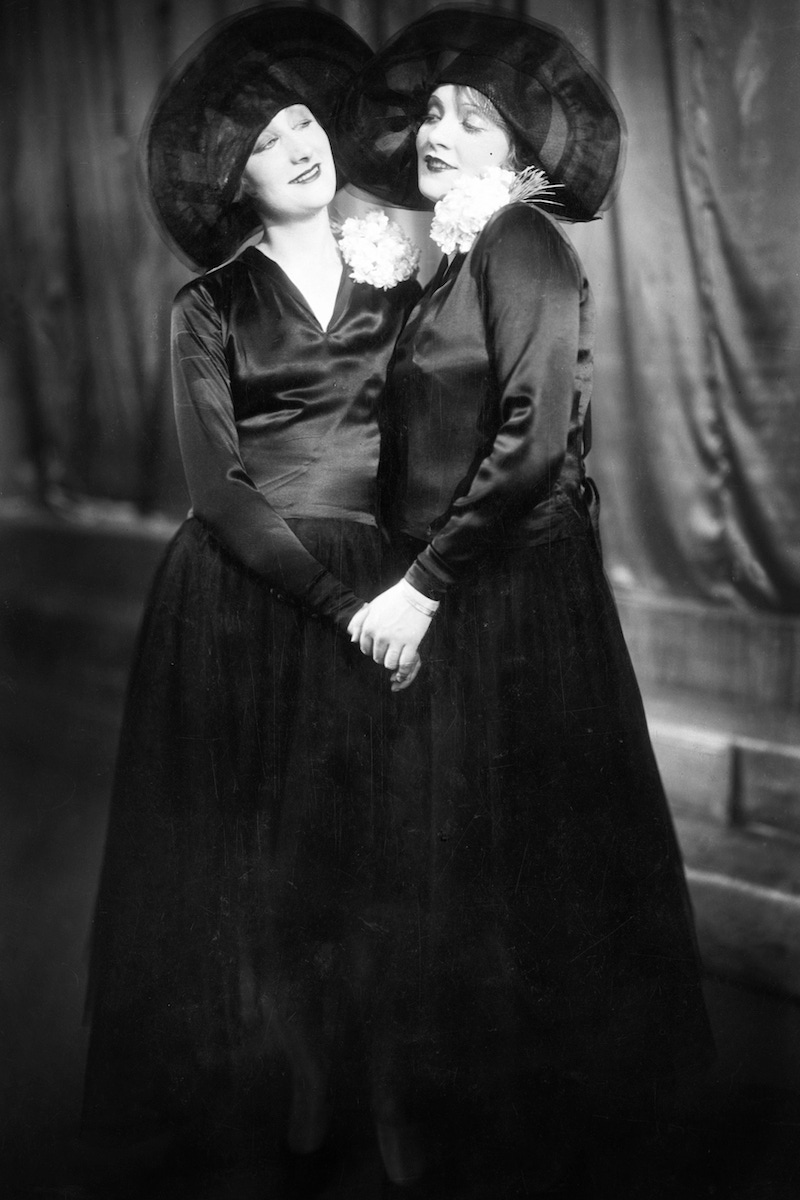 Dietrich took to the drag balls and queer revues with gusto. "I am, at heart, a gentleman," she once declared. She started out as a chorus girl with Guido Thielscher's Girl Kabarett vaudeville troupe while also enrolling at Turkish prizefighter Sabri Mahir's boxing gym. Her first stage success, the musical comedy It's In The Air, opened in Berlin in 1927; Dietrich sang a song called My Best Girl Friend to her co-star Margot Lion, with both sporting corsages of violets — "a secret signal of lesbian love," averred Confidential, in much the same way that, today, an abundant clump of pampas grass in a front garden is alleged to signal a propensity to swing. McLellan also posits that, around this time, Dietrich and Greta Garbo met on the set of an obscure silent film called The Joyless Street, and had a brief and almost equally joyless affair that "ended with such a deeply hurtful betrayal that Garbo flatly refused to acknowledge Dietrich's existence for the rest of their lives, even when the two simultaneously shared lovers in Hollywood, including the writers Mercedes de Acosta and Erich Maria Remarque." Von Sternberg had brought Dietrich to Hollywood after the success of The Blue Angel, and set her up as Paramount's answer to Garbo, who had been a huge money-spinner for MGM. They made seven films together, including Blonde Venus and The Devil is a Woman. Dietrich seemed determined to live up to the billing of at least one of those titles, burning through affairs with, among others, Maurice Chevalier, Douglas Fairbanks Jr, Kirk Douglas, Yul Brynner, Frank Sinatra, John Wayne, and James Stewart (her co-star in the western Destry Rides Again, in which she belted out the more-than-slightly salacious The Boys in the Backroom). Meantime, the Sewing Circle was in full swing. Oh, and Dietrich had also acquired a husband, Rudolf Sieber, a film production assistant she'd married in the early twenties. Their daughter, Maria Riva, was born in 1924 (she published a tell-all memoir about her mother in 1992, which was immediately dubbed Mommie Queerest). Dietrich never divorced Sieber, the better perhaps to protect herself via lavender marriage from the competing claims of her suitors (in fact, she staunchly maintained her husband and his mistress on a ranch in the San Fernando Valley throughout her life). In her book, Riva wrote that Dietrich weaponised sex in her affairs with men: "She didn't actually care much for 'it' — rather, it was a way of controlling and manipulating them." Her affairs with women, on the other hand, could be warm, even tender: "She actually enjoyed the sex, and the relationships were much more satisfying for her." One commentator suggested Dietrich should be described as 'unstraight' rather than 'gay' or 'bisexual', while the film critic Kenneth Tynan put it pithiest when he declared: "She has sex without gender."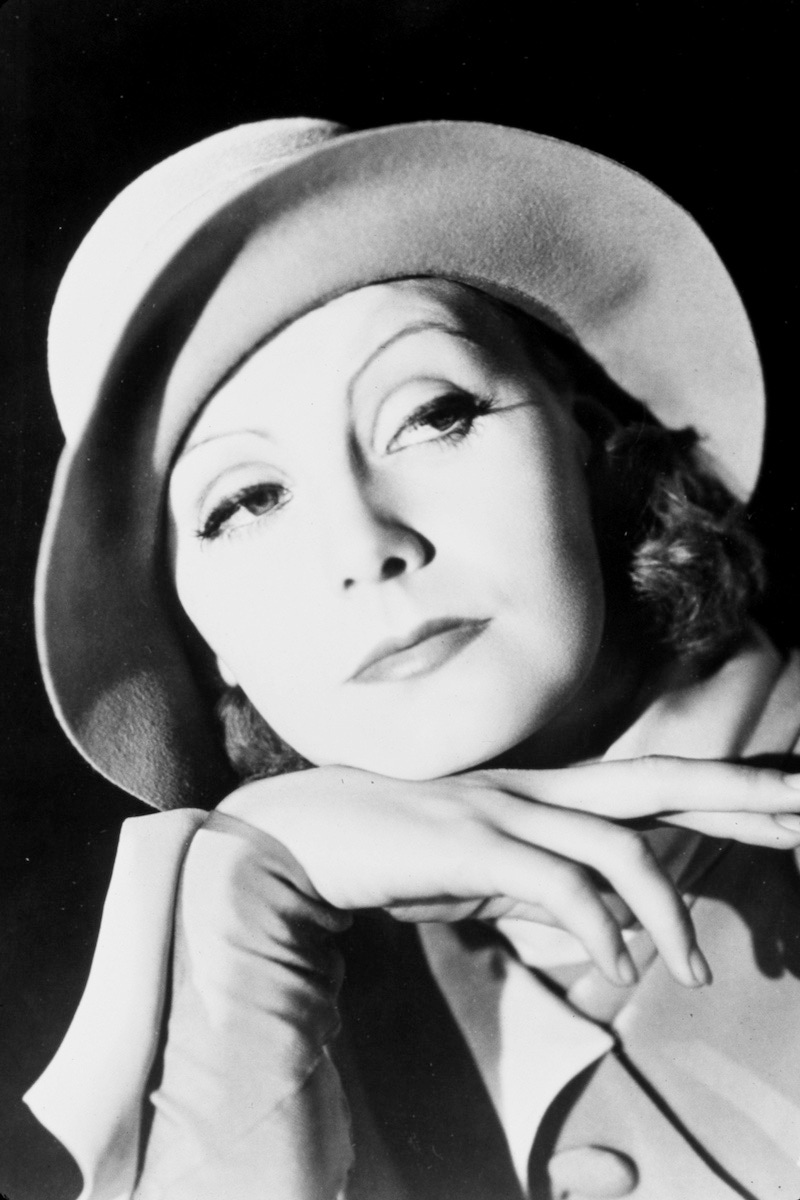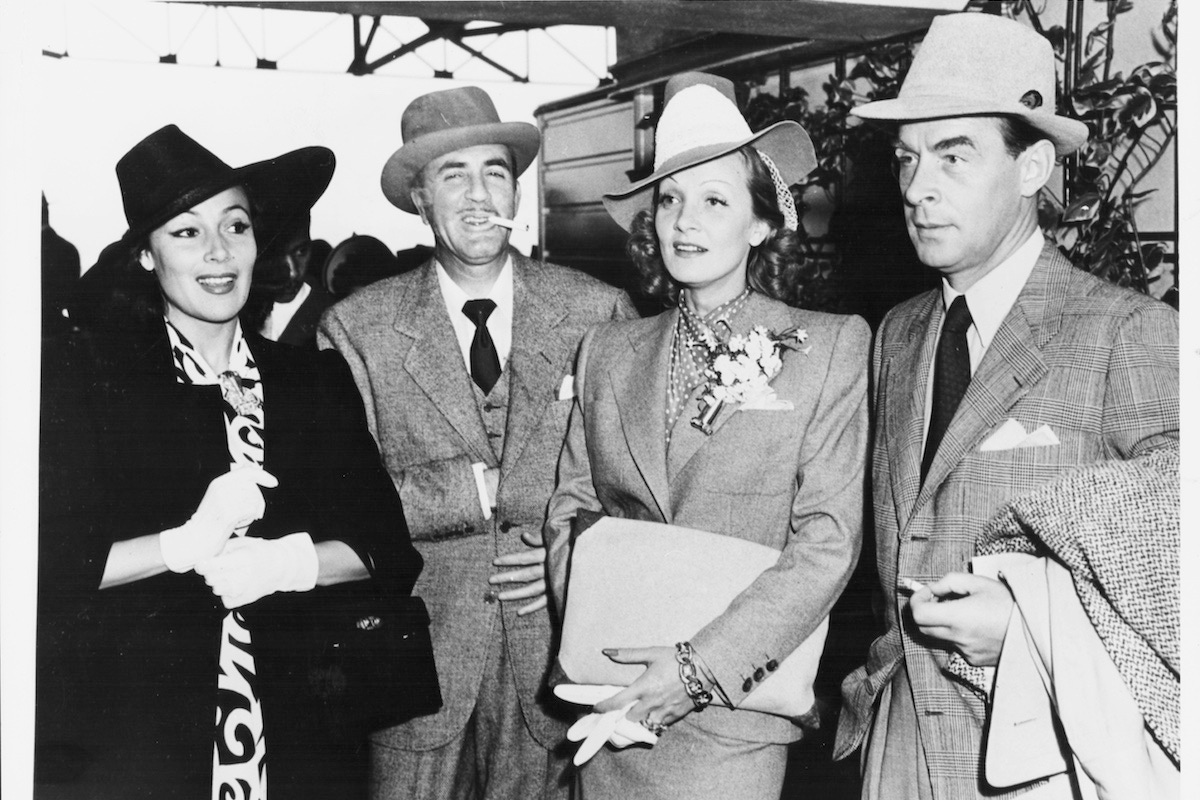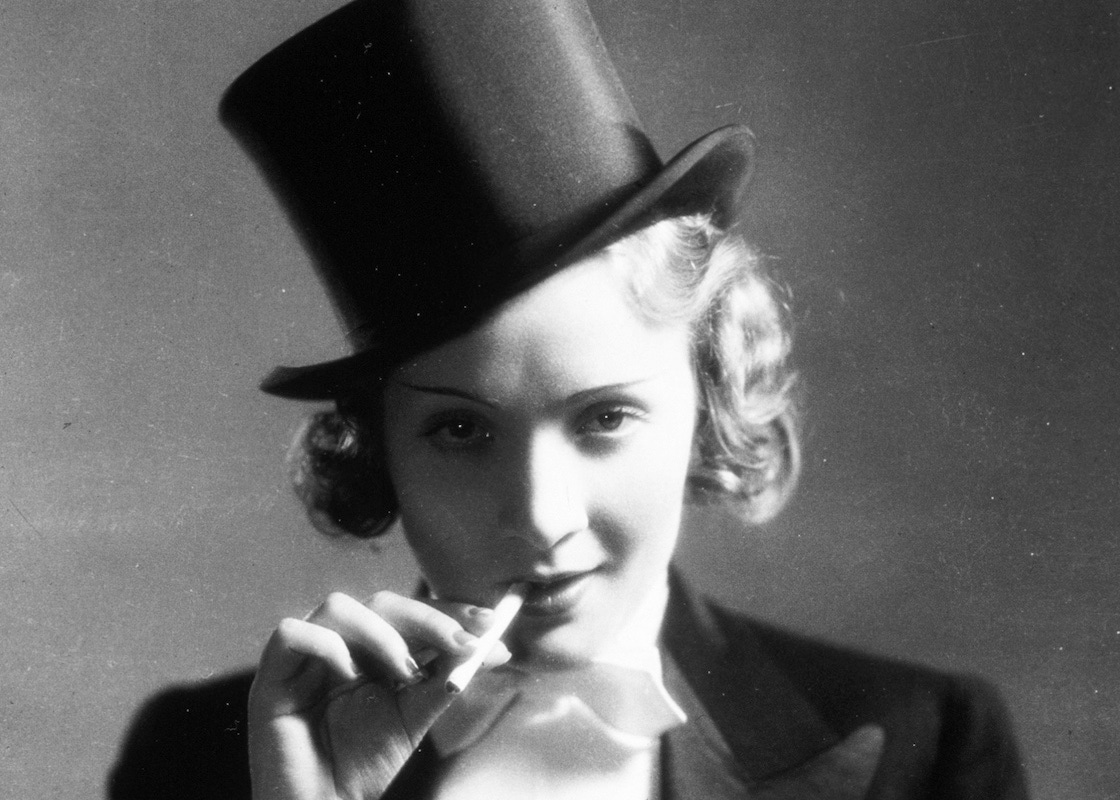 The Sewing Circle would meet at one another's houses for "lunch, conversation and possibilities", according to McLellan. One frequent hostess was the Mexican actress Dolores del Río, then married to Cedric Gibbons, MGM's art director; her luminous beauty had seen her anointed "the female Valentino", and her former lovers included Remarque, the author of All Quiet on the Western Front, and Orson Welles. De Acosta, who ping-ponged between Dietrich and Garbo, was a poet, playwright and novelist who made no secret of her sexuality — "she claimed to be able to prise any woman away from any man, and favoured clothes that seemed to be tailored by Brooks Brothers," offered Confidential — and had enjoyed previous affairs with the actress Alla Nazimova and the dancer Isadora Duncan. (McLellan adds that the legendary Tallulah Bankhead missed out on the Sewing Circle by "pursuing Garbo relentlessly", thus disqualifying herself from Dietrich's camp.) The hapless Remarque gifted Dietrich another of her paramours when he brought Frederique 'Frede' Baule as his date to the opening of a Chevalier musical in Paris in 1936. Baule, perhaps captivated by Dietrich's outfit — a fur coat made of 32 white foxes and a gold band that twisted, snake-like, around her hand and forefinger, and worn, Dietrich said, to deter the male supplicants who wanted to kiss her hand — ended up on Dietrich's arm and spent the next two years with her. The pair eventually opened a louche Côte d'Azur nightclub called La Silhouette. But Dietrich's most noteworthy female conquest was surely Joe Carstairs, a.k.a. the Queen of Whale Cay, a Standard Oil heiress and powerboat racer who dressed as a man, sported tattoos, smoked cheroots, formed a lifelong bond to a Steiff doll she named Lord Tod Wadley, and bought a Caribbean island where she reigned over a colony of Bahamians (Carstairs also 'hosted' Garbo and Bankhead on Whale Cay, for good measure). Dietrich outlived Confidential magazine, though only by 14 years; by the time of its demise, in 1978, lawsuits and libel threats had reduced it to a shadow of its once-salacious self. Her 'outing' at the magazine's hands had no discernible negative impact on a career that, in any case, had reached its Hollywood apogee two decades earlier. By the mid fifties, Dietrich was a war hero, having spurned Hitler's entreaties to return to her homeland during the second world war. She also renounced her German nationality to become a U.S. citizen (she was awarded the Presidential Medal of Freedom and the Legion d'Honneur for her stand), and was well on the way to her next and final incarnation — as a cabaret entertainer, taking her stole-swathed, sequin-studded, one-woman show around the globe (with a young Bacharach as her accompanist), once again becoming the world's highest-paid living entertainer and continuing to defy anyone who attempted to pin down the 'real' Marlene Dietrich. "She enjoyed her contradictions and made of male and female amusing, temporary distinctions," wrote Diana McLellan. "She presented her nature like a charade; she was a cipher, an allegory, someone who could fulfil any fantasy or fit any construction." Goddess/strumpet, man eater/woman devourer, gay/unstraight: all were grist for Dietrich's mill. She would have concurred with Garbo (for once) that her homosexual affairs were "exciting secrets" that served to enhance her allure, even (especially?) when they were dragged into the open. Perhaps that's why Confidential, in 1955, chose to end their ribald testimony with a final, lionising word on the matter: "The big jackpot question is, how does Dietrich do it? There can be only one answer. She is simply incomparable." Dietrich herself had much the same nonplussed reaction as the magazine's readers, dismissing the whole imbroglio with a wan shrug, mixing come-on and ennui in her patented, play-it-how-I-may style. "In America, sex is an obsession," she said. "In other parts of the world, it's just a fact." This article originally appeared in Issue 39 of The Rake.