Curry & Paxton: A Golden Story
Exclusive to The Rake, this is the story of Curry & Paxton, the eyewear label founded in 1888 that helped cement Michael Caine as a style icon and national treasure.
In 1969, the most stylish British film ever made was released on the silver screen and half a century later it's still worth more than its weight in gold, shall we say. I am of course talking about The Italian Job, the crime thriller-cum-caper of the century with Michael Caine playing the lead as Charlie Croker, the cocksure heist-man with a master plan. For the London-born actor, who is a savoured relic of the Golden Age of British cinema and one of the last remaining national treasures, it remains to be his magnum opus. The role of Croker catapulted the working-class lad to beyond super-stardom, won him legions of fans and even more female admirers, and cemented his legacy as a true style icon ne plus ultra. It also provided the swinging sixties with a curtain call to boot - both stylistically and climatically. There are too many obvious elements and happenings to justify why it's such a great film. However, did you know that the role of Croker was written specifically for Caine? Well, it was. And that poses another question: would it have worked with one of his peers in his place? Absolutely not. That would be a preposterous presumption. Throughout much of the film, Caine wears suits crafted by the legendary tailor, Douglas Hayward aka the Buddha of Mount Street. Hayward also made suits for Roger Moore, Terrence Stamp, Sir Jackie Stewart et al, and his name can be found at the end in the credits, which is most unusual for a tailor. Hayward's role in the film was not the fashionable decision of the costume director, rather, Troy Kennedy Martin, who wrote the screenplay, understood that if Caine were to ace the role of Croker his costume should be his own. Martin knew that, as did Caine, who a few years later said: "I knew exactly who Charlie Croker was when I looked at myself in that suit." In addition to those hybrid of Anglo and Italian style suits, he also wore shirts from the legendary psychedelic shirtmaker Mr Fish and a very special pair of tortoiseshell sunglasses from Curry & Paxton.
Founded in 1888, Curry & Paxton began its days supplying optical instruments and parts, like ophthalmoscopes, to the burgeoning industry in which London was the global fulcrum. Based at 195 Great Portland Steet, Curry & Paxton later started to make opticals, binoculars and barometers for domestic use, such as lorgnettes to be worn at the opera. This was during a time in which arms or temples – a design detail that's now standard and taken for granted – hadn't been invented yet, and Curry & Paxton even had a patent on the creation of stabilisers that allowed the spectacles to rest upon one's nose. In the early 20th century, the business went nationwide as a retailer and was tremendously successful. The brand gained notoriety in 1965 when Caine starred in the first of three Harry Palmer films. Adaptions of the novels written by Len Deighton, the films were effectively the antithesis of theBond franchise – less slick, more sloppy but nevertheless just as humorous and entertaining. In The Ipcress File (1965), Caine is seen in a pair of Curry & Paxton Yvan optical frames for the first time. These are instantly recognisable via the signature three-dotted triangle pin work on the frames and temples. Deighton also wore Curry & Paxton, and there's a great behind the scenes photograph of the two making a spot of breakfast in matching opticals. Caine then wore them in the sequels Funeral in Berlin (1966) and Billion Dollar Brain (1967). It should be noted though that no one knows whether this was the work of the costume director, or if it were a natural occurrence (some things are better left to the imagination). But, it's without doubt Curry & Paxton as in 2006 at Christie's auction house in London, the pair he wore in The Ipcress file went up for sale (confirmation can be found here).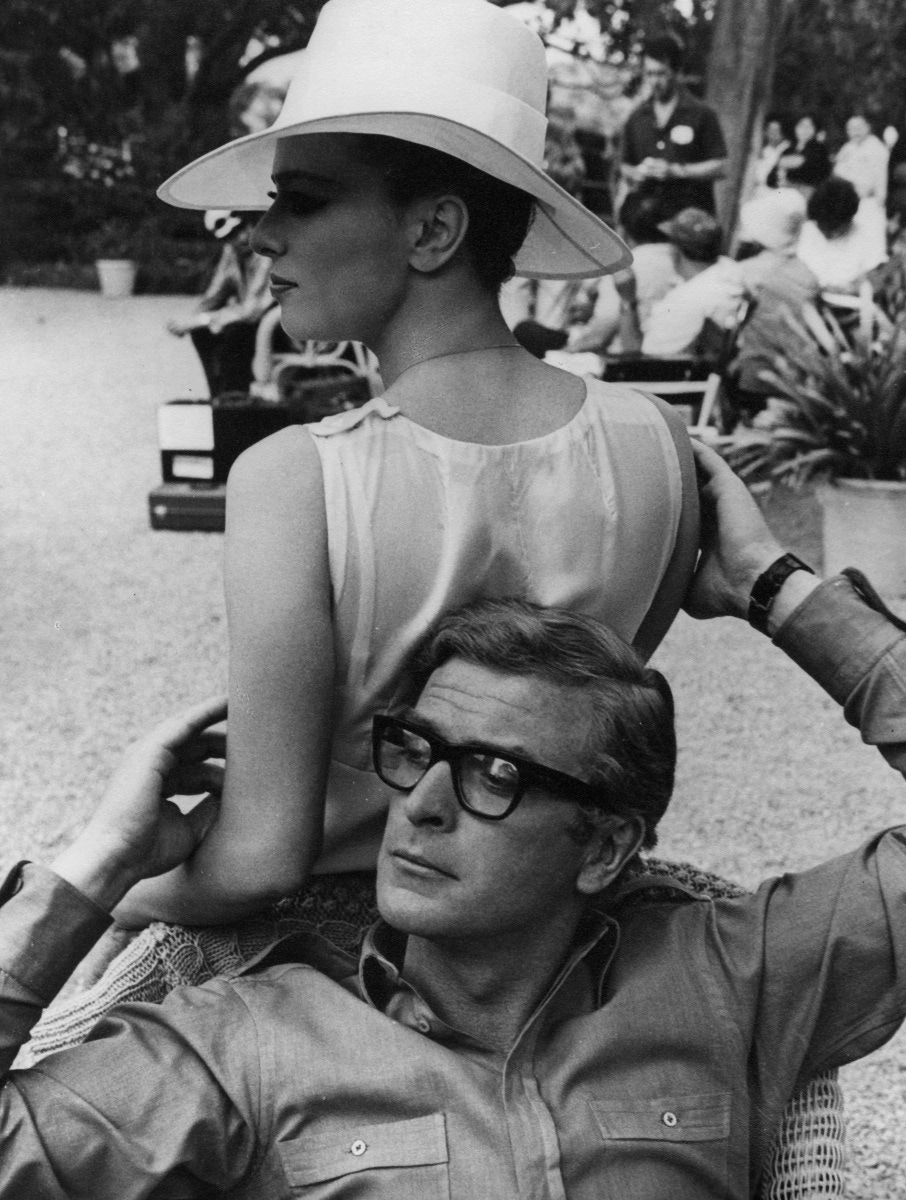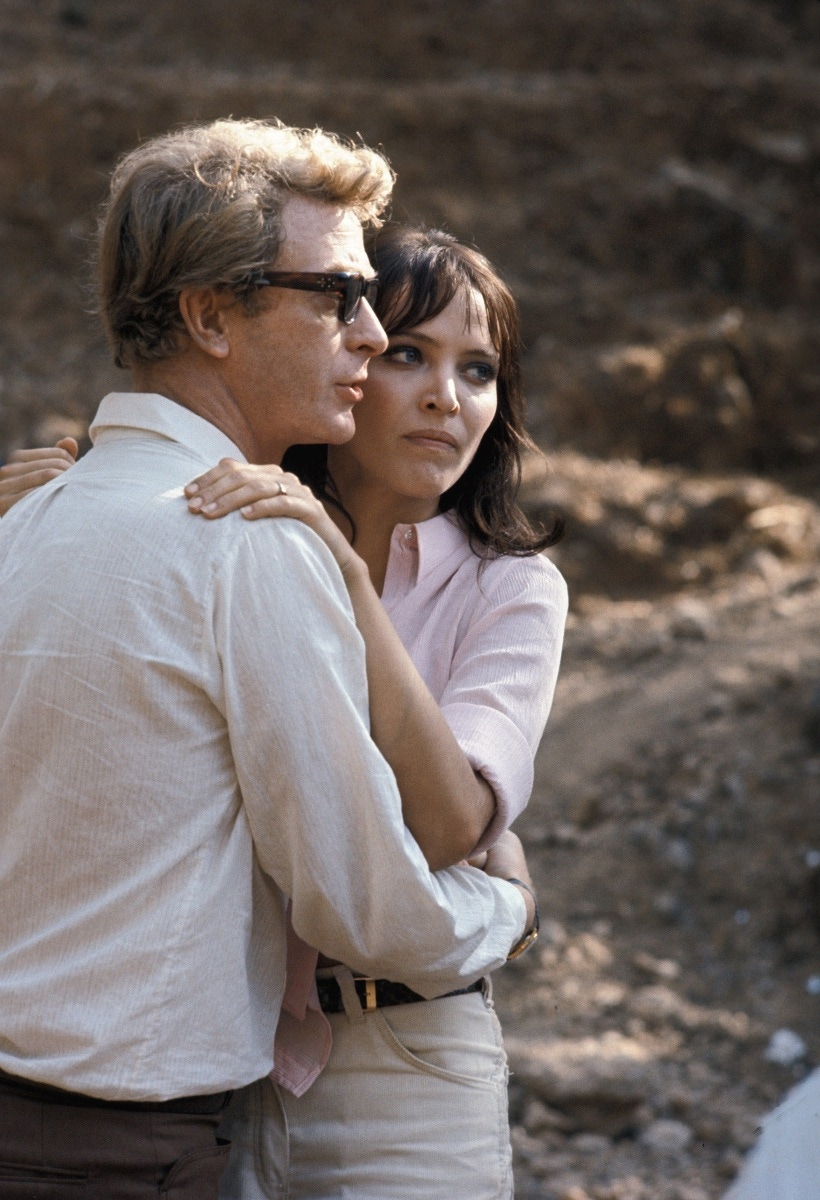 Now, due to the fact that the Harry Palmer films predate The Italian Job, it's equitable to assume that Caine's sporting of Curry & Paxton in the-greatest-cliff-hanger of-all-time was indeed a natural occurrence, bearing in mind that the suits he wore were of the handiwork of his dear friend Douglas Hayward. He only wears Curry & Paxton Yvan sunglasses in one scene, which is just over the halfway mark when he's in Turin, Italy, and has gone incognito in an attempt to try to sneak his girlfriend Lorna out of the country in fear of what the Mafia could do to her. It's this scene that's beloved by menswear enthusiasts, for the suit that he's wearing is truly iconic and defines the decade's overall feeling of optimism, glamour and unapologetic style. In this scene, Caine wears a single-breasted, three-button, beige linen suit and he pairs it with a Mr Fish white shirt with wide and thin brown stripes and a medallion printed silk tie. It really is a perfect ensemble that's balanced and with the right amount of flair and personality. The cut of the suit is also perfect and most befitting given the film's Anglo-Italian setting. Hayward's house style was certainly British but it had Italian influences. To give credit where credit is due, Hayward revolutionised tailoring in the same way that Edward Sexton and Tommy Nutter did when they opened up on Savile Row in the same year as the film's release. The jacket is shorter than your typical late-60s jacket and features a suppressed waist, while the trousers hang lower and are cut slimmer. Overall, though, with the soft, sloping shoulders, it's a modern look that still has its place today. It's also still youthful and even a little bit sexy.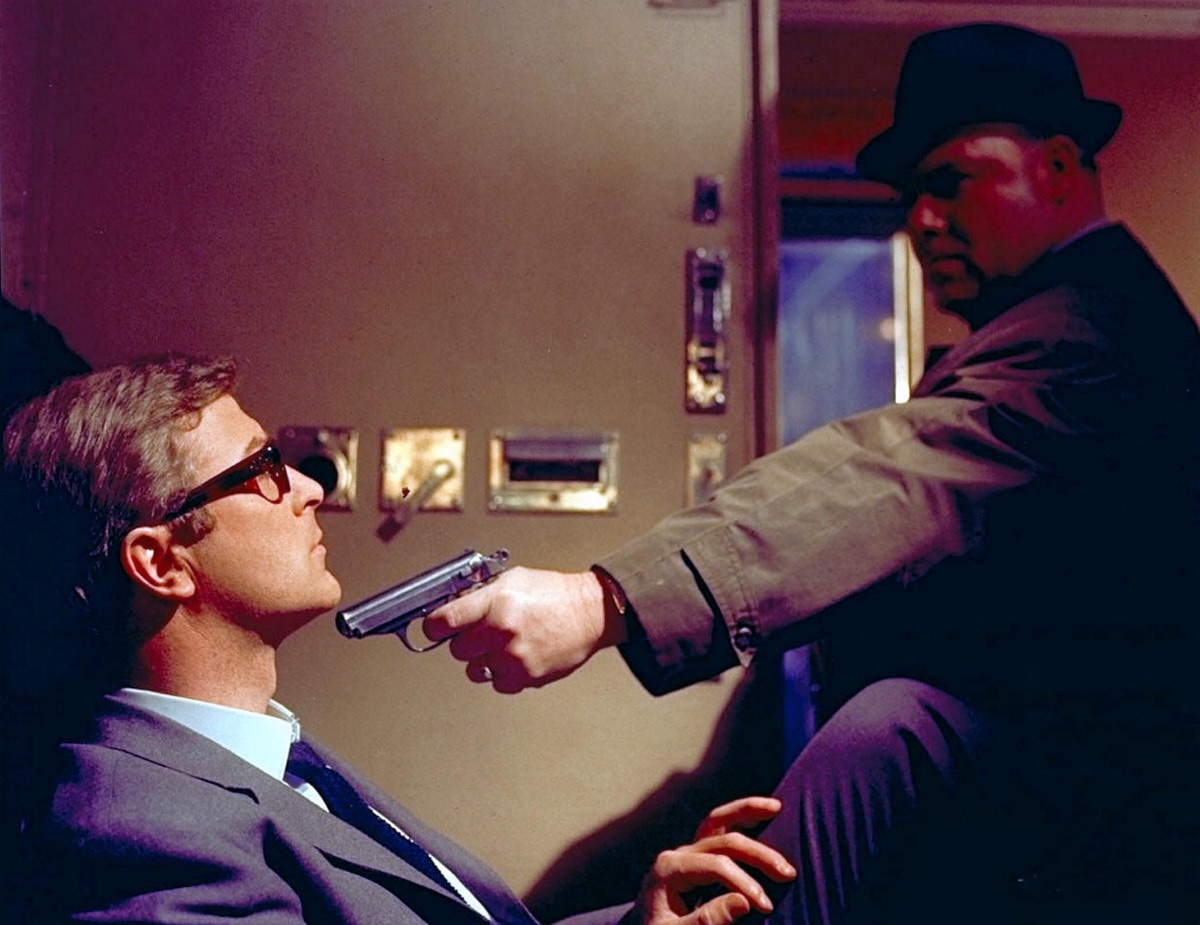 For decades now, it's been possible to bespeak a suit as the one Caine wore in that scene – you just need to go to the right tailor. The sunglasses, however, have been somewhat more difficult to obtain over the years as Curry & Paxton closed in 1987. You don't need to scour the Internet to find them now, though, as David Mason, proprietor of Mason & Sons (who own Motoluxe) relaunched the brand in 2017. In doing so, Mason has given Curry & Paxton a new-found sense of life and purpose at reasonable price points. Curry & Paxton has revised the range and has manufactured them in Italy from Mazzucchelli acetate, which is one of the world's leading manufacturers. Available exclusively via
The Rake
, the Yvan opticals and sunglasses are true to the originals worn by Caine in the Harry Palmer films and The Italian Job, respectively, and feature the same signature three dots on the frames and temples. The shape is svelte and clean, featuring no harsh lines or angles, and rest upon one's nose with serious, unknowing comfort. They're also slightly shallow, which reflects a growing trend in eyewear today - big and bold frames have had their moment, and now it's slimmer frames' moment. Today, many eyewear brands produce limited runs of frames that borrow from the styles worn by icons of cinema like Cary Grant, for example. However – and not to discredit any of them – they never have that genuine connection to the subject, unlike these from Curry & Paxton. Available in two styles, you now have a golden opportunity to help channel your inner Caine or Croker. Unfortunately, though, the same cannot be said of replicating the attitude and swagger, and long may that continue.