Sanctum of Style: Das Stue Berlin
Das Stue is a luxurious boutique hotel that celebrates Berlin's dynamic spirit through a fusion of classic and contemporary style.
Anyone who has ever spent any time in Berlin can
surely
attest to its
unique multifaceted nature: refusing to be pigeonholed,
this is a city that thrives on a heady combination of grit, glamour and cutting-edge creativity. Underground clubs overflowing with
leather-clad
hipsters
exist
alongside some of the world's
most renowned
galleries, museums and theatres. Steeped in a rich, multilayered history yet pulsating with
forward-thinking
dynamism, the city is a constant source of inspiration for locals and visitors alike. 
Encapsulating Berlin's
distinctive spirit
and panoply of
characteristics
is Das Stue, a hotel that
harnesses all of the city's complexities,
fusing historical grandeur with sleek, contemporary style. Housed in a
grand
neoclassical 1930s building that formerly belonged to the Royal Danish Embassy, it is
at once
resplendent and charming,
stately
and warm, sophisticated and quirky. All of this is evident from first entry: an original white marble dual staircase frames the lobby, while a statement-making light fixture dangles above a sculpture of an open-mouthed crocodile head - one of many playful reminders of the property's convenient adjacency to Berlin Zoo. The dramatic interiors are the work of celebrated Spanish designer Patricia Urquiola, whose use of mood lighting, sumptuous textures and rich colour palette creates an immediately inviting atmosphere, living up to the hotel's name: Das Stue is Danish for 'living room'. In fact, a few nights here feel almost akin to spending time in the home of your ultra-stylish friend with envy-inducing taste. The 78 rooms, 20 of them suites, differ from each other in character, but all feature high-end modern furnishings, hand-picked textiles and black and white fashion photographs and portraits by artist André Rival. Many boast impressive views of Tiergarten and Berlin Zoo, some with balconies or terraces. A perfect balance has been struck between cosy and contemporary: it would be tempting enough to skip out on a morning of sightseeing in favour of a few extra hours of luxuriating in the comforts of your room, be it
soaking in the freestanding tub or nursing a cocktail on your balcony as you spy on the neighbouring antelopes and ostriches.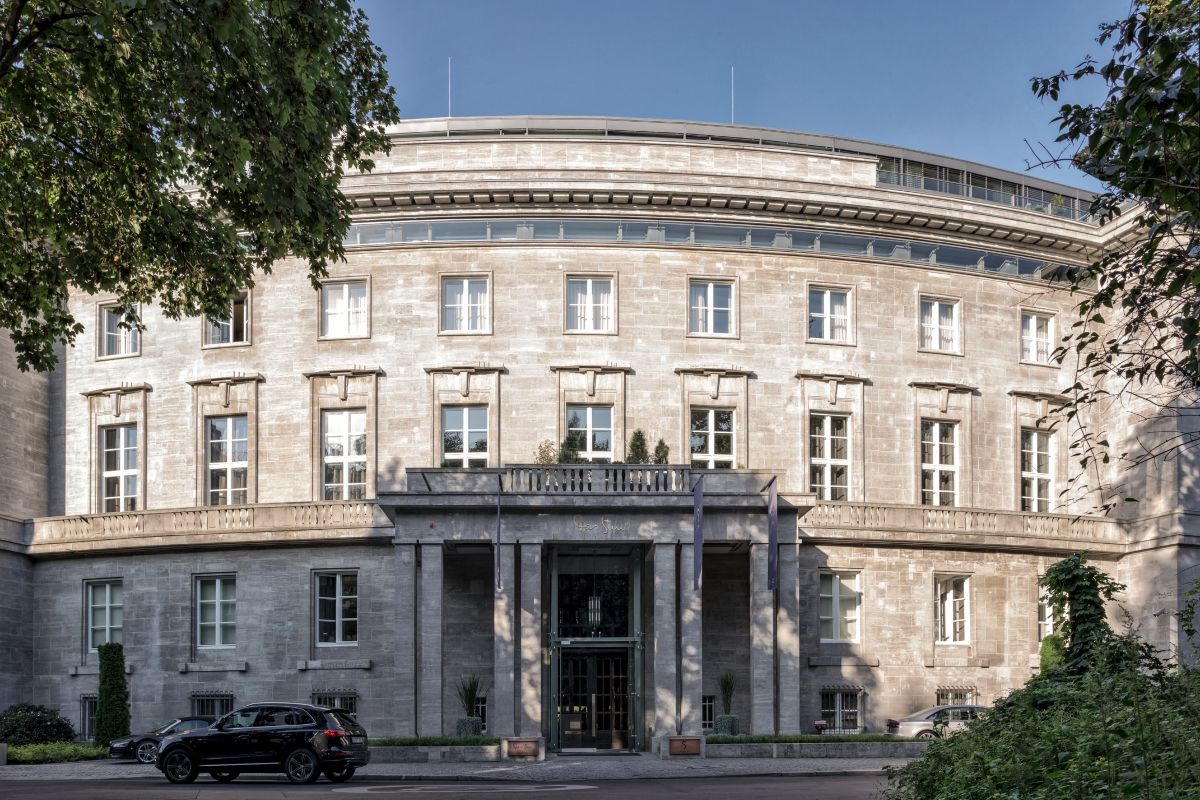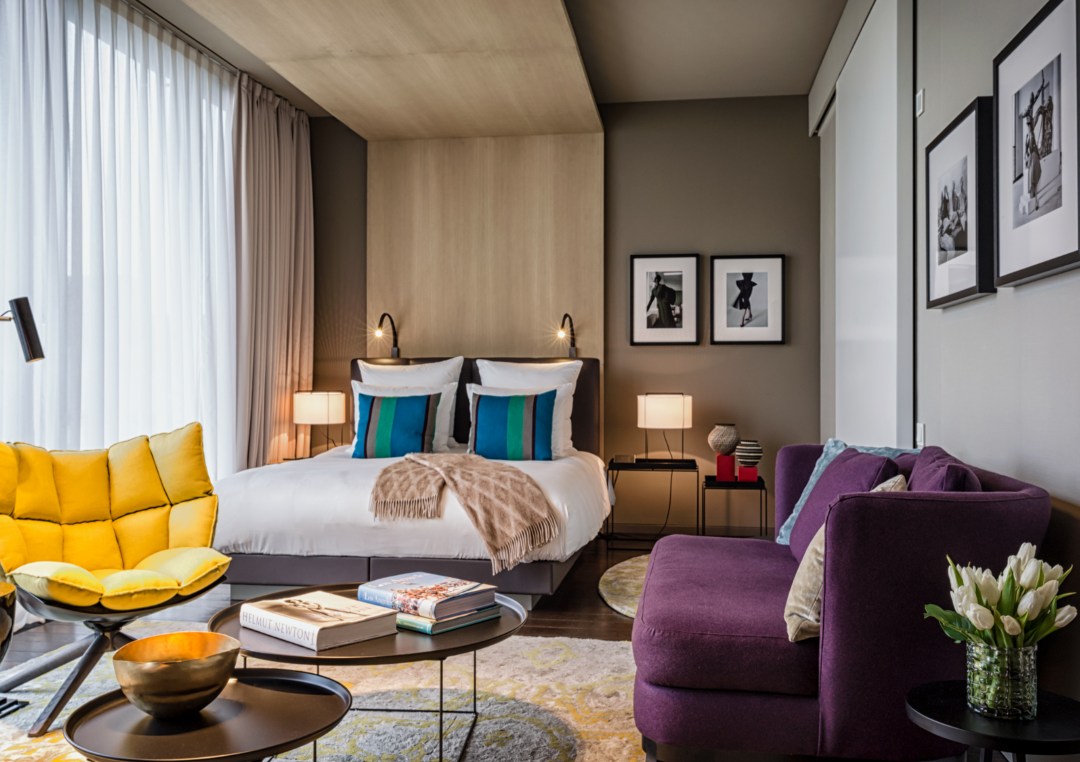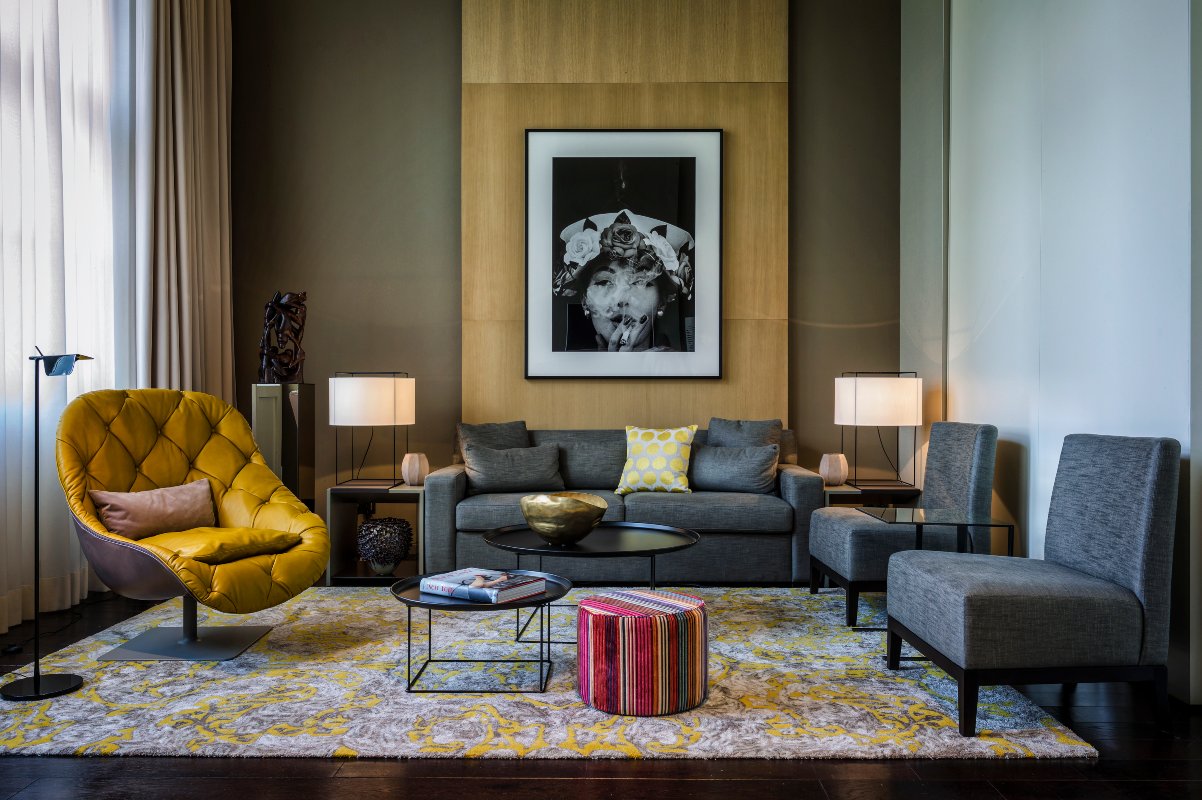 No matter how packed your schedule, be sure to set aside a night to experience the culinary delights of t
he hotel's Michelin-starred restaurant, Cinco by Paco Perez. Its tasting menus are intended to awaken all five senses with inventive avant garde Mediterranean cuisine in a most spectacular setting, where brass kitchenware hangs from the ceiling and diners can observe chefs at work through tinted glass. 
For something more low-key, opt for tapas-style sharing dishes at The Casual, which focuses on fresh seasonal ingredients cooked simply. On a sunny day, choose a table on the leafy terrace and tuck in to a soundtrack of trumpeting zoo animals on the other side of the gate. 
In high-octane Berlin, any iota of time you have to unwind should be taken full advantage of. Luckily, Das Stue provides opportunities for relaxation and rejuvenation in spades. Book in a bespoke organic treatment at the hotel's luxurious Susanne Kaufmann Spa for a truly restorative experience, swim leisurely laps in the indoor swimming pool or request a personalised yoga or jogging session with the hotel's expert trainers. There is also a mini library on each floor, with a large selection of Taschen books on topics such as art, architecture and creative contemporary culture, where you are encouraged to indulge your  and make yourself at home. 
Ultimately, it's these personalised touches and little luxuries that make Das Stue the sort of place you'll want to return to time and again. Simultaneously relaxed and resplendent, it's a reminder of Berlin's richly textured nature; a place that stimulates the senses with its glamour and style whilst acting as a veritable haven of tranquility.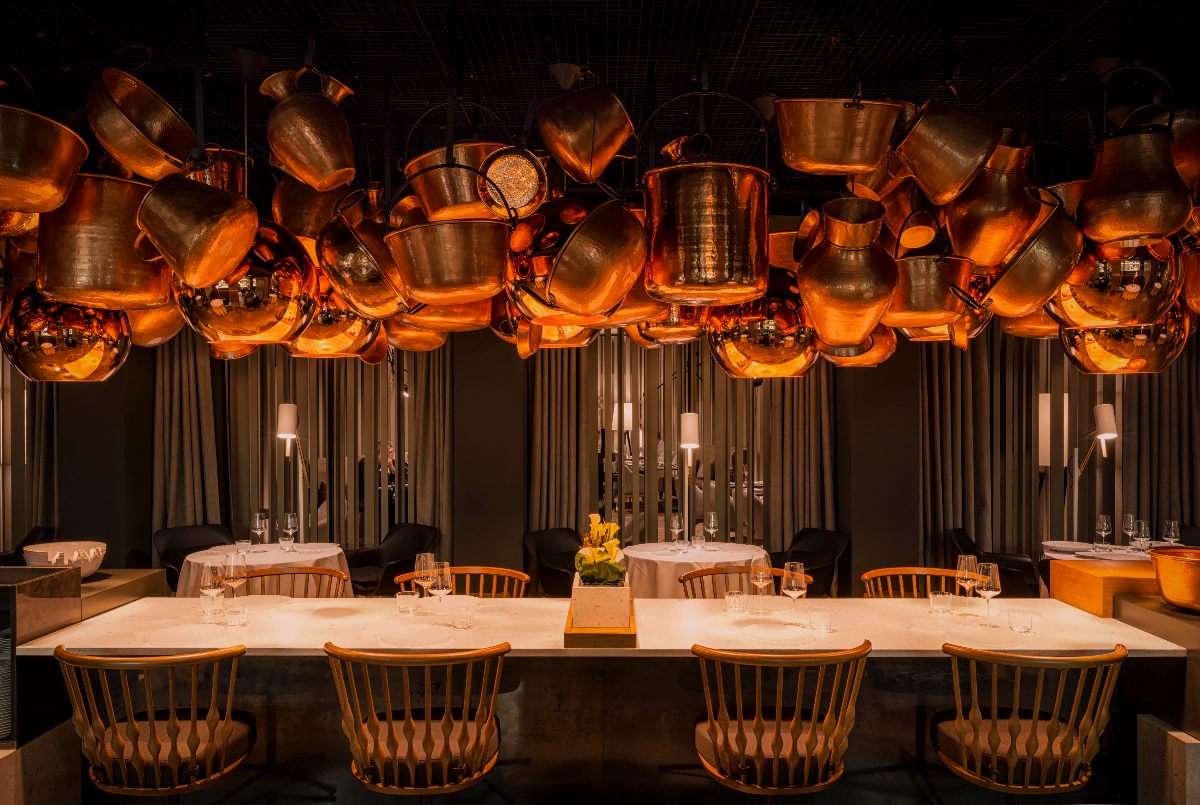 Dress the part:
As one of Europe's most design-driven and creative cities, Berlin is renowned for its painfully cool street style. Locals exude an air of insouciance as they experiment with shapes, textures and prints, pairing formal elements like structured blazers and tailored trousers with more relaxed, grunge-inspired pieces in denim, leather and corduroy. Winter calls for practical footwear and clever layering: think oversized coats and lace-up or Chelsea boots. In true Berlin style, fill your wardrobe with a hefty dose of black, grey and charcoal, but don't be afraid to reflect the dynamic surroundings by experimenting with playful prints and pops of colour. Das Stue is a property of Mr & Mrs Hotels - click
here
for full details and to book your stay.