Rake-in-Progress: David Mumeni of Open Door
The London-born actor David Mumeni talks to The Rake about diversity in the entertainment industry, and how his charity Open Door is giving less privileged young people the opportunity to make it…
Turn on the television and the actors you're likely to see in major roles will fit a very specific demographic: white, male, and of a fairly well-to-do background, even if the characters they're playing are not. Instead of accepting this issue as fact, the actor David Mumeni is trying to change it. Mumeni had what might be called humble beginnings: born and raised in north-west London, he's the son of a mechanic and a homemaker, and attended what he says was a "pretty rough" local school. Among his classmates, it was unusual to aspire to be an actor, and the explanation for Mumeni's career path was his flair for drama mixed with luck. He managed to get into various youth theatre programmes during his teenage years, including the Artists Theatre School, where he was introduced to the founder, the actress Amanda Redman. "Amanda offered to privately tutor me over the next year, and she did, for free," Mumeni says. "I ended up getting into Drama Centre, and she gave me £1,000 towards my studies when I got in." Although he now makes a living out of acting, appearing in the T.V. drama
Fearless
and in films such as Woody Harrelson's
Lost in London
, Mumeni has never taken for granted the opportunities he's been given. That's why he decided to start
Open Door
, a charity that gives young people from low socio-economic backgrounds, similar to his, the opportunity to attend England's top drama schools. With the help of a few high-profile patrons, including Emilia Clarke, Riz Ahmed, David Morrissey, Harrelson and Redman, Mumeni's initiative has already started to make a difference: in its first year, students from Open Door were offered 35 places at the likes of Guildhall School of Music and Drama and the Royal Central School of Speech and Drama. Mumeni says he's not trying to change the world, just trying to "celebrate the Jimmy McGoverns" — the people who are under-represented in the mainstream media. But encouraging those around him to challenge convention, especially in the entertainment industry, is a surefire way to make a difference.
How did your career progress after leaving Drama Centre?
I signed with an agent, and I wasn't one of those people who was like, boom, straight away… I think my first job was this drama called
Whitechape
l, on ITV, about the Kray twins, and I had this scene as a solicitor. I thought, Here we go, and then I didn't work for a year. But that's how it is, and it's taken time to build up. Probably about four or five years go on, and you have a bit more of a kick, and now I have a career, and I live off it. I did think about quitting, and then I did this (Edinburgh) Fringe play called
Mush and Me
with a friend who's a writer, and I helped develop it. I had this feeling in my gut that it was going to do really well, even though it was barely written… I literally went from nearly giving up to going up for more high-profile stuff, and it all started changing. But I did nearly give it up. Which is mad, when I look back and think about it.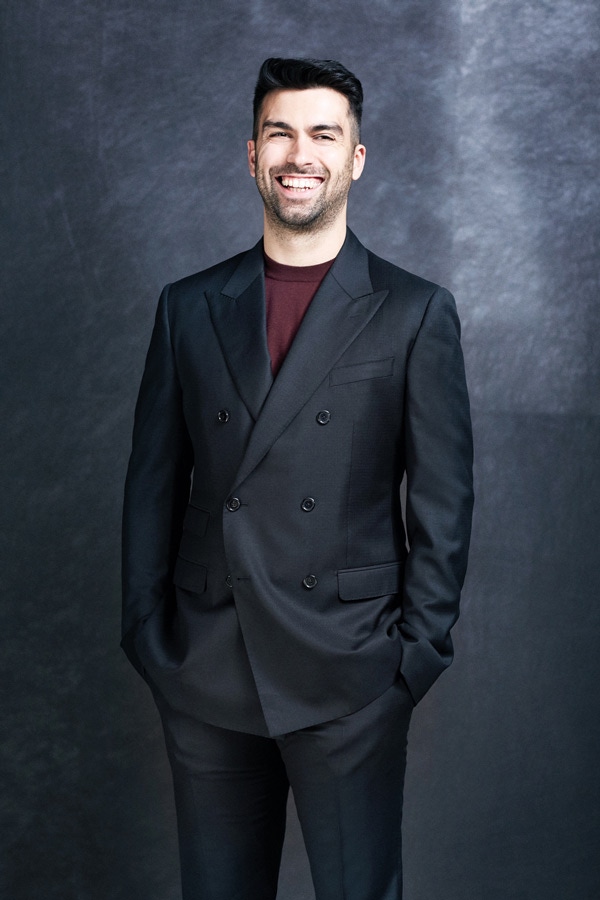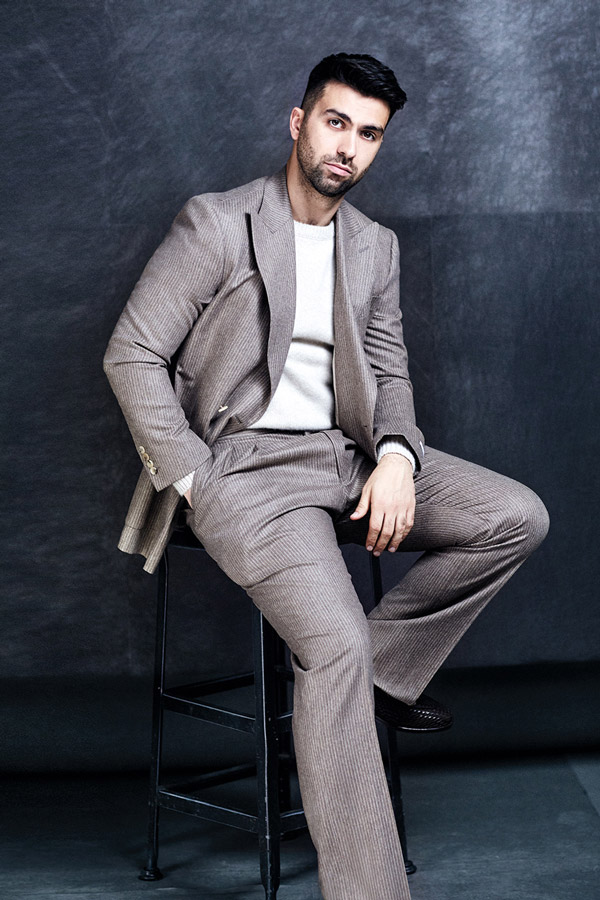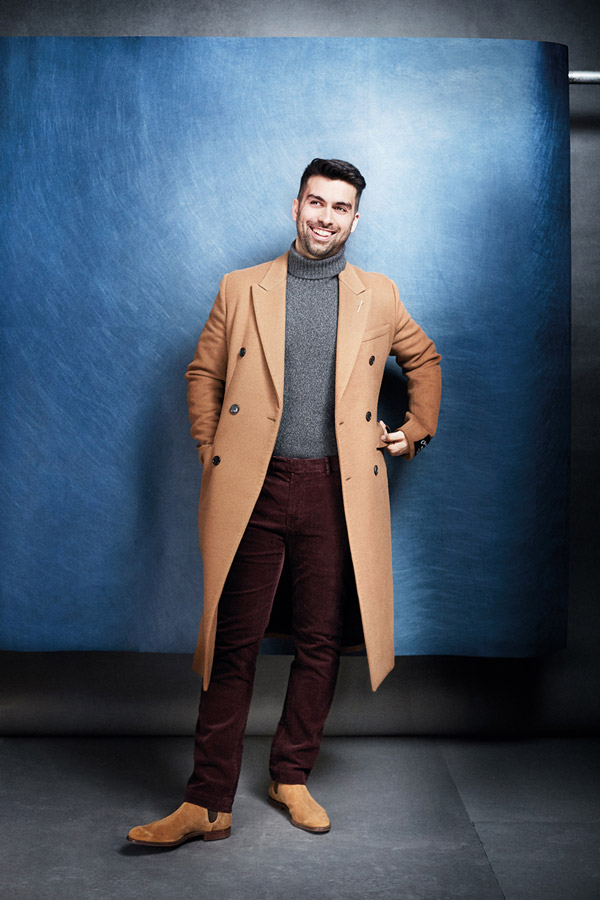 With Open Door, why do you think you recognised a need to help people? Sometimes projects like this are set up because someone's disgruntled. For me it was more like, well, someone helped me, so why wouldn't I? I just think if you have the facility to do it, why would you not? I feel like we can all have a moan on Twitter, we can all say, 'This needs to be done', but we always expect other people to do it. It [Open Door] is a small thing — it just helps actors. I'm not saving lives. I might be changing them, but I'm not saving lives necessarily. But I thought, I know that world and understand that and have some skills in teaching that, so I thought, Why don't I apply that to this? Do you think the industry is still as elitist as its reputation says it is? I think there has definitely been a shift in the last seven years, maybe… But 100 per cent, there is an issue in terms of class or socio-economic [barriers]. There's a massive issue in terms of those [privileged] people being the people who are in charge — in television, film and theatre, though theatre is always the one that changes first. Maybe because of its form, maybe because there's a little more flexibility and freedom in it. But in terms of politicised movements, where people are saying these things need to change, it normally comes from the theatre up… Elitism is 100 per cent a thing, I would say… And I think there's a way to go about [changing it] so it's not about us and them, and people just need a bit of nudging sometimes. We might start seeing change on our T.V. screens in terms of the people that are presented to us, but we have to remember that the bigger changes that need to be done are [among] the people in charge. Since you've been working in the industry, what are the main changes you've seen? More female artistic directors, more working-class people. I mean, that just wasn't a thing before, really. It was older privileged white men who went to Oxbridge — that was just a standard thing. And I think that has changed massively. I think there's a want for change. The fact that I'm allowed to have this conversation without fear of some sort of repercussion, that's massive. And just the consciousness of questioning why women always have the tiny parts, and why they are always the love interest, just these massive things that have changed over the years. And the amount of ethnic minorities you're seeing on T.V. in the last few years is gigantic.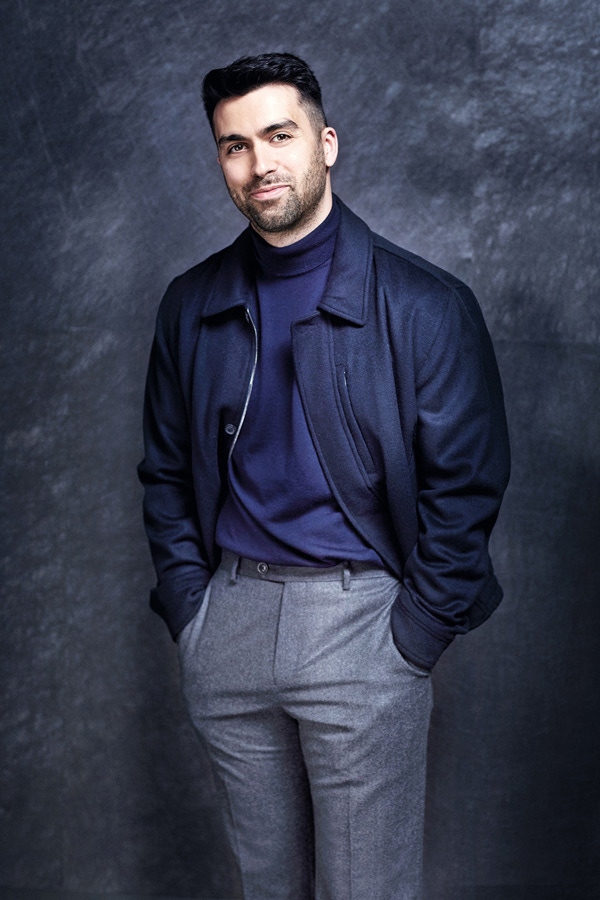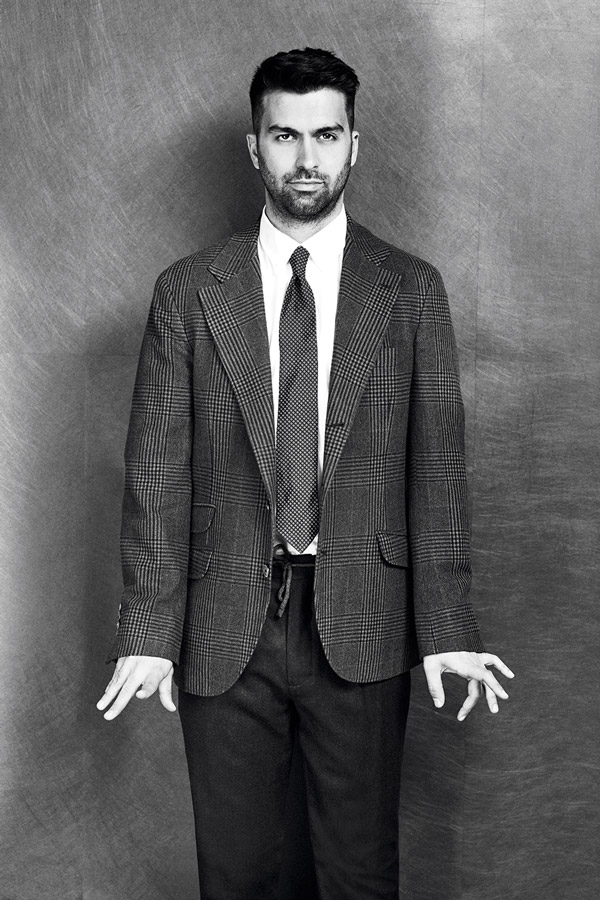 Do you practise affirmative action at Open Door? Obviously there's the low-income rate, and we've said 18-25 as an age limit, although that might change. But within it is inclusivity, so it doesn't matter about your race or gender or sexuality or disability. And as an ethnic man, I don't want to compromise and I didn't want to do any discrimination, but I did think that I needed to have some representation in terms of ethnicity. But I was so surprised, because in terms of ethnicity, almost two-thirds of the people, or a lot of those people, who came in were ethnic minorities. Do you think you can do both acting and teaching in the long term? I think I'll do it in some way. Because even if I step away from Open Door a bit, and someone else ends up running it, I'd still like to have some interaction. But for me, I just get bored doing one thing. I think acting isn't always the most empowering job — it can be amazing, but I think I have to do more. What are you working on now? I've done a show called Dead Pixels, which is a comedy for E4, directed by Al Campbell, about gamers. Like World of Warcraft [gamers], but not as cool. And my character is called Russel and he's a bit like a puppy — he's a loveable idiot. I also did this thing called Death on the Tyne, which is with all these comedy greats — everyone you watched when you grew up: James Fleet from The Vicar of Dibley; Felicity Montagu, who was in Alan Partridge. It's set on a ship and it's a comedy murder-mystery. I play DJ Bobby, a DJ whose wife has left him and he doesn't get to see his kids, and he's a bit of a tragic character. That will be coming out in December. I also write. I've got a script optioned with Balloon [Entertainment], which is run by Bryan Elsley, who did Skins. I've always written, but acting got in the way.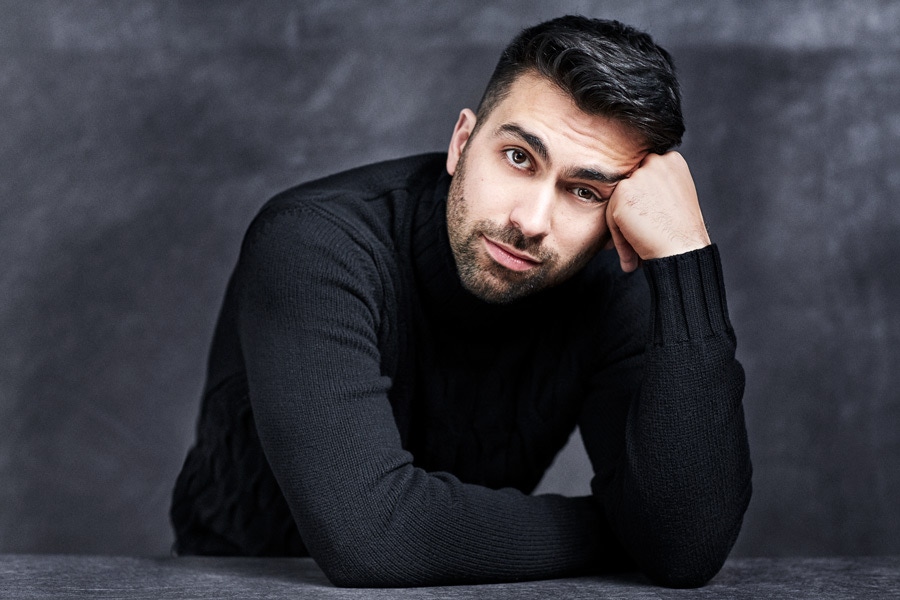 What are you watching at the moment? I love Ozark. It's got Jason Bateman, who you usually see do lots of comedy, and he's just incredible in it. And because I had an audition for it, I watched Line of Duty, which is so good. It's a police drama. Oh, and Queer Eye! Holy shit. It's great — you cry, you laugh, they tackle racism, homophobia. I really didn't think it was going to be a show for me, not because of the subject but because I don't really like reality T.V. I thought it was going to be trashy. I think it's the most empowering, amazing thing, and I want to recommend it to everyone. What do you think you're saying with your style? I try not to peacock or stand out too much. But if I have something that's quite nice, like if I have a nice pair of suede shoes on or whatever, I feel good… In terms of suits, when you're wearing one, you feel dead smart. And I think for me, I've got my head down every day, working on a charity, thinking about what I'm doing next, so it's nice to feel quite presented. But as an actor, you do have to worry about your appearance. And you can — if you've got a bit more money — you can start dressing nicer. I remember someone going, "God, you've got some nice clothes on", and I was like, "Yeah, it's because I got paid". I think a lot of actors can relate to that. I got paid, I can buy a nice jacket. I spend a bit of money on a haircut now. My haircuts are reasonably expensive, I think — I used to pay, like, £7 in Queen's Park. But it does make you feel a bit better, it does make you feel a bit cleaner, and that's something I invest in a bit. Because I'm half Iranian, I have this hair that just fucking grows, so the level of stubble and how that makes me look and how it changes my face is quite dramatic. What advice would you give to people who want to get into acting? Ask lots of questions, and not just to anyone, but people whose opinions you respect. I would also say, remember your peers. Rather than always looking up to those who've already made it, your peers are going to be those actors who are in the things that you might end up working with in a play that changes everything. Some of my tutors at Open Door are quite respected directors, but they work for us because they're my friends – we did Youth Theatre stuff together. So it's actually your peers who are important — always look around you rather than up. And want to be good at it. Don't just want to be famous, because once you're in a T.V. show, once you've done a film, once you've done a play, it starts becoming about something else. It starts to become about, what kind of work do you want to do?