Deakin & Francis: A Personal Touch
Helmed by the 7th generation, Deakin & Francis is Britian's oldest family jeweller that's world renowned for its cufflinks. No matter how simple or complex, its creations are beautifully made and can make you smile with relative ease.
I've been fortunate enough to have visited a variety of reputable makers of finely-made clothing, shoes and accessories, both here in the U.K and abroad, and in doing so I've walked the paths that, over the course of multiple centuries, are well and truly trodden on. The cluttered workstations, battered brickwork and dusty floorboards lined with either tanned trimmings of calfskins, runaway yarns or shavings of precious metals always heightens the experience of a workshop visit. After all, there's nothing sexy about a squeaky-clean, brightly lit and white-washed laboratory of sorts. On the other hand, an age-old workshop that's occupied by archaic and un-improvable machinery and craftspeople that have grown old inside the four walls is without doubt far more appealing due to all of its wonderful idiosyncrasies. Deakin & Francis is Britain's oldest and most supreme jeweller and is a brand that ticks all the right boxes. Founded in 1786, it's currently helmed by the seventh generation of the Deakin family, the co-proprietors are cousins James and Henry who are both accomplished gemologists. There are of course numerous cufflink-specialists honing from all parts of the world, however, none of them come close to Deakin & Francis as its heritage is incomparable as jewellers go. But, it's mildly vexing that it doesn't receive the justified recognition and praise as other British heritage brands — it's still waiting on its well-deserved and overdue Royal Warrant — even though they produce jewellery for a number of luxury behemoths, the names which are unfortunately not allowed to be named, but walk down Bond Street and you'll pass many of its clients. One of the most attractive qualities of Deakin & Francis is that it's been operating out of the same factory in Birmingham's Jewellery Quarter since its founding. It's easily the most impressive and beautiful workshop I've visited. Split across numerous levels, walking through it equates to stepping back in time. There's machinery there that hasn't moved for centuries and has simply become part of the furniture. There's also a lingering, ever so slightly damp smell that has a Hanoverian spirit.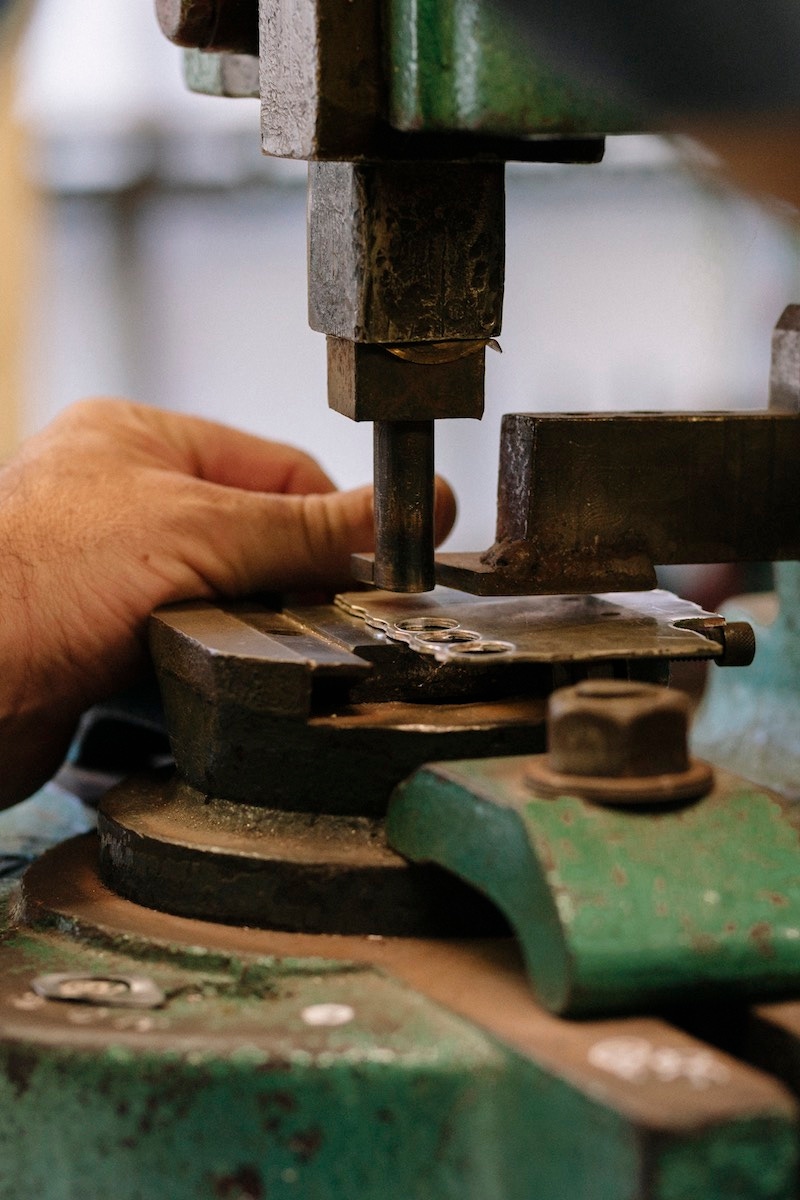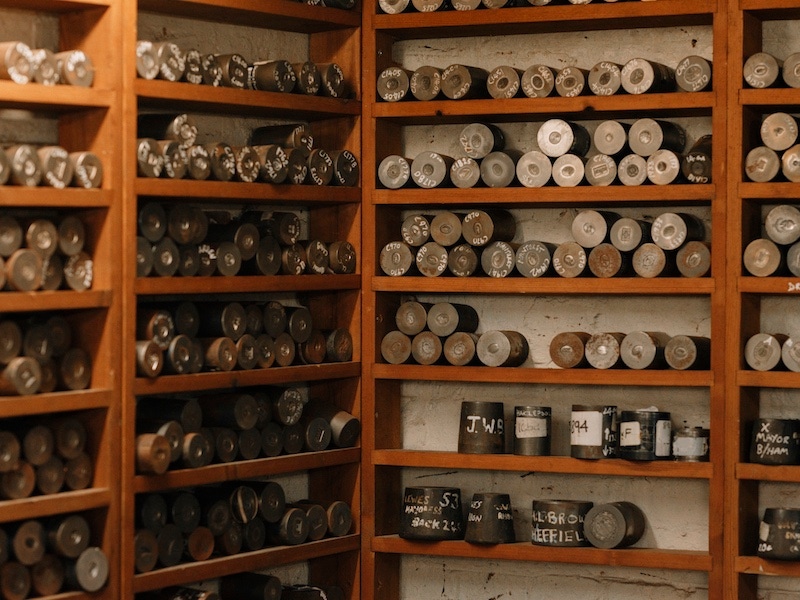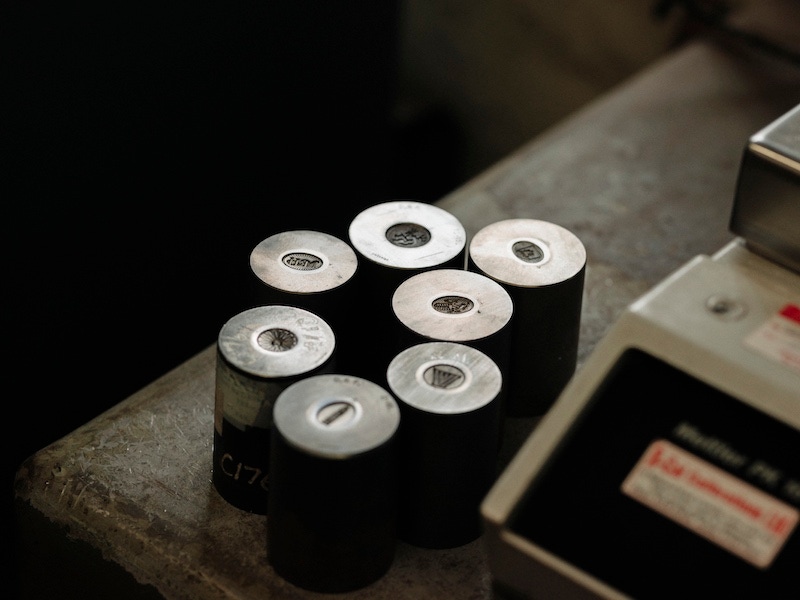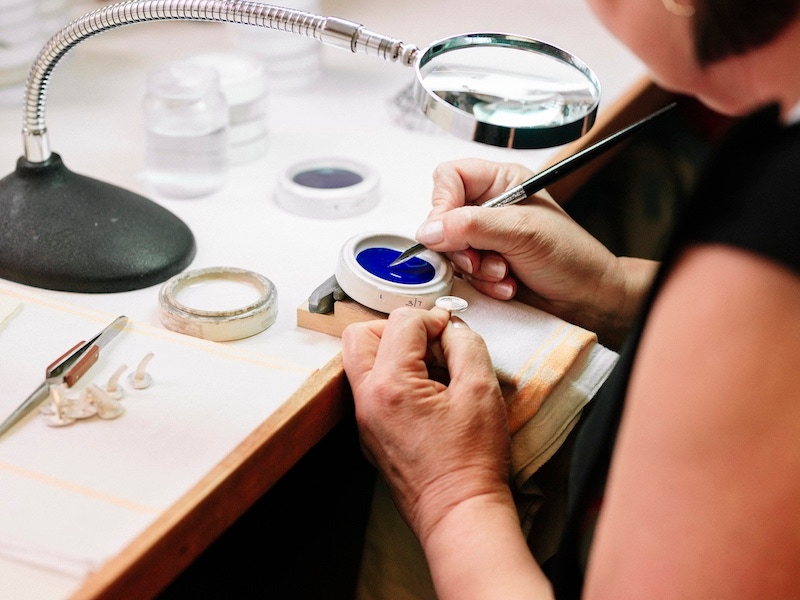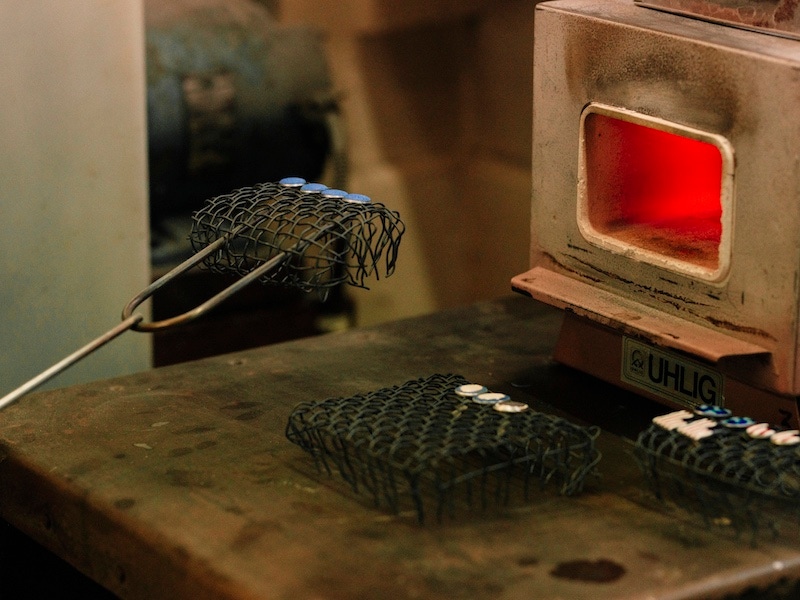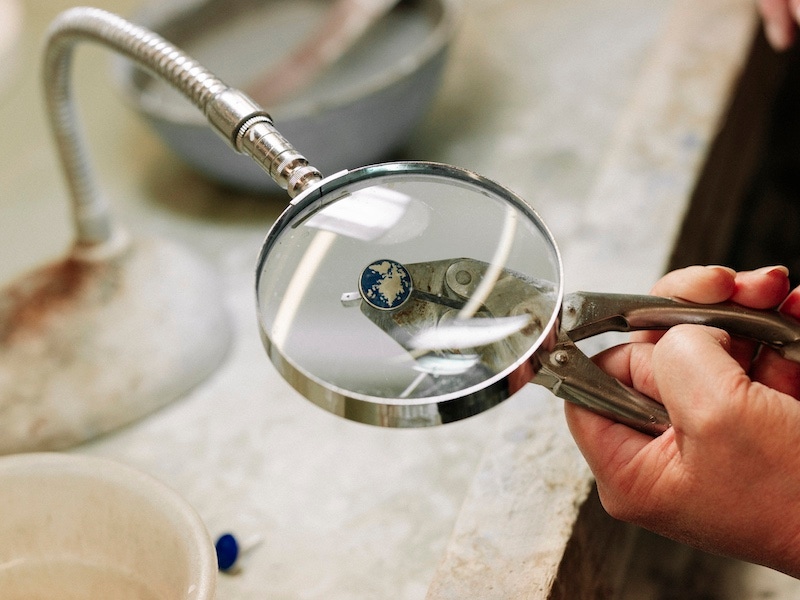 Cufflinks are its raison d'être, and Deakin & Francis is utmost proud of its wares and state with confidence that it's the largest collection in the world. The breadth of cufflinks is astonishing and whether you're looking for something classical or comical, they have it. If they don't they can conjure up anything your mind can think of, no matter how simple, stupid or ridiculously complex. I challenge you to challenge them. Seriously. It's no exaggeration to describe their work as an art form, too. From the intricate vitreous enamelling, a technique that dates back to Ancient Egypt, to a highly complex mechanised skull cufflinks which are simply brilliant and the juxtaposition of them against where they're made is a sight to behold. The vitreous enamelling process was the reason we journeyed up to Birmingham. The process starts in the die room whereby there are over 3000 stored dies, which essentially is a detailed stamp. For example, it could be a family's coat of arms, a geometrical pattern or an outlining of an animal. Using a 2mm sheet of sterling silver, an oval pattern is clicked or pressed out. It's then subjected to 100 tonnes of pressure, which presses in the desired pattern into the oval shape design. The excess then needs to be removed which leaves the craftsman with a clean, oval-shaped sheet of detailed silver. Each of these steps have remained totally unchanged for decades and are carried out by Nigel, who's been with the company for over 30 years. This small, highly-detailed oval sheet of sterling silver then embarks on another journey throughout the workshop. It's cleaned before it heads upstairs to the metal working room, whereby the fitting is applied to the back of the cufflink before journeying to the enamelling room.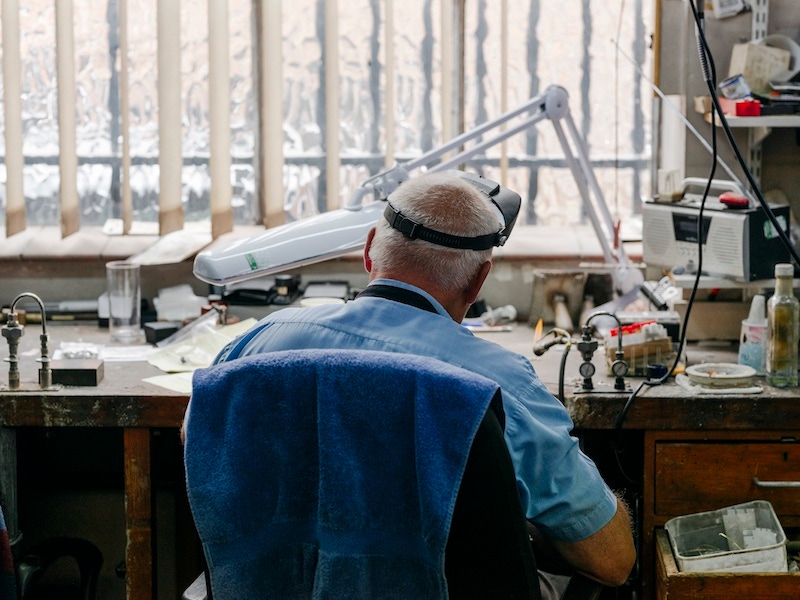 As aforementioned, the vitreous enamelling process dates back to ancient times and its longevity speaks volumes of the process due to the breadth of colour and design that it's able to produce. It's applied using a fountain pen or a quill of sorts, slowly but surely into the grooves of the design. A cufflink needs at least three layers but can have up to six depending on the colour and complexity of the design. Once it's been applied it's subjected to 40 to 60 seconds in a 700 degree celsius furnace, which is set at an exact temperature that isn't high enough to change the molecular makeup of the precious metal but able to bring to life the enamel. It changes, as if by magic, as it cools off following its inferno blast. By this stage, the cufflinks are coming to life but yet require a fine polish with pumice ash and the crucial link is then attached to the back. They're then taken to the Assay Office whereby they are hallmarked, this underlines their authenticity and quality. Using a laser, 'D&F' is marked alongside an anchor and a 95 that represents made in Birmingham and the quality of silver. They're then packaged and delivered, ready to adorn one's wrist and potentially express a facet that's either a subversive, playful or refined to one's character. The popularity of cufflinks has waned and flourished during centuries past, but now more than ever the cufflink market has never been stronger. There are multiple theories behind this, but none more concrete than the fact that boardrooms and offices have become more relaxed and thus ties have become less crucial. As such, cufflinks are the next go-to accessory to add character with. They're subtle, can come at various price points, shapes, sizes and colours. They've evolved significantly from their original purpose of being functional to being an aesthetics choice. And, in terms of aesthetics, Deakin & Francis are without doubt market leaders, from their vitreous enamelled offering to the complex, diamond-encrusted skulls. Explore the range,
here
.