Deakin & Francis: The Cufflink Collection
Can a man ever be fully dressed without a serious set of accoutrements? The Rake thinks not, so we bring you a killer collection of cufflinks, tie slides, money clips and dress studs from one of Britain's finest jewellers, Deakin & Francis.
To borrow a joke that's doubtless been made many a time before, it's not every day one finds cufflinks that – quite literally – have a jaw-dropping effect. But Deakin & Francis has achieved just this; doing what many believed to be the impossible, with a little help from its in house die-sinkers, model makers, mould makers, jewellers, enamellers, engravers and finishers. How? You might well ask – and it is with great pleasure that we have teamed up with the jeweller in question to find out. For one of Britain's oldest family jewellers, now under the helm of seventh generation gemmologists James and Henry Deakin, it's all in a day's work. Since being founded in 1786, the company has evolved from a family-run jewel manufacturer come silversmith to one of Britain's most treasured heritage brands. The style-elite has nurtured and raised D&F to become a truly refined company, still young at heart. With this inherent youth – no doubt a side effect of having two forward-thinking, good-humoured (not to mention extremely talented and incredibly entertaining) gentlemen in charge – comes a sense of playfulness in their whimsical designs and unashamedly competitive attitude. The thought process, the brothers admit, is to be able to offer anything anyone could ever want. "We absolutely love a challenge, and the reason the collection has got to where it's at now is by people saying 'Do you have a skier or a cigar?' or whatever it is, and if we haven't got it, it's seriously frustrating." Iconic Deakin & Francis products include vintage-inspired art deco pieces, tongue-in-cheek designs and high-quality stamped materials (stamping compromises the metals much less than melting, and leaves a clean finish), and it's the house's unique ability to bring unadulterated wow-factor to an item so tiny, you'd otherwise blink and miss it. Made in Birmingham by some of the finest and most underrated artisans, the delicacy and detail of Deakin & Francis' designs is comparable to lacework, glass blowing and tattoo artistry – professions that require instinct and discipline in abundance, as well as a finesse that only comes with years of practising one's craft.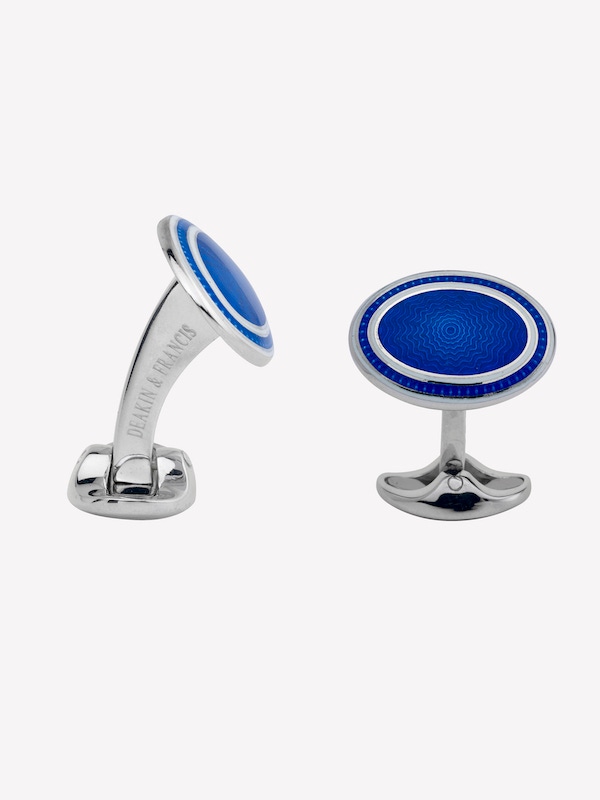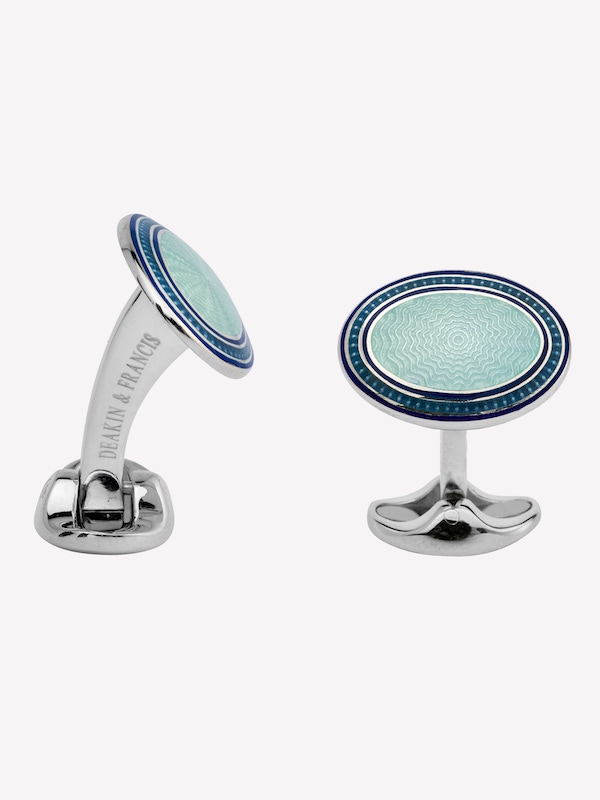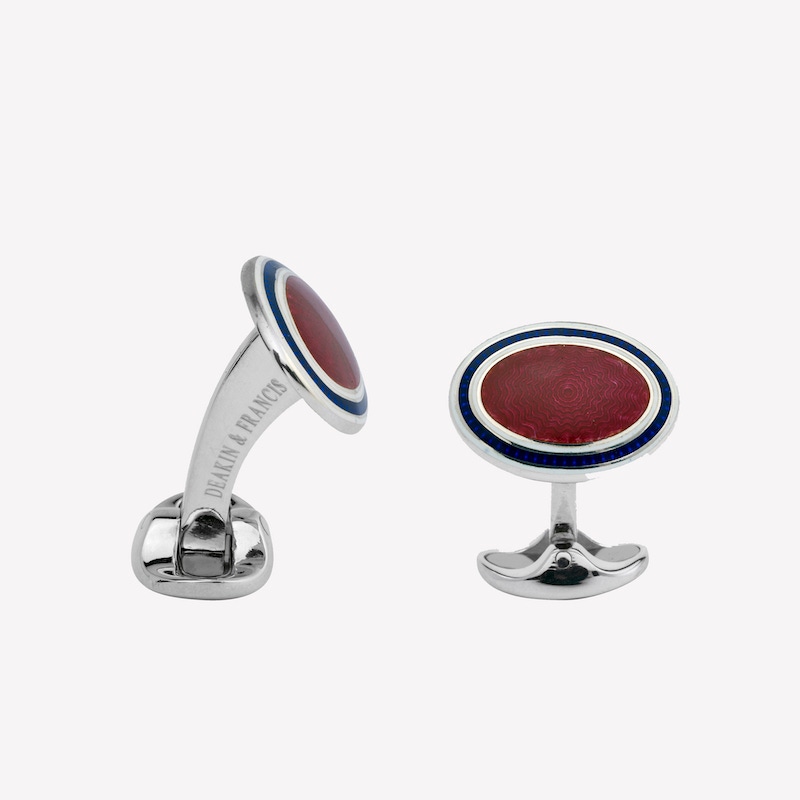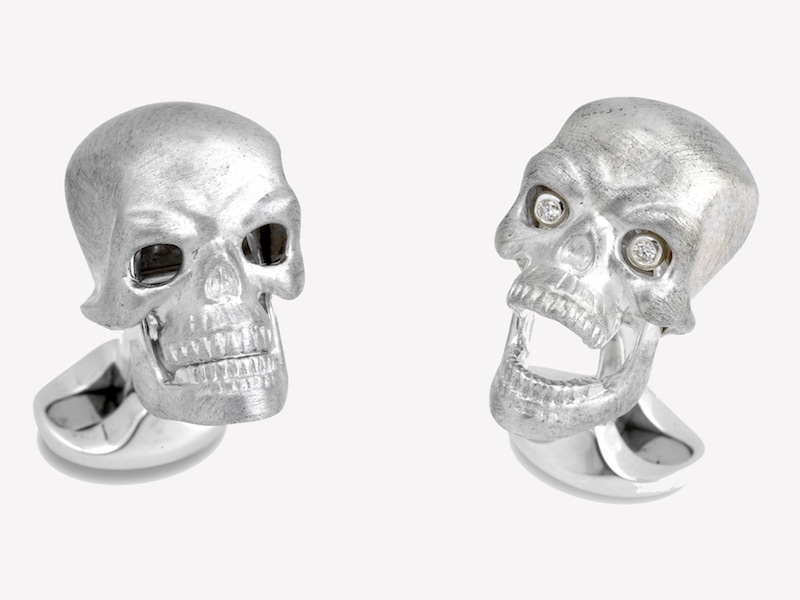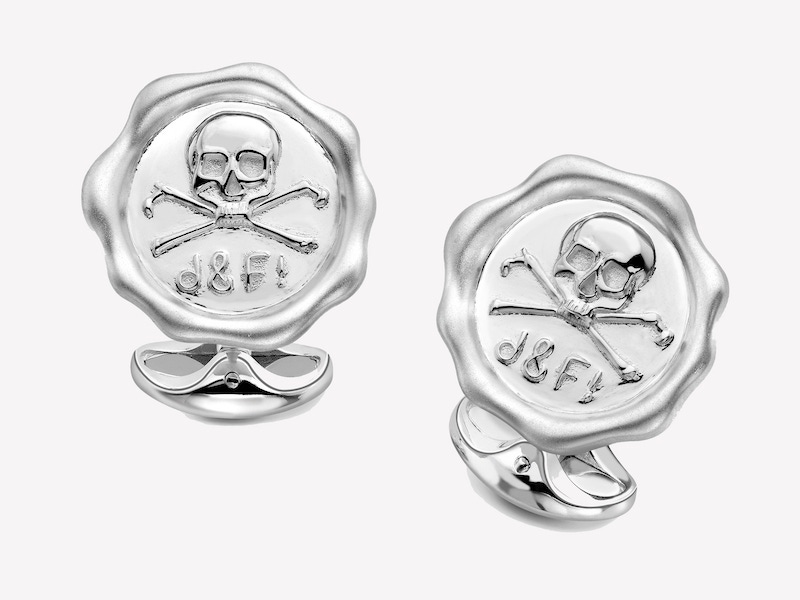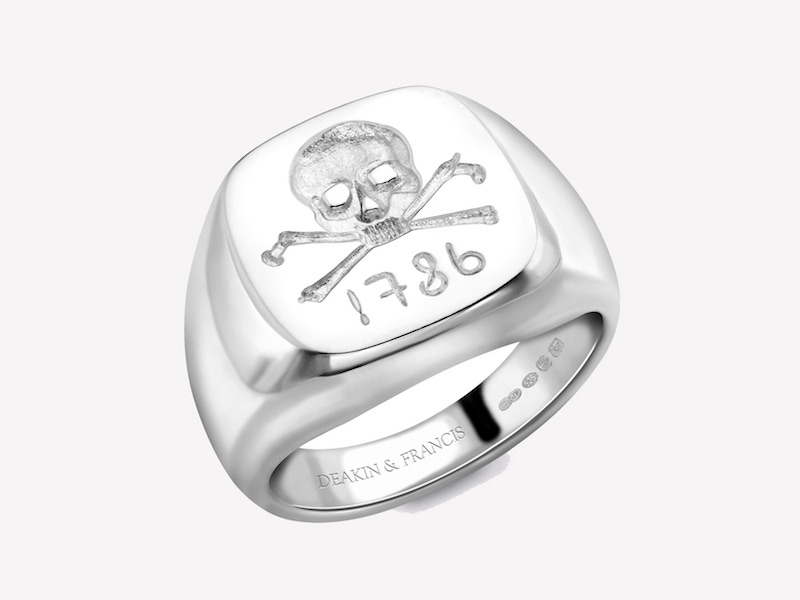 With the recent renaissance in
man-jewellery
, the cufflink has proven itself as yet another medium in which the modern gentleman can express himself. The most classic of accessories (arguably more wearable than rings, bracelets or necklaces), the decision to wear cufflinks in the first place can be a revealing one. If anyone knows a thing or two about rocking a double-cuff, it's Dean Gomilsek-Cole, Turnbull & Asser's Head of Design. "To be honest, double cuffs are not the easiest thing to wear, but by having them you show that you are prepared to go the extra mile and take pride in your appearance. In my experience, a beautiful cufflink is shown off perfectly by a pristine and crisply ironed white cuff, attracting as much admiration as an interesting watch." It's because of this ethos that
The Rake
chose to build the foundations of this collection upon the idea that cufflinks are the lynch-pin of a formally dressed aesthete's ensemble, opening up an extra channel through which to express oneself, and have some fun in the process. A running theme in the collection is the timeless image of the skull and cross bones - whether the age-old symbol for exclusive membership clubs, or rippling upon the seafaring reprobate's black and white flag, the rebellious semiology of the skull has always been completely irresistible. Take, for example,
The Rake
's personal favourites, the
Gold Plated
and
Sterling Silver Skull Cufflinks with Diamond Eyes
– pull gently on the jaw, and a minuscule hinge mechanism hidden behind the eye sockets moves to reveal real precious gems (D&F are committed to using only the real thing). The furrowed brow, polished temples and bejewelled eyes only serve to bring a sense of mystery and darkness to one's look with a glint of rakish attitude. If that isn't enough, the sheer craftsmanship underpinning such a minute product is enough to bring out the curious inner child in everyone and keep one occupied for hours. Among the collection is also a diverse range of versatile money clips, tie slides and key day-to-day pieces, such as the hand-enamelled cufflinks available in three stunning colourways (
Navy Blue, Sky Blue & Silver
,
White and Royal Blue
, and
White, Navy and Deep Pink
). Dating back to the time of the Pharaohs, vitreous enamelling is a finely-tuned art mastered by the artisans at Deakin & Francis – the specialised skill delivering a glossy, pristine effect, complete with a small domed oval spring link fitting and D&F hallmarks, present on all their products for absolute authenticity. The superb quality of Deakin & Francis' products mean they aren't only 'eye-poppingly' cool and utterly exquisite up close, but they also sit neatly and proudly upon the cuff. There is no surer sign of a cheap cufflink than one falling out mid world-domination or sultry seduction, the very thought of this a thing of the past when you wear the Deakin brothers' creations. If you'd like to experience the inevitable feeling of success that comes complimentary with every pair of D&F cufflinks, they are available to purchase now on our
Shop
.