Death of a Ladies' Man: Leonard Cohen
On behalf of The Rake, Ed Cripps adds his own tribute to the swelling tide of sadness that has followed Cohen's passing.
What a sad footnote to a wretched week. Leonard Cohen – singer-songwriter, poet, Canada's gentleman-in-chief – died last Friday, two days after the election of Donald Trump. Like David Bowie, Cohen had only just released a new album, 
You Want It Darker
, a collection of songs pared with a mordant knife and shadowed in deathly clues. How horribly prophetic that title is. Everyone loved him, especially his fellow musicians: Nick Cave called him "the greatest songwriter of them all"; on Nirvana's 'Pennyroyal Tea', Kurt Cobain begged for "a Leonard Cohen afterworld, so I can sigh eternally"; even reluctant Nobel Laureate Bob Dylan felt "no one else comes close to this in modern music." He was the master of erotic disquiet, densely economical lyrics about mortality, sex, sadness and faith slippered into simple-sophisticated melodies and a voice like wine on scorched clay. Born in Montreal in 1934, three months before Elvis Presley, Cohen's early poetic heroes were Yeats and Lorca. Having studied English Literature at McGill (where he discovered Tolstoy, Eliot, Joyce and Pound), he released the poetry collections 
Let Us Compare Mythologies
(1956), 
The Spice-Box of Earth
 (1961) and 
Flowers for Hitler
 (1964). So admired was he already in North American literary circles that the Boston Globe compared his 1966 novel 
Beautiful Losers
 to one his heroes: "James Joyce is not dead. He is living in Montreal under the name of Cohen." But literature's loss would be music's gain. Performing in the French 
chanson
 tradition of Jacques Brel, he caught the ear of Colombia's John Hammond, who had spotted Dylan and Springsteen and wanted to add Cohen to his stable. The imagery of his first three albums - 
Songs of Leonard Cohen
 (1967); 
Songs from a Room
 (1970); 
Songs of Love and Hate
 (1971) – had a bleak richness, tea and oranges, avalanches and goodbyes, embers of wit under the solemnity. The album-titles alone suggest a growing breadth of scope and 1972 marked a watershed. Robert Altman liked his music so much he practically wrote his film 
McCabe and Mrs Miller
 around it. Cohen's first European tour, captured in the documentary 
Bird On A Wire
, revealed a prickly defeatist only half-comfortable with the attention and fearful of "disgrace". Unsurprisingly his fourth album 
New Skin for the Old Ceremony 
(1972) is more fame-conscious, like the reference in 'Chelsea Hotel No 2' to Janis Joplin "giving me head on the unmade bed while the limousines wait in the street". 
Death of a Ladies' Man
 (1977) bears the discordant fingerprints of tyrant producer Phil Spector, but 
I'm Your Man
 (1988) was a potent elegy against war, AIDS and the graft of writing. 'Hallelujah', which took him five years to write, has been covered over two hundred times, too many for Cohen: "I think it's a good song, but I think too many people sing it". His entire playbook is endlessly covered, some songs better than others (my own personal favourite is Antony Hegarty's 
'If It Be Your Will'
), but he rarely listens to his own music and is nicely self-deflating about it. "Can you stand Leonard Cohen for more than half an hour?", a journalist asks in 
Bird On A Wire
. "Nowhere near that long", he purrs.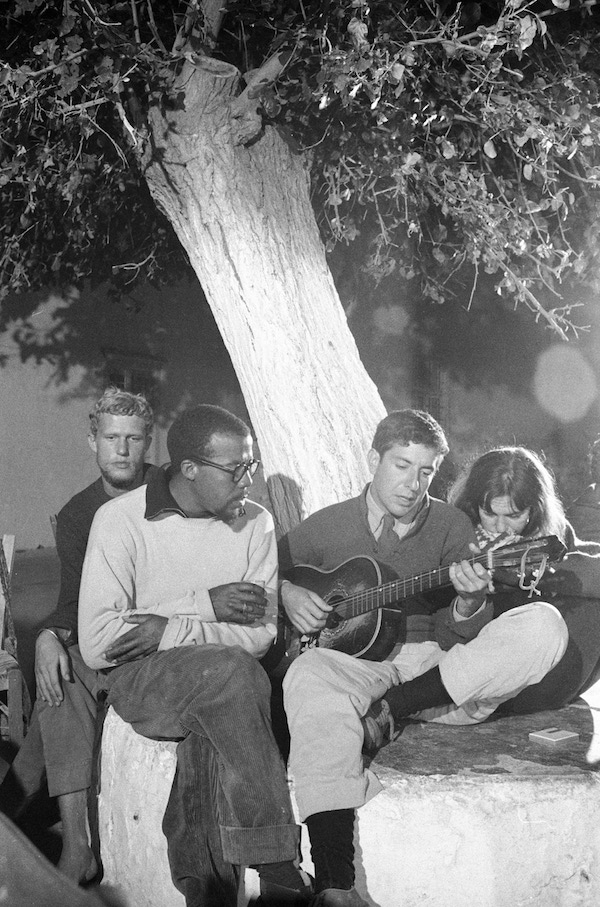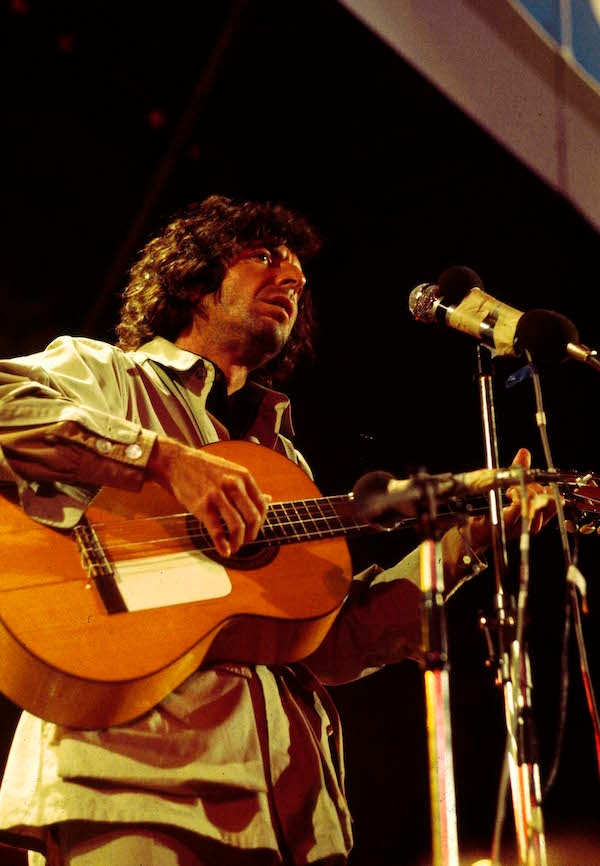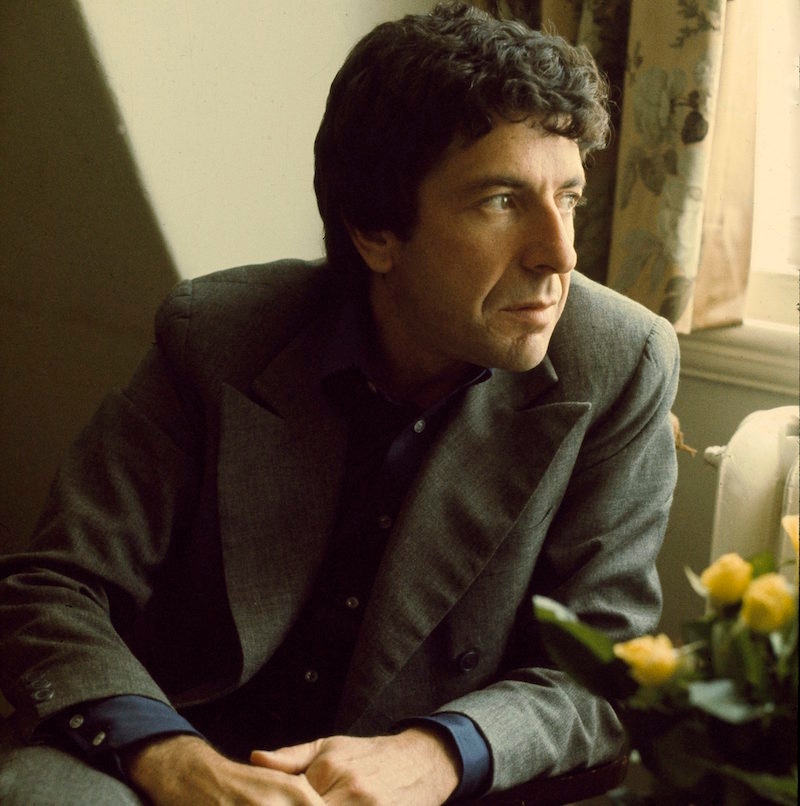 What also comes across in the documentary is quite how disarmingly, eloquently irresistible he is, the eyes of seventies Pacino above the smile of seventies Dustin Hoffman. In the presence of their art-prophet, fans become possessed and possessive; women are left hypnotised by his mix of manners, erudition and cigarette-smoke mystique. From an enlightening trip to Europe onwards, sex courses through his work (
Various Positions
, 'Don't Go Home With Your Hard-On', "Give me crack and anal sex", "You were the manual orgasm, I was the dirty little boy"). According to David Remnick's wonderful 
New Yorker profile
, his first purchases in London an Olivetti typewriter and a blue Burberry raincoat. He hotfooted it to the Greek island of Hydra, where he met Norwegian Marianne Ihlen, an on-off lifelong inspiration for songs including 'So Long, Marianne'(earlier this year his letter to a dying Marianne 
caused headlines around the world
: "Know that I am so close behind you that if you stretch out your hand, I think you can reach mine.") Cohen never married, but judging by the women who threw themselves at him on tour he rarely went to bed alone. He had a fling with Joni Mitchell, a long-term relationship with actress Rebecca De Mornay and two children Adam and Lorca, with photographer Suzanne Elrod, who shot the cover of his album 
Live Songs
. Even his kids' names, of course, have the Biblical and poetic texture of his songs. "Women have been exceptionally kind to my old age", sings Cohen in 'Because Of', and old age was kind to him, the dapper mystic in fedora and blue suits, but not always easy. He was blighted by depression ("There is no point in trying to forestall the Apocalypse. The bomb has already gone off"), finances (his business manager Kelley Lynch went to prison for fleecing him) and alcohol (at one stage he'd drink three bottles of Chateau Latour before performances). He dabbled in Scientology, then in the nineties became a Zen monk at a monastery on Mount Baldy in California where he was known as Jikan, or The Silent One. Forced by financial circumstances, he embarked on one last world tour, a heroic 380 shows in five years. In 2008, aged 76 in pinstripe and trilby, he wooed Glastonbury on the Pyramid Stage in a performance considered one of the finest in the festival's history.
"Listen to the butterfly, don't listen to me" he once wrote, but we have to listen to him more carefully than ever.
 You Want It Darker
, that cavernous last album, reminds us he was the broken-down nightingale with the secret chords, the generous self-doubting anti-Trump. Trump would do well to heed the advice Cohen gave his duplicitous ex-business manager (and one-time lover) in court: "It is my prayer that Ms Lynch will take refuge in the wisdom of her religion, that a spirit of understanding will convert her heart from hatred to remorse, from anger to kindness, from the deadly intoxication of revenge to the lowly practices of self-reform." Leonard Cohen was just passing through, bits of beauty everywhere, burst like stars upon our memory. To paraphrase James Joyce, the soul of the world swooned softly as it heard the snow of Leonard Cohen (the crunch of his voice, the 'Avalanche', the storm of 
McCabe and Mrs Miller
, the "blizzard of ice" in 'One Of Us Cannot Be Wrong') falling faintly through the universe and faintly falling, like the descent of our last end, upon all the living and the dead. Better pass boldly into that other world, in the full glory of some passion, than fade and wither dismally with age. Please, 2016, don't make it any darker.