Deux Musketeers: The Dumas Dynasty
A writer and a fighter. Whichever their profession, Thomas-Alexandre and Alexandre Dumas make for a seriously impressive pair.
Few men can claim as many firsts as Thomas-Alexandre Dumas; premier French revolutionary general, the first non-white top-ranking officer in European military history, and one of the first non-white individuals in French history to be elevated to the status of national hero. Entering the army as a private at age 24, Dumas rose to command some 53,000 troops as the General-in-Chief of the French Army of the Alps, before going on to aid Napoleon closely in many of his most famed military campaigns. The distinguishing qualities of Dumas Senior, arguably originate from his childhood – he was born the son of Alexandre Antoine Davy de la Pailleterie, a white French nobleman and Marie-Cessette Dumas, an enslaved woman of African descent, unfortunate concubine of said aristo. Dumas thus inhabited a curiously fluid social situation; being technically both born into slavery care of his mother's, but with a right to aristocratic status thanks to his father. A unique, if not rather isolating and uncertain position – this duality of status was to follow him his whole life through. Moreover, it presented him with a choice; to be brought low by the misfortune of his mother, or else rise above it and leverage the privileged position of his father. In one-way or anther, he succeeded in doing the latter, living first with his father in the family's countryside pile, before upping sticks and travelling to live in a suitably plush Parisian townhouse. It was during this time, that he received the education of a nobleman, studying at the academy of Nicolas Texier de La Boëssière, learning the art of swordsmanship into the bargain – never a bad thing. Upon the completion of his education, he promptly enlisted in the French army, although rather curiously, he chose to enlist as a private, rather than officer, even though his noble blood would have accorded him such a privilege. One can't help but wonder whether he felt the need to prove himself worthy, rising through the ranks from the bottom-most rung. Whether this was his intention or not, he achieved just that. His military career is of course the distinguishing period of his life. That a mixed race man, in the volatile environment of ever more anarchic revolutionary France, should rise above the prejudices leveled at his ethnicity not only to become one of the most highly educated, tactically proficient and successful senior officers in the French Revolutionary Army, but that he should reach the status of French national icon, is remarkable.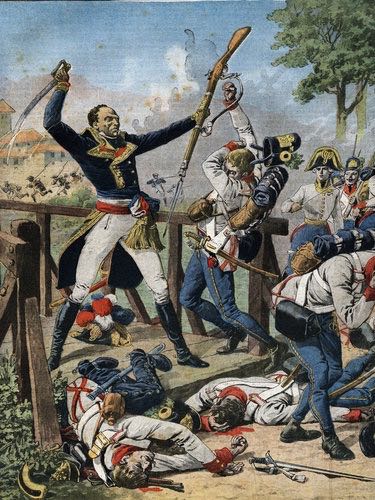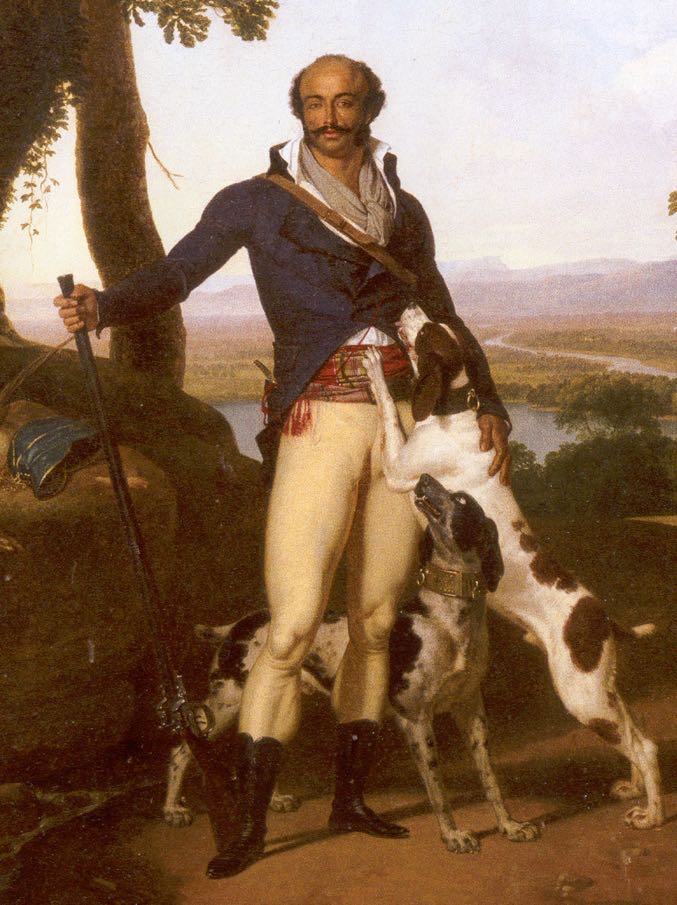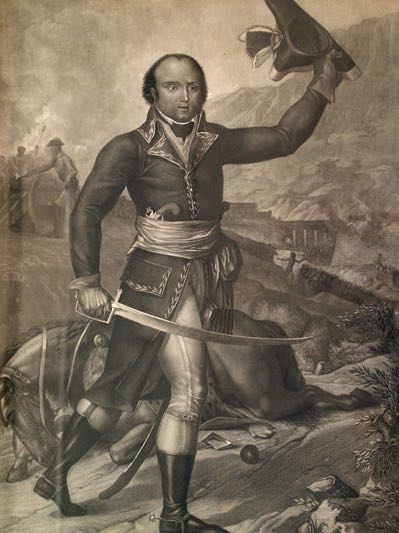 As far as rakish military achievements go, his series of heroic victories in The Alps weren't half bad; in fact his out-maneuvering the Austrians in the mountains had the singular effect of pushing back those enemy troops barring France's route into Italy and facilitated Napoleon's second Italian Campaign. So successful was he in fact, that he became known to the Austrian opposition as the
Schwarzer Teufel
 or 'Black Devil'. The French – most notably Napoleon – nicknamed him 'the Horatius Cocles of the Tyrol' in contrast, after a hero who had saved ancient Rome for single-handedly defeating a squadron of enemy soldiers at a bridge over the Eisack river – not a bad homage as far as they go. He was moreover, one of very, very few individuals who felt capable of speaking his mind in the presence of The Little Corporal, clashing with him violently as he did during the abortive Egyptian campaign, which one imagines took some guts.
"Whether solider or storyteller they were tremendously ambitious, richly talented and evidently more than capable of transcending the limitations of their age."
He was alas, dispatched home by Bonaparte shortly afterwards, and was captured off the coast of Sicily in 1799, residing in an Italian military prison for a number of years, before returning home to sire his son, Alexandre in 1802. In the wake of all this seemingly ruthless bloodshed and merciless military efficiency, it is perhaps rather curious that the seasoned soldier was to give birth to a writer, and perhaps suggests that despite his uncompromising military career and challenging social status (which undoubtedly exposed him to no small quantity of racial discrimination on a near daily basis), did not entirely harden him as an individual, or as a father.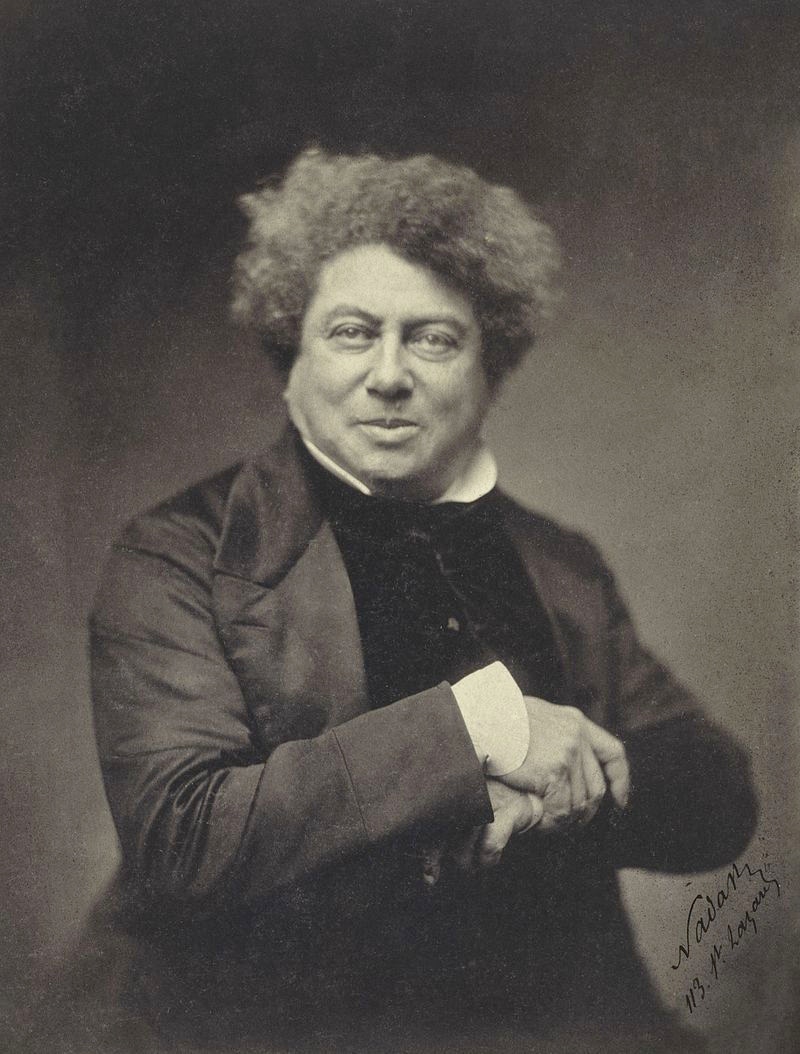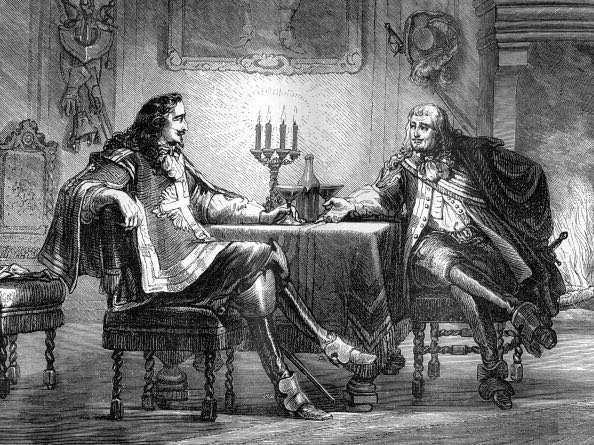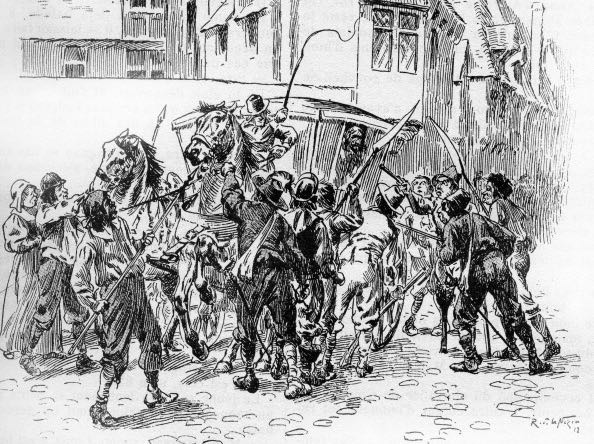 His son moreover, did not seem to share his father's military ambitions. Rather, the young Alexandre, from the very outset was attracted to the art of writing. It's hard to know whether this met with his father's approval or not, because he tragically died in 1806, when Alexandre was but four years old. He was dispatched therefore to work with Louis-Phillipe, Duke of Orleans, (who was to become The People's King in 1830) in an environment that quite clearly helped to foster his creative flair. He published a number of successful plays as a young man, before moving onto novels, publishing his first The Fencing Master in 1840. All his works revolve around a number of romanticised portrayals of adventure and intrigue, and paint a vivacious, roguish picture of deeply troubled times. The likes of the Three Musketeers and the Count of Monte Cristo have both become blueprints for entertaining historical drama, but they nonetheless subtly serve a more serious function. Their narratives are populated with miscarriages of justice, dashed hopes and misfortunes – injecting a sprinkling of ideological debate and social commentary into the mix at a time when France was about as volatile as it has ever been. To achieve this, and yet retain such an extraordinary heights of success – creating tales which are so loved as a source of entertainment, as much as they are for their subtle political standpoints – is no mean feat. Today, he is one of France's most famed and most well loved novelists and his works have been translated into over 100 different languages. There is one further thought worth expressing in relation to his stories, and that is that one can't help but wonder where the inspiration for his swashbuckling protagonists comes from. It's not difficult to come to the conclusion that what we are reading on some level, is a romanticised day dream – a son's imaginative ode to the character of his beloved, long lost father – a hero who on every level, met with the challenges of his time. Whatever one thinks of the two Dumas', one thing is clear; whether solider or storyteller they were tremendously ambitious, richly talented and evidently more than capable of transcending the limitations of their age. They are in short, a seriously rakish pair of power players.