Perfectly Cast: Drake's for The Rake Corduroy Suit and Accessories
Drawing inspiration from Ivy League style, Drake's has created a vibrant blue corduroy suit and matching accessories, available exclusively from The Rake.
The problem with translating
The Great Gatsby
from print to screen is that they always get the casting wrong. You don't select a genetically overindulged golden god-Adonis like Robert Redford to play Gatsby. He should have played Tom Buchanan — rich, privileged and, like DJ Khaled, always on the side that wins. But if you read Fitzgerald's description, Gatsby should be dark, possibly even Semitic, at once haunted, at once hopeful, at once corrupt, at once idealistic — a devotee of the great orgiastic light eternally burning across the shore. So when, in 1966, Mike Nichols was casting
The Graduate
, from a script written by Buck Henry and Calder Willingham from the 1963 novel by Charles Webb, his stroke of genius was to eschew
Robert Redford
(who was the original choice for the role of Benjamin Braddock) and cast a largely unknown Lilliputian, a method actor named Dustin Hoffman, for his intense "underdog quality". Hoffman knocked the role out of the park, combining late-sixties California insouciance with a frenetic Holden Caulfield-like bipolarism, as well as genuine comedic genius that helped introduce American cinema to both the sexual revolution and a new screen icon, the anti-hero. His uniform in the movie poster, in all its dressed-down Ivy League cool, is his corduroy jacket. This sports coat managed to evoke the rarefied lock-jawed climes of an East Coast education while still flying the 1967 pre-Woodstock anti-establishment flag.
Corduroy
is, after all, the material of choice for gunslinging train robber Robert Redford (this time perfectly cast) as the Sundance Kid, and it has its roots in proletariat wear and was the material of choice for the 19th century working-class uniform. It was used to make mountain climbing outfits, race-car driving suits, and soldiers' trousers during WWI. In 1918, when Ford launched the Model T, it was upholstered in corduroy. Search the cinematic horizon for another screen hero whose corduroy suit perfectly expresses his unflagging resilience — analogous with the material's indestructibility — and you'll land on
Wes Anderson
's
Fantastic Mr. Fox
(inspired by the book by Roald Dahl). The character of Mr. Fox is as cool a customer as they come. He is a skilled motorcycle rider, a criminal mastermind, an unfailingly enthusiastic father, a pillar of his community, and a seducer of foxy lady foxes, or one in particular: Mrs. Fox. And through his myriad adventures, his corduroy suit remains as unflappable as he does.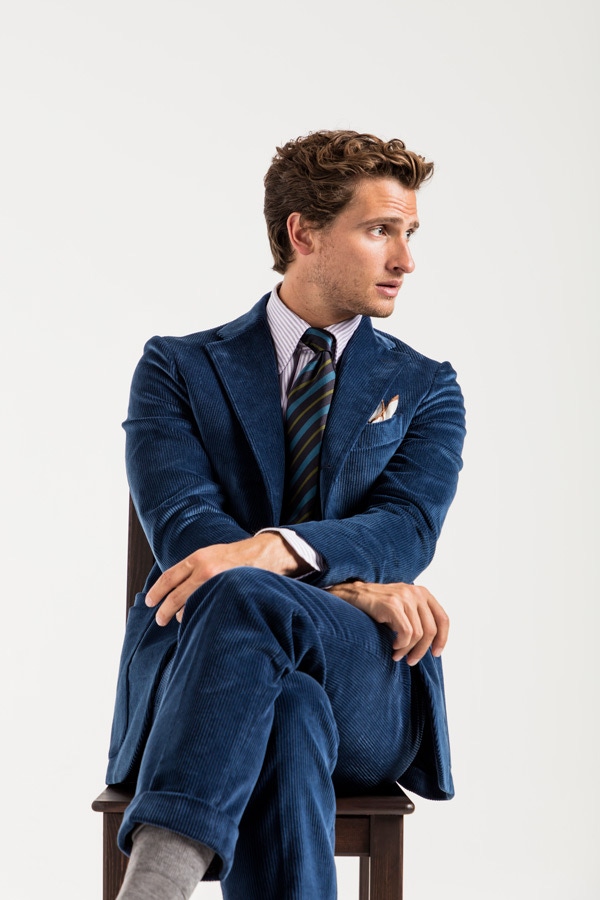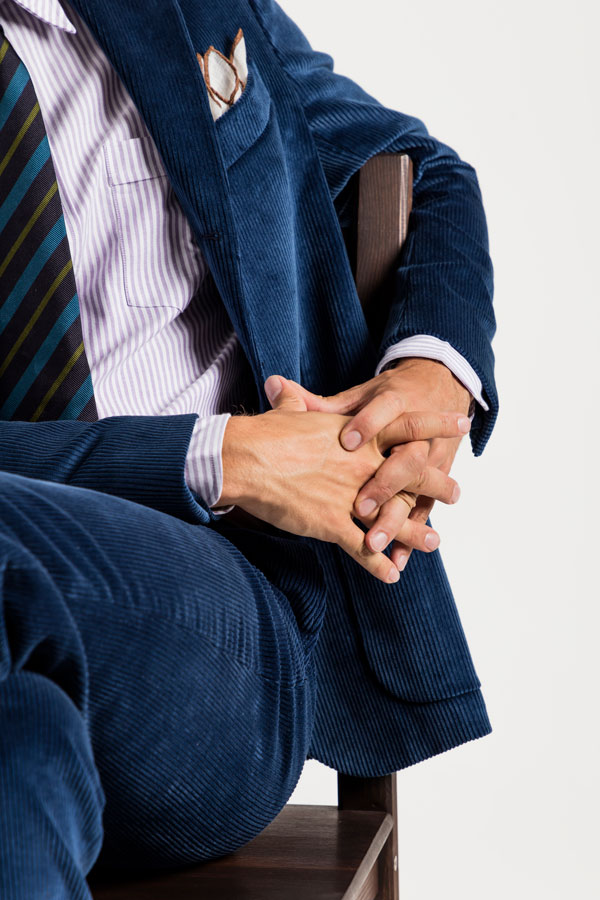 Michael Hill
, the Creative Director of Drake's, says: "When a corduroy suit is done well, it is the perfect combination between sharp tailoring and a casual, sporty attitude, which makes it one of the most useful and adaptable garments in a man's urban wardrobe." Expressly for
The Rake
, and to celebrate the launch of their new haberdashery on Crosby Street in the heart of Soho in New York City, the fine gentlemen behind Drake's have translated their superb sense of style and craft-based fabrication to create the perfect New York
suit
and ensemble. Drake's Marketing Manager, Matthew Coles, says: "We liked how corduroy evokes the attitude of the eastern elite schools, many of which are found in New York. But we wanted to move away from the typical autumnal palette to create something even more striking and that can see you through into an elegant evening as well." The result of prodigious chromatic brainstorming yielded a stunning blue, the colour of the twilight sky in New York. The handle of the corduroy is remarkably soft and features a bit more elasticity than normal thanks to modern fabrication techniques. It is a wholly contemporary and soft silhouette, a style that Drake's has perfected by utilising the very best of international tailoring. It has soft shoulders, a three-roll two-button stance, and an ultra-light, fully canvassed construction inspired by
Neapolitan tailoring
. Its modern shape is nipped at the waist and flattering to all body types. Hip pockets are patch-style, while the right pocket features a Drake's internal ticket pocket. Each jacket necessitates 10 hours of work, 180 production steps, and eight internal quality control checks — and yet to us represents one of the best values in the sartorial landscape. It is paired with flat-front, moderately slim-cut
trousers
featuring side adjusters and a zip fly. Hill says: "We feel that Drake's has always led the way in terms of understanding the future of tailoring. And we can see that our soft easy silhouette has become one of the most relevant ways of dressing in a city where people are always on the move." But the full ensemble comes to life when paired with the accessories curated by
The Rake
and Drake's specifically to complement this suit. These include an Oxford
shirt
with sublime muted vintage-style lilac stripes, and a rich navy, teal and olive silk reppe stripe
tie
we like to think of as 'sotto voce' - the ultimate in understated and nuanced colour matching. The result is a compelling modern expression of international urban style, an embodiment of New York City's vibrant and dynamic but also multilayered palimpsest of experiences. Who you want to be in this most engaging of corduroy suits — hero or rebel — is entirely up to you, but rest assured that whichever one it is you will be perfectly cast as the leading man in the adventure that is your life.
Fashion Assistant: Veronica Perez Photographer's Assistant: Sam Robbins Grooming: Michael O'Gorman Model: Tom Warren.