Dual Control: Dominique Sanda
How might a woman elicit, from a man, both his most gentlemanly instincts and his darkest inner desires simultaneously? Dominique Sanda had this, as well as on-camera versatility, whittled down to a fine art.
When you watch the eponymous Yves Saint Laurent biopic, all eyes are surely be on leading man Gaspard Ulliel in the role of Yves. But keep an eye on the supporting cast and you will no doubt be greeted by a familiar face — one, perhaps, that you can't quite place. The face in question is 63 years old now, its porcelain hue flecked by time and line. Yet, it is still unquestionably Dominique Sanda (born Dominique Varaigne), variously known as 'The French Garbo' or just 'La Sanda'.
Like so many before her, Sanda took the catwalk from pretty suburban girl to fully fledged movie star, a journey that all began at the Moorish Casino in the French seaside resort of Arcachon in 1966. A holiday dare saw the 15-year-old Parisian enter the Miss Arachon pageant, where the judges caught a glimpse of what would beguile cinema goers for decades to come.
Yes, she was a year too young to legally enter such a contest, but there was so much undeniable potential about Mademoiselle Varaigne that it was agreed that she would be listed as aged 16 in the interests of natural justice. She was a Modiglianian portrait, by way of Cybill Shepherd, Juliette Lewis and Vladimir Nabokov's most sinister dreams. It was almost inevitable that her decorative-arts studies would come to naught — she was the ornament and the substance, the form and the function. Sure, shoots for Glamour, Elle and Vogue helped pay the bills, but it was when director Robert Bresson cast her in 1969's Une Femme Douce (A Gentle Woman) that worlds began to turn.
"It was agreed that she would be listed as aged 16 in the interests of natural justice."
Playing a woman who takes her own life in response to a stifling marriage to a remote husband (whom she briefly considers murdering), her performance is one of volcanic intensity for a debut. Still in her teens then, Sanda drew on a tormented fragility that most would count themselves lucky not to face over a lifetime. It was shortly after the release of Une Femme Douce that she went from being Dominique Varaigne to Dominique Sanda. In a 1987 interview with a French publication, she explained, "Only a few things can give you as much pleasure as choosing your own name."
Bresson was not the only director to realise that global filmgoers would be compelled by their brains, hearts and nether regions to go and watch her. Swiss actor and director Maximilian Schell cast her in the 1970 German romance drama Erste Liebe (First Love), about a multi-generational love triangle. In the same year, she played Anna Quadri, the young wife of a professor, in Bernardo Bertolucci's Il Conformista (The Conformist). Also released in 1970 was Vittorio de Sica's Il Giardino dei Finzi-Contini (The Garden of the Finzi-Continis), in which her turn as the precociously promiscuous Micol introduced Sanda to a wider global audience. Set against a backdrop of Fascist Italy in the late 1930s, the film took the Best Foreign Film Oscar.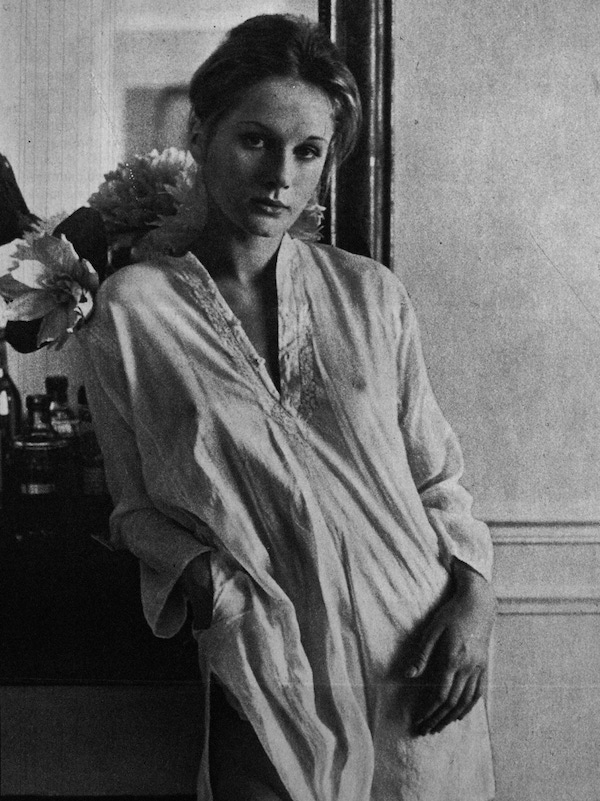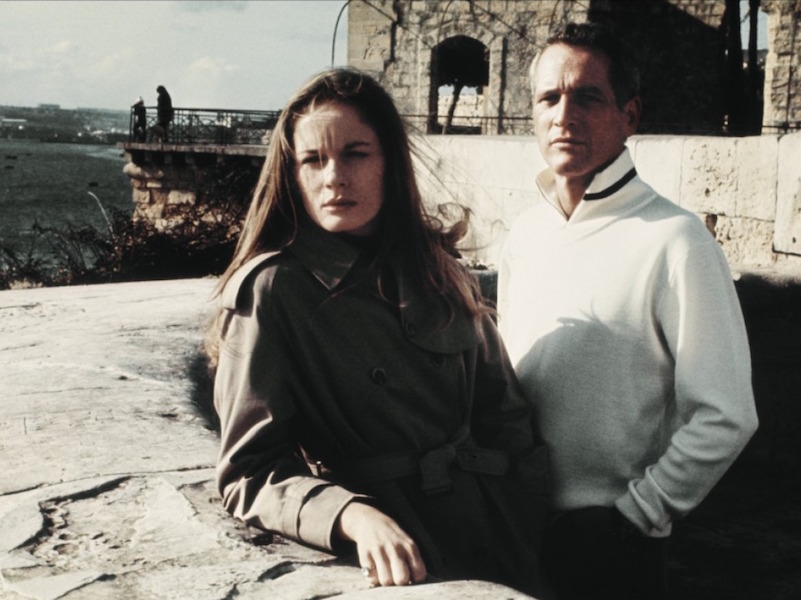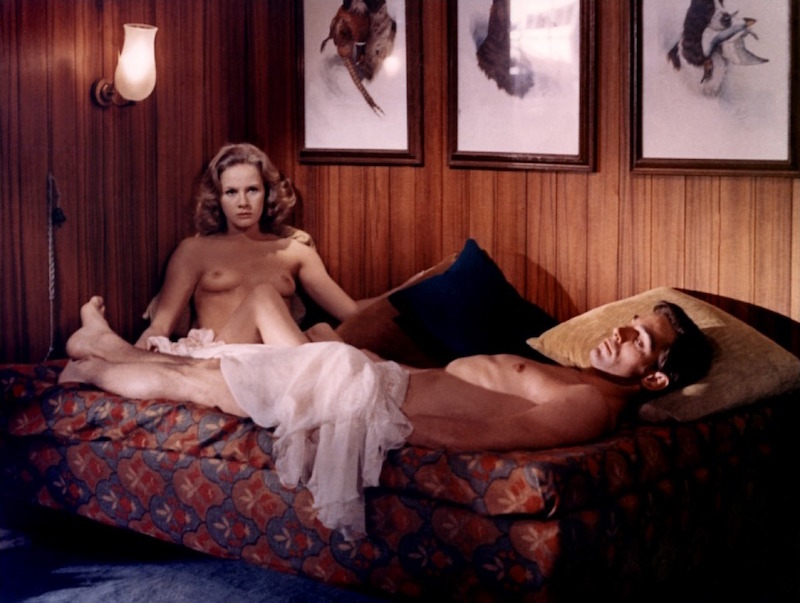 Sanda elected to uphold the European cinematic tradition of toplessness as a narrative tool, but when it came to her voice, she had a sound all of her own. When your mother tongue runs Gallic, you already have an edge, but hers was as if she had steeped her voice box in cognac then gargled truffled honey. And all from a mouth whose bow would have shamed Cupid himself…
At 21, she made good on all the promises of the fecundity she radiated on screen when she gave birth to her son Yann Marquand, whose father is actor and director Christian Marquand. "It is my own connection to eternity," was her profound take on motherhood in a later interview.
Hollywood would eventually come knocking, and in 1973 she starred opposite Paul Newman in John Huston's spy thriller The Mackintosh Man. It seems that, having dipped her toe into the pool of American cinema, Sanda elected to keep swimming in the Mediterranean, and any lingering doubt that she was more than a sublime beauty was banished in 1976 when she won the Best Actress Award at Cannes for her role in L'Eredità Ferramonti (The Inheritance). It was vintage Sanda bravura: a potent distillation of ingénue looks with detached cynicism and dubious morality.
"It was vintage Sanda bravura: a potent distillation of ingénue looks with detached cynicism and dubious morality."
Looking over Sanda's body of work, one is immediately struck by her voraciousness for her craft — for almost three decades since the start of her film career, she has starred in at least one film every year. Along the way were Bertolucci's 1900, opposite Robert De Niro, 1983's Poussière d'Empire (Dust of Empire) — the first film shot in Vietnam after the war — as well as 2000's Les Rivières Pourpres (The Crimson Rivers) alongside Jean Reno and Vincent Cassel. It's a staggering portfolio, considering Sanda frequently fitted in stage appearances in both Buenos Aires — her sometime adopted city — and Europe. Oh, and did I mention that she is equally adept in Italian, French and English?
Watching her work in an adaptation of Oscar Wilde's The Ideal Husband, critic Viviane Forrester perhaps best captured why Sanda — from the very start — was both idiosyncratic and universal: "Dominique Sanda, so porous to any emotion, gifted with a patient and violent passion, which makes her transparent to life. To all the lives of those women she embodied, sheltered and conveyed, reproduced in all their stages. Close to all their modulations. She lends them the mystery of her laugh, the rhythm of her pauses, her science of life, her amused fervour, her consuming beauty, of course, and the beauty of her voice… Her perception of what is not seen, not 'on stage', not told — all of which she catches, captures and offers in its very fleetingness."
Although we hate to quibble with the late, great Forrester — perhaps one of the greatest essayists of her era — she did omit one thing about Sanda: she is, was and will forever be one of those rare women who can elicit in men both their most noble impulses and darkest desires.