Edward Sexton: Cut from rockstar cloth
Edward Sexton's tailoring career has spanned over six decades. He's not showing any signs of slowing down soon, with a broad collection of signature and contemporary trousers, suits, blazers and shirts, which are now offered on The Rake to pre-order.
Edward Sexton along with his former business partner Tommy Nutter changed tailoring folklore on Savile Row for the greater good. Sexton's clothes make you stand differently, with a debonair sway across the shoulder. Bold clashing patterns, architectural shoulders and elongated trouser silhouettes. Sexton once said that: "We created a style that was longer than average, waisted and flared. The roped shoulders were very narrow but square, with an extraordinarily wide lapel – a peak double-breasted shape lapel on our single breast jackets, which was very rare for that time."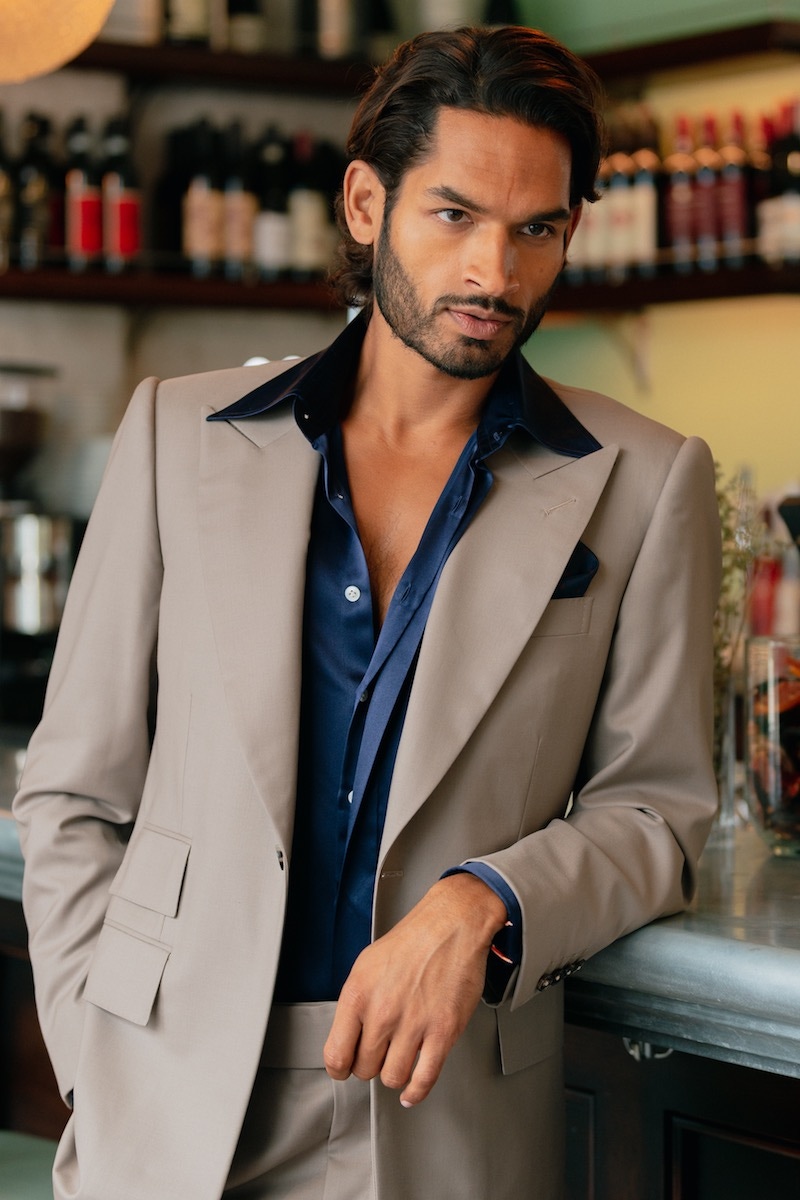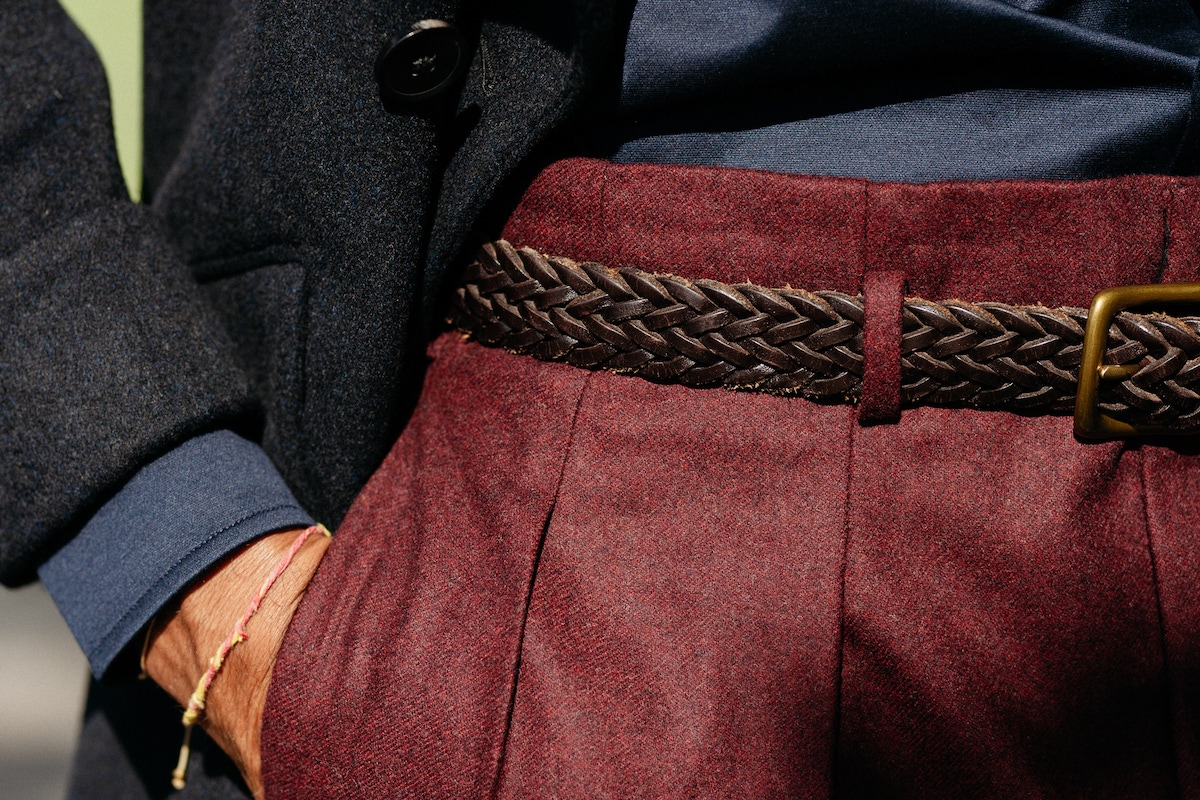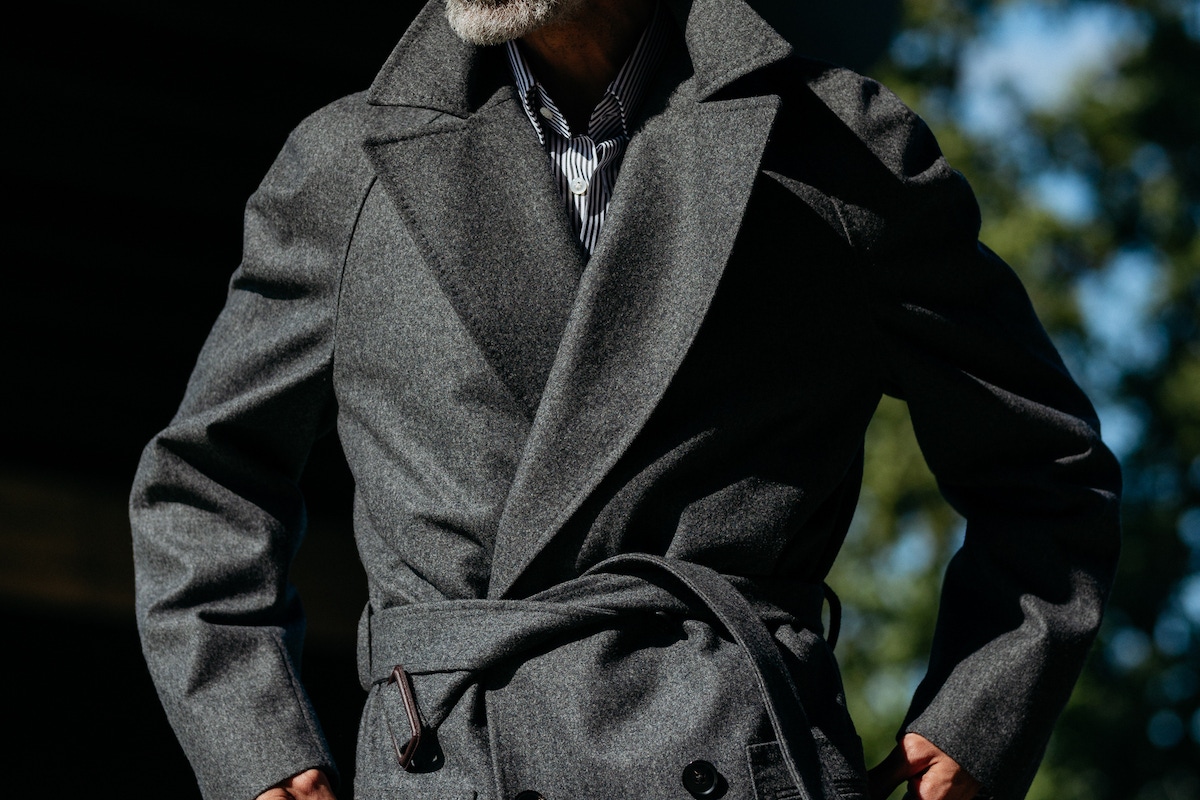 It was the faultless craftsmanship of Savile Row mixed in with the risqué street fashion being exhibited by the Mods on Carnaby Street, which caught the attention of a stellar cast of musicians and cultural icons. Most of whom were emerging out of the youth-driven cultural revolution of the swinging sixties. Outfitting the Beatles, Clapton, Mick Jagger and his then wife Bianca, Nutter and Sexton were the tailors to rock 'n' rolls aristocracy by appointment. It was the perfect partnership in many ways. Nutter was charming, eccentric, good-looking and was a social lightbulb, galvanising a likeminded avant-garde population who had the means and taste to enter his world. Sexton was the talent, and a stickler for adhering to the finer details of craft with outstanding creative workmanship. It's been 28 years since Nutter died, aged 49, but remarkably Sexton's solo status is as potent as ever. His devotion to creative refinement combined with fabulous creativity, is still there to see if you're lucky enough to visit his majestic workshop in Beauchamp place, Knightsbridge, where he has been since 1990. Now at The Rake you can tap into the Edward Sexton history, with a selection of three-piece suits. They come in an extremely luxurious VBC wool and in light grey and navy. Single-breasted in design, they're both cut in classic Sexton style with peak lapels and a narrow waist. If the setting or event doesn't conform to flamboyant pattern or texture, then these two suits are the perfect option. The unique thing about Sexton is that his cuts are authentic. Each style feature combines to create this wonderful balance. The trousers are designed in their new contemporary style with a flat-front and narrow, elegant leg.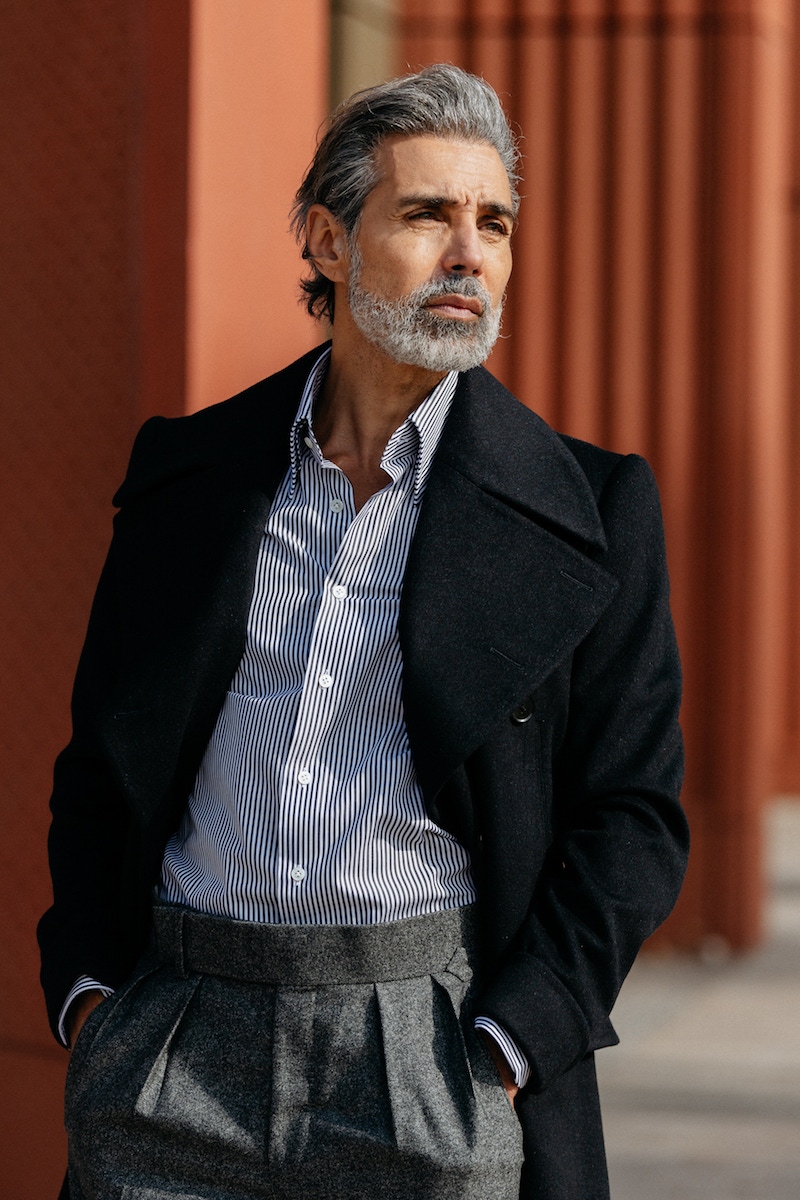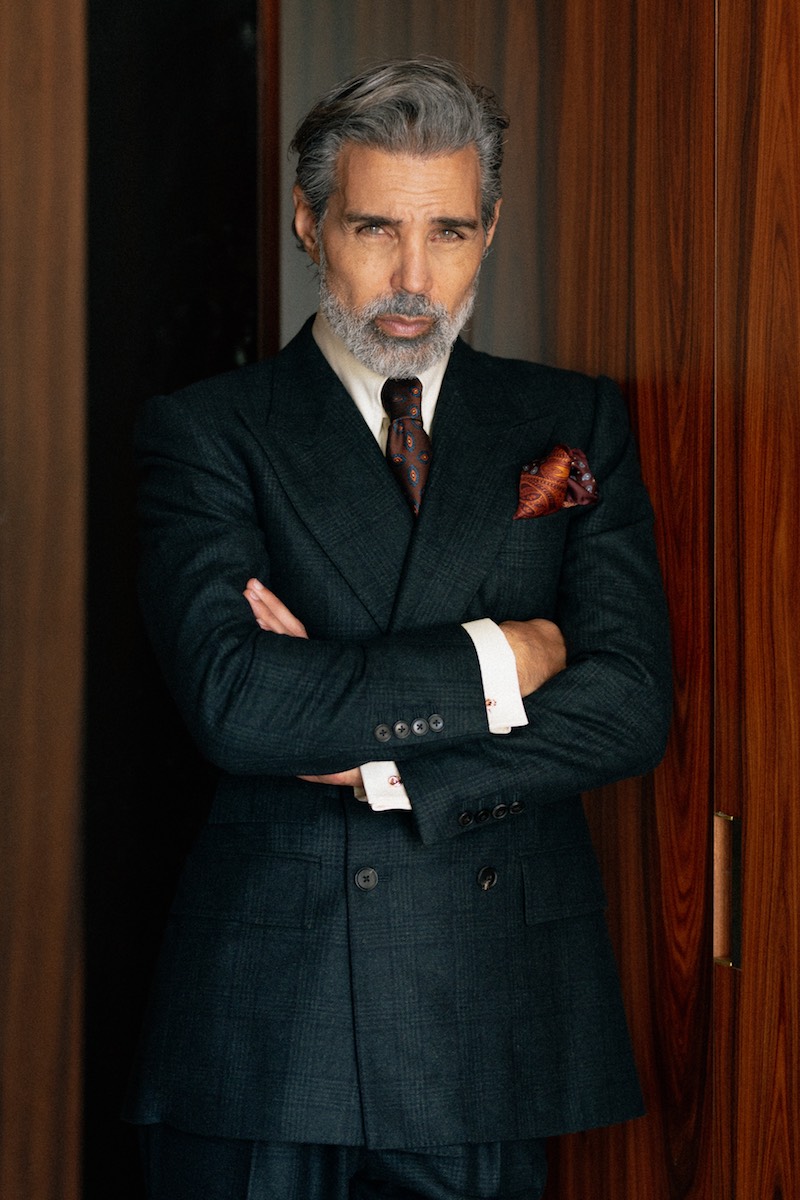 A cocktail suit should associate itself with hedonism, seduction and most of all romanticism. In fact, Sexton often talks of his principle of "romancing the garment." This navy herringbone wool and silk jacket, which can be bought as a separate or as part of a suit has this in abundance. The iridescence of the silk herringbone oozes a rich formality, whilst the softness of the cloth balances this with a comfortable nonchalance. with its very wide, peak lapels and swaggering silhouette, it pairs beautifully with the brand's ivory point collar shirt, also in an alluring silk fabric. The trousers of the suit come in their contemporary style with a flat-front for that clean line around the waist. Back into the fold is an exciting new collection of their Hollywood-top trousers. Fast becoming a Sexton signature these versions come in a luxurious flannel. They feel modern and clean, but carry a touch of art deco Sexton nostalgia. In a soft 11oz Italian mottled woollen flannel their charcoal-grey pair is destined to become your go-to tailored trouser – formal enough to wear with a navy blazer from the brand or relaxed enough to sit with a rollneck and suede blouson. If you like less texture then, their silver grey, burgundy and olive shades of the same style are great options.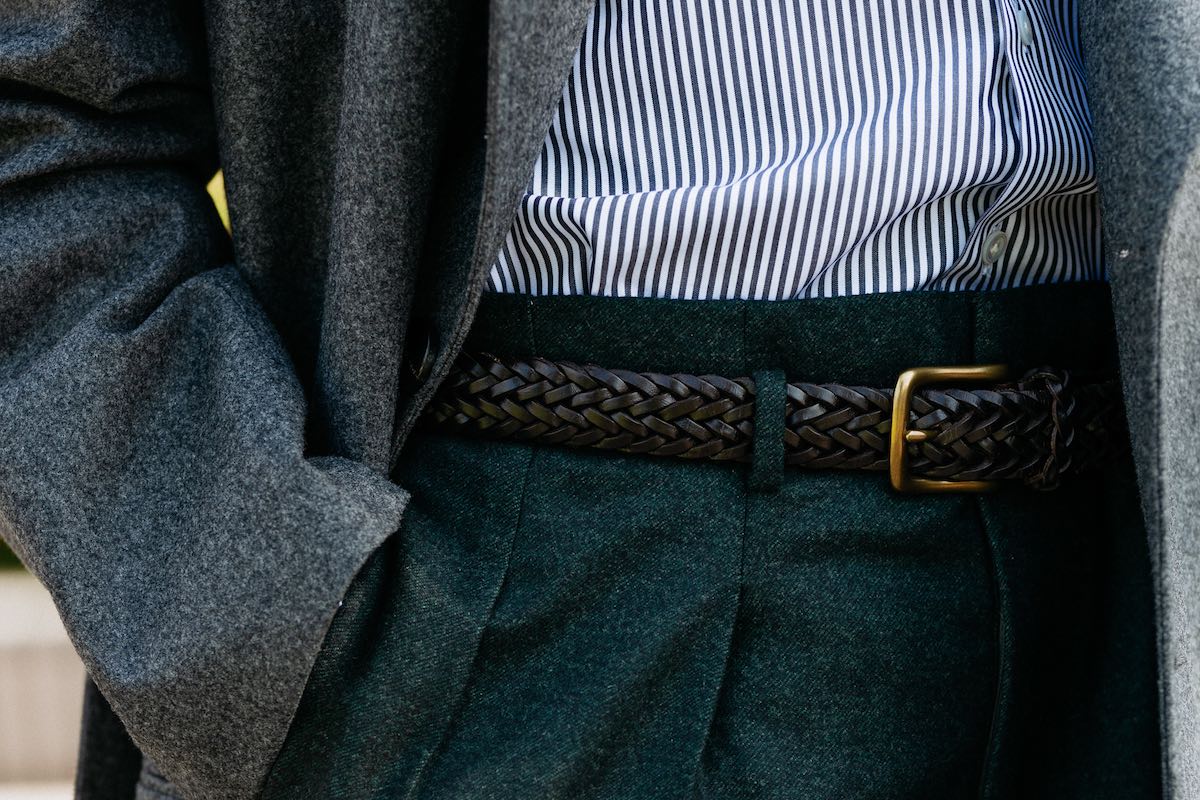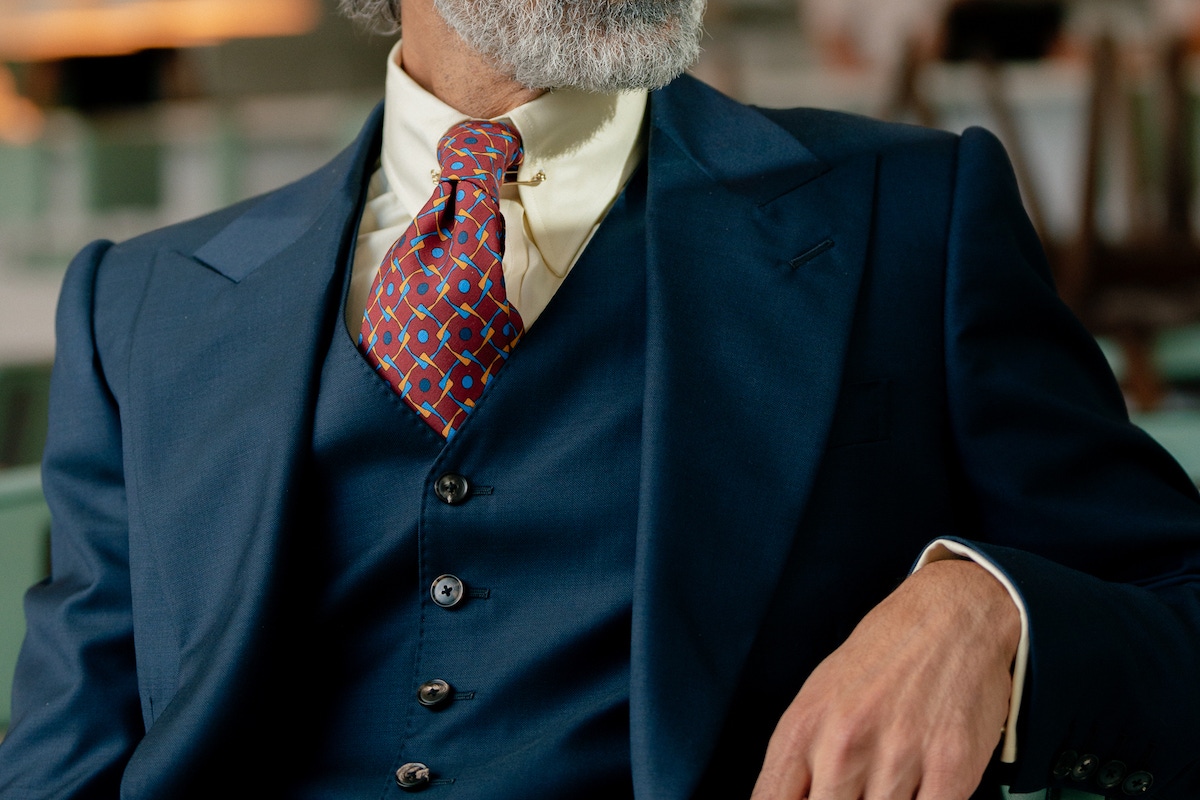 Styled with forward-facing pleats and jetted side pockets are the Sexton house trousers. Offered in the same hues as the Hollywood style, this design Is timeless and elegant in equal measure. Sexton's mixes in fabric, pattern and colour are imbued with innovation. Both in the double-breasted style their grey flannel POW sports jacket and green check blazer, evaporate any of the rigidness that may deter you from wearing a double-breasted and instead into the more rebellious category. A special mention must also go to their tan Gabardine jacket, which looks extremely suave when worn with a shirt, either unbuttoned at the top or with collar overlapping the jackets lapels. For this autumn/winter season, Sexton has turned his attention to creating a small selection of very grand overcoats. One is the Edward Sexton greatcoat which is their pièce de résistance, and a coat that is both elegant in appearance and a technical feat of cutting and tailoring. Dramatic with its generous stand—and-fall collar and full wrap, 'S-shaped' double-breasted closure and pleated and panelled back, it is certainly an imposing coat and very much ingrained into the Sexton identity. In a beautiful grey, tailored with through meticulous details, their grey showerproof coat, with raglan sleeve, provides an alternative to the greatcoat. If you feel that you're carrying two much fabric by donning a greatcoat, then Sexton's bridgecoat might just be the right shape for you. A treasured and rare option for this winter, it looks just as good worn open, accentuating the Hollywood trouser details or fully buttoned up for a military appearance. It truly is an exciting new collection from the tailor to rock 'n' rolls aristocracy, and with there being another lapse of fun in life, it's hard not to be tempted into the rebellious nature of Sexton's tailoring this winter.
Models are Orlando and Krishan.