Ettinger Launches Bespoke
Justifiably recognised as one of the last great British leather goods companies, Ettinger offers quality-driven, design-led accessories which you can now personalise to your very own tastes, with the launch of their bespoke service.
It was 1934 when two historically connected events occurred. Gerry Ettinger born in Prussia, established G. Ettinger Ltd in London. That same year Prussia would lose its de facto independence and no longer be used as a name for one of the leading states of the German Empire. With an innate ability for languages, charm, charisma and experience in manufacturing from the family's tailoring past, London provided the perfect place for Mr Ettinger to set up his business. He operated from a small showroom in Vigo street, just off Regent street. Back in the 30s, considerably more everyday items were made of leather than they are today and Ettinger would sell to distinguished department stores such has Harrods. Despite the 30s being a golden era for travel, when leather goods were highly in demand, the company ceased trading due to the Second World War, but surged back to life in 1947 after a chance meeting in Bond Street. While Ettinger have a rich continental heritage, today the leather goods specialist is a very British company, moving with the times, and aptly evolving their products accordingly. Under the stewardship of Robert Ettinger, Gerry's son, they were a granted a royal warrant. He has driven a major emphasis on craftsmanship and supporting the British manufacturing industry.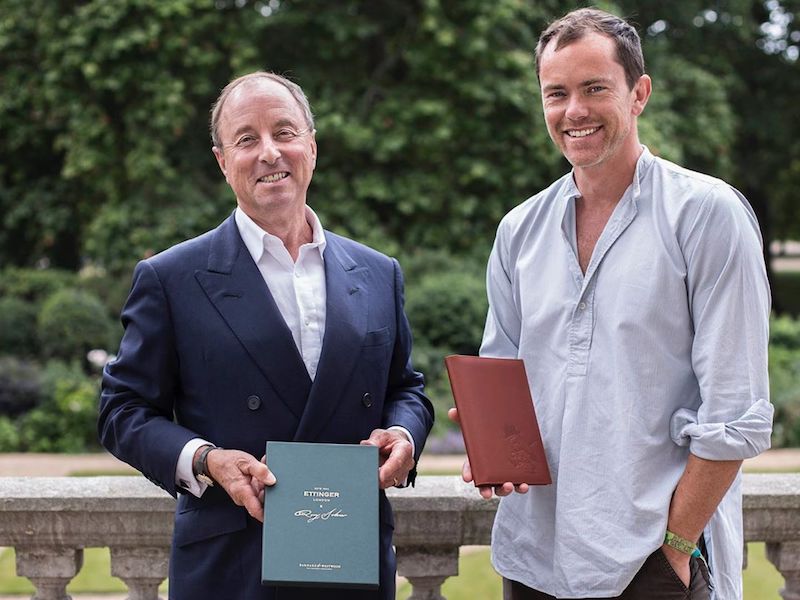 Robert Ettinger with recent collaborator Rory Dobner.
Robert has now decided to take their craftmanship overtures to the next level, namely Ettinger Bespoke, a very exciting launch for the brand. For the first time in its 85-year history, customers can now create their very own bespoke Ettinger accessory from a wide selection of options. Starting with the product choice - including wallets, card cases and key rings - they can choose the outside leather style, colour and stitch colour, then the inside leather style, colour and stitch colour, as well as a choice of two Ettinger linings, and whether they want the Ettinger logo and the monogramming in silver, gold or blind emboss. The finished product is then delivered from the Ettinger factory to the customer in six to eight weeks. This new service will be available in the Ettinger London Showroom, by appointment (tel: 020 8877 1616, email: info@ettinger.co.uk) and at Ettinger Trunk Shows held in-store in its international stockists. If you're in need of a personalised gift for a special occasion or would like your own Ettinger accessory to be utterly unique, then the bespoke service is a welcome addition.